Father's Day is coming, and everyone needs to come up with new ideas to impress their fathers or husbands. If you are one of the latter, we understand how difficult it may be to find the best Father's Day gift for your husband, but we are here to help.  
You don't want to give your lover something he won't like or that won't be as special as he deserves it to be. The problem with that is that it may be difficult to give him a creative gift if you've been together for a long time.  
What if you ran out of ideas for a decent husband Father's Day gift? Don't give up! Read this page to know 20 different Father's Day husband gift ideas your lover will love. Here, you can also find five ways to impress him and make his day more special.  
Five Ways to Make Father's Day Special for Your Husband
Gifts are an important part of every holiday, but you can't rely on them to make a whole day special. If you want this year's Father's Day to be more special, you need to make custom plans for your husband. Put your hands to work and try to think what he would like to do.  
We are all different, so you can't make a general plan and hope everyone will like it. However, these five ideas may be decent starters for a day your husband may like. If you don't know what to do for Father's Day, try one of these: 
Cook His Favorite Meal
Cooking is one of the most special things you can do for your husband. It's okay if he likes food from a specific restaurant, but eating a dish you made for him will feel a hundred times better (especially if you are a good cook). 
Try to surprise him as soon as he wakes up and prepare him his favorite breakfast. You can ask him to leave or do something with the kids all morning to have enough time to make lunch, as it often takes more preparation time. However, we only recommend that you do this if you are good at cooking. You don't want him to eat something he won't like.
Organize a Father's Day Party
While many people like to spend Father's Day alone with their children, you can make an exception this year to make something different. If your husband's friends are dads too, try to organize a party for all of them to celebrate this day. 
They can bring all their children along so they can play with yours. However, this will need some preparation time, and you'll have to talk with the other dads at least a few days before the party. You can do this party in your house if you have a big backyard or if the house is big enough for parties. Buy outdoor furniture if you want to have a party in your backyard.
Give Him Some Alone Time with Your Children
One of the most difficult parts of being a dad is saving enough time for your children. Your husband may have to spend all day working or doing other stuff, and that may make him feel frustrated if he doesn't have enough time for his kids. 
Father's Day is all about celebrating being a dad, so the best gift for your husband on Father's Day is to give him some alone time with the children. Plan a special activity only they can do and see how happy he gets to get bonding time with them.
Write Him a Letter
Your husband knows you love him, but it's good to reassure him every time you get a chance. There are many ways to do that, and one of the most romantic ones is to write him a letter.  
Doing this may feel weird if you've never written a letter before, but there's something special about putting your feelings on paper that makes it feel different than saying them out loud or writing a text message. Give this Father's Day gift to your husband and see how happy he will get.  
Plan an Outdoors Activity
Rather than a party, you could also plan a special activity with your children and your husband on Father's Day. 
Going outdoors is always exciting, so this is the perfect time to do it. Does your husband like fishing? This is a great time to go on a fishing trip.  
Hiking or camping are also excellent options, so go for the one that you think your husband will like more. Needless to say, we only recommend that you do this if your husband truly likes going outdoors. If he doesn't, it's best if you make a special plan indoors like having a movie day.
20 Amazing Father's Day Gift Ideas for Your Husband
Now that you read a few ways to make this day more special for your husband, it's time to get to the main part of this article: the gifts. 
We know that you want to get a special Father's Day gift for your husband, and we have 20 different options for you. These are the 20 best Father's Day gift ideas for your husband:
1. Standing Desk
The first product on this list is a stand-up desk, and it's one of the best options you have if your husband is a programmer, office worker, or a gamer. These desks are excellent for people's back health, as they let people work in the ideal position for the human body to work, which is the standing one.   
If you want to buy home furniture for Father's Day, try items that match your home aesthetics and the other furniture pieces you have at home. Otherwise, it will make the whole place look odd, and it will make your guests think that you don't care about how your house looks.  
We recommend that you buy desk accessories with the desk to improve its overall utility. Products such as a filing cabinet or a desk organizer are essential for an office worker, so they are great thought starters. 
You can find most of these products on the Autonomous website, so you should visit and see all its accessories and office furniture pieces.
Product suggestions
2. Ergonomic Chair
Although we said the ideal position for office workers is the standing one, you don't want to stand in front of your laptop all day. You deserve to sit for some time too, and this is when an ergonomic desk chair comes in handy.  
These chairs are different from the average office ones because they have lumbar support. 
Why is lumbar support special? Because it improves comfort, corrects your posture, and reduces back pain.  
When you sit on an ergonomic office chair, you can feel better and more comfortable than when you sit on your couch. These chairs are highly similar to gaming chairs, and they have the same features. Gamers and office workers sit for long periods, so they have similar needs.   
Product suggestions
3. Bluetooth Speakers
Is your husband a music lover and can't spend a minute without listening to music? You can help him share what he wants to listen to with everyone by giving him Bluetooth speakers. He can use them to listen to music at home or work. 
Product suggestions
4. LED Lamp with Wireless Charger
Desk accessories are more important than you would think. If you, for example, are working in the dark, the first thing you think is that you should buy a new desk lamp. 
Don't let your husband work in the dark. Get him a new LED lamp with a wireless charger for Father's Day.  
Product suggestions
5. L-Shaped Home Office Desk
We know that we already included an office desk on the list, but L-shaped models are different from others. 
The difference between them is they offer more space for your office equipment or other gadgets, such as a monitor arm. Buy this Father's Day gift for your husband if he needs a lot of space while working.  
Product suggestions
6. Massage Gun
Working all day or being a full-time dad can be highly stressful. Managing stress is not easy for everyone, and that tension can cause physical pain such as back pain. Buying a massage gun lets you help your husband relax when he's at home.  
Product suggestions
7. Headphones
If your husband likes to listen to music but doesn't want to share what he's listening to with everyone in the house, headphones are the perfect gift. Don't get the first ones you see online. Buy high-quality headphones that can improve your husband's listening experience.  
Product suggestions
8. ADUs
ADUs are a weird gift for Father's Day, but that makes them excellent if you are looking forward to giving him an innovative present. Men can turn ADUs into a mancave, which is ideal if they want some alone time. 
Product suggestions
9. Outdoor Gear
Most men love outdoor activities, but they don't always have the time or the gear to go fishing or hiking. If your husband's problem is the gear, you can solve it for Father's Day. Buy him outdoor gadgets that he can use when he goes hiking, camping, or fishing. 
10. Photo Album
Remembering the old days is lovely, even if you get a little nostalgic when you do. When your children grow up, you'll remember today as something beautiful. You need a special place to store all those memories, and a photo album is perfect for the job. Make a photo album yourself and give it to your husband on Father's Day.
11. Letters from Your Children
As we mentioned before, writing a letter to your husband is a special way of telling him how you feel. However, he will never expect to get one from his children, especially if they are little. Ask your kids to write their dad a letter to tell him how much they love him.
12. Tool Set
Men often spend years using the same tool set. That makes it more difficult for them to start projects or follow ongoing ones, as their tools don't work anymore or are outdated. Give your husband a new toolset for Father's Day. 
13. Custom Grilling Apron
Does your husband like to cook? He will love it if you give him a custom apron. It can say something like "Best Father/Chef Ever." 
14. Day Trip to a Nearby Attraction
Although most gifts on this list are specific things your husband will have forever, you can also give people an experience as a gift. You pay for a day trip or a nearby attraction your husband wants to visit and go to as a family. Concert tickets are also good for the job.  
15. Books
Is your man a reader? Well, you know how much he loves to sit on the couch to read with a nice cup of coffee. Finding physical books can be difficult now, as most people read digital ones. Try to find a book he wants to read and give it to him.
16. New Watches of Pieces of Jewelry
Men love wearing watches and other pieces of jewelry such as rings, so they are perfect gifts for a man who likes to look handsome when he goes to work or to a party. If he already has a watch he likes, go for other pieces of jewelry.
17. Custom Coffee Mug
If your husband is a coffee lover, he needs a special cup of coffee that makes him remember how much his family loves him. Give him a custom coffee mug that says a special message for him or that has photos of your children.  
18. Custom Clothes
One of the most beautiful and wholesome gifts you can give to your husband on Father's Day is making custom t-shirts or sweaters for him to wear on this special day. You can make one for everyone in the family, so you can all go marching whenever you want.
19. Subscription to a Magazine or Streaming Service
A subscription to a magazine your husband loves is the perfect gift if the want to stay tuned to the latest news of something specific. The same happens if they want to watch a TV show that only is on a streaming service.  
20. Gift Card to a Restaurant or Store
What can you do if the gifts on this list are not something your husband would like and need more Father's Day gift ideas for your husband? Relax. You can always give him a gift card for his favorite restaurant or streaming service. 
Final Thoughts
There are many things you can give your husband for Father's Day, so put your hands to work and see which one of the ideas we listed on this page works better for him. You can find many of the products we mentioned on the Autonomous website, so visit it to see its latest deals.
Video ads for product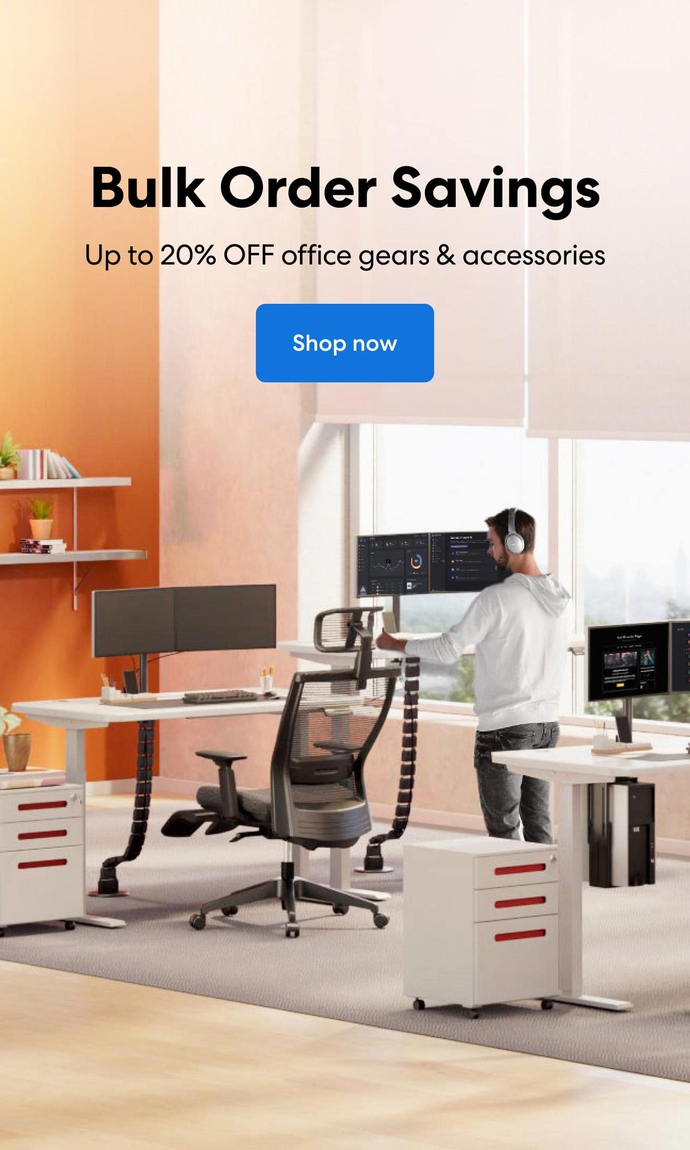 Subcribe newsletter and get $100 OFF.
Receive product updates, special offers, ergo tips, and inspiration form our team.