Workplace Inspiration
20 Kitchen Workstation Ideas for Your Home Renovation

Autonomous
|
Feb 26, 2023
1,186 Views
Transform your kitchen into a stylish and functional workspace with these innovative kitchen workstation ideas. From a cozy desk nook to a modern computer workstation, you can elevate your kitchen design while maximizing space, boosting efficiency and creating a personalized modern home office. Whether you're renovating a small kitchen or designing a new one, these kitchen workstation ideas will help you transform your kitchen into a productive and beautiful workspace.
What Is a Kitchen Workstation?
A kitchen workstation is your own personal command center in the heart of your home! It's a designated zone where you can chop, cook, and create like a pro. With ample counter space, organized storage, and the right tools at your fingertips, a kitchen workstation is the ultimate kitchen sidekick for making meal prep a breeze. Say goodbye to cluttered countertops and hello to an efficient and convenient workspace that lets you take your culinary skills to new heights! You can read about the benefits of remodeling your kitchen to see how it is a gamechanger.
20 Best Kitchen Desk Ideas
1. The Classic Kitchen Desk
Add a touch of sophistication to your kitchen with a timeless classic. Ample storage space and an elegant design make this desk perfect for working from home.
2. The Floating Desk
Elevate your kitchen's style with a sleek and modern floating desk. Wall-mounted for extra floor space, this desk will give your kitchen a unique look.
3. The Kitchen Island Desk
Maximize your kitchen's functionality by transforming your island into a desk. With ample workspace and extra storage, this is a smart and practical solution.
4. The Kitchen Desk Nook
Create a cozy and private workspace in your kitchen with a desk nook. Designed to fit into any corner, this nook provides a quiet space for work or study.
5. The Kitchen Workstation Table
This versatile table is perfect for those who need a large work surface. Use it as a desk, dining table, or even a crafting station for all your creative needs.
6. The Kitchen Computer Workstation
Ensure your computer has a dedicated and ergonomic space in the kitchen with a kitchen computer workstation. Designed for computer use, this desk provides the perfect balance of work and play.
7. Rolling Kitchen Cart
A rolling kitchen cart is the ultimate in flexibility and convenience. With its wheels, you can roll it to wherever you need it in the kitchen and have a functional workstation at your fingertips. Whether you're whipping up a gourmet meal or working on a laptop, a rolling kitchen cart is the kitchen sidekick you never knew you needed!
8. The Wall-Mounted Desk withh Shelves
Save floor space and add a stylish touch to your kitchen with a wall-mounted desk. Pair with shelves or cabinets for extra storage and you've got a functional workspace.
9. The Hutch Desk
Make the most of your vertical space with a tall, narrow hutch desk. This cabinet provides ample storage and a comfortable workspace, all in one.
10. The Kitchen Desk with Drawers
Keep your workspace organized and clutter-free with this home office desk with drawers . Choose from various sizes, styles and finishes to match your kitchen's decor.
11. The Corner Kitchen Desk
Make the most of a small kitchen with a corner desk. Tucked away in a corner, this desk provides a functional workspace without taking up valuable floor space.
12. The Rustic Kitchen Desk
Add a touch of country charm to your kitchen with a rustic desk. Made from reclaimed wood or natural materials, this desk provides a warm and cozy workspace.
13. The Industrial Kitchen Desk
Give your kitchen a modern and edgy look with an industrial-style desk. Made from metal and wood, this desk has a metal filing cabinet and is both stylish and functional.
14. The Glass Kitchen Desk
Add a touch of sophistication to your kitchen with a glass desk. This transparent desk provides a sleek and modern look to your home office layout while offering ample workspace.
15. The Wall-Mounted Desk
Keep your kitchen floor space free and add a touch of style with a wall-mounted desk. With shelves or cabinets for extra storage, this desk provides you with a functional and stylish workspace.
16. The Convertible Table Workstation
Save space and add versatility to your kitchen with a convertible table workstation. Use it as a dining table or fold the sides for a functional workspace.
17. Island Workstation
Transform your kitchen island into a multi-functional workstation by adding a built-in cutting board, additional counter space, and electrical outlets. This is perfect for those who enjoy cooking and want a designated workspace while preparing meals.
18. Wall-Mounted Folding Desk
A wall-mounted folding desk is a great space-saving solution for small kitchens. The desk can be easily folded up and stored away when not in use. This is the perfect addition to your small home office as it takes almost no space and does the job.
19. Corner Desk Nook
If you have a spare corner in your kitchen, consider turning it into a kitchen desk nook. Install a desk or a small table and add a comfortable chair and storage solutions, such as shelves or drawers, to create a functional and attractive workspace.
20. Multi-Purpose Cart
A multi-purpose cart is a versatile and mobile solution for a kitchen workstation. It can be easily moved around and provides additional counter space, storage options, and even an extra seating area when needed. The best part? When not in use, simply roll it away to save space in your kitchen! Whether you're using it as a workspace or a serving cart, this multi-functional piece is a must-have for any modern kitchen.
Conclusion
All of the above kitchen workstation ideas along with home office setup ideas we have given you will drastically improve your home and office life. An integral feature of every modern kitchen is a workstation for the cook. Kitchens may be transformed into multipurpose spaces with the addition of the appropriate furnishings and equipment, allowing them to be used for everything, from food preparation to homework.
Both fixed cabinets and multipurpose rolling carts are available as kitchen workstation options. If you're a professional cook or you simply like having a quiet place to work, a kitchen workstation should be at the top of your remodeling wish list. By using these 20 kitchen workspace ideas, you'll be ready to elevate your cooking to the next level.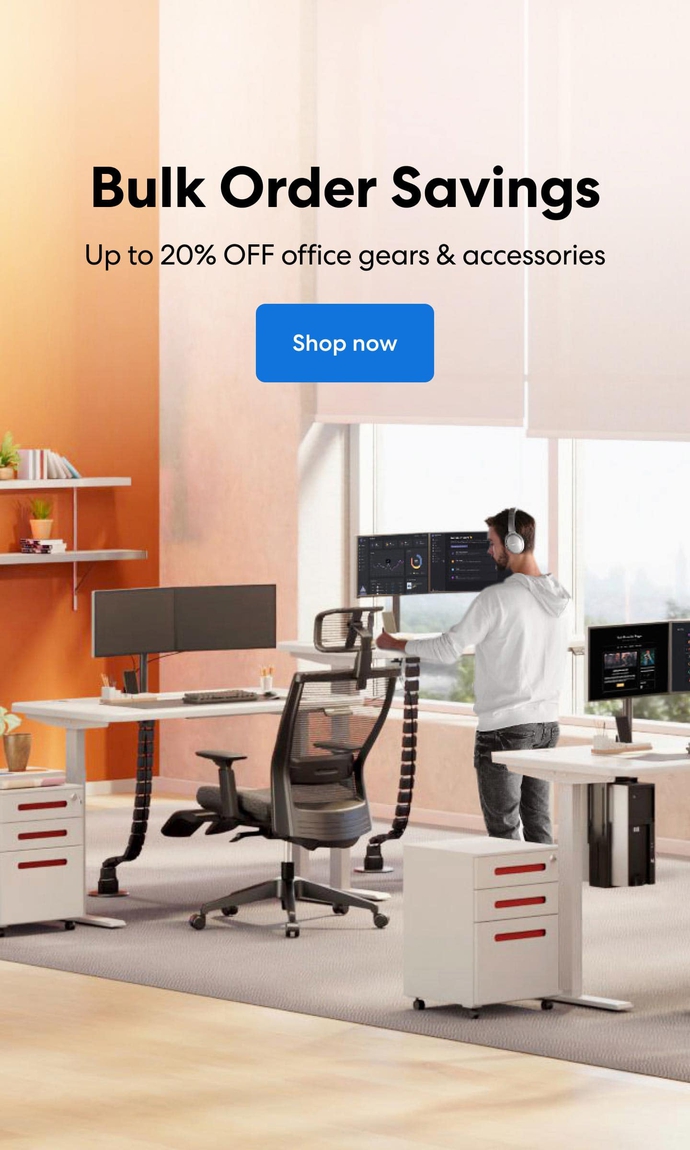 Subcribe newsletter and get $100 OFF.
Receive product updates, special offers, ergo tips, and inspiration form our team.