Workplace Inspiration
20 Office Coffee Station Ideas to Energize Caffeine Addicts

Autonomous
|
Mar 30, 2023
919 Views
Sitting all day at an office desk can be tiring, especially for those working a nine-to-five job. However, one of the best ways to encourage employees to be happy and productive is by setting up an office coffee station. 
Yes, it is important to invest in tech accessories, but remember that your employees are the most valuable resource in your company, so investing in an office coffee bar will show them how much you appreciate them. Keep reading to learn how to do it. 
How to Set up an Office Coffee Station?
1. Location
The first thing you must do when setting up a coffee station at work is to choose where you will put it. If you have a kitchen in your office, the most logical option is to put it there. This will give you access to a water supply and plenty of outlets commonly placed in kitchens. Nonetheless, any empty spot in a public place or a corner will do just fine. Wherever you decide to set up your coffee station at work, make sure it's close to a water supply and won't distract your teammates from their tasks.
2. Budget
Then, you must create the budget you count on. You'll need a lot of money if you have a big office. Small workplaces, however, don't need that much money, as the station will cater to fewer people. Spend some time understanding what you need and what you currently have. You might prefer to get a better machine instead of purchasing furnishings. If there is no budget, consider asking each team member who uses the office coffee station for a monthly donation to keep it nice and ready. 
3. Equipment
Once you have the money you'll be working with, you can start to consider the machinery and equipment. The quantity of coffee brewed each day must be taken into account. Ordering a commercial machine for a small workplace may seem too much, but it can be the most effective option. This is because home coffee machines will probably get damaged too fast and must be frequently fixed.
4. Beverages
Then, think about the beverages you'll require. With fewer people, this task is simple, but even in huge companies, you can and must consider people's preferences. You can carry out a poll in the office to find out the preferred brands of coffee, tea, or other beverages. It's helpful to learn about drink preferences and how often coworkers will make drinks at the office. Spending money on drinks no one will consume is the last thing you want to do. 
5. Team Members
Consider assigning a team member to run the office coffee station. This area must be properly maintained, and someone must regularly replenish supplies and keep it clean. If you skip this step, your coffee area will rapidly become disorganized and unusable.
Three Rules for Making a Coffee Station at Work
1. Make It Welcoming
In order to create a soothing atmosphere, add comfortable chairs, good lighting, and perhaps even a few plants. Posters and other elements can give your office coffee station a pleasant appearance and feel for you and your coworkers. 
2. Find the Right Elements
The equipment you'll need varies depending on how you make coffee. If you didn't know, several machines offer different ways of drinking coffee, so find the one that better suits your office's needs. 
3. Choose the Best Coffee
Your coffee should be of good quality and taste well. This is probably the most important aspect of having a office coffee bar idea, as no one will use it if the coffee is bad. 
20 Office Coffee Station Ideas
Coworkers can socialize in office coffee bar ideas while enjoying a snack or beverage. Therefore, it's crucial to create an environment that promotes this socialization. In order to do this, you can implement some of the following small waiting room design ideas. 
1. Coffee Machines
There are hundreds, if not thousands, of coffee machine alternatives available. You will decide which one to get by understanding which kind of coffee the team members enjoy and how many cups they drink each day. 
If you buy a kitchen machine, you'll probably need a new one in a few months. Although it may seem that you are saving money right now, you will wind up spending more in the long term. Making many cups each day is too much for most household appliances, and the frequent office use will make the coffee maker less effective over time.
2. Tea Options
Across the world, many people depend on a cup of tea to get through the day. Nevertheless, stocking some in your office might be intimidating as there are many different kinds and flavors of tea. 
Tea bags and an electric kettle are the easiest way to make tea for the crew. Once you add this to the coffee station ideas for office, team members can make their favorite teas whenever they want. If there are genuine tea connoisseurs at the office, you should also consider loose-leaf teas and offer steeping materials. 
3. Snacks
If the budget allows you to, a great idea is to provide a variety of snacks. Remember that single-serving packets are the best option to prevent the transmission of germs, so choose these whenever possible.
4. Add-ins
Your coffee station ideas for office won't be complete if it doesn't have tasty garnishes to add to the coffee. Team members will probably enjoy a wide range of tastes to choose from. In order to sweeten beverages, you can choose from various creamers, sugars, and syrups. However, please consider getting various sweeteners, both conventional and sugar-free. 
5. Accessories
The most important factor to consider while setting up a station is how things will be organized. Spreading everything out on a counter can look pretty bad. Therefore, the best thing to do is to search for caddies, jars, or drawer sets to store items, such as stir sticks, sugar packets, creamer packets, pods, and tea bags. 
You can also add a refrigerator. Many workplaces lack a kitchen or designated break area, so they may not have a fridge to store the food. On the other hand, a mini-fridge is a great substitute that doesn't take up much room. This way, your coffee station ideas for office can provide iced coffee, tea, milk, and creamers. 
6. Board Game Library
A board game library is an excellent way to promote team bonding. Although you can fill this space with as many games as you like, a few board games, such as Uno or Jenga, will go a long way. You can also request that team members bring their personal favorites for a few weeks at a time so that you always have new games around. Even for a short time, playing games with your teammates gives them a mental vacation from work and helps them get to know one another. 
7. Doodle Wall
If you have creative people in the company, one of the greatest ideas for office coffee stations is to get a doodle wall. In order to establish this space that fosters artistic expression, all you need is a blank wall, paper, or a dry-erase board, along with a few markers. Your coworkers will be free to doodle or sketch anything they feel inspired to whenever they have a few minutes. Regardless of how you put this wall together, remember to constantly take photos to preserve the team's artistic creations.
8. Ping Pong Table
One great and innovative idea to encourage team members to unwind throughout the workday is to provide a ping pong table. Even though these tables might be pricey, you can search for a used one. However, you will need a much larger space to set this up. You can also choose a ping pong table that transforms into a dining table to save some money. This way, team members can dedicate one room of the office to play ping pong, dine, and hang out. 
9. Large Word Games
According to studies, word games can boost concentration and productivity. Therefore, offering these activities in the break room benefits employers and employees. You can print an extra-large copy of one of these games every week or so. This way, when team members go to get coffee, they can get their minds busy for a few minutes. Also, if your workplace has a printer that can handle large workloads, this will be much easier to do. 
10. Word Magnets
Word and letter magnets are a clever method to promote interaction if there is a refrigerator in the break room or next to the office coffee station idea. Every time they refill their cups, team members can leave a note for their teammates. Consider putting up a challenge every week to keep things exciting. You could challenge your colleagues to think of words containing J and L, for example. 
11. Lego Table
You'd be surprised at how much fun grownups can have with Legos. These construction materials are not only for children. Lego play is a fantastic creative outlet. Also, having a table with Legos allows team members to interact without constantly talking over each other. Talking comes effortlessly when your hands and mind are engaged in something else.
12. Adult Coloring Pages
This is one of the simplest office cubicle decor ideas. A coloring area is one of the greatest office coffee station ideas because it is space-efficient and inexpensive. All you have to do is download some coloring sheets from the internet. After that, get colored pencils and place them in your resting area. Each day, team members get to color for a short while, making it easier to engage in conversation while unwinding from work-related responsibilities. 
13. Arcade Game
An old-school arcade game is one of the more enjoyable possibilities for an office coffee station. These devices are some of the most innovative concepts for large workplace coffee stations. Most employees would love to play Ms. Pacman or Frogger during a break because hard work deserves to be rewarded. These games' best feature is that playing them doesn't take much time. Team members can play a game for five minutes before returning to work. Also, the break room will look amazing with these vintage games. 
14. Specialized Machinery
The components required for an office coffee station vary entirely on the caffeinated beverages you want to consume. It may be coffee beans or more specialized items, such as caramel syrup and chai tea powder. If you have more specialized brewing equipment, you can increase your beverage menu. 
15. Customizable Items
Adding fun trinkets such as lights, clocks, and jars for sugar and cinnamon may be necessary to showcase the office's distinctive personality through fantastic office storage ideas.
16. Choose an Aesthetic
You can choose neutral colors to keep things as minimalist as possible. On the other hand, you can also decorate the office coffee station with your own special ideas and more striking colors. 
17. Consider the Details
Little details, such as a small blackboard above, give your office coffee station a special touch. Coffee stations with disposable cups are a fantastic idea. These are commonly used at cafés and restaurants but can also be used in more private spaces such as businesses and homes. 
18. Containers
Everything should be stored in containers that match, including coffee beans and other ingredients. If you have limited storage space, it's a practical substitute for conventional drawers and cabinets.
19. Find a Place for Everything
Set aside a small portion of your counters for coffee-related items. This will save time and give you a comfortable place to store coffee-related items. Also, having a refrigerator close to your office coffee station provides quick access to milk, cream, and other things that must be kept cold.
20. Stools
Adding bar stools or chairs to your little home coffee bar is fantastic if you want to enjoy more than one cup while catching up with friends or family.
Bottom Line
If you follow all these steps, you will have a happy and productive staff. However, if you don't know where to get office shelving and other items, check out our wide collection of office furniture brands in our catalog.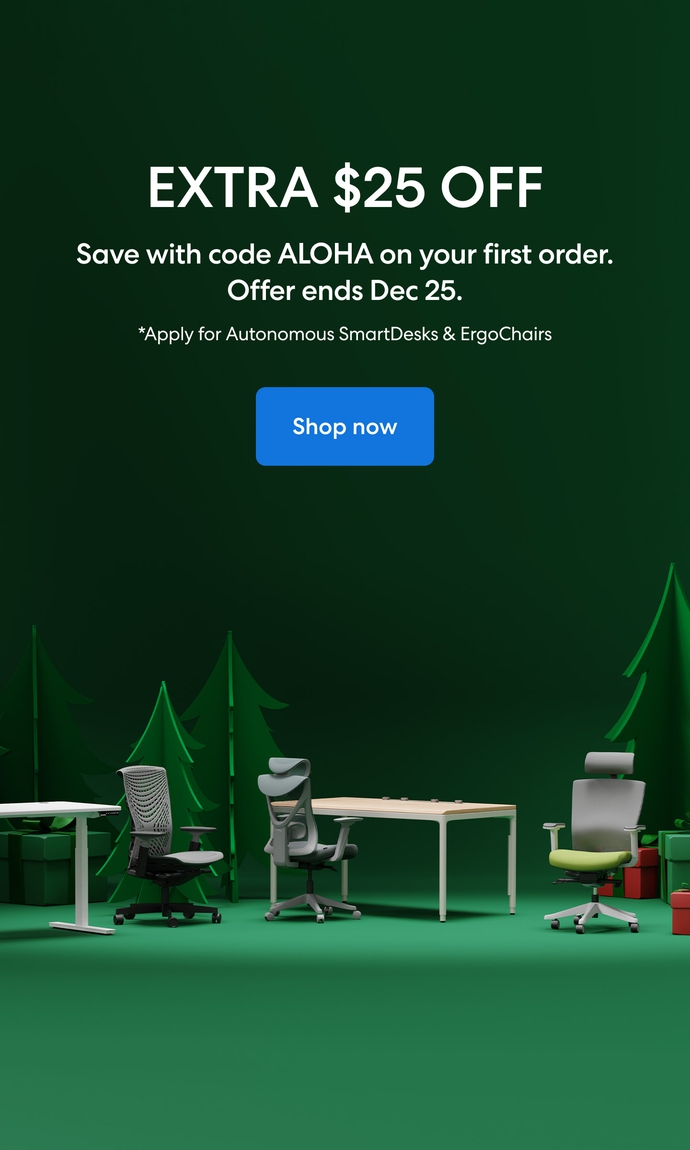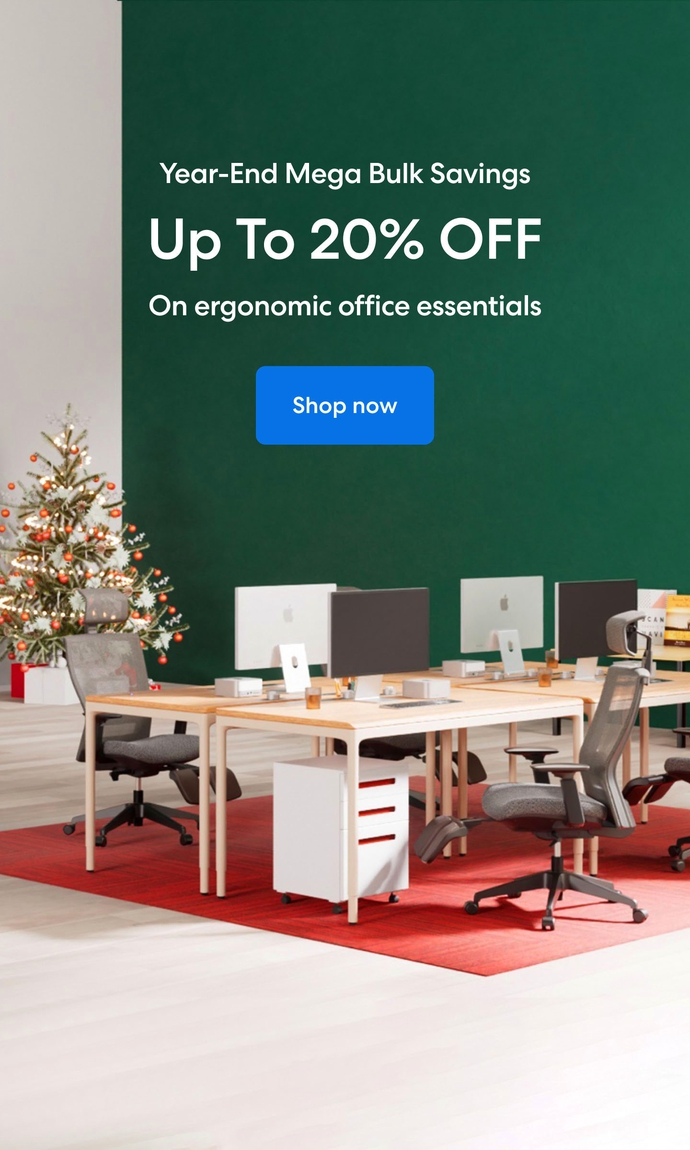 Subcribe newsletter and get $100 OFF.
Receive product updates, special offers, ergo tips, and inspiration form our team.