Workplace Inspiration
30 Small Home Office Ideas to Create a Perfectly Petite Space

Autonomous
|
Oct 5, 2022
1,062 Views
Setting up a workspace in your home can help you avoid distractions and improve productivity. However, that doesn't mean it has to be huge. With some small home office ideas, you can create a perfectly petite area to finish all your daily tasks on time. 
If you want to stay away from television, conversations with family, and household duties during your work hours, a small home office is an ideal option for many reasons. 
These spaces often have all the tools you need to gain inspiration, increase productivity, and help you finish that last pending job while enjoying a calm and warm environment. 
Are you ready to create yours? Check out the recommendations and ideas listed below! 
30 Small Home Office Ideas For Your Inspiration
1. Small Space Saving Office
Small offices can also save space! In fact, minimalist designs not only provide aesthetic benefits but can help you achieve this goal. 
If you choose this style, you could leave some areas free to make your office look more spacious or to store other work tools. 
In these cases, a compact desk could be better than a huge traditional piece of furniture, for example! 
2. Minimalist Workspace
Do you dislike extravagant and very flashy designs? Don't worry! You can also create a minimalist workspace. 
You don't need too many ornaments, as your small home office decor can be simple but cute! 
If you prefer a minimalist design, opt for white color palettes with small color accents strategically placed throughout the space. 
3. Just a Touch of Color
There is nothing wrong with completely white spaces! However, if you want to add a splash of color, there are plenty of items you can use. 
You can put a small shelf with books, a vase with some colorful flowers, or a small sculpture. Any item of a different color could work. 
Adding some detail to your furniture is also a good idea. You could add a colorful cushion to your white chair, for example. 
If you want something more creative and modern, you could also consider buying a Sega projector. 
It creates the perfect home planetarium. You can project beautiful star constellations on your office's white ceiling. 
4. Naturally Lit Space
The best small home office ideas should also include naturally lit spaces. These are the best for increasing productivity and improving performance! 
You only have to fill your room with natural light by choosing large windows or using light curtains that allow the sun's rays to pass through. 
If you want your office to look much brighter, choose light furniture! 
5. Mid-Century Small Office
Are you looking for something original that lasts over time but is elegant at the same time? If so, modern offices with mid-century decorations are the best way to go. 
This style is characterized by combining elegance and color. Many mid-century offices also have rugs and pendant lights. Don't forget the vintage furniture if you choose this one! 
6. Pronounced Curves for Elegance
Remember that the shape of your office's elements also has an influence on the final design. 
Furniture and ornaments with pronounced curves create an elegant atmosphere, for example. 
You can also consider some useful but avant-garde items that can add something positive to your small home office design, such as a desk lamp.
7. Bursts of Vivid Color
Pops of color can also give your small home office decor life and vibrancy! Whether the room is white or any other light color, adding eye-catching elements is a game-changer. 
Paintings, flowers, large shelves, and colored lamps are the best options to create these designs. 
Remember that you can also make your large pieces of furniture colorful, including your armchairs or desk. 
8. Office Inspired by Iconic Paintings
Did you know that you can choose a painting and be inspired by that work to create the best small office design? 
Just pick a painting by your favorite artist, use the same colors to decorate your office, and maybe use elements from the era where the painter lived or was inspired to add more items to the room. 
9. Neoclassical Office
Neoclassical spaces are also good options when it comes to small home office ideas. 
You don't have to be an expert to create a space like this. If you want this design for your home workstation, what you have to do is choose Italian neoclassical furniture, and that's it!
10. Color Furniture for a Unique Touch
If you want a much more original space, you can also take the color beyond the walls, armchairs, and desk. 
Do you think having bold green shelving would make your workspace look cool? You're right! You can have a beautiful design if you choose them. 
With a clever small home office layout and colorful shelves or other unusual items, you can make your workstation more productive than ever! 
11. The Most Creative Workspace
Are you a graphic designer, filmmaker, or painter? You need a creative workspace! 
However, you don't have to spend huge fortunes on this design. If you have the best small home office ideas, you will only need a few ornaments and desk accessories to have a beautiful and creative space. 
12. Monochromatic Walls
The best small home office ideas for work productivity don't have to be boring! You can create professional and lively spaces if you have the right tools and enough inspiration. 
If you don't want the typical gallery wall when decorating your bare office, you can use textured wallpaper to create visual interest. 
There are hundreds of wallpaper designs, but you can choose a monochromatic one to make your workspace look amazing and make you feel ready to take on the world. 
13. Green and Navy Office
Regardless of the style you choose, shades of green and blue go well with any office. 
You can have blue grid walls or add green lines galore. Both options will give your office a fresh yet elegant and professional look.
14. Shades of Decadent Blues
If you don't like green very much, you can also consider all-blue designs. This color gives a lot of brightness to all rooms and favors almost any type of decoration. 
When looking for small home office ideas, most people find many recommendations for blue spaces thanks to what this beautiful color conveys and how it impacts the final appearance of a room. 
15. Office Surrenders to Art
Are you an art lover and want to be surrounded by your favorite pieces all the time? That's something you can do with a good small home office design. 
Your office is a personal space where you can have all the things you like and enjoy. Why not choose your favorite works of art? 
Go for the paintings that usually catch your eye, or bring your most prized sculpture to create an artistic office design.
16. Heavenly Office for Great Minds
The best thinkers have a heavenly office nook. Do you want to create yours? Just think of the perfect small home office layout, the colors that help you feel relaxed, and the subtle ornaments that complement the space. 
Linen upholstery and discreet rugs are the best options for this style. Again, blue is one of the best colors you can choose. 
17. Mediterranean Style Office
If you like simple and romantic Southern European countries' aesthetics, you should make your small home office design follow the Mediterranean style. 
This beautiful style combines simplicity with convenience and boldness. You only have to look for the right Mediterranean furniture and think of a matching cubicle decor to implement that fashion in your small home office. 
18. Multifunctional Workspace
Multifunctional spaces are a must for many people, especially for those who work from home. 
If you want to build yours, you should consider some small office ideas for workspaces that can fit the needs of various roles. 
The right laptop and monitor setup can work well for both designers and video editors, for example. You only have to pick the perfect furniture and equipment. 
19. A New Era of Offices
The offices of this era are not like the ones your parents or grandparents probably used. 
If you want yours to be modern, think about your current needs and what might work for a new generation of workers. Perhaps a standing desk with a drawer is better than a traditional piece of furniture! 
20. Fantasy Walls
If you like tapestries and wallpapers, you can also cover your office's walls with them! It's a great idea if you love spaces full of colors, patterns, and fantasy! 
21. Backgrounds Get More Striking than Ever
Your office's backgrounds don't have to be boring either! If you want your furniture to be simpler but expect the room's decor to be striking, you can opt for bold walls. 
Do you think you don't like colorful walls? Don't worry! You can also use wallpapers or patterns in dark colors. 
22. Going a Few Decades Back
If you like the fashion of the 80s or 90s, add some elements inspired by those years to your small home office design. 
Colorful leather chairs and zebra-patterned rugs or flooring are the best options for achieving this look.
23. Dark Walls
Do you want a more serious and professional workspace? Dark walls are the best option! You only have to pay attention to the rest of your small home office decor to choose the ideal color that matches your furniture and ornaments. 
24. Bold Rugs for More Personality
If you want to add a more personal touch to your workspace, you can use bold rugs. 
There are millions of rug designs. You only have to choose the one you like the most or one that is inspired by the culture that most attracts your attention, and that's it! 
The best thing about using rugs is that they give a unique touch and more personality without altering your small home office layout. 
25. The Perfect Futuristic Office
Futuristic offices have also gained popularity in recent years. If you want to create yours, you need modern and avant-garde elements. 
Remember that technology must predominate in the future. Therefore, you can look for tools to match this style, such as a Moshi wireless charger or a Gryphon router. 
A cord organizer is also a great option to organize all those cables hanging everywhere in offices and create a cleaner and more modern space. 
26. Hollywood-inspired Small Office
If you like the Hollywood style, you can also create an office inspired by it! 
It has nothing to do with your favorite movies but with the real Hollywood offices. You can look for inspiration on the Internet! 
27. Impressive Sights
Have you ever dreamed of an office with a stunning view in Manhattan? You may not have one in New York, but you can create a similar one at home. 
Just choose a space with a huge window and try to imitate the style of the offices in the city of lights' skyscrapers! 
28. A Bookshelf Never Goes out of Style
Bookshelves go well in almost any small home office design. 
Plus, it doesn't hurt to have your favorite book on hand if you love to read and like to take a few hours off to enjoy some quality reading time. 
29. Neutral Home Office
Neutral offices are also a good option for those who want to create workspaces at home. 
Besides not requiring much effort in terms of decoration and layout, these spaces can be used for other purposes and can help you save a lot.
30. Green and Natural Workspace
If you are a nature enthusiast, you can also adapt your office to enjoy the best things your garden has for you! 
You can also add some miniature plants or flowers to your small home office decor to give more life, color, freshness, and personality to that important space. 
Final Thoughts
Do you see that finding the best small home office ideas is not difficult? You only have to think about your tastes and need to be able to discover the design that suits you best. 
In addition, you don't have to spend a fortune remodeling a room to make the perfect office. If you let your imagination fly, you can create an ideal workspace!
Video ads for product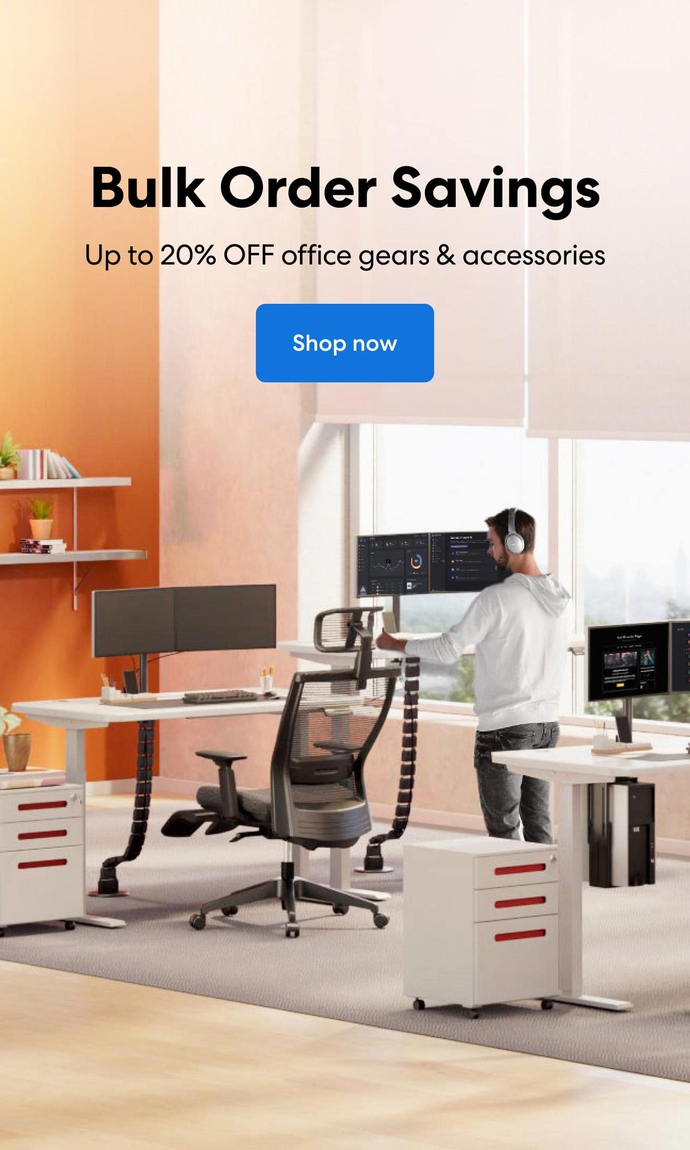 Subcribe newsletter and get $100 OFF.
Receive product updates, special offers, ergo tips, and inspiration form our team.