Latest Updates
35+ Best Labor Day Sales in 2023 You Don't Want to Miss

Autonomous
|
Sep 4, 2022
1,107 Views
Labor Day in the United States is a holiday used to celebrate the achievements of all workers in America. The first Monday of September is always set aside for this celebration. 
This year the day will fall on September 5. 
Over time, shops in the United States have developed a tradition of offering massive discounts on their products during the weeks leading to this holiday. 
This is another way of masking the fact that these shops are doing a clearance sale of their summer products before winter approaches. 
The discounts on items are amazing, and shops usually put up prices in competition. You can have a total home makeover for half the price it would have cost during the regular shopping season. 
Use the opportunity to transform the interior and exterior of your home. Alternatively, you can use it as an opportunity to give your office a makeover. 
This article will look at some of the best Labor Day deals that you can get and the expected discounts this year. 
Best Labor Day Deal and Sale for Furniture and Supplies
The deals below are for modern home office furniture and must-have office supplies. You can also find quality home furniture at reduced rates. 
1. Autonomous
Autonomous has some of the best Labor Day deals of furniture to help you transform your office. You can buy an office chair, standing desk, and other office accessories at massive discounts during the celebration. The website offers 25% sign-in discounts as well as AI promo codes and free shipping deals. Some consumers consider it to have the best Labor Day deal among office furniture brands. 
2. ModCloth
Modcloth has a range of vintage home office supplies such as mugs, flasks, books, and several other office supplies. During last Labor Day sales, the company put up discounts for most of its products, with some as much as 80% less than their original prices. This is why those looking to get products for their offices are observing the ModCloth website with interest. 
3. Amazon
Amazon offers delightful Labor Day deals including 35% off most of its ergonomic chairs and desks. 
4. Ashley Furniture
Shop for furniture at Ashley on Labor Day to get up to 30% off selected products anywhere on its website. 
5. Target
You can get furniture at 25% less than their usual cost during the Labor Day celebration on the Target website.  
6. Overstock Furniture
Overstock has a variety of offers available during Labor Day. Check their site regularly to find the best deals. 
7. Macy's
The discount on furniture on this brand's website is not something that you should miss. 
8. Lowe's
Everyone looking to get new furniture at competitive prices has their eyes on Lowe's sales on Labor Day. In the past, they offered discounts on home and patio furniture, grills, power tools, and many more. Don't miss out on their exciting sales this year if you want to change your furniture. 
9. Allswell
Allswell's 25% discount across its website for its cooling mattress last year was a huge success. The product is perfect for hot summer nights. Many people will be looking out for it this year too. Save up and be alert on Labor Day. Get this excellent product for a good night's rest. 
10. Joss & Main
Those who bought stuff from Joss & Main during last year's Labor Day sales got a 20% discount on items such as accent chairs, headboards, etc. There are deals for different types of furniture to improve your home. Watch out for them to change most of your home furniture. 
11. Pottery Barn
When you get the opportunity to buy some of the best furniture, linens, and other home items at 70% of their original price, you take it. Pottery Barn offers big deals in every category for Labor Day. Search through the sale section of the brand's website to find even bigger discounts.
12. Walmart
Walmart is one of the best places to go shopping on Labor Day. The shop tries to clear a lot of its products through a disguised clearance sale. You can get discounts on furniture, kitchenware, rugs, and several other home items. Change your home without spending a fortune 
13. West Elm
It's difficult putting West Elm in a category when you look at the fact that they don't only have furniture on sale but provide stylish artifacts for both outdoors and indoors. Are you looking to get new bedding? Do you have to get a rug or lamp? Then you can't miss this company's Labor Day sales.  
14. Kirkland
Kirkland has offered amazing Labor Day sales in the past, and this year promises to be no different. The company offers 50% discounts and more on selected home furniture. You can transform your living room or bedroom by spending half of what it would have cost initially. The landing page is not live but be on the lookout. Products can sell out in less than an hour when the page launches. 
Best Labor Day Deal and Sale for Appliances
1. Dyson Vacuum Deal
If you were on the Dyson website on Labor Day last year, you should have come across several deals for home appliances. The company is back this time with a great offer to help you change your vacuums. You can also get a handheld version and an air purifier for your home. 
2. Overstock
Only a few companies offer consumers a discount on home or kitchen appliances for Labor Day. Overstock reduces its products by as much as 70% on Labor Day in a shop clearance attempt. Take advantage of this and acquire kitchen items at the lowest prices you can get them. 
3. Wayfair
You don't have to spend so much just to get new appliances from Wayfair. Not when Labor Day is just around the corner. The company offers discounts of up to 70% on some art pieces and kitchen items. 
4. The Home Depot
If you believe it's time to take on some home renovation, then this is about the right time to get items from The Home Depot. Transform your home with new furniture and appliances at massive discounts. The brand's Labor Day sales last year were excellent. Look out for its offers this year. 
5. AJ Madison
This is one of the largest appliance stores in the United States. Labor Day sales here have kicked off with discounts up to 45% on its major and minor appliances. You don't have to spend so much to upgrade your kitchen or other parts of your home. Head over to the AJ Madison website and save money on your outdoor and indoor appliances.
6. Appliances Connection
This mega appliance store holds its Labor Day sales live on its website. It offers a 50% discount on some selected products for customers. The shop offers several other deals on its brands. Transform your kitchen now to save hundreds of dollars. 
7. Best Buy
Consumers that are looking to save a lot this Labor Day should head over to Best Buy's live sales online. The shop offers several appliances from TVs to kettles, juicers, irons, etc. These are all available on the Best Buy website now, but you should expect a massive drop in prices as Labor Day weekend approaches. 
Best Labor Day Deal and Sale for Decor
You can take advantage of the offers from the shops below to create your dream setups. Improve your home office decor and other interior design spaces by spending only half of what you would on a regular day. 
1. AllModern
AllModern is popular for Labor Day sales that help you to change your home decor at a low cost. Look no further if you want a new mattress, pillow, or tableware. The company's sales section might be overwhelmed that day, so you better know what you want and get it fast. 
2. Boutique Rugs
Let out the interior decor designer in you. Change the look of your front door, bathroom, and kitchen with exquisite rugs. Boutique Rugs has offered up to 60% discount in the past during Labor Day sales. Get a new mat or rug this year to add a touch to your floors.  
3. Etsy
On Labor Day, Etsy usually offers discounts on all its products. Customers who are looking for jewelry, handcrafts, interior decor items, and many more take advantage of this sale. This is the first pre-Christmas shopping for many people.  
4. Burrow
Perhaps Burrow's Labor Day sales event last year was one of the best for shoppers. The company cleared its stock using the "spend more, save more" offer. Consumers who want to transform their homes without spending much should have this shop on their radar.  
5. Bed, Bath and Beyond
This shop is best known for its Labor Day sales. Even though the landing page for this year is not yet up, prices have still been slashed for clearance sales. Save a lot on home decor such as tugs, curtains, lamps, etc. You can get discounts up to 75% off prices right now. 
6. Everhem
If you are looking to add some design to your home, you should look out for the Everhem Labor Day sale. The offer reduces the price of every product on the website by 15%. You can get new drapes, Roman shades, and other artifacts that make your place look sophisticated. 
7. Havenly
Improving the interior design of your home doesn't have to cost too much, especially if Labor Day is around the corner. Havenly offers up to a 45% discount on all products on its website during the celebration. You can take advantage of this to change the design of your living room, bedroom, or patio while spending less than usual. 
Best Labor Day Deal and Sale for Accessories
1. J.Crew
This company is notable for its sale-on-sale action Labor Day deals. You can get several clothes and accessories at a reduced rate instead of the usual price. The reduction sale starts even before the celebration with clearance sales for the summer. Keep an eye out for the announcement, or you can regularly visit the J.Crew site. 
2. Gap
Gap is one of the most popular clothing and accessory brands in the world. This doesn't stop it from offering very exciting Labor Day deals to customers during the celebration. You can look out for the discounts and offers on the Gap website and change your fashion sense at a low cost. 
3. Old Navy
It usually sounds like a dream to have a brand like Old Navy sell its products at amazing discounts during Labor Day. Discounts have gone beyond 50% in past years, making consumers very expectant for the deal that will be available this year. Keep visiting their website to find out early when the offers go live.
4. Madewell
The Madewell brand is popular for adding innovative ideas to its sales section. This is clear in the type of Labor Day deals it offers customers on clothing and accessories. You can get up to 60% discount shopping on their website during the celebration. Add some accessories to your fashion sense without spending too much. 
5. Athleta
Just like Madewell, this brand strives to offer the best Labor Day deal to its customers. You can get several clothes and accessories at outrageous discounts. Keep an eye on the brand's website to ensure you don't miss out when it announces its offers. Products can sell out within a couple of hours. 
6. Vuori
Vuori offers some of the best Labor Day deals you can get when seeking clothing and accessories at reduced prices. Buy products at massive discounts during the celebration and transform your fashion sense. The announcement hasn't yet gone up on their website, but their offers in the past should have you excited for this year. 
7. Nordstrom
If you are looking to get some fashion accessories without breaking the bank, you should look out for Nordstrom's Labor Day deals. The brand discounts several items as a continuation of its clearance sale. You can save a lot if you get your clothes and accessories during this time. 
Conclusion
Ensure that you get the best Labor Day deals available online. Don't spend more than necessary for items you might probably need next summer.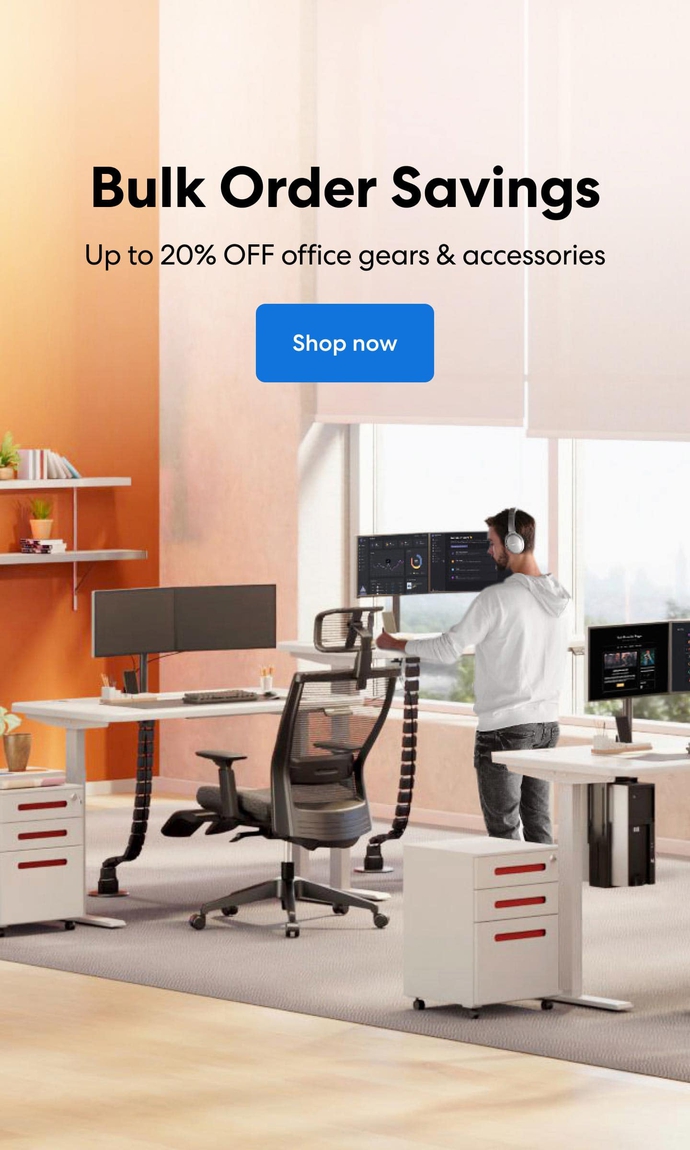 Subcribe newsletter and get $100 OFF.
Receive product updates, special offers, ergo tips, and inspiration form our team.