If you're looking for some inspiration for desk décor for guys, you've come to the right place. This decoration type often implies choosing natural or dark colors, as well as a combination of desk accessories for men. Your main goal is to make your workstation comfortable and accustomed to your preferences.
Here we have some men's home office ideas you can take into account if you're trying to renovate your desk for the new year.
Office Desk Décor for Him – Elements of a Masculine Home Office
For starters, you should know that a laptop and a flat surface are not enough for you to work comfortably. Not only will you end up damaging your health in the long term, but it will also make it more complicated for you to concentrate and give the best of yourself while you're working.
Furthermore, it is important to designate a certain area for your everyday work. This way, you will be able to draw the line between your home line and professional life. Basically, a good men's desk décor should reunite the following elements:
Organization

Free of clutter and distractions

Accustomed to your style, needs and preferences
If your desk reunites all of these aspects, you will be able to experience notable productivity and mood increments. This way, not only will you be able to improve your mental and physical wellbeing, but you also will have enough time for you to focus on your hobbies and things you enjoy.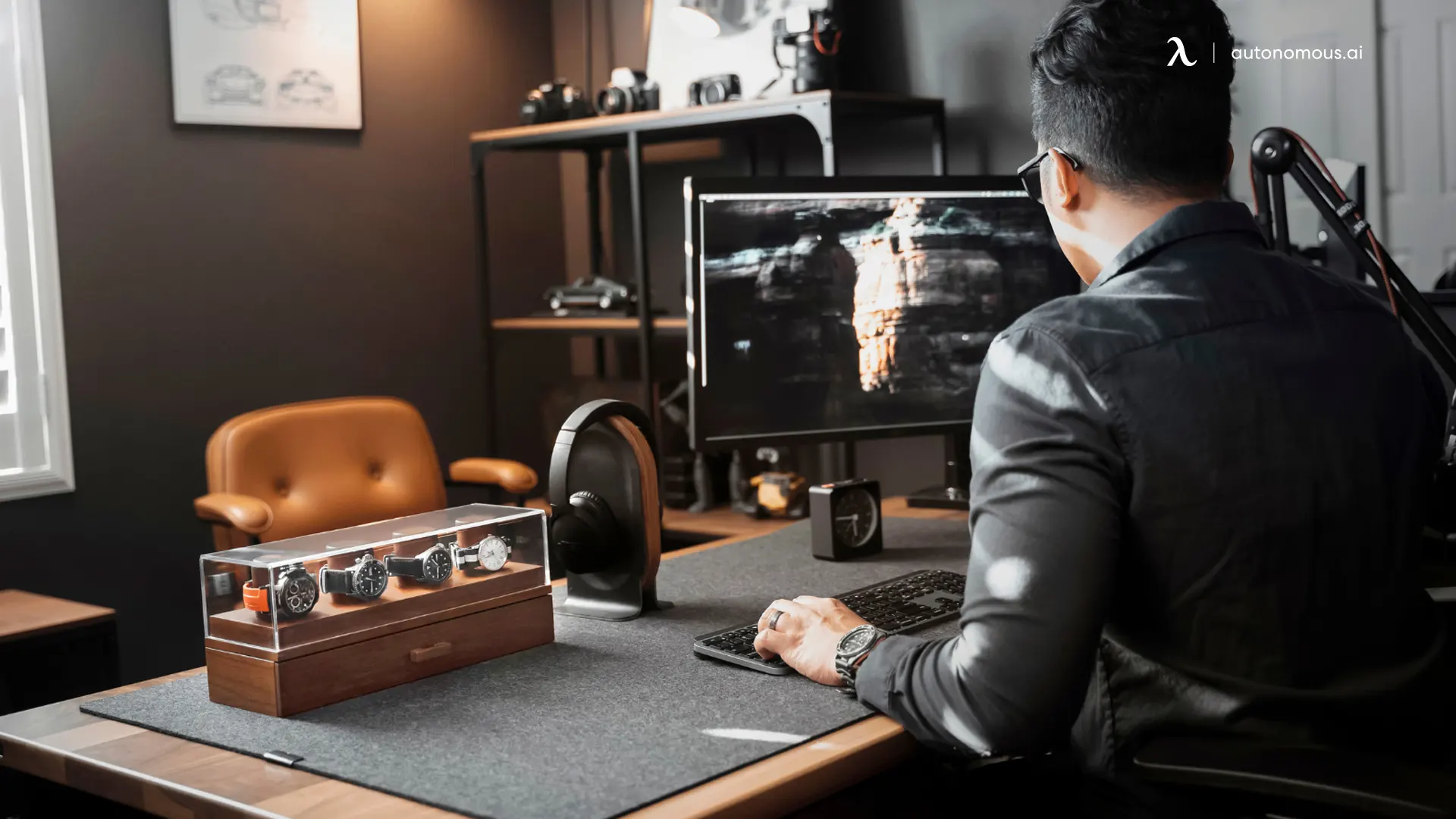 Men's Desk Décor – 5 Ideas to Renovate your Home Office
Now that you know how the optimal workstation should be let's start describing the different desk décor for guys ideas you can consider while making your desk appropriate for your daily office work. Here we include different styles, furniture and accessories.
1. Rustic Style
Rustic is the exact opposite of modern design. It implies using natural elements and neutral colors, like white, brown or beige, all in their warm variants.
This style is a good option for men's home offices because it is simple, unpretentious and unloaded. It is easy to approach and personalize. Here are some of the key features of the rustic style you must take into account to reach the desirable effect:
Real wood

– Real wood is one of the essential elements in rustic décor. Thus, since your desk is the focal point of the whole room, it should be built on real wood. If it looks odd or beat up, don't worry – that's also a small detail that rustic style includes.

Textures

– As mentioned, the rustic style implies using natural materials. However, some of the best ways to depict are by using rough woods, animal hide rugs, and similar things.

Handmade furniture

– If you're of the crafty type, perhaps you can include some of your pieces within your workstation. Make sure that the pieces you choose, be it furniture or accessories, resonate with the rest of the setup.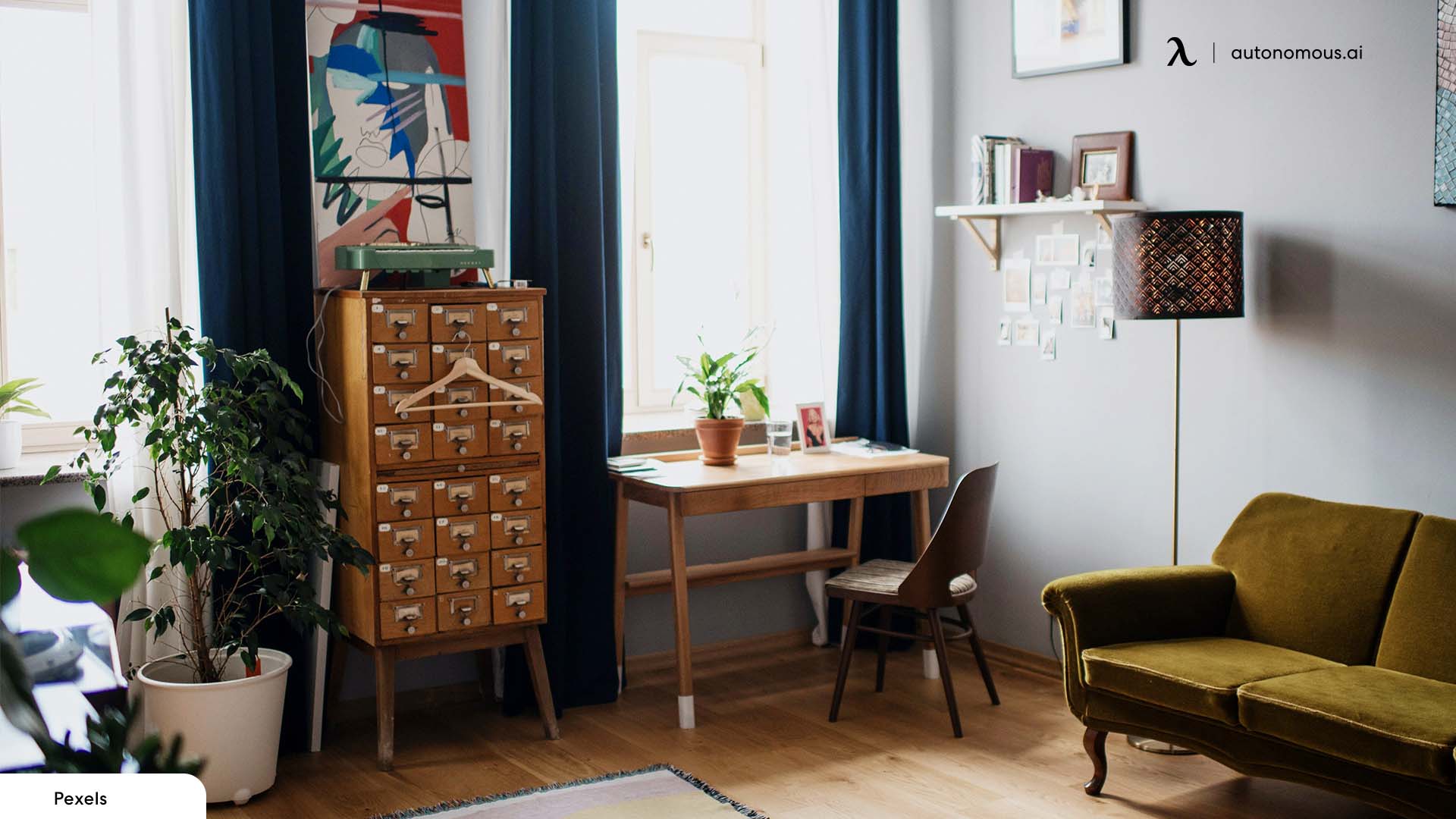 2. Minimalist Style
Minimalism is another movement that has become quite popular in recent years. It is another accessible option to most people, as it implies removing all that's unnecessary and keeping only what you need.
This style can be combined with many others, including the rustic style. You can choose to keep it "basic" or take elements of another style to personalize your home office even further.
As for men's desk décor, you should know that the most utilized color in this style is white, while beige and black serve as complementary colors. This combination makes the whole office feel organized, approachable and comfortable.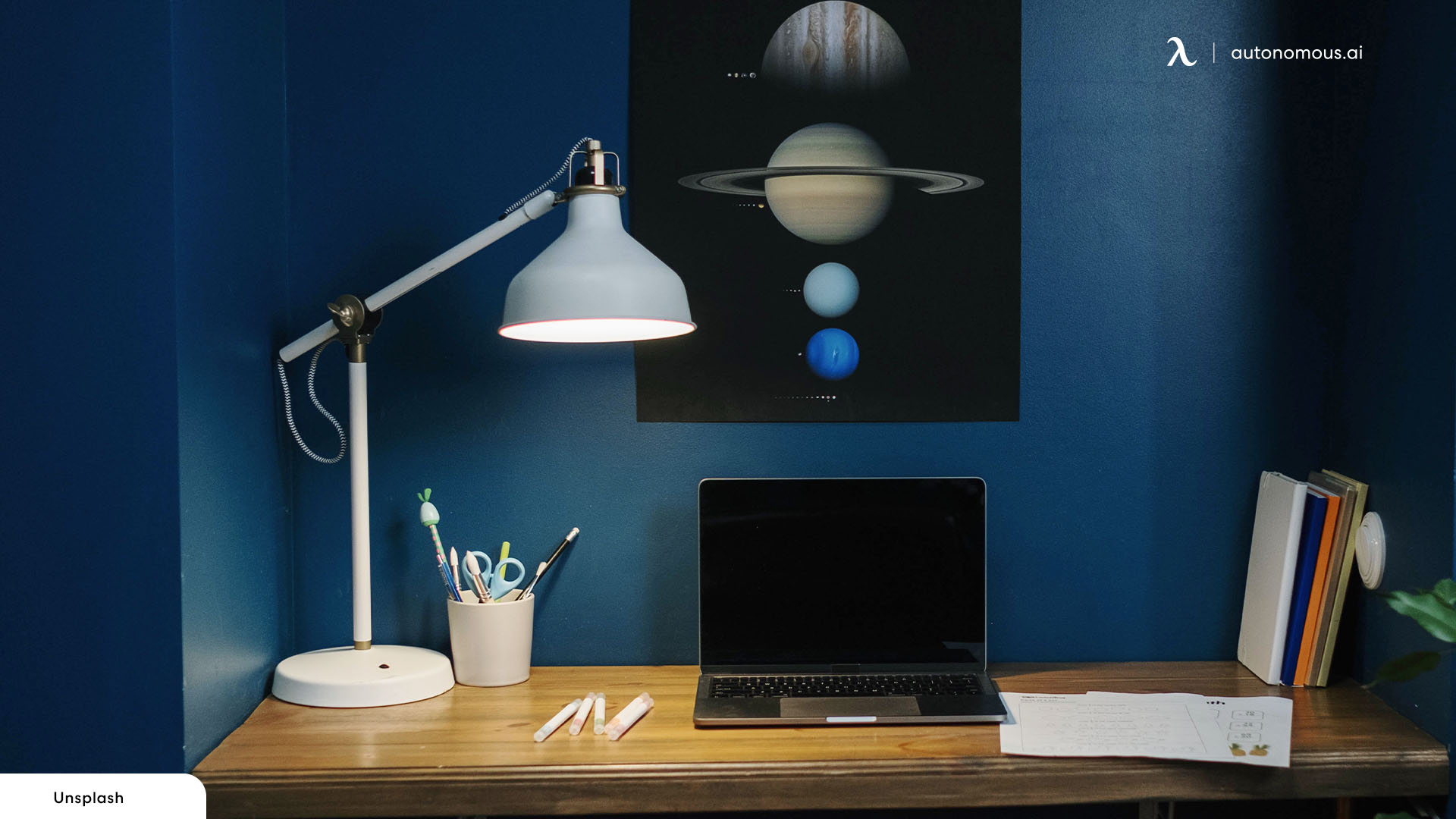 3. High Gloss
Men's home offices are often composed of neutral colors, which means it is easy to make your workstation look more elegant and expensive. For instance, if you choose black as your main color, you can paint some of the furniture pieces a shiny high gloss black for a better effect.
Additionally, an open-legged desk and artwork pieces where black is the focal point can also bring a more "luxurious" appearance to your workstation.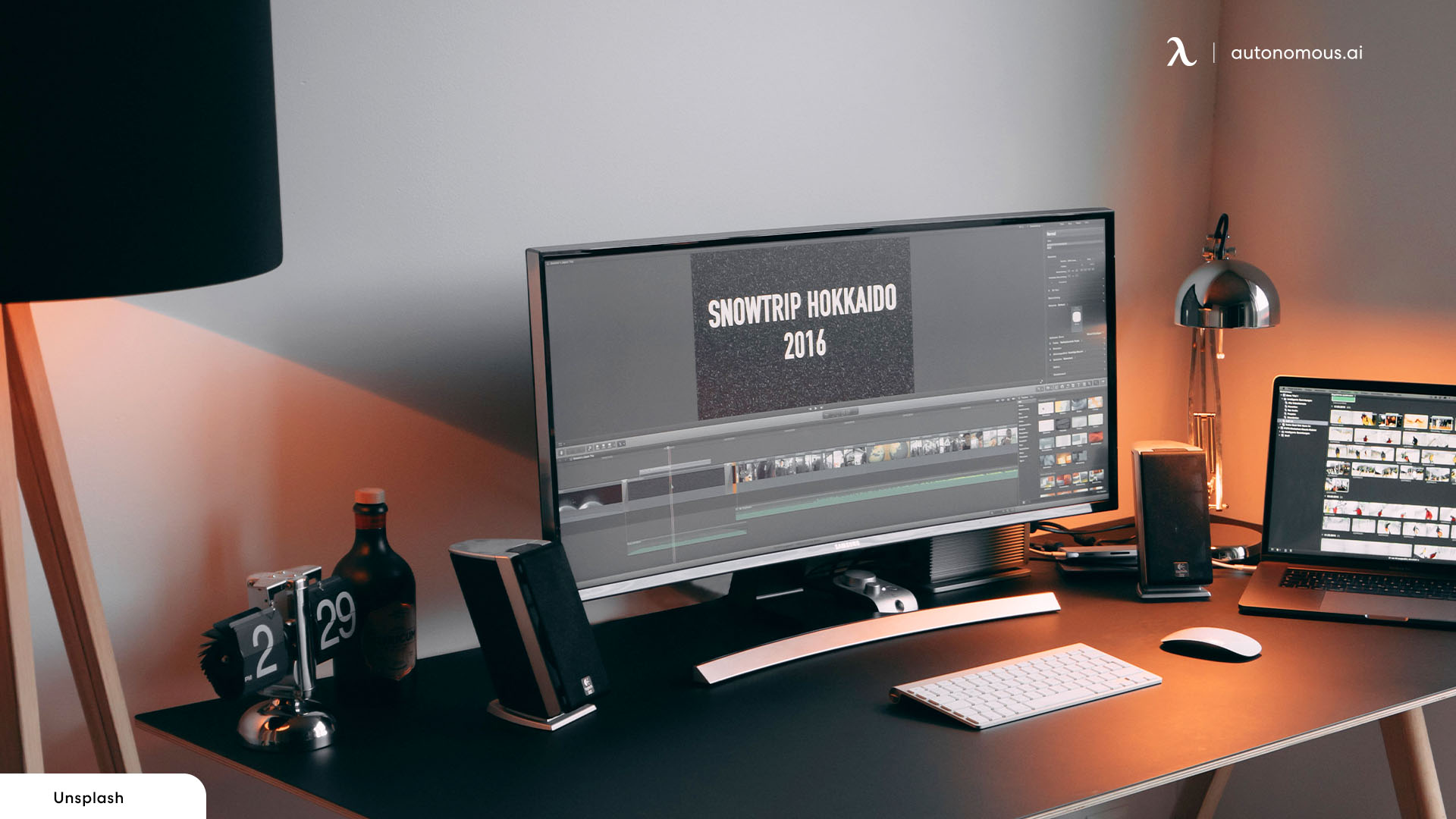 4. Large Art
Regardless of the style you prefer, including large art is always a nice touch to any room, including your workstation. If you'd like to accentuate your desk even more, you can choose to paint your walls white and hang large art behind your desk. This way, you'll be defining the main area in the room.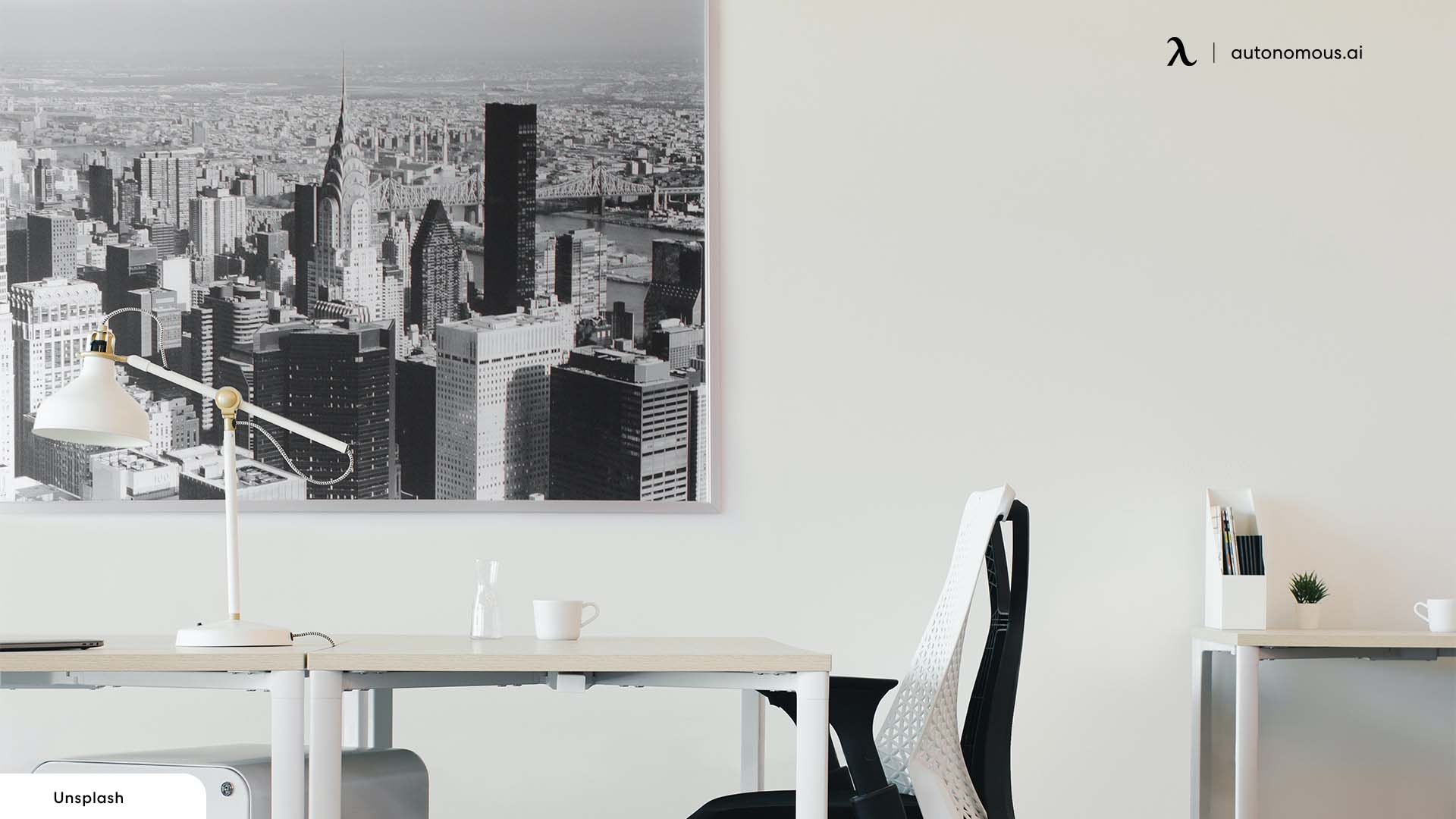 5. Contemporary Style
If you'd like something that resonates more with this era, perhaps the contemporary style can be good for you. For this option, you can choose lighter colors for your walls while choosing a darker shade for your desk, which would be the focal point within your setup.
Additionally, keeping a few bookshelves and pieces of decoration like a chandelier and simple curtains can help you improve the room's atmosphere.
There are different approaches to the contemporary style for your desk decor for guys, and all of them are valid. For your men's office décor, you can play around with the shades to figure out what works best for you.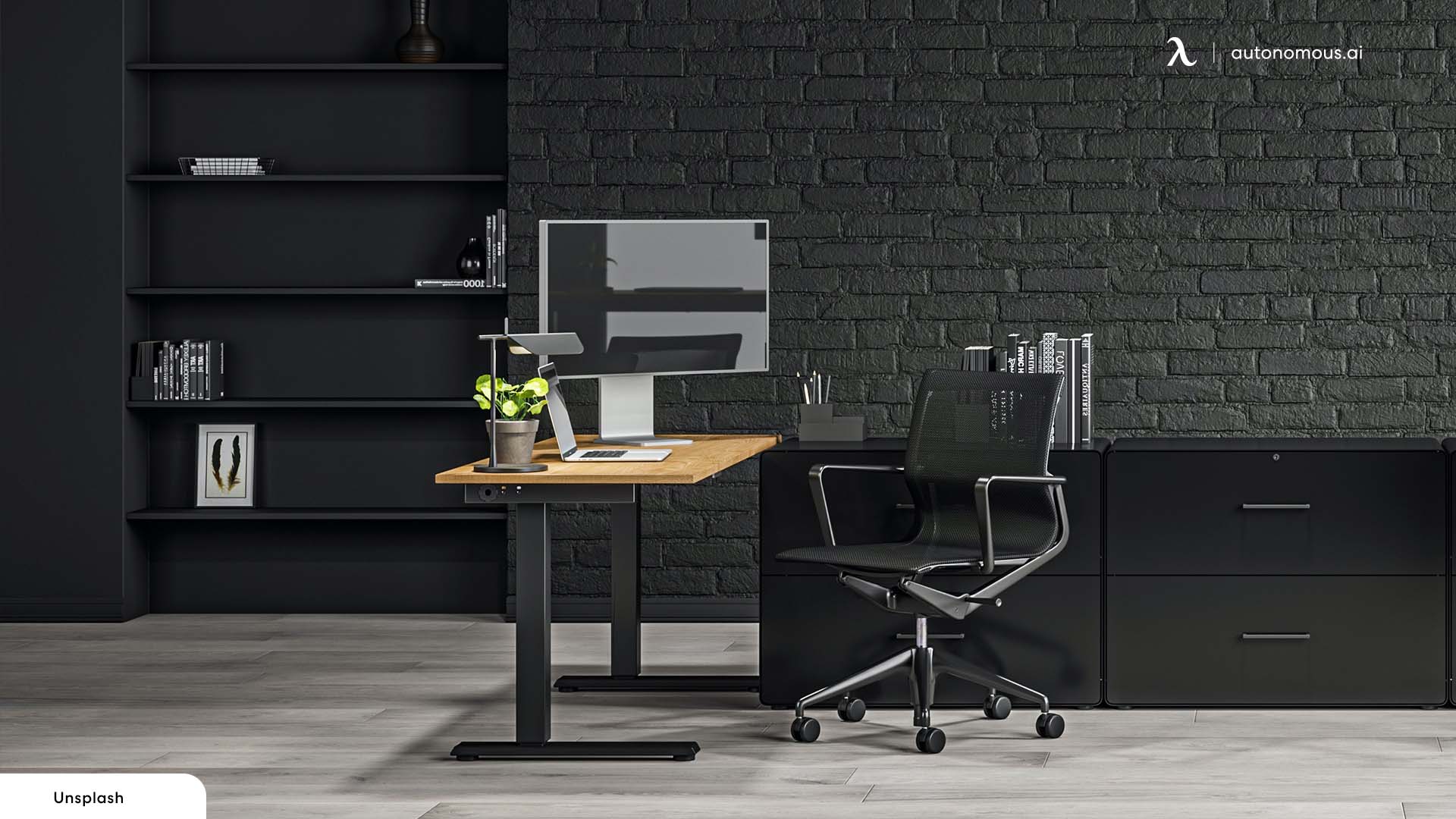 What Accessories to Add in Men's Office Décor?
Even though you bring the best office furniture and select the ideal men's office décor, your office is incomplete if you have not accessorized it the right way. So, which accessories will help you design a cool office décor for guys? We know you must be thinking about it now; that's why we have highlighted some of the best desk accessories that will align your office well with the masculine men's office décor. 
1. Watch Deck
For the love of watches, a watch deck has got to be the first thing on our list. Men love wearing watches quite often, but what about the time when you haven't strapped one around your wrist? That's where a watch deck enters the picture. It is probably the best thing you can have as someone who loves collecting and protecting unique timepieces.
The best part about having a watch deck is that you can have your watch collection around you while you work. But the benefits do not end here, and a watch deck completely enhances the way your office looks.
So, the question that you may have now is which watch deck you can go for to add style and aesthetics to your office décor. In our opinion, Holme & Hadfield's The Watch Deck is the best option in the market. The company makes some great watch winders, and this is one of them. There is a small drawer underneath for storing some essentials as well. Crafted using vegan leather, this watch deck makes your workspace look classier and helps you keep your favorite watches in place.
| | |
| --- | --- |
| Dimensions | 13.5"L x 4.5"W - 5.5"H |
| Colors | Walnut, Black, Oak |
| Item weight | 6.5 lbs |
2. Charging Station
A reliable charging station is one of the most vital computer accessories because it helps you keep your electronics charged when you need them the most. You must be aware of how much clutter the wired charging stations create; that's why we will suggest you a wireless charger for your office station.
However, if you don't have a wireless charger, you can invest in a good docking station like the one by Baystree. Baystree has designed an amazing iPod workstation that can be your ultimate docking station solution in office décor ideas for him. The company has designed this docking station to help you manage your charging cables in the most efficient manner.
There are grooves and magnetic lock functions that help you keep your iPhones, iPads, and even your smart watch in place. There is even a catchall tray that helps you manage office storage & organization better. 
Dimensions
4.22"L x 0.41"W - 0.68" H x 0.4 lbs
Materials
ABS, PC/Silicon
Colors
Black, White
Capacity
5000mAh
Wireless charging output
Up to 10W
Ports
Input port: USB-C - DC9V/2A
Output port: USB-A - DC 5V/2.1A
Warranty
1 year
3. Desktop Bookshelf
It is essential to have multi-functional, space-savvy accessories when you are trying to design the best office setup. That's why it is quintessential to have a desktop bookshelf. A desktop bookshelf can perform both as a shelf and a monitor riser.
If you take the example of the FinerCrafts Desk Shelf, it is the perfect example. It helps you free up desk space while giving you the perfect space to place your monitor to improve your posture.
If you usually work with a laptop, you can still have it to get some more desk space by using this desk shelf to place your desk accessories or your collectibles to have an uncluttered workspace. Those office workers who wish to have a more ergonomic work experience without changing their office furniture must add this bookshelf-cum-monitor riser to their bucket list. 
Dimension
29.3"L x 9.8"W x 7"H
Colors
Top: Natural Maple, English Walnut
Frame: Black, White
Weight capacity
33 lbs
Monitor support
13-30"
Materials
Pad:    Non-skid silicone
Top: Laminate
Frame: SPCC steel
Warranty
10 years
4. Black Desk Pad
We want you to ensure that you have all the essentials in your dream men's office décor; that's why ending this blog without talking about a desk pad is impossible. If you are someone who needs seamless work experience at your office station, you must ensure that you have a desk pad.
Whether you work on your computer or write too often, you need a reliable desk pad. It provides you with a comfortable space to work comfortably. Since we are talking about office décor ideas for him, it is important to discuss which desk pad is the right one for you. You must consider the color and quality of the desk pad that you wish to go for.
It will be ideal to have a desk pad that matches your office theme. In our opinion, a black desk pad will be the best fit for anyone who wishes to have a cool office décor for guys. You may consider DeltaHub's minimalist desk pad, which comes with an anti-slip back in this regard. 
Dimensions
Large: 31.5" L x 17.7" W
Medium: 35.4" L x 11.8" W
Small: 24.8" L x 11" W
Materials
Anti-slip, anti-fray edges
Colors
Black
5. Modern Desk Lamp
Next in line is a modern desk lamp. It is vital to have a well-lit workspace for anyone who wishes to enjoy an ergonomic work experience. A dimly lit office space can put a lot of strain on your eyes and cause other optical problems if you don't do anything about it. So, it is better to invest in the best desk lamp that suits your office décor and serves its purpose well.
If you ask us, we believe that there are two best options in the market. One is the Autonomous Light Bar, and the other is the LumiCharge LED Desk Lamp. Both these desk lamps come with variable light intensity and brightness that you can decide at your discretion.
The plus point about the LumiCharge Desk Lamp is that you can control it with your smartphone as well. As far as their functionality is concerned, both LumiCharge and Autonomous have done a great job in designing the best desk lamp for your workspace. 
| | |
| --- | --- |
| Dimensions | 16" L x 8" W x 4" H |
| Colors | Black |
| Materials | ABS Plastic |
| Input voltage | AC 110 - 240V 50/60Hz |
| Compatible devices | Qi-enabled device |
| Item weight | 3 lbs |
| Warranty | 6 months |
6. Floor Lamp
Getting a desk lamp won't be enough to have a cool and comfortable workspace. That's why it is important to get a floor lamp too. A floor lamp will give the final touch to any aesthetic Men's office décor.
You may consider Brightech's Swoop Lamp, which comes with an adjustable lamp shade and an amazing design. You may give a thought to Benzara's Industrial Floor Lamp, which looks chic in any workspace. Once you have these accessories, you will be ready to create a cool office.
| | |
| --- | --- |
| Dimensions | Φ 15"W x 62.5"H |
| Colors | Black |
| Materials | Metal base |
| Input voltage | 110-220V |
| Lumens | 960 lm |
| Item weight | 10.1 lbs |
| Bulb type | LED 3,000K |
| Warranty | 1 year |
Recommendations
There isn't a single way to build a workstation. As long as the desk décor for guys you've chosen resonates with your personality, everything is fine. However, there are certain things we highly recommend you to take into account if you'd like to improve your comfort.
Ultimately, your men's desk decor should appeal to your desires and preferences. Make sure you feel like your home office is a safe space where you can work without distractions.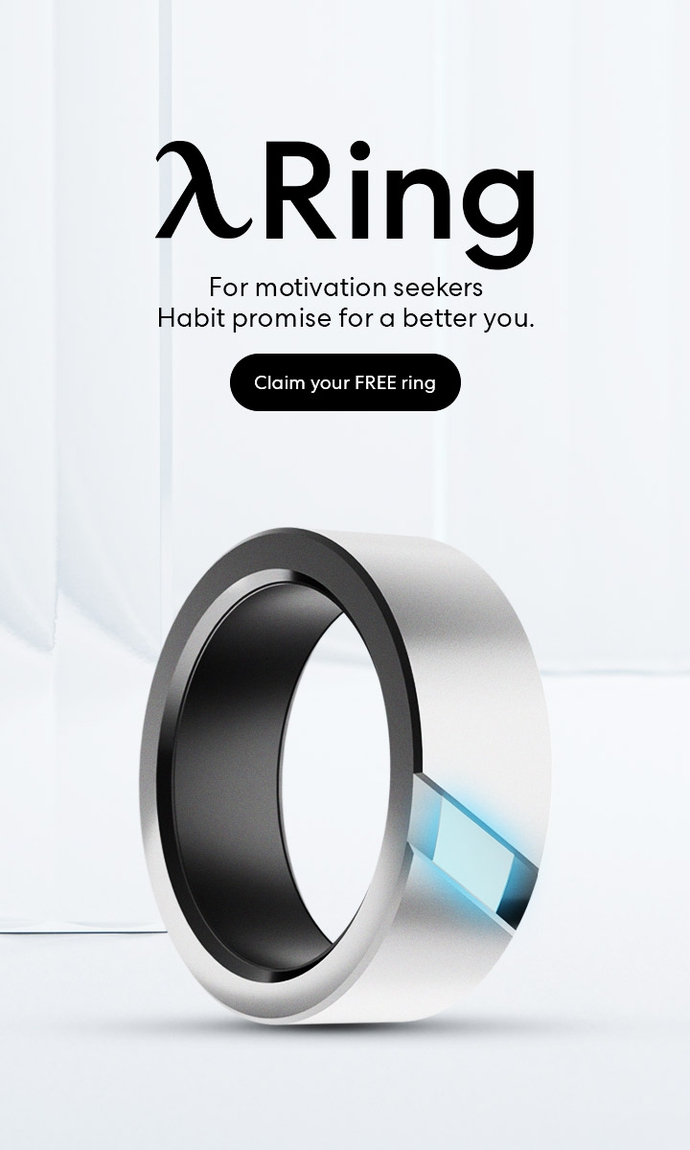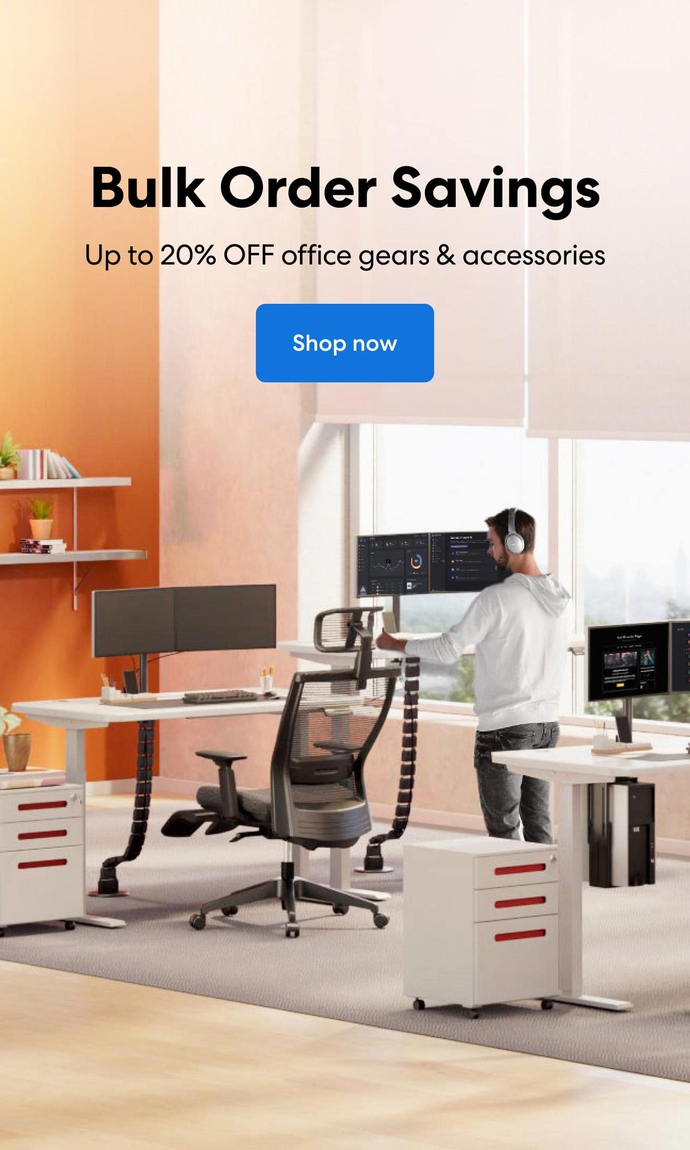 Subcribe newsletter and get $100 OFF.
Receive product updates, special offers, ergo tips, and inspiration form our team.