Workplace Inspiration
5 Cool Desk Décor for Guys in 2022
Autonomous
 | 
Feb 14, 2022
If you're looking for some inspiration for desk décor for guys, you've come to the right place. This decoration type often implies choosing natural or dark colors, as well as a combination of desk accessories for men. Your main goal is to make your workstation comfortable and accustomed to your preferences.
Here we have some men's home office ideas you can take into account if you're trying to renovate your desk for the new year.
Office Desk Décor for Him – Elements of a Masculine Home Office
For starters, you should know that a laptop and a flat surface are not enough for you to work comfortably. Not only will you end up damaging your health in the long term, but it will also make it more complicated for you to concentrate and give the best of yourself while you're working.
Furthermore, it is important to designate a certain area for your everyday work. This way, you will be able to draw the line between your home line and professional life. Basically, a good men's desk décor should reunite the following elements:
Organization

Free of clutter and distractions

Accustomed to your style, needs and preferences
If your desk reunites all of these aspects, you will be able to experience notable productivity and mood increments. This way, not only will you be able to improve your mental and physical wellbeing, but you also will have enough time for you to focus on your hobbies and things you enjoy.
Men's Desk Décor – 5 Ideas to Renovate your Home Office
Now that you know how the optimal workstation should be let's start describing the different desk décor for guys ideas you can consider while making your desk appropriate for your daily office work. Here we include different styles, furniture and accessories.
1. Rustic Style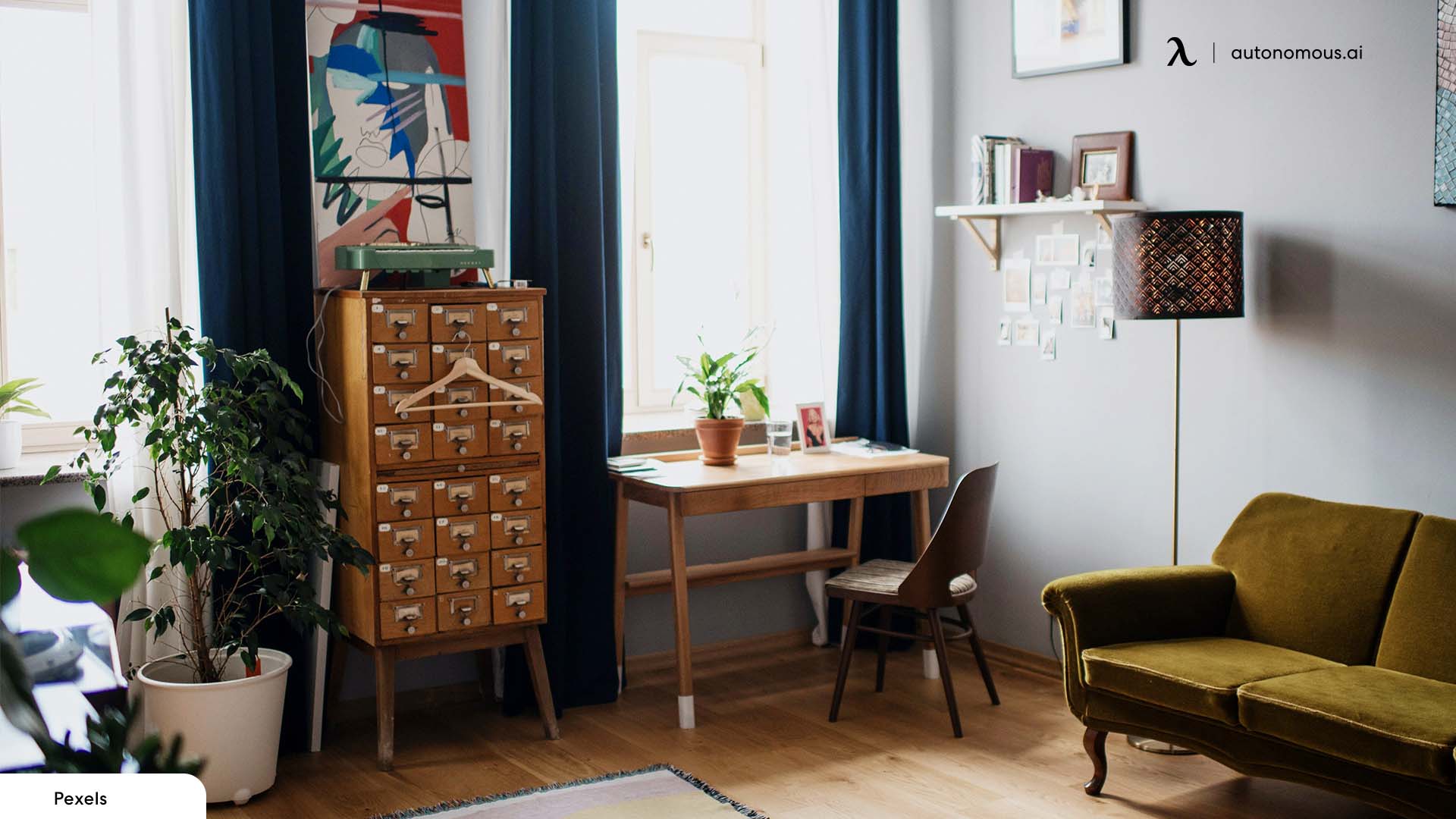 Rustic is the exact opposite of modern design. It implies using natural elements and neutral colors, like white, brown or beige, all in their warm variants.
This style is a good option for men's home offices because it is simple, unpretentious and unloaded. It is easy to approach and personalize. Here are some of the key features of the rustic style you must take into account to reach the desirable effect:
Real wood

– Real wood is one of the essential elements in rustic décor. Thus, since your desk is the focal point of the whole room, it should be built on real wood. If it looks odd or beat up, don't worry – that's also a small detail that rustic style includes.

Textures

– As mentioned, the rustic style implies using natural materials. However, some of the best ways to depict are by using rough woods, animal hide rugs, and similar things.

Handmade furniture

– If you're of the crafty type, perhaps you can include some of your pieces within your workstation. Make sure that the pieces you choose, be it furniture or accessories, resonate with the rest of the setup.
2. Minimalist Style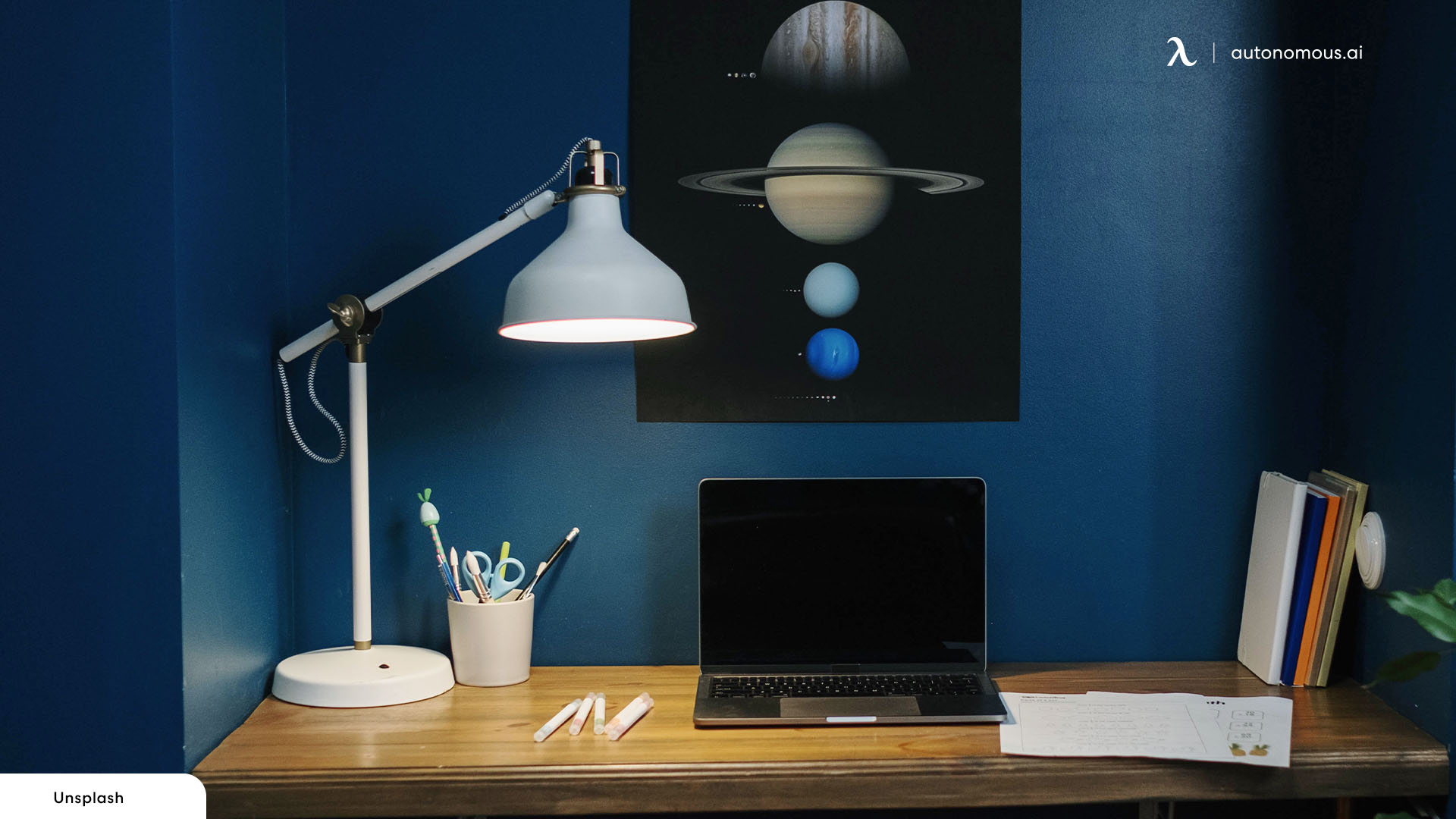 Minimalism is another movement that has become quite popular in recent years. It is another accessible option to most people, as it implies removing all that's unnecessary and keeping only what you need.
This style can be combined with many others, including the rustic style. You can choose to keep it "basic" or take elements of another style to personalize your home office even further.
As for men's desk décor, you should know that the most utilized color in this style is white, while beige and black serve as complementary colors. This combination makes the whole office feel organized, approachable and comfortable.
3. High Gloss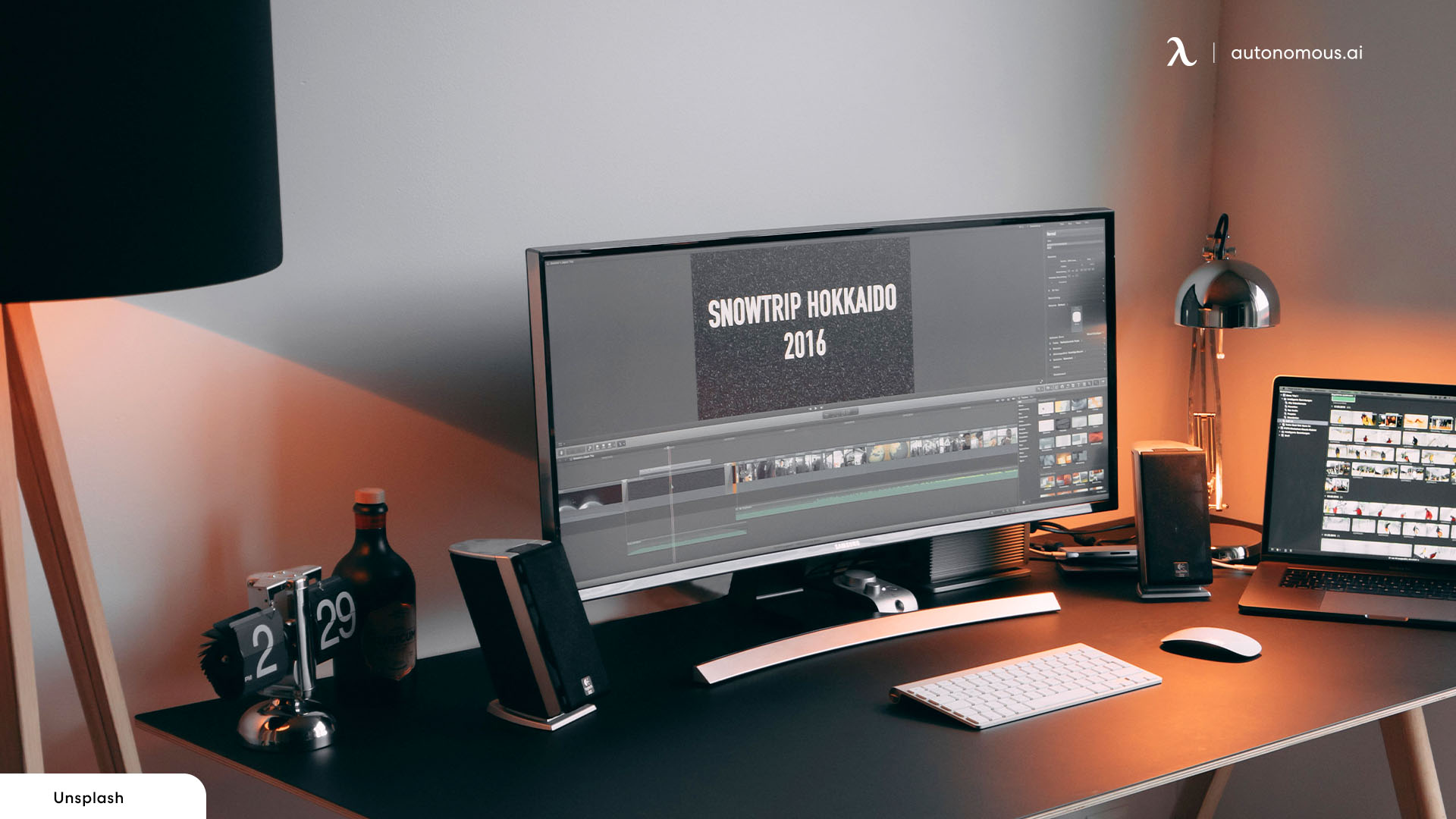 Men's home offices are often composed of neutral colors, which means it is easy to make your workstation look more elegant and expensive. For instance, if you choose black as your main color, you can paint some of the furniture pieces a shiny high gloss black for a better effect.
Additionally, an open-legged desk and artwork pieces where black is the focal point can also bring a more "luxurious" appearance to your workstation.
4. Large Art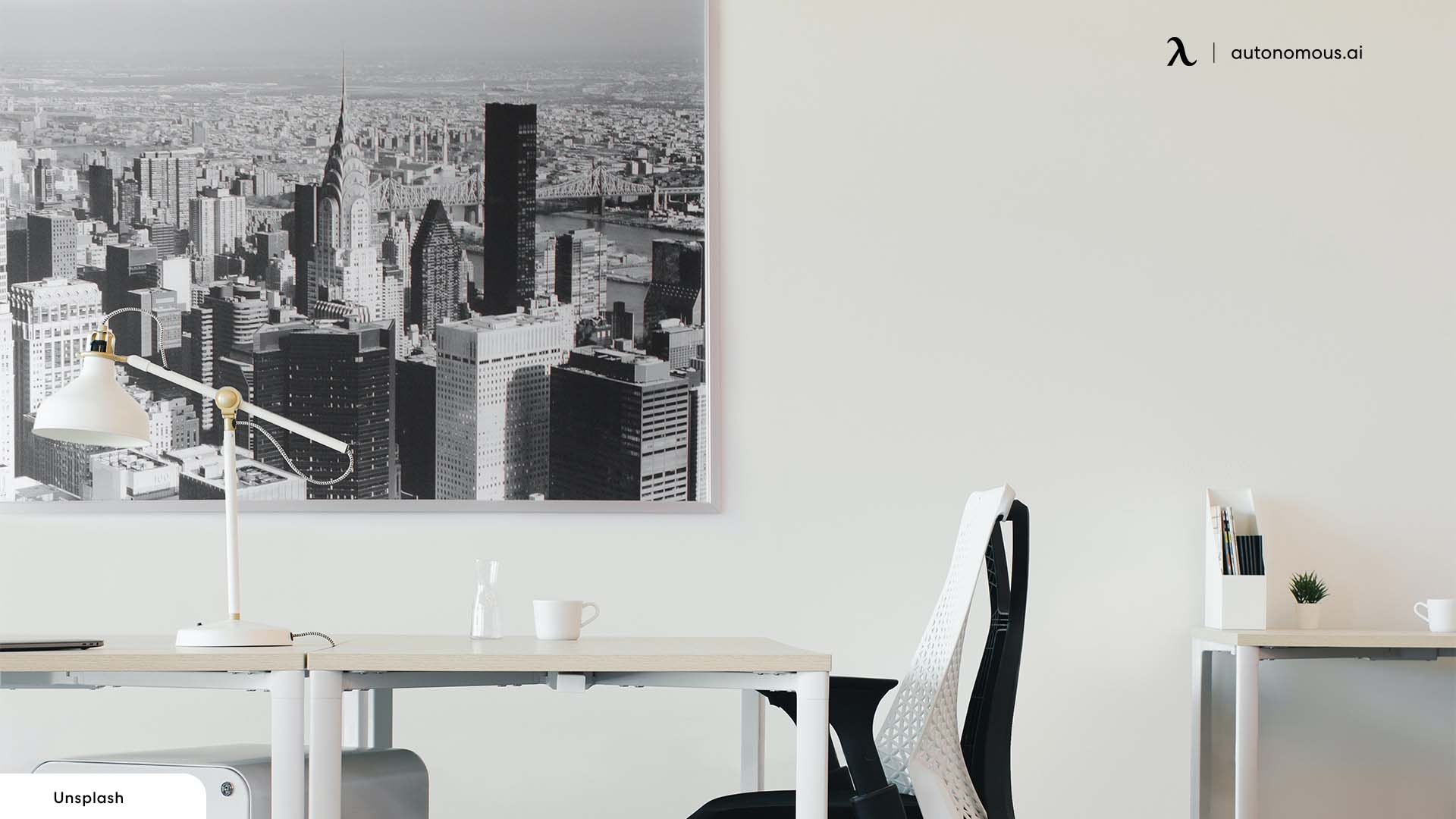 Regardless of the style you prefer, including large art is always a nice touch to any room, including your workstation. If you'd like to accentuate your desk even more, you can choose to paint your walls white and hang large art behind your desk. This way, you'll be defining the main area in the room.
5. Contemporary Style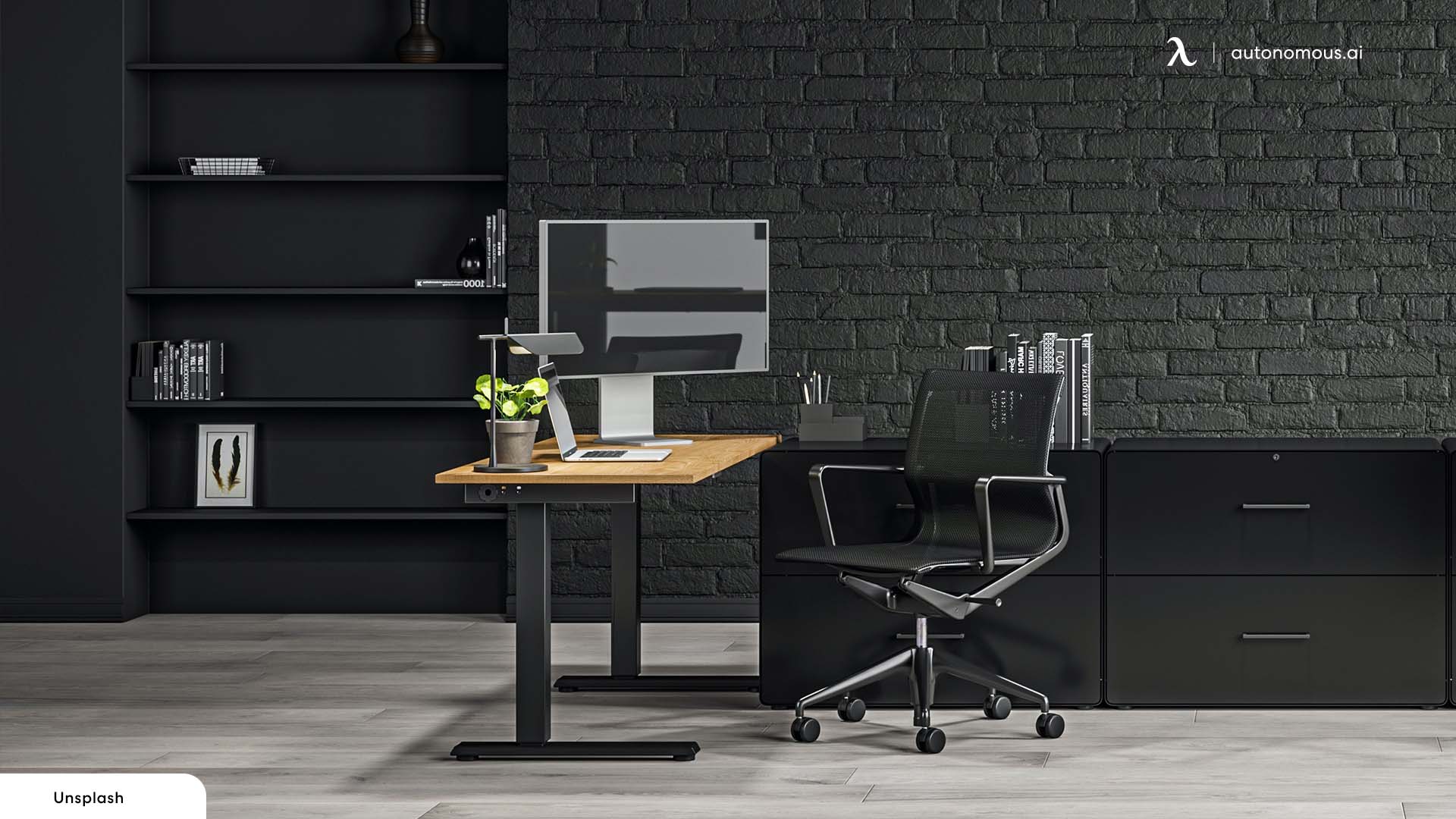 If you'd like something that resonates more with this era, perhaps the contemporary style can be good for you. For this option, you can choose lighter colors for your walls while choosing a darker shade for your desk, which would be the focal point within your setup.
Additionally, keeping a few bookshelves and pieces of decoration like a chandelier and simple curtains can help you improve the room's atmosphere.
There are different approaches to the contemporary style for your desk decor for guys, and all of them are valid. For your men's office décor, you can play around with the shades to figure out what works best for you.
Recommendations
There isn't a single way to build a workstation. As long as the desk décor for guys you've chosen resonates with your personality, everything is fine. However, there are certain things we highly recommend you to take into account if you'd like to improve your comfort.
Ultimately, your men's desk decor should appeal to your desires and preferences. Make sure you feel like your home office is a safe space where you can work without distractions.
Hey, you have special pricing through your company.
Get exclusive rewards
for your first Autonomous blog subscription.
WRITTEN BYAutonomous
We build office products to help you work smarter.
Coming at You Live from Autonomous' Social Media!