Smart Products
5 Popular Brands of Modern L-shaped Desks Offered at Good Prices

Autonomous
|
Jul 7, 2023
564 Views
The type of furniture you choose for your office says a lot about you and your business. You should aim for the best quality office furniture that will paint a good picture of your company. This is why a modern L-shaped desk is a great choice for any modern office in 2023.
There are certain situations where an ordinary office desk is not the ideal option because of the size and orientation of your office. If a desk that can be placed in a corner seems like the best option, choose a modern L-shaped desk from Autonomous. 
You can choose from a wide range of different types of L-shaped desks that will go well with your desk decor ideas. If you choose carefully, you can turn your office into the perfect work environment that is comfortable, attractive, and a productive place to work. 
A great L-shaped desk can turn your ordinary workspace into a modern home office that will be the envy of all your visitors. Read on to find out more about L-shaped desks and the fantastic products Autonomous has for you. 
What Are the Benefits of a Modern L-shaped Desk?
Before you decide on the right type of desk to buy for your office, you have to think about the benefits of each choice. There are many things to love about a modern L-shaped desk in your office, such as: 
An L-shaped desk gives you more area to work and store your accessories without making the desk look cluttered.

It is designed to fit discreetly in the corner, making it the best choice for small spaces.

Working at a modern L-shaped office desk gives you a place to rest your elbows.

You can have two different employees working at the same modern L-shaped executive desk without getting in each other's way.

The design makes it a great option for an 

L-shaped gaming desk.

Cord and wire management is much easier when your desk is in the corner.

You can arrange your accessories so that everything you need is within easy reach.

Working at a modern L-shaped executive desk allows you to face the wall, away from any distractions, which means it helps you become more productive.

If you choose an ergonomic 

L-shaped standing desk, you can enjoy better productivity while safeguarding your good health.
As you can see, an L-shaped desk is a great option when creating a modern office environment, but it has its disadvantages that you have to consider, such as: 
Modern L-shaped computer desks are either right or left-orientated, meaning you cannot just place them in any corner of the office.

It is easy to feel isolated or trapped when working at a contemporary L-shaped desk, meaning it is not ideal for everyone.

In a large office, you can end up with a huge open space in the middle of the room where your desk was supposed to go. 
DIY vs. Pre-built L-shaped Desks
When you decide that a modern L-shaped desk is the right choice for you, you can either buy a pre-built desk or go for the DIY option. Buying a ready-made desk is the obvious solution for most people because it is a lot more convenient. 
However, building your desk can be a lot of fun while helping you cut costs in some cases. If you have an irregular space in one corner of your office that you want to capitalize on, building your own DIY L-shaped corner desk may appeal to you. 
In many cases, building a DIY-mounted corner desk is the best option when space is limited because all you have to do is attach the work area to the walls in one of the corners and you will have a great L-shaped standing desk. 
However, if you are looking for something a lot more complicated, a DIY L-shaped desk may not be the ideal solution. Take, for example, if you want your modern L-shaped desk to be a standing desk. Building the motor and lift mechanism is not easy, meaning this is the kind of situation where buying a pre-built desk is the better solution. 
On the other hand, building a DIY L-shaped desk gives you a lot more control over the design aspects. You can tailor your desk to your exact needs and make sure that it goes perfectly with your office décor. On many occasions, you may wish that the desk you bought had more drawers or shelves, which is not an issue with a DIY desk. 
In terms of saving money, it all depends on your ability to buy cheap materials and whether or not you need to outsource some labor for the project. If you cannot get these two things right, a DIY L-shaped desk can easily become a lot more expensive than a pre-built one.
Choosing the Right L-shaped Desk
When you browse through the various products on huge platforms, such as Autonomous, one of the first things that will strike you is the wide range of available options to choose from. Choosing the right desk can become a difficult experience. 
However, L-shaped desks can be separated into various categories, such as: 
Contemporary L-shaped Desk
The vast majority of modern L-shaped desks are designed to have a contemporary style. This means that while being stylish is important, these desks place a lot of importance on functionality and comfort. 
A lot of the L-shaped desks you will see on the market these days will have a lot of ergonomic features, such as having a motor to turn an ordinary desk into a height-adjustable standing L-shaped desk. 
Modern L-shaped Computer Desks
Some desks are made specifically to be used as a small corner computer desk for the office. This means you will notice features such as cable management systems and shelves to hold CPUs and other computer components. 
Another characteristic of these desks is that they usually come with a lot of surface area to allow you to place your computer monitor and keyboard while still having enough space to work on. 
Modern L-shaped Gaming Desk
The popularity of gaming has led to the rise of cool desks designed specifically for use by gamers. These are usually recognizable by the modern designs which may be accompanied by various video game-specific décor, such as RGB lighting. 
With L-shaped gaming desks, a lot of emphasis is placed on ergonomics because players can spend many hours each day sitting behind their desks playing games. This means it is not unusual to find an L-shaped gaming desk that is also a standing desk. 
Modern L-shaped Executive Desk/Office Desk
Some of the most popular L-shaped desks are designed for the office. A modern L-shaped office desk can be used for a wide range of activities besides office work, such as gaming or technical drawing. 
If it happens to be a large L-shaped desk, it is usually referred to as a modern L-shaped executive desk. These usually come with a lot of extra features and are more expensive than an ordinary modern L-shaped office desk. 
Five Brands Offer Modern L-shaped Desks
If you are wondering which brands of modern L-shaped desks to choose from, this article has narrowed down the list of options to just five that you need to consider. You cannot go wrong with any of the following L-shaped desks: 
1. Autonomous L-shaped Desks
Autonomous is quickly becoming one of the most popular choices when it comes to modern L-shaped desks. If you visit the website looking for an office desk, you will find many different options to choose from, such as the SmartDesk Corner, SmartDesk Core, and SmartDesk Pro. 
You need to look at your needs before you decide which of these three great options is the best pick for you. However, the SmartDesk Corner is proving to be a popular choice and is one that you should seriously consider.
One of the most popular choices on the Autonomous website is the SmartDesk Corner. This contemporary L-shaped desk is built for functionality as well as aesthetics, meaning you will look great while getting some work done as productively as possible. 
With an average length of 50.8 inches and a width of 27.5 inches, the SmartDesk Corner has more than enough space for your daily office needs. Although the colors are limited to either white or black, you can be sure that this desk will look great in any office. 
When you buy this impressive desk from Autonomous, you will get an awesome five-year warranty on the frame and one year on the top. If you are looking for the perfect L-shaped corner desk for your office, look no further than the SmartDesk Corner from Autonomous.
Top dimension
Full: 77"L x 64"W x 1"H
Large Top: 77"L x 29"W x 1"H
Small Top: 29"L x 35"W x 1"H
Frame dimension
27.5"W x 42" - 71"L
Height range
With top: 29.4" - 48"
Without top: 28.4" - 47"
Materials
Top: Warp-proof MDF wood
Frame: SPCC steel
Colors
Top: White, Black
Frame: White, Black
Weight capacity
400 lbs
Warranty
5 years for frame
1 year for top
Why Choose Autonomous?
Why should you buy from Autonomous when there are so many other online retailers to choose from? The short answer is that only at Autonomous are you guaranteed the very best in terms of quality. 
When you buy a modern L-shaped office desk, you expect it to last you a long time. This means durability and high quality are important considerations. At Autonomous, these are some of the things that are guaranteed. The impressive warranty that is offered is a testament to the confidence the manufacturer has in its product. 
In terms of design, Autonomous L-shaped desks are sleek and modern enough for any office décor ideas. You cannot go wrong with choosing this as your preferred option when looking for the perfect desk for your home office. 
Autonomous Bulk Order Program
The bulk order program makes it easier and cheaper for customers to buy lots of furniture items in one go. If you are planning to buy three or more SmartDesk Corner L-shaped desks for your office, make use of this option so that instead of paying $1,149 per desk, you will only be charged $1,131.02 each. 
2. Eureka Ergonomic
Another great brand to consider is Eureka, a company that is well-known for producing high-quality products. 
Take, for example, the EUREKA L60 L-shaped Standing Desk: Programmable Keypad. This is a great L-shaped desk to consider if you want a gaming desk. It is big enough to easily accommodate two individuals, while the electric motor is ultra-quiet to allow you to easily lift or lower the desk without disturbing anyone. 
There are also many other great designs offered by Eureka that you can consider if you are looking for a different type of modern L-shaped desk, such as: 
EUREKA ERGONOMIC L60 Computer Desk: Left Side, Pink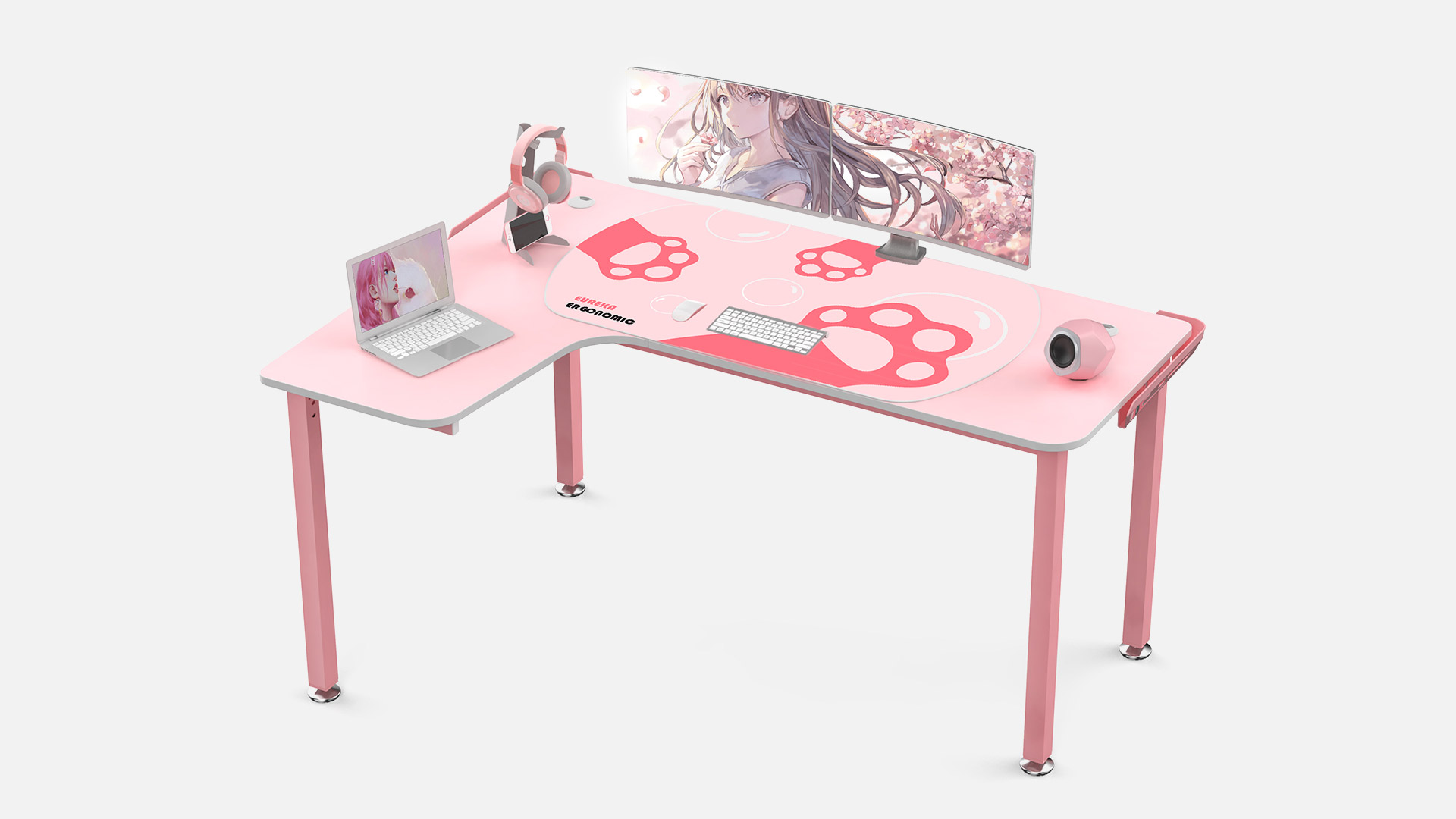 EUREKA ERGONOMIC L60 Computer Desk
| | |
| --- | --- |
| Dimension | 61.18"L x 43.3"W x 30"H |
| Materials | EPA TSCA Title VI and CARB Phrase Ⅱ certified eco-friendly material |
| Colors | Pink |
| Weight capacity | 550 lbs |
| Warranty | 5 years |
EUREKA ERGONOMIC 60" L Shape Glass Gaming Desk: Music Sync RGB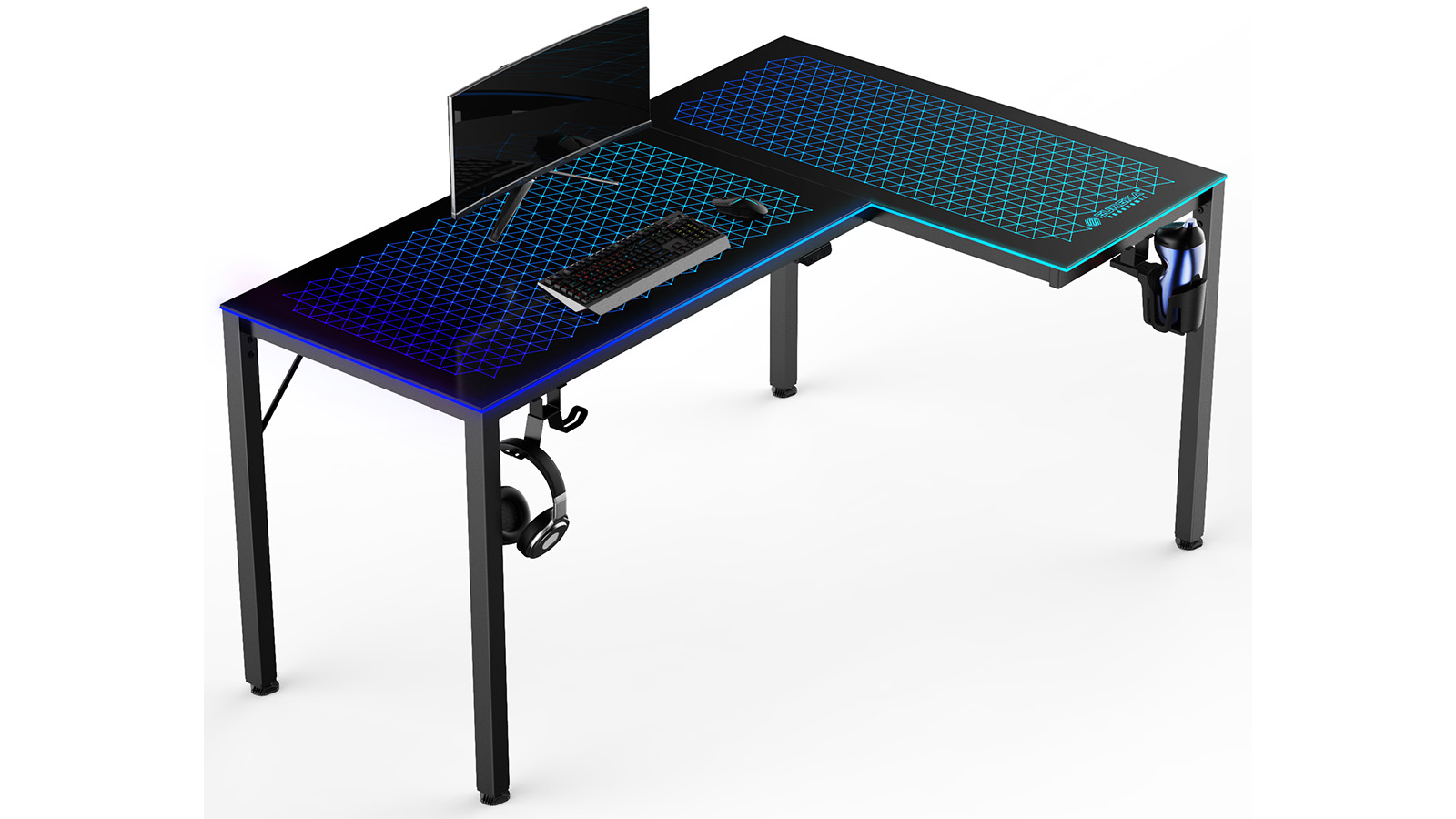 EUREKA ERGONOMIC L-shaped Glass Gaming Desk
Dimension
60"W - 23.6''D - 30"H
Material
Glass
Weight capacity
330 lbs
Feature
27 music sync modes & RGB lights with Bluetooth app control
Dual headset hook, rotatable cupholder, power strip holder, and adhesive cable ties for optimal organization.
Warranty
5 years
3. FEZIBO
If you are looking for the perfect blend of quality and style, try the FEZIBO Dual Motor L-Shaped Electric Standing Desk. It is a great-looking desk with a robust electric motor and lift system that operates at less than 50 dB. 
This desk has a wooden stand that works great as a laptop riser to allow you to work in a more ergonomic position or as extra storage space for your desk accessories. Built of high-quality material, the solid construction of the FEZIBO Dual Motor L-Shaped Electric Standing Desk means it can easily carry up to 176 pounds.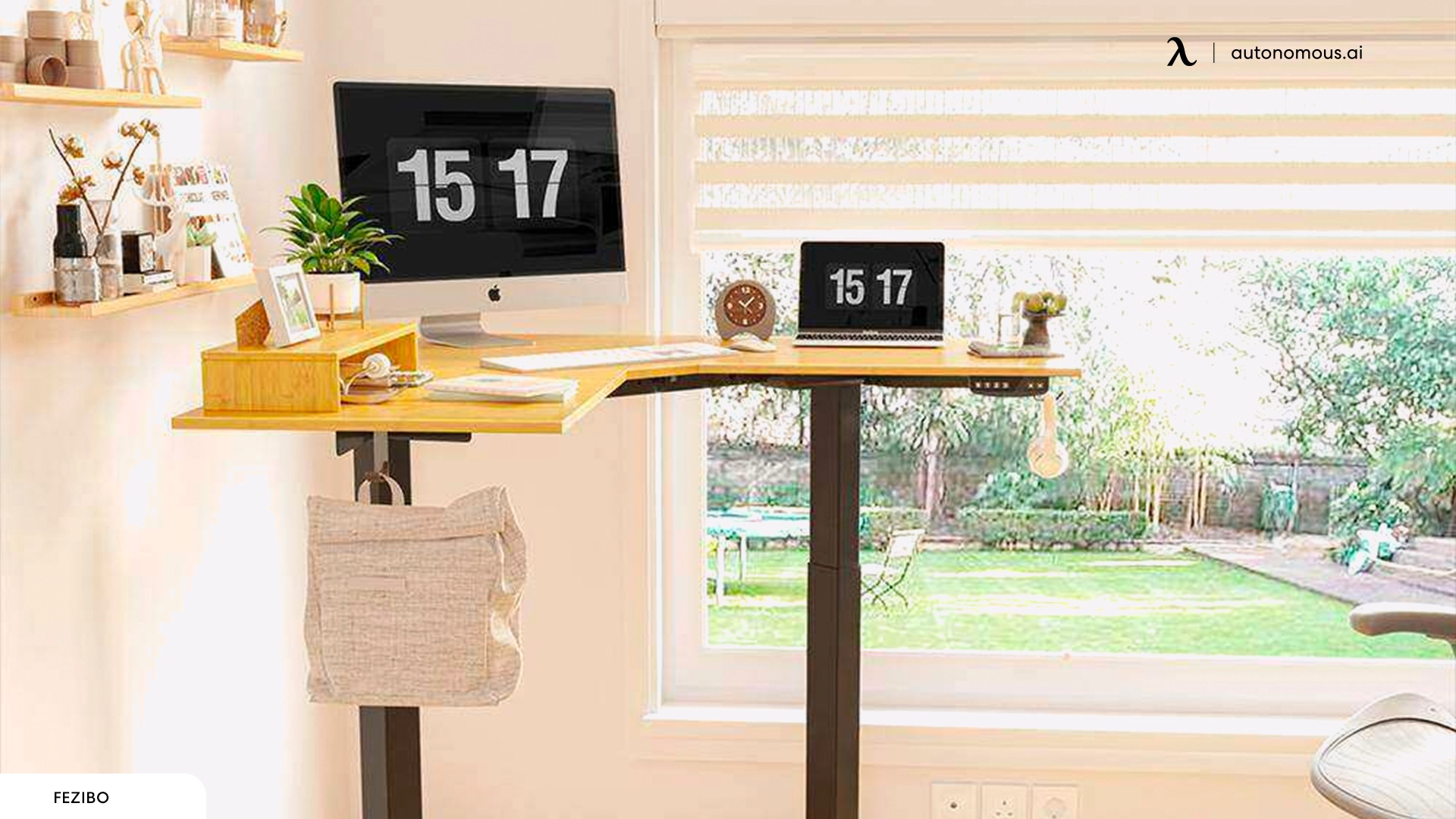 FEZIBO Dual Motor L-Shaped Standing Desk
| | |
| --- | --- |
| Dimension | 48" W x 19.7" D x 26.6" H |
| Height Range | 27.36" to 46.06" |
| Color | Bamboo, Black, Rustic Brown |
| Weight Capacity | 176 lbs |
4. Techni Mobili Warrior L-shaped Gaming Desk
The way the legs are designed on the Mobili Warrior L-shaped gaming desk means that they take up as little floor space as possible, which is great if you have a small office or game room.  It also comes with lots of extras, such as two cup holders that are ideal for gamers who want to share desk space. Highlighted L-shaped desk offered by Techni Mobili are:
Techni Mobili Warrior L-Shaped Gaming Desk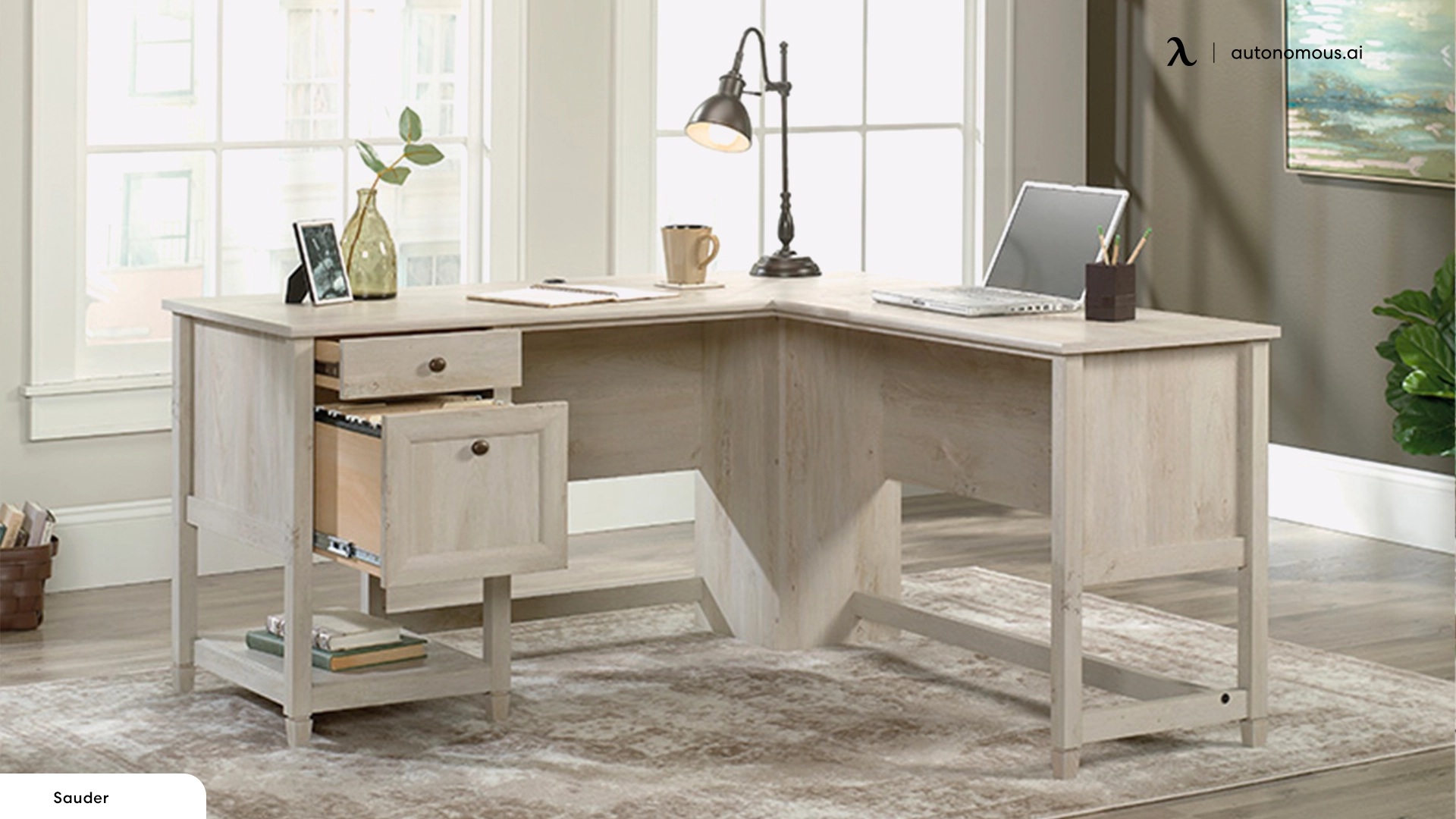 Techni Mobili Warrior L-Shaped Gaming Desk
Dimension
63''L x 59''W x 35.25''H
Material
Desk top and shelves: MDF panel, rich carbon fiber like texture
Base: Powder-coated steel
Color

Black top
Matte silver legs

Weight capacity
130 lbs
Warranty
5 years
Techni Mobili L-Shape Desk with Hutch and Storage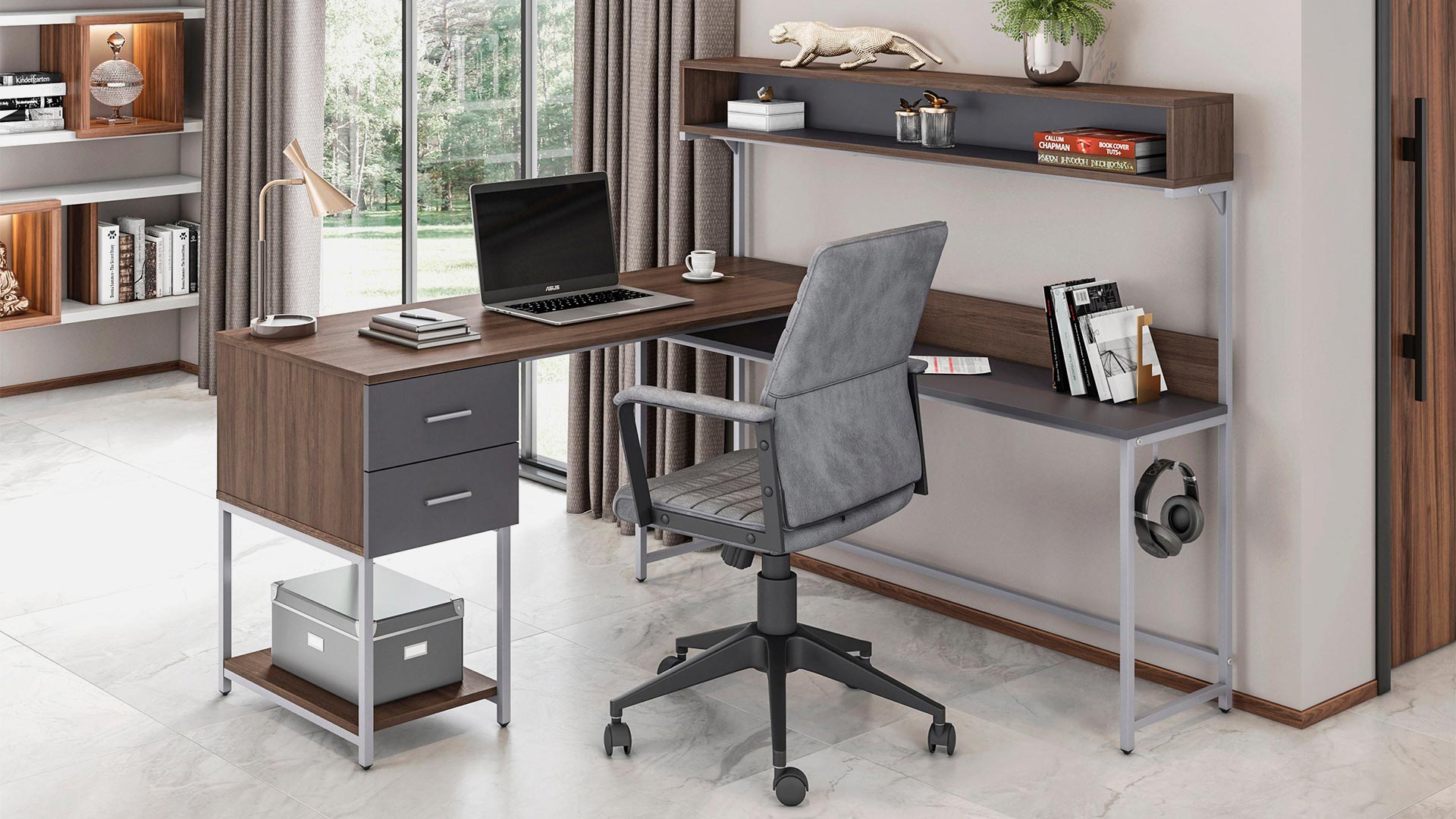 Techni Mobili L-Shape Desk
| | |
| --- | --- |
| Dimension | 59'L x 59'W x 50'H |
| Material | Engineered wood finish in vintage color and powder-coated steel |
| Color | White, Walnut |
| Weight capacity | 88 lbs |
| Warranty | 5 years |
5. Sauder Edge L-shaped Desk
Storage and cable management are big issues when it comes to modern offices. That is why it is very refreshing to see this L-shaped desk from Sauder Edge that addresses both issues perfectly. With lots of storage underneath the desk, you do not have to worry about where to put your paperwork and various accessories ever again.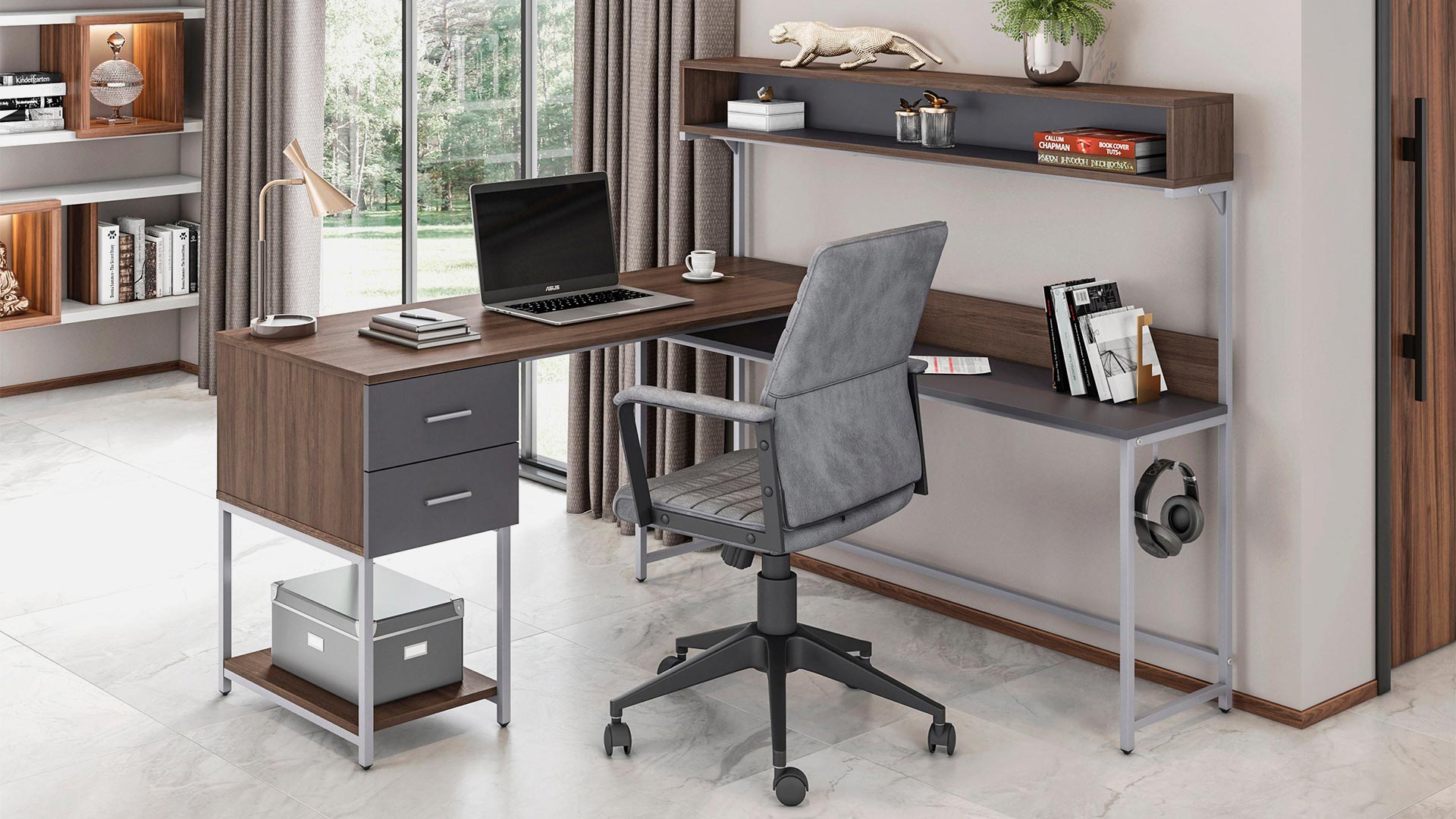 Sauder Edge L-shaped Desk
| | |
| --- | --- |
| Dimension | 59"W x 58 3/4"D x 29 5/8"H |
| Color | Chalked Chestnut |
Final Thought
A modern L-shaped desk can be the perfect addition to your home office. With so many great options to choose from, there is no reason why this should not be at the top of your shopping list for 2023. Choose reliable brands, such as Autonomous and Eureka, and add the finishing touch to your modern office décor.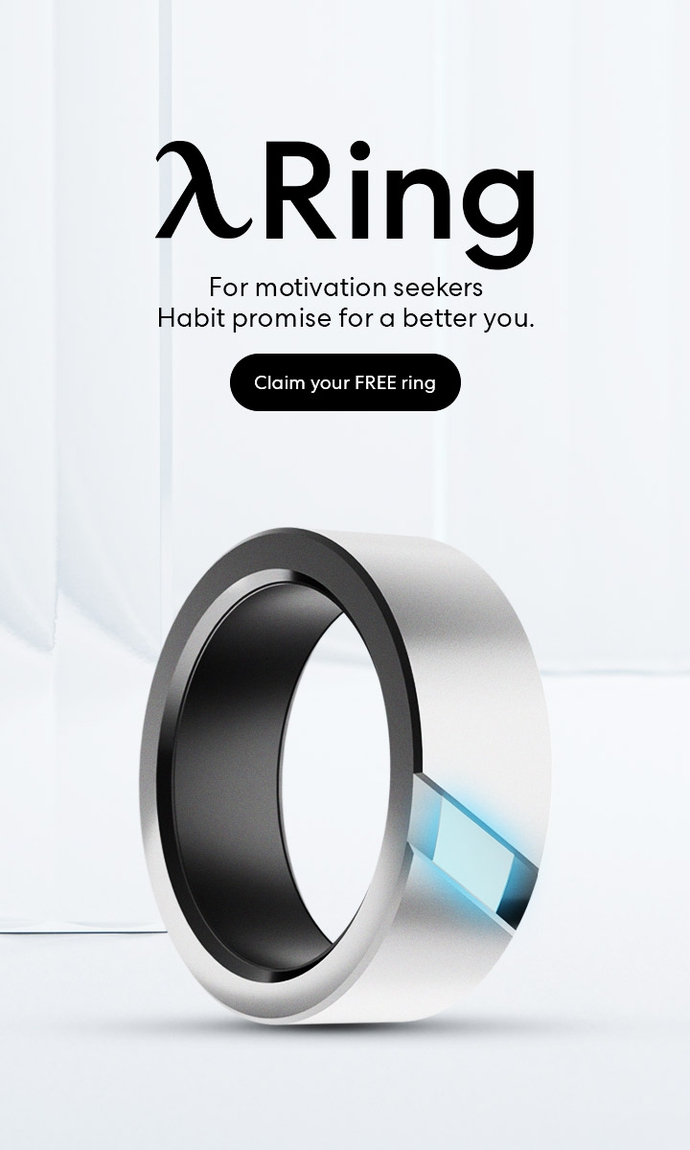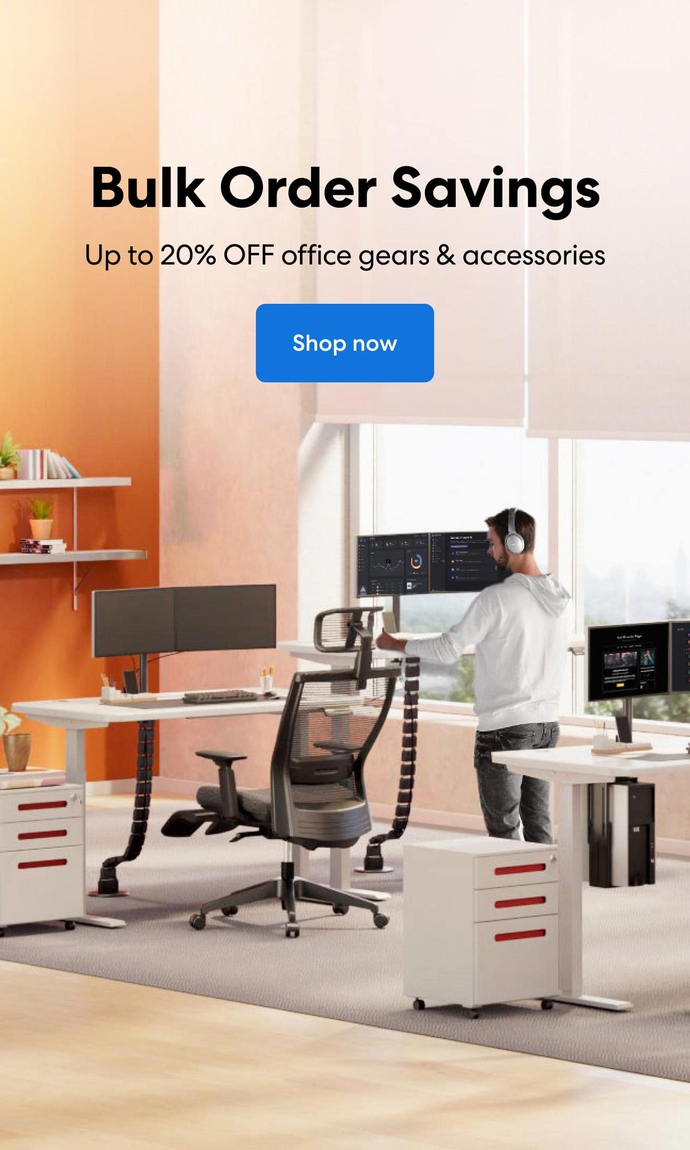 Subcribe newsletter and get $100 OFF.
Receive product updates, special offers, ergo tips, and inspiration form our team.