Work Wellness
Addressing Ergonomic Hazards to Get a Healthy Life at the Office

Autonomous
|
Jun 13, 2023
440 Views
An ergonomic hazard could be easy to handle, but it might also hinder your life forever if you don't manage it properly and promptly. 
Unfortunately, many people don't care about potential ergonomic issues, and it's why they often develop long-term problems. 
In this article, you'll learn everything you must know about ergonomics, why you should pay attention to them, their causes, and the items you should buy to prevent potential problems, boost your productivity, and increase your well-being. 
What Is Ergonomics?
Ergonomics is the study of performing well in a specific environment. Therefore, it's a science that experts rely on to design products and objects for you to be comfortable and productive. 
Even though people often discuss the physical aspects of ergonomics, it also helps experts design products that help with your mental skills. 
Ergonomics, for example, helps professionals design the monitors you'll use when working, and it allows them to set up different features. Therefore, you can avoid eye strain or feeling excessively tired. 
This science strives to guarantee that the products you buy are perfect for you. Therefore, experts often consider human anatomy and psychology to ensure that the objects you use are comfortable and functional.
Why Should You Focus on Ergonomics?
Focusing on ergonomics is essential, particularly to prevent risks and avoid injuries and other issues. 
There are fewer dangers when you buy ergonomic products such as smart desks or office accessories. They help you reduce the chance of suffering from an ergonomic injury, strain, tension, and many more problems. 
Another reason you should care about ergonomic safety is that it helps you feel much more comfortable, especially while working. 
Ergonomic concerns often include injuries and many more seemingly life-threatening issues, but the worst-case scenarios aren't the only thing this science cares about.
On the contrary, when you focus on ergonomic safety, you can guarantee that you'll increase your well-being and reduce your stress levels. These products are comfortable, and they'll help you feel motivated whenever you sit down to work. 
Furthermore, ergonomics helps you be much more productive in a work environment. When you buy an ergonomic chair, for example, you won't get back pain after a couple of hours of getting your to-dos done, so you'll be able to keep working for much longer.  
Focusing on ergonomics also helps you save money on a long-term basis because you won't need to spend in dealing with back, neck, shoulder, or leg pain. 
Overall, ergonomics are essential for a healthy life, and they help you feel and perform your best when you're in a work environment.
What Is an Ergonomic Hazard?
Also known as ergonomic risks, they refer to all the dangers that come from not having the best products. They can also happen when you arrange them incorrectly. 
If you, for example, don't have an ergonomic keyboard and mouse, you might start feeling hand strain eventually. It could worsen so much that you develop complicated issues, such as carpal tunnel syndrome. 
Even though not every ergonomic hazard ends up in long-term issues, many of them do. Generally, it's why you should try to get the best products you can - you'll be able to prevent problems before they ever appear. 
Causes of Ergonomic Hazards
In many cases, ergonomic risks originate because there's a mismatch between your specific characteristics and the products you're using.
You might, for instance, be a big and tall person who needs a chair that fits their needs. If you don't have one (or if your sitting place is uncomfortable for your size), you might be at risk of future issues. 
Sometimes, ergonomic hazards are just a product of low-quality furniture pieces and accessories. In those cases, the best alternative is to get better ones.  
At the same time, some behaviors could make you prone to suffering problems. Maintaining a poor posture, performing repetitive movements without varying them or taking breaks, and forcing your muscles or tendons to do debilitating tasks could all play a role. 
You must be careful when working, regardless of the job you keep. Even secretaries and office workers are prone to suffering long-term issues if they don't take care of their bodies and ensure they're taking as many breaks as they need. 
Even though it's less likely, environmental factors can also cause ergonomic hazards. Improper lighting, poor weather conditions, and noise could put you at risk. Even so, you could manage this if you get the best furniture for your surroundings.
Practicing Office Ergonomics: The Best Way to Avoid Ergonomic Hazards
You can avoid issues and increase your well-being if you practice office ergonomics. It will allow you to prevent injuries and feel much more motivated to work. 
When you buy ergonomic chairs for back pain, for example, you're dealing with a physical issue but also preventing it from getting worse. In addition, they can help you be more productive because discomfort won't stop you from completing your to-dos. 
Although optimizing your workspace is essential when dealing with ergonomic concerns, there are also other things you can do to improve your well-being. 
You can deal with environmental issues, such as reducing glare and taking advantage of natural light to make sure you don't get eye strain. 
Furthermore, take a look at your surroundings. In some cases, you have all the objects you need - you just haven't arranged them correctly. If that happens, you might just need to spend a few hours changing the order of your furniture pieces around until they fit your needs. 
To handle ergonomic risks, you should also introduce some variation into your routine. Take regular breaks and change your posture around at least once per hour. It will help you prevent tension and mental strain. 
Lastly, if you're a team manager, part of addressing an ergonomic hazard consists of you training them to avoid these issues. You must teach employees about how to properly adjust their chairs and desks, why they should always be comfortable, etc. 
Implementing the previously mentioned measures will allow you to increase your well-being and satisfaction and avoid injuries, mental stress, physical strain, and more.
Can Office Furniture Help Avoid Ergonomic Hazards?
Picking the correct office furniture is the best way to address ergonomic concerns. When you buy top-quality items, you can guarantee that you won't have any issues for years. 
Most ergonomic furniture pieces have adjustable features. Therefore, you can change them around depending on your needs, goals, and individual characteristics.
Top-notch tables, for instance, include ergonomic desk heights that you can change. On some occasions, you could elevate the furniture piece and even work while standing up, all by pressing a few buttons. 
Adjustable chairs are also crucial because you can change their height, backrest, neck rest, and more. When you do, you'll be able to guarantee they properly support your spine. 
Overall, ergonomic furniture is fantastic because it helps you maintain a healthy, neutral posture. It keeps your spine aligned while also putting your wrists and eye at the correct level concerning the rest of your body. 
At the same time, when you get the right office furniture, you'll most likely be able to take care of your hands, wrists, and arms too. Therefore, you could prevent long-term issues such as carpal tunnel syndrome or tendinitis. 
Office furniture helps avoid ergonomic hazards because it's the primary goal of its design. Consequently, it'll also help you and your coworkers feel much more productive and boost employee satisfaction.
Ergonomic Office Furniture Recommendations
Investing in ergonomic furniture is essential if you're working in an office. You must make sure you don't suffer from injuries or any other issues, especially if you need to be productive for a few hours a day. 
Now that you understand the importance of ergonomic safety, here are the primary furniture pieces you should focus on to maximize well-being and productivity: 
Standing Desk
A desk is the center of anyone's office. It allows you to support your devices, organize your workspace supplies, and feel very comfortable while you're working. 
Getting a standing desk is probably the first thing that should be on your mind if you're optimizing your workspace for top-notch ergonomics. 
This piece of furniture allows you to maintain the ideal posture for a long time. Therefore, you'll be able to get through your work days without feeling uncomfortable or tense.
Since you can switch from sitting to standing, changing postures throughout the day will only take a few seconds. These desks are ideal because they help you reduce sedentarism since you'll be moving around from time to time. 
Changing postures will, in turn, help you stay more focused while you're working, which is an automatic productivity boost. All in all, standing desks are a must for your office space.
Some recommendations
Ergonomic Chair
Getting an ergonomic office chair is just as essential as buying a top-quality standing desk like Autonomous' models.
If your posture is becoming an ergonomic hazard that puts your safety at risk, the best chair will help you manage the situation. 
As the article mentioned, you can adjust ergonomic chairs to fit your needs, so you must only change their features around until you feel very comfortable. 
An ergonomic chair will also help you reduce fatigue because you won't feel physically tired after a couple of hours of work. Instead, you'll be able to perform well for longer. 
Lastly, ergonomic chairs are essential if you want to save money in the long run. Since they can last for many years, you won't have to replace them and spend more money. 
Some recommendations
Anti-fatigue Mat
Getting a standing desk mat will also be very advantageous if you correctly place it in your workspace. 
Firstly, it helps you manage ergonomic concerns because it improves blood circulation in your legs. If you're on a flat surface for long, you might be more prone to experiencing tension or cramps. 
However, anti-fatigue mats encourage micro-movements of the muscles on your legs. Therefore, you'll reduce numbness, avoid swelling, and prevent long-term problems such as varicose veins. 
Clearly, anti-fatigue mats help you feel much more comfortable while you're working and increase productivity. If you don't focus on leg pain and discomfort, you'll be able to pay attention to your work, which is fantastic. 
Finally, anti-fatigue mats are portable because of their lightweight and versatile shape. You can fold them and put them away if you're not using them or need to move them elsewhere, which is also convenient if you need to change your office space. 
Some recommendations
Monitor Arm
The last item you should get if you're focusing on ergonomic concerns is a monitor arm. It's one of the most underrated office essentials, so you should keep it on top of your list. 
A monitor arm allows you to adjust the height of the screen you're looking at. Therefore, along with your desk and chair, they will allow you to maintain a correct posture while typing or performing other work-related tasks. 
Monitor arms are also essential if you're using different screens. With these products, you'll be able to make sure that all your monitors are at the same height, which is crucial to avoid eye strain and fatigue. 
If you're working in a shared space, getting a monitor arm is a fantastic idea because they're flexible enough for you to adjust your screen and make sure it fits the room. 
At the same time, relying on a monitor arm allows you to get much better angles because you'll be able to adjust your screen to your needs. You could reduce glare and other issues by just changing the position of the arm around, which won't take more than a few seconds.  
Some recommendations
Final Thoughts
Office ergonomics are essential because you'll spend a long time in your workspace. Therefore, getting the best items possible is the first thing to consider if you're putting together a functional, beautiful, and durable environment.
Video ads for product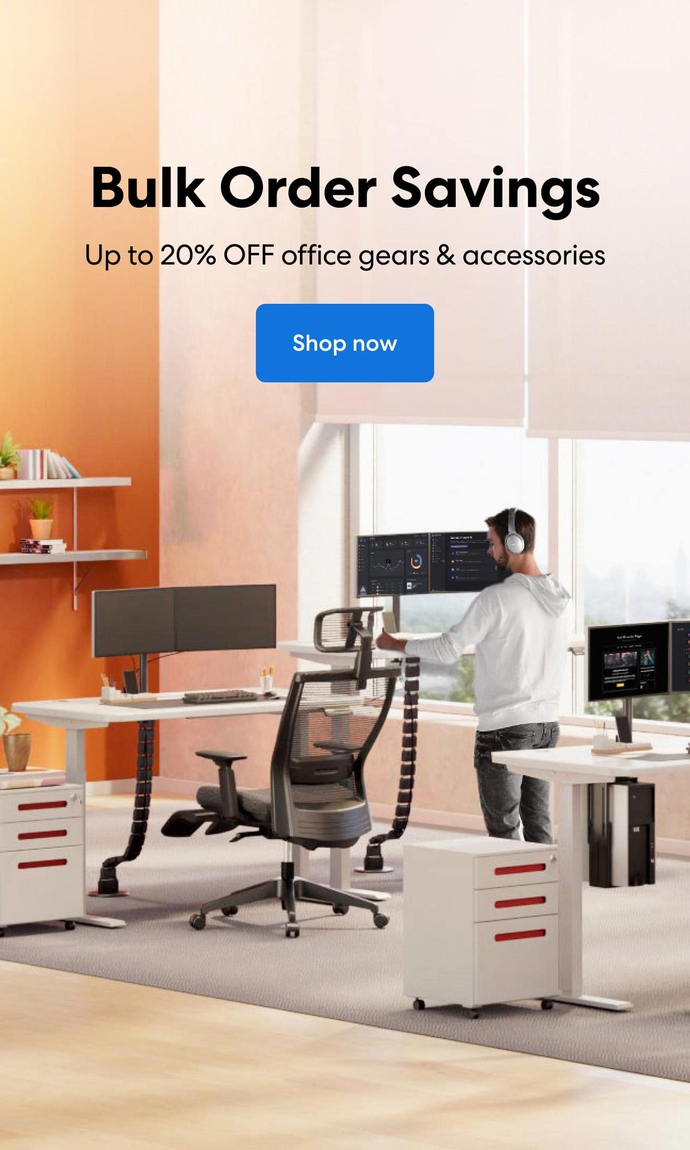 Subcribe newsletter and get $100 OFF.
Receive product updates, special offers, ergo tips, and inspiration form our team.