The MacBook is one of the most recognizable computers in the world. People love the brand for its various features and the quality of its products. They can elevate performed work and make it much faster and easier in comparison to other brands. These computers are often chosen by people who work in digital design, music production, film making, and development.
Thanks to the latest great tech user experience and fast processing speeds, the MacBook is considered a good investment. Many people, especially now, work remotely. Some choose coworking spaces, while others create a home office design. In any case, you need a perfect workstation that is dedicated and prepared for intensive work.
Creating a MacBook desk setup in your home office might be challenging. Keep reading to learn how to prepare a perfect dedicated work area that can increase your creativity and make your work more enjoyable and comfortable.
Things to Consider While Creating a Workspace
When you are working on creating a perfect laptop desk setup, you should consider a few crucial factors. Remember that creating a functional workstation might be vital for your efficiency. With a perfect desk setup, you can reach optimal productivity levels.
Some crucial factors that can influence how your Apple desk setup is going to look are:
Your profession

Type of MacBook that you have

The

office equipment that your work requires

The amount of work you have to do

Your personal aesthetic preferences

Additional lighting (important for videography and photography)

Your budget
If your workload is low and you only need a laptop to process your work, a smaller workstation can be enough. However, if you work for a prolonged amount of time or your profession requires multiple processing units and monitors, you should reach for a more extended setup.
Apple Desk Setup
Creating a dedicated and well-designed workspace is crucial for your productivity. You should create a workplace that best suits the work that you do. Ask yourself, do you only need a computer space, or maybe your work requires an additional tabletop for drawings, etc. You should also adjust the place to the digital equipment that you use.
The two most important pieces of office furniture are the desk and chair. These two items have to be of good quality and suit your needs. An ergonomic chair and desk can improve your productivity, but also help you to remain healthy and keep a good posture even after long hours of work.
Before purchasing any product for your Apple desk setup, take into consideration the dimension of your Apple product. You should also think about all additional devices that need to have a dedicated space on your Apple computer desk.
Keep It Clean
Products from Apple are famous because of their minimalistic, sleek design. While creating your workspace, you can take into consideration a style in which you are going to feel the best. While you might love splendor, think about a space that is not going to distract you.
A perfect Apple desk setup should allow you to maintain an organized and tidy surface. By reducing the number of items on the surface, you prevent distraction and improve your creativity. You probably heard it before: in the workplace, less is more.
A clutter-free workplace can be easily maintained. If you need some extra space, you can add a minimalistic office cabinet to your workstation. If you are a creative professional who needs easy access to pens, pencils, highlighters, or anything else, you can install an additional swivel desk drawer.
If extremely ascetic designs are not your favorite ones, you can add some spark to your working space by adding a small office plant. You can also pick a cabinet in a bold color to make the space a bit more interesting. Placing an inspiring quote on the wall can also motivate you to work and add an individual charm to your workstation.
What Do You Need for Your Office Desk Setup with Apple Product?
If you want to do most of your work at home, your laptop might not be enough. To increase your productivity, you might want to reach for additional devices that can help you in creating a perfect MacBook Desk Setup.
If you work prolonged hours, you might want to invest in a good monitor for your Apple computer desk. Thanks to this, you not only have a better view of what you are doing but can also keep your head straight while working. That reduces the amount of strain that your neck has to take during long working hours.
MacBook Pros usually have shallow butterfly keyboards. While they work perfectly fine for chatting on messenger or drafting a few emails, they are far from ideal when it comes to prolonged typing. Your wrist cannot rest, and you might quickly feel discomfort. Investing in one of the Mac ergonomic keyboards can be a good idea. Those products are designed to be comfortable and adjust to your pace of work. As they work thanks to a Bluetooth connection, you don't have to worry about clutter on your desk.
If you are a MacBook Pro owner, you have probably noticed that the trackpad is very responsive. However, working on detailed projects, such as photo editing, video making, etc., might require something more. Trackballs and mouses can be a perfect solution if you are looking for an ergonomic, precise solution. They can also be connected via Bluetooth.
Do you like to listen to music while working with your Apple desk setup, or often call your clients? If yes, you are going to need good quality headphones. Apple offers the AirPods Pro that works via Bluetooth and takes up very little space. Moreover, they are noise canceling, so you can increase your focus.
Choosing a Perfect Home Office Desk
An adjustable standing desk can be a wonderful option for your MacBook setup and Apple computer desk. Thanks to its ergonomic design, you can regulate it whenever you need to. Before selecting a standing desk, consider the dimensions and your space requirements. Also think about the area at your place that you want to dedicate to your home office.
If your work requires a high-performance workflow and several Apple devices, you would do best by reaching for options with a generous amount of space. Decide if you need one or two monitors, and according to this, pick a perfect tabletop.
Remember that ergonomic desks for Apple desk setup have a mechanism that lifts the tabletop. Before purchasing, check the weight and lifting capacity of the desk. If you need a lot of devices to be located on your desk, you want to reach for a mechanism with a high weight capacity.
Choosing the perfect desk is the first step to create a balanced and healthy workstation.
SmartDesk Core
Autonomous has created the SmartDesk Core that is dedicated especially for those who work in a home office and perfect option for an Apple desk setup. It's one of the most popular choices for Apple computer desk on the market. Thanks to its clean, minimalistic design, this desk can satisfy everyone and is perfect for a MacBook desk setup.
It has a heavy-duty steel-frame that has a weight capacity of 300 lbs. You can choose from two table top sizes. Thanks to this, you can pick the one that suits your needs best.
To meet all client's needs, this model comes in a few classic colors that perfectly suit a minimalistic MacBook desk setup. The smaller tabletop comes in white oak, all black, walnut, bamboo, and all white colors. The XL top is available in black and white matte shades.
With this desk, you can easily arrange all your devices in a minimalistic aesthetic and enjoy height adjustment. Changing position during working hours can help you to keep the right posture, prevent back pain, and increase productivity.
You can regulate the height just with one click that activates the silent dual-motor. If you are not sure if this is the right choice for you, you can take this desk for a 30-day free trial. With a long warranty, you can be sure that your money is going to be well invested.
Add a Great Chair
You cannot underestimate the power of a proper ergonomic workstation on your work performance. For years, scientists have been proving that prolonged sitting positions negatively influence people's physical and mental health. Office workers often suffer from back pain, bad posture, but also chronic headaches and are exposed to burnout.
If you work at home or in an office, you are familiar with the prolonged time of sitting in the same position. Especially when deadlines are close, it's hard to find time for a small break and a stretch.
Buying an ergonomic chair can be a long-time investment for your Apple desk setup. Thanks to this furniture, you can increase your well-being, reduce pain, and improve productivity.
If you are looking for a perfect ergonomic chair for your MacBook desk setup, here are the things you should pay attention to:
Shoulder and neck support: when you work for a long time, your neck can get stiff as your muscles are constantly working to keep it up. The same with your arms. When your hands hang above, there is not a moment when your arms can rest. Thanks to additional support, you can reduce strain and

prevent neck and back pain.

Mobility: Whether you want to roll over to the printer, tilt back to stretch your spine, or just spin around for fun, your ergonomic chair should be flexible and adjustable to your needs.

Lumbar support: Sitting in a proper, straight position can help you to avoid back problems, chest closing, or even prevent you from serious damages caused by a sitting position. Check if the chair you want to purchase has additional

lumbar support for the lower back. When your lumbar is supported, you can reach the correct posture without straining your muscles.

Material: You don't want to sit for hours with a wet, sweaty back. This is why you should choose a chair with breathable materials. They should also be easy to clean.
The Autonomous ErgoChair Pro
If you are looking for a perfect ergonomic chair for your minimalist MacBook desk setup, try the ErgoChair Pro by Autonomous.
This model is one of the best choices that can provide you full-body support. You can enjoy extra lower back support without resigning from back and neck support that adds extra comfort.
Your chair should adjust to your body, not the other way around. The ErgoChair Pro allows you to adjust the headrest, armrest, back tilt, and height adjustment. You can also regulate the seat depth to find a perfect solution for your height.
If you want something that is going to add style to your minimalist home office design and your Apple desk setup, this chair has a lot to offer. Simple in form, it comes in a few bold, striking color combinations that can add a modern twist to any interior.
Remember that with a great chair, the time that you spend working doesn't have to be uncomfortable and exhausting. Thanks to smart technology, you can become more productive while using the ErgoChair Pro.
The Korean mesh that is used to create a perfect cushion for this chair is not only beautiful but also provides the best comfort, thanks to its breathability.
Pick a Perfect Combo
To create the best working space, don't compromise. Picking an ergonomic chair and desk is the best thing that you can do for yourself and your career.
If you work for long hours, you need the best support that is going to allow you to focus on what's important. You don't have to decide between a perfect desk and a cheap, clunky, and uncomfortable chair, even if you cannot afford a whole set right away. Autonomous offers partial payments, thanks to which you can create a perfect MacBook desk setup and start benefiting from smart solutions right away.
Conclusion
Thanks to the great quality of products, working on a MacBook can increase your productivity. As most additional Apple devices, such as keyboards, mouses, headphones, etc., work via Bluetooth, you can easily create a workspace free from clutter.
While choosing a perfect desk for a laptop, pay attention to your needs, the space that you might need, and the dimensions that are going to be the best for your type of work. If you need to place a lot of devices on a tabletop, remember to check the weight capacity of the lifting motor.
With a simple, minimalist desk setup that is not only beautiful but also functional for an Apple desk setup, you can create a wonderful workspace in no time.
Video ads for product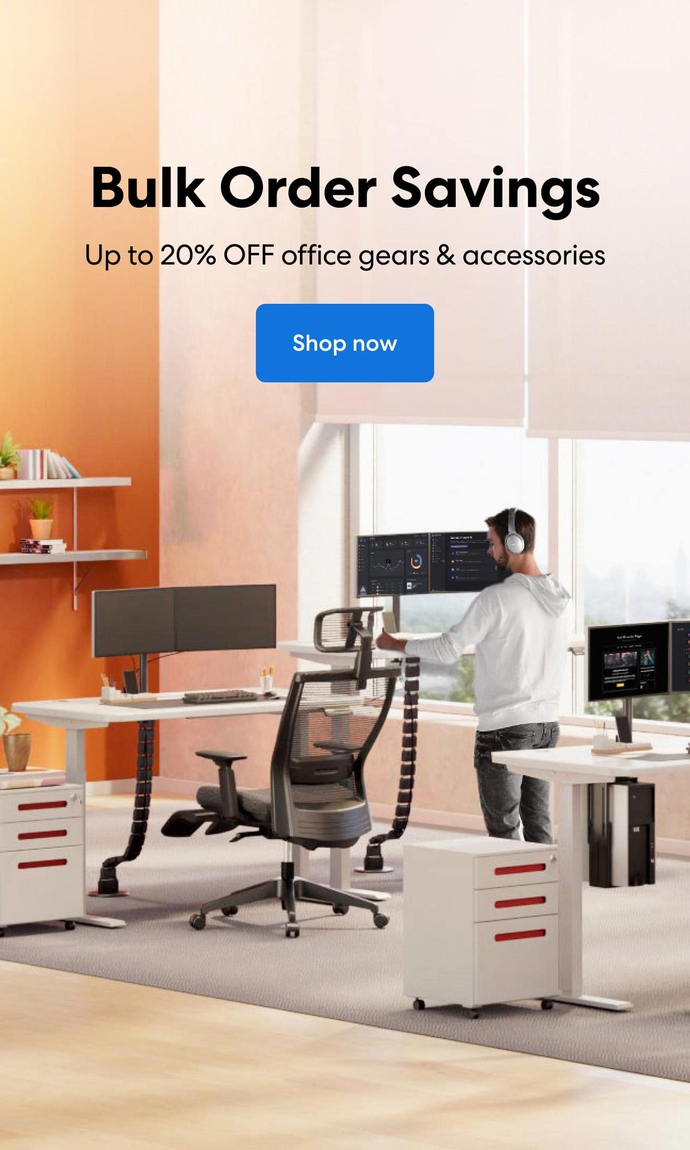 Subcribe newsletter and get $100 OFF.
Receive product updates, special offers, ergo tips, and inspiration form our team.