Whether you work from home or love to play your favorite video games for hours, sitting at your desk for too long can cause discomfort. Fortunately, you can solve this issue with a back pain chair, which has been designed to take comfort and convenience to the next level. 
However, finding the right chair to alleviate back pain may be challenging for most people. Should you buy a large or small one? What about the features? Do you need lumbar support? 
It's crucial to answer those questions in order to pick the best chairs for lower back pain! Luckily, here's all the information you need to make a wise decision. 
If you have experienced back pain after spending hours at your desk, it's time to change your chair to a more ergonomic and comfortable model. Read on and find a comprehensive review of the best options on the market. 
Why Does Your Back Hurt When You Sit?
Anyone who works at a desk or spends hours playing video games might ask themselves this question at some point: "Why does my back hurt really bad when I sit?" 
Well, sitting for prolonged periods can result in back pain in most cases. Unfortunately, this discomfort is not the only health problem related to this activity. 
Besides back pain, sitting for prolonged periods can increase stress on other parts of the body, such as the arms, legs, and neck. Also, when you sit at your desk for too long, you are also adding a huge amount of pressure on your muscles. 
Do you sit in a slouched position? There are more health problems to worry about. Doing this can affect your spinal ligaments and spinal discs, causing even more pain. 
Considering that a poor sitting posture is not only uncomfortable but can hurt your spinal structures, don't you think it's important to find a proper solution? This is when an ergonomic chair for back pain comes in! 
If you spend hours playing video games, you might also consider a big and tall gaming chair with adjustable features, as prioritizing your comfort while at home can also help prevent health problems.
What Are the Best Back Pain Relief Chair Models?
If you want to find the best ergonomic chair for back pain, it's hard to single out just one model. There's an ocean of options, and many are really good. 
However, we must consider a few aspects to choose the best chairs for lower back pain. Ideally, this is what the perfect model should have: 
Lumbar support

Adjustable armrests

Recline and tilt

Seat-depth adjustment features 
Let's go over each type of chair/feature to better understand why we should use it to relieve back pain while sitting at the desk. 
Back Pain Chair with Lumbar Support and Armrests
If you are looking for a good office chair for back pain, you'll find products with the term "lumbar support" in their descriptions. However, you may be wondering: "What does that mean?" 
Essentially, the word "lumbar" relates to the lower part of the back. Therefore, "lumbar support" means that there's something that aligns with the user's lower back to offer improved comfort and reduce health risks when sitting. 
However, there is another important question to answer: What is lumbar support? When it comes to furniture, this feature can be both an attachment or a built-in part. As mentioned, this piece aligns with your lower back and has been designed to maintain your body's natural inward curve. 
When you sit, your torso and buttocks put too much pressure on your lower back, causing a lot of stress. Also, this discomfort can be even more intense when you get up or walk. 
If you leave your lower back unsupported over time, it will cause stiffness and make your back more vulnerable to injury. That's why a chair with lumbar support is the best option if you want to avoid back pain and all the health problems related to sitting for long periods of time. 
Additionally, choosing an office chair with armrests can also help you alleviate back pain, as these attachments can help place your body in a relaxed position, easing stress and muscle tension.
Back Pain Chair with Adjustability Features
In addition to ergonomic attachments or built-in parts, it is also important to choose a back pain chair model with adjustability features. 
The more adjustable it is, the better the chair will be for your body. This way, you can get the back support you need but in a meaningful way. 
Ideally, you should choose a chair with adjustable armrests and seats. Models with adjustable recline and tilt options are also great for relieving back pain and making the chair much more comfortable.
Learn More About Autonomous – The Best Brand Offering Back Pain Chairs
Now that you know the best back pain relief chair models, it's time to find the right one! Fortunately, this review also offers key information on the most reputable brand out there: Autonomous.
As a company focused on technological innovation, Autonomous has provided the best solutions to office workers and gamers since 2015. Each product has a modern yet practical, functional, and minimalist design to satisfy each customer's needs and preferences. 
In addition, Autonomous is committed to offering tested, certified, and high-quality products.
Why Choose Autonomous If You're Looking for the Best Office Chair for Back Pain?
While you can find many brands offering back pain relief models, Autonomous has the best and most durable options. 
Are you looking for the best chair for sciatica to relieve pain that travels through the sciatic nerve, reaching your legs? Do you want to find a model with lumbar support to relieve tension in your lower back? Autonomous offers them all at the best price. 
Furthermore, this brand has worked hard to build a solid reputation by offering products designed under the highest standards of quality and functionality. 
Autonomous truly believes that its customers are its most valuable assets and goes the extra mile to offer them the best solutions for their daily activities.
Top Autonomous Chairs for Back Pain
Are you still unsure if Autonomous products are for you? Here's a review of each of the back pain relief chair models that this brand offers. 
Autonomous ErgoChair Pro: Is It the Best Ergonomic Chair for Back Pain?
If you want to buy an ergonomic chair specifically designed to offer improved comfort and help you withstand long office work sessions, the Autonomous ErgoChair Pro may be perfect. 
Every element you see in this chair has been designed to relieve and eliminate pain. In addition, this model also increases mobility, while maintaining high levels of functionality. 
The Autonomous ErgoChairPro also features adjustable tension and a 22-degree recline for a more comfortable user experience. Also, you just have to choose the right key position to keep your spine stable and reduce pressure on your lumbar area.
Autonomous ErgoChair Plus: Is This Back Pain Chair Dynamic Enough?
Are you looking for the best ergonomic chairs for back pain that office workers should consider? Autonomous also offers a great model: the ErgoChair Plus. 
When you have to sit at your desk for long hours without moving, your body can become stiff and lose mobility. Actually, if you stop moving, your body may start to forget how to do so.
Experts recommend twisting around, leaning back, stretching to the sides, or doing any other activity that allows the body to keep moving. However, a common office chair is not designed for this. 
Luckily, Autonomous thought of users' comfort and well-being, so the brand now offers this splendid office chair for back pain. 
Thanks to its ergonomic and intelligent design, this chair's entire back can be adjusted to yours. In addition, it's so dynamic and features responsive webbing that provides the right support according to the shape of your spine.
Autonomous ErgoChair Core: Is This Ergonomic Chair for Back Pain Comfier Than a Couch?
Do you want a computer office chair for back pain but you have a small budget? Don't worry! Autonomous also has an excellent option for you. 
The ErgoChair Core was designed as the brand's most user-friendly chair, so it can support any posture to relieve tension in the lower back. 
As mentioned, your body needs to move if you spend hours sitting at your desk. Well, this back pain chair makes it easier! You can keep your body moving even when you are using your computer and without putting pressure on your arms or back. 
This amazing ergonomic chair for back pain has a recline that responds to your body weight. Therefore, it keeps your spine aligned and stable while sitting.
Autonomous ErgoChair Recline: Does This Chair Really Offer Unlimited Lounge Ability?
When you're ready to get your work done but know you have to spend hours at your desk, a reclining chair with a footrest can make all the difference. 
Defining rest periods during your long work day can help you avoid back pain or other health problems and increase your productivity, but how can you do it if you're in the office? 
This office chair for back pain allows you to simply lean back when it's time to rest, so you can relax and relieve tension in your body. Also, it comes with a footrest, so you can put your feet up for more comfort and relaxation. 
The Autonomous ErgoChair Recline responds to your body weight to keep your spine stable. Additionally, it has an adjustable headrest that also benefits spine health.
Autonomous AvoChair: Is This Model Functional and Ergonomic?
Are you still trying to find the perfect office chair for long hours of work? Here's another option you can consider: the Autonomous AvoChair. 
This back pain relief back chair is not like other models you have seen before. It's innovative, modern, and functional. 
The Autonomous AvoChair has an airy elastomeric mesh back that offers improved spinal support and optimum levels of comfort. Therefore, it's one of the best designs you can find if you want a really ergonomic piece of furniture. 
Also, AvoChair's design is unique. The manufacturer removed all the hard edges, which resulted in a gentle waterfall-style roll-off that you'll really enjoy.
Buy The Best Pain Back Chair at the Best Price with the Autonomous Bulk Order Program
What do you think? Do you believe that Autonomous products are perfect for you? There's much more to know about this brand.
Besides selling the best ergonomic chair for back pain, Autonomous also offers a great purchase option to its customers: the bulk order program. 
Whether you want to buy the best equipment to boost your team's performance or offer ergonomic furniture to take care of your employees' well-being, you can make bulk orders and enjoy many benefits, such as free gifts and flexible shipping. 
Final Thoughts
Spending many hours sitting at your desk can cause many health problems. Back pain is just one of them. Unfortunately, even if you buy the best office chair cushion, alleviating this discomfort can take time if you don't use the right furniture. 
Therefore, it's important to choose ergonomically designed models with all the features that can help you relieve back pain and reduce stress on your body. 
As mentioned, Autonomous is the best brand. Whether you are looking for a modern papasan chair or a traditional office model, you can find the perfect one here!
Video ads for product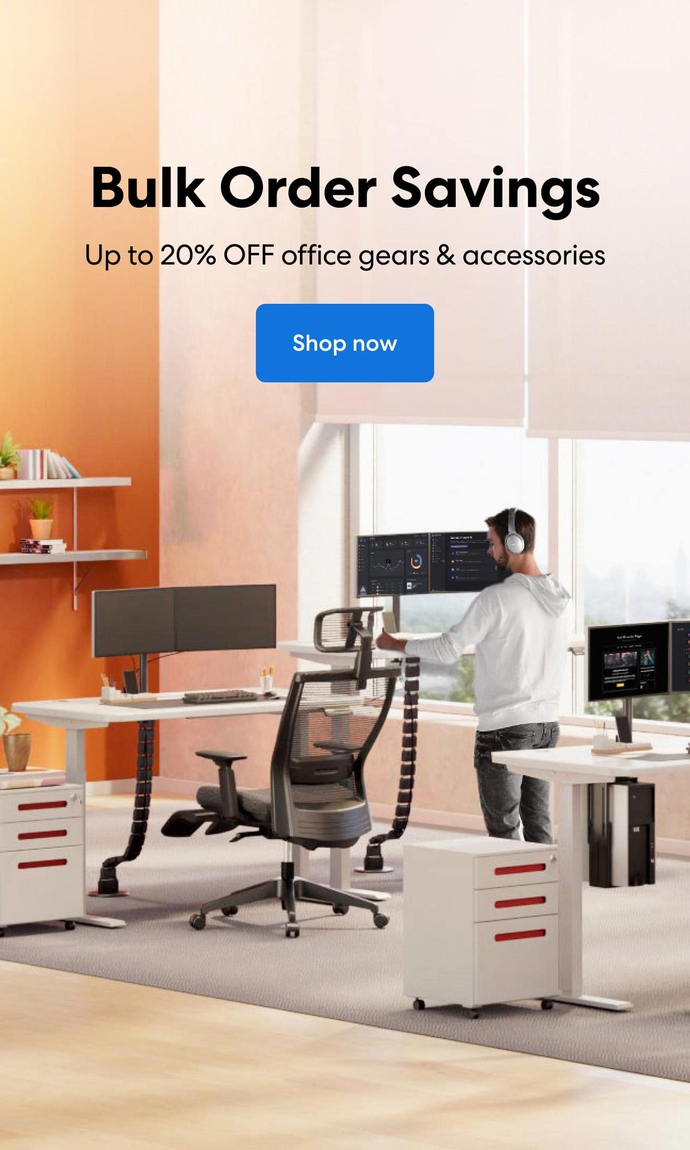 Subcribe newsletter and get $100 OFF.
Receive product updates, special offers, ergo tips, and inspiration form our team.