Smart Products
15 Best Desk Chair Cushions for Keeping Your Body Comfy
148 Views
If you work at a desk all day, you understand the pain that comes with it. Sitting in a hard seat for hours takes a toll on the body. When you're behind on a deadline or five hours into a gaming marathon, an aching back is the last thing you want to worry about. A proper desk chair cushion can offer the perfect solution.
Top 15 Best Desk Chair Cushions
If you aren't sure where to start, here are some options to consider. These are 15 of the best selections to fit any need.
1. Mount-It! ErgoActive Lumbar Support Pillow
The lumbar pillow memory foam is perfect if you suffer from back pain. Overall, the curved shape and thickness support your spine while gently correcting your posture.
This Mount-It! pillow comes with straps to adjust to any office chair. You can place it in the seat of the chair to cushion your bottom, or you can strap it higher up to support your lower back. In addition to being machine-washable, the cover is made with a breathable fabric to prevent overheating. Such versatility makes this pillow one of the best office chair seat cushions.
2. ErgoFoam Lumbar Support Pillow
Another great choice for lumbar support is by ErgoFoam. While this pillow shares many of the same features as other lumbar pillows, there is one advantage: its size. The ErgoFoam pillow is larger than most of its competitors. Depending on where you want it, the pillow covers most of the seat or back of a standard office chair. This is ideal if you have pain in multiple points across your back. People in need of a wider seat will also prefer this to other office chair seat cushions. 3. Mount-It! ErgoActive Memory Foam Seat Cushion
Here is another top choice for an office chair memory foam cushion. This seat is thick enough to provide a bit of extra height while remaining soft. Using high-quality memory foam, this seat prevents pressure from building in the hips, lower back, and spine. The plush, gray cover can be easily removed and washed.
As one of the most affordable options, this seat cushion is a top pick for someone on a budget. First-time buyers may want to try this cheaper option to learn what features they need. It can also make a great gift to give multiple people. Bosses can buy in bulk without overspending.
4. Mount-It! ErgoActive Cooling Gel Seat Cushion
Memory foam isn't the only feature a great seat cushion can have. Several of the best-recommended cushions contain cooling gel. As you sit in the same spot for hours, body heat builds up. With nowhere to go, this heat remains trapped between you and the seat. As a result, your pants and seat may become drenched in sweat. The cooling gel prevents overheating throughout the day, so you never have to worry about sweat stains again.
This cushion by Mount-It! is one of the most affordable cooling seat cushions for office chairs. While eliminating sweat, it also offers high-quality memory foam and support for pressure points. If you need to remain seated for hours at a time, this cushion provides everything you need to sit comfortably the entire time.
5. Purple Double Seat Cushion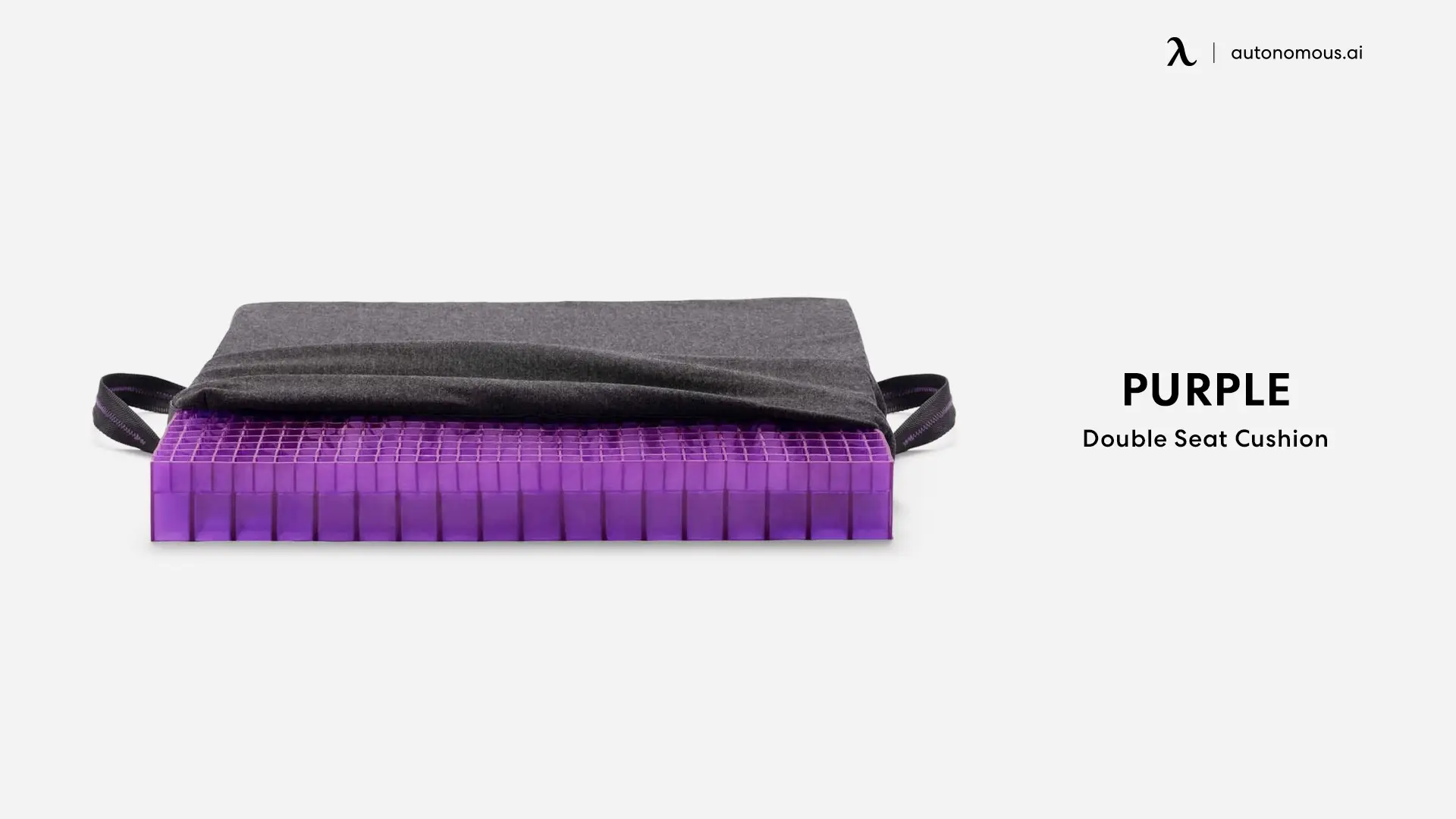 Do you experience the most pain in your bottom after a long day? This double-cushioned seat by Purple is meant for you! With a focus on comfort, the extra padding alleviates pain in your legs, back, and bottom. It is also designed to be slip-resistant and breathable.
Despite its softness, this double cushion is one of the most durable options for a desk chair cushion. Unfortunately, that also makes it one of the most expensive options. Whether it is worth the investment depends on your needs.
6. Ergonomic Innovations Donut Cushion
There is no one size or shape for a desk chair seat cushion. Usually, an oddly shaped seat is more than just a preference. While some cushions target specific areas, donut-shaped pillows reduce pain throughout the body. By distributing weight evenly, these pillows reduce pressure everywhere at once. Donut-shaped seats are also helpful for people experiencing pain or sensitivity in that area. Having an open space prevents the area from becoming irritated.
Ergonomic Innovations' seat cushion is non-slip with a machine-washable cover. Unfortunately, its round shape makes it difficult to use in some chairs. The hole in the middle also makes the cushion uncomfortable for thinner frames and people who often shift in their seats.
7. TEMPUR-PEDIC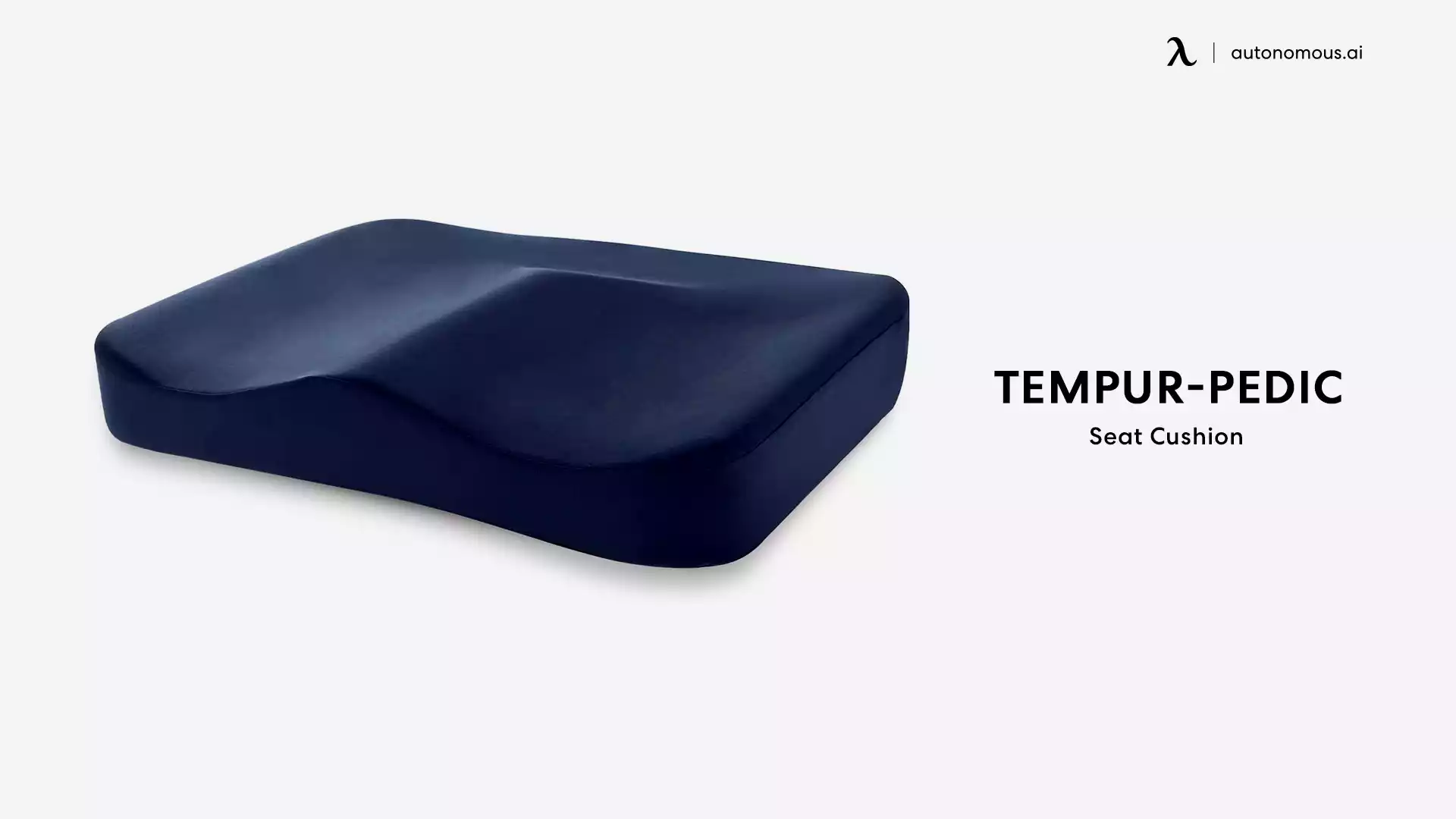 TEMPUR-PEDIC is best known for its customizable mattresses and pillows. Did you know it also produces desk chair cushions?
These seats use memory foam material to absorb most of your weight. As you work, pressure distributes evenly to maximize comfort while minimizing pain. People with severe seasonal allergies will appreciate that the cover is resistant to allergens. As a popular brand, TEMPUR-PEDIC seat cushions are one of the more expensive options. Despite this, these cushions are consistently rated as one of the best office chair cushions.
8. Xtreme Comforts Large
Not all chairs are created equal. Some chairs are wider to provide wiggle room and support people of larger sizes. On the downside, this width makes it more difficult to find an appropriately sized desk chair cushion.
Xtreme Comforts solves this problem. Measuring 19"x 17.5"x3.5", this extra-wide cushion allows you to sit comfortably in wider chairs without needing to readjust the pillow. People who need a little more room will find this memory foam cushion to be the perfect fit.
9. Everlasting Comfort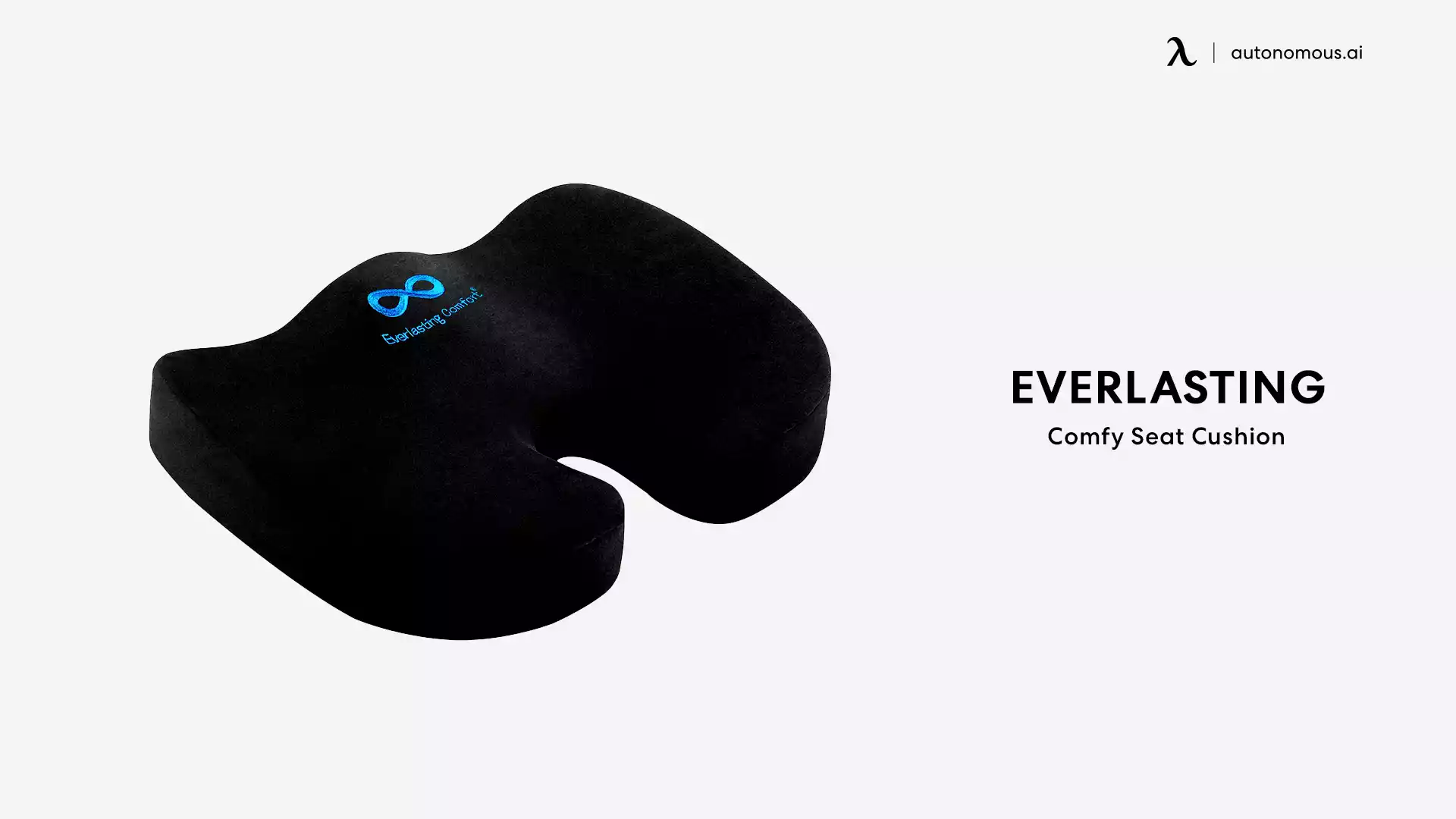 Comfort is in this brand's name, and it certainly doesn't disappoint. Boasting a 30% increase in memory foam compared to competitors, Everlasting Comfort provides one of the best seat cushion options. This cushion targets lower back and hip pain by distributing weight evenly. It also comes in a variety of colors, making it a top choice for personalizing your workspace. While not as large as Xtreme, the generous size allows it to fill most standard chairs.
10. LoveHome Memory Foam and Lumbar Support
Measuring four inches in depth, LoveHome's desk chair seat cushion is the thickest option on this list. Extra height is perfect for people who may be a little too short to comfortably reach their desks. Attaching the cushion to the back of the chair can help you maintain posture. The design discourages leaning back in the chair, which takes some pressure off your lower back and straightens your spine. Offering extra memory foam, this cushion makes a great back pillow for chairs.
11. SOFTaCARE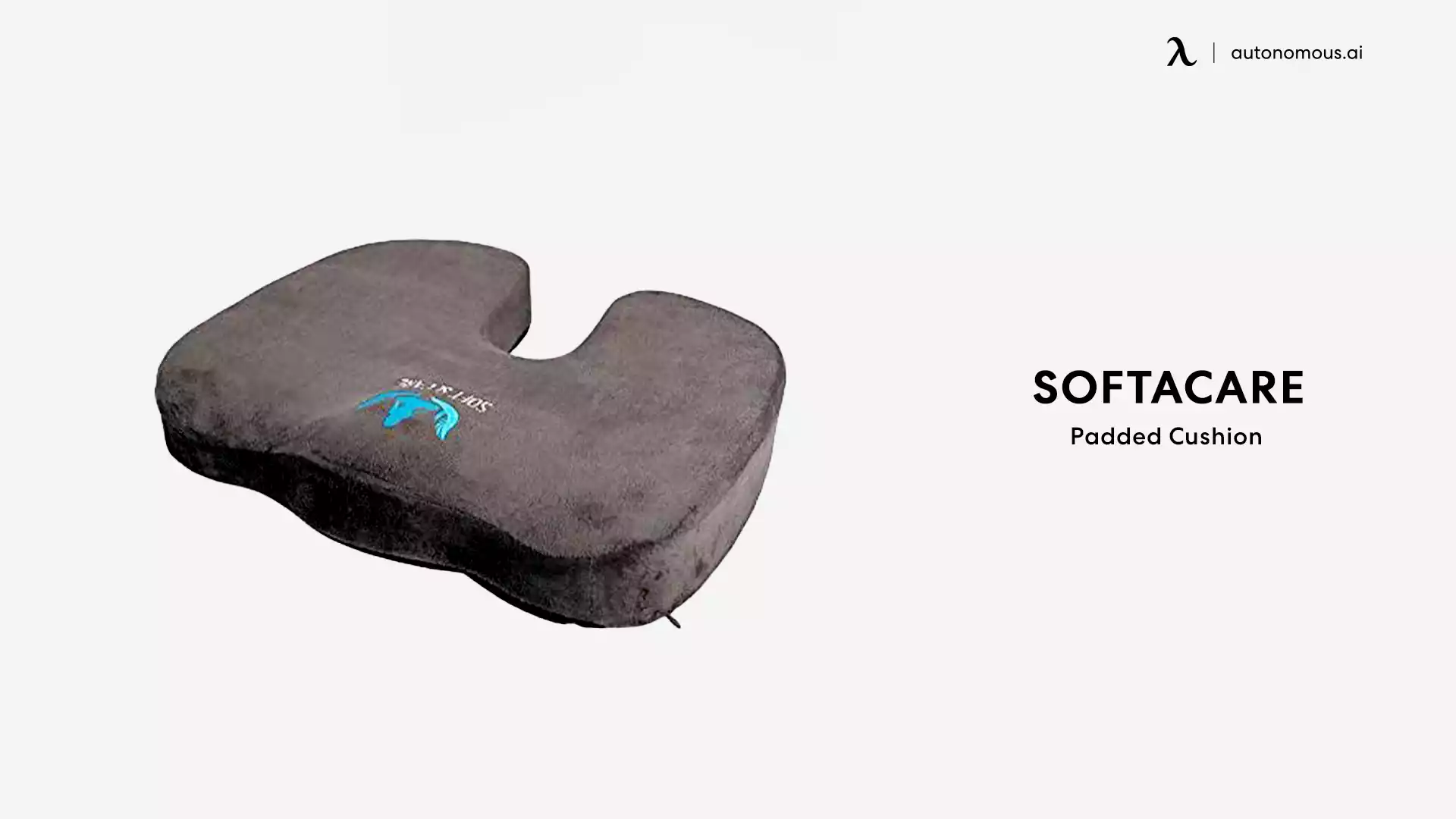 Coming as a set is the SOFTaCARE Seat Cushion and Lumbar Support Pillow. At a surprisingly low price, you get two cushions with washable covers. The seat cushion is slip-resistant while the lumbar pillow has straps to attach to any chair. With added features, such as a pocket on the side, it's easy to see why this cushion is a top pick. This is one of the best office chair cushions for posture and overall support.
12. Modvel Gel
In an office, nothing is more embarrassing than revealing sweat streaks on your chair when you stand. Modvel Gel is another option to eliminate that problem. Coming with a carrying handle, this lightweight cushion is easy to take with you. Such portability makes it a car cushion as much as a desk chair cushion. Its discreet black look also hides the fact it has cooling gel. Heavy sweaters can rest easy keeping this secret to themselves.
13. U-Are Ultimate Comfort Set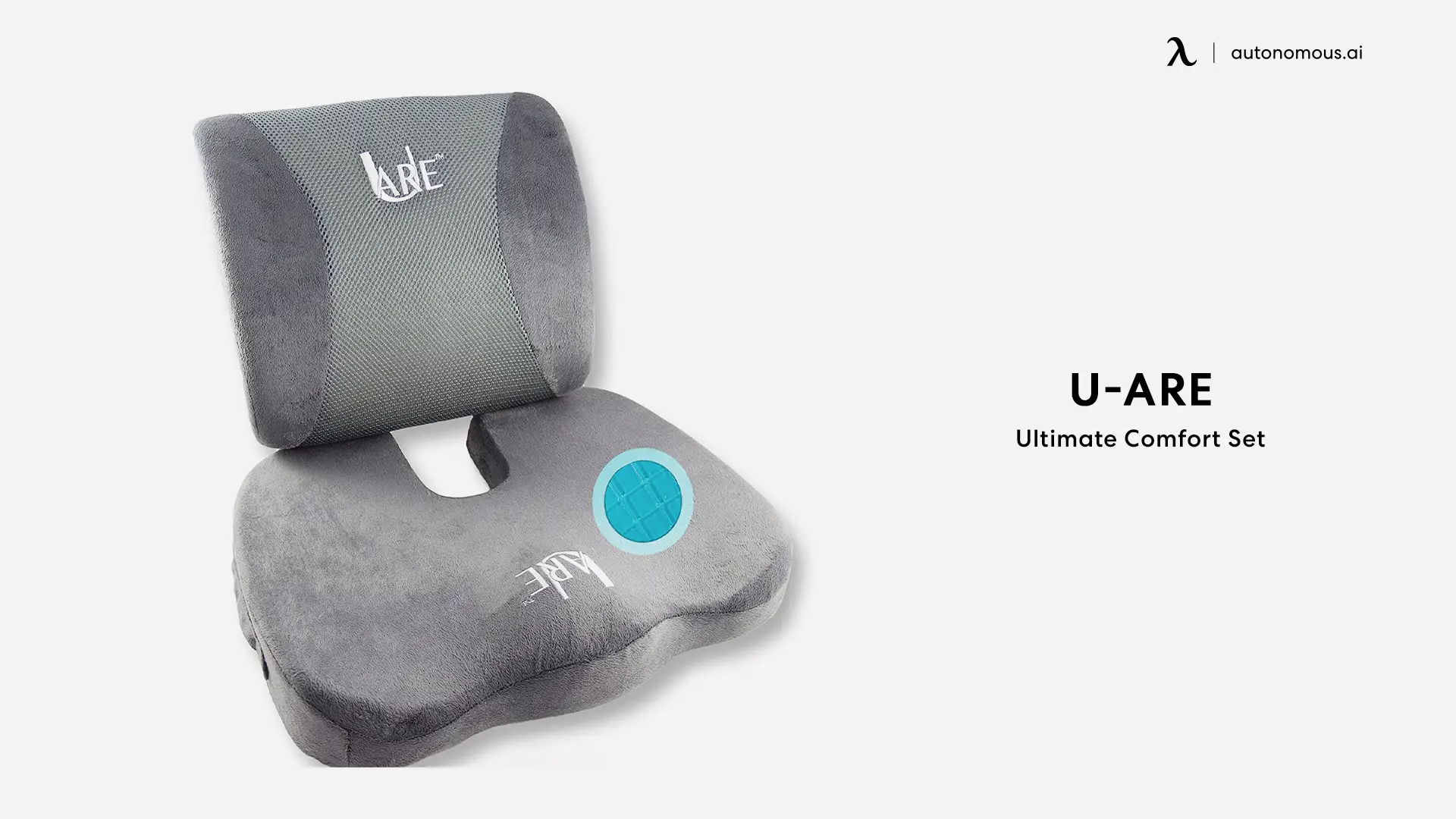 U-Are is another multipiece cushion. With this set, you receive a memory foam seat cushion with cooling gel and a lumbar pillow. The waterproof cover allows you to sip your coffee without worry. People needing to sit frequently can work comfortably in the kitchen or take a chair outside during a drizzle without risking damage to the cushion. One downside is that the cover is difficult to slip on and remove. Even so, U-Are's cushion set is a memorable seat cushion desk chair.
14. Snailax Vibration Massage
If a standard seat cushion isn't helping you, consider this massage chair pad. The pad rests in your chair as you operate the attached controller. With six vibrating motors, Snailax's massage pad presents a surprisingly affordable chair cushion for back pain. The vibrations target all areas of the back as well as the thighs.
Going one step further, this impressive office chair seat cushion has two heat settings. Rid yourself of a chilly environment as you continue your work in luxury.
15. Comfortanza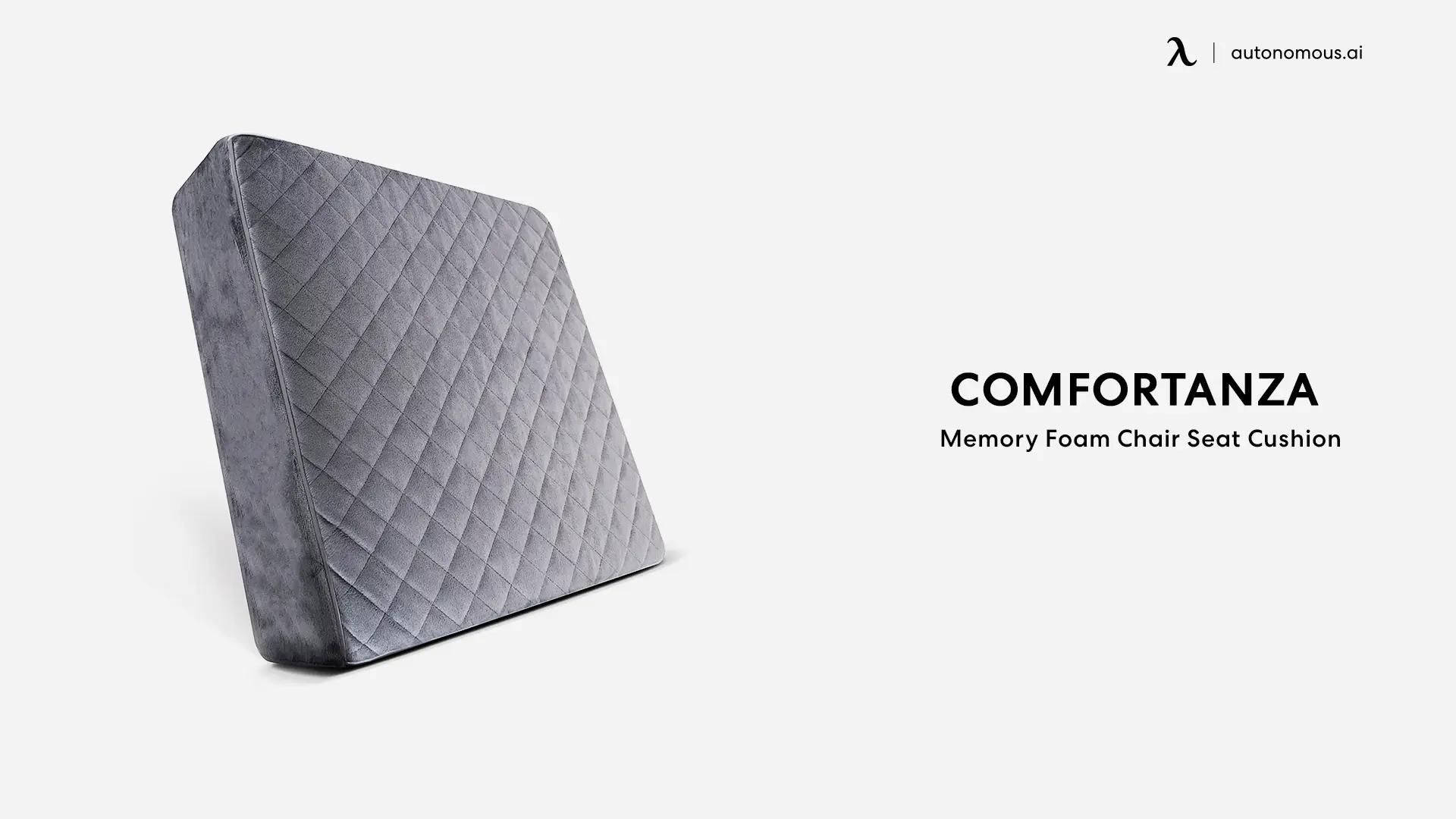 Are you trying to find a seat cushion to match your personality? At a low price, Comfortanza offers memory foam seat cushions in a range of colors and sizes. You can even select your preferred firmness. While it may not offer anything fancy, this is the best office chair cushion for customization. If you want something stylish yet functional, Comfortanza is worth considering.
Why Should You Get a Seat Cushion?
Ice packs and painkillers only dull the pain after a long day. That pain often carries into the next morning and gradually builds over time. Added to that is the financial burden of continually buying pain relief products for an ongoing problem.
What about exercise? Standing up to stretch every few minutes causes an interruption in your work and distracts your co-workers. You also may not have time for frequent breaks throughout the day.
The best way to stop pain is to prevent it from occurring. An office chair seat cushion provides extra support and comfort. This allows you to remain seated for longer without needing to frequently squirm or stand to relieve pain. Its longevity also saves you money while adding a splash of style to your workspace.
What Are the Benefits of Seat Cushions?
Your body is not meant to sit for long periods. Research has shown that sitting for too long in an unsupported chair increases the risk of severe health problems. This is especially true for older individuals, people who are not regularly active, and people who already have existing health problems.
Does this mean you have to quit your sedentary job or hobby? Thankfully, the answer is no. A seat cushion desk chair can minimize the problems caused by prolonged sitting.
Posture
Most people have poor posture. This is partly due to sitting in unsupported chairs. A posture cushion for chairs forces you to adjust your posture as you work. Some seat cushions can add height to your chair or propel you forward, so you don't have to lean as often. Improved posture alleviates pressure from your spine and organs, allowing your body to function properly. This prevents back pain and other chronic health problems that could be life-threatening.

Circulation
Prolonged sitting can cause decreased or even blocked circulation. When blood and oxygen cannot flow freely throughout your body, your organs and muscles suffer. Poor circulation can also lead to fatigue, inflammation, digestive problems, and nerve damage. Some office chair seat cushions are specially designed to support circulation while still providing comfort.
Comfort and Style
Sitting in a chair creates constant pressure on your hips, spine, and lower organs. The extra plumpness and support from an office chair seat cushion lessen this pressure. In return, your body feels livelier, leading to increased productivity.
Alleviating pain also helps your mental health. Stress can cause changes in mood, appetite, and energy levels. It can also lead to an inability to focus, decreased immune system, and chronic health problems. Comfort is not just a luxury; it is critical to your mental and physical health.
Alongside desk accessories, a desk chair seat cushion can add style to your environment. From black leather to pink foam, there is something for every personality.
What Should You Look for in a Seat Cushion?
The best seat cushion supports you physically and mentally. If you feel fatigued and weak after a day of work, consider a seat cushion designed for posture and circulation. Gel, memory foam, and ergonomic seats are the best office chair cushions for this purpose.
If you feel confident in your health, you may wish to focus on maximizing comfort and style in your workspace. Memory foam is a good choice for this, too. There are also seats with double padding for extra cushion. Some seats even have heating and massage functions!
Regardless of your needs, there is a perfect seat for you. Don't be afraid to experiment with different cushions to find your match!
Which Is the Best Seat Cushion for You?
There is a cushion for every size, personality, and health; which one works for you depends on your needs. Cheaper options can offer health benefits without emptying your wallet. If you are willing to spend more, the pricier options often come with luxury features to boost your comfort. Customization is also a crucial factor to consider.
A good desk chair cushion can elevate your performance to the next level. Don't pass on the chance to improve your life!
Hey, you have special pricing through your company.
Get exclusive rewards
for your first Autonomous blog subscription.
WRITTEN BYAutonomous
We build office products to help you work smarter.