Smart Products
Papasan Chair: Things You Need To Know Before Buying
920 Views
Are you looking to buy a new desk chair? Are you aiming for it to be as comfortable and relaxing as possible? Are you considering buying a Papasan chair? Before you make your decision, here are some pros and cons of a Papasan chair that you must know.
A Papasan chair is a large bowl-shaped chair usually made of a cushion and a frame. The frame can be built using rattan or wicker. The cushion is filled with cotton. These chairs have been used for decades for their comfort. 
Pros Of The Papasan Chair
Comfort
The Papasan chair is extremely comfortable. The cushion is made of cotton, which provides a very soothing and relaxing experience to anyone who sits on it. Some people even use the Papasan chair as a spare bed to doze off on sometimes. It is the perfect choice for someone who has comfort as their top priority when selecting an office chair.
Compatible With All Sizes
One benefit of the Papasan chair is that people with every body type can use it. This distinguishes it from other office chairs that are only suitable for people with certain body types. For example, if you want to buy a desk chair for a person who is bigger than average, you will have to look at big and tall office chairs. With Papasan office chairs, you won't have to endure this ordeal.  Almost every type of person can sit in the Papasan desk chair comfortably.
Stability
Are you tired of your office moving when you are trying to work? Do you hate that your office chair is unstable and always sliding? Does this distract you? With a Papasan office chair, you won't have to worry about this. This is because it does not have any wheels.
As it has a sturdy base, the Papasan chair is the best desk chair with no wheels.
Aesthetically Pleasing
The best Papasan chairs are usually extremely elegant. They can go well with some office designs. If you are going for a vintage office design, this chair might just fit in. Many people use this chair just as a decorative piece of furniture. This is because it has the ability to give the entire room a more aesthetically pleasing vibe. 
Cons Of The Papasan Chair
Body Posture
When you are working long hours, it is important that you maintain the correct body posture. Sitting too much is unhealthy, so sitting for too long without the correct posture is even unhealthier. According to research, a good posture can help reduce headaches and back pain, the strain on your eyes and bones, and stress.
A good posture requires your back to be straight and your feet flat on the ground. This might not be easy to do while you are sitting in a Papasan chair. This is because it does not have a high back and isn't designed in a way that lets you have a proper sitting position.
It cannot be moved
What was discussed earlier as a benefit can also be discussed as a drawback here. Suppose you are sitting in an office chair, and your pen is lying slightly out of your reach on your desk. To grab it, you'll just have to roll the chair a little to where the pen is.
However, if you are working from a Papasan desk chair, you will have to stand up every time you need something. While this might be good for your body, the same can not be said for your work. Having to get up frequently while working is bound to distract you and waste time. This will not only reduce your productivity level but also tires you out easily.
Furthermore, if you wish to move the chair from one place to another, you should keep in mind that it does not have wheels. So, you will either have to carry or drag it. This chair also doesn't usually fit into small cars.
Weight Capacity
Even though the Papasan office chair is suitable for all body types, it has a limit as to the load it can carry. Most Papasan chairs can not hold more than 300 pounds. If you weigh more than that, this might not be the right chair for you.
Alternatively, you might want to look at other types of desk chairs or mamasan chairs. A mamasan chair is double a Papasan chair in size. This gives it a higher weight capacity.
Uncomfortable If You Sit For Long
Even though this chair is one of the most comfortable desk chairs, it can make your body sore and stiff if you spend too much time sitting on it. This is because there are certain parts of a chair that the Papasan lacks. The adjustable features, lumbar support, headrest and padded arms usually come with the mid-century modern desk chairs but do not come with the Papasan chairs.
Hence, the Papasan is not really a chair you should go for if you are planning to sit for long hours.
Conclusion
Even though the pros and cons mentioned above give a clear analysis of the potential advantages and disadvantages of buying a Papasan chair, the fact remains that every person has different requirements. The key is to find and select a chair that has you feeling the most relaxed after you work in it. For some people, this perfect chair can be a Papasan chair. For others, it might be any other chair.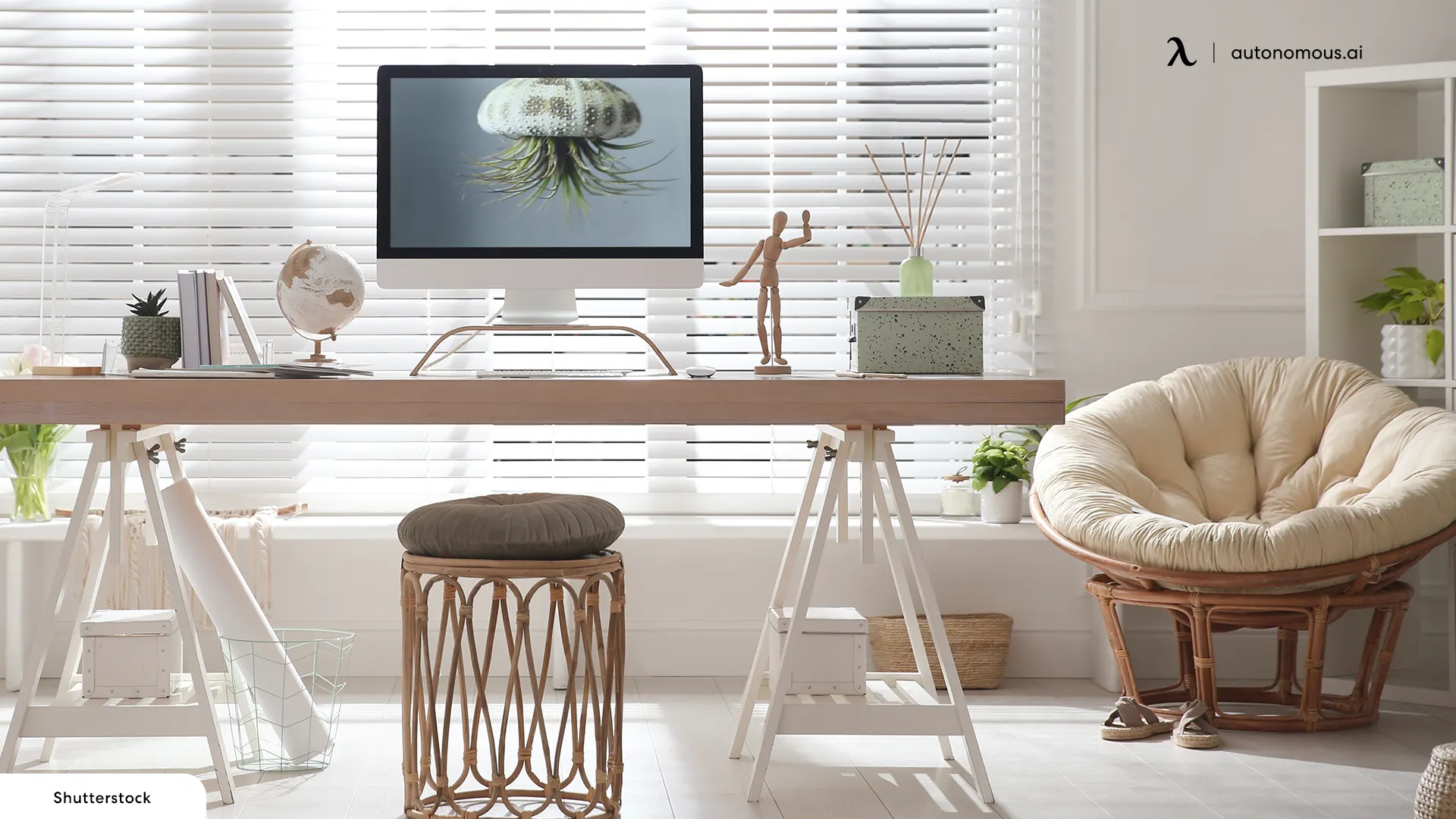 The thing to remember is that there is no perfect chair. Each type of chair caters to the needs of different individuals.
If you have decided to buy a Papasan chair, you need to look at the sizes, material, weight capacity, color and design before you buy it.
Keep up with Autonomous news
Stay informed, stay inspired with our new blogs.
WRITTEN BYAutonomous
We build office products to help you work smarter.