Smart Products
Gray Office Chair: TOP 15 Choices in 2023
5,207 Views
Start the New Year strong with an ergonomic office chair. Did you know color psychology can be as important as physical comfort? Specifically, you should consider a neutral color like gray for a variety of reasons. If you want to know what a gray office chair can do for you, read below to find out!
How Does Color Affect Office Productivity?
In terms of office supplies and chairs, black remains a popular color. This type of color is neither pretentious nor unattractive, but it can interfere with light in an office. In addition to being aesthetically appealing, a gray office chair can also be a color that is less likely to show dust and stains as easily as other colors. Also, it's a color that you can pair easily with your desk, other decors, and office accessories. 
How can I increase productivity in my office by painting it with the right colors? This question cannot be answered definitively. However, we can offer some suggestions. Blue, for example, is good for your eyes since it relaxes them and matches with your gray office chair. In addition, it symbolizes intelligence, calmness, and reflection.
The color blue is one of the feng shui colors associated with calmness and the mind; it affects us more mentally than physically. Those who listen to strong blues will benefit from a clear mind, while lighter, softer blues will aid concentration and calm the mind. As a result, they are serene and mentally soothing.
Blue represents clear communication. In comparison to red objects, blue objects appear further away. Research has repeatedly shown that blue is the world's favorite color. On the other hand, it can be seen as cold, unemotional, and unfriendly.
Many people would prefer a lighter color to a darker color. Rather than paint, lighting is probably a better option in this regard. LED lighting is not low-cost, but it is getting better. There is evidence that dynamic lighting (in which the lighting's color and brightness change gradually over time) can reduce fatigue and increase alertness.
Based on psychological research, it is believed that the color red will agitate you and increase your productivity at work, while blue will calm you and reduce your activity levels.
Why You Should Choose A Gray Ergonomic Chair?
Ergonomic Health Benefits
Do you work long hours while sitting uncomfortably in your gray computer chair? Doing so for extended periods of time takes a toll on your body. Whenever you slouch or sit back, you aren't aligning your spine properly. Back problems are a common occurrence due to bad posture. You may also spend too much time readjusting yourself to get in a comfortable position. The good news is there is a way to prevent this - ergonomics is a proven solution to all these problems. 
Happy and healthy workers tend to use the ergonomic practice to their advantage. There are several health benefits you can receive if you use ergonomic gray computer chairs. Sitting up straight significantly improves upper back pain since it prevents terrible body posture. By removing stress and tension within your neck and back, you can maintain better concentration during your projects. You can also improve your household's overall quality of life thanks to the comfort and support of these types of office chairs. 
Before you buy yourself a grey ergonomic office chair, consider not only the physical benefits of ergonomic chairs but the psychological. Specifically, you should buy a gray-colored chair. There is a connection between color psychology and productivity. 
Gray Color Benefits
Certain types of colors give a distinct vibe. Although color psychology is arguably subjective, it remains undeniable that colors make you feel something deep within. For example, bright red colors give off a strong intensity. Meanwhile, cooler blue colors are more calming.
There is a reason why most corporate managers choose a gray office chair instead of a different color. Gray highlights the surrounding area if other colors are present, such as green plants or colorful pictures. As a result, gray offers a good accent to highlight your workspace.
Gray is a color that also represents a good balance of neutrality. However, if you buy a grey ergonomic office chair, consider pairing it with a combination of black and white frames. The color duality brings out your chair as a result, which you want for an eye-opening workspace. While gray lacks energy, you can still bring it out through good interior design.
Top Best Gray Office Chairs for Your Workspace
If you are looking to buy a gray office chair for the year 2022, consider these 15 selections. They are carefully chosen with two factors in mind - the chairs are gray-colored, and they perform ergonomic functions well. Each choice has pros and cons, so you can weigh your options as you consider the best one for you. Below are the 15 best choices for gray office chairs for 2022. Here is an amazing list of gray office chairs for you. Go through their features and benefits very carefully before ordering them.
1. ErgoChair Pro
One of the premier gray computer chairs from Autonomous is the ErgoChair Pro. It's a fully customizable gray office chair with height adjustability and ergonomic design. You can enjoy lumbar support to straighten your back while you work. With the correct spinal alignment, this ergonomic office chair reduces potential back problems. Health-wise, the ErgoChair Pro ranks highly among ergonomic office chairs, especially in regard to its efficiency.
There are also affordable monthly payments if you don't want to pay for everything upfront. Autonomous offers free shipping, a 30-day trial, and a two-year warranty. While normally expensive, you can offset these costs when you purchase the chair.
Pros:
●   Great ergonomic design
●   Lumbar back support
●   Easy-to-control settings
●   Height adjustability
●   Modern, stylish appearance
●   High-quality materials
●   Affordable monthly payments
Cons:
●   Somewhat expensive
2. ErgoChair Plus
The ErgoChair Plus is another product from Autonomous. You have a wide variety of gray color schemes to choose from, in addition to the frames. For example, you can select a white frame with a naked gray color. No matter which you prefer, you can expect a stylish look.
With TPE materials and a fishbone design, the gray computer chair supports your back by correcting your overall posture. Fully-adjustable functions are easy to use, so you can sit back and relax. The ErgoChair Plus tops it all off with a five-year warranty, justifying its hefty price tag.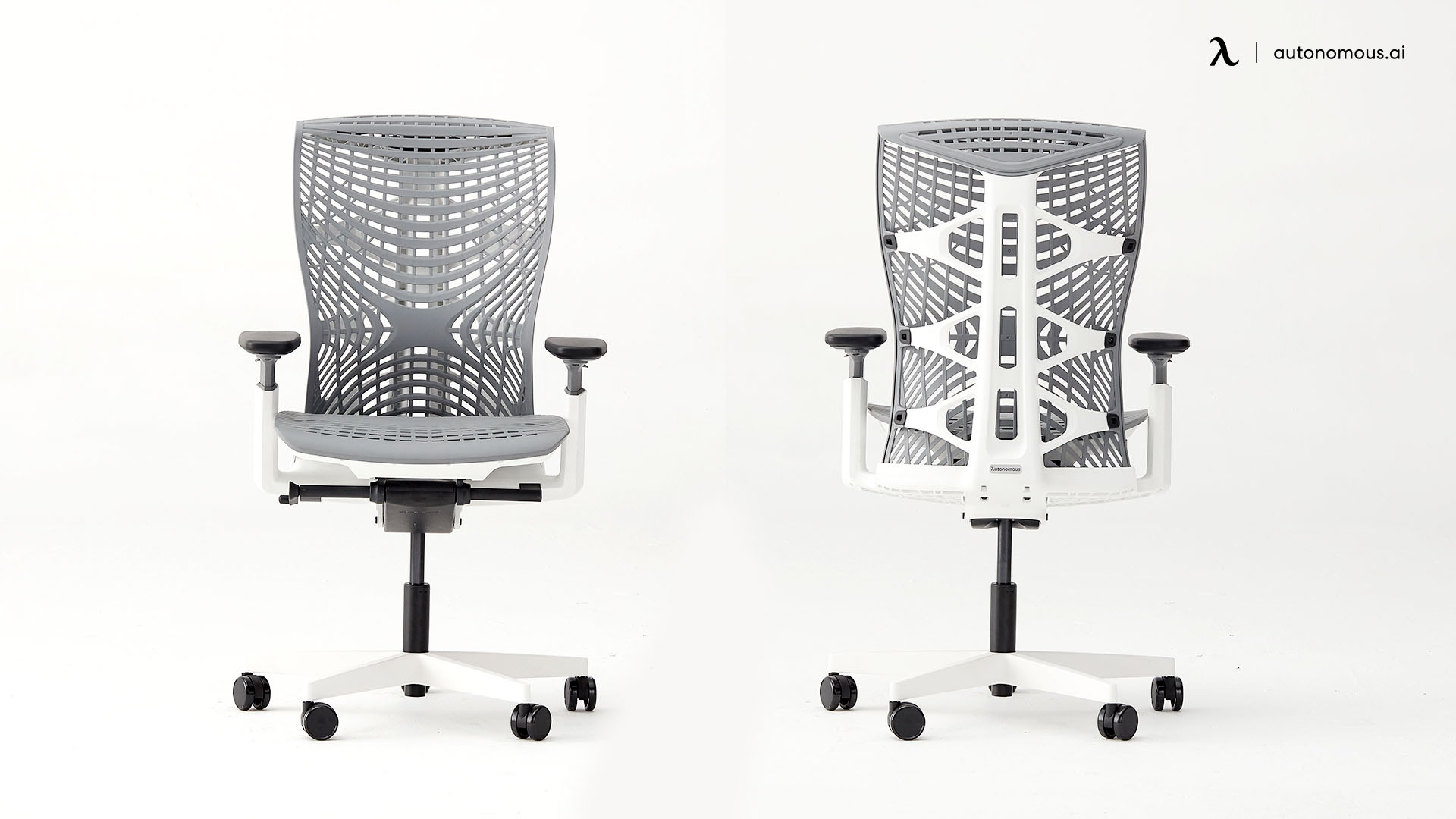 Pros:
●   High-quality materials
●   Corrects sitting posture
●   Promotes back health
●   Eco-friendly and organic
●   Five-year warranty in place
●   Great selection of gray color schemes
●   Affordable monthly payments
Cons:
●   Expensive
3. ErgoChair Recline
Autonomous has another gray office chair in the ErgoChair Recline. It's one of the most affordable ergonomic chairs from Autonomous, with a great price tag. Like the ErgoChair Pro and ErgoChair Plus, the ErgoChair Recline also has a multiple-year warranty, monthly payments, and free shipping.
This computer desk chair does everything you expect a good ergonomic gray computer chair to do. It includes height adjustability, comfortable support, lumbar backrest, good seat cushioning, and a reclining feature. You can easily sit back and relax thanks to the seamless transitions of the ErgoChair Recline, which can recline in a matter of a second. It uses only the finest, crafty materials to ensure high-quality service.
Pros:
●   Good ergonomic comfort and support
●   Adjustable head, arm, and leg rest
●   Promotes correct body posture
●   Good-quality materials
●   Smooth transitioning features
●   Affordable monthly payments
●   Accessible price range
Cons:
●   Arm and leg rests are slightly on the smaller side
4. Autonomous ErgoChair Core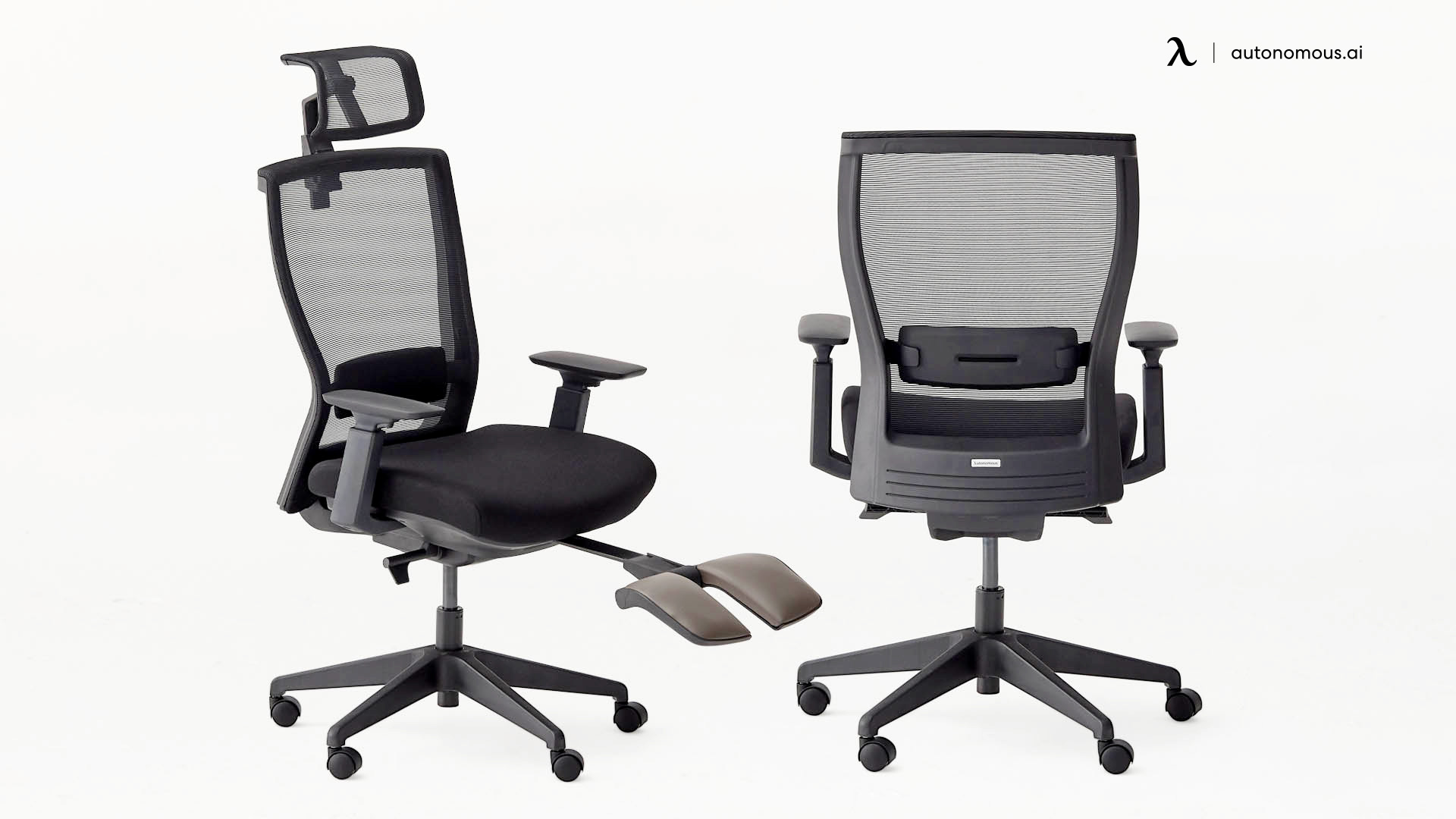 The Autonomous ErgoChair Core gray desk chair is designed for customized back support. It has a full range of ergonomic features: height adjustment, seat pan adjustment, adjustable armrests, and lumbar support. Besides the contoured foam seat pad, this gray ergonomic office chair also has a light mesh back and lumbar support pad for extra comfort. Support can be tailored to fit any posture with just two intuitive levers. Your body weight is responded to by ErgoChair Core, keeping your spine stable at all times.
5. Bernot Task Chair by Ebern Designs
Eber Designs offers a gray office chair that should comfortably fit your budget. Its upholstery color is a light shade of gray, while the material itself is soft and fluffy. The chair uses padded armrests to support you while you work, while the tilt controls are easy to use. Ergonomically speaking, the Bernot Task Chair is perfectly height adjustable.
The gray computer chair is compatible with both concrete and hardwood flooring. However, this means it's not recommendable with carpets, since the wheels can get stuck. There are also reports of the wheels not staying in place. While you can order the chair with an expert assembly, you have to pay additional costs.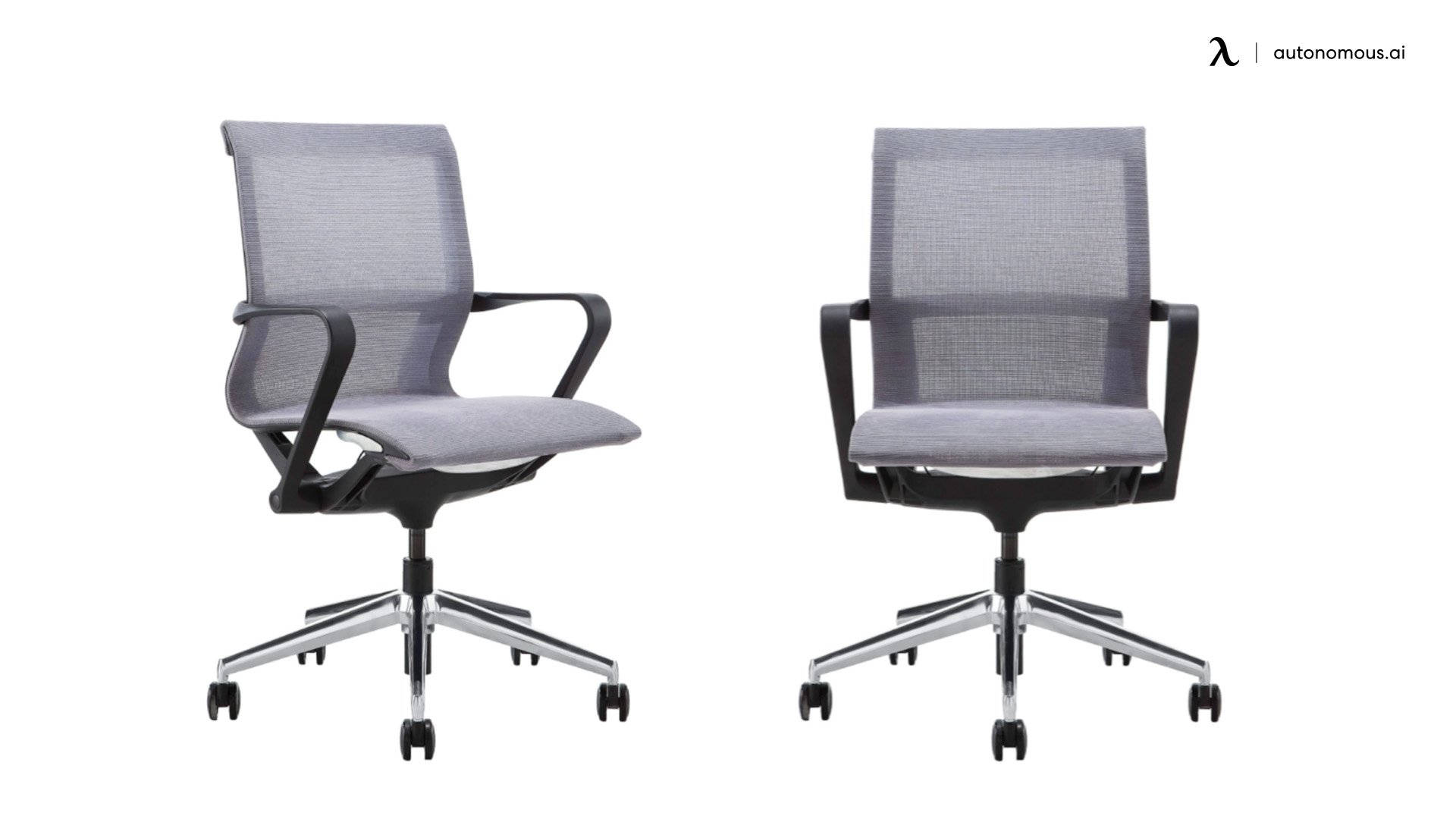 Pros:
●   Comfortable fabric material
●   Tilt and tension control
●   Height adjustability
●   Affordable price range
Cons:
●   Expert assembly is considerably expensive
●   Not usable for carpet flooring
●   Wheels have slight issues
6. Mayson Executive Chair by Three Posts
Here is an executive gray computer chair from Three Posts, which carries a good corporate look through a slate gray color scheme. Due to the French craftsmanship, this chair gives your workspace a high-quality luxury feel. The Mayson chair is stylish and offers smooth transitions with every adjustment, such as height and tilt control.
The materials are entirely recyclable; if you're eco-friendly, this is a great option for green-minded workers. However, some customers report assembly is rather difficult, and the screws might not fit certain parts. It likely depends on the individual packaging you receive, so there's no real way to know if it would affect you personally.
Pros:
●   Good ergonomic functions
●   Offers a stylish look for your workspace
●   Recycled through eco-friendly materials
Cons:
●   Difficult assembly
●   Individual parts take time to put together
●   Instructions aren't as clear as they should be
7. Mesh Task Chair by Latitude Run
Latitude Run has a gray office chair that uses mesh as its main materials. Both the frame finish and breathable mesh backseat are gray-colored. If you value a mid-to-high chair with a sleek design, this is a good one to consider. The chair also has synchro-tilt, which allows the chair to recline a great distance. With lumbar support and a tilted headrest, you can enjoy comfortable breaks while you work.
While the chair is comfortable, it's not intended for longer work hours. As a result, you should consider break intervals for sitting and standing. There are also reports of chemical smells and noises from the mechanical parts. Nonetheless, Latitude Run's chair remains an affordable office chair with a good ergonomic design.
Pros:
●   High-quality mesh support
●   Synchro-tilt with back angle movement
●   Affordable price range
Cons:
●   Slight chemical odors
●   Not recommendable for long hours
●   Squeaking noises
8. Empire Management Chair by Laura Furniture
Here is another classic executive chair, this time featuring Laura Furniture. Their Empire management chair is mostly made of mesh, which gives your back breathable room as you sit back. Among the four different color options, one is a cool gray, which gives it a classy feel.
The light grey office chair uses a one-piece frame with a recline feature, so it conforms to your entire body as you relax. Despite this, however, there are a few downsides. The armrests are not adjustable, and the seating area is slightly on the smaller side. Notably, shipping fees also differ between each state, which could be problematic.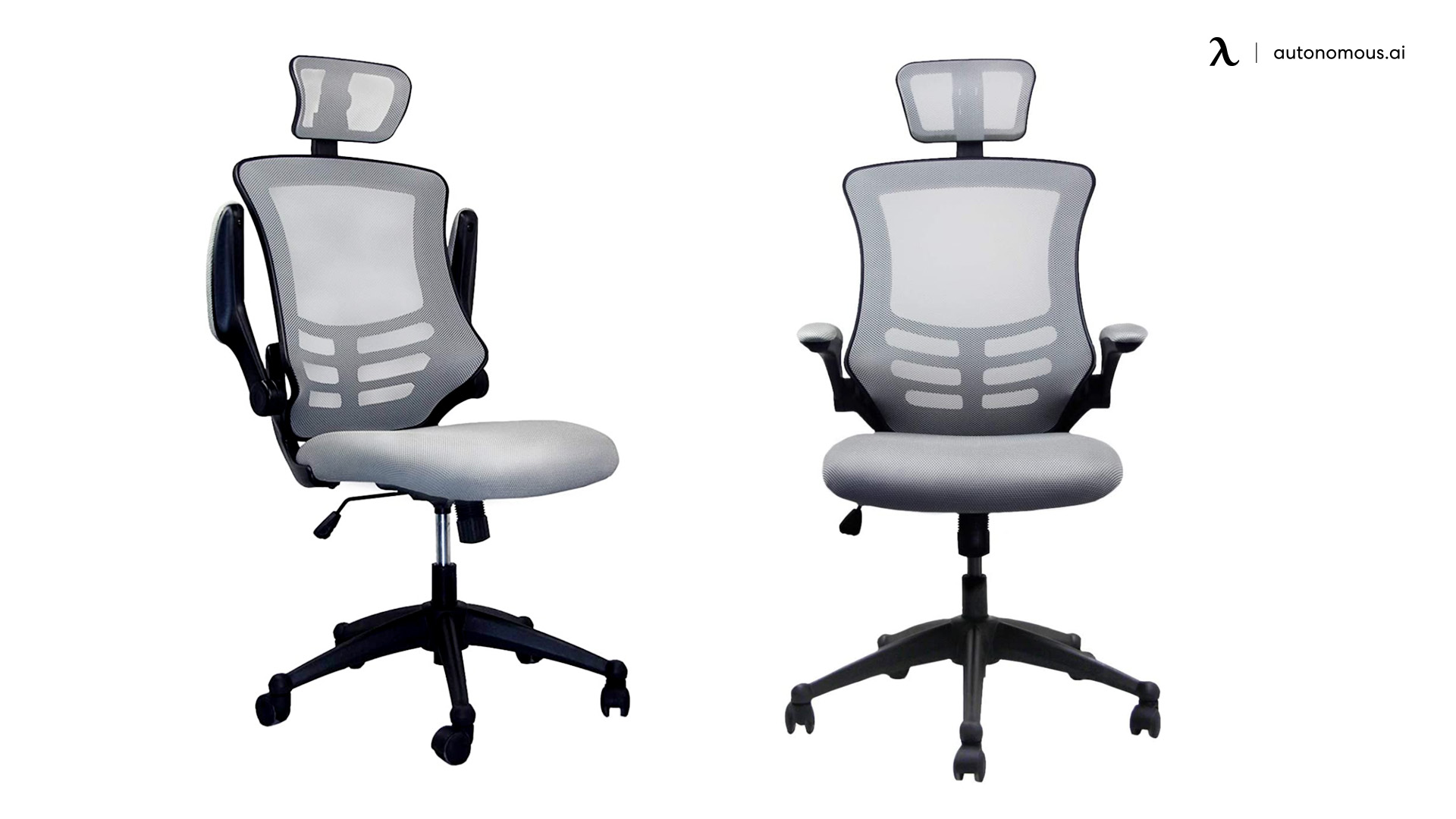 Pros:
●   Nice clean look for your workspace
●   Built-in adjustments for ergonomic comfort
●   Poly-plastic mesh is high-quality
Cons:
●   Slightly expensive
●   Non-adjustable armrests
●   Small area for sitting down
9. Office Chair by Techni Mobili
Here is a light grey office chair from Techni Mobili, which uses modern upholstery. It's crafted with a wooden frame and has a durable foundation. With a 360-degree rotating swivel, you have a good range of movement to adjust yourself while you work.
While the light grey office chair is ergonomically sound, it doesn't carry a heavyweight capacity. Since it can only lift to 200 lbs, the chair is not recommendable to workers who weigh more than the stated amount. It's also a slightly small chair.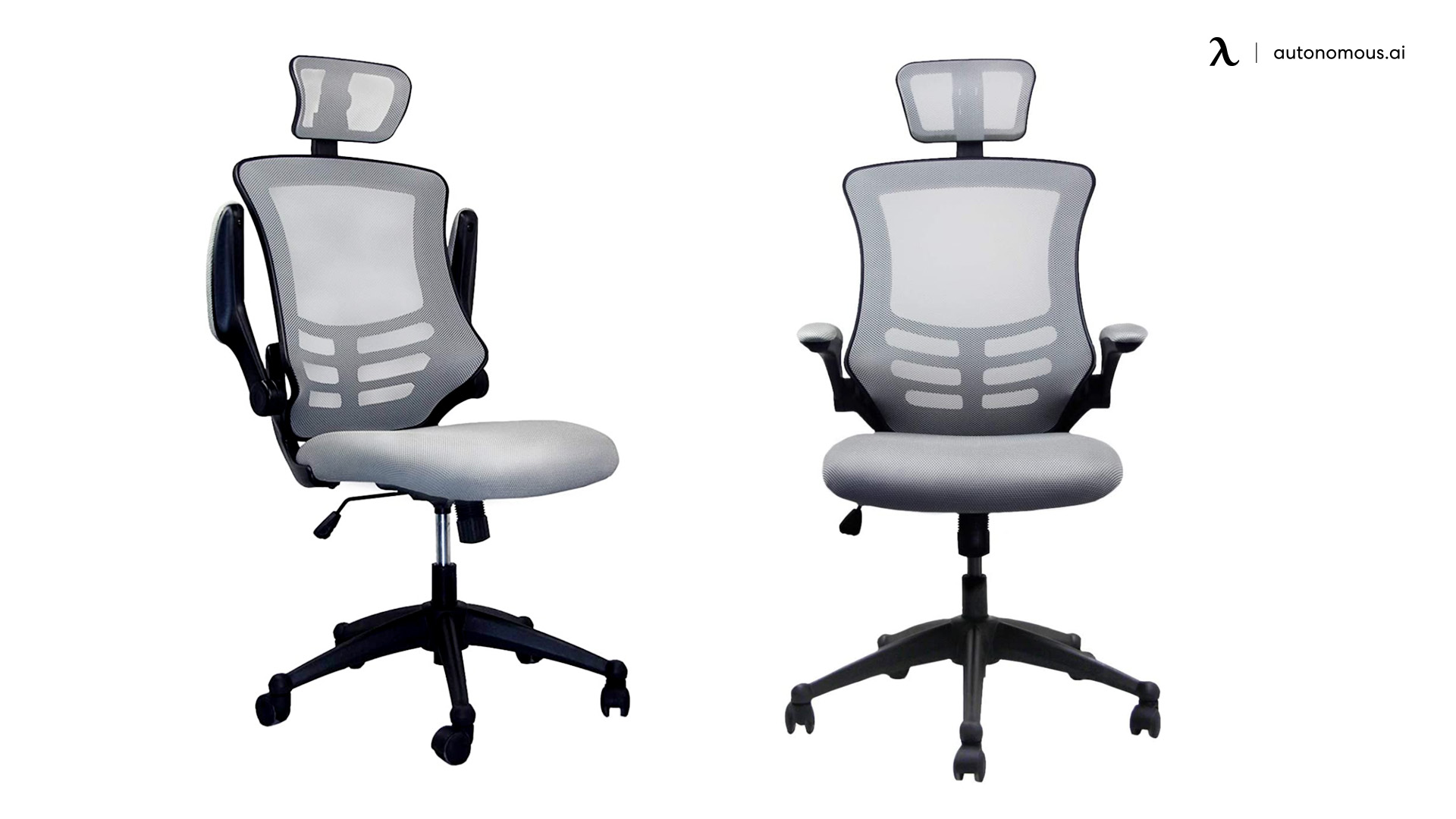 Pros:
●   Comfortable with decent support
●   360-degree swivel feature
●   Affordable with free shipping
Cons:
●   Weight limit is 200 lbs.
●   Directions incorrect state 250 lbs.
●   Chair is rather small in size
10. Gray Massage Chair by Overstock
Overstock carries its own gray desk chair. What makes it stand out among other gray office chairs is the massage feature, which is comfortable and easy to use. Vibration points allow a relaxing experience when you use this chair. It is a perfect chair for letting yourself enjoy some downtime.
There are some heat issues on the seat, however. As a result of the massage feature, the gray ergonomic office chair tends to overheat. Be careful as you use this particular feature.
Pros:
●   Relaxing massage function with vibration points.
●   Offers a stylish look to your workspace
●   Free shipping
Cons:
●   Overheats when used too much
●   Slightly expensive
●   Modules offer no padding
11. Gray Manager's Chair by Realspace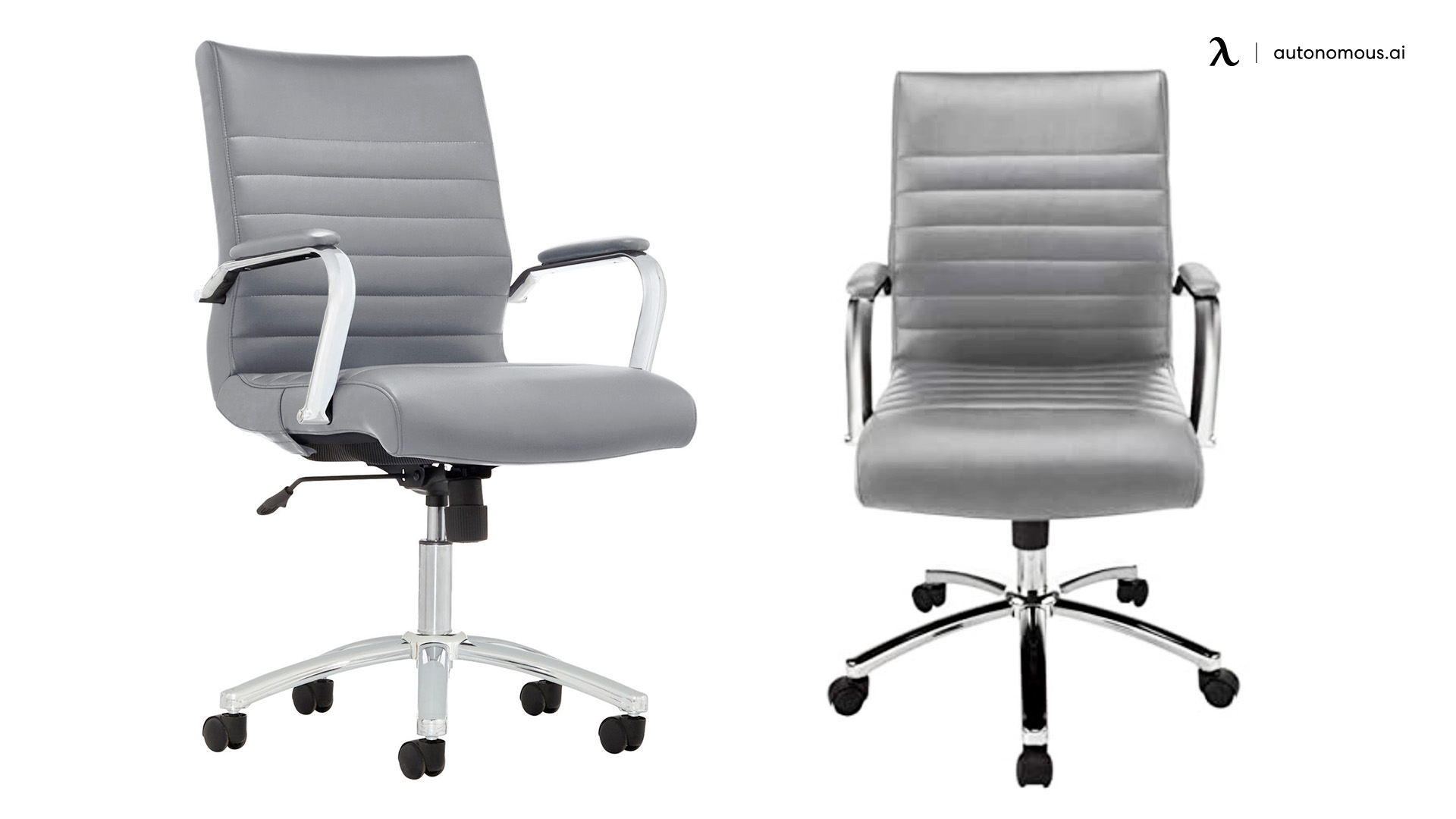 Check out this light grey office chair from Realspace, which you can buy at Office Depot. In addition to a cool gray color scheme, this chair provides modern comfort through bonded leather. It also has a rotational swivel so you can freely move around as you please. You can make an appointment and pick up the chair within an hour, which makes it convenient.
Last but not least, there is an option for chair assembly. However, keep in mind you have to pay an extra $15 just to get the chair assembled. While the additional costs don't mean much with the already low price tag, the chair is made of less expensive materials. Realspace offers a conveniently affordable but cheaply made chair. If you want to buy it, consider if the price is perfectly justifiable for the quality.
Pros:
●   Good ergonomic design
●   Free delivery and quick store pickup
●   Considerably affordable price
Cons:
●   Chair assembly is extra
●   Cheaper quality materials
●   Lack of durability and longevity
12. GreenSoul beast series multifunctional chair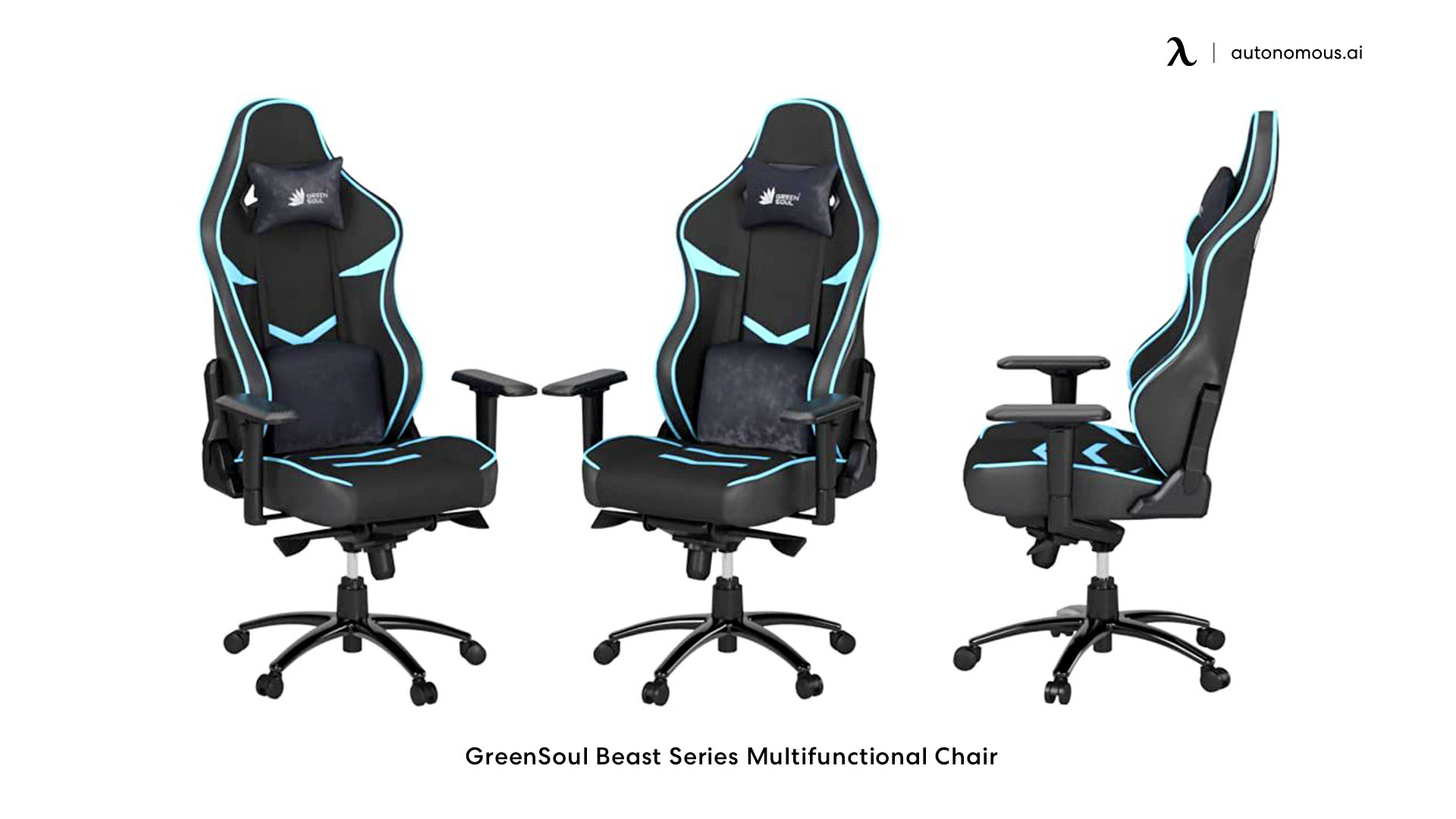 It's just as comfortable for working in your office as it is for gaming. The light gray office chair comes in several colors, including gray, and has a high backrest with a removable padded headrest as well as a lumbar cushion. Metal supports provide support for your spine and neck.
13. MISURAA's Xenon High backrest chair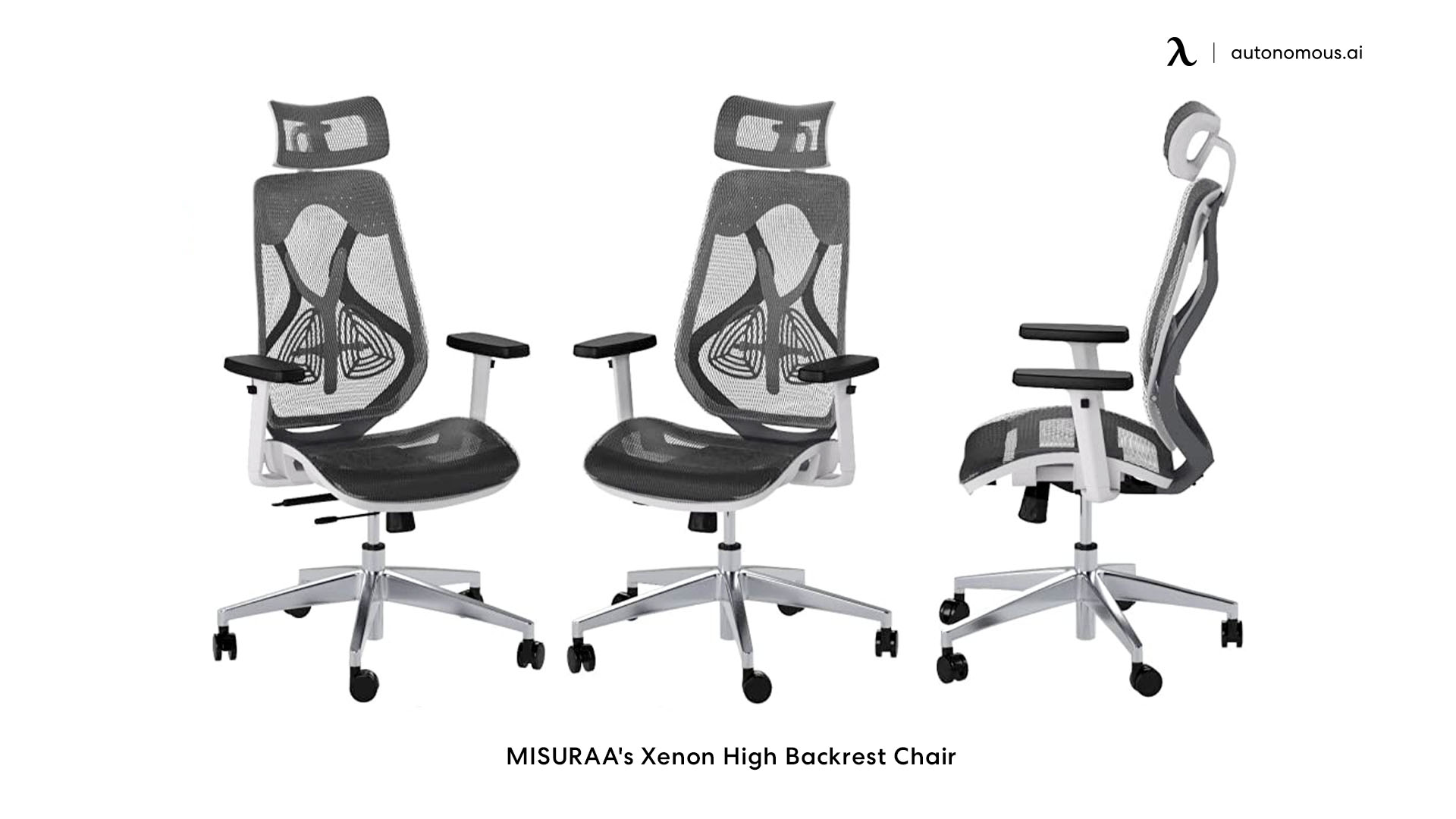 Its gray-white body frame and adjustable headrest set it apart from the crowd. This gray desk chair features a padded headrest and lumbar cushion, and a high backrest.
14. Casa Copenhagen EC Extreme high back chair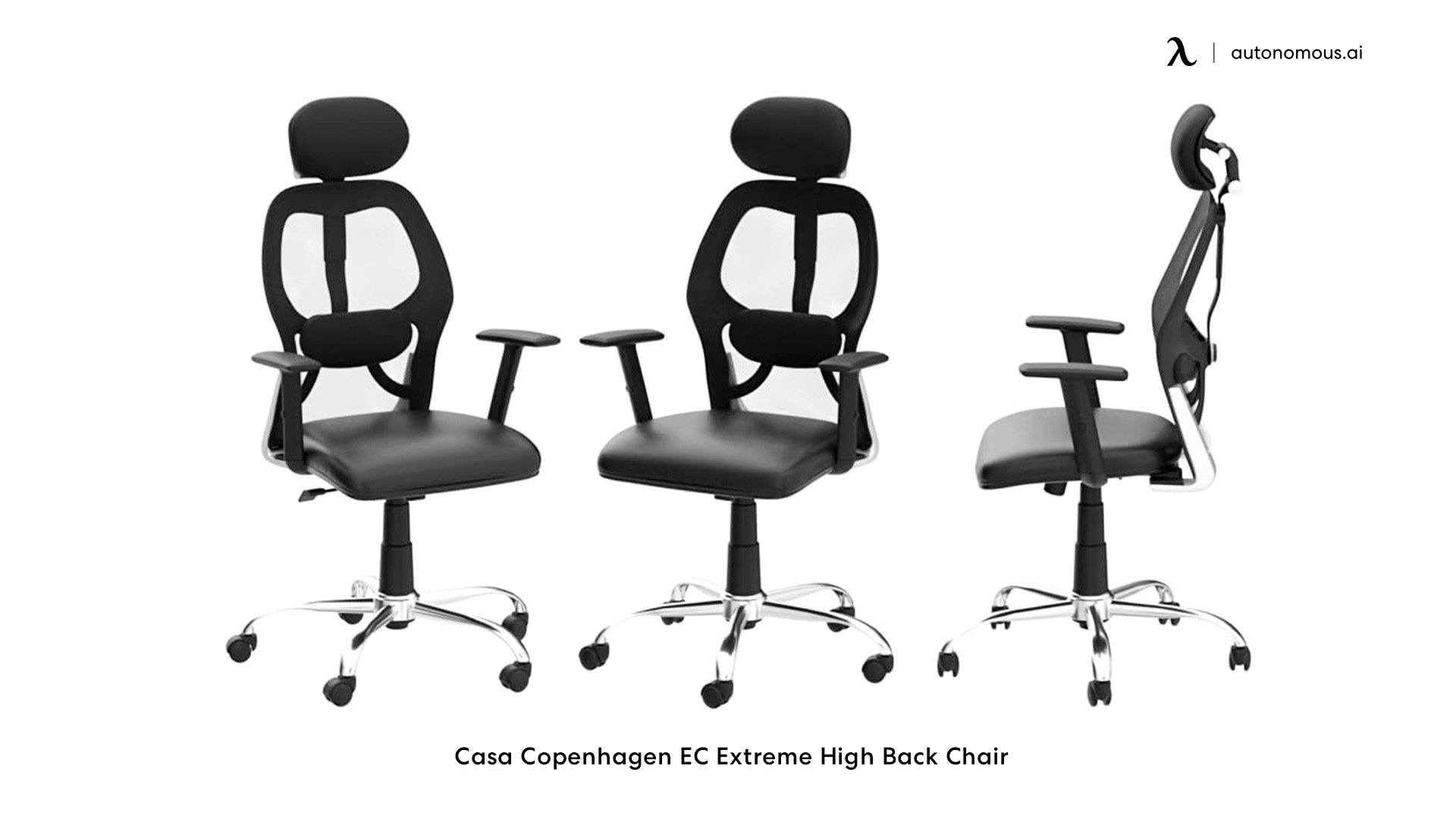 With an ergonomic office gray computer chair, you can maintain the ideal bending of your spine with the correctly positioned lumbar support. As a result, back pain is reduced. It can be raised and lowered vertically and moved forward and backward. The gray office desk chair has a one-position tilt lock so that you can find the right position. The arms can be extended over the backrest to save room.
15. Dcloud Hub Brown Leatherette Executive chair
Durable Presort polyurethane covers these comfortable colored desk chairs, perfect for home or office. It comes with a tilt mechanism and a height-adjustable seat.
Find A gray desk chair Right For You
With over 15 options to choose from, you should be able to consider which grey ergonomic office chair is the right one for you. A gray office chair can bring out a good balance of colors within the workspace. Not only can you keep yourself calm, but your body also appreciates the ergonomic design of these office chairs.
Maintain your concentration as you finish your projects, thanks to a significant reduction in body tension. You've worked hard enough this year, so reward yourself with a gray ergonomic chair. With the added health benefits to your mind and body, 2021 can be your year.
FAQs About Gray Office Chair
Is gray the best color for an office?
A neutral as hot as gray is, without a doubt, the most popular. Adding a splash of color to a gray home office can make it even more attractive and powerful! Gray home offices are all about design versatility, providing the perfect neutral backdrop for adding colorful accents and colorful accessories.
Can gray be used in an office?
Gray is often seen in offices that try to appear sleek or modern. Inappropriate use, however, can indicate a lack of confidence and foster a depressive mood. Incorporating gray in certain areas should be approached carefully.
Is gray the best professional color?
Orange is universally seen as the worst color during interviews, while blue, black, gray, brown, and white are best. Stay away from yellow, green, and purple as well. It is considered the perfect color to signify stability, trust, and confidence.
Gray is a neutral color that signifies indifference, reserve, and neutrality. The color gray is associated with security, reliability, modesty, and maturity and serves as a good background to contrast other colors.
How to use gray in an office?
The combination of red and gray is a bolder and more dramatic statement than blue. Even when used sparingly, red can transform the atmosphere of a room. A gray home office with accents of red looks even more spectacular, but make sure you don't use too much red to create an elaborate and ungainly atmosphere. Red accents can revive a seemingly boring and mundane home office with a smart storage unit, scarlet floating cabinets, a rug and chair that bring the color, or even a crimson accent wall.
Is there any way I can brighten up a gray office?
Colors really make gray pop! If you're using gray with neutrals, be sure to add LOTS of texture (this gives your space more depth). A colorful accent wall or accent accents will complement gray (they don't have to overwhelm).
Is there a color that goes well with gray?
The following three inspirations show how red, blue, and orange can be combined with gray in a modern home office. Aesthetics and ergonomics combine perfectly as these fabulous home offices are smart, sophisticated, and cheerful.
Subcribe newsletter and get $100 OFF.
Receive product updates, special offers, ergo tips, and inspiration form our team.
WRITTEN BYAutonomous
We build office products to help you work smarter.