Smart Products
The Ultimate Guide to Choosing the Perfect Mid-century Modern Desk for Your Space

Emily Chambers
|
Oct 10, 2023
1,085 Views
The mid-century modern style, popularized after World War II, continues to charm homeowners and design enthusiasts.  
A mid-century modern desk is aesthetically pleasing and highly versatile with its focus on simplicity, clean lines, and functional forms. Made of wood or glass, these tables offer a perfect blend of style and functionality. 
How to Select the Right Mid-century Modern Desk for Your Space?
In this section, we will guide you through selecting the right desk. We'll consider room size, layout, and personal style. With a focus on natural and muted colors, the goal is to avoid overcrowding.  
You should create a balanced workspace with statement pieces and soft textures. Let's dive into the world of mid-century office desks without further ado! 
1. Room Size and Layout
When selecting a mid-century modern executive desk, the essential factor is your room size and layout.  
To avoid overcrowding, opt for a table that fits comfortably in your space while allowing for movement and other furniture.  
Many options are available, whether you have a spacious home office or a cozy corner nook. Consider a sleek and compact piece, such as an L-shaped standing desk, if your room is small.  
2. Materials and Colors
The mid-century modern design embraces a light and natural aesthetic. You can blend bright colors with muted tones within the same palette to create a cohesive look. Pair your mid-century modern computer desk with wood and leather details.  
To add visual interest, blend elements of gold or contrast with marble, synthetic, or metal shapes.  
Play around and mix it up with geometric patterns, both on your standing desk and in the surrounding decor.
3. Desk Accessories
To complete your mid-century modern workspace, consider the best desk accessories. A sleek lamp, flowerpots, globes, and pendants can enhance the design and create a pleasant atmosphere.  
Go for accessories that use contrasting materials and textures, such as gold accents with natural wood. Remember, the goal is to strike a balance between functionality and style. 
4. Desk Setup
To create a vintage office decor, pay attention to the setup. Add wall art, whether abstract paintings or pretty accent pieces, to create visual interest.  
A mid-century office chair with curves can provide comfort and functionality, further enhancing your workspace. Go for browns and whites in your desk setup if you want warm and inviting tones. 
Explore items like antique typewriters and retro telephones to add personality and charm to your workplace. 
To summarize, here are a few essential tips to keep in mind when selecting your mid-century modern desk: 
Consider your room size and layout to avoid overcrowding.
Select natural and muted colors with a blend of brighter tones in the same palette.
Invest in statement pieces like a timeless ottoman.
Play around with different materials and shapes to add variety and visual interest.
Don't forget to add accessories to your desk décor. 
Create contrast with materials like marble or synthetic finishes.
Mix and match with geometric patterns. 
Choose an office chair that offers both comfort and style.
Warm tones like browns can enhance the mid-century modern aesthetic. 
Let your desk and vintage office ideas reflect your personality and taste!
The 10 Best Mid-century Modern Desks for Your Workspace
It's time we explore some excellent mid-century modern desks for your workspace. The following options offer a blend of style and functionality. They are excellent choices for anyone looking to upgrade their home office.
1. Skyline Decor Disa Mid-century Desk: 2-drawer
Made from high-quality engineered wood with a luxurious walnut wood finish, this Skyline Décor Disa mid-century modern writing desk adds a touch of sophistication to any room. The natural wood grain pattern adds character and warmth to your space.
It has two generously sized drawers, providing enough space to organize your workstation. This mid-century modern computer desk comes with a user-friendly assembly guide. 
You'll have your mid-century modern office desk ready to use in minutes. Its sturdy construction ensures stability during use, allowing you to work confidently. The metal handles on the drawers add a sleek and modern touch.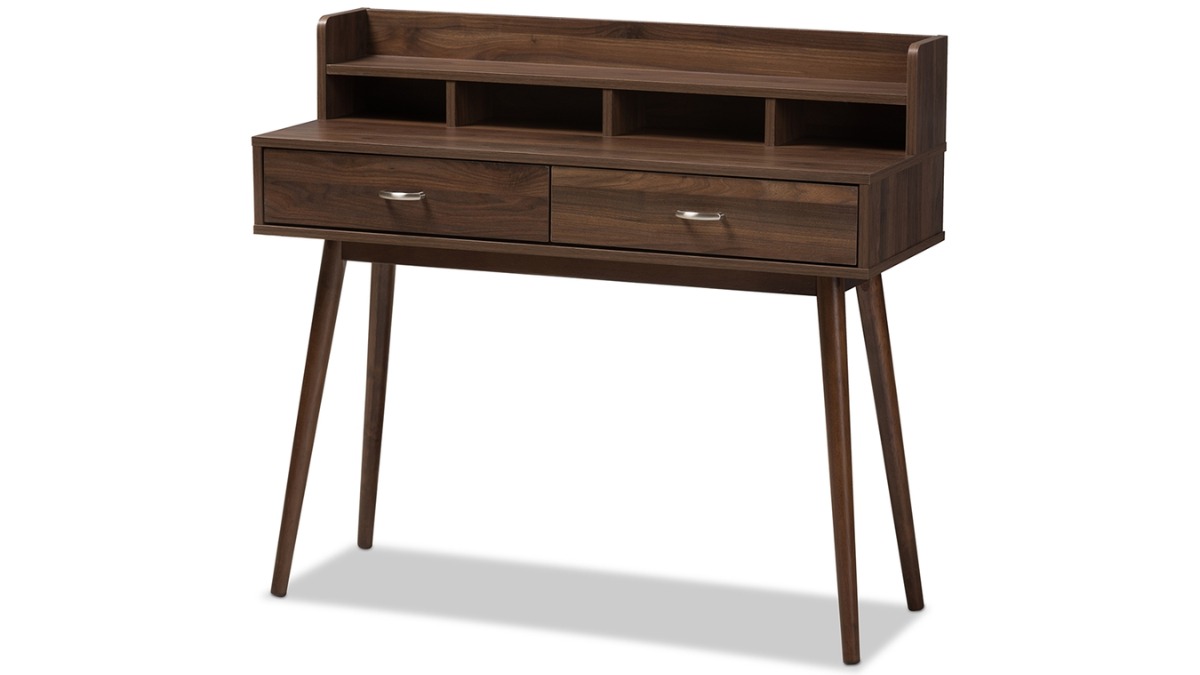 Skyline Decor Disa Mid-century Desk
Pros

Cons

Premium walnut wood finish
Limited color options
Two spacious drawers
Easy assembly
Sophisticated design
2. Camaflexi Computer Desk
The desk comes in a classic rectangular shape. It offers a spacious work area that houses your essentials with ease. Made of high-quality wood and coated with a lacquered finish, the Camaflexi computer desk has an elegant appeal. 
It effortlessly blends with modern and contemporary decor styles, making it a versatile choice for any space. The single drawer adds a functional touch to the desk.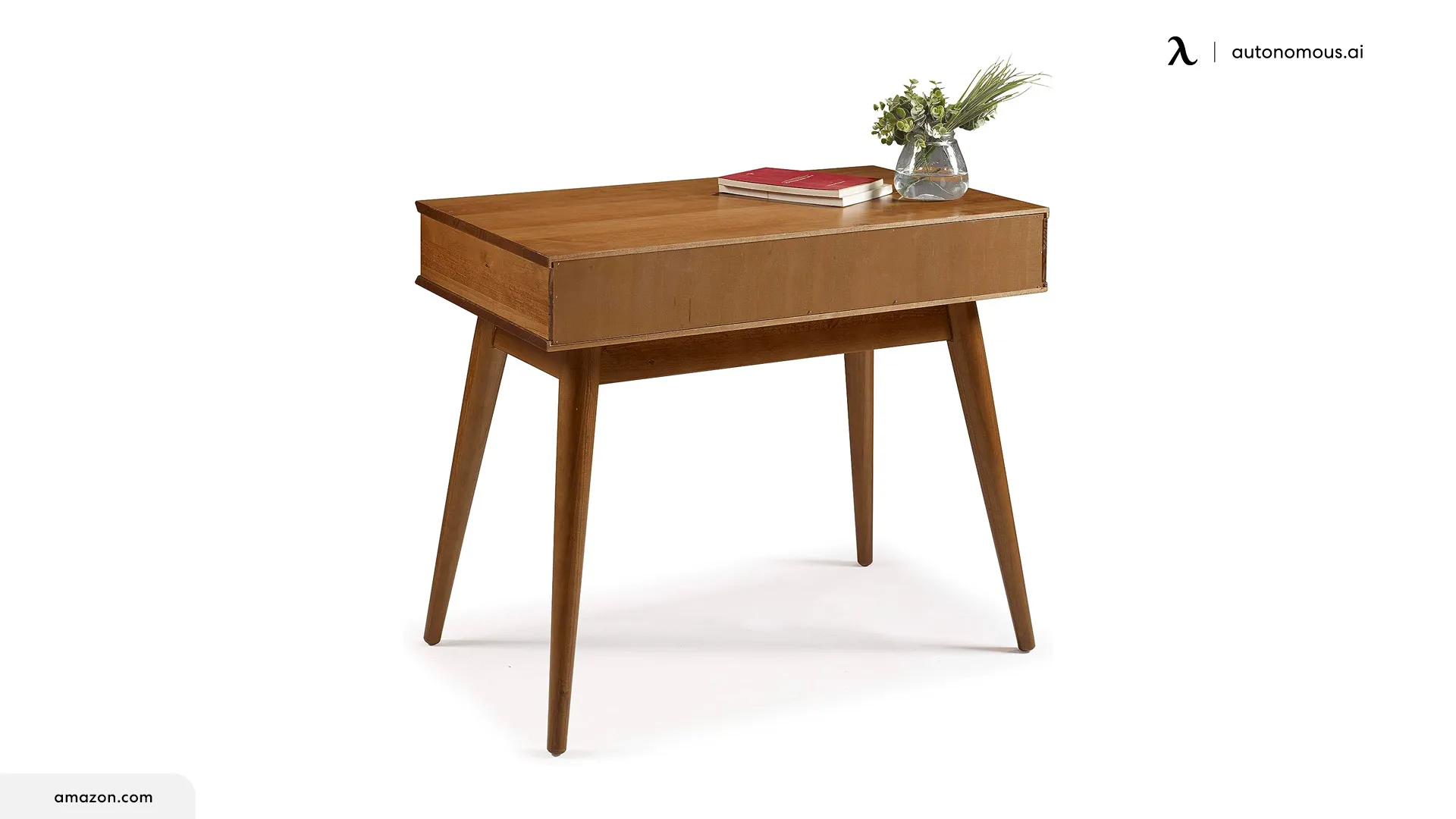 Camaflexi Mid-Century Modern Computer Desk
Pros

Cons

High-quality lacquered wood
Limited color options
Clean finishes
Convenient single drawer
Sleek and modern design
3. Christopher Knight Home Desk
The Christopher Knight Home desk showcases a timeless mid-century modern style. The desk has a stunning gray oak finish, adding a touch of elegance to your space. It's made of rubberwood material. Rubberwood is popular for its strength and resistance to warping or cracking. 
Aside from its primary function as a writing desk, you can also use the piece as a bedside table. However, it takes around an hour to assemble.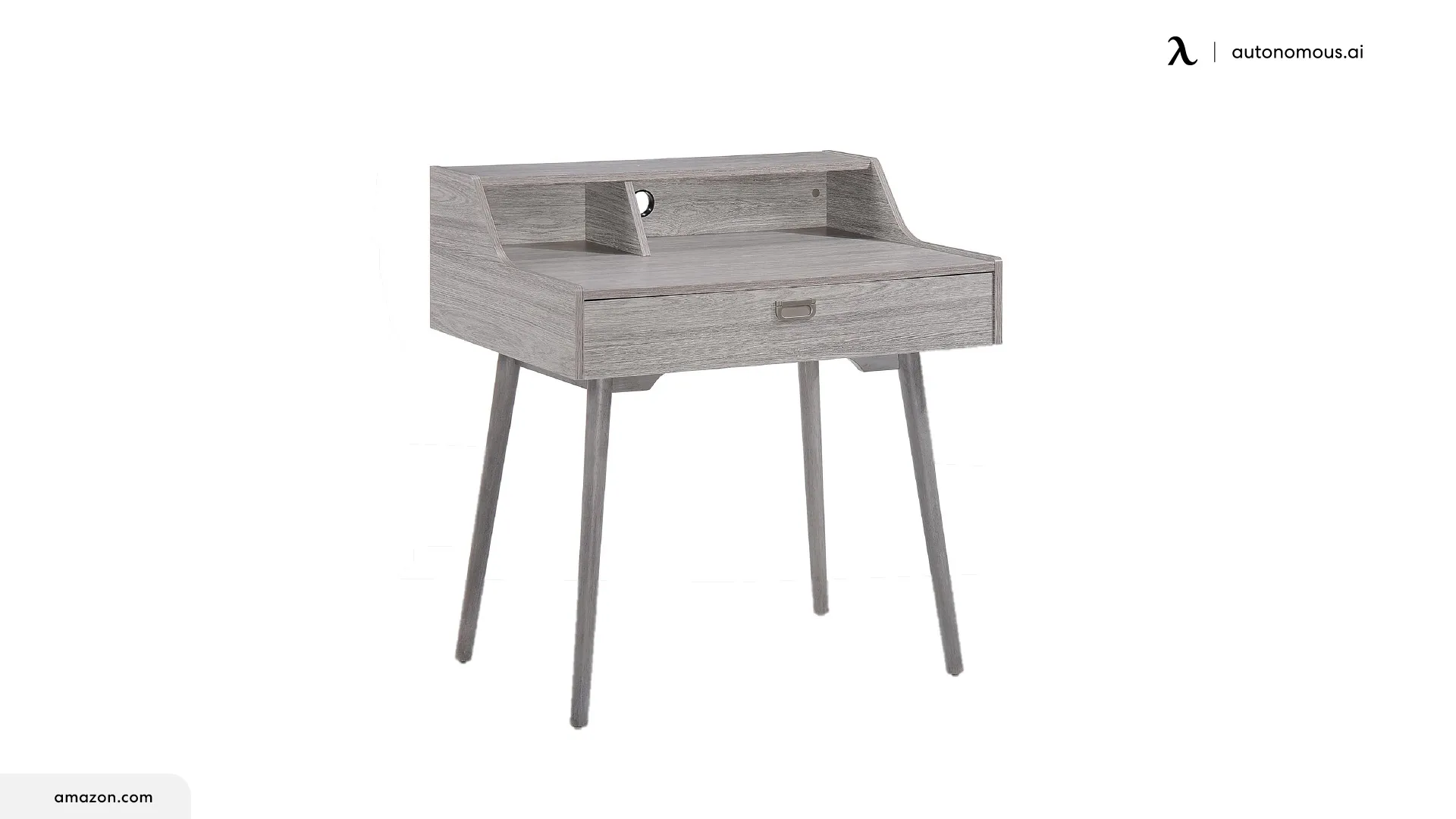 Christopher Knight Home Ellison Mid-Century Desk
Pros

Cons

Well-built and sturdy
Limited storage space
Versatile functionality
Classic design
Compact and space-saving
4. Winsome Sonja Desk
With its stunning walnut color and well-thought-out features, this Winsome Sonja desk is an ideal addition to any home office. Its warm and inviting color will blend with various decor styles, making it versatile. The open hutch provides convenient storage and easy access to your essentials.  
Keep your books, stationery, or even small decor items neatly organized and within reach while working. 
The desk's rounded beechwood legs provide stability and add a unique design element. They are sturdy and reliable, ensuring your desk remains steady while you focus on your tasks.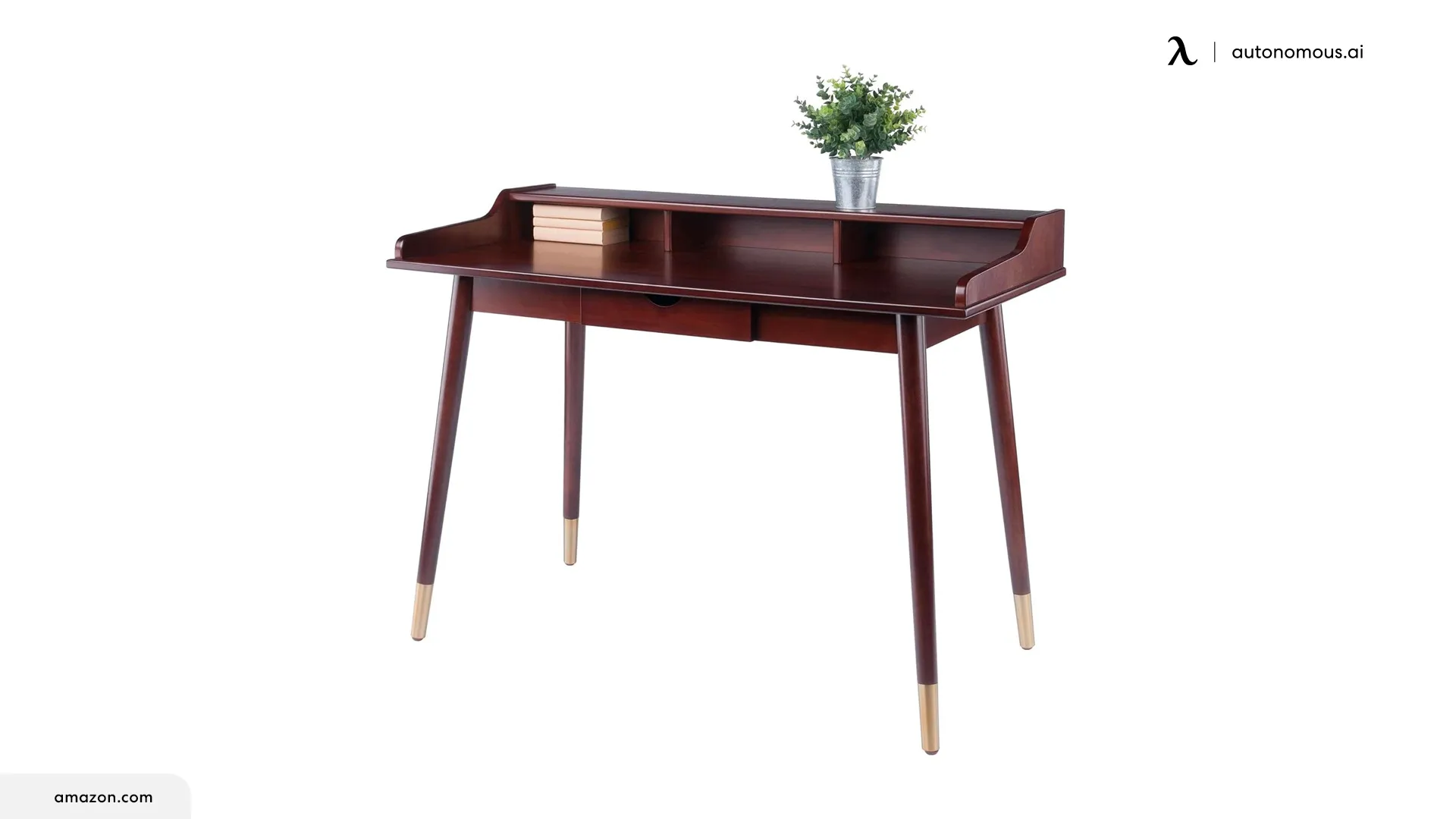 Winsome Wood Sonja Writing Desk
Pros

Cons

Shiny and smooth surface
Heavy and large-sized
Sturdy construction
Easy to clean
Durable build
5. Skyline Décor Two-drawer: Oak and Grey
 If you're looking for a modern and versatile desk, look no further than the Skyline Décor oak and gray two-drawer desk.
The PU veneer surface is resistant to scratches and stains, ensuring your desk remains as good as new for years. 
With two drawers, this mid-century modern executive desk provides enough storage space to keep your office essentials within reach. The table also has a cable management system that keeps your cords tangle-free.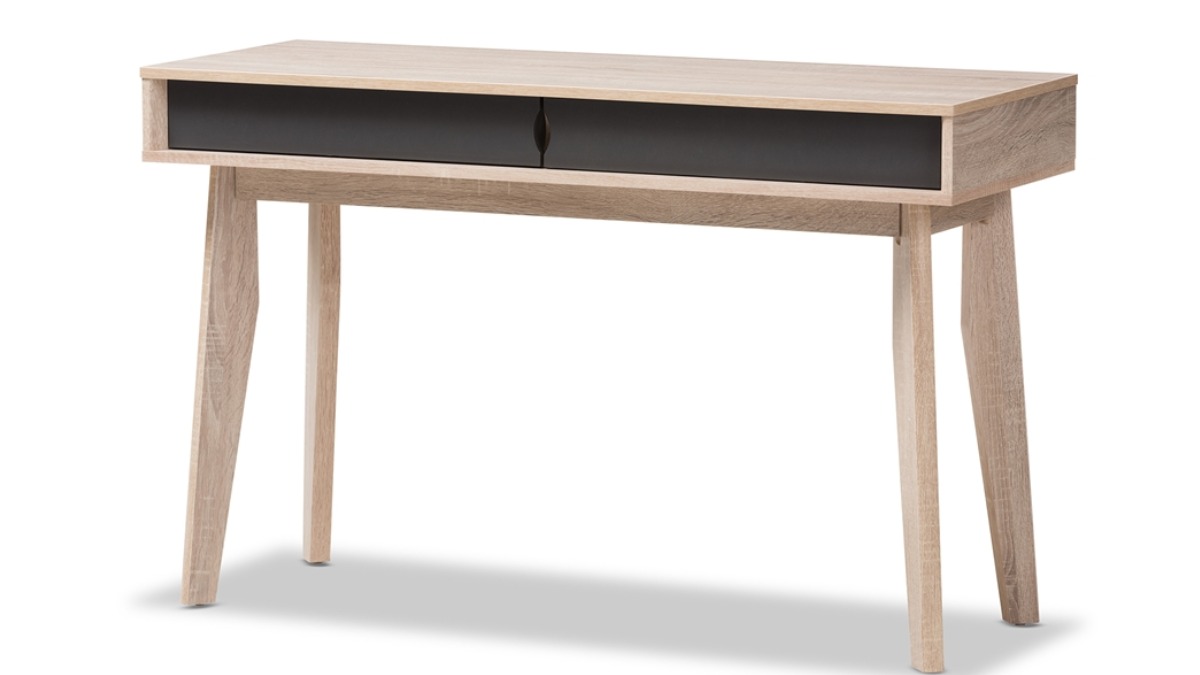 Skyline Decor Mid-Century Modern 2-Drawer Desk
Pros

Cons

Modern yet timeless
Assembly needed
Versatile functionality
Lots of storage
Durable construction
6. SIMPLIHOME Harper Desk
The SIMPLIHOME Harper desk comes in five attractive colors, ensuring you find the perfect match for your space. From classic white to a light golden-brown shade, there's a color to suit every taste and interior. You can also choose the size that fits perfectly into your space. 
Say goodbye to clutter and organize your workspace with the convenient drawers and pull-out tray. It provides extra space for your keyboard. You can also use it as a writing surface. 
With its clean lines and minimalist aesthetic, this mid-century modern desk effortlessly blends with any décor.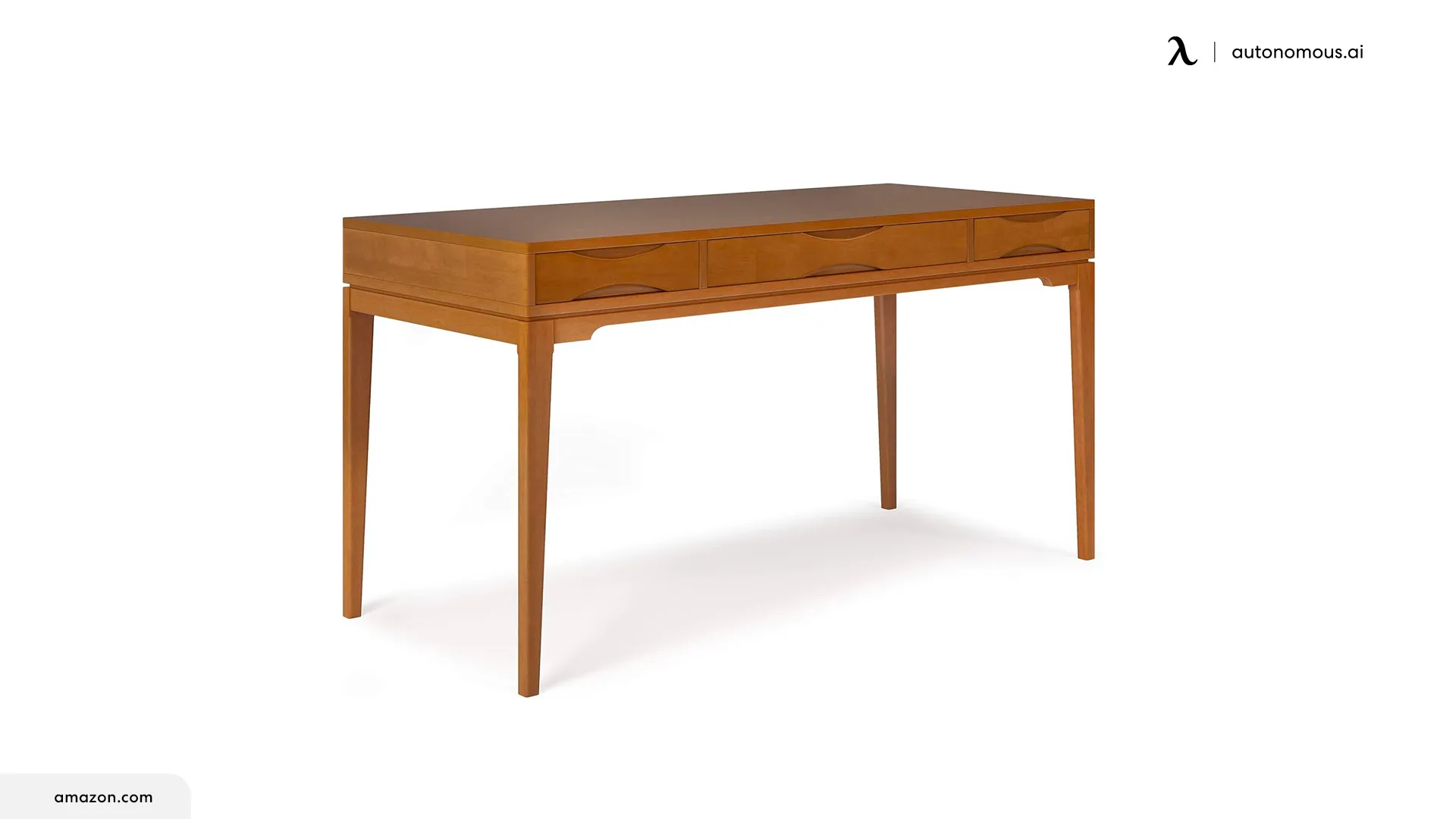 SIMPLIHOME Harper SOLID WOOD Mid Century Desk
Pros

Cons

Five colors available
Slightly heavy
Rubberwood material
Contemporary design
Three spacious drawers
7. SIMPLIHOME Banting Desk
Made with utmost care and precision, the SIMPLIHOME Banting desk is a testament to fine craftsmanship. Each piece is expertly handmade, ensuring top-notch quality and durability. 
The woodgrain pattern makes the desk unique, adding a touch of individuality to your decor. Keep your workspace clutter-free and organized in the two drawers. Use the pull-out tray to store your keyboard.  
Thanks to the desk's high-quality ball-bearing drawer slides, opening and closing the drawers is a smooth experience. No more struggling or getting stuck mid-action!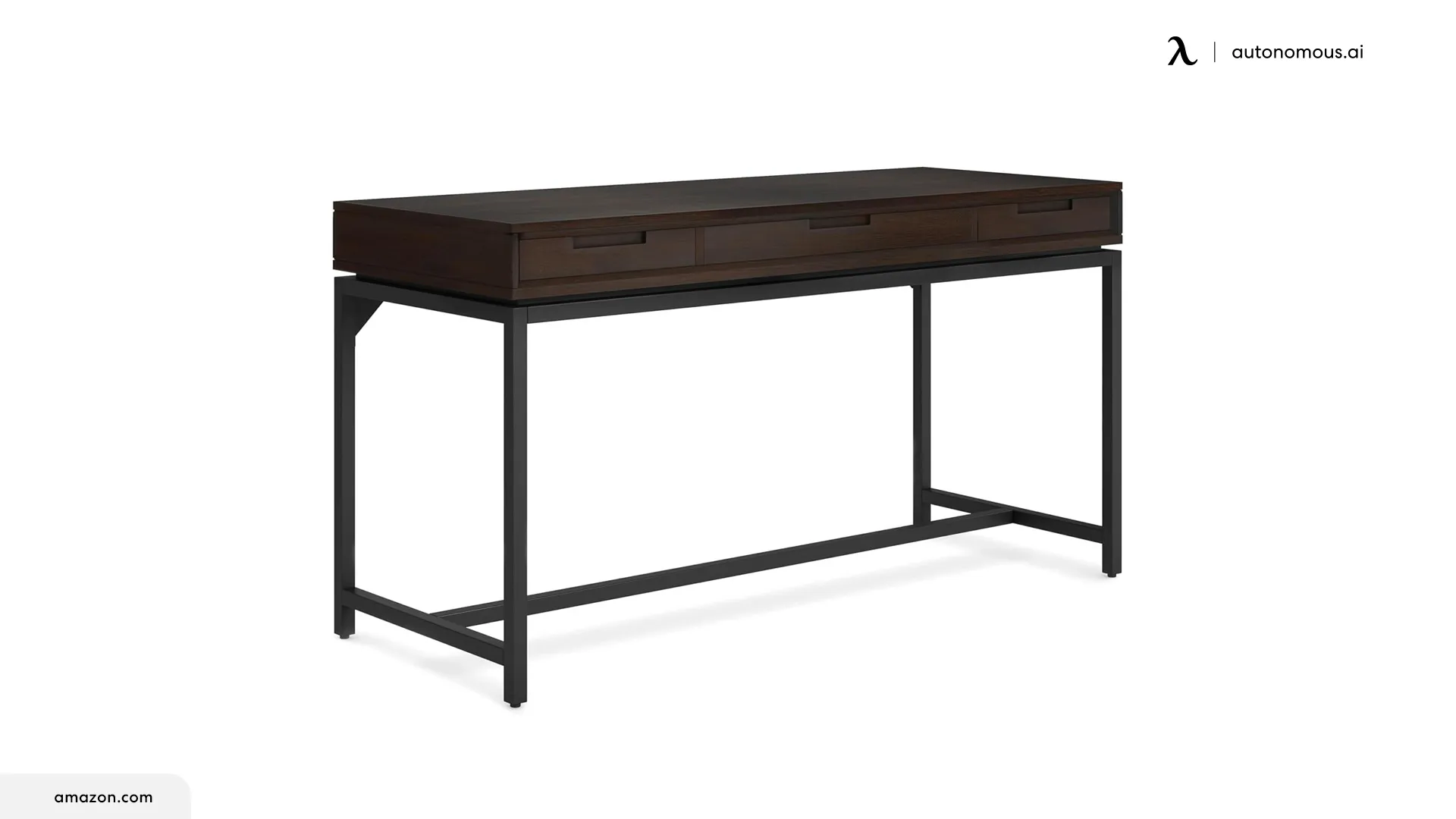 SIMPLIHOME Banting SOLID HARDWOOD Modern Industrial Desk
Pros

Cons

Handcrafted with precision
Heavy and pricey
Seven neutral shades
Convenient pull-out tray
Spacious storage
9. Roundhill Furniture Roskilde Desk
With its rectangular design and solid rubberwood construction, this Roundhill Furniture Roskilde desk is a practical and elegant addition to any room. Its sturdy build ensures a stable workspace, giving you peace of mind as you do your tasks. 
The painted finish enhances the desk's visual appeal and protects against daily wear and tear. While some might prefer having drawers, the absence of drawers gives the desk a clean and minimalist look.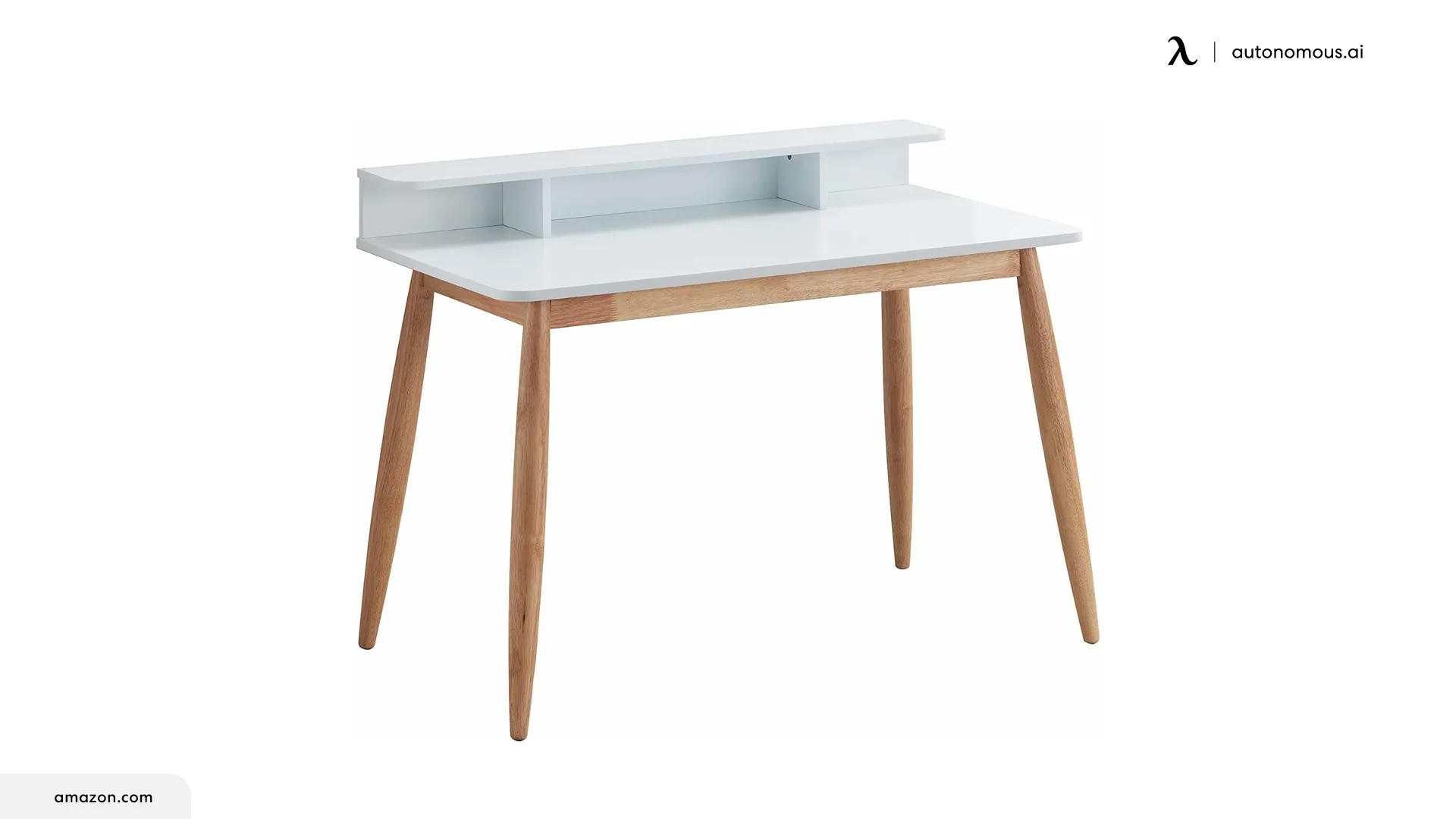 Roundhill Furniture Roskilde Storage Wood Office Desk
Pros

Cons

Versatile contemporary design
No drawers available
Durable rubberwood body
Open hutch system
Three colorways
9. Skyline Decor Skyline Decor Anjou Traditional Desk
The Skyline Decor Anjou Traditional Desk boasts a delightful two-tone finish. It combines the timeless appeal of oak with the contemporary elegance of gray. Crafted with high-quality PU veneer, this desk exudes a luxurious look and feel. 
It has four spacious drawers to store your belongings. Made from solid and durable engineered wood, this mid-century modern desk is built to withstand the test of time.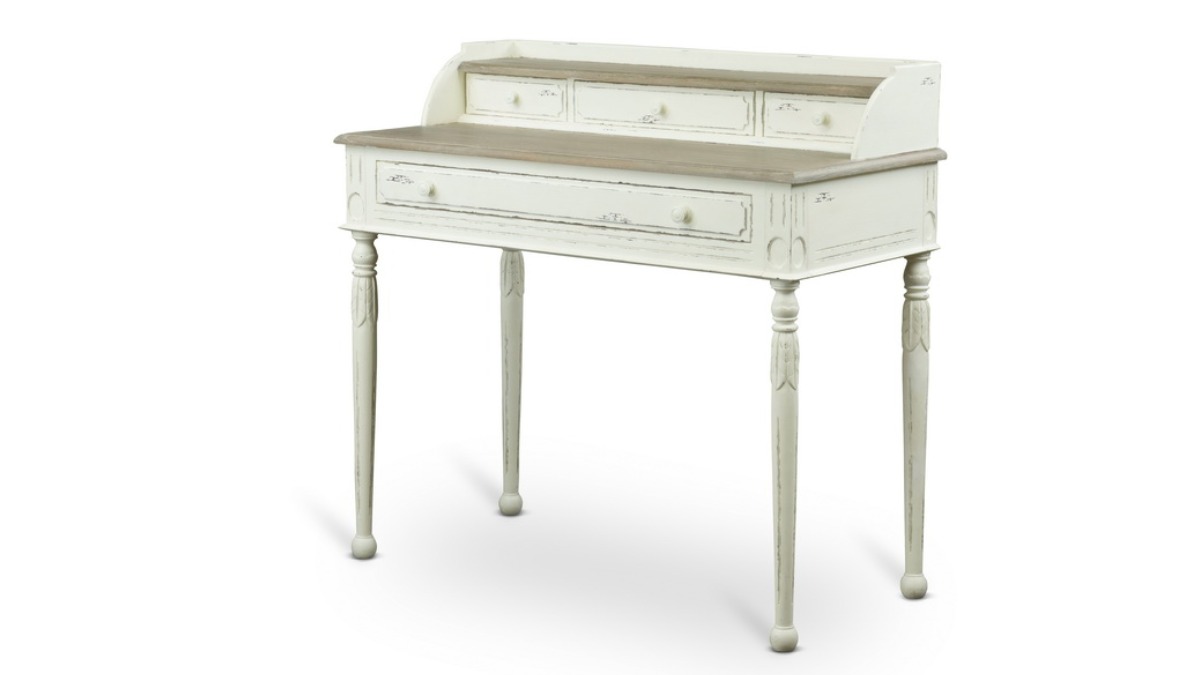 Skyline Decor Skyline Décor Anjou Traditional Desk
Pros

Cons

Two-tone finish
Minimal assembly needed
Many deep drawers
Versatile design
10.  DCOT Computer Desk
Our last product on this list is the DCOT computer desk. Say goodbye to wobbly desks and hello to stability! 
With a generous desktop size, the table offers plenty of space to spread out and work comfortably. Available in rich walnut colors, this desk effortlessly complements any home or office decor. 
The surface is engineered wood. It provides a smooth and comfortable working area, allowing you to glide your mouse easily. There are also two spacious drawers.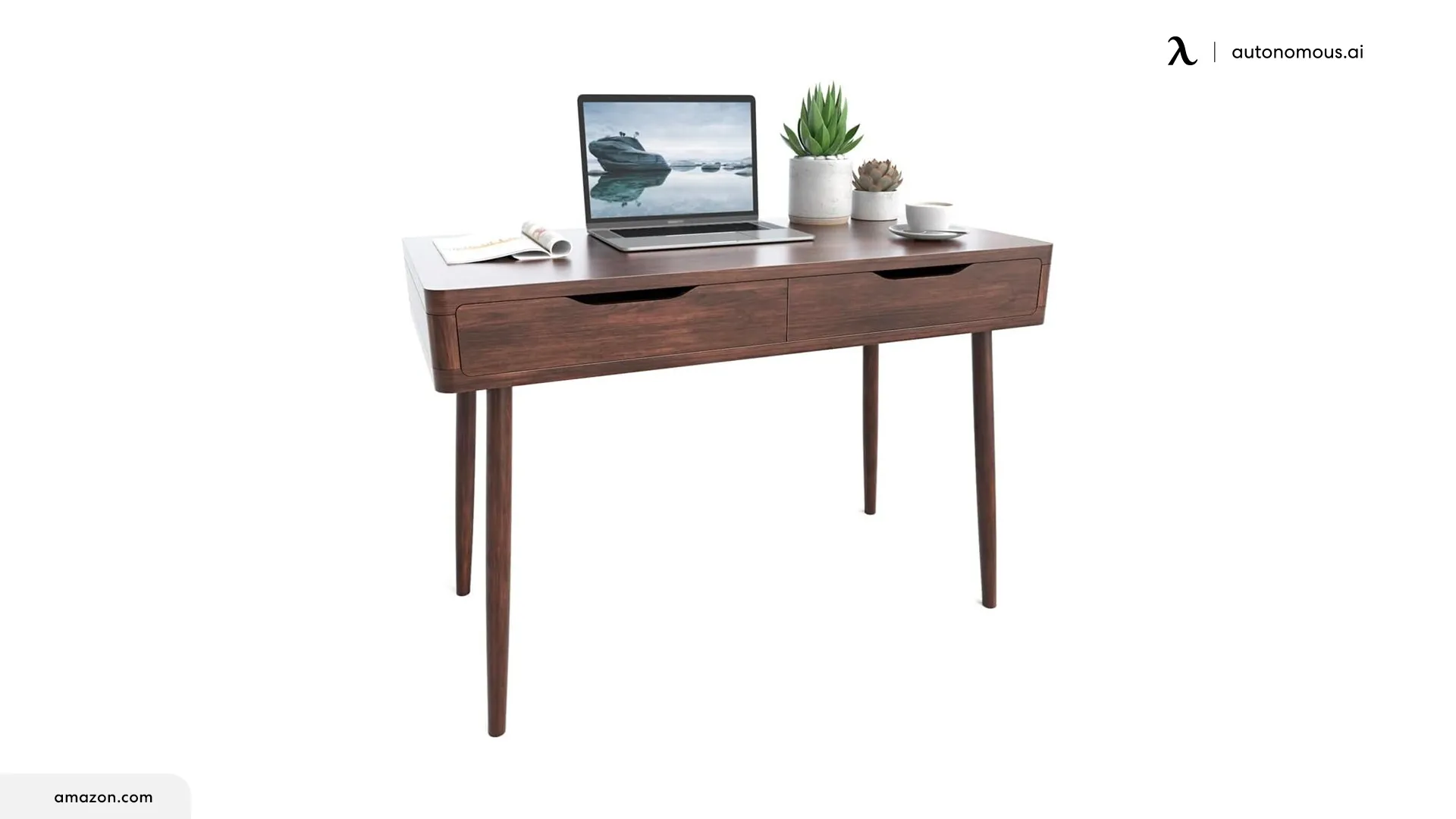 DCOT Mid-Century Style Computer Desk
Pros

Cons

Sturdy metal base
Time-consuming assembly
Engineered wood surface
Two deep drawers
Stylish walnut colors
Why Should You Get a Mid-century Modern Desk for Your Home Office?
A designated workspace at home is necessary in today's fast-paced world. Whether you WFH or need a dedicated area to manage paperwork, a well-designed home office can greatly enhance your productivity.  
One essential piece of furniture that every home office should have is a sturdy and stylish mid-century modern desk.  
What makes such a furniture piece so unique? Let's delve into the benefits that make this type of desk an excellent choice.
Sturdy Construction
One of the critical qualities that sets mid-century modern desks apart is their sturdy build. Featuring a metal base and engineered wood construction, these tables can withstand daily use without compromising their elegance.  
Combining metal and engineered wood ensures durability, allowing you to enjoy your furniture piece for years. 
Spacious Drawers
A clutter-free workspace is essential for maintaining focus and productivity. Mid-century modern desks often have two or more drawers, providing room for your office essentials.  
From pens and notepads to files and paperwork, you can keep everything you need within arm's reach. 
Sleek Design
Mid-century modern furniture is timeless, and the same goes for desks in this style. With clean lines and minimalist aesthetics, these tables have a design that can seamlessly merge with any interior decor. 
Whether your home office is modern, Scandinavian, or eclectic, a mid-century modern office desk will undoubtedly boost the overall look and feel of the space.
Extra Tips for Decorating a Home Office on a Budget
Working from home has become the new normal for many of us. Whether you're a freelancer or an entrepreneur running your own business, having a workstation that inspires productivity is essential.  
You might think that creating a stylish and functional workspace needs a hefty budget. Well, think again! Continue reading if you want to learn how you can save money without compromising décor.  
Explore Thrift Stores and Garage Sales
One person's trash is another person's treasure. That saying couldn't be more accurate regarding finding affordable home office decor.  
Thrift stores and garage sales can be a goldmine for vintage furniture, unique accessories, and stylish storage solutions. Take your time to explore these places, and you might be pleasantly surprised by what you find. 
Get Creative with Repurposing Furniture
Instead of buying a new mid-century modern writing desk, consider finding used pieces that can be transformed with DIY magic. A dirty old table can become a stylish desk with a fresh coat of paint. Let your imagination run wild and give new life to old furniture.
Use Natural Lighting
Good lighting is crucial for any workspace. Position your desk near a window or invest in sheer curtains that allow sunlight to stream in. Natural light saves you money and boosts your mood and productivity. 
Optimize Storage Solutions
A cluttered office can be distracting and demotivating. Declutter your space and invest in affordable storage solutions to keep everything organized. Use simple items like baskets, mason jars, or hanging file folders to store your supplies. Keep your workspace neat. Being organized doesn't have to cost a fortune. 
Add Greenery
Introducing greenery into your home office can instantly lift your mood and improve the overall atmosphere. Go for low-maintenance houseplants like pothos or succulents. You can find budget-friendly plant options at your local nursery. 
Final Words
Now that you have all the tips and recommendations, it's time to find the perfect mid-century modern desk for your space. Remember, considering your needs, budget, and personal style is vital to making a successful choice. 
Start by measuring your work area and determining the dimensions that would work best for you.  
Explore various materials and finishes that align with your aesthetic preferences. Ultimately, choosing the perfect mid-century modern desk is finding the right balance between form and function.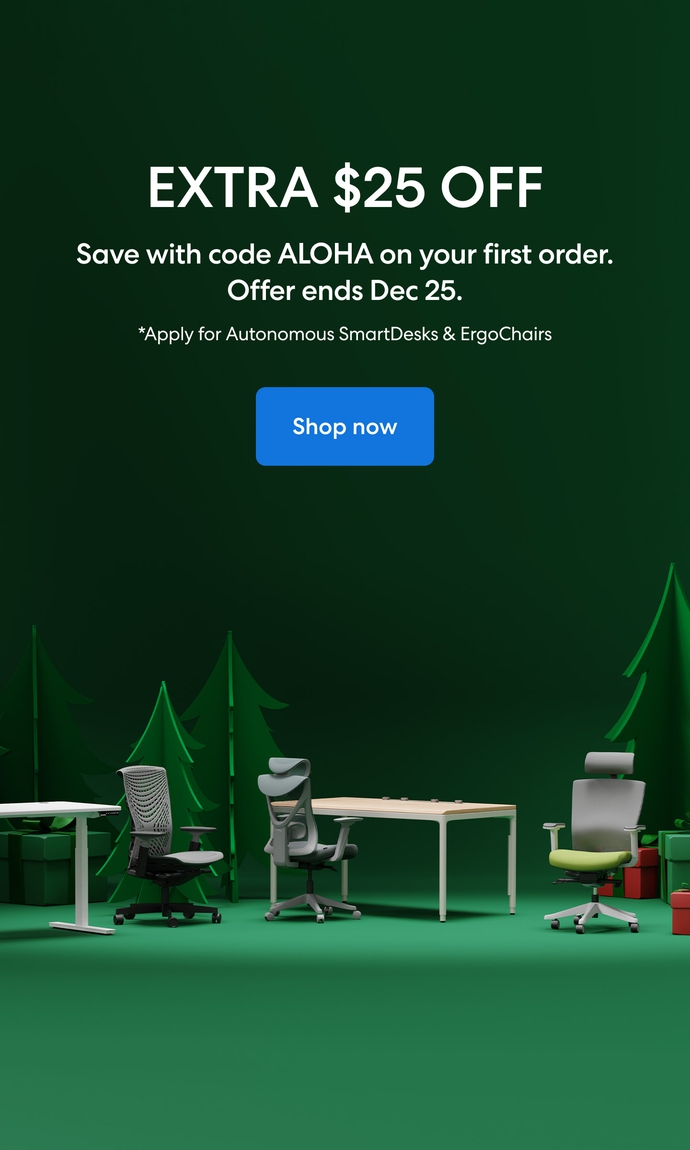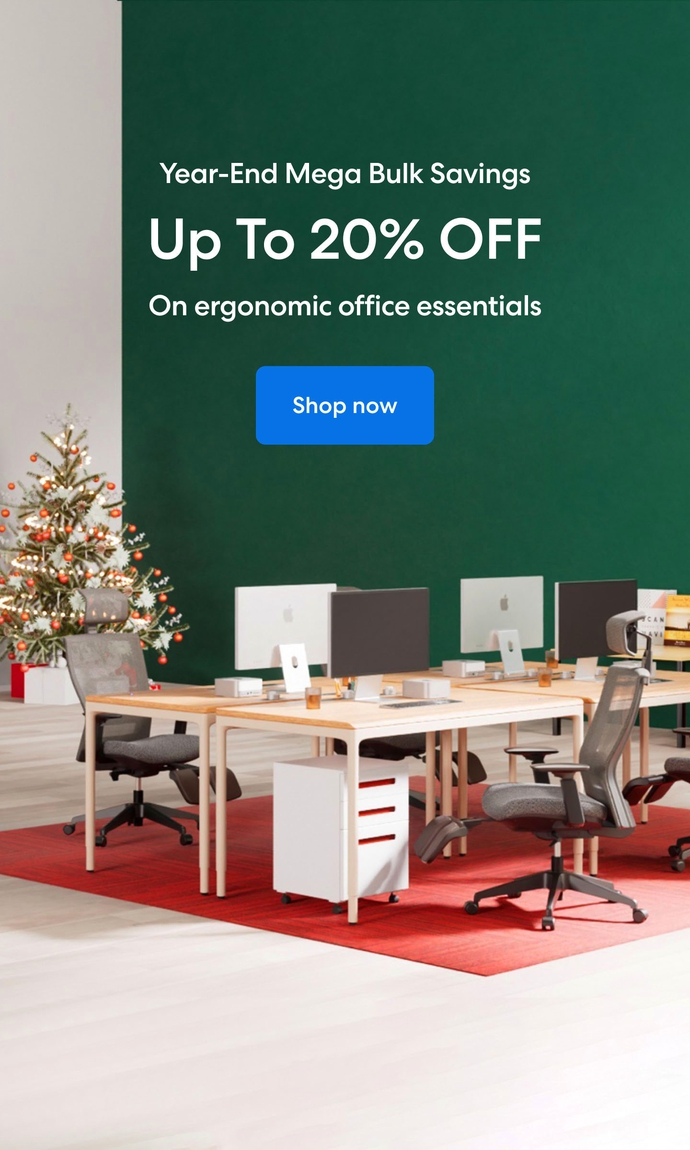 Subcribe newsletter and get $100 OFF.
Receive product updates, special offers, ergo tips, and inspiration form our team.