Smart Products
The Ultimate Guide to Selecting the Ideal Podcast Desk

Autonomous
|
Aug 16, 2023
1,109 Views
Podcasting has become popular for sharing ideas, stories, and conversations. As a podcast host, creating a comfortable and organized workspace that promotes productivity and creativity is crucial. That's where a reliable and well-designed podcast desk comes into play.
In this comprehensive guide, we will delve into the factors you need to consider before purchasing a podcast desk setup. We'll cover everything from dimensions and ergonomics to storage options and cable management. Additionally, we'll provide you with our top 5 picks, carefully curated to meet the diverse needs of podcasters.
Factors to Consider Before Buying a Podcast Desk Setup
Ergonomics and Comfort
The significance of ergonomics lies in creating an environment that promotes proper posture and reduces strain on your body. Consider the desk height that allows your arms to be at a comfortable 90-degree angle, ensuring optimal typing and recording positions. Pay attention to monitor positioning, aligning it at eye level to reduce neck strain. It's worth mentioning that standard desk height typically ranges from 28 to 30 inches.
Simple adjustments like using an ergonomic keyboard and mouse, utilizing wrist rests, and incorporating adjustable monitor stands can greatly enhance comfort during podcasting sessions, minimizing the risk of fatigue and musculoskeletal issues.
Cable Management and Organization
Tangled and messy cables can be visually distracting, pose a hazard, and hinder productivity. Various cable management solutions are available to help keep your workspace neat and organized. Cable trays, clips, and desk grommets are popular options for routing and securing cables, keeping them out of sight and preventing them from tangling.
Use cable ties or Velcro straps to bundle your cables together and mark them so you can readily identify them. Cables may be kept from snaking about your desk by routing them via channels or securing them with sticky cable clamps.
Storage and Equipment Placement
When choosing a podcast desk setup, consider the storage and equipment placement options to keep your essential tools within reach and maintain a clutter-free workspace. Look for standing desks with drawers, shelves, and compartments that provide ample storage for your podcasting equipment. This allows you to neatly organize microphones, headphones, audio interfaces, and other accessories, especially if you are looking for a small desk for bedroom.
Optimize your desk space by utilizing vertical storage solutions such as wall-mounted shelves or desk risers to maximize surface area. Arrange your equipment strategically, placing frequently used items within arm's reach for easy access during recording sessions.
Acoustic Considerations
You can incorporate various options for acoustic treatment and soundproofing to achieve optimal sound quality. Consider placing sound-absorbing panels or diffusers on the walls to minimize reflections and control reverberations. Desk-mounted microphone stands, or shock mounts can help isolate the microphone from vibrations and handling noise.
A desk with built-in cable management features can help minimize cable-related noise during recording. To enhance sound quality, position your desk away from external noise sources and consider using a noise gate or a dedicated soundproofing enclosure for your microphone.
Top 3 Podcast Desk Recommendations
1. Autonomous SmartDesk Corner
This innovative corner desk with storage provides twice the space, allowing you to spread your equipment and materials. The whisper-quiet triple motor ensures smooth and seamless height adjustments, accommodating a weight capacity of up to 400 lbs. Crafted with a solid steel frame, this desk is built to last and withstand the demands of your podcasting endeavors.
Designed with an L-shaped top, the SmartDesk Corner provides a generous working area. The MDF wood substance is stable and won't warp, so you know it will last a long time.
The sturdy SPCC steel frame houses the triple motor system, offering a lifting speed of 2.3"/sec. The desk's height ranges from 29.4" to 48", allowing for flexible adjustments to suit your preferences. The frame's length range is 42" to 71", while the frame foot width measures 27.5". The SmartDesk Corner is available in White/Black colors.
You can enjoy the convenience of the included cable tray for a clutter-free workspace.
Key Features
It has an adjustable height range from 29.4" to 48".
You can save your preferred desk heights with 4 different programmable settings.
The SmartDesk Corner offers modular segments, allowing you to customize the desk layout to suit your needs and space.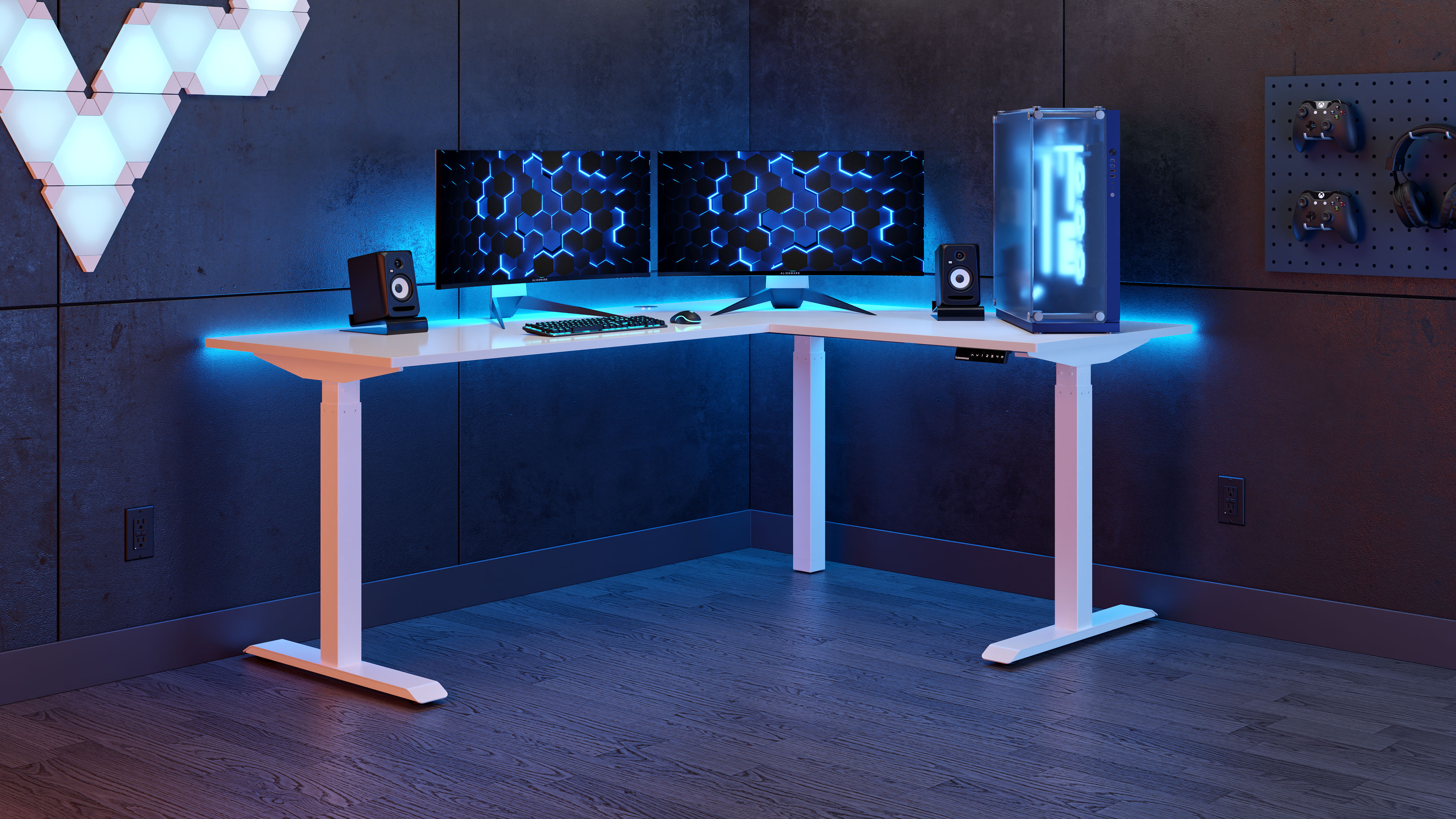 Autonomous SmartDesk Corner
L-shaped Standing Desk
Pros

Cons

It has ample space to accommodate all your podcasting equipment and accessories.
Assembly required.
It has a triple motor.
It comes with a generous 5-year warranty for the frame and ANSI/BIFMA certification.
2. EUREKA ERGONOMIC Glass Gaming Desk in L Shape
The EUREKA ERGONOMIC L-Shaped Gaming Desk is a sleek and modern desk that will make any podcaster feel like a pro. Its versatile L form allows it to be placed in tight quarters and open up to spacious arrangements. The elegant tempered glass desk top can withstand a lot of usage since it is resistant to heat, impact, and scratches.
With its 30" height and carbon steel construction, this desk provides enough area for both legs and storage. Its 330-pound weight capacity ensures that even the heaviest gamers will have somewhere to rest their heads.
The EUREKA ERGONOMIC Gaming Desk has essential accessories for optimal organization and convenience.
Key Features
Durable and stylish workstation constructed from scratch-proof tempered glass
Customizable lighting effects through Bluetooth-enabled, patent-pending RGB hardware
Accessories like an adjustable cup holder, two headset hooks, a place to hold a power strip, and sticky cord ties are included.
It has a 5 year warranty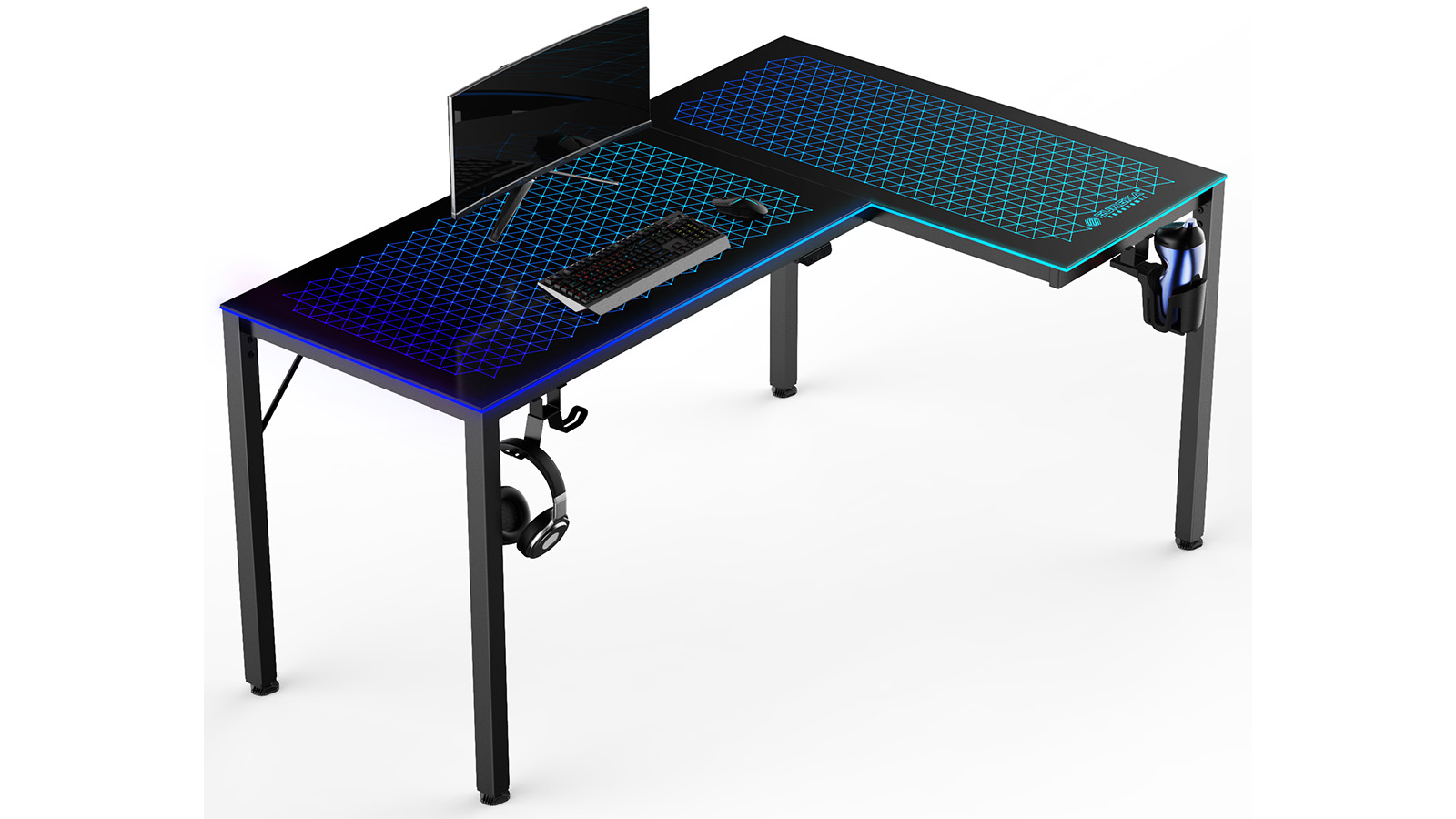 EUREKA ERGONOMIC 60in Gaming Desk
L Shape Glass Gaming Desk: Music Sync RGB
Pros

Cons

Versatile and space-saving L shape design
Limited color options for the frame (only available in white)
A durable and stylish tempered glass desktop
Customizable RGB lighting for an immersive gaming experience
3. Skyline Decor L-shaped Corner Desk
Designed for home offices or gaming setups, this small corner desk offers a spacious and sturdy solution. Its corner-hugging design optimizes floor space while providing ample room for dual monitors and work essentials. The raised monitor stand ensures comfortable viewing, and the black textured top adds a modern touch.
Whether working or gaming, this podcast studio table is your go-to solution. Please note that warranty coverage is limited to one month.
Key Features
Modern L-shaped desk ideal for gaming or working at home.
Ample MDF surface that can support 175 pounds of static weight.
Long-lasting black powder-coated metal structure
Connector in the corner for two monitors and plenty of desk space
Easily assembled with leveling feet for a firm base.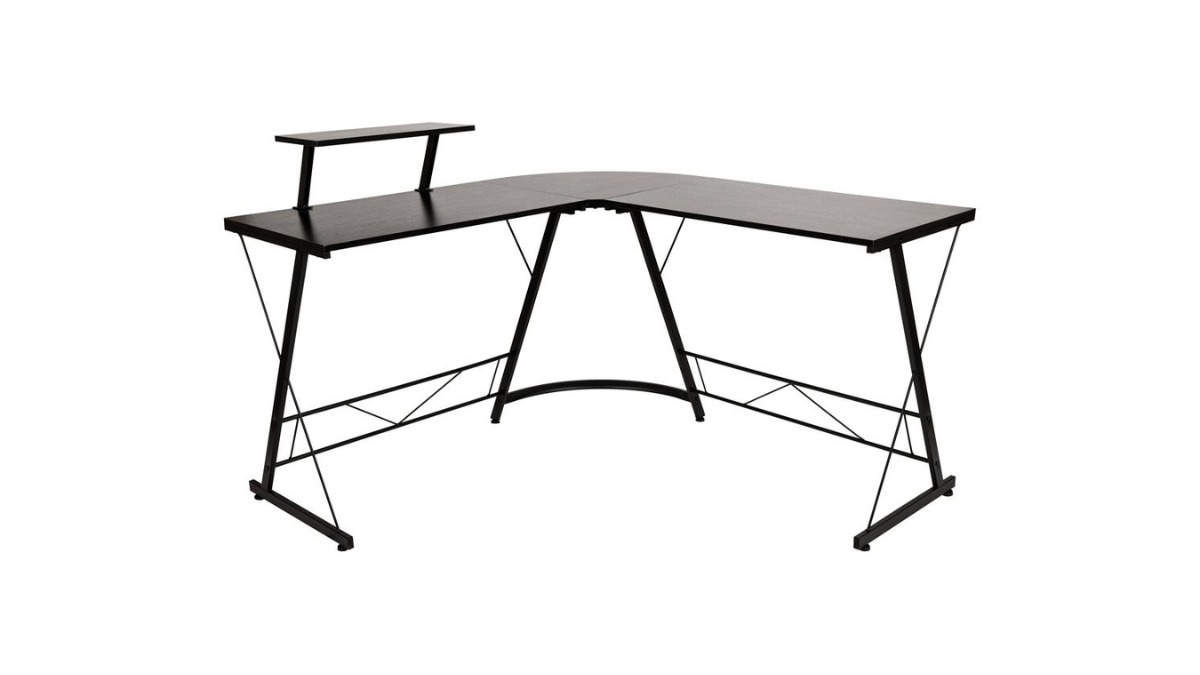 Skyline Decor L-Shaped Computer Desk
Pros

Cons

Flexible use for both professional and recreational purposes
Limited warranty coverage
Room for many screens and game consoles
Sturdy build quality, with a monitor stand that raises the screen for more comfortable viewing
Conclusion
When it comes to podcasting, finding the right table is crucial for creating a comfortable and efficient workspace. While we have discussed some key factors to consider in selecting a podcast desk, it's important to note that various podcast table ideas are available to cater to different preferences and needs.
The options are endless, from a podcast table for 4 people that allows you to find the perfect working position to office desks that promote better posture and overall well-being.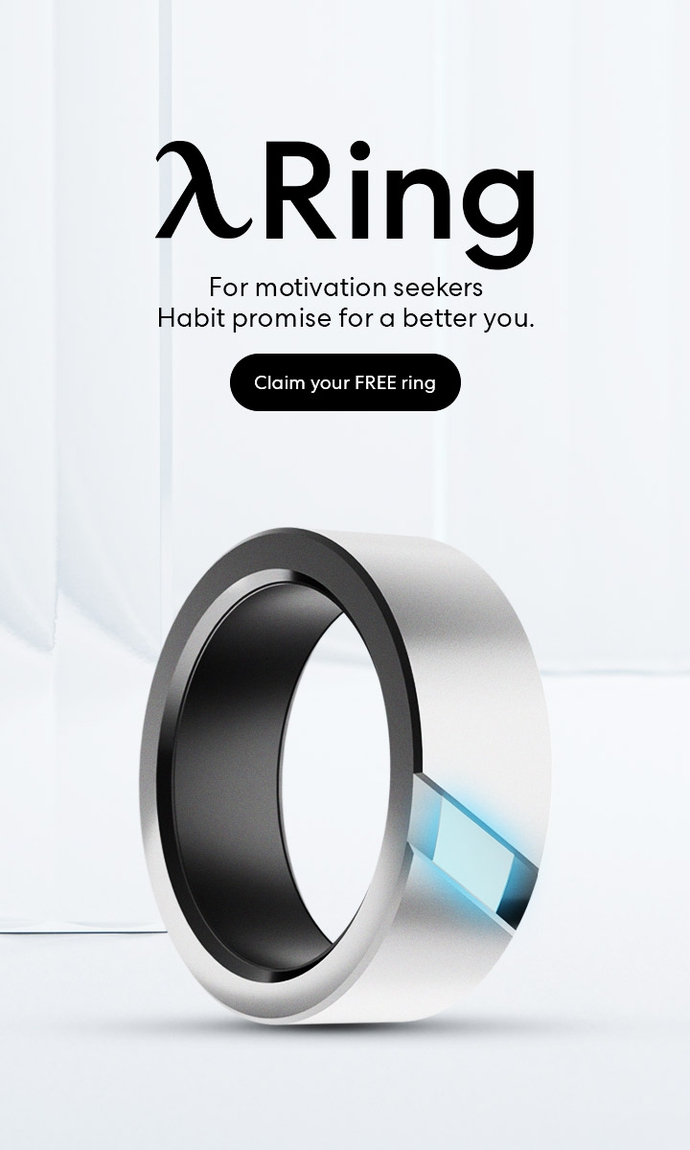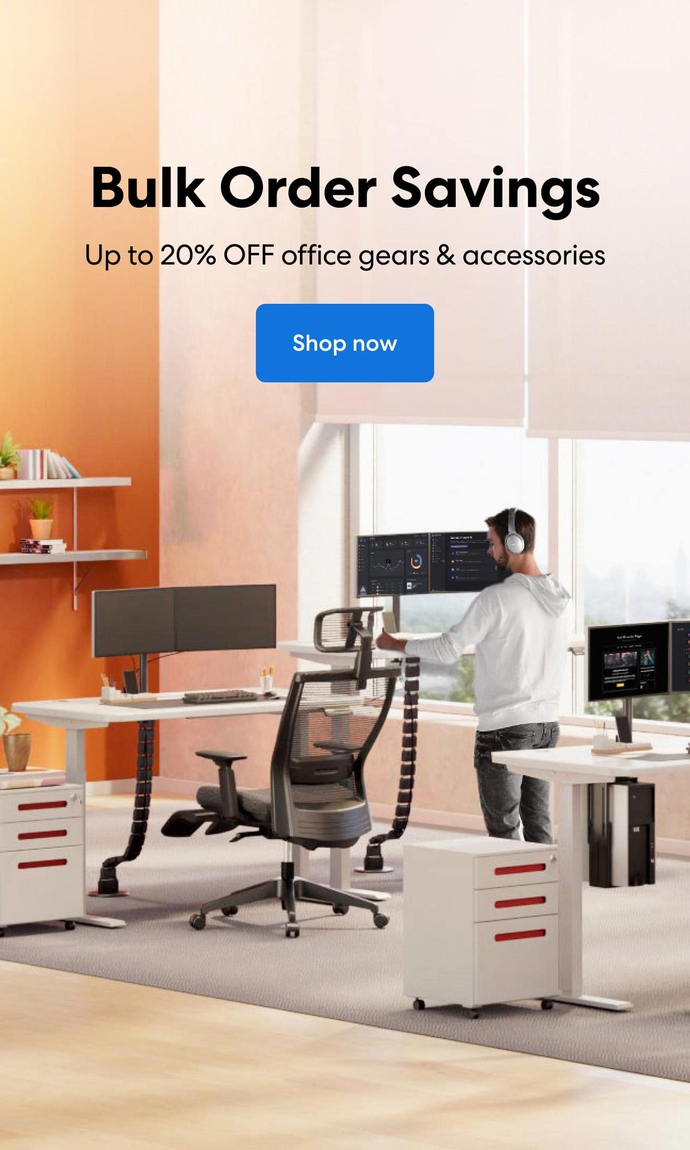 Subcribe newsletter and get $100 OFF.
Receive product updates, special offers, ergo tips, and inspiration form our team.