Smart Products
Need a Desk? How About The Autonomous White Corner Desk?

Autonomous
|
Jun 25, 2023
456 Views
According to Forbes, one of the most important pieces of furniture you will need for your office is a good-quality, great-looking, and dependable desk. If you are looking for the perfect desk that is suitable for offices with limited space and goes well with different types of décor, consider buying a white corner desk from Autonomous. 
When you are in the market for a good business office desk, you will come across a wide range of options to choose from. You have to consider a lot of things before buying your desk, such as budget, what you need in a desk, and the size of your office. 
Ideally, a desk should be big enough to allow you to work comfortably, yet not so big that it leaves very little space for you to add anything else. After all, even the best white corner office desk still needs other furniture and accessories to go with it. 
Consider buying a white corner desk with drawers or a small white corner desk from Autonomous for your office today. 
There are lots of benefits of having a good white corner desk, which we will discuss further in this article. Read on to find out why choosing a corner desk in white may be the best decision you make for your office décor.
What Is a Corner Desk?
A corner desk is a desk that is designed to fit perfectly in one corner of your small workspace or home office. It allows you to make the best of the limited space that is available to you while still giving you enough surface area to work productively. 
In many cases, the name "corner desk" is used interchangeably with an L-shaped desk. This means, if you are shopping for a white corner office desk, do not be surprised if you come across lots of results for a L-shaped standing desk. 
The unique design of a corner desk means it is possible to have a wide desk to work on even in a very small office. You can simply place it in one of the corners where it will not be in the way, yet ready anytime you need to use it. 
One thing you have to consider when buying a corner desk is the orientation. Some desks are designed as left-sided while others are right-sided corner desks. Look carefully at the furniture arrangement and location of doors and windows in your office before buying a corner desk.
What Are the Benefits of a White Corner Desk?
We have already mentioned some of the benefits of buying a corner desk, such as how it fits in small offices. However, are there any benefits of specifically buying a corner desk in white rather than any other color? Consider the following: 
White is a timeless color that is suitable for any modern home office.

You can pair a white corner office desk with accessories of different colors to great effect.

It is easy to spot any dirt or dust on a white corner desk.

A small white corner desk will reflect any natural light coming into the room, making your office appear brighter.

White office furniture makes your workspace look minimalistic and clean, rather than cramped and cluttered.

When combined with the right 

desk decor ideas, it is easy to create a bespoke office design using a white corner desk. 
Try the Autonomous SmartDesk Corner White Version!
If you are looking for a white standing desk, one of the options you should consider is the Autonomous SmartDesk Corner (white version). 
Although it does not offer the same storage as a white corner desk with drawers, there are still a lot of things to love about the features and design of the SmartDesk Corner. Consider the following:
Easy Assembly
When you purchase your white corner office desk, one thing you will not have to worry about is the assembly. Setting up this SmartDesk Corner will take just a few minutes of your time, and it comes with all the instructions you need.
More Power
The solid steel frame that supports your white corner desk has a heavy-duty design that allows it to support up to 400 pounds weight. Rarely will normal office work require a desk to carry such high loads, which means this will be more than adequate to hold your desktop computer and other essential office accessories. 
Convenient
Corner desks are all about convenience. It is not always easy to find a sit-stand desk that will fit perfectly in your home office, especially when space is the issue. 
Rather than settle for a smaller desk that will not be able to accommodate all the desk accessories that you have, you can go for a large corner desk that will provide all the space you need without filling up the entire room. 
One of the things that cause people a few headaches when arranging their offices is figuring out where to put the desk. 
However, by definition, a white corner desk goes in one of the corners of your room. You can choose a well-lit area close to the windows so that you can fully benefit from the natural light.
Whisper Quiet
The best thing you want is to disturb your colleagues each time you adjust the height of your desk, which is a very common issue with poor-quality electric motors. However, with the SmartDesk Corner, you will love the whisper-quiet dual electric motor that silently lifts or lowers your desk. Even those sitting close to you will hardly notice that you are adjusting the height of your workstation. 
Programmable Keypad
The white corner office desk from Autonomous comes with a programmable keypad that can store up to four different settings. This means when you feel like it is time for you to work in a different position, just one press of a button is all that is needed to adjust your desk to the new height. 
Such a function is also handy when you have multiple people of different heights using the same white corner standing desk.
Double the Space
Even when you purchase a small corner desk to fit in your tiny home office, you will be surprised at the amount of space you have to work on. It will feel as if you have two desks at your disposal thanks to the modular segments that fit perfectly together to create the ultimate workstation.
Free Cable Tray
When you buy this white corner office desk from Autonomous, you get a free cable tray as well! This is a very handy accessory to have if you are planning of having a lot of gadgets on your desk, such as monitors, CPUs, printers, and scanners. 
The tangle of cables can take up a lot of space and leave your workstation looking untidy. A cable tray allows you to bring some sort of order to your desk and start working more efficiently. 
Five-year Warranty
This awesome white corner desk is made of such high-quality, durable, and environmentally friendly material that when you buy it, you will know it will last you a long time. To show how confident the manufacturers are in their product, Autonomous offers you a five-year warranty on the solid steel frame and a one-year warranty on the top. 
What to Buy With Your Corner Desk?
Buying a standing desk for your home office is the perfect start, but you will need a lot more ergonomic accessories if you are to enjoy the full benefits of your workstation. Luckily, there are a lot of great items that go perfectly with your SmartDesk Corner 
Whether you have a regular white corner desk or a white corner desk with drawers, consider pairing it with the following office essentials: 
Mount-It! Keyboard Tray: Clamp-on
A keyboard tray has two main benefits to consider. Firstly, it allows you to store your keyboard out of the way when you are not using it. This provides you with a lot more space to use and leaves your white corner desk looking a lot tidier. 
The other benefit is that it allows you to place your keyboard at a very ergonomic height and orientation, which helps relieve the strain on your wrists, arms, neck, and shoulders, especially if you are planning on typing for a long time. 
Consider buying the Mount-it! Keyboard Tray with a clamp to make your white corner desk a more comfortable workstation. 
Autonomous ErgoChair Pro
Next to buying the perfect desk, an ergonomic chair is one of the most important items in your home office. The ErgoChair Pro is the perfect choice for the SmartDesk Corner. Its advanced contour technology makes this the best chair to protect your back during those long office hours. 
The Office Oasis Dual Computer Monitor Stand
You also need to place your computer monitor at the best height to allow you to work comfortably without straining your back and shoulders. Having a dual computer monitor stand for Office Oasis is a perfect choice, especially if you plan on setting up two monitors to create an awesome L-shaped gaming desk. 
LumiCharge LED Lamp Phone Charging Stand
Finally, you need to take good care of your eyesight by working in a well-lit environment at all times. While natural light is always the best option, LED is the next best thing when working at night or far away from windows. 
Consider the LumiCharge LED phone charging stand. This device not only provides cool lighting for your desk, but it also has a charging port for your iPhone, AirPods, and Apple watch. 
Why Should You Buy an Autonomous SmartDesk Corner?
Choosing the right desk is not always easy, so when you buy the SmartDesk Corner, you need to be clear on why such an investment is good for you. Look at your office and your daily needs and decide whether the following reasons appeal to you: 
Strong high-quality material

A good 

small corner desk for tiny offices

Great warranty

Easy installation

Programmable keyboard

Quiet motor
FAQs
Are corner computer desks good?
If you carefully consider what type of desk your office needs, and choose the SmartDesk Corner from Autonomous, it can be the best thing you have ever purchased. It has a lot of advantages, such as fitting well in small offices and providing adequate workspace. 
How much space do I need for a corner computer desk?
There are both large and small corner desks available, so you will have to pick one that will fit in your office without leaving it feeling cramped. If you have a lot of space, you can go for a white corner desk with drawers. However, compared to other types of desks, a corner desk does not take up a lot of space in your office. 
What color furniture does a white corner computer desk match?
A white corner desk will go well with a variety of themes, such as natural wood or bright-colored furniture. You can go for the black and white look which is quite common in modern offices. 
Are there any ergonomic considerations when using a white corner computer desk?
Go for a sit-stand white corner office desk if you are looking for the most ergonomic option. You can also consider pairing it with ergonomic furniture and accessories, such as computer stands and an ergonomic chair. 
What are some popular styles of white corner computer desks?
Buying an L-shaped desk is the most popular choice when looking for a corner desk. It fits perfectly in small offices and helps achieve the minimalistic look that is so popular these days. 
Can a white corner desk be used in a home office or just in a bedroom?
A white corner desk can be used anywhere you need a desk. The color and design make this type of desk perfect for a wide range of uses, meaning you can place it in any room you want.
Final Word
Buying a corner desk in white rather than any other color may be the best decision you make for your home office or workstation. It will fit perfectly in your small office, provide adequate workspace, and blend perfectly with any modern office décor. 
At Autonomous, you can get an awesome SmartDesk Corner along with a wide range of other accessories you need to create a comfortable and productive office environment. Get one today and receive a free cable tray and a five-year warranty.
Video ads for product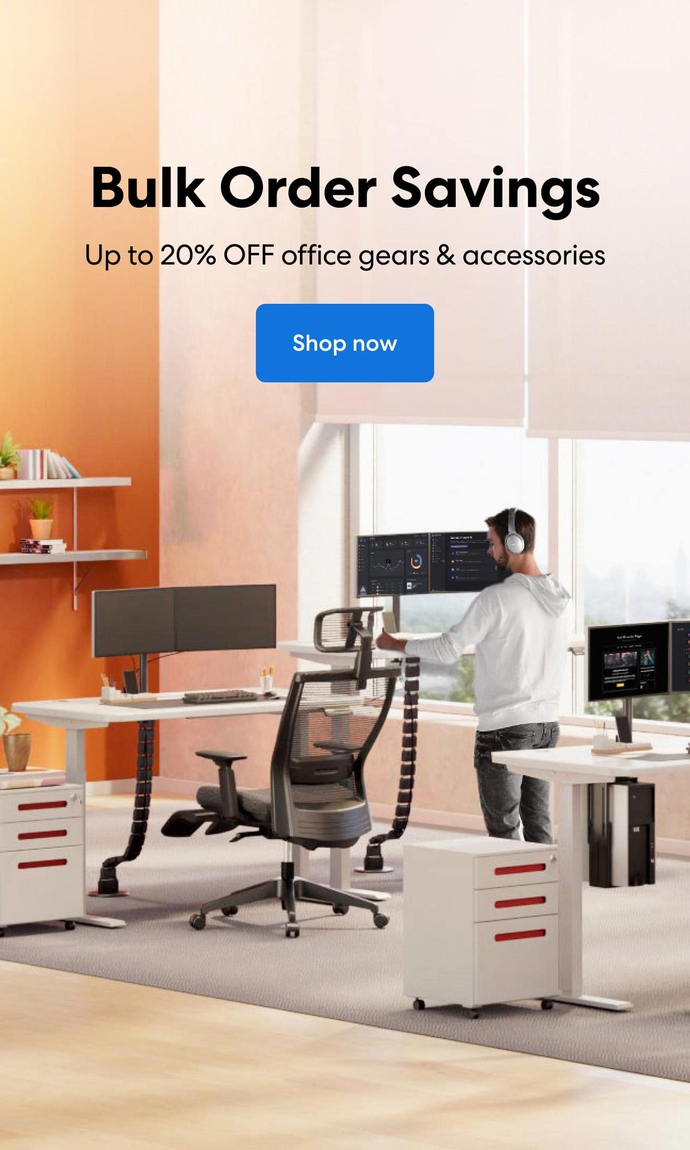 Subcribe newsletter and get $100 OFF.
Receive product updates, special offers, ergo tips, and inspiration form our team.