Smart Products
IPEVO Products Review | Innovating Communications for 2023

David Wilson
|
Oct 16, 2023
1,017 Views
Have you heard of IPEVO yet? This document camera company designs affordable, powerful, and simple-to-use teaching tools. Though most businesses focus on specialty classroom equipment, this brand is going beyond that. Instead of things being large and complex, people now have flexible solutions to interact in the classroom and the office. 
The IPEVO store has everything you could want. Today, we will be discussing the top seven products, but we'll dive deeper into their features, pros and cons, and how we chose the products and tested them for the review. Let's get started! 
Top IPEVO Products
We thoroughly tested each of the IPEVO camera products listed below. In fact, we read reviews, used the items, and feel that these options are great because they focus on communication, work correctly, are easy to use, and are affordable. Are you ready to experience the reviews? Continue reading to learn more! 
1. IPEVO TOTEM 180 Panoramic Conference Camera
Whether you're focused on your conference room décor or simply want the best conference camera possible, the IPEVO TOTEM 180 could be the solution you seek. 
Video conferencing cameras are taking the world by storm because more businesses are letting people work remotely. However, they still have to communicate with others, and they need easy-to-deploy and reliable systems that aren't expensive. Ultimately, the IPEVO TOTEM 180 ticks all the boxes.
Instead of using a single 4K sensor with an anamorphic lens, this product features two 4K sensors and merges two sources into a 180-degree layout. However, you can reduce the view field to 120 degrees for a smaller meeting, and it can automatically frame and zoom into those talking in the conference. 
The IPEVO TOTEM 180 is compatible with Zoom, Microsoft Teams, Google Meet, Skype, Cisco Webex, and GoToMeeting. Plus, it offers automatic face tracking, split screen, and picture-in-picture. 
Let's turn our attention to its design. The TOTEM 180 is quite unique and almost resembles a cat. It stands at 26.4 cm tall, and it offers a good viewpoint without making the people seem giant. 
Features:
The IPEVO TOTEM 180 features unique hardware and does things that other cameras can't. Most are 4K-capable, but the TOTEM 180 features two 4K cameras and different angles to give you a 180-degree vision. 
However, the software will put those two images together, giving you a seamless output. Plus, the video features a maximum resolution of 4640x1456 at 30 FPS or a 3520x1104 resolution at 30 FPS. 
If you find that the resolutions are too large and that your internet connection can't handle it, you may reduce the resolution to 1080p. 
As with all conference cameras, the goal is to have good audio. Therefore, the head of the IPEVO TOTEM 180 features omnidirectional microphones that include noise reduction. These speakers have a maximum range of 16 feet, which exceeds most conference tables. 
However, the sound quality might be slightly lacking. Still, you can use a microphone array in the middle of the table, and the software will take the sound from that if you wish.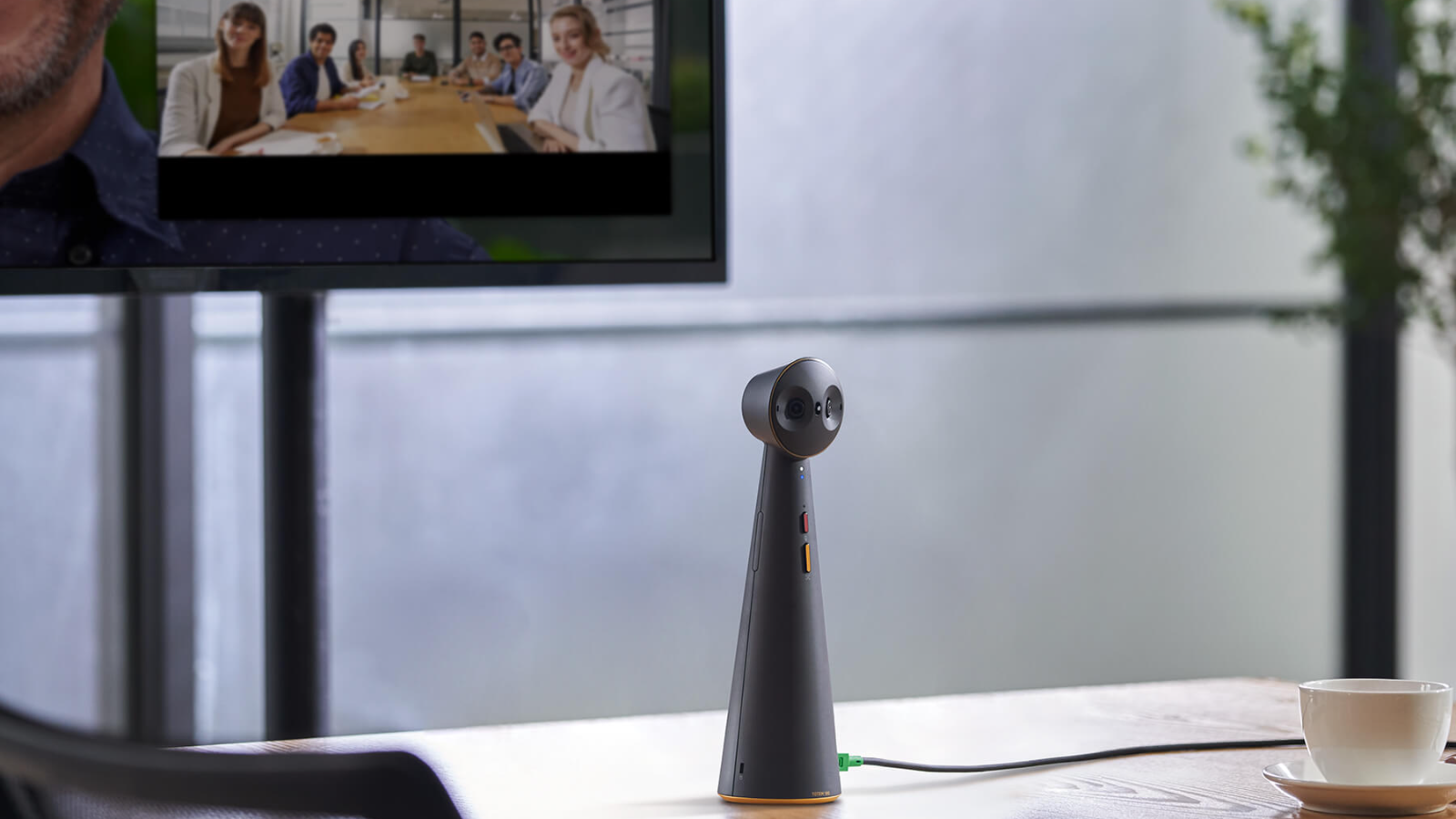 IPEVO TOTEM 180 Panoramic Conference Camera
Pros

Cons

Easy to use and operate
Requires a USB-C port
Free EyeStage software included
120- and 180-degree modes
AI-driven zooming feature
2. IPEVO TOTEM 120 Multimodal Collaboration Camera
Whether you choose to present with a vertical monitor or a normal one, the IPEVO TOTEM 120 could be a great choice for you. This document camera is affordable and offers practical tools for business professionals and teachers to create interactive and dynamic learning environments and presentations. 
This IPEVO document camera is multimodal, which means it can act as a document cam, demo cam, and conferencing camera. 
Features 
You'll absolutely love the features of the IPEVO TOTEM 120. It includes two 8-megapixel lenses and is about at eye level. This means you'll see a natural view of whoever is speaking. Plus, you can adjust the height to 51.5 cm, which is great for those who must stand and sit during the presentation. 
Likewise, the TOTEM 120 can automatically adjust white balance, exposure, and focus. It also features AI technology. When you activate it, the camera can zoom in and out, ensuring that each participant is in the frame. 
Though it gives you a 120-degree view, you can lower that to 80 degrees if necessary. This helps you focus on yourself or a product that you're talking about.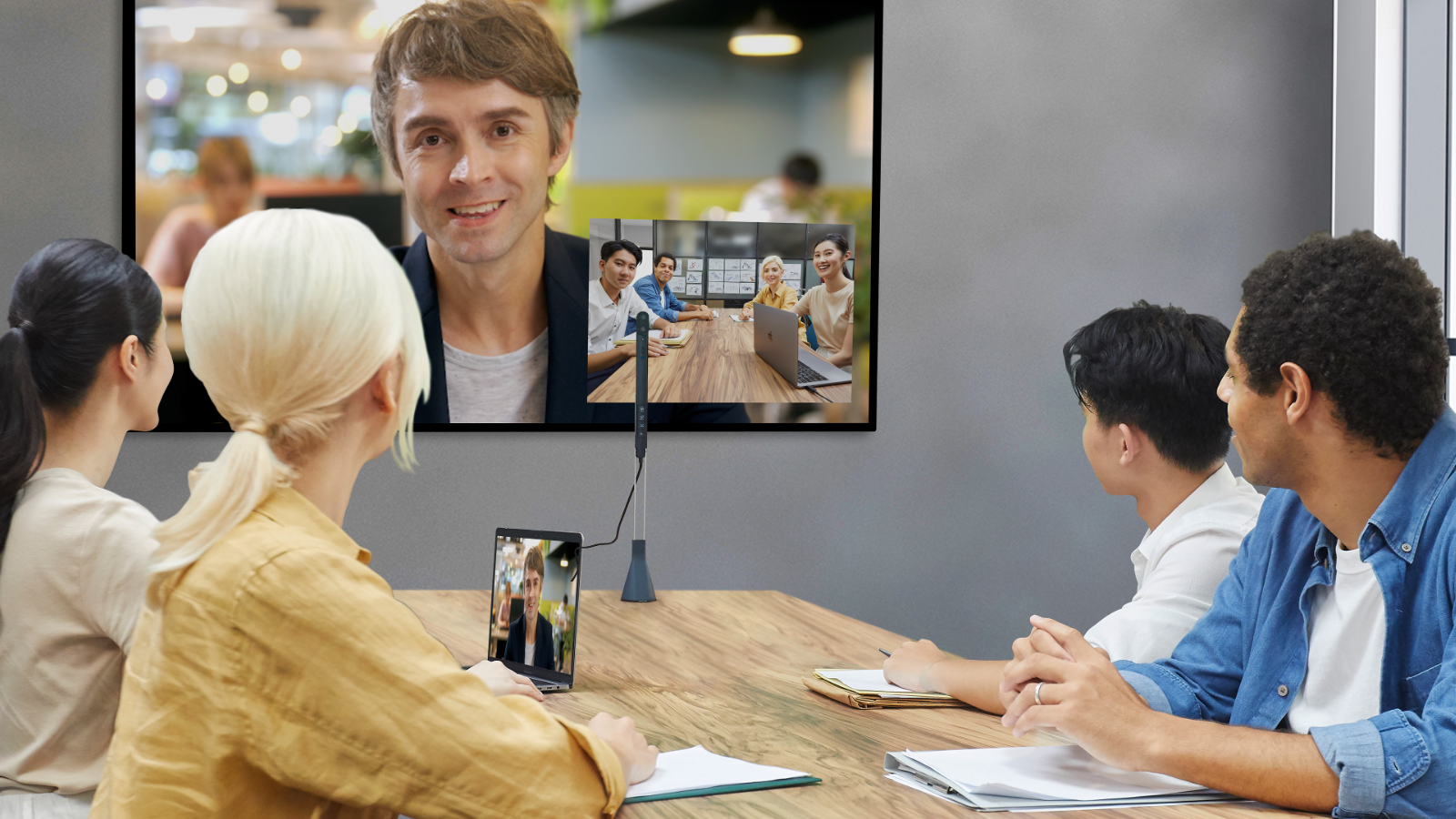 IPEVO TOTEM 120 Multimodal Collaboration Camera
Pros

Cons

Easy to use
Requires internet and could lag
Very high-quality pictures
Uses AI for voice enhancements
Can filter out all background noise
3. IPEVO DO-CAM HD Ultra Portable 8MP USB Document Camera
Since most universities and schools are using blended or remote teaching and learning, a document camera is highly beneficial. Most lessons include analog and digital assets, so it's great to have the IPEVO DO-CAM in the arsenal. 
You can use it as a webcam or to project full sheets of paper or 3D objects. Plus, you will get the IPEVO Visualizer, which requires no installation or download. With it, you could display your video feed from the computer's camera, modify it, record it, and more. 
If you're in an office meeting, the DO-CAM can be highly beneficial. You can showcase products, see people face-to-face without being in the office, and much more. 
Features: 
This IPEVO document camera offers these features: 
Image Quality – DO-CAM features an 8MP CMOS image sensor, which helps with color reproduction and noise reduction. You'll capture all the details with the ultra-HD resolution!
Lightweight and Compact – This camera is only 0.74 pounds, so it's the lightest on the market. Plus, it's about the size of a traditional pencil case, so you can carry it anywhere.
Webcam and Document Camera – If you flip the camera head up, you can get face-to-face communication and document sharing. Plus, you'll also have the right image orientation with the Flip Button.
UVC Compatibility – The DO-CAM is plug-and-play compatible with Chromebooks, PCs, and MAC devices. Plus, you can use it with the IPEVO Visualizer software or your favorite third-party software.
Flexible and Stable – The interconnected sections of the DO-CAM are fully adjustable, so you can capture the content at all orientations, angles, and heights. If you're worried about desk cable management, there's a cable holder incorporated to keep everything neat and tidy.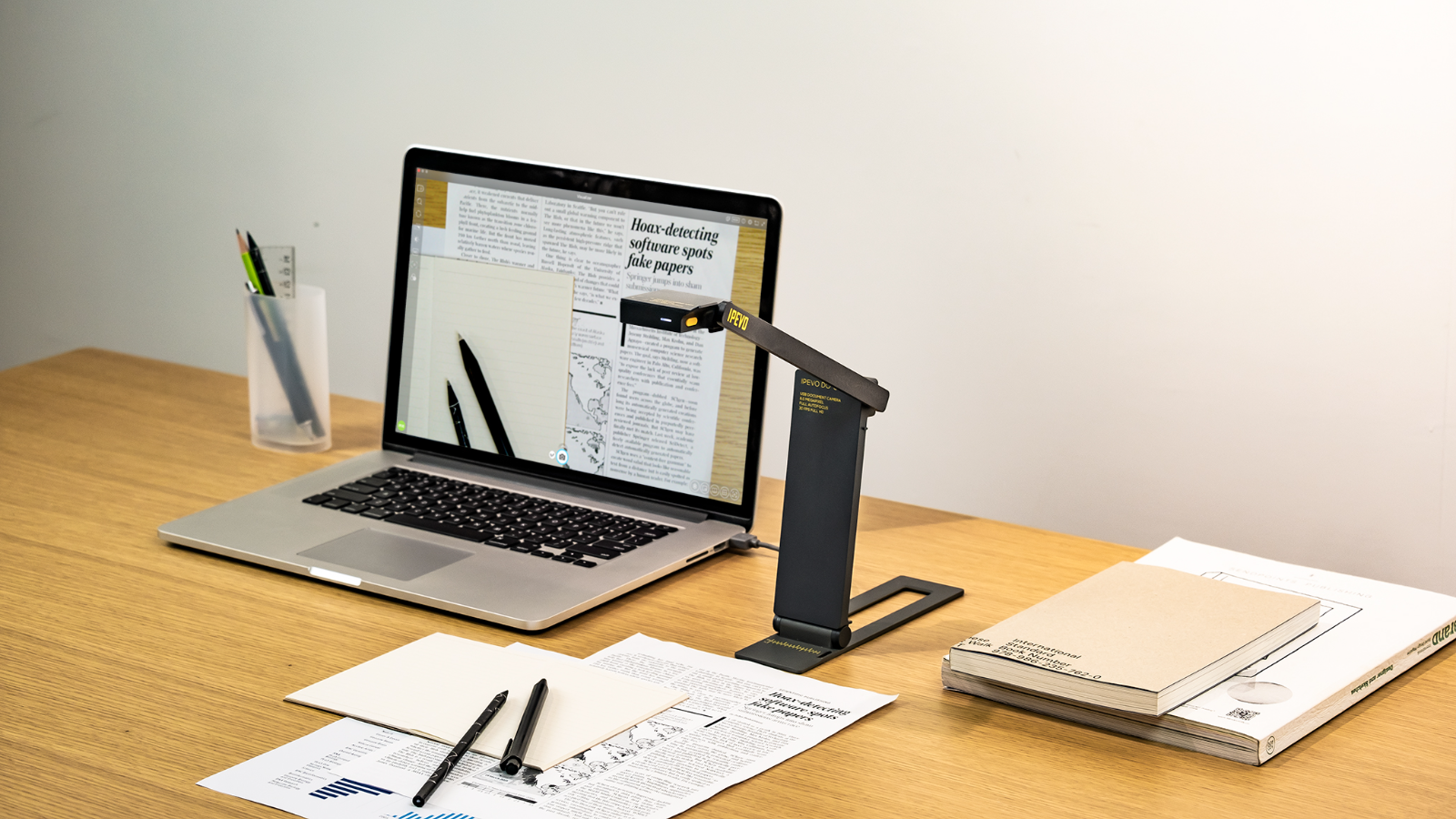 IPEVO DO-CAM HD Ultra Portable 8MP USB Document Camera
Pros

Cons

Easy to use
Doesn't support USB-C (you can use adaptors)
Portable design
Great camera resolutions
Affordable
Suitable for many purposes
Compatible with other apps
4. IPEVO TOTEM 360 Immersive Conference Camera + Speakerphone
The IPEVO TOTEM 360 offers an impressive visual-audio experience. It will be a versatile and excellent choice for all types of meeting setups. Though it's a bit pricey compared to other products, the performance and quality will justify this investment. Let's learn more about it! 
Features 
The features include: 
360-degree Panoramic Image – You get four cameras, and each one stitches seamlessly together to give you a 360-degree image.
Conferencing Mode – This system tracks four active speakers, highlighting them in close-ups to offer a more interactive and engaging experience.
AI-enhanced Images – AI technology enhances the images to offer a clear view of each participant.
Four Microphones – There are four omnidirectional microphones that will pick up sound from a distance of 16.4 feet to make sure everyone is heard correctly.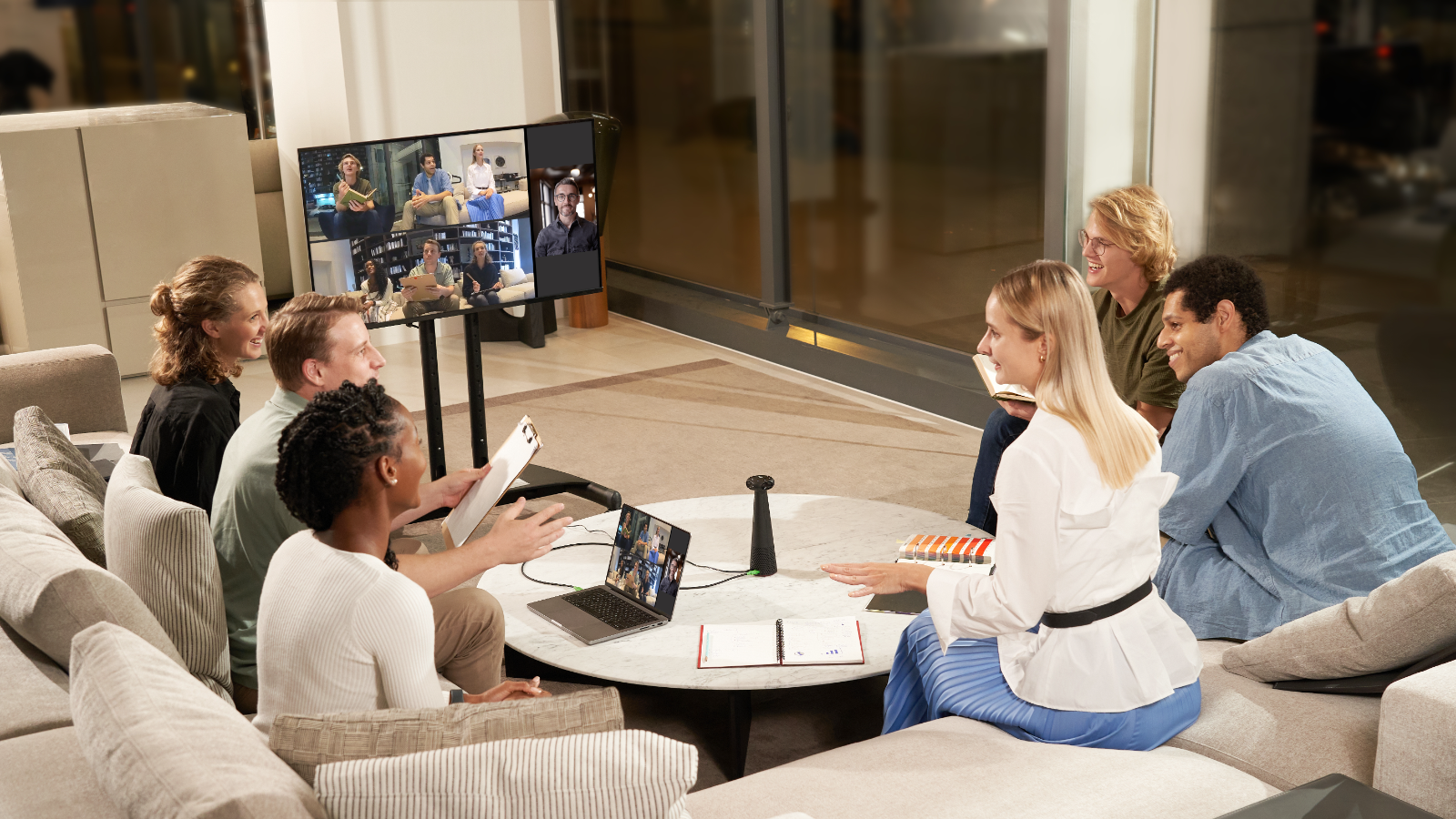 IPEVO TOTEM 360 Immersive Conference Camera + Speakerphone
Pros

Cons

360-degree sound and image
Higher price
Voice and person AI tracking
Could have a longer USB cable
AI-enhanced video modes
Plug-and-play compatibility
Ideal for many meeting rooms
5. IPEVO DO-CAM Creator's Edition HD Ultra Portable 8MP USB Document Camera
The IPEVO DO-CAM is a popular option for most people's desk setup needs. However, the Creator's Edition is yellow instead of black and offers many of the same benefits. Let's dive in and see its features now. 
Features 
This IPEVO doc camera offers these features: 
Excellent Image Quality – The Creator's Edition of the IPEVO DO-CAM features an 8MP CMOS image sensor to help with noise reduction and more.
Two-in-One – You can flip the camera head to become a webcam or keep it facing downward for document sharing. The Flip Button gives you the right orientation each time.
Flexible and Stable – Everything here is adjustable to help you capture the content at varying angles, heights, and orientations.
Compatibility – This plug-and-play product is compatible with PC, MAC, and Chromebook. Plus, you can use it with the IPEVO Visualizer software.
Compact and Lightweight – The Creator's Edition of the DO-CAM is just 0.74 pounds, so you can store it in your bag and take it anywhere.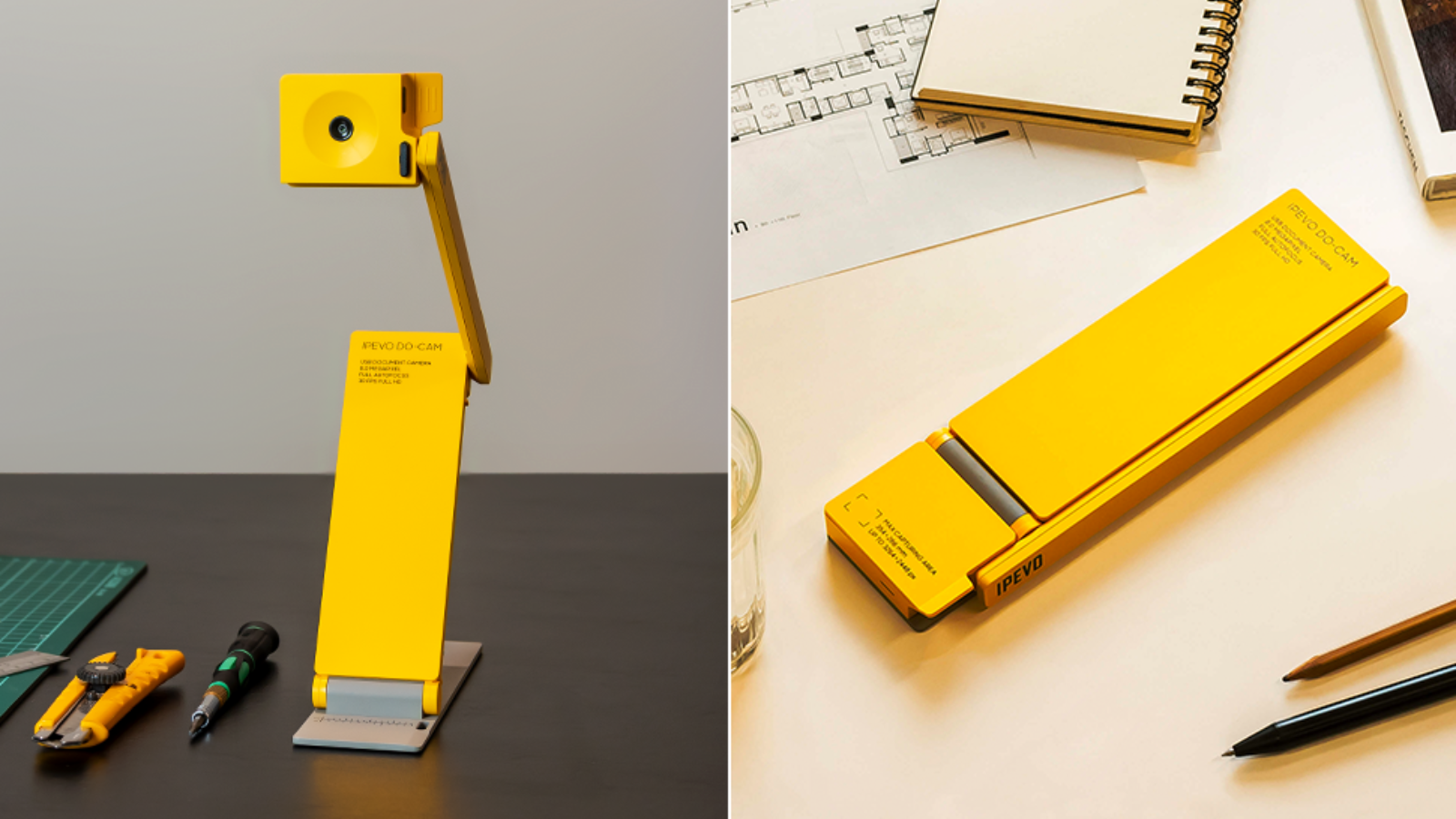 IPEVO DO-CAM Creator's Edition HD Ultra Portable 8MP USB Document Camera
Pros

Cons

Affordable
Can't support USB-C, though you can use an adaptor
Portable design
Compatible with many other apps
Ideal for various purposes
Great resolution
6. IPEVO MP-8M UHD Webcam with Clamp and Mounting Bracket
If you're worried about camera flickering, you can stop because the IPEVO Webcam and Clamp is designed for the vertical market. This is a unique and competitive high-quality camera designed specifically for smart platforms. 
Features 
The features include: 
High-resolution imaging (8-megapixel and 4K resolutions)
Portable and small
AI-enhanced microphone with noise reduction technology
User-friendly
Versatile enough to use with various applications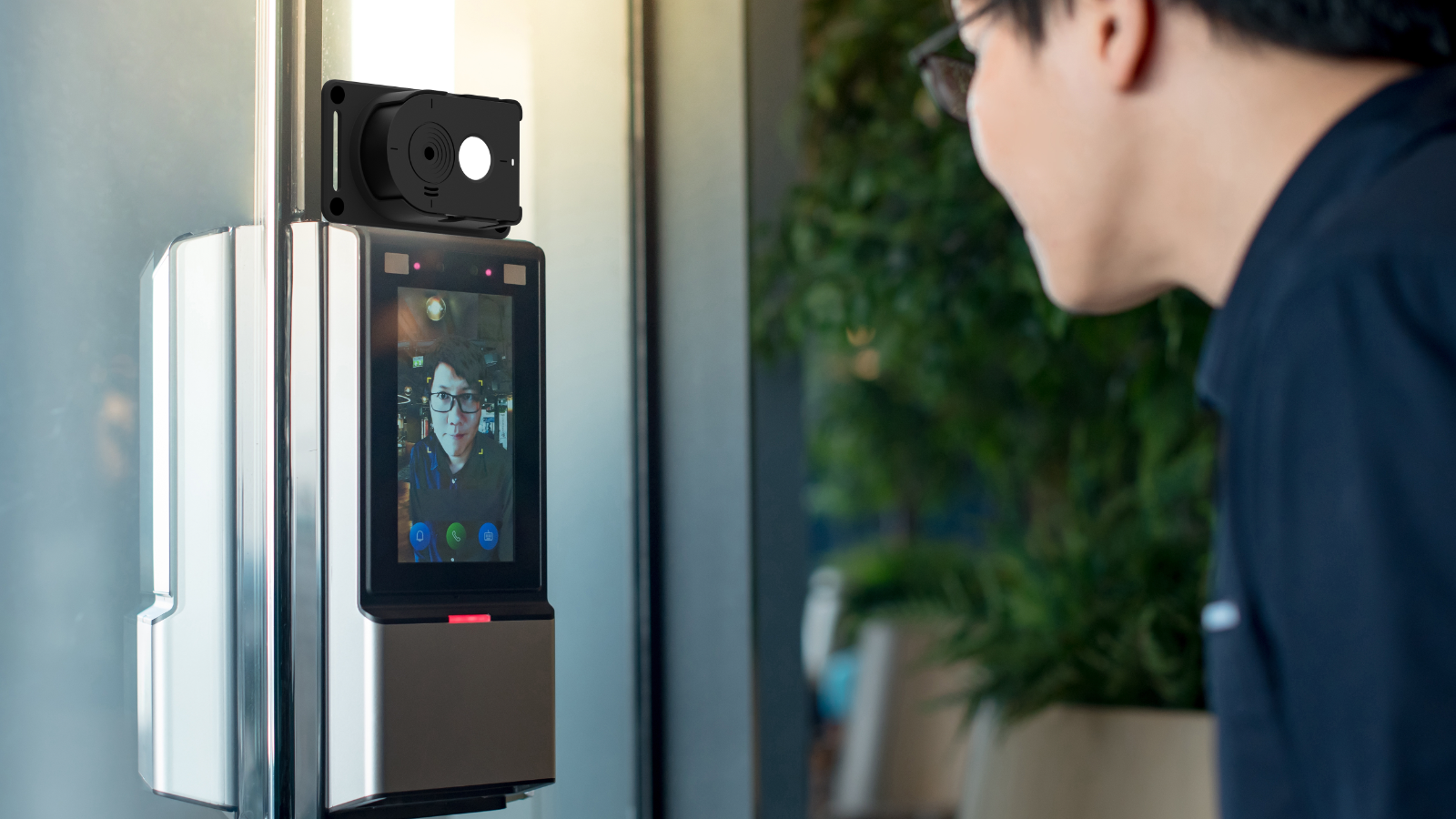 IPEVO MP-8M UHD webcam with clamp and mounting bracket
Pros

Cons

Excellent image quality
More expensive than other products
Convenience with the mounting bracket and clamp
Could have better features
Great low-light performance
7. IPEVO VOCAL AI Beamforming Bluetooth Speakerphone
The IPEVO VOCAL features two-way noise reduction and echo cancellation. In fact, 500 million data was used to train the AI to filter out all noises. Its design is a little odd, but it can be moved to whoever is speaking to ensure clarity. 
Features 
The features include: 
Echo cancellation
Two-way noise reduction
Omnidirectional and directional modes
Wireless and portable
Compatible with just about anything
Pairs with the IPEVO TOTEM series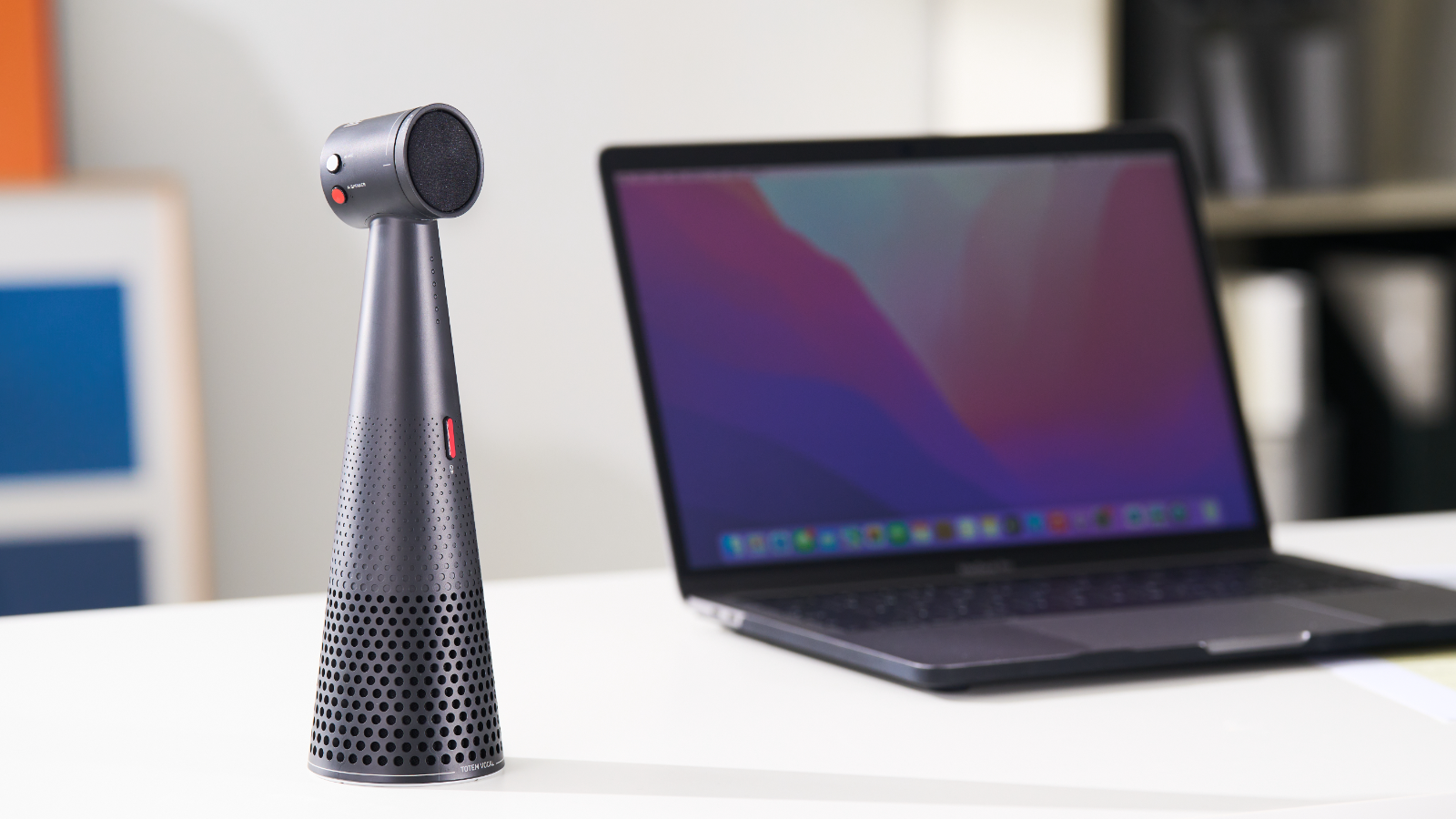 IPEVO VOCAL AI Beamforming Bluetooth Speakerphone
Pros

Cons

Picks up sound far away
Might cut off the first few seconds of speaking
Filters out background noise
Ideal for traveling
Who Should Read This Review?
While IPEVO is geared toward teachers and those who work in a classroom, it is highly versatile and can be used for those in offices. Therefore, the people reading this review will likely be office managers, office employees, teachers, college professors, and the like. 
However, you might be reading this review if you work from home and often communicate with your boss or coworkers to avoid going into the office. Communication is powerful, especially in remote work, and it's important to stay productive and connected. 
If you regularly showcase things from your phone or laptop to a group, you will likely benefit from IPEVO products, such as the document camera. IPEVO has been around for a while and focuses on innovation and communication. You'll be impressed with what it offers and can streamline things while working and collaborating.
How We Picked and Tested the Products for This Review
There are so many office accessories to consider, and most people have a long list of things they keep on their desks. For example, you might have a laptop, a second monitor, a keyboard, wrist rests, filing cabinets, a webcam, and so much more. 
If you work from home or are in a teaching or office setting, you may also require a document camera. IPEVO products are the ideal solution because they're inexpensive and help you communicate effectively. Whether you're doing a presentation or simply want to have meetings face-to-face while being in separate locations, IPEVO has you covered. 
We chose seven different cameras from IPEVO to talk about. The first step was to do extensive research on each one to see what it did, how it worked, and how it could help regular people working as teachers, office staff, or at home.
Then, we read product reviews from real people. This helped us understand why people liked or disliked the item. In fact, the review area offers plenty of information if you're willing to view them all and take notes. We did that! 
Next, we watched online reviews of people unboxing and using the IPEVO products. This gave us insight into how they are used and what they offered out of the gate. Finally, our team purchased the items to see first-hand what they did and how they worked.
Conclusion
Those who often speak during conferences or in teaching environments will likely find themselves needing a speaker and an IPEVO doc camera. These tools are extremely helpful for blended or remote work, and you've learned about the top seven IPEVO products today. This will hopefully ensure you choose the right one for your needs.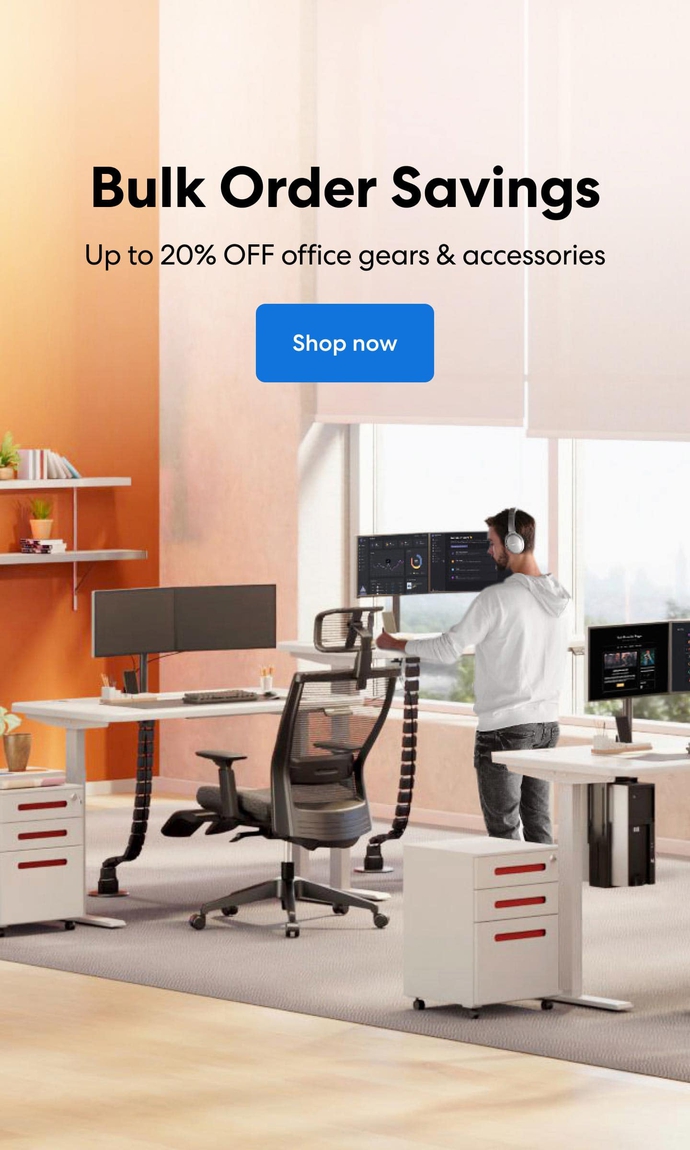 Subcribe newsletter and get $100 OFF.
Receive product updates, special offers, ergo tips, and inspiration form our team.