Workplace Inspiration
Modern Classic Office Design That Inspires in 2023

Autonomous
|
May 13, 2022
1,485 Views
A modern classic office design is one of the new additions to the office design layouts that people love to have. The inspiration behind getting a classic office décor lies in its extremely sophisticated layout and the aura that it sets. We know that as an enthusiastic remote worker, who is a fan of art, you will love to have such an office too.
A modern classic office interior design is one where you see a mix of mid century art and architecture with a touch of modernism. That's why it has proximity to modern industrial office design.
A modern version of the classic office interior design is where you find art integrated with technology, a homier feel, and a dedicated space for recreation. The purpose of having such a workspace is to promote productivity and tranquility, and an office worker would love to have it in a remote setting.
We understand that you must be willing to adopt a classic office décor to give it a new look; that's why we have shared this detailed article here which will guide you. Here you will find some of the most interesting classic home office design ideas that will inspire you.
So, let's read ahead and have a look at them!
Inspirational Modern Classic Office Design This Year
Invest in Vintage Office Furniture
The best way of incorporating a classic office interior design in your home office is to have some inspiration from the retro vintage office décor and couple your classy office desk with a mid-century office chair. These chairs are mostly leather chairs because leather is a material that looks stylish and classic at the same time. Therefore, adding it to your home office would be a great way to meet the classics. 
Have Enough Space for Natural Light
Since this is a modern classic office, you should pay attention to the intricate details such as the amount of lighting that should enter your home office. In that regard, natural light plays a great role. Therefore, you must ensure that you have a large glass window in your office space that lights it up during the daytime. 
Have Adequate Storage Space
Since modern classics are inspired by the minimalist office design, you also have to take care of the minimalism trend. For that purpose, it is ideal to have adequate storage space in your home office. You can think of placing a vintage file chest or a file cabinet in the corner of your desk that you can use for handling all your paperwork. 
Have a Sofa in a Corner for Comfort
A modern office space is incomplete if you don't have a corner for recreation. To ensure that you are ticking this checkbox, you should place a unique accent sofa in the corner of your office space. You may couple it with a small sofa table so that you can enjoy your coffee while sitting on that couch during your spare time. 
Invest in an Artistic Table Lamp
Although we talked about the significance of natural light earlier in this article, the presence of an artistic lamp is equally important. Having an adequate light source as close to your desk as possible is important to light up your space even if you are working longer hours. Such a lamp reduces optical strain and adds to the aesthetics of a classic office interior design. 
Choose the Right Colors for Your Room's Walls
Since you are planning to transition from a traditional office to a modern classic, the old eggshell-colored walls won't do justice. Therefore, you should think of choosing the right colors for your home office setup this time. Usually, a dark color like black or dark brown goes well if you have a large room. However, in other cases, you may think of going for light colors like neutral shades as well. 
Put Up Some Medieval Artwork Around
This is one of the interesting classic office design ideas for you. A modern office design that has an inspiration for a modern classic blend is incomplete if it does not have a few medieval artworks hanging in the room. So, choose some artwork frames and hang them around your home office to give them one of the final touches. 
Make Your Workspace Green
Since you are aware of the fact that the modern classic office design has the task of boosting your productivity as well, putting up plant pots can come in handy here. All you need to do is place a few green plant pots around the corners to radiate freshness and positivity. 
Frequently Asked Questions (FAQs)
What is the difference between a classic and modern design?
A classic design is something that is evergreen, in other words. This design is all about being sophisticated and timeless in its existence. On the other hand, modern design is something that is trending at the current time. It is not necessary that all modern designs are classic, but all classic designs can be classified as modern classics because they remain trendy regardless of the time frame. 
What makes a classic design?
It is the timelessness of a design that makes it a classic design. Things that are not considered outdated with the passage of time are classic. So, if the design is versatile enough to thrive through different timelines, it will be considered classic. 
How can I make my office unique?
Making a unique office can be possible if you adopt the modern classic office design because its timelessness will make your office look classy for a longer period. To make your office look unique in that way, all you have to do is follow the classic home office design ideas we mentioned in this article.
Video ads for product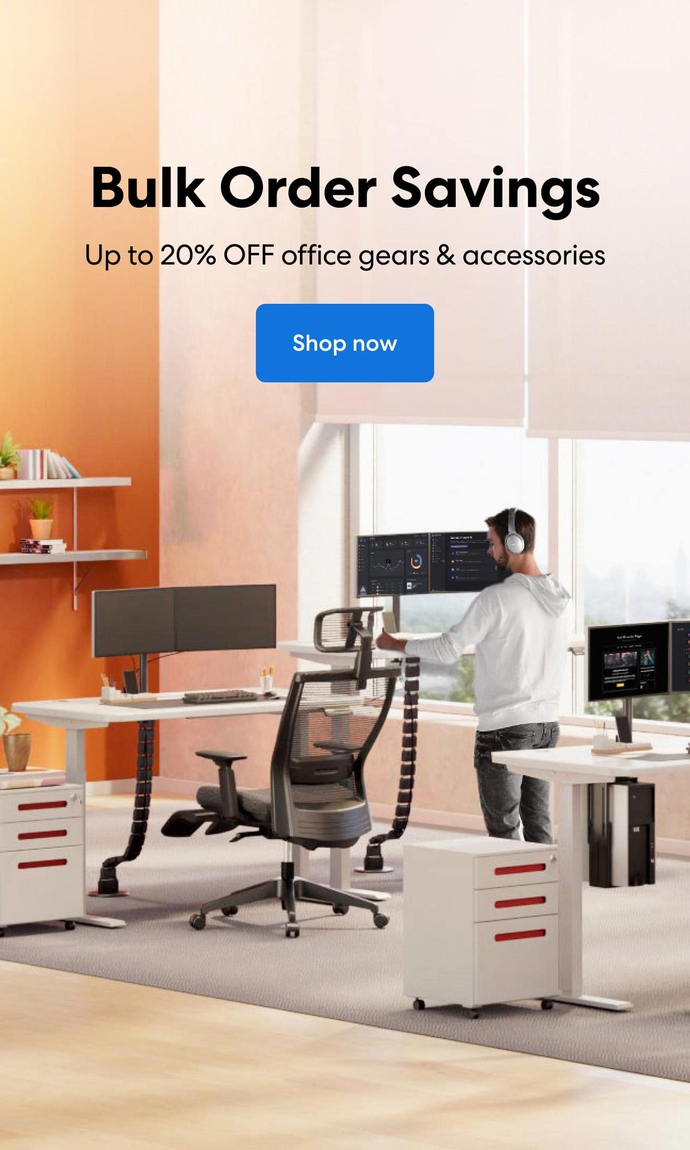 Subcribe newsletter and get $100 OFF.
Receive product updates, special offers, ergo tips, and inspiration form our team.