Smart Products
New Office Requirement List: Essential Office Supplies 2023
4,114 Views
Launching a back-to-office plan in 2022 is a uniquely complicated task. There is so much to consider- not least of all your office supplies. Many businesses have been forced to move locations, downsize, or completely rethink their office layout. New startups have found opportunities to launch during recent times, and now that offices can open, it is time to figure out the new office setup checklist.
The term "office supplies" refers to items acquired by a corporation to aid in the completion of office-related duties or jobs. They are a long-term value to the business. Furthermore, office requirements are just a company's necessity and demand. Even while money is important, you may still need to handle a few fundamental aspects like location, equipment and machinery, hiring, and so on when starting a business. Here, we'll concentrate on a few key components of an effective workplace arrangement in our new office checklist.
There's a lot to consider when you're starting a new company. Major things might be exhausting, but it's the minute, regular details in a new office setup list that truly matter. So you have a company concept, financing, and an unoccupied office. The next step is to equip the workplace with anything you or your team need to accomplish the work. We've put up the ideal new essential office supplies guideline to make your life a bit simpler during this hectic season.
Writing up an office requirement list with a clear vision is essential for managers and business owners to launch successfully. Here is a rundown of some of the must-have items for offices in 2022. 
Furniture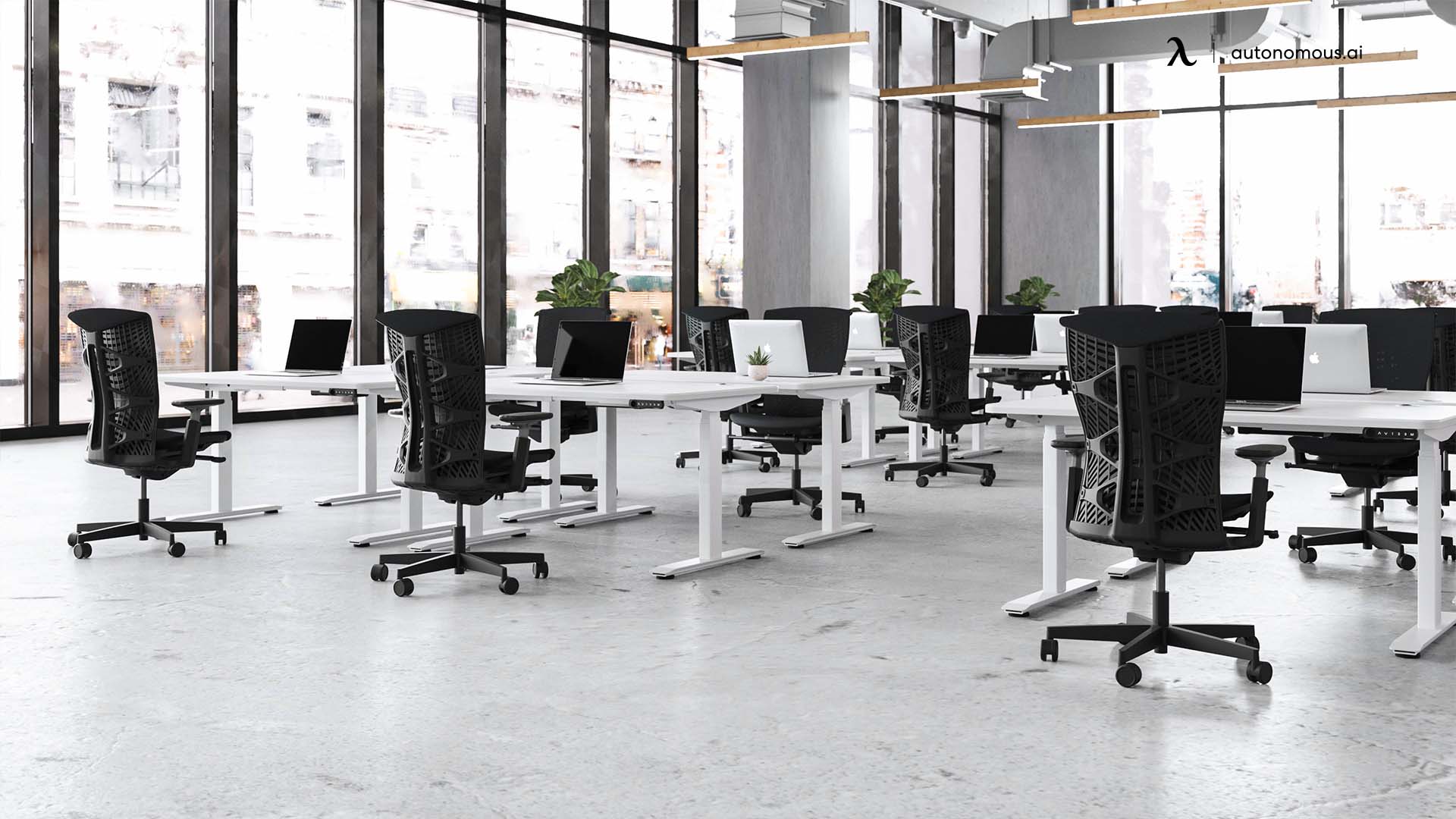 It is hard to get much work done without somewhere to sit or a surface to write on. Unless your office is ultra-modern, you probably don't want to set up a suite of computers on the floor. If you are completely re-fitting your workspace, you can buy bulk office furniture at excellent discount prices. 
Desks
Choosing the best desks for your space is the first step in an office setup. A comfortable workspace is essential for productivity and staff engagement. There are wholesale office desk deals available at Autonomous to help you reach the maximum potential in your place of work. 
When it comes to picking desk style, here are some creative ideas that fit perfectly into a modern office and help achieve a seamless, professional aesthetic and flow.
Standing Desks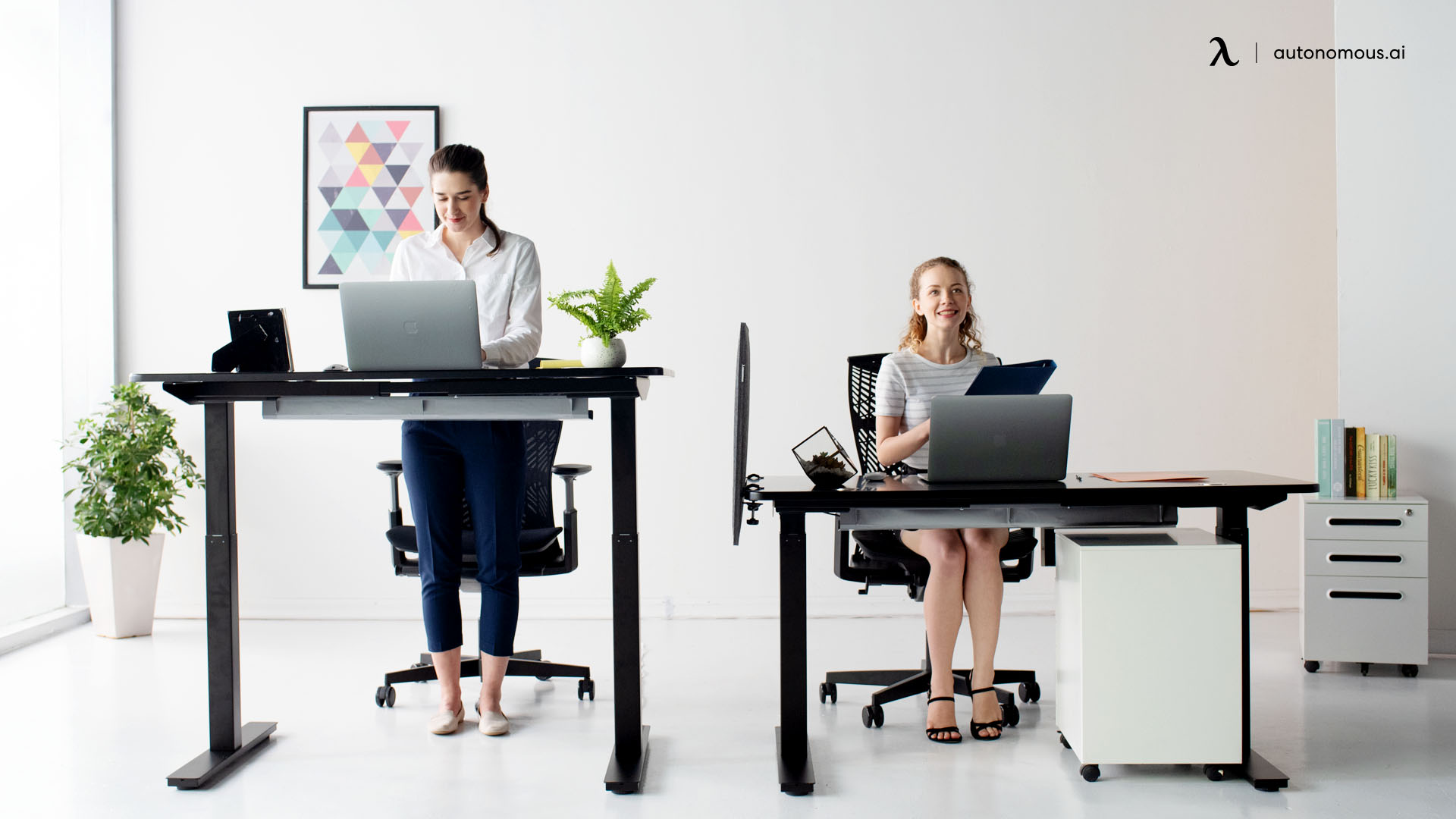 One of the biggest trends in a new office setup checklist is a standing desk. Also called a smart desk, this clever design is beneficial on several fronts. They don't just look modern, stylish, and attractive, but they are also proven to improve productivity, promote a positive mentality, and are even better for your health. 
Standing desks come with multiple height options and can transition from a seated to a standing position in seconds with just the touch of a button. No more time wasted during a busy day on the go- keep your desk elevated, and you don't even need to sit down! Keep active and healthy while boosting your work rate. 
The SmartDesk Core has everything you could want in a sit/stand desk. Available in white or black, it can adapt to suit any office look. The sturdy frame can easily support 265 pounds and has a height range of almost 20 inches.
Stylish, smart, functional, and efficient: the SmartDesk Core is a top priority on our new office checklist.
Another modern update on the classic desk is an L-shaped corner desk. In an office that is short on space, the corners are too valuable to lose- as they often are. Incorporating a corner desk into your office requirement list is a good way to make use of these areas. You can also have them centered the opposite way to create a separated space if you have the space.
Corner desks integrate well into the modern workplace, especially one trying to encourage a collaborative working environment. The larger area allows for multiple employees to use the space, either on team projects or just as a way to save money. 
Few L-shaped desks are as advanced as the SmartDesk Corner. The surface space it offers is enough to earn it a place on the new requirements list, but that is not all there is to like. It is also a fully touch-automated standing desk with multiple height settings and a lifting capacity of 400 pounds.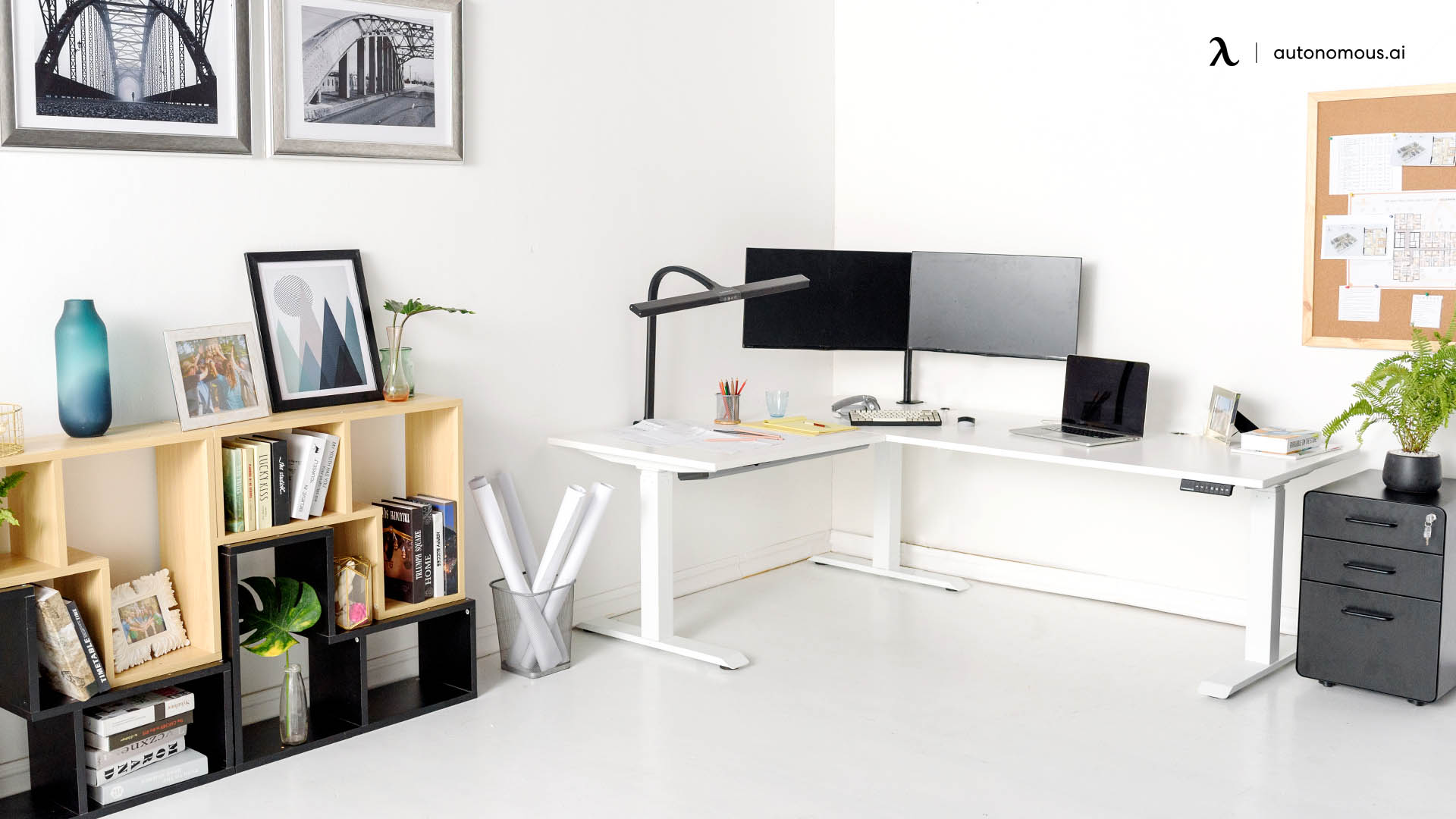 Pick from three color options to merge this beautiful desk with your office aesthetic. Honestly, there is nothing not to love about the SmartDesk Corner. Because of how much space is available and how many people can use it, it works out as excellent value for money. Why don't you put it in your new office requirements list now?
Chairs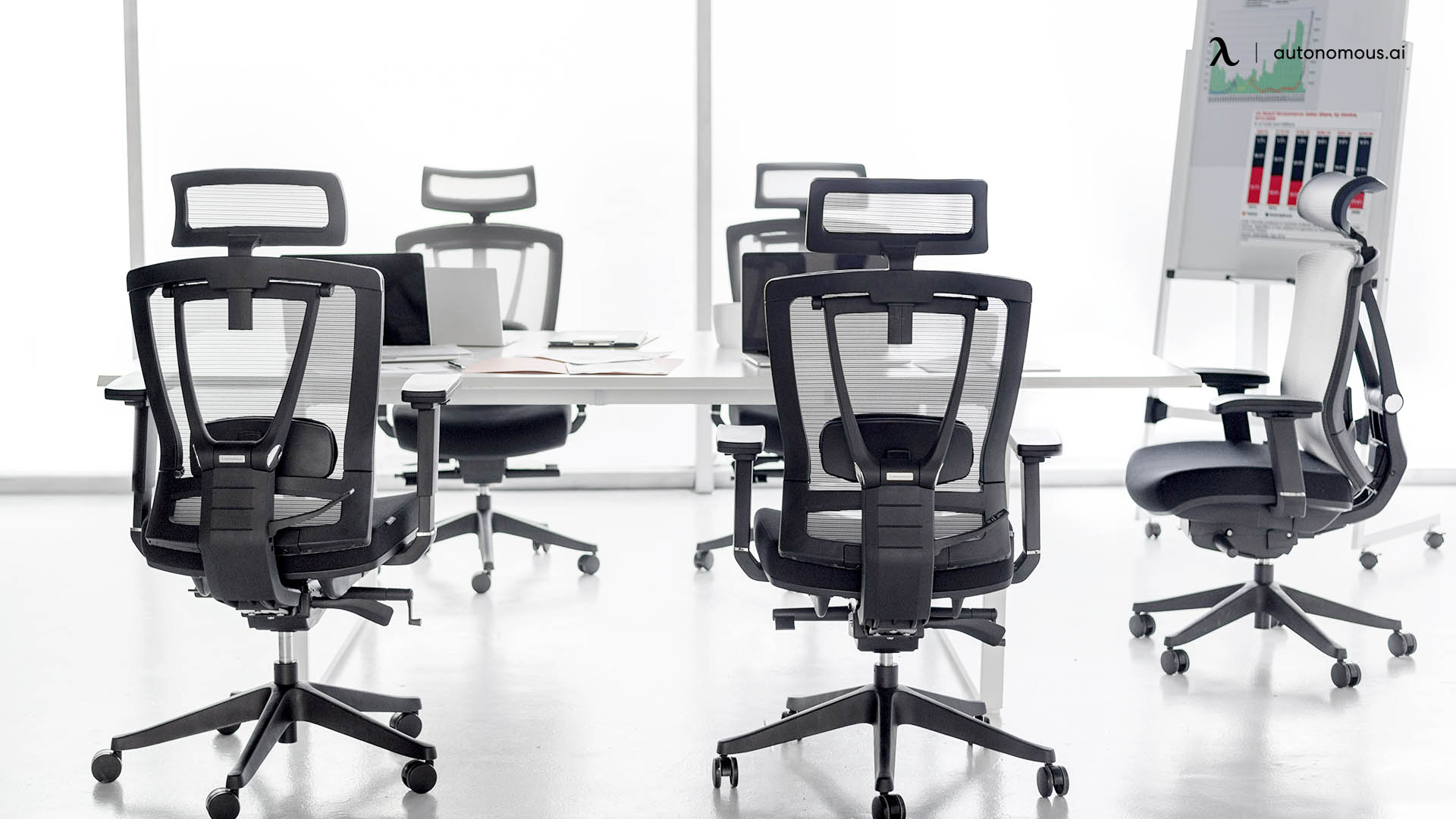 Once you have your desks in place, the next step is something to sit on. Buying bulk office chairs is a good way to save money, as high-quality models are rarely cheap. Despite the higher cost, supportive and comfortable desk chairs are essential office supplies for employees' health. 
The range of chairs out there is impressive, and there is something for everyone. Overall, you should be looking for a chair that provides enough back support and comfort throughout the workday. If you have employees who regularly work more than six hours and spend most of it sitting at a desk, you should make this a top priority. Here are a couple of suggestions for chair options in the modern workplace that should be on your office requirement list.
Ergonomic Chairs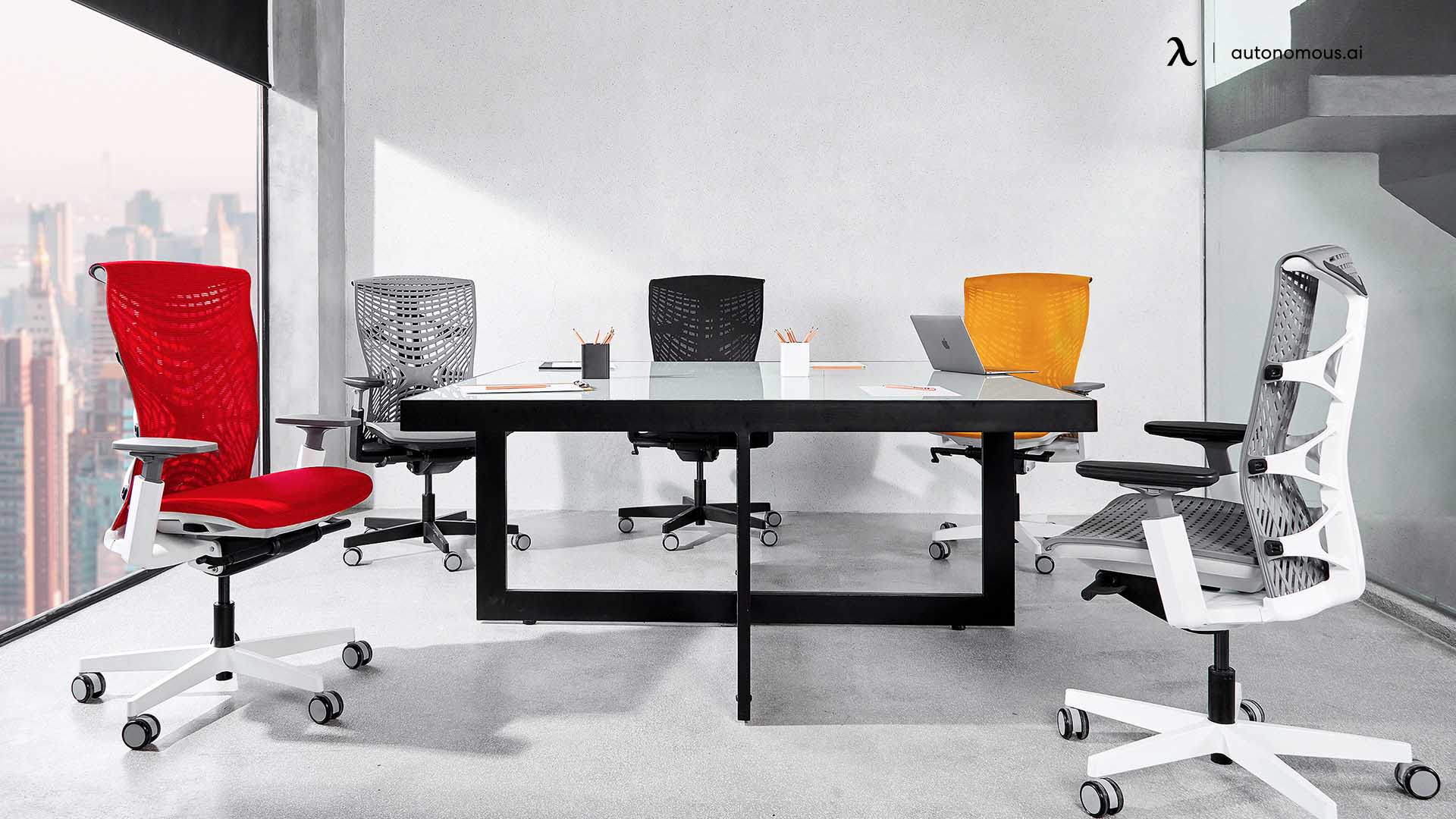 The ergonomic chair is a frontrunner in modern office wear in the office requirement list. Many office workers complain of back and neck pain as a direct result of sitting on an uncomfortable chair all day. If you want to get the best out of your staff, and ensure their positive mental state, providing suitable desk chairs is a must. Luckily, ergonomic chairs are designed to do exactly that. 
Every inch of an ergonomic chair is built with support and adaptability in mind. You can adjust almost every setting to perfectly mold the chair to your body. The customizable features are essential when kitting out an office as everybody has a different set of needs. Breathable materials and sturdy frames are other key features of good-quality ergonomic chairs.
If you need a flexible chair that every employee is sure to love and is built to last for years, the ErgoChair Pro is the one for you. The mid-priced office chair is one of the best ergonomic designs on the market and is fully customizable from head to toe. 
Furthermore, the attractive model comes in six color options, so any office vibe can be matched. It has a weight capacity of up to 300 pounds and comes with a two-year warranty. Last but not least, it is made with 100% earth-friendly materials- a huge tick on a 21st-century new office checklist.
Ergonomic Stools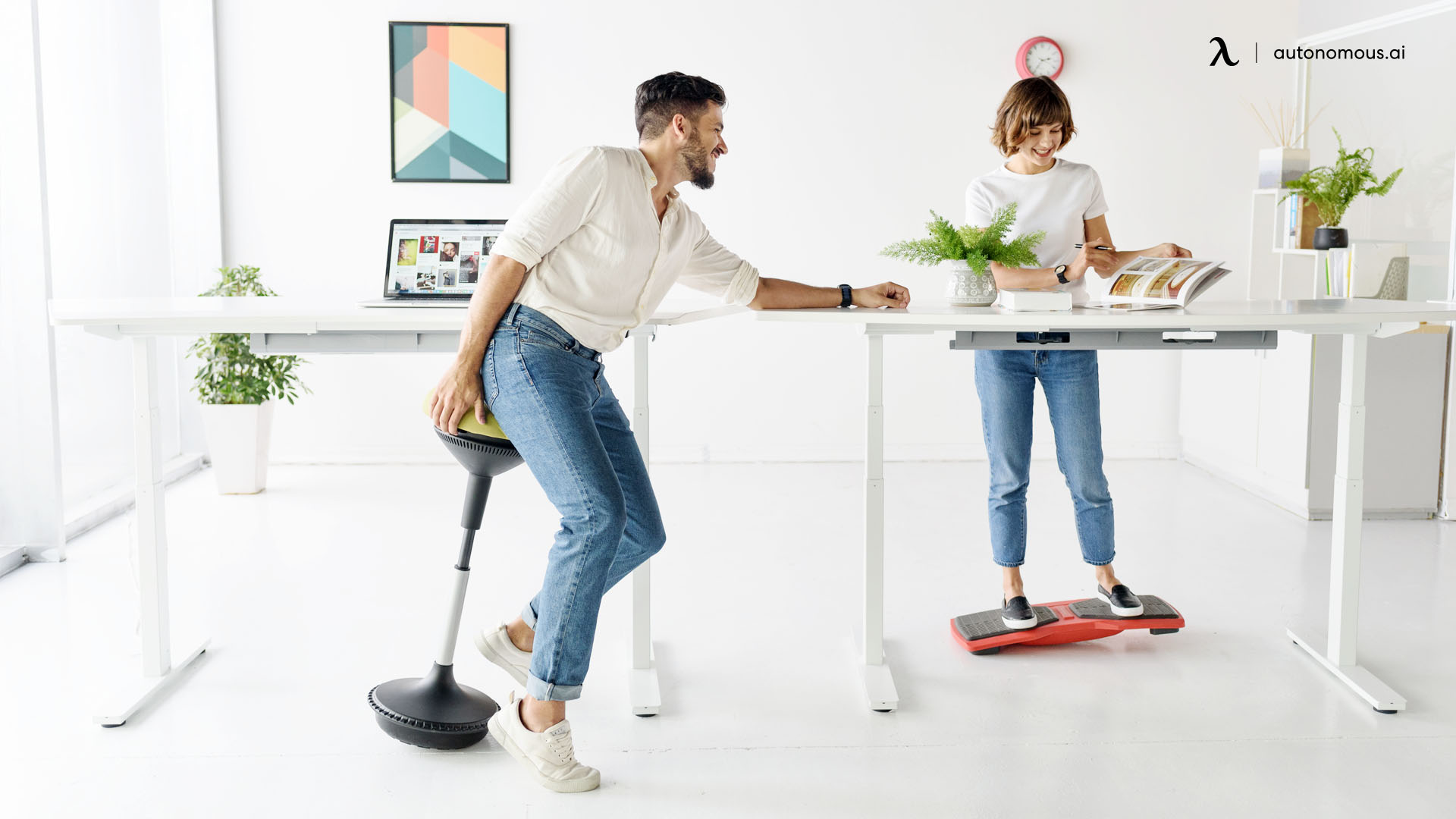 Standing is the new sitting, especially in modern offices. The importance of movement for mental health and productivity is a major focus in the new working environment, and as such, new types of furniture are being introduced. Ergonomic stools are one of them. 
Stools certainly do not have a reputation for being comfortable, but all that is changing. It cannot be missed in your office requirement list. Using the same science behind advanced ergonomic chairs, stools have received a huge upgrade. Posture support, balance adjusters, and adjustable settings are all key features that make ergonomic stools an interesting addition to the new office setup checklist.
One of the most advanced designs is the ErgoStool. Quirky and modern, this clever piece of furniture is a must in a young, upcoming 2022 office space. Multiple color options help integrate it into any space, but the comfort features are what make it so great. 
The perfectly balanced design promotes a healthy posture to relieve pressure and pain in the spine. It works as a perfect alternative for people who don't like to feel restricted while working and provides an alternative seating option for raised desks. 
Filing and Organization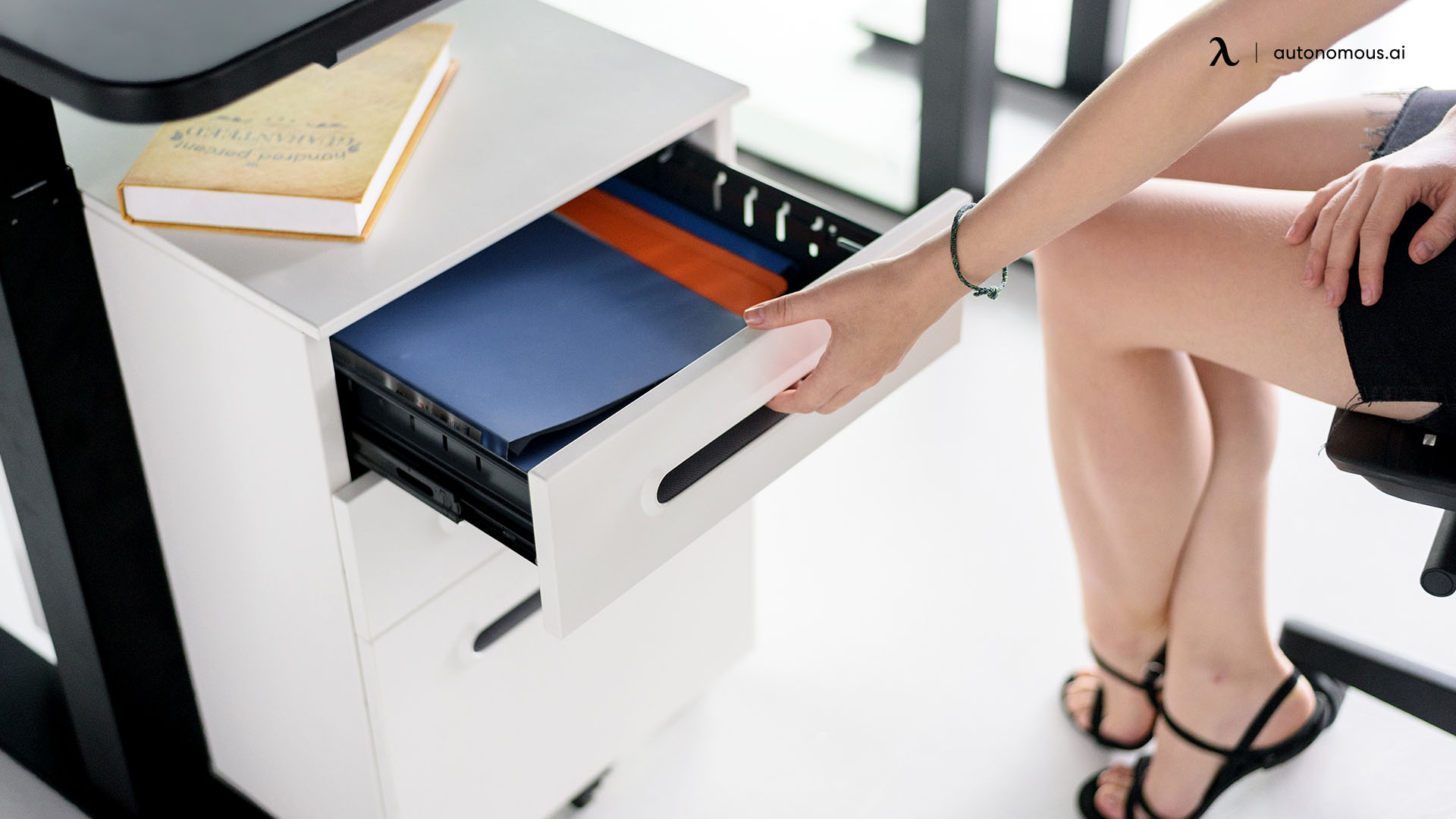 Often unfairly overlooked for its value and importance, the humble filing cabinet is essential in your office requirement list. Office supplies are all important, but the space would get pretty messy without somewhere to store everything. 
When organizing the layout and budget for your new office setup checklist, do not forget filing and organization. Modern offices are storing more and more digitally, moving away from paper-based documents, but that doesn't mean you can completely remove all storage space. 
Nobody wants their filing cabinets to be the main attraction, but that doesn't mean they can't still look good. The Autonomous Filing Cabinet fits seamlessly into any office design. Small enough to fit under the desk but with plenty of drawer space for all your storage needs, this simple but effective design is definitely on the new office checklist. 
They don't draw too much attention, but you can add a little color if you choose. Sturdy, strong, and built to last, this little file cabinet is a great addition to the modern office setup. 
Desk Accessories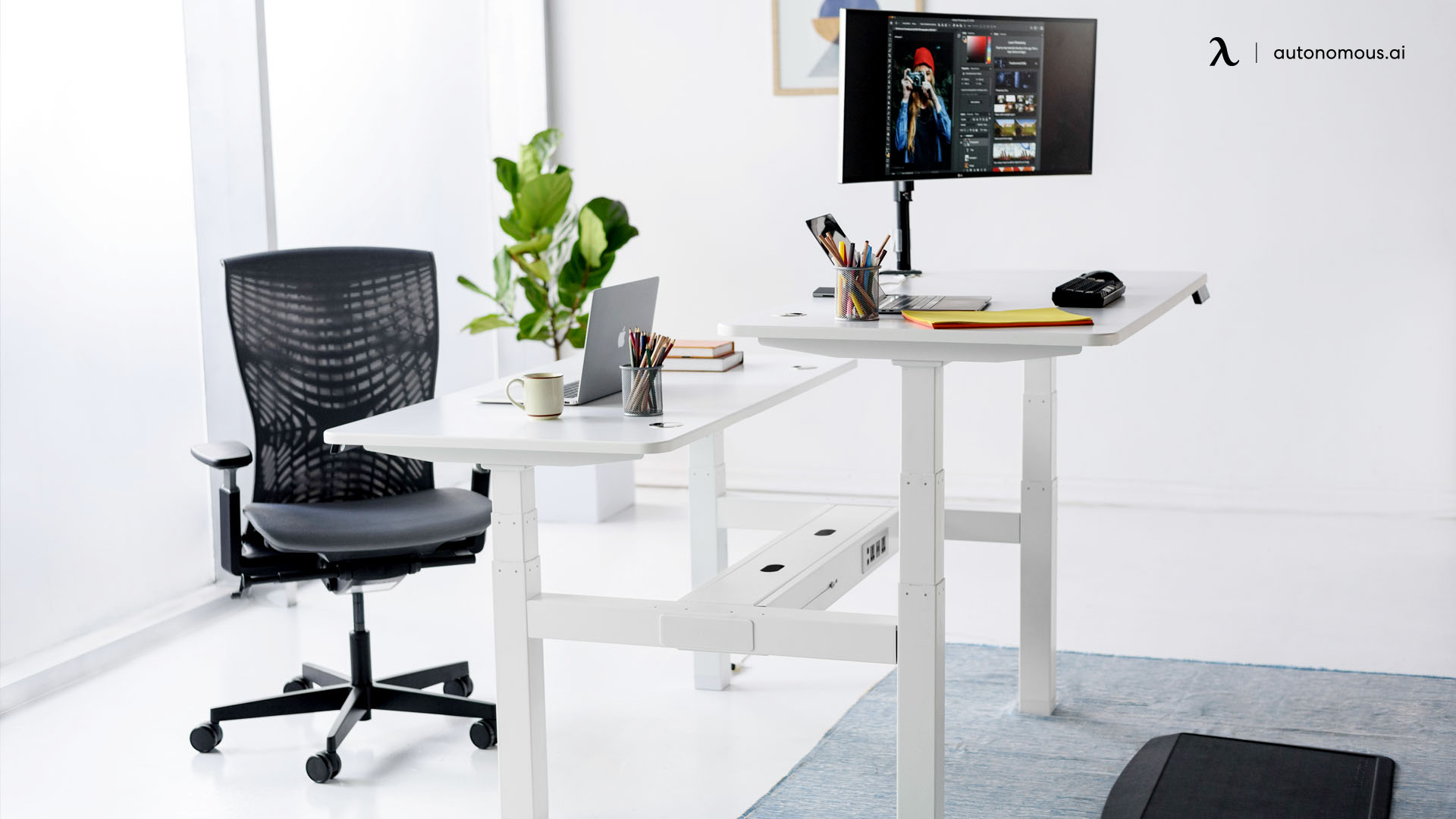 Although the idea is to keep the desk as clear as possible, a few basic desk accessories qualify as essential office supplies in the office requirement list. Minimalism is the style of choice for the 2022 workspace, so no need to go overboard. 
Lighting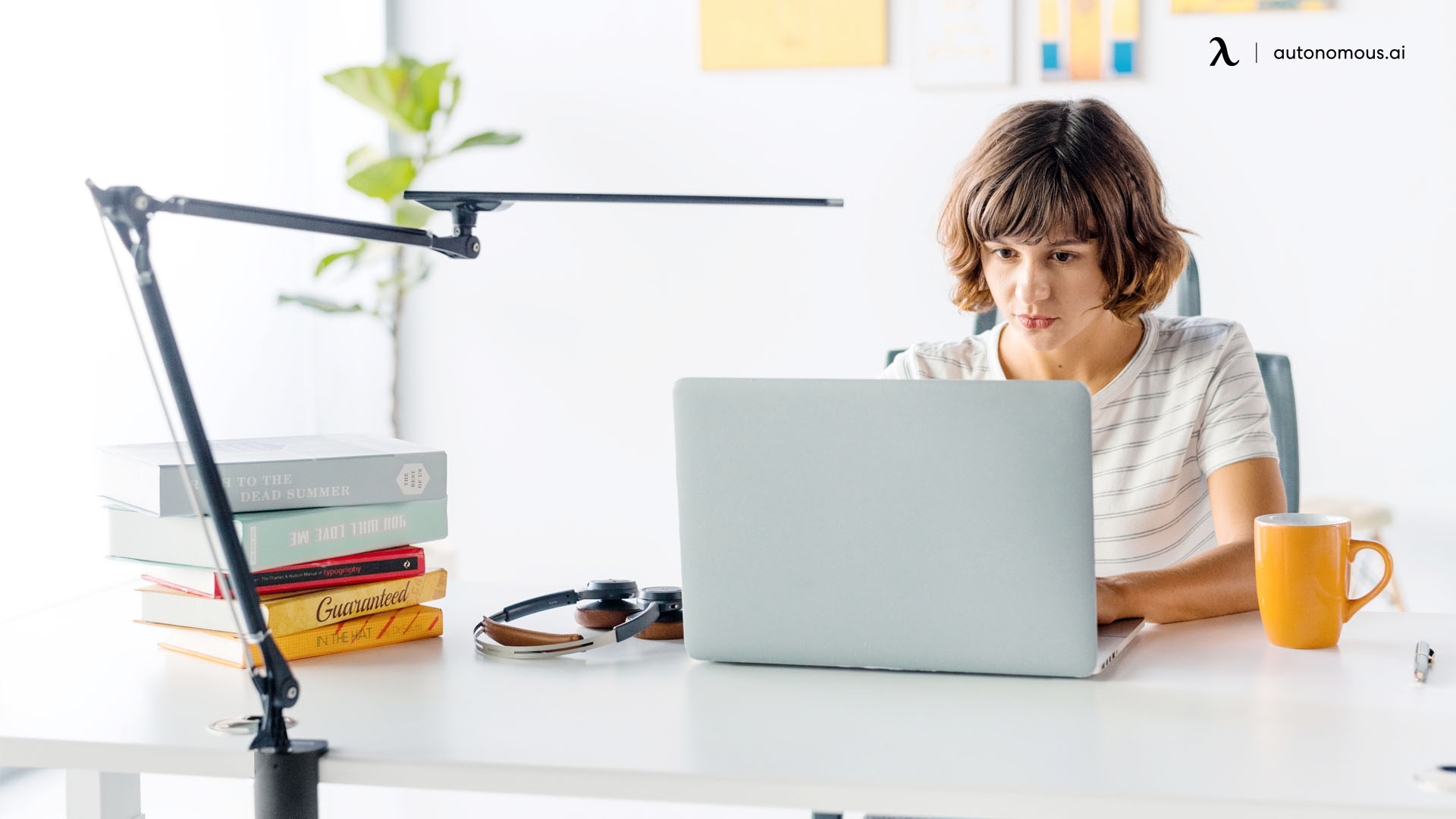 Personal desk lighting is highly beneficial. Even if your office is generally brightly lit, there can be times where people need a little extra. You may also prefer to shut down the main lighting if only very few people are working, in which case desk lighting is essential. 
We love the Autonomous LED Desk Lamp because it takes up almost no space whatsoever. The discreet clamp attaches firmly onto the edge of the desk, using less than an inch of the desk area. Because of its streamlined minimalist design, this lamp works anywhere. Adjust every angle for optimum LED lighting that lasts for up to 50,000 hours. 
Organization
In some cases, a filing cabinet beneath the desk may be enough, but some on-desk organization may also be beneficial. Keeping desks clutter-free is more important than ever post-pandemic, which is why some organization accessories may appear on your new office requirements list. 
One of the easiest steps you can take to keep desks de-cluttered is to install a cable tray. Tangled wires are not only a nuisance, but they are also a hazard. The Autonomous Cable Tray works compatible with the entire SmartDesk range, with no drilling required. You can customize the size and depth to match your needs, and it can support a weight of up to 35 pounds. 
Aside from keeping your wires organized, it also functions as a place to keep stationery or any other object you don't want on the desk. Charge your phone discreetly or keep your extra pens out the way of your work. 
Software
The hybrid workplace is the future of office work. Recent times have changed the way we look at communication and have highlighted the benefits of remote working. Even as the world re-opens and offices along with it, there is no doubt that things are different. Using this new way of working is essential for a modern business to thrive, and software plays a big part. 
Using software that allows you to coordinate and manage your staff both in-house and remotely opens up a lot of possibilities. Combine communication, organization, and project management in one place. Rethink how you utilize desk space and reassess the best way to mobilize your employees, all with the help of an app .
Hybrid is helping revolutionize offices everywhere. It combines all the necessary tools needed to run a flexible, modern office. You can manage your human resources and predict what your future requirements are likely to be. Keep track of who is working where and easily make changes, instantly communicating with the relevant teams. 
It also gives your employees the power to mobilize themselves, promoting initiative and productivity. Shake up the way your office works and thinks with collaborative working and modern thinking. The hybrid working app is at the top of the post-pandemic office requirement list.
List of the Basic Office Supplies in Office Essentials List
Whether you have a huge office space for your staff or a small home-based workplace, you'll need to supply it with all of the tools and components you'll need to manage your organization daily. Here's a comprehensive new office checklist of what you might wish to buy.
1. Keyboard and Mouse Platform by Mount-It!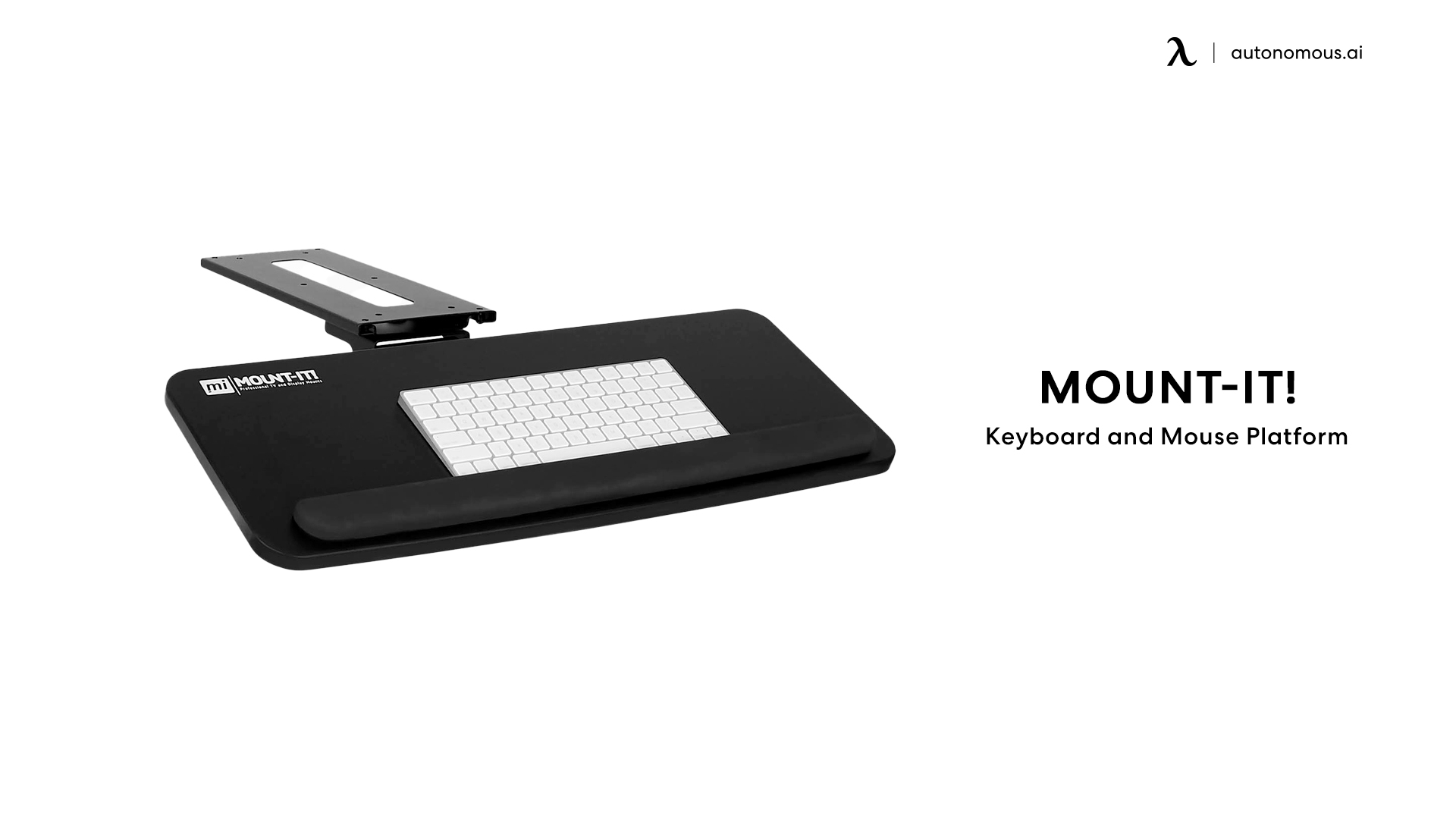 You will be able to tilt, rotate, and lift this adjustable keyboard and mouse stand to an ideal and comfy configuration for you using this apparatus. By using the silicone wrist padding that arrives with this keyboard cabinet, you will indeed be prepared to operate in a comfortable position. Even if you have a tiny or spacious deck, it is critical to make the most of the space available to you and get the most out of your job. Because it rests underneath the desk, you'll be working on, this keyboard tray will suddenly expand your workspace. This keyboard rack looks great on any workstation and accommodates a wide range of keyboards!
2. Carpio Ergonomic Wrist Rest by Deltahub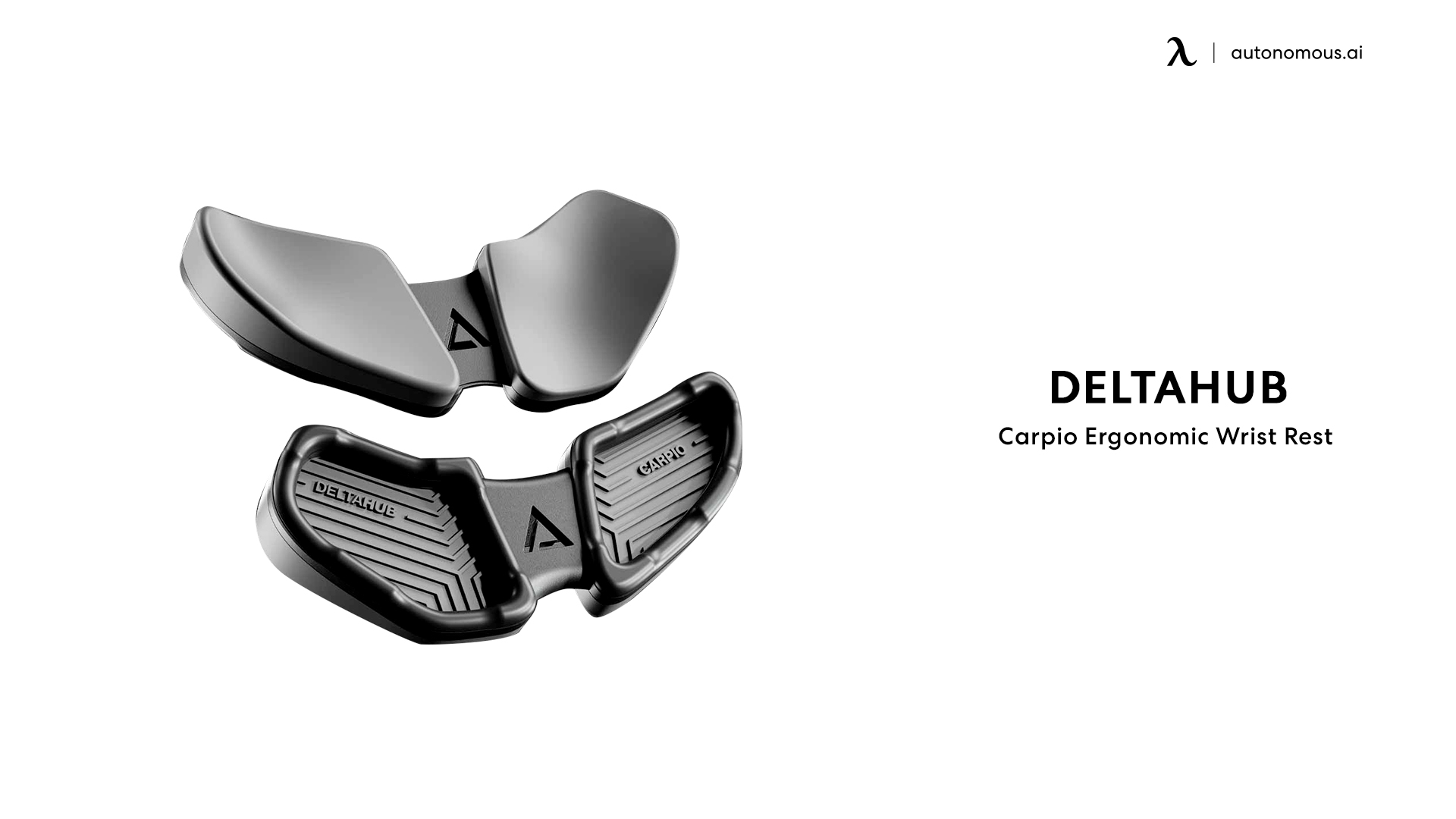 This ergonomic wrist rest enhances your arm posture by raising your hand by 1.2 cm and preventing detrimental flexion by reinforcing the stress first from wrists to the palms. Thanks to its clever design, the wrist rest glides with your hand while you operate your mouse over your trackpad. It eliminates the need to modify and shift your wrist into various positions. That is ideal for using big mouse pads or mice with low DPI or sensitivity settings.
3. Leather GaN Charger by VogDuo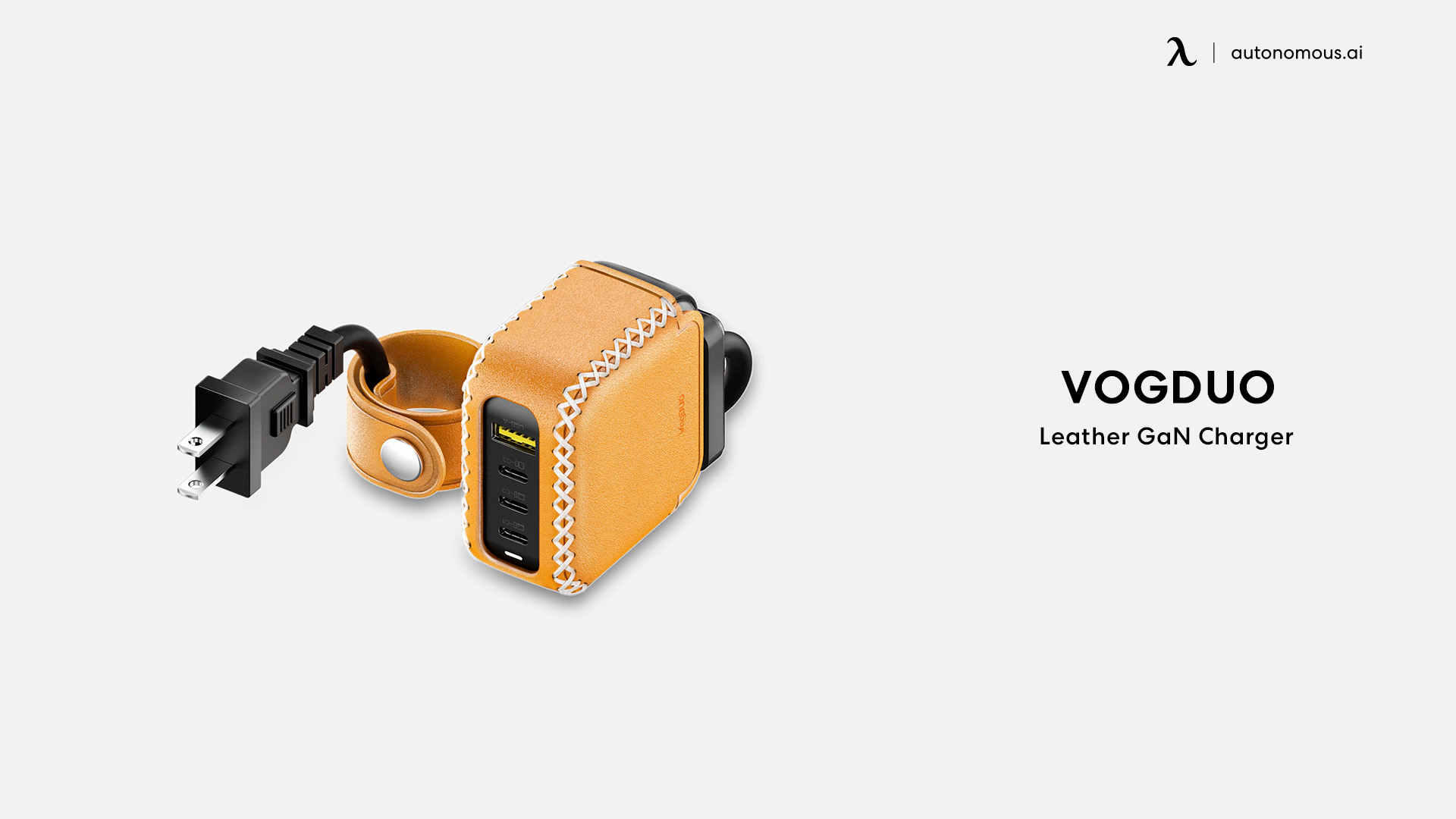 This is amazing item for your new office checklist. It provides various features to either a desktop or power outlet nearby, one of the most notable of which is the leather wrapping it comes in. There seem to be thousands of GaN chargers available in the market currently in almost every price point, with several connector ports and varying output power levels to fit, but there aren't many with both the deluge of extra design details and a premium leather finish.
4. Ergonomic Keyboard for PC by Matias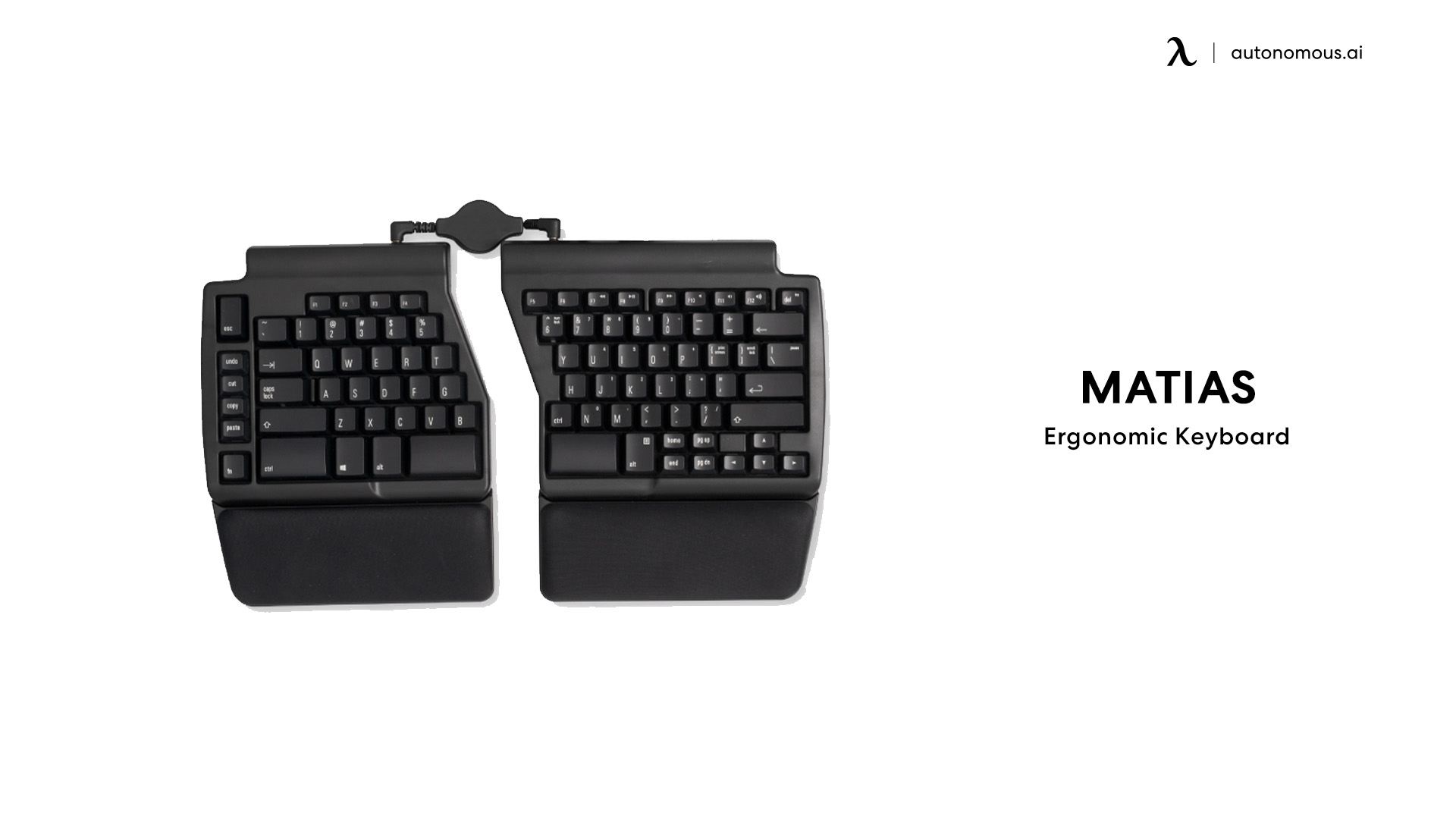 The Matias Configurable ergonomic keyboard for PC improves typists' wellbeing and comfortability by offering a variety of keyboard modifications, such as center tenting, negative change direction to raise the front of the keypad above the rear end, and divided left and right sides because each half could be in the best possible position and angular velocity for the user.
5. Under Desk Computer Mount by Mount-It!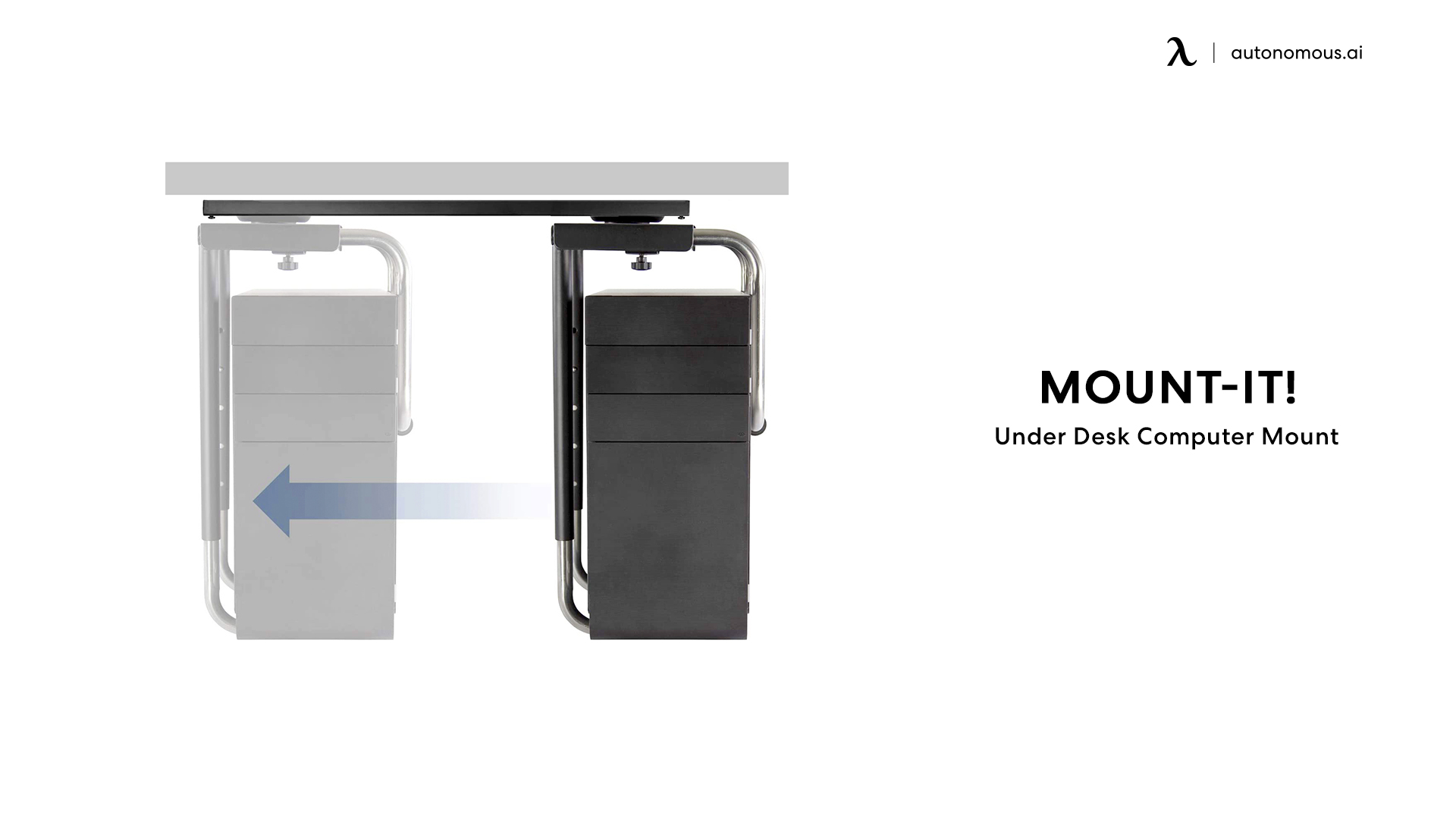 Your CPU tower may be neatly mounted on the bottom of your worktop the right way. This setup places your computer tower nearer to your monitor, making it easy to attach. It's ideal for standing workstations since it eliminates the need for extended cords. The exposed frame structure allows the flow of air, which maintains your CPU to stay cool and prevents overheating. Its flexible frame can accommodate a broad variety of computer models and sizes.
6. Deskr Topographic Desk Pad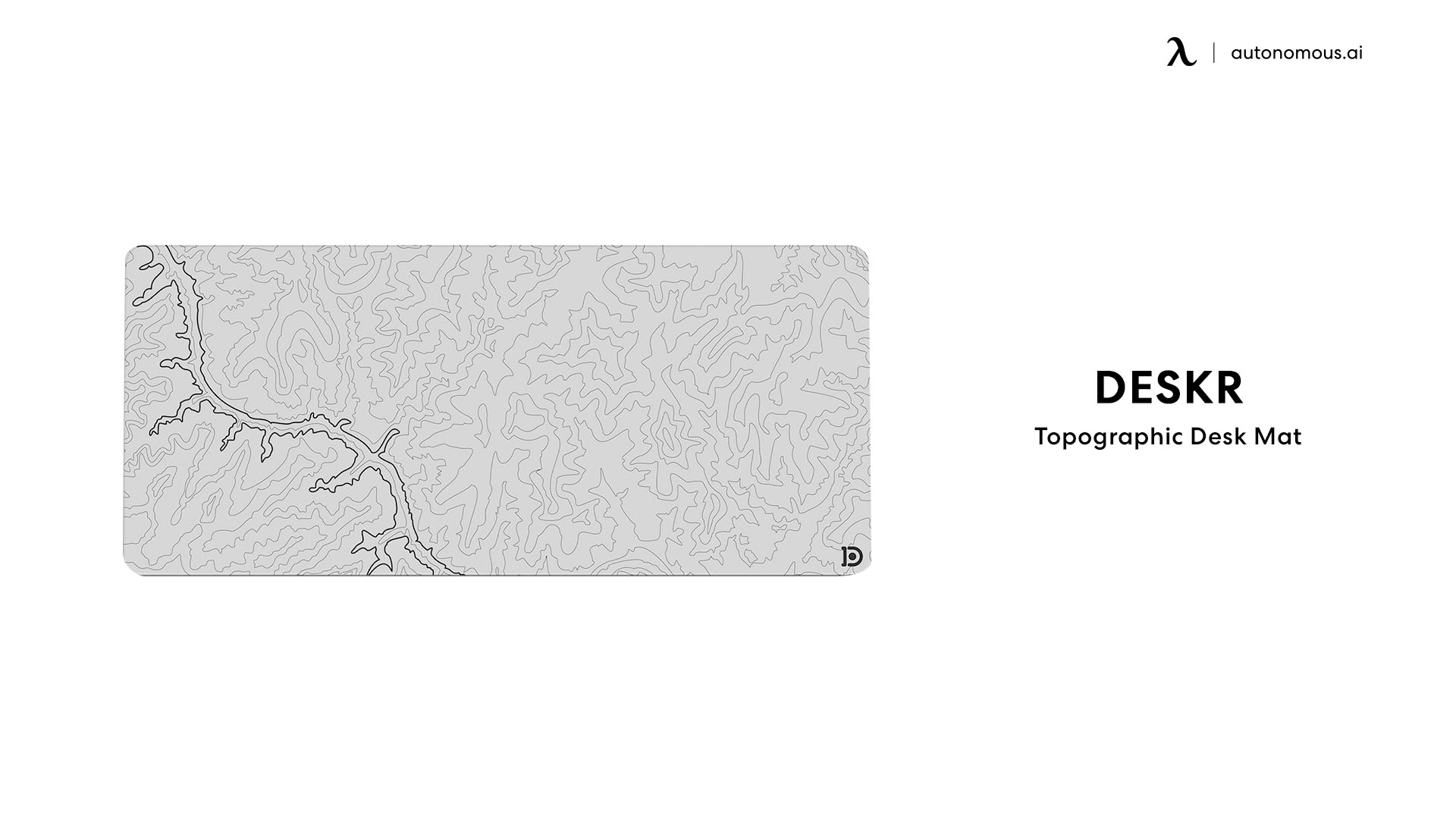 You cannot miss this item in your new office checklist. It is a vegan leather desk mat, which attempts to offer the highest quality imaginable. This setup is enhanced with the Grand River Valley graphic illustration on the desktops pad. The broad vein which extends from the top to the leatherette desk cover represents the Colorado River, whereas the other lines depict the Grand Canyon's varying heights.
7. ThermalComfort: Personal Climate Control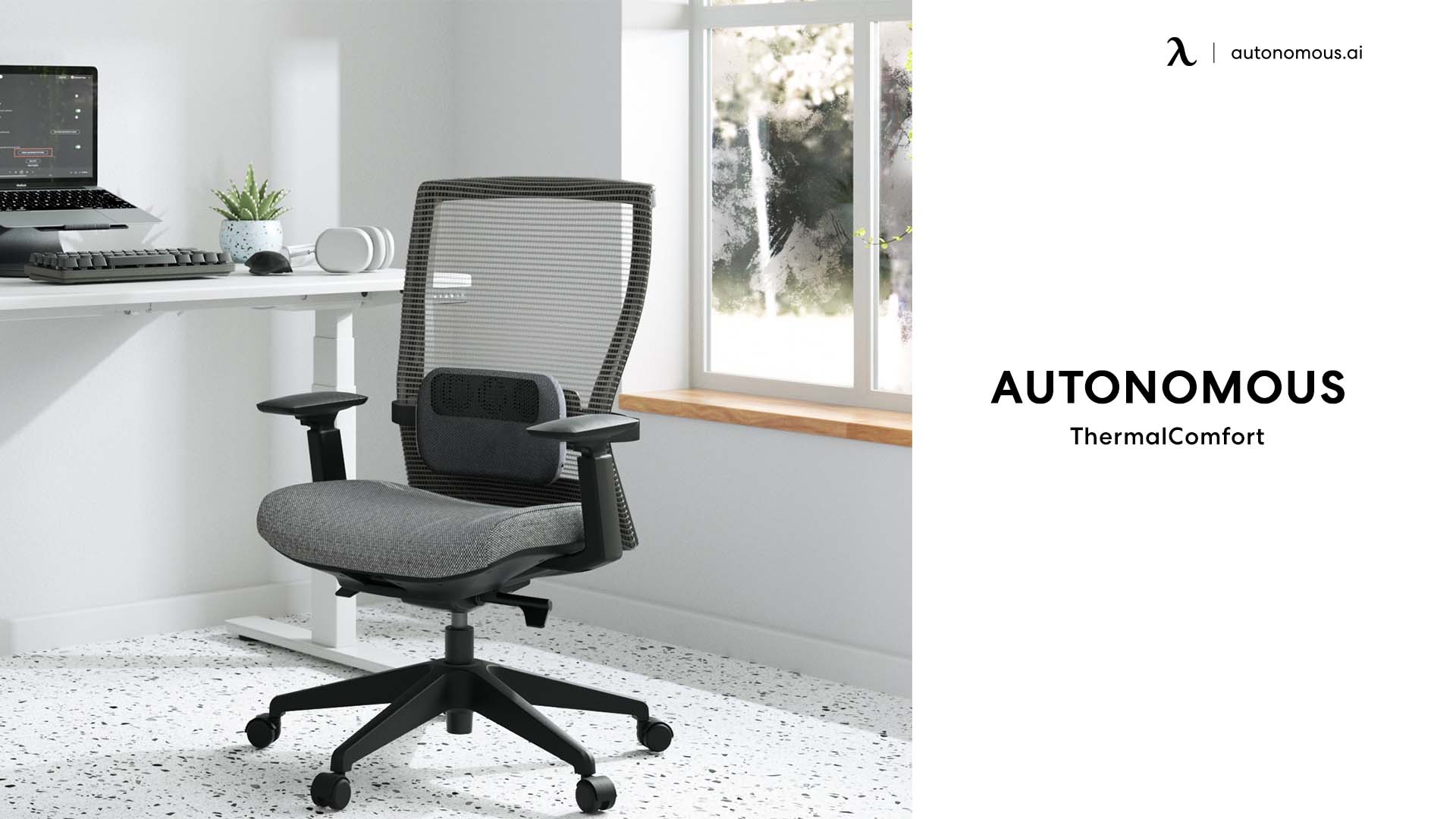 This is one of the must-have in your new office checklist to improve your health during working time. Back pain is a prevalent problem among individuals, particularly the elderly. As office employees spend most of their time seated, back issues are prevalent. Being seated in the wrong position or even on an unsuitable chair can cause significant backache, as well as the tendons in your back, will likely stiffen up under difficult situations, resulting in serious back pain. A range of cushions and chair rests available to assist you in enhancing your sitting posture. ThermalComfort can provide added heated lumbar support and warmth and sometimes massage your back to reduce pain while sitting.
8. SmartMike+ Wireless Microphone by SabineTek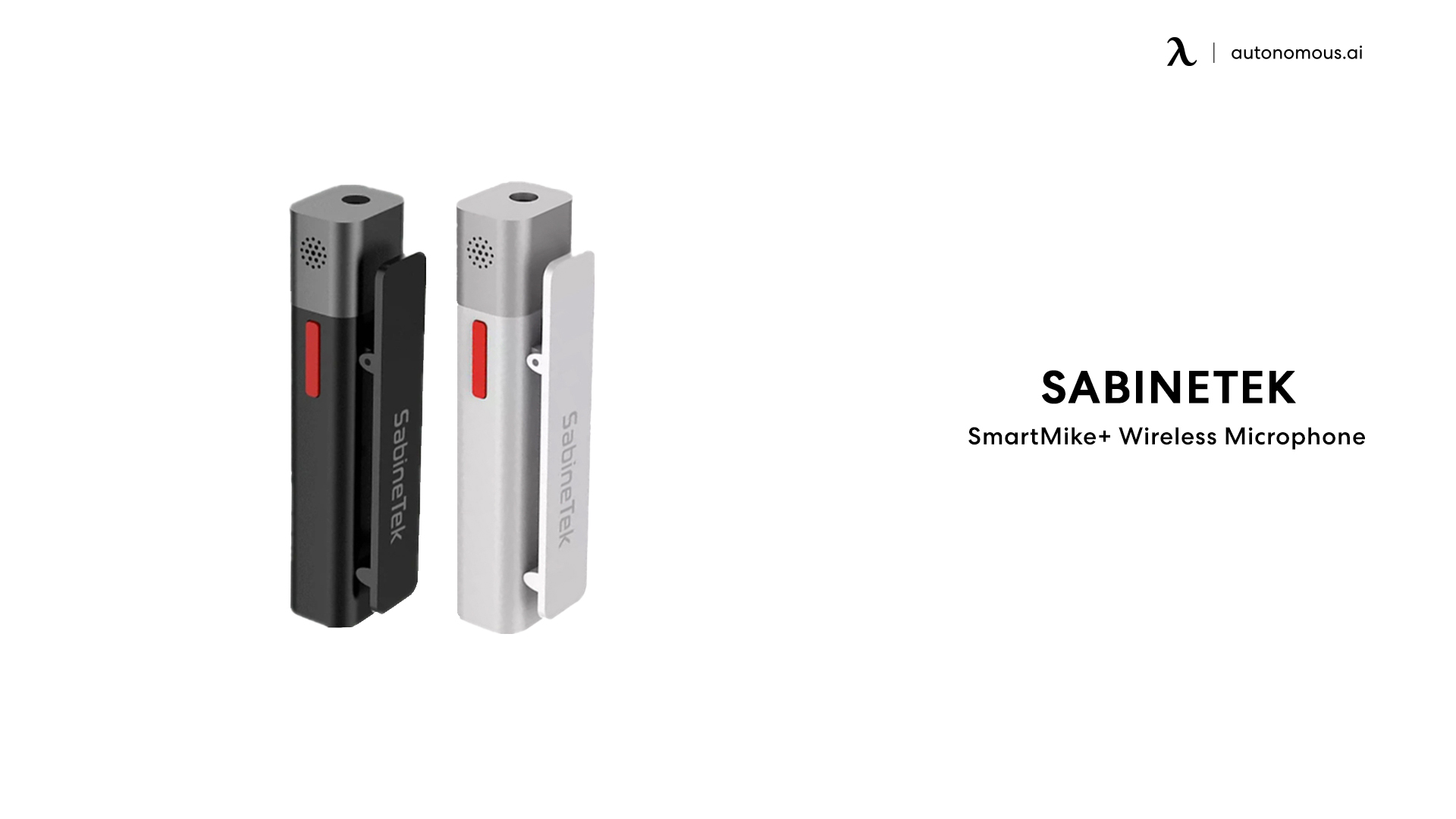 The Sabinetek-SmartMike+ is a Built-in Bluetooth cordless mic with a frequency of 10 metres, intended to run mainly with cellphones and marketed towards video bloggers and content creators. It has a rectangle-shaped monolithic plastic block design with a 3.5micrometres jack input source on front and a microphone. It has a mini USB charging port on the bottom. It also includes many modes of operation, such as audio recording and Vlogging.
9. Monitor Arm Mount by Autonomous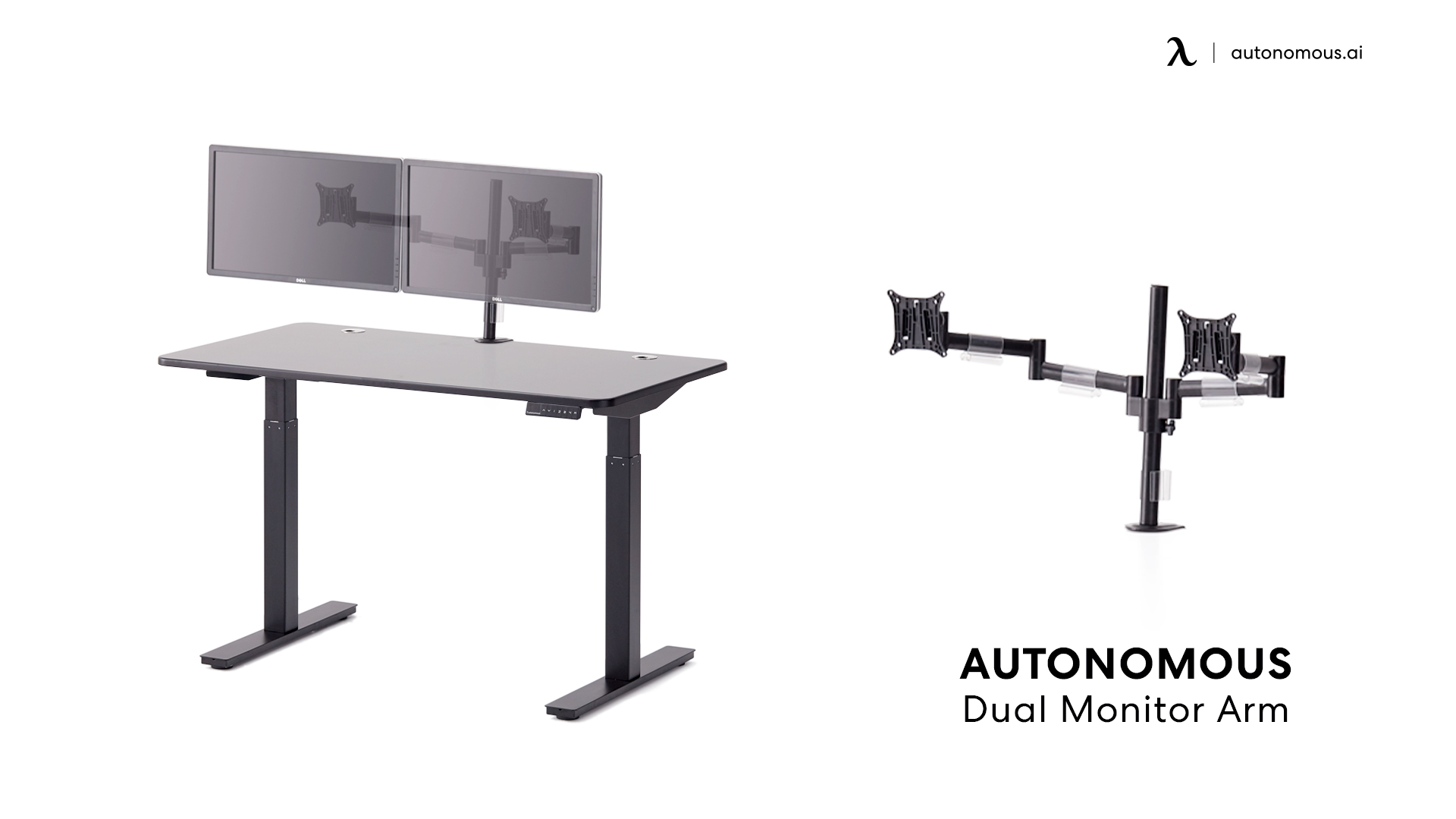 For a variety of reasons, we love the Autonomous Monitor Arm. To begin with, the material quality is excellent, and whether you're lifting or moving the screen or arm, it has a reassuring firmness to it. The motion is fluid as well as uncomplicated, which is precisely everything you want when a display arm is anchoring a possibly an expensive monitor into place!
10. Home Air Purifier
The Airdog air purifier employs TPA based advanced technologies that could extract pollen, allergens, fumes, dust, animal dander, odours, which would be so far beyond the 0.3-microns which the typical HEPA could clean. This large room air purifier comes with collectable plates that are both washable and reusable. It only takes about 20 minutes to dry. There's no need to change the filters as often, which may save you up to $3000 for three years. It comprises fire-resistant V-0 materials and has 4 distinct different wind settings.
Final Thoughts
Deciding on an office layout says a lot about who you are as a company. Ensuring the comfort, happiness, and safety of your staff should always be a top priority and choosing the right essential office supplies is a good way to start. 
A sleek desk, supportive chair, and convenient filing system are the perfect trio to start with. Get that right, and the rest falls into place. Keep it simple and effective to avoid over-cluttering. Look for bulk-buy deals to save some money, so you don't need to compromise on quality. 
The modern office requirement list is about efficiency, productivity, and comfort. Stick to this combination, and you can't go far wrong. Complete the equation with some smart software, and the sky's the limit.
Subcribe newsletter and get $100 OFF.
Receive product updates, special offers, ergo tips, and inspiration form our team.
WRITTEN BYAutonomous
We build office products to help you work smarter.