Latest Updates
Smart Tips for Shopping the Black Friday Deals in 2023

Autonomous
|
Oct 29, 2023
1,147 Views
Like it or not, shopping on Black Friday is still one of the best ways to find the year's top deals. With the rise of online shopping, at least people don't have to wait in line overnight at their favorite stores to get a chance to shop for Black Friday deals. In those days, you had to get to the line early, which led to many people having their Thanksgiving dinner in a tent outside a store. 
Shopping at a store with Black Friday deals may not be as difficult this year, but that doesn't mean you shouldn't be strategic with your approach. 
Now, some of the best strategies for this day revolve around knowing when and where to shop for Black Friday deals. You can make the purchases from the comfort of your own home, but timing is everything. 
When is Black Friday 2023?
Since timing is everything, knowing when this anticipated holiday will take place is a must. Black Friday falls on November 24th this year. That's a bit later in the year than we're accustomed to. With a couple of these tips on how to shop Black Friday deals, though, you'll be able to spot deals before the official holiday.  
In most of the best places to shop for Black Friday deals, the closer you get to the actual day, the better the discount. One of the major problems with this type of approach is that some products may not be in stock by the time November 24th rolls around. 
If you're eyeing a standing desk that you want to buy with a good discount, you may want to make the purchase ahead of time. Waiting until that last Friday in November will likely give you the best deal. However, what good is a product with a 70% discount tag but an out-of-stock notice beside it?
Black Friday Shopping Tips
It's still time to create a wishlist of things you want to buy. Maybe you're waiting for a Black Friday gaming desk deal that you can pair with an ergonomic chair. Go look at multiple options for both products online and save the pages for those items so that you can come back to them. If you're truly committed to shopping for the best Black Friday sales, you need to check these pages daily. 
There are two things that you're going to achieve with this. The first thing you'll find is the current price tag of the item you want. Sometimes, some sketchy stores will just slap a discount logo or tag on the item for the holiday. You won't be fooled if you know the actual sales price.
Another reason why it helps to monitor different products online daily is because you'll be the first to notice when they are, in fact, on sale. This is when the waiting game starts. The key here is not to get too anxious. Remember that most of the best deals are published on black Friday or Cyber Monday. 
Maybe you're looking for those Black Friday desk deals we mentioned earlier. If you find a moment when the deal is just too good to pass up, go ahead and make the purchase. Once you've done that, you might as well stop checking that particular product daily. You won your battle; pat yourself on the back and move on! 
Some brands may hide all of their online deals until Cyber Monday rolls around. It's certainly hard to wait until that specific day, especially if there's something you were really hoping to buy. If you still haven't found what you need, though, a good tip will be to scatter different online stores on Cyber Monday to see if you can find that last-minute deal.
Tips for Shopping at Traditional Stores on Black Friday
The first question we'll need to answer here is whether it makes sense to even look for deals in traditional stores. There are stores that still run major deals on this holiday. Many of them do so to keep the tradition running, and the attendees also have the same idea.   
In any case, the first thing you'd need to do to shop on Black Friday at a traditional store is scout the store beforehand. You need to figure out if the store is going to be offering decent deals that are worth getting up for. Maybe these days it's not so necessary to camp outside the store before it opens. 
It all depends on where you live; Black Friday the traditional way is still a big deal, particularly in smaller communities. At the very least, you want to get to the store early in the morning, near the opening hour.  
Getting there early is the best way to guarantee that if the store did run a Black Friday sale, many of the popular on-sale items will still be available. Low stock is an even bigger issue at most traditional retailers than it is for online stores. Ideally, you'll have an item in mind that you want to buy and head directly to it. 
If you want to buy a large item, bringing some company to help you carry it is always a good idea. In previous years, bringing a company also guaranteed extra manpower if you needed to fight another customer over a specific item. As was mentioned, though, that part of the traditional Black Friday is not as common anymore.
The Black Friday Scams and Frauds to Avoid
Unfortunately, there are companies out there that showcase fake deals for the occasion. There are two common types of scams that you'll want to avoid. The most serious of the two are fake stores that promise, for example, an office chair for sale at a ridiculous price. 
Those fake stores are the worst because you could lose your money and never get the promised Black Friday office chair deal. These scams usually involved high-ticket electronic devices and, a lot of times, were aimed at kids. Now, after evolving, they try to scam people looking for all sorts of items. 
To avoid this type of scam, the best thing you can do is only buy items from certified online stores. When you're searching for the items that you want to put on your wishlist, don't venture into fishy-looking sites. 
The second type of fraud that's common during Black Friday is fake deals on real products. Many well-known companies have been caught doing this. Usually, what will happen is that the store will just slap a discount tag on a product but keep the original sale's price. Customers not tracking the product's price may think they're getting a great deal when they're really not.
Black Friday Deals from Autonomous
Autonomous is a company that mainly offers office furniture solutions, but it also sells other items on its site that can be placed in homes. This brand fits the bill as being a trustworthy store where you can look for Black Friday deals. 
The reason why we bring this option up is because it's holding an interesting Black Friday sale. Also, the deals will start a full month before Black Friday: on October 24th. 
Many of its products will be up to 50% off during the pre-sale. Our main tip about creating a wishlist and monitoring the prices of products to find the best deals will work perfectly on this site. 
Let's say that you find an office desk for sale here. Autonomous is known for its smart desk options that look great in modern office spaces. The desk could feature a 50% discount from the last week of October until almost Thanksgiving weekend. That could be one of the best Black Friday L-shaped desk deals of the entire holiday. 
The brand promises, though, that it will lower its prices even more as November 24th approaches. This is where our tips come in handy. Are you willing to take the risk and get that particular desk at its maximum discount rate? 
There's not necessarily a guarantee that the smart desk will be available as the end of the month approaches. However, if desks are still available, the brand will feature discounts of up to 70% on set items. Anyone who misses the excitement that the traditional version of Black Friday brought may want to look into these unique sales.
What Other Office Accessories Will Be on Sale?
Autonomous' online store carries items from other brands that the main company doesn't necessarily manufacture. Many of these items are currently on sale through the certified webpage. There's no danger as a potential buyer of falling victim to an online scam like the ones described above.
Products to shop Black Friday deals at Autonomous that may not be on sale at the moment could get a price drop at any point from now until the end of November. With that in mind, it's a good idea to follow our tips and create your wishlist. Then, monitor the prices of these products to time that perfect moment to make a purchase.
Desk and Chair Combos
Currently, the brand is running a promo that offers an ergonomic chair at 50% off when purchasing one of the aforementioned smart desks. The promo may not run through the Black Friday season. That's another situation where potential buyers must figure out the right time to pull the trigger.
The Autonomous brand manufactures these smart desks and chairs, which makes it more likely that many will still be available through November.
Another tip that can work for purchasing from any brand on Black Friday is determining if it manufactures the product. When the brand is the direct product seller, it's more likely to have a larger stock of that item.
Monitor Arms
There are a multitude of these available for sale on the Autonomous site. Unlike the popular smart desks and many of the ergonomic chairs, these monitor arms are made by a third party. This means that there might be a lower stock on hand.
These monitor arms are great for building dual monitor setups, which are very popular in the trading world and with people working in architecture or digital design.
PC gamers are another crowd that can truly appreciate the deals on these monitor arms to create their unique setups.
Final Thoughts
With online shopping mainly taking over as the prevalent shopping method, hunting down Black Friday deals has changed completely. The positive side to the online shift is that most of these deals will be available if you time your purchase correctly. These days, only something like a new gaming console launch would have online waiting lines similar to the ones you go through to get tickets for a Taylor Swift concert.   
Anything that you want to purchase online can be there for the taking. Many brands are taking a similar approach to the one that Autonomous is going with for Black Friday. The discounts are going to increase as we get closer to November 24th. 
If you wait too long for a product's discount to increase, you run the risk of it running out. Eventually, most of these products will be restocked, especially if they are great sellers. Bad timing, though, can lead to missing out on a 50% discount because you were hoping to get 70% off.   
The general rule in the current Black Friday landscape is that if you really need the product, buy it early. There's a chance that you'll miss out on an even bigger discount if you wait, but you'd rather have some discount than none. Timing is everything in this new Black Friday; best of luck!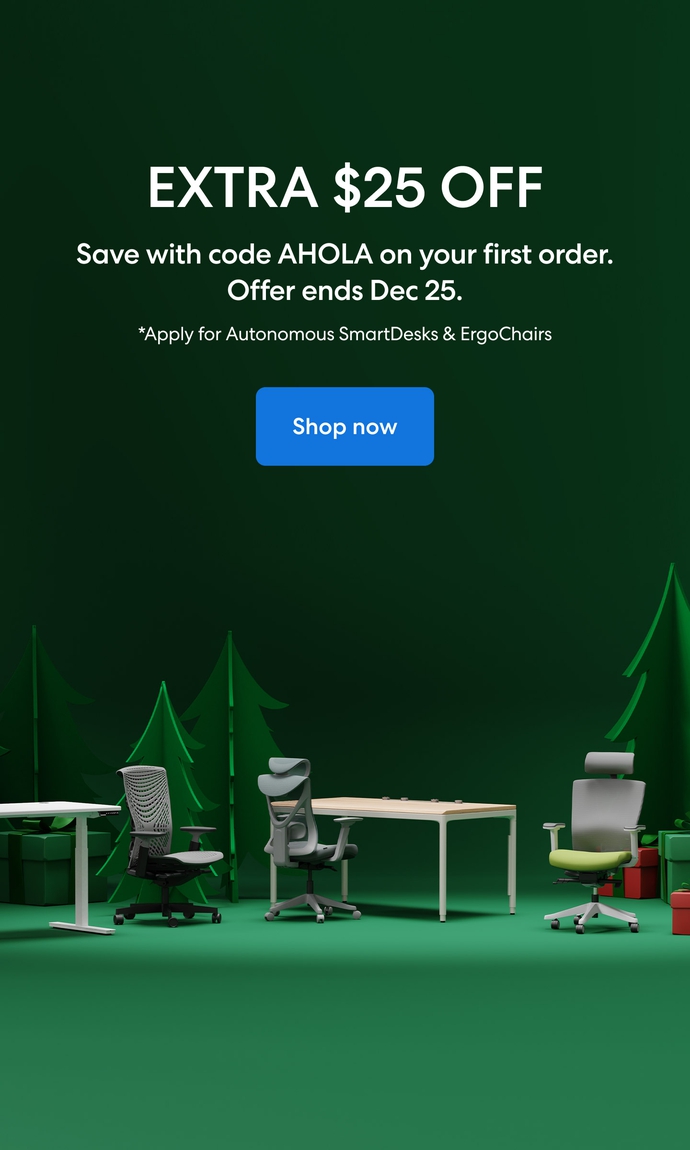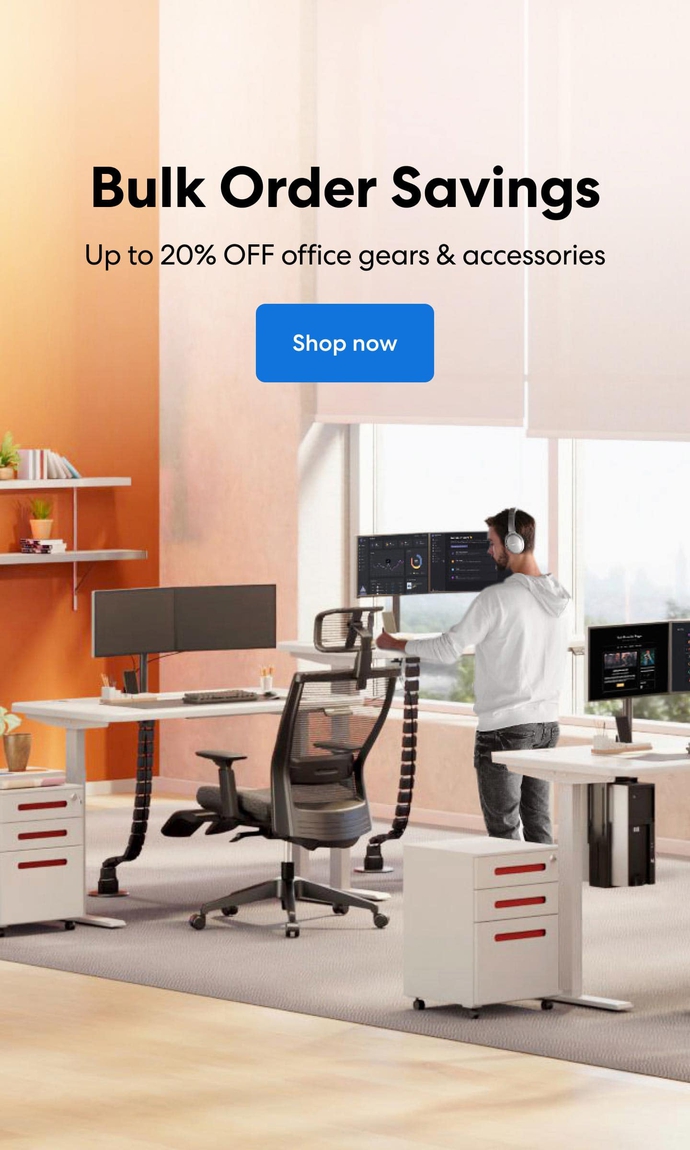 Subcribe newsletter and get $100 OFF.
Receive product updates, special offers, ergo tips, and inspiration form our team.