Technology has given us a plethora of different tools to make our working life much easier. In case you're a remote worker, having those work-from-home essentials may be enough for you to get started with your day. 
However, what about those portable devices we tend to take outside our office? As you may already know, most of these devices don't have such long battery life, and the worst thing that can happen to you in these times is to be left uncommunicated due to lack of battery life. 
Thankfully, there are many home office desk accessories you can start using today to make your life much simpler. One of these items is the portable wireless charger. Overall, these devices aren't necessarily new, but they've been optimized to the point that they've become a staple in everyone's equipment for work. 
If you've been thinking about getting a wireless power bank or a wireless battery charger in general, keep reading this article! We've outlined some of our top product picks for wireless battery chargers further into this page. 
What Is a Wireless Charger (Portable)?
A portable wireless charger (also known as a power bank) is a device that is already embedded with a battery inside it to store power. This means the device can charge any device you plug into it without needing to plug the wireless charger itself into an outlet. 
Overall, a wireless battery charger is one of the most efficient tools people can purchase today since they're much more practical. Did you run out of battery life on your smartphone and aren't anywhere near a power outlet? A magnetic wireless power bank can solve that problem without any issues. 
Keep in mind a magnetic wireless power bank isn't supposed to charge every single one of your devices at all times. These devices come with a particular battery life themselves (usually in the range of 5,000 – 10,000 mAh). Considering most portable devices come with a battery life of under 5,000 mAh, you shouldn't have any problems charging these to 100%. 
Why Would You Need a Portable Wireless Charger?
Someone who has never used a wireless battery charger may be wondering why they would invest their money in one of those devices. In essence, these can be a life-saver in emergencies. You rarely know when your portable device is going to suddenly stop working because of poor battery life.
On the other hand, these smart office devices help you stay prepared in case of any emergencies. Keep in mind these chargers can help power up any portable device, including smartphones, tablets, or even small laptops. 
A wireless power bank isn't exactly necessary to live, but you could take huge advantage of it if you get one. Again, you never know when your device's battery life is going to fail you. You don't always have a power outlet nearby, so having a portable device you can use at any moment you want is much more convenient. 
What to Look for in a Portable Wireless Charger
There are hundreds (if not thousands) of different wireless power banks on the market today, so it may be a bit challenging to choose one that best adapts to your needs. Overall, you must choose the product that has the specifications that you need since not everyone is looking for the same results. 
First, you need to consider if your current device supports wireless charging. Also known as Qi technology, new power banks use this so that you can place your phone or any other device on top of it and start charging right away without the need for any plugs. 
Overall, if your device doesn't support wireless charging, you may be better off looking for a wired power bank. Thankfully, there's a considerable list of products that currently support wireless charging, so it's a matter of taking a look at which one suits your needs the best. 
Next, you have to consider the power bank's charging capacities. Most of these portable wireless chargers come with a set mAh number, such as 10,000. 10,000 mAh is more than enough for most devices nowadays, although you can still find models that go from 25,000 mAh or even higher. 
If you want to save up on your budget, we suggest you stick with the 10,000 mAh range since that's enough power for most portable devices out there today.
Can Portable Wireless Charger Charge Two or More Devices at the Same Time?
It depends, some devices come with different pod numbers. While some come with only one, others may include up to three wireless pods so that you can charge multiple devices at the same time. However, keep in mind that the more pods the device has, the faster it's likely to get drained. 
Logically, the more features the portable wireless power bank includes, the more expensive it will be, so pay attention to all of those details before you make a decision. 
The Best Portable Wireless Chargers for 2022
Now that you know the basics of how a wireless battery charger works, it's time to outline the best options for this year. Keep in mind we made this list based on price, build quality, durability, and other important factors. 
You can spend as much time as you want to decide on one of the following products. All of these magnetic wireless power banks are excellent for your charging needs, so it's a matter of choice depending on your personal preference. 
1. RapidX MyPort Power Bank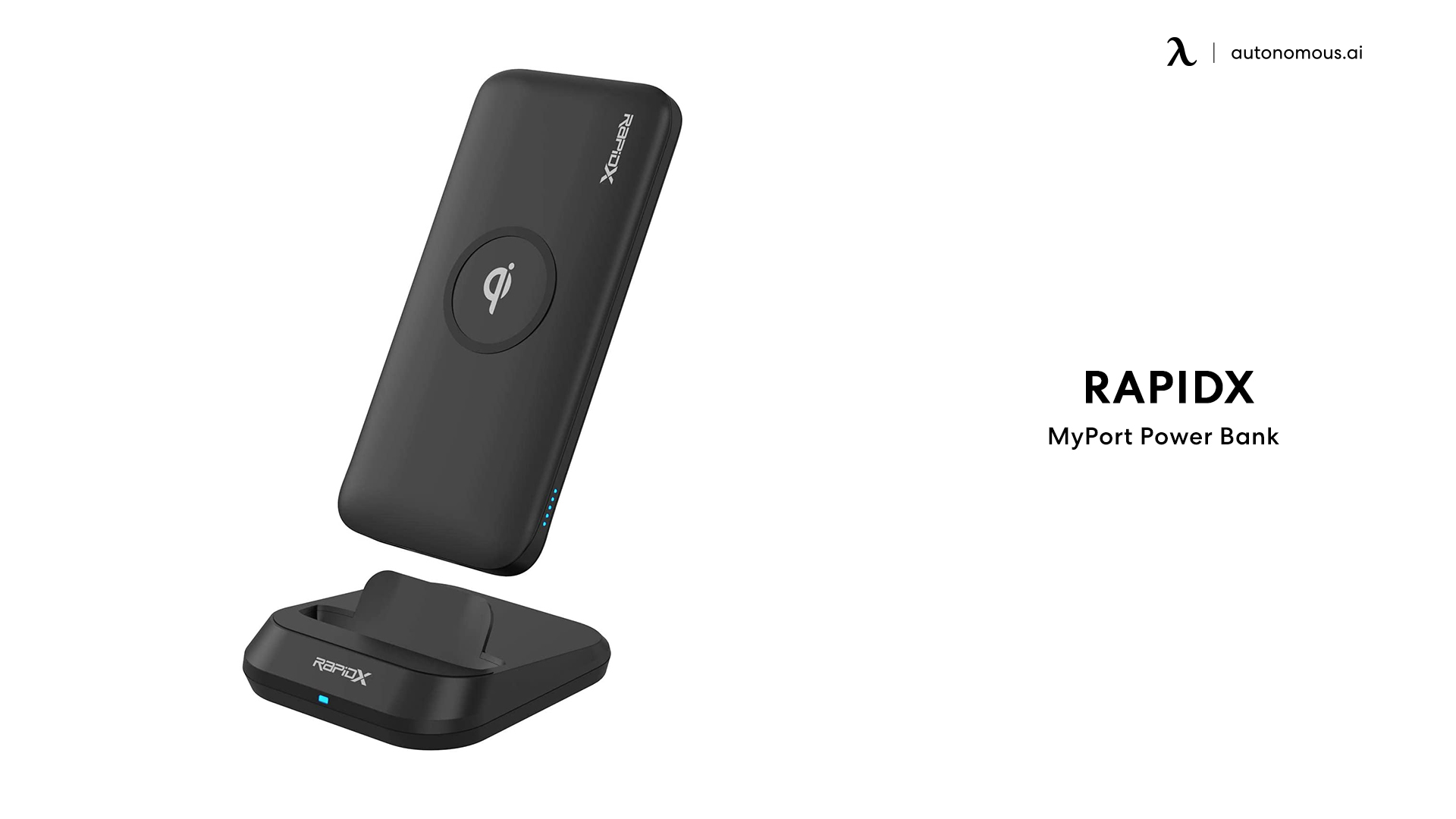 In case you're looking for the absolute best in your charging experience, the RapidX MyPort power bank charger is one of the best you can currently purchase on the market. Overall, it comes with 10,000 mAh in capacity, Qi-certified wireless charging, as well as two USB ports, and a USB-C port for even faster charging. 
As for the design, this power bank looks beautiful and doesn't take up that much space, so you can place this wireless charger at any place you want to without it cluttering any of your space. Keep in mind that, in this particular case, you can use this product as a power bank or as a wireless charging stand. 
Whether you have an iPhone or Android device, all you have to do is to place the device on top of the stand to charge your device. This is one of the most stylish power banks we've seen on the market today, so we believe they pose as one of the best choices for this list. 
2. Lexon Wireless Power Bank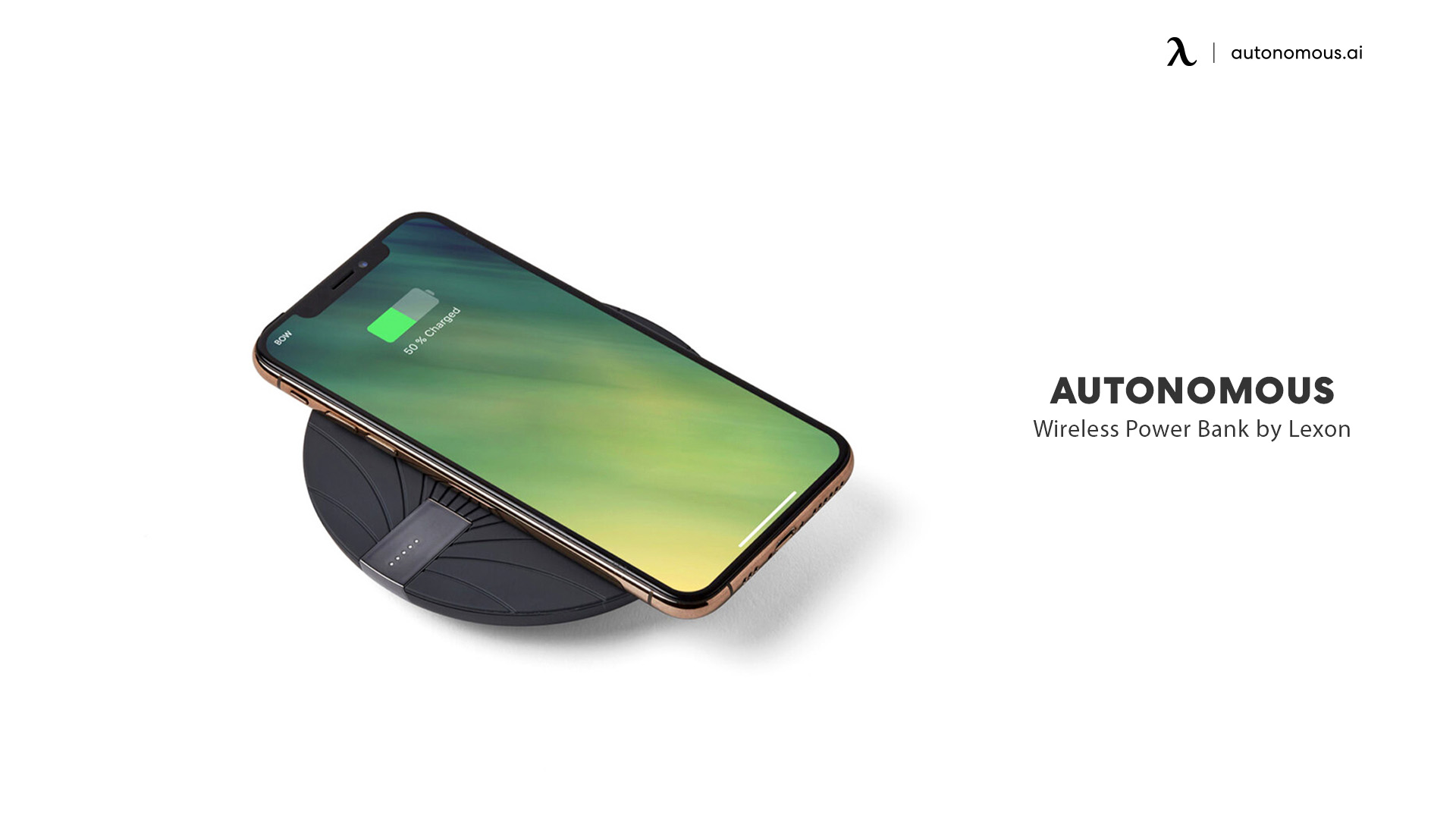 The Lexon Wireless Power Bank is another option for those who are looking for a relatively more affordable option. You can use it as a wireless charger, but you may also use it with any USB-C or USB-A cable, making it compatible with a wide range of devices without any problems. 
Moreover, the Lexon power bank comes with a unique thermal cooling system, making your device not overheat as it charges. When it comes to this Lexon charger, you can choose among two color options: Black or white. Make sure you choose the one that best fits your needs. 
Unfortunately, this portable wireless charger only features a 5,000 mAh capacity, which may not be enough for some users. Still, it's one of the most durable products we've ever tested on this page, so we recommend it for those looking for a small but effective charging solution. 
3. Spruce Charger by Fledging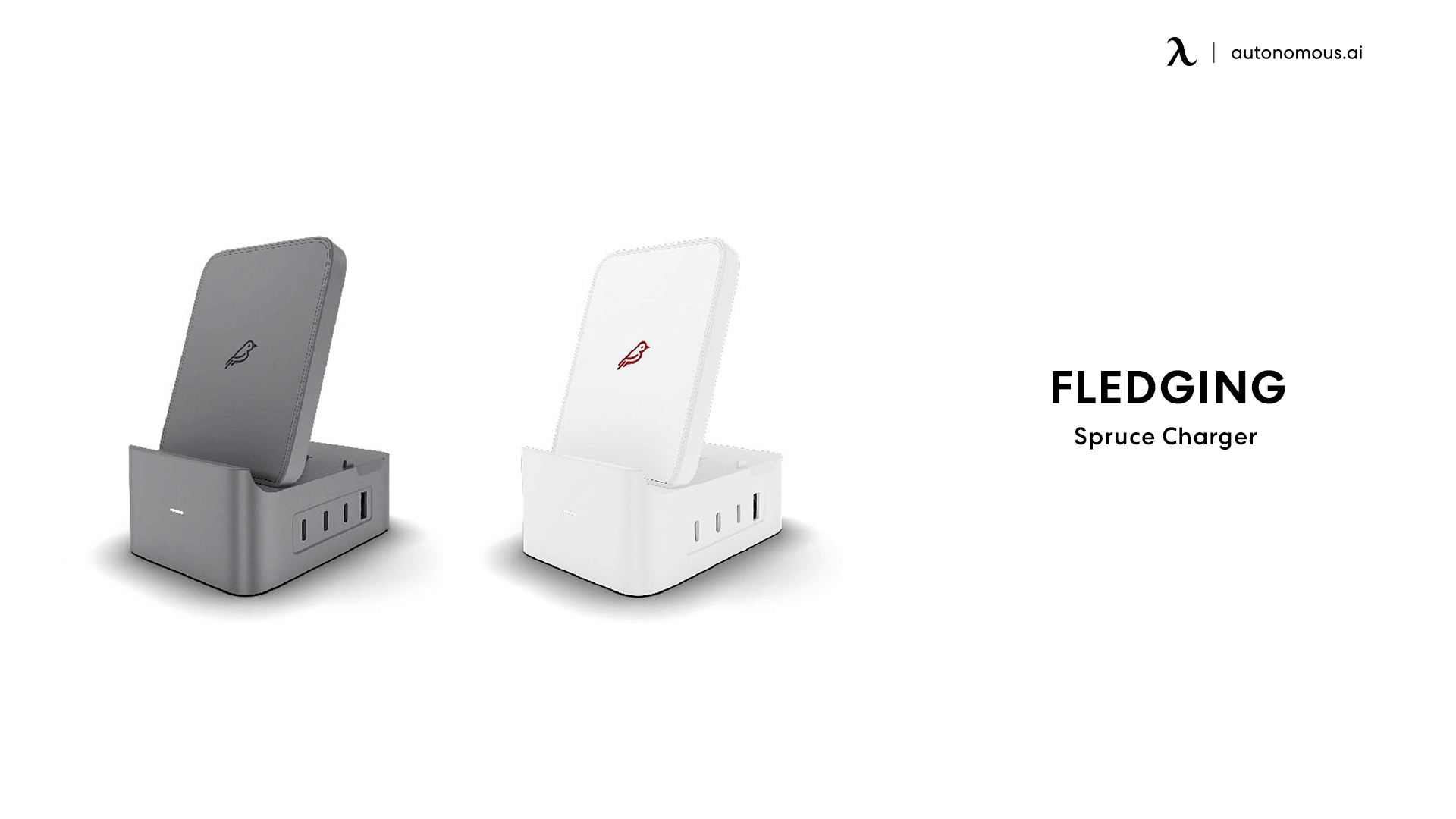 Overall, this is one of the most powerful wireless battery chargers you can currently get online. Not only can you purchase it in three different color options (black, white, and gray), but you can also enjoy it from a five-in-one charging dock. 
As opposed to other products on this list, this product works with Gallium Nitride as a casing instead of silicon, making the charger sturdier. The most remarkable feature of this product is that it can charge up to five devices at the same time, which is outstanding. 
Moreover, the Spruce charger's technology allows it to keep all your devices cool while they charge, preventing overheating problems in the long run. If you have a considerable budget, don't hesitate to buy this one since it is one of the best products you can currently purchase regarding wireless chargers. 
4. Universal Charging Dock by LumiCharge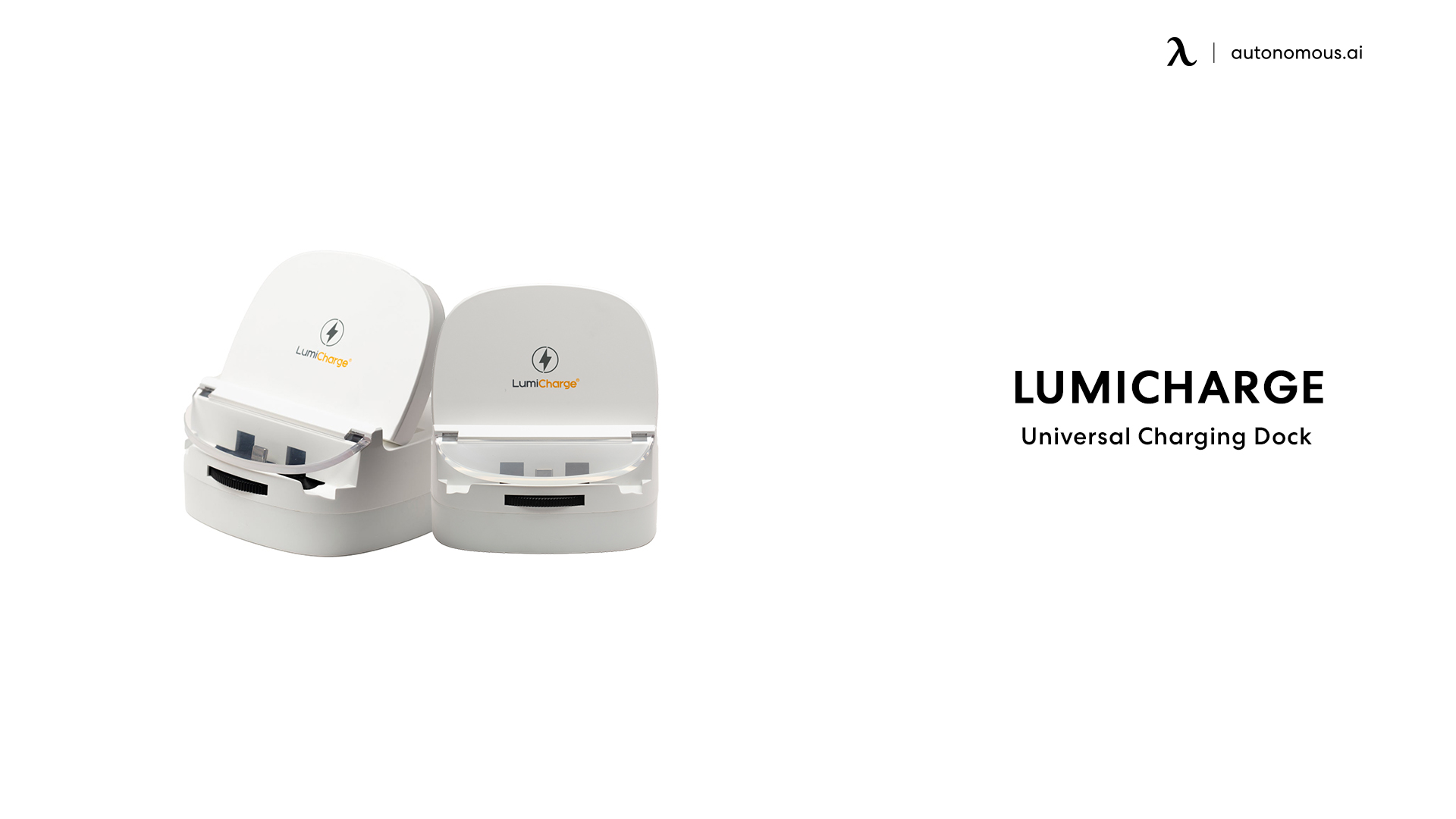 As its name implies, you can charge any kind of device with this product. If you're on a budget or looking for a wireless charger for Android, this may be the perfect option for you. Overall, you can charge tablets and up to three phone types: micro-USB, USB-C, and lighting, meaning you can also charge iPhone devices without any problems. 
This Universal Charging Dock looks simple enough, but it's powerful enough for anyone who may be looking to charge multiple devices simultaneously. Finally, this wireless portable charger has a three-year warranty, so you don't have to worry about any problems with the manufacturer in case something goes wrong. 
Unfortunately, this product only outputs up to 10W, which may not be as fast as other products on the market. If you don't mind charging speeds, then this product may be the right one for you. 
5. Belkin Boost-Up Wireless Charging Station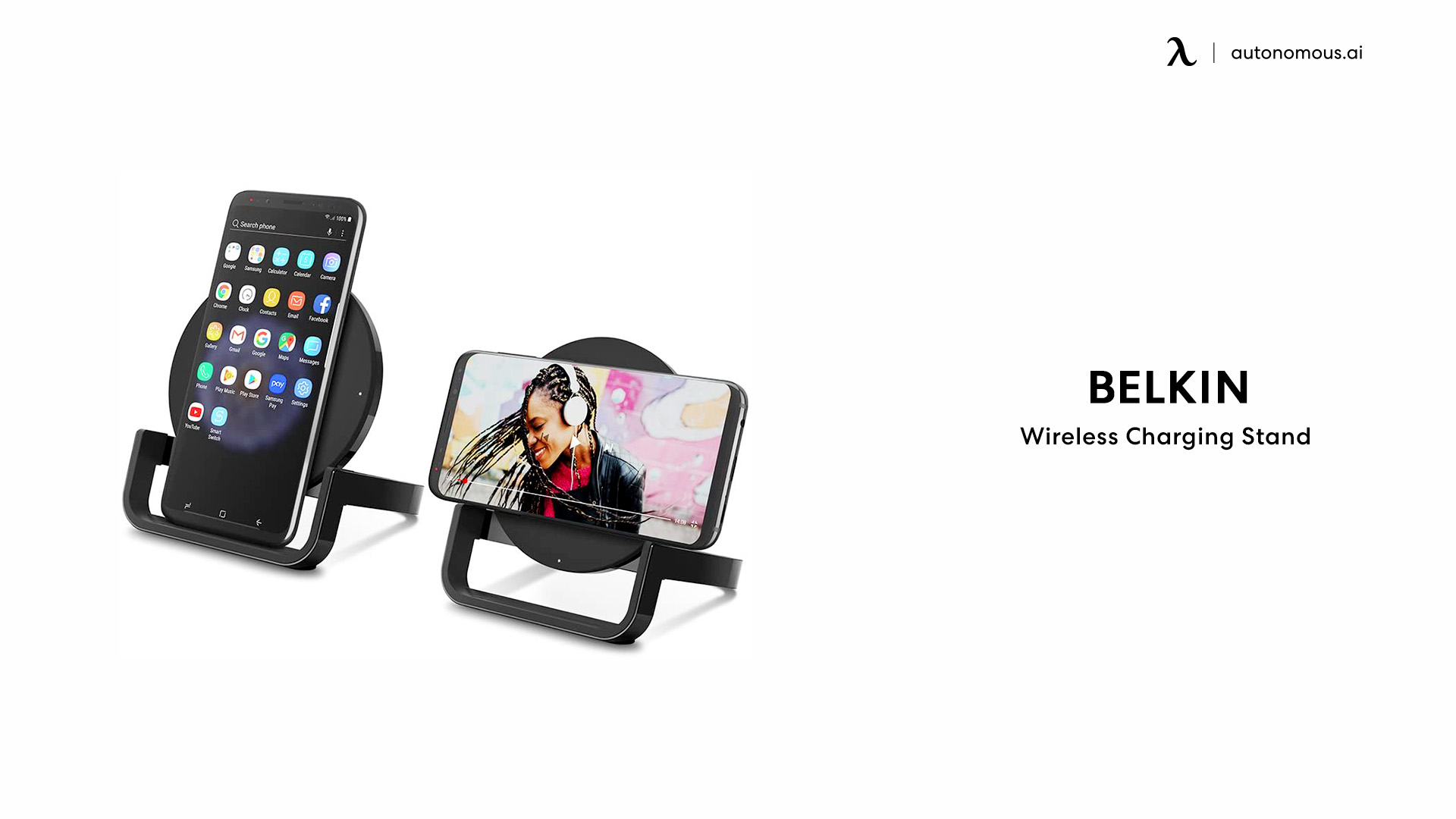 Belkin is one of the most reputable brands when it comes to chargers, cables, and other phone accessories. Overall, it comes in two beautifully-finished colors, and if you're looking for a fast wireless charger, this may be it. 
You can use this product in either portrait or landscape mode, meaning you can keep using your phone while it charges without any problems. The charger also comes with an LED indicator that tells the user whether the device still needs charging or not. 
The only downside to this portable wireless charger is that it may feel a bit bulky for some users. However, we think that's a nice factor to sacrifice in exchange for all the quality the product offers regarding charging. 
6. Nanami Fast Wireless Charger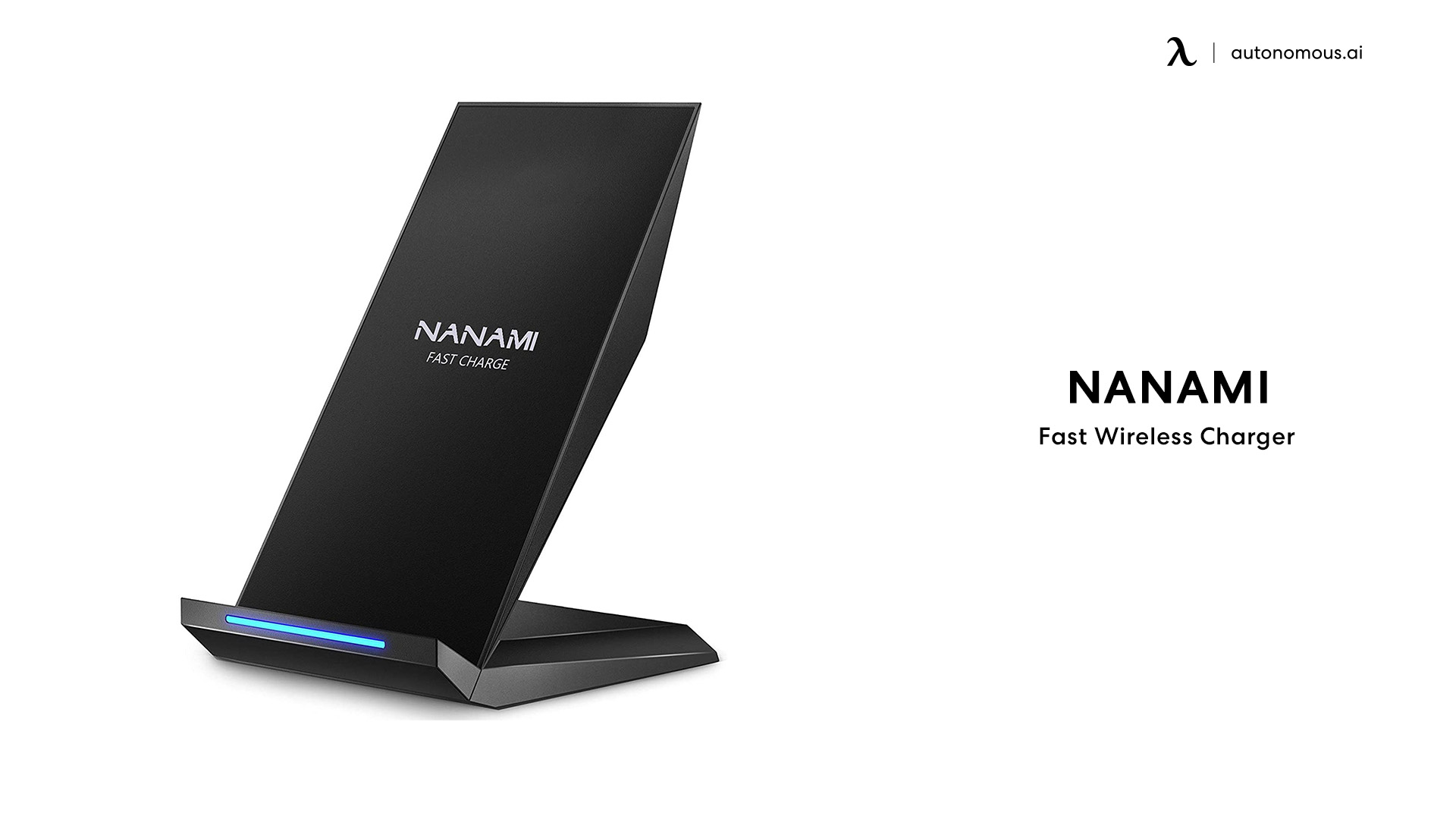 Nanami isn't that well known among portable wireless charging brands. Still, it's one of the most powerful product manufacturers on this list. Overall, this "Fast Charge" product allows you to use either a charging pad for wireless charging or your standard wired charging method. 
If you use the "Fast Charge" capabilities of this product, you can expect up to 10W in charging speed. While we know that isn't much compared to other fast chargers on the market, we believe it's just enough for the average user who may only want to get some extra charge to their device in emergencies. 
Even if your phone is not compatible with fast charging, you can charge your phone at an output of 7.5W, which is still fast enough for some users. 
In case you don't like this product that much, the manufacturers offer a 60-day money-back guarantee, so you're free to test this product if you feel like it. 
7. Kenu BingeBank
Finally, if you're looking for a small, lightweight, and powerful power bank, this may be it. Overall, you can use this product in either landscape or portrait modes for your device. You can use it to charge either Android or iPhone devices without any issues. 
If you need to charge with a USB-C cable, you can rest assured that this product comes with this port too. Moreover, it also features a Quick Charge 3.0 USB-A port for charging some devices.
Considering all the power this product has, we believe it has enough capacity to charge modern devices up to three times before the battery runs out. Overall, we think this is a perfect option for those who want the right balance between price and power. 
Bottom Line
It may not seem like it, but a portable wireless charger can sometimes be a life-saver in some situations. If you want to avoid getting left uncommunicated when you're outside, the benefits of a wireless charger are endless. 
We hope this article has helped you choose among all of the best portable wireless charger options for this year! If you want to know more about other home office essentials, make sure to check other Autonomous blog posts!
Video ads for product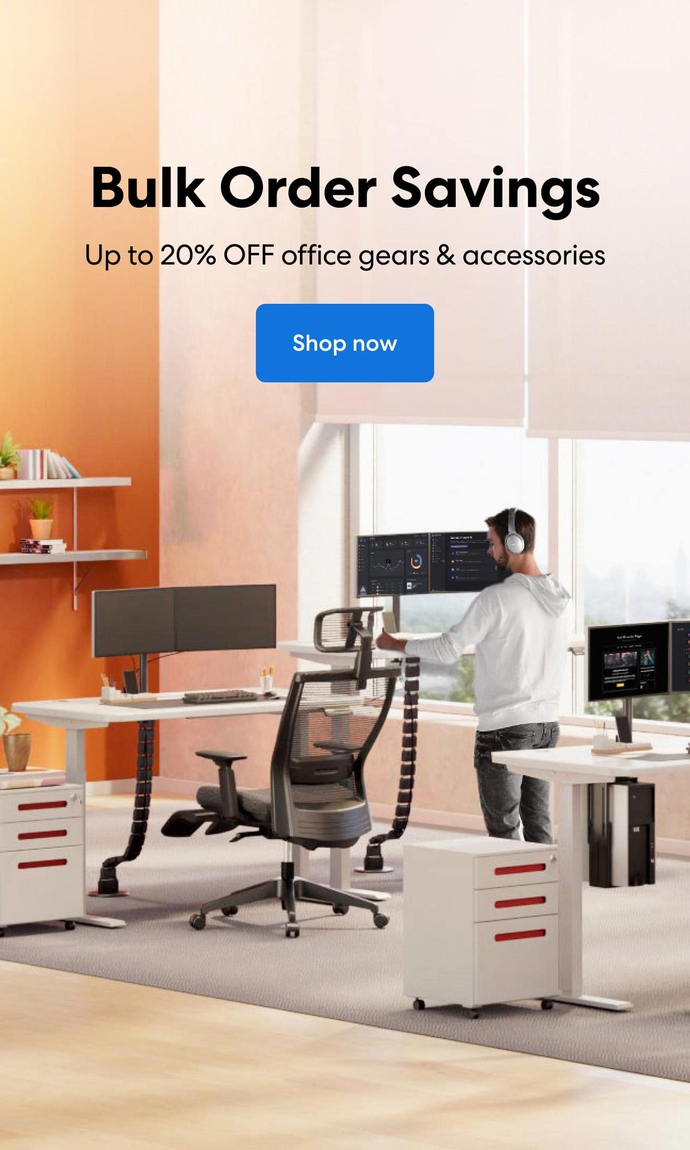 Subcribe newsletter and get $100 OFF.
Receive product updates, special offers, ergo tips, and inspiration form our team.