Latest Updates
The Best Black Friday Tech Deals of 2023 at Autonomous

Autonomous
|
Nov 6, 2023
1,091 Views
Black Friday is traditionally the best day of the year to find discounts on electronic appliances and other high-end gadgets. Autonomous is offering Black Friday tech deals that could allow you to buy the one you always thought was a little too expensive to justify the purchase. Here are some of the top items that will be on sale through its site this year.   
1. GravaStar Alpha65 Fast 65W Wall Charger
Don't let the cute design fool you into thinking that this charger has no practical use. It features three outlets that allow you to charge that number of devices simultaneously. When it comes to desk accessories, this gadget can save you a ton of space, which can allow you to have a clearer work area.   
We would be lying if we said the robotic, sci-fi-inspired design doesn't draw people into this product. As mentioned, the design doesn't tell the full story; you could buy an item that's just as practical but doesn't feature a unique design. Would you really be excited about that purchase, though? 
This is one of those weird tech gadgets that a limited number of people will be able to appreciate. The one thing that may not be ideal for some people is the fact that its three outlets are all different. That means you need to ensure that you have devices that use different USB cables for charging to use up all the outlets.   
The GravaStar Alpha65 Fast 65W Wall Charger is currently going for 49 dollars on the Autonomous website. At that price, it may not be one of the best Black Friday deals on tech. However, the price is expected to come down as we head toward the end of November.
2. Vaultskin VAULTCARD: The RFID Blocking Card
This is one of those items that, if you're really tech-savvy or serious about protecting your personal information, you'll want to have. The normal-looking card will block the signal from contactless payment processing machines, even if they are as close as 8 inches away. 
Why would you want a card that blocks payment scanners? Contactless payment processors have made paying with credit or debit cards much easier. The problem is that the same technology is now being used to steal money from people with this same principle. 
What scammers can now do is process payments from that credit card that's in your wallet with a device that's similar to the one that shops and restaurants use. You may be able to realize that charges are coming into your card from the mobile app, but by then, you're already in a pickle. You'll have to go through a whole process to get that money back. 
If the card works as advertised, it could be one of the best tech deals for Black Friday. Even if it just stops one attempted fraud scheme, you could save yourself the 30-dollar asking price. When you purchase a high-tech desk from Autonomous, you may want to add this item to the cart.
3. GravaStar Sirius P5 Earbuds
There's one element to these earbuds that makes them stand out and makes the price tag on them decent. That's the fact that they feature 40 hours of playtime. However, these batteries tend to reduce their playtime capacity over time. 
With these GravaStar Sirius P5 Earbuds, even if you go to 50% capacity on a full battery, that's still 20 hours of playtime. All you have to do is remember to charge them every night or even every other night, and you'll be okay.   
These earbuds also feature interactable shells, and that's another element that can make them extremely durable. Our only knock is that the box isn't as portable as what you can find in other options. Then again, a larger box to store them in could be helpful to ensure that you don't lose these earbuds. 
The current price tag without the tech Black Friday deals Autonomous promise is 79 dollars. As with many other options on the list, we anticipate the price to drop when we get closer to Black Friday. Even at the current rate, though, this is a decent deal, especially if you consider that second-generation Apple Airpods are still going for 119 dollars.
4. GravaStar Mars Pro Bluetooth Speaker
This item's prevalent Mars Pro theme is the big selling point here. There's no reason to sugarcoat that. If you can find this speaker at a decent price at one of these Black Friday deals for tech, it can make a great Christmas present for fans of the game. 
Also, this speaker can provide a decent audio output. It's not just a gimmick product tied to a video game. You'll need to charge it for 4 hours to be able to get 15 hours of playtime. To ensure you get the most playtime out of this speaker, keep the volume under 65%.  
Many of the product pictures are taken from close range and under the speaker. The idea is to make the speaker look a bit bigger than it is in real life. However, since the pictures are taken at close range, you can see all of the details in the design. 
Don't be surprised if the speaker is a bit smaller in real life than what you expect to receive. At its size, though, it can be one of those office tech gadgets you'll have on your desk since It doesn't take up too much space. The current price tag is 199 dollars, which may seem a bit steep, particularly for people who are not fans of Mars Pro.
5. Yaber ACE K1 Full HD Smart Projector
Projectors may be the most undervalued item in the entire tech landscape, particularly when it comes to products that have practical uses in most office spaces. Any company may need to hold a virtual meeting or share a PowerPoint presentation with multiple people. In many cases, the projectors that are on hand are old equipment that provide low-quality video output. 
This holographic projector with HD video output capabilities will be a major upgrade for many of those workplaces we just referenced. The first thing people may notice is that you can connect to the projector through Bluetooth 5.0. That means you can say goodbye to the multiple cables that were a must-have in projectors from previous generations.   
The price tag is another element that we really liked about this gadget. It's currently going for 281 dollars, but it could drop towards the end of November. Even at the current rate, it could be a justified investment for many office spaces that continue using older equipment.
6. Smart & Green Amande Corde LED Lamp
These lamps fall under the smart home gadgets category more so than items meant for an office. They come with a small cord that's not the strongest element the items feature. Using these cords to help you move the lamps around when needed may be better than using them to hang the lamps from the ceiling.
If there's anything that some people may not find ideal about these lamps, it is that they need to be recharged. They can remain on for about eight hours when they're at full battery capacity. Once those eight hours are up, they must recharge for six hours to be at full capacity again. 
What makes them rather unique is the fact that they can light up in all different colors. Also, they can be controlled via Bluetooth. They are water resistant, shockproof, and float, so they could be an interesting way to light up a pool area. 
The price tag on the smaller version is currently 175 dollars, while the larger option sells for 245. With the discount, they could be one of the most interesting gadgets on the list, particularly when it comes to items that can be used as home decor.
7. Lumicharge Magnetic Wireless Charger & LED Light
This is one of the coolest items on the entire site. The charger allows you to power more than three different devices simultaneously. Since it is magnetic, you won't have problems dealing with cable compatibility issues. 
Those compatibility issues were the ones that had us worried about the first item on the list, which is also a charger. The whole setup is rather compact, so you can put it beside your bed or in your office at work. We didn't love the fact that the Apple Watch charger was not included in the base form of the item.  
It features two outlets at the back of the charger that you can use to hook regular USB cables. That's why we mentioned that you can power over three devices simultaneously. Even without the Apple Watch charger, you'd power four devices if you wanted to.    
This item is already selling for a discounted price of 34 dollars. If it drops below that rate, it could be a great gadget to take a flier on if you're going to make a larger purchase anyway.
8. IPEVO TOTEM 120 Multimodal Collaboration Camera
Who can benefit from this collaboration camera? This question was on our minds when we first looked at this item. It's a great asset for companies that hold virtual meetings in a conference room. You can have all participants in the picture without each of them logging on to individual devices.  
While businesses may benefit more from the advantage of having a wider camera, that can also be a cool element for personal video calls. Especially when the family is trying to get the grandparents in on the call. This gadget will allow one person to set everything up to have older people interact in video calls comfortably. 
The other people that we thought could really benefit from this product are streamers and Youtubers. You can widen the range that you get with your regular web camera. Also, it promises to provide great audio capabilities. That particular element was a bit of a surprise. 
This collaboration camera is currently being sold for 179 dollars. All things considered, it's a decent deal right out of the gate. As with other options on the list, if you wait until Black Friday, you could really get a steal.
9. HEALBE GoBe3 Smart Band
Smart bands are fast becoming a necessity for some people, especially those dealing with certain health issues. One of the biggest problems with the bands that the most popular brands make is that they are too expensive. This HEALBE GoBe3 Smart Band may not have all the features other options offer, but it's sold at a decent price.
You can purchase one of these smart bands for 168 dollars. That price could drop even further thanks to the Black Friday tech deals from Autonomous. The bad will keep track of the user's heart rate, calorie burn rate, and steps, amongst other elements.  
It's a lightweight band option, making it suitable even for people who don't love to wear anything around their wrists. Obviously, an Apple Watch will have more features to offer, but it can feel more bulky for some people, which won't be the case with this band.
10. 6Blu Omnia GaN 100W 2-Port PD Charger: 100W Power Delivery
The final item on the list is really self-explanatory. There's not a lot that can be said to hype up or even criticize this two-port charger. It's nothing too fancy; you get the traditional all-white charger with two outlets instead of one. 
Would this be a better option than any of the other dual chargers that made the list? It's the simplest one, that's for sure. That also makes it the cheapest dual charger on the list as well. 
Currently, it's selling for just under 20 dollars. That may actually seem a bit steep to some people. You may want to remember, though, that the first charger option that features three outlets has a base price of 39 dollars. Are you really getting double the value with that product? 
Ultimately, this is another one of those gadgets you may want to add to the cart when you find the best Black Friday desk deals from Autonomous. It most likely won't be an item that you'll hop on the site to buy on its own.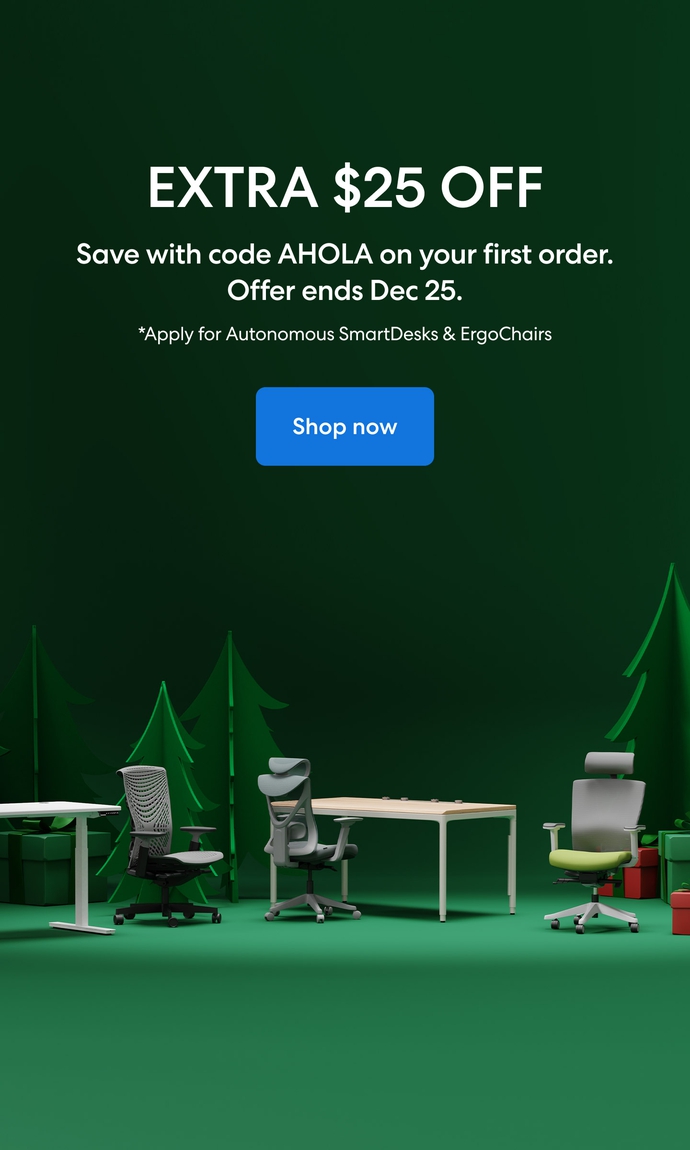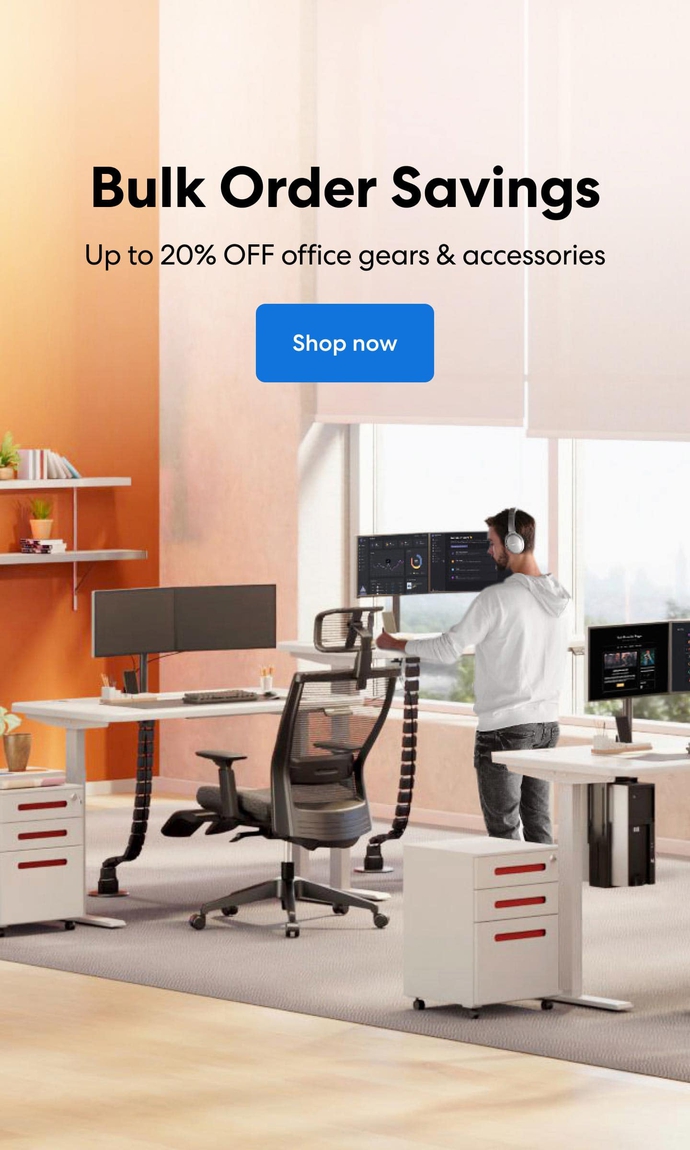 Subcribe newsletter and get $100 OFF.
Receive product updates, special offers, ergo tips, and inspiration form our team.