Smart Products
High Tech Desk for Office in 2023 (12 Products)
3,353 Views
Your work life can completely change if you get a tech desk. These pieces of furniture often offer various innovative features, which might help you be more productive at your job and quickly go through your daily to-do list without any issues. This guide offers the basics you need to know, along with a list of the best 12 high-tech office desks of 2022. 
Difference Between an Ergonomic and a Normal Desk
When you're looking for a high-tech desk, you might wonder why you should get one with ergonomic features. If you're an office worker, there are a number of things you should know, especially if you're buying new furniture for your office.  
Working in an office means your desk needs to fulfill specific needs, which are different from what you might require if you simply need it for your home.
In the case of office work, you might have to spend hours doing repetitive movements (for example, typing in front of your computer screen). Therefore, finding the correct sitting posture to do that without hurting yourself might be challenging if you don't have tech tables.
Ergonomic desks adapt as well as they can to the posture you should maintain while you're working. Therefore, buying these pieces of furniture is the best way to guarantee that you won't have long-term problems, such as pain in your neck, shoulders, back, or even legs. 
Buying a high-tech desk with ergonomic properties means you can adjust its height and choose between its different features, which is something you might not be able to do if you get a regular table. 
Additionally, buying a desk for your workstation means you can improve your productivity. Many people don't know it but having comfortable pieces of furniture lets you sit for hours, and that, in turn, allows you to quickly and efficiently complete your to-dos.
The desk is the center of your workstation. If you don't have a high-quality table with ergonomic features, you probably can't place all the supplies you need around you and work comfortably. Thus, choosing the correct one is probably one of the most important things to do when you're setting up your office. 
Guaranteeing that you get the best ergonomic office desk can be challenging sometimes, especially if you need a model that fits your budget. However, once you buy it, you might quickly realize that it was a fantastic decision to make. 
What Is a Workstation Desk?
Now that you know the difference between a desk with ergonomic properties and a regular table, you might be wondering if there's any discrepancy between a table and a desk specifically designed for a workstation. 
Workstation desks are very specific pieces of furniture. Just because you see a beautiful table doesn't mean that it works for your office, especially if you have different supplies to place on top of it. 
In other words, workstation desks often have specific characteristics to help you while you're working. The piece of furniture you choose has to be spacious enough for you to put your desktop, laptop, keyboard, mouse, and all the office accessories you need to complete your daily tasks.  
At the same time, it must have adjustable features if you want to personalize it depending on your needs. In many cases, you can adjust the height of the desk, which is one of the most convenient options to have. 
Many people believe that not building an ergonomic workstation might be for the best. After all, you have the kitchen table or even your bed and you can probably work there, so why spend more money on an extra desk? 
However, remember that poor posture while you're working can both hinder your productivity and lead to long-term problems. If you're going to be a full-time office worker, you need to guarantee that your surroundings fulfill your needs.  
List of Best High-tech Desks
Since having the ideal high-tech office desk is so crucial for your posture and productivity, you need a list of the best options to choose from. Take a look at the top 13 alternatives you should examine if you want a high-tech desk with fantastic features: 
1. Autonomous' SmartDesk Connect
The first option on the list is a tech desk by Autonomous, the SmartDesk Connect. It's one of the most advanced tables ever created, and it's ideal for you if you want a personalized piece of furniture that actually remembers your preferences. 
This option is an adjustable standing desk that includes anti-collision features, a strong steel frame, seven years of warranty, and much more. Furthermore, the best feature that it offers is that you get to download an app and quickly adjust the desk to fit your needs. 
Each time you sit in front of your desk, the piece of furniture will remember the preferences you chose with the app. Therefore, it's the ultimate high-tech office desk you could have in your workspace. 
2. Autonomous' SmartDesk Pro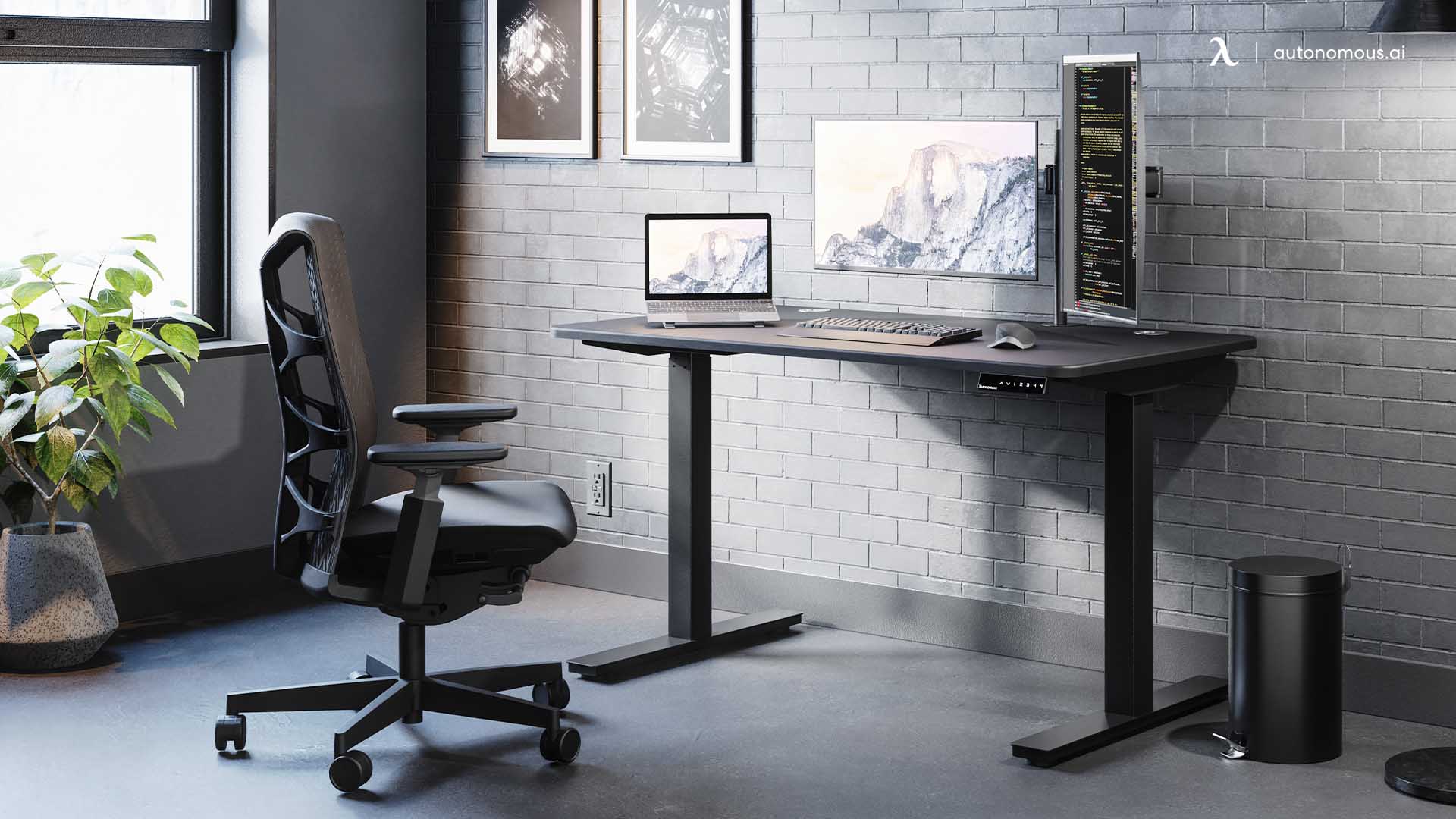 Another tech desk by Autonomous is the SmartDesk Pro, which is one of the brand's most famous options.  
Buying this option means you get to adjust the desk's height. Moreover, you have four programmable settings to choose from and a strong dual motor that's immensely quiet to guarantee you don't get distracted while you're working. 
The SmartDesk Pro is a beautiful desk made of strong materials, including a natural wood top that makes it look sleek and elegant. Its design can enhance the look of your office and make it look fantastic.  
3. Hippo Professional Cantilever Desk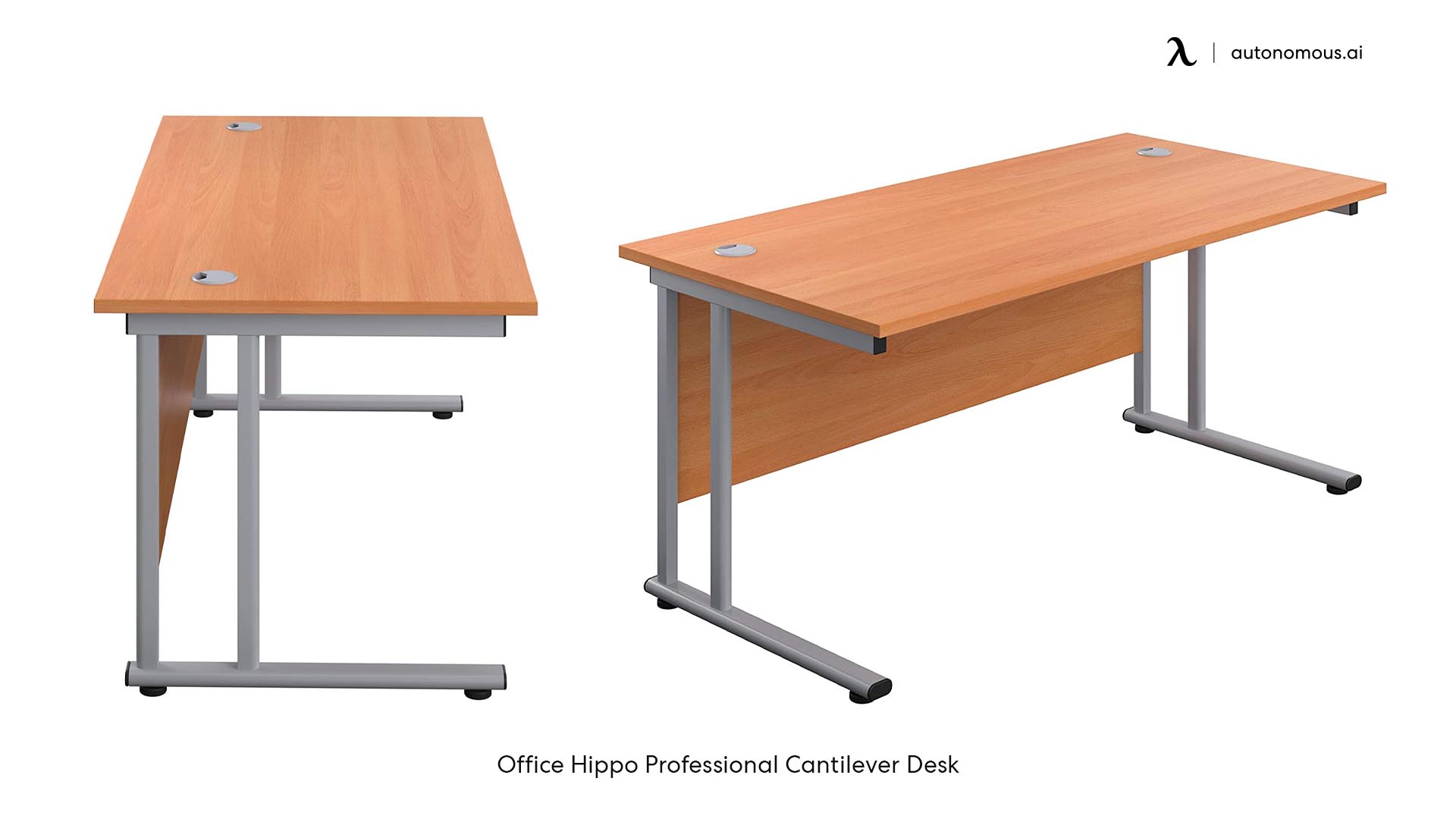 If you're looking for a professional, strong, long-lasting, high-tech desk, then this option might be the ideal one for you.  
One of the best aspects about this high-tech office desk is that it comes in a range of different sizes. Therefore, you can pick the one that fits your needs, all while making sure that it's spacious enough for you to organize your office supplies. 
This professional desk is also a fantastic option if you're on a budget. It's not very expensive, so it's a great alternative if you want a high-quality piece of furniture at an affordable price. 
4. L-shaped Desk by Cassaotima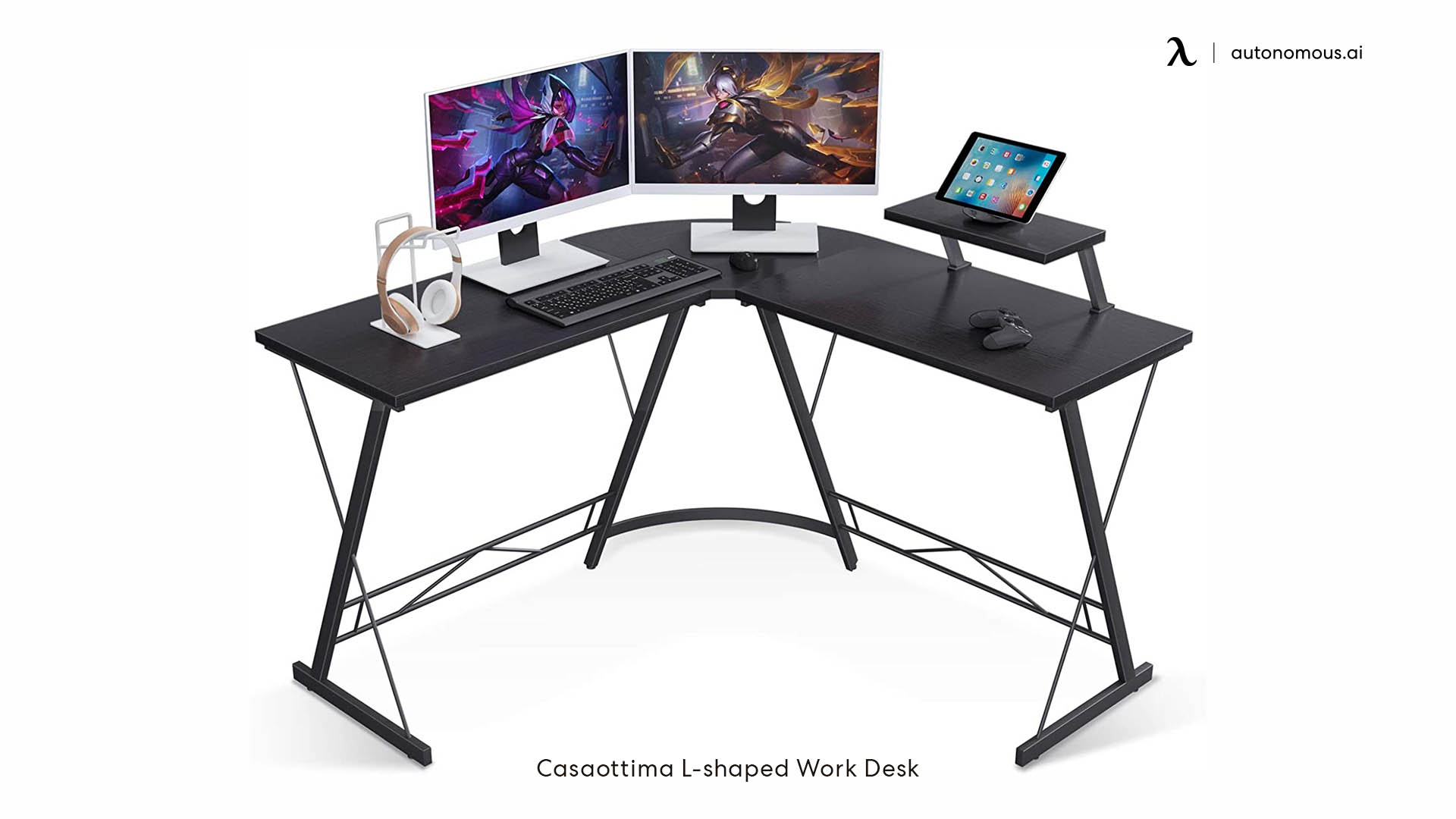 Getting an L-shaped desk is a fantastic idea if you want a piece of furniture that perfectly fits the corner of your workstation. In this case, Cassaotima's option is a beautiful desk with top-quality features. 
The frame of this desk is made of steel and its top is made of MDF, which means it's sturdy and durable, making it a fantastic option if you want a long-term piece of furniture. It also includes a small shelf that you can attach to its left or right side and use to place a second monitor or speakers.  
5. Uplift V2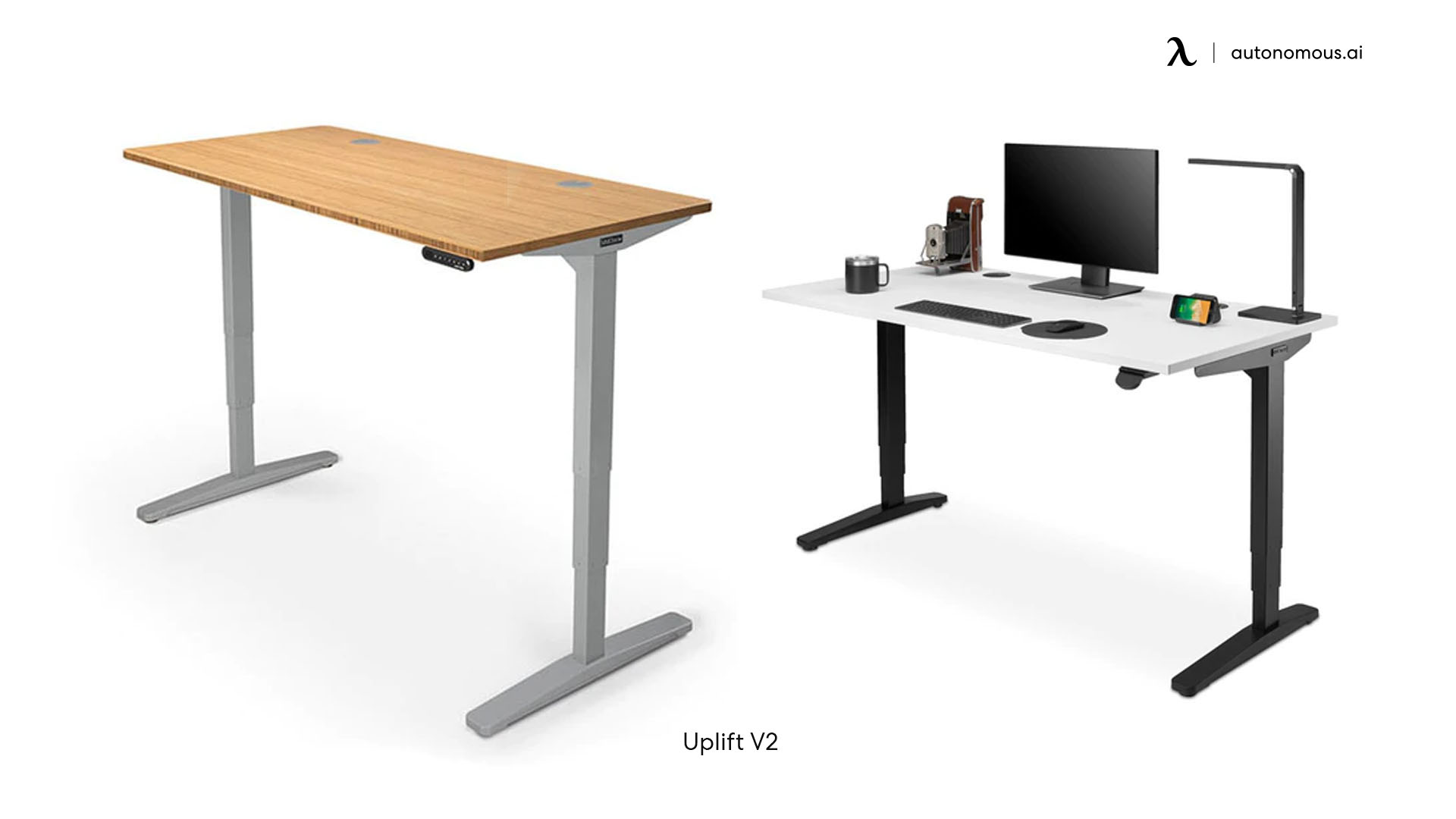 Standing desks are special, and they're usually different from regular high-tech desks. Instead of simply having adjustable features, standing desks also have a motor for you to completely change their height. 
With the Uplift V2, you get a high-tech office desk that oozes quality. Its structure lasts a long time because it includes sturdy materials, the motor is immensely useful, and it has a number of convenient features you might want to have in your office space.  
However, the Uplift V2 is more expensive compared to other models. Therefore, this might not be the ideal option for you if you want a more affordable alternative. 
6. Furinno's Computer Desk
Furinno is one of the most famous brands to offer different desk options. Most alternatives are inexpensive, so these are often a convenient option if you're on a budget. 
The computer desk is a compact tech desk. Thus, it's often a fantastic option if you need to save some space.  
Additionally, Furinno's desk comes with a tray for your keyboard and a specific spot where you can place your computer. Its high-tech features allow you to quickly adjust it to guarantee it fits your needs.  
7. Ikea's Linnmon/Alex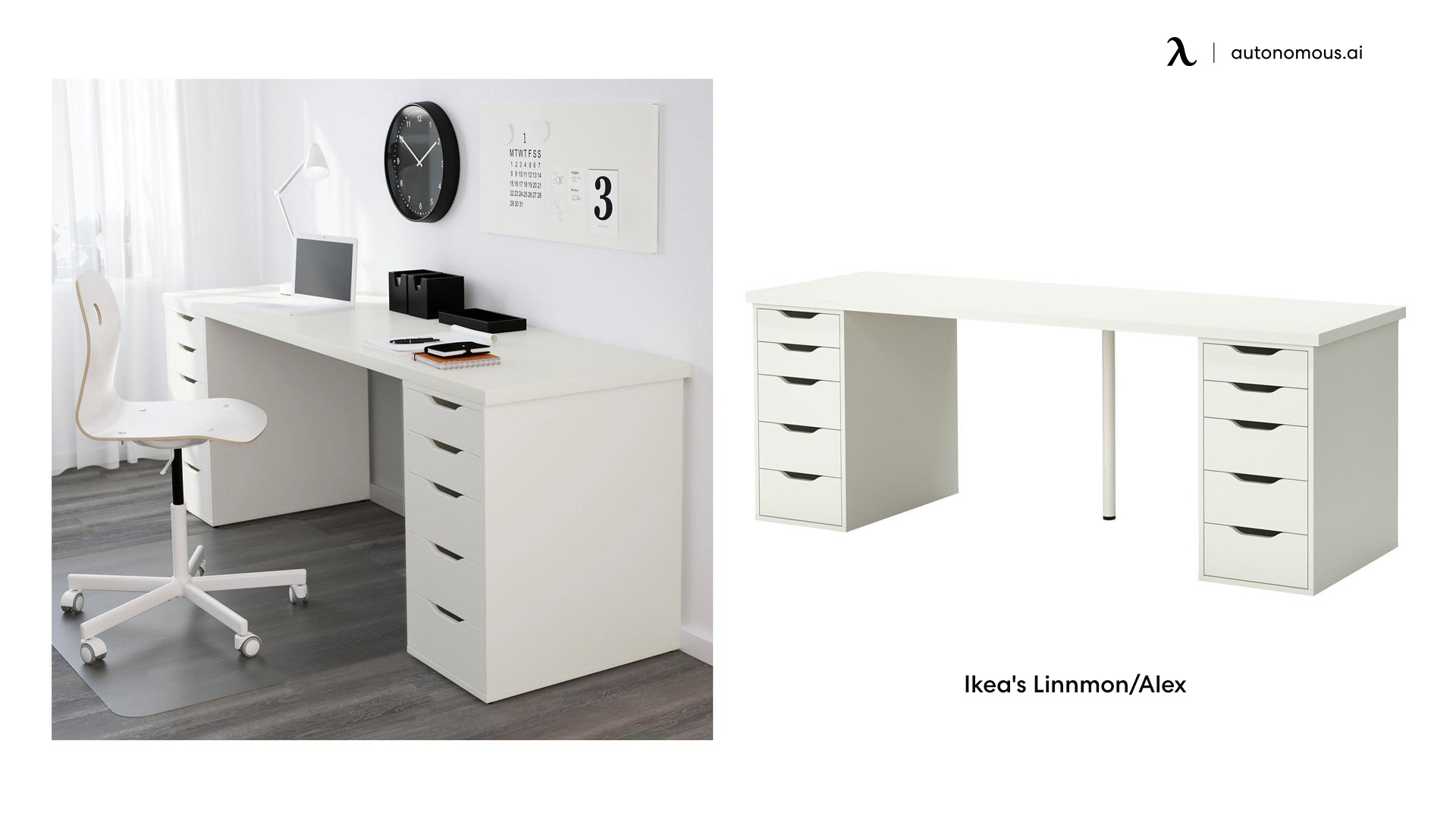 Some people look for a high-tech office desk with various features to choose from. Nonetheless, others prefer technology tables that also give you different storage options. 
If you belong to the second group, Ikea's Linnmon/Alex high-tech office desk might be the ideal pick for you. It has no less than five drawers (three large ones and two small ones), and additional drawers for you to fit even more supplies.  
Furthermore, the desk itself is very big, which is why it might be ideal for you to fit a large desktop or even a couple of monitors. It offers great value for its price, so overall, it's a fantastic option.  
8. Large Reversible Corner Desk by Piranha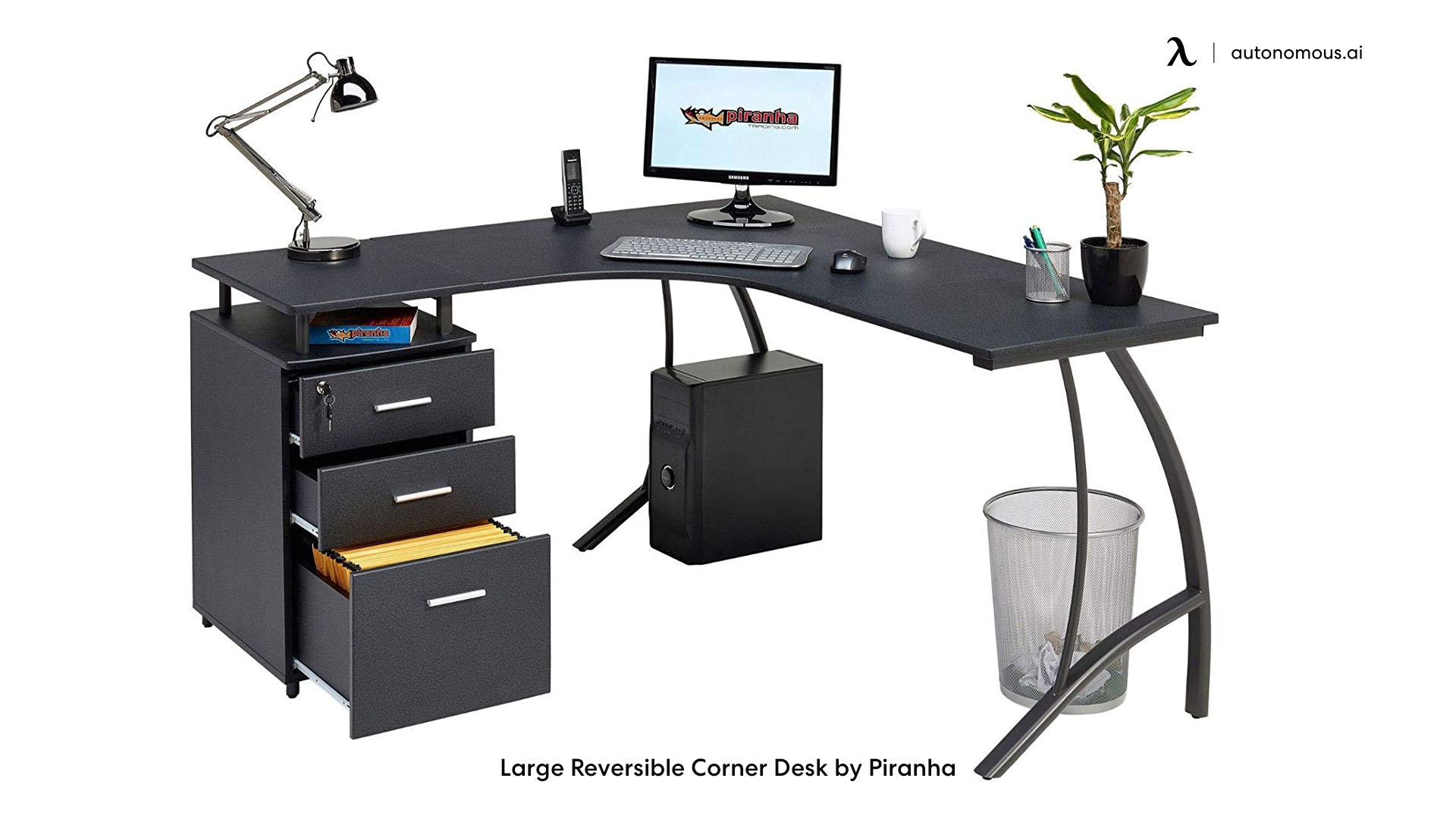 Piranha is not as famous as other brands such as Autonomous, Ikea, or Furinno, but it can still offer a convenient high-tech desk.  
The Large Reversible Corner Desk is a special piece of modern office furniture. It's an L-shaped desk that you can position on your left or right, depending on your specific needs. Therefore, it's ideal for any office space.  
Unlike other technology tables, this one has four different finishes to choose from. You can pick white woodgrain, graphite black, oak, or dark walnut. It might be the perfect model for your office because you can choose the one that matches your style! 
9. John Lewis' Abacus Small Desk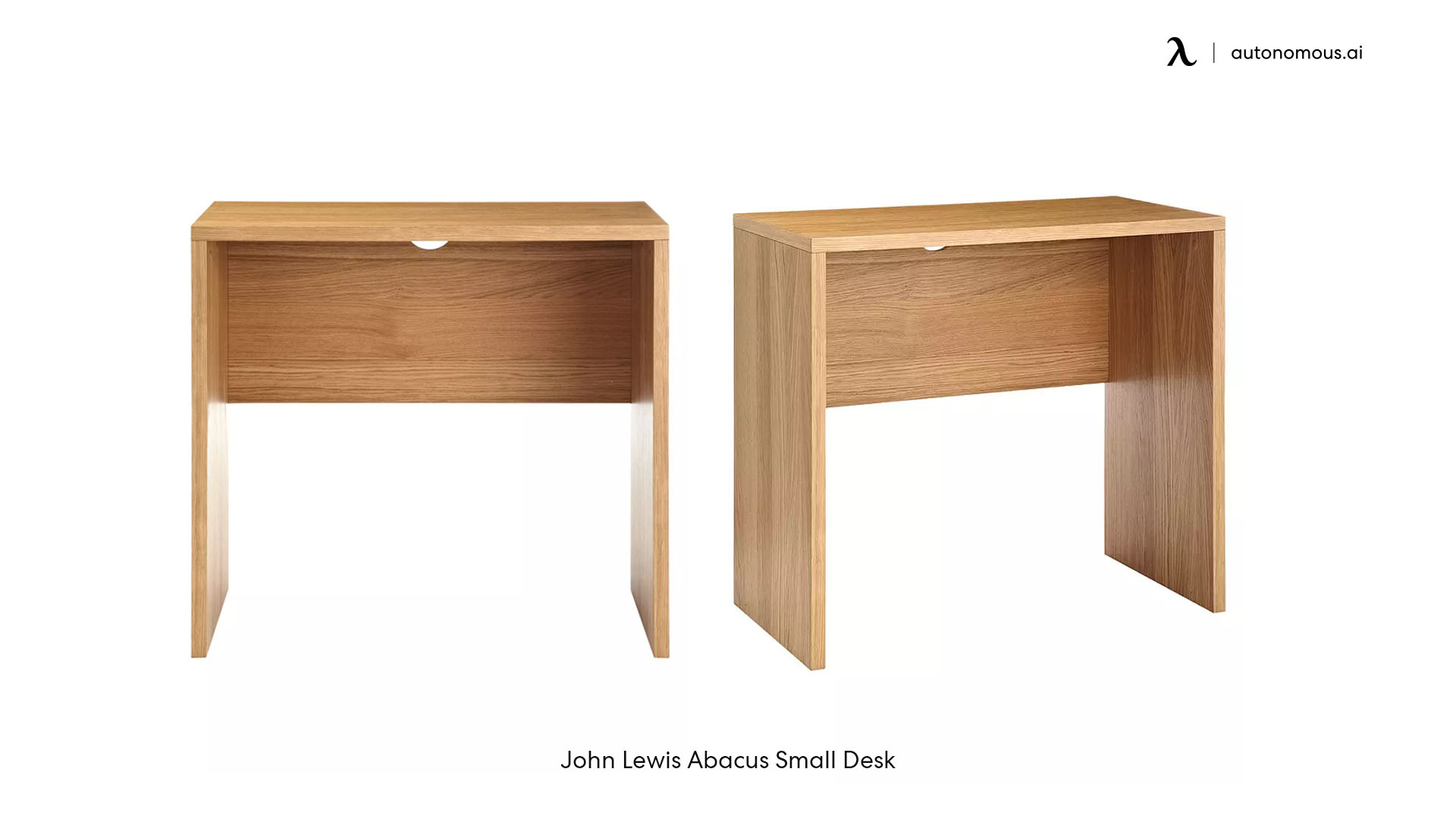 Unfortunately, not everyone has a spacious office to work with. If this is your case, you might want a desk that's spacious enough to fit your supplies, but also small enough for you to put it in your office space without hindering your own mobility. 
John Lewis' Abacus desk is the perfect model for people with small offices. It's a tiny high-tech desk made of oak, and it includes an additional keyboard tray. Therefore, you can use that if you want to be able to slide your keyboard in after you're done using it. 
10. Multipurpose Home Office Sit and Stand Desk
Another small tech desk option is the Multipurpose desk, which, as its name suggests, also offers sit-to-stand features. 
Overall, standing desks are usually more expensive than regular ones because they include a motor and many additional features. Therefore, this high-tech desk option is on the pricier side of the scale.
Even so, the Multipurpose desk is a fantastic alternative, especially if you want to get the best of both worlds. You can sit in front of it, work while standing up, and it will still fit in your office space due to its compact size. 
11. EN1 by Flexispot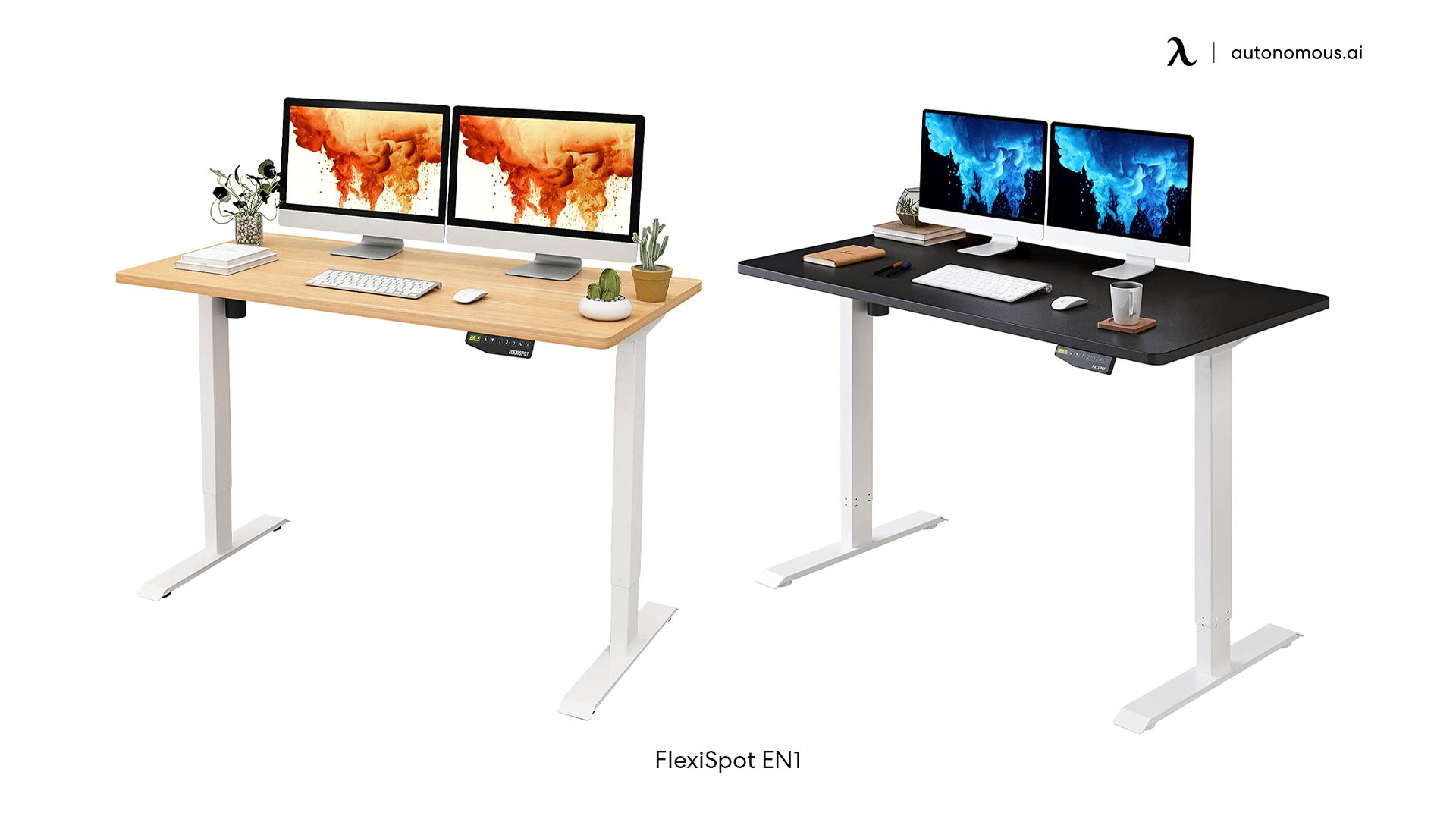 Some office workers want to get a standing desk that's also affordable. Thus, if you want a budget-friendly option, Flexispot might have the perfect model for you – the EN1. 
In terms of affordability, the EN1 is as good as it gets. It's a high-tech desk with fantastic features, even though it doesn't offer as many options as other more expensive pieces of furniture on the market.  
Flexispot's EN1 comes with nifty features, for example, an alarm. The reminder makes a sound when it's time for you to change positions (from sitting to standing or vice versa), and it's a very convenient characteristic to have, especially if you have to spend hours in front of your computer. 
12. Stir Kinetic Desk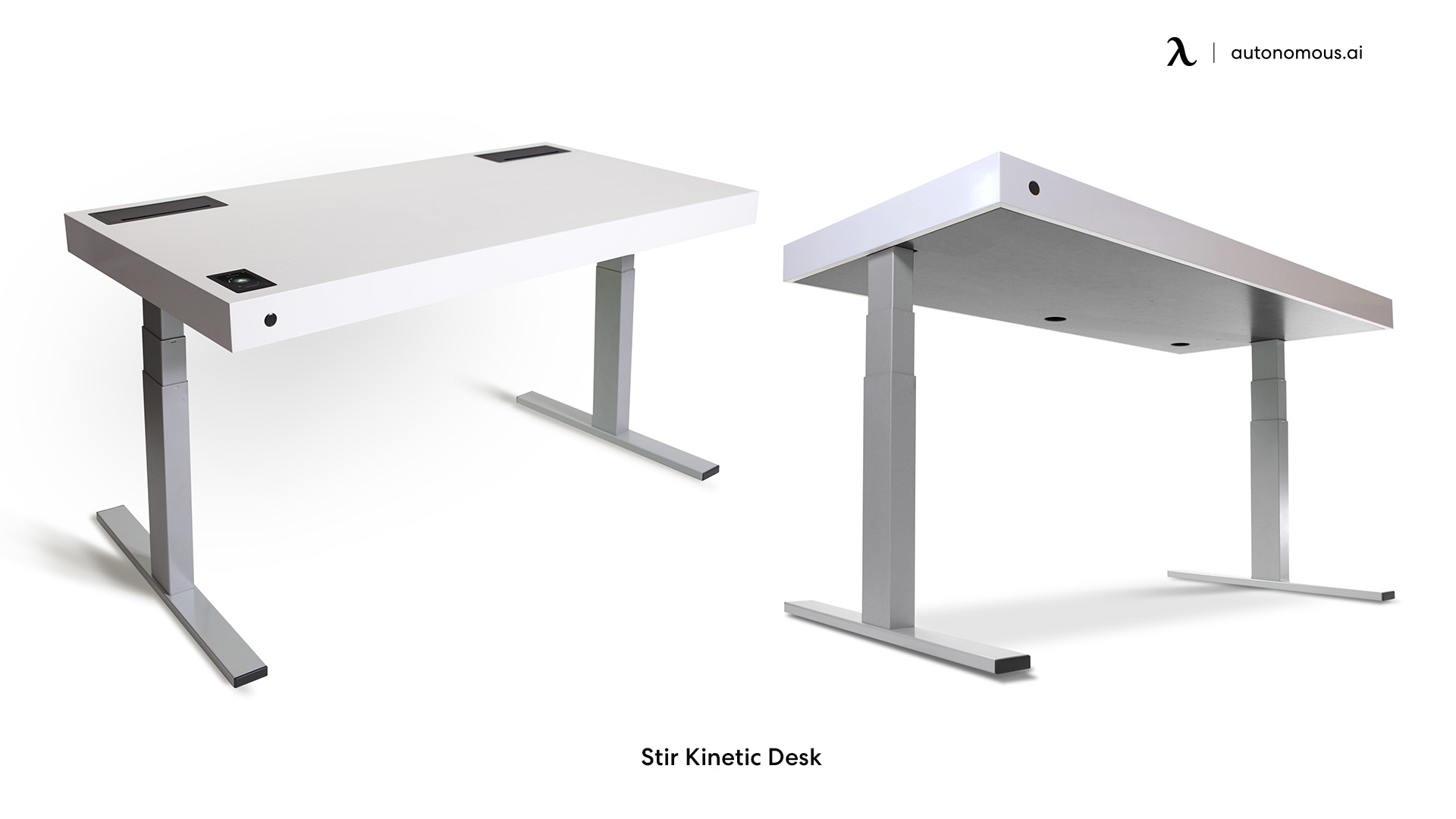 It has been mentioned before but highlighting this is important – sedentarism is one of the main issues of working behind a high-tech office desk. To change this, getting a sit-to-stand desk might be the ideal solution. 
The Stir Kinetic Desk is here to help if you want a customizable piece of furniture that helps you maintain a correct posture. This option has a touchscreen on its tabletop, which allows you to choose between different preset heights. 
With the Stir Kinetic Desk, you simply have to pick the height you want and use the piece of ergonomic office furniture to enhance your productivity. Additionally, it lets you guarantee that you're effective at your job without suffering the consequences of sedentarism! 
Keynote Takeaways
There are a number of high-tech desks to choose from when you want a fantastic piece of furniture with innovative features. Since each model is so unique, you have to consider them separately before picking your favorite one!
Subcribe newsletter and get $100 OFF.
Receive product updates, special offers, ergo tips, and inspiration form our team.
WRITTEN BYAutonomous
We build office products to help you work smarter.