Smart Products
How and Where to Get the Best Deals of Office Chairs in Toronto?

Autonomous
|
Nov 15, 2023
991 Views
No modern office is complete without a high-quality ergonomic desk chair, but how do you pick the right one and secure the best price for office chairs in Toronto?
Any type of furniture should be carefully selected based on style, functionality, practicality, and affordability, but no other item is quite as important as your office chair. A bold statement, yes, but a true one! People may not realize at first just how great an impact their office chair has on their lives, but it is not something to be ignored.
We have put together this helpful guide to help narrow down the selection of ergonomic office chairs Toronto has to offer. It covers the most important things to consider when picking an office chair, a few tips for getting a better deal on the cost, and five places to buy desk chairs for your Toronto office. 
How to Pick the Right Office Chair for You?
Price matters, yes, but there is a lot more to think about first. Before you start comparing companies and deals, you need to pinpoint the features that are most important for you.  
Above all else, your office chair must be comfortable and supportive. Look into the materials and padding to see if they meet your requirements.
Check what adjustable features the chair has. The more, the better, but it must at least have height and backrest angle customization. Other options include armrest height and seat depth.
Seats have varying weight capacities, and not all are suitable for big and tall office workers. Many chairs comfortably support up to around 300 lbs.- but others go up to 400 or 500 lbs.
You may also need to check the height range, if you are particularly tall or short. Your feet should be flat on the ground with your knees at a 45-degree angle. 
There are many more things you can compare, but these are the ones that stand out from a physical point of view. Of course, budget and available space also play a central role in picking the right chair. 
Keeping up with furniture trends and buying the best office furniture solutions for your business can be tricky on a tight budget or for those working in a small space. However, that doesn't mean they need to miss out on the benefits!
Top Tips for Getting the Best Deal on Toronto Office Chairs
Now that you have an overview of how to pick a good ergonomic office chair- let's get down to how to find one at a great price in Toronto.  
Let us start by saying that the price range on high-quality ergo chairs is incredible, with some simple models costing around $100 and many premium models with price tags in the thousands. Even buying one chair can be expensive, and for those kitting out a whole office rather than shopping for just themselves, the numbers can feel pretty intimidating. 
Your budget matters in the desk chair hunt, especially if you are buying bulk office furniture, but there are ways to make your money go further. 
Soon, we will share our top picks for places to buy office chairs and other office furniture in Toronto. First, let's go over a few top tips on how to get the best price for your ideal desk chairs. 
Here are five tips on how to buy furniture for your office (desk chairs specifically) to get a better deal and make your budget go further. 
Tip 1: Look for Bulk Buy Discounts
This one is for business owners and office managers who need to buy multiple chairs for their workspace. If you look in the right place, the more chairs you need to buy, the better the individual price becomes.  
Buying wholesale office chairs can save you a lot of money overall- especially if you combine it with other bulk orders for cabinets or desks. Even if you have plenty of space in your budget, it is still work looking for a supplier that offers discounts on big orders because you can buy higher quality chairs for the same cost as lesser designs.  
Tip 2: Buy Used Office Chairs
The thought of second-hand anything puts a lot of people off, but there is a time and place. If you want great chairs with all the bells and whistles but don't have much to spend, you should consider buying from a company that resells used office furniture. 
We are not talking about buying old chairs from Facebook or in a yard sale (although that is not to say you couldn't find a gem there). Instead, you should look for companies that buy furniture from offices that are closing, renovating, relocating, or just need to get rid of their furniture for whatever reason. 
Products are tested and are usually not resold with any major issues, so you can often find pieces that are good as new at a much lower cost. 
Tip 3: Shop Online Rather than In-Store
Buying furniture online rather than going to a store is usually more convenient and versatile. There is also a much wider selection, which increases your options and gives you a better chance of finding what you want at a price that works. 
Plenty of excellent online office furniture stores deliver to Toronto. Look for one with reasonably fast and cheap delivery costs that serves your area. It is also a good idea to work with a company that offers an easy returns policy just in case your purchases don't work out.
Tip 4: Forget the Big Brands
One of the best ways to get more chairs for your money is to move away from the big-name brands. It is easy to get caught up with popular brands because they seem reliable and trustworthy- but when it comes down to the actual design and function of the chair, you can usually find almost identical products elsewhere. 
Sometimes, you can actually get a better chair with more ergonomic features, higher-quality materials, and a more aesthetically pleasing design from a lesser-known brand for the same price as a basic model from a big name. 
We get it- having the brand is desirable, but there are many companies out there making their own ergonomic chairs that more than compete on quality and style- and easily win the battle on pricing. 
Tip 5: Shop the Sales
Last but not least, look for offers and sales. You can often find last year's models or older versions of an updated design at a discounted price to clear stock. 
Just because they are on sale or a newer design is on the market, it doesn't mean it is not still a great ergonomic chair. If you want to save money, search for an office chair sale Toronto- either in a store, showroom, or online store.
You can also find discount desks and plenty of savings on other office essentials by shopping in sales. Having the latest designs is not always necessary, and many great designs end up on sale simply because another model is being pushed instead. 
Some companies also offer deals and discounts on their full ranges at certain times of the year. Follow your favorite stores to keep updated with any sales they are planning.
Where to Buy Office Chairs in Toronto at a Great Price: Five Top Picks
1. Autonomous
Autonomous is a leading online retailer and manufacturer of high-quality office furniture and supplies. The ErgoChair and SmartDesk ranges are second to none, offering all the benefits and style of the biggest brand names at more affordable prices. 
There are several fantastic ergonomic office chairs to choose from, ranging from around $300 to $500. To make it even better, Autonomous offers wholesale discounts for bulk orders, so you can stretch your budget further. 
It is an online store only but delivers to Toronto free of charge.
2. MAP Office Furniture
MAP Office Furniture is an excellent choice for Toronto buyers who are interested in used office chairs and other equipment. The company also sells new items, but it is the pre-owned service that earned it a spot on our list. 
Budgeting for office supplies can be tricky, and if you want the best brands without the price tag, second-hand is the way to go. MAP Office Furniture has a fantastic selection of office chairs available for sale online or in the nearby showroom (based in Mississauga).
3. Canadian Tire
Nicknamed Canada's Store, Canadian Tire is a one-stop shop for all kinds of useful products. The name may not automatically scream office wear, but there is actually an excellent selection of chairs available at very reasonable prices. 
Canadian Tire stocks a few different brands- not premium ones, but tried and tested manufacturers of reliable products. Prices range from around $150 to $400, and there are often some models moved into clearance sales. 
You can browse the full catalog online or visit one of the many stores in Toronto if you want to test them out first. If you buy online, you have the option to pick up the chair free of charge from a nearby store or have it delivered to your address.
4. The Furniture Guys
The Furniture Guys is a Toronto-based furniture company that sells office chairs and much more. As well as selling items online at great prices, the company also has a store in Toronto and offers design, planning, and installation services if you want help setting up your new office. 
There are no bulk buy offers available online, but if you are buying products as part of a complete design and installation package, the overall value for money is great. It is also handy that you can speak with an expert about how to plan a whole design.  
You have a reasonable selection of chair designs that range from around $250 to $450- a fantastic price range for an ergonomic chair. There are a couple of recognizable brand names sold as well as some models without the brand name but with plenty of style and functionality.
5. The Office Shop
The Office Shop is a well-known Toronto furniture store that provides a range of services to help people get more out of their offices. It sells a range of ergonomic office chairs, and although not the cheapest, is great value for money for all services combined.
Summary
You can get the best deal on office chairs in Toronto by shopping in the right places, moving away from only shopping the big brands, and looking for bulk order deals. Autonomous is the best place overall for quality, cost-efficiency, and variety. 
Remember, your office chair is the most important piece of furniture of all, so it is worth investing in the best you can get with your budget.  
Frequently Asked Questions 
Why and how are ergonomics important for employees' health? 
Many office workers spend long hours day after day sitting in their office chairs. Sitting down for too long is not good for the body, and it is even worse if the chair you use doesn't support you in the right places.
Ergonomic chair design centers around the natural curve of the spine to promote good posture and avoid strain. Even sitting down, muscles are working, and if you are in an uncomfortable chair that doesn't support you, you can get tired and sore. 
Over time, this can lead to chronic back pain, fatigue, repetitive strain injuries, and lasting discomfort. All these things have a knock-on effect on people's mental health. 
A comfortable ergonomic chair and a sit-stand desk prevent these issues and can even help improve existing conditions. 
What type of office chair is best for long hours? 
Most ergonomic chairs are designed with long hours of use in mind, but some more so than others. Some of the best chairs for extended use are ergonomic gaming chairs, which usually have more padding and are built for uninterrupted use by gamers. 
If you don't like the gamer style for your professional workspace, you should look for an ergonomic design with multiple adjustable supportive features, including arm, neck, and leg rests.  
What material is best for office chairs for long hours of sitting? 
There is some debate about what the best choice of material is for an office chair. Some people swear by leather, while others prefer modern fabrics designed for enhanced comfort. 
The most important thing for long hours is breathability. A mesh back is generally considered best since it allows consistent airflow and stops you from feeling clammy and uncomfortable. On the seat itself, you should pick something easy to clean, doesn't irritate your skin, and provides lasting comfort.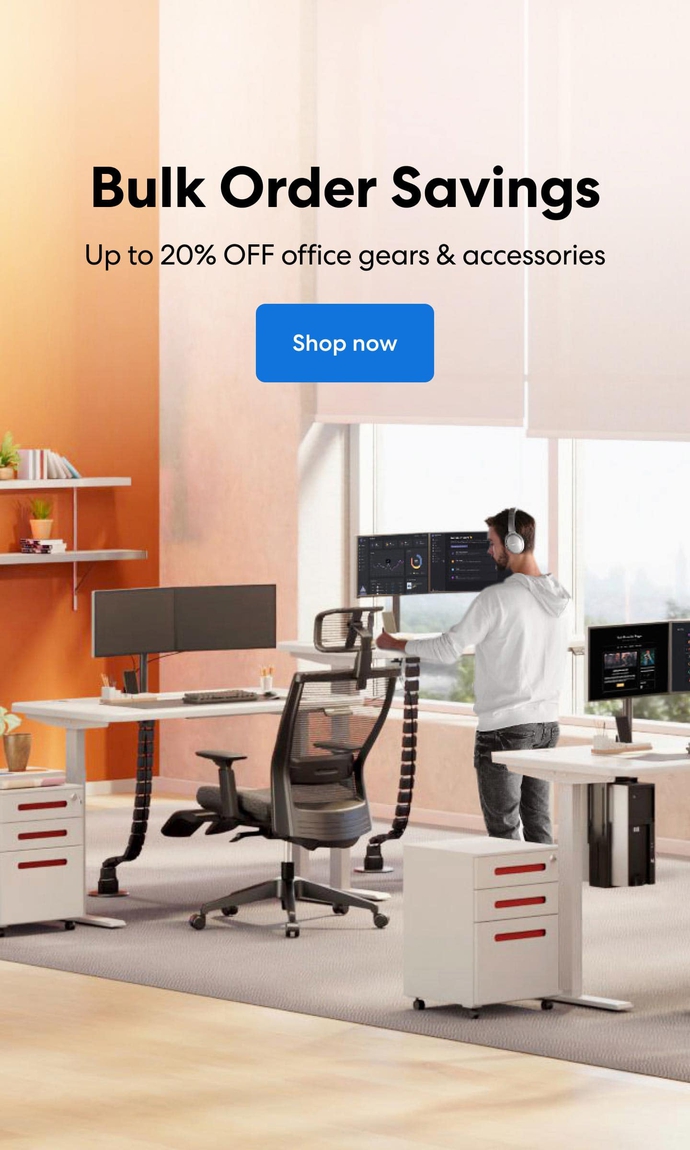 Subcribe newsletter and get $100 OFF.
Receive product updates, special offers, ergo tips, and inspiration form our team.