If you want to buy yourself something special before the festive season, why not consider getting your hands on a Black Friday gaming desk? At any other time, such a desk would be very expensive, but if you go shopping on the 24th of November this year, the low prices might just shock you. 
This is because Black Friday is the one day in the whole year when prices for all kinds of products and services will be at an all-time low. If you want to buy a standing desk or an L-shaped gaming desk, Black Friday is the day to do so.
Things to Consider Before Buying a Gaming Desk This Black Friday 2023
As attractive as some of these Black Friday gaming desk deals are, it does not mean you have to throw all caution to the wind and go on a spending spree. I have been an avid Black Friday shopper for many years. In fact, I own a Black Friday gaming desk that I bought from Autonomous years ago that is still serving me faithfully. 
If you want to enjoy the same experience, I suggest you consider the following before buying a gaming desk this Black Friday: 
The regular cost of the desk compared to the cost on Black Friday
Comparison of the promotion with other Black Friday desk sales
Accessibility of the store during Black Friday
Trustworthiness and reliability of the furniture store
Any Thanksgiving promotions that may offer lower prices
Your budget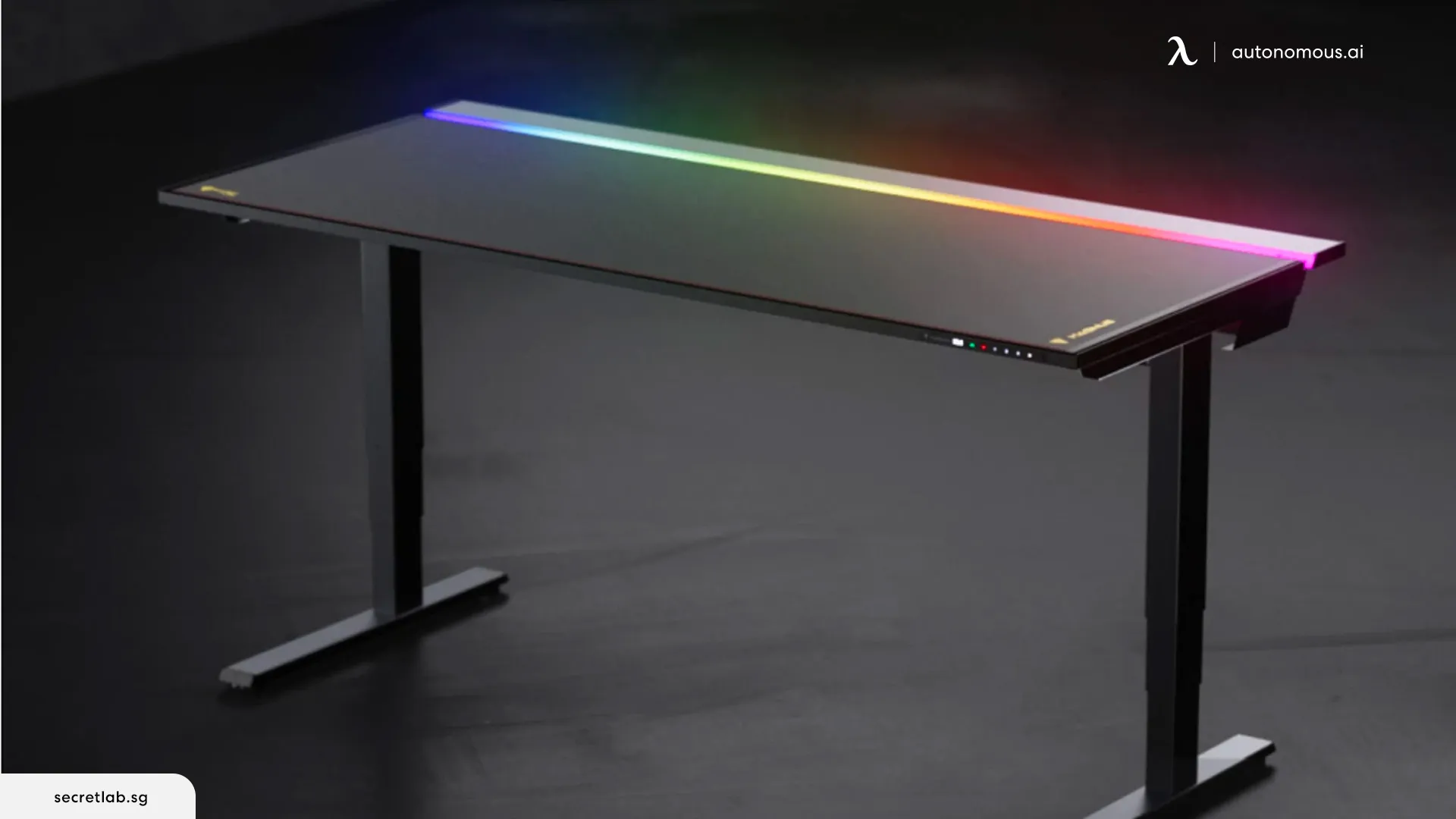 What to Expect at Black Friday Gaming Desk Deals 2023?
As much as I enjoyed taking part in last year's gaming desk Black Friday deals, the experience was not entirely pleasant. If you are planning on going after any Black Friday desk deals at your closest shopping mall, you need to know what to expect. 
Firstly, the traffic from your house to the shopping mall is likely to be extreme if you live in a big city, especially if you get a late start. Also, when you get there, expect the mall to be packed with shoppers. This means finding the stuff you want will be difficult, and you will also have to stand in line for much longer.
Another important thing that first-time Black Friday shoppers do not expect is the volume of great promotions being offered. If you are not used to dealing with pushy salesmen, get ready for a crash course on Black Friday. You need to be careful. Otherwise, you will easily get confused by the many offers being thrown in your face. 
The Best Gaming Desks to Buy on 2023 Black Friday
Shopping on Black Friday is not always easy. If you need someone to point you in the right direction, consider buying any of the following Black Friday gaming desk brands: 
1. Autonomous SmartDesk Core
My team was very excited to finally get a chance to review the popular Autonomous SmartDesk Core, and I must say, the desk lived up to all the hype. Looking back on my experience with this desk, I am not surprised that more than 2,000 Microsoft employees use the SmartDesk Core. 
If you are looking for a home standing desk that easily doubles as a gaming station, the Autonomous SmartDesk Core is the right option for you. This particular review is aimed at customers who have always wanted a versatile desk that can handle a wide range of tasks. 
Features 
The most obvious feature of this desk is the adjustable height. These days, with so much emphasis being placed on the need for ergonomic furniture, this is something we consider a must-have feature. We loved the quiet motor and easy-to-use controls when adjusting the height, which is perfect for an open-plan office such as ours. 
This desk also comes with impressive anti-collision technology that gives you peace of mind whenever you adjust the height. With a five-year warranty, this is a desk that you can use for many years to come.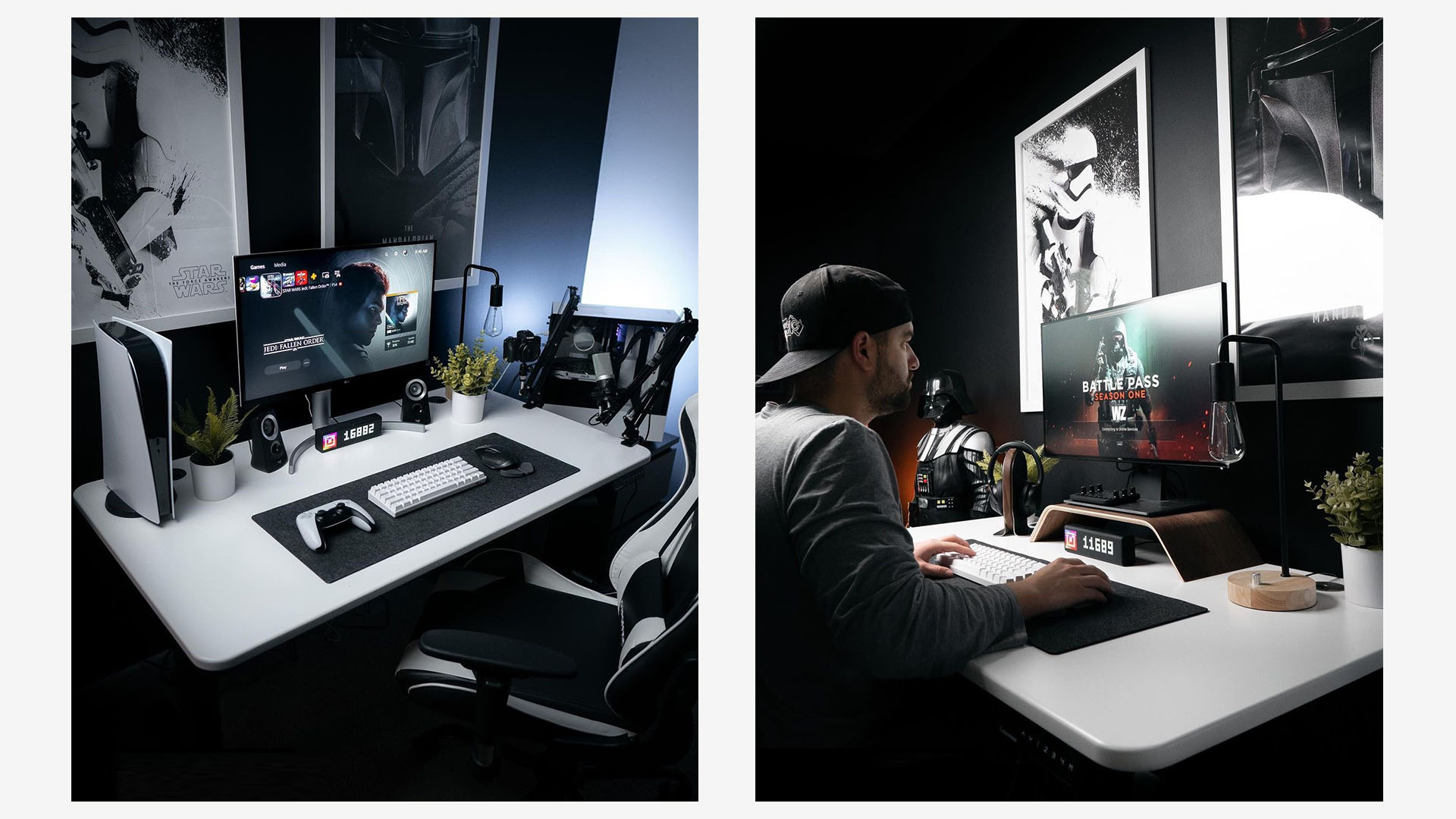 Autonomous SmartDesk Core
Pros

Cons

Easy-to-use controls
No storage spaces
Quiet motor
Cannot accommodate two people comfortably
Anti-collision technology
Wide range of colors
Impressive range of height
2. SecretLab Magnus Pro XL
One of the gaming desk Black Friday deals you need to look at is the Magnus Pro XL from SecretLab. This is a pure gaming desk that is made with the needs of gamers in mind. 
If you are more interested in a high-tech gaming desk rather than a Black Friday computer desk, this SecretLab Magnus Pro XL review is for you. Rarely have I ever come across such an awesome desk that enhances my gaming experience. 
Features 
When we reviewed the Magnus Pro XL, we were impressed by how smooth the height adjustment was. The controls were easy to use. Its cable management systems were also very handy considering the monitors, CPUs, and other accessories we loaded onto the desk. 
However, the most outstanding feature was the perfectly designed look of the desk, which fits in with a wide range of gaming room décor ideas. The monitor arms are sold separately, but if you are willing to spend a little extra, they are the icing on the cake when creating the gaming station of your dreams.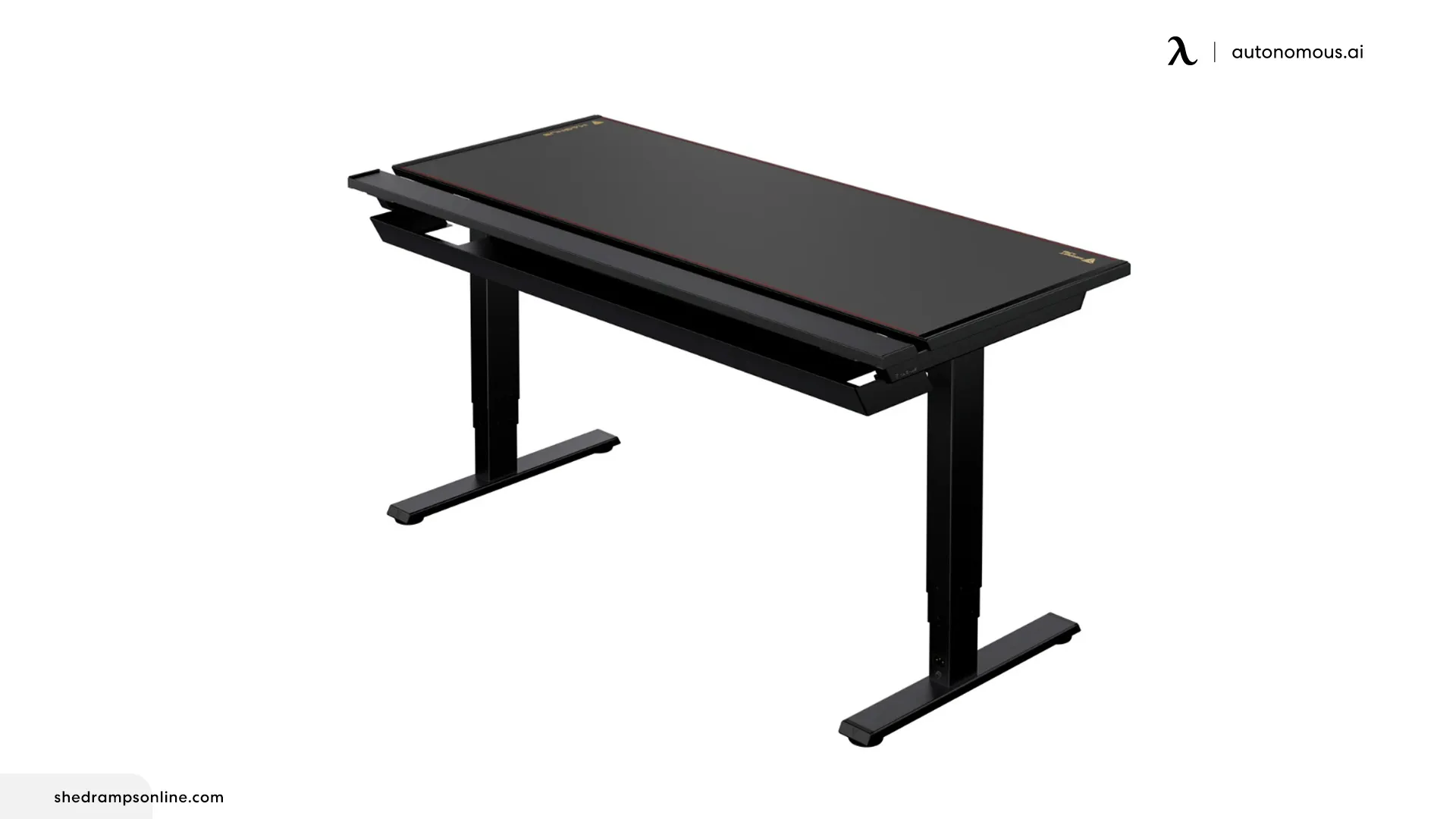 Pros

Cons

Meticulously designed gaming desk
Weighs up to 150 pounds
Magnetic accessories
The monitor arms are sold separately
Smooth operation
Perfect for a gaming station
3. FlexiSpot E2 Pro
One look at the FlexiSpot E2 Pro gaming desk, and you know that you have a high-quality piece of furniture on your hands. If you keep an eye out for FlexiSpot Black Friday deals on gaming desk accessories, you are in for a treat. 
Just because you are buying a gaming desk doesn't mean you have to compromise on quality. This review is for serious gamers who take pride in having the best quality furniture for their gaming station. 
Features 
Able to support more than 150 pounds, the FlexiSpot E2 Pro is a serious gaming desk that can handle anything you throw at it. If you feel like playing on your feet for a while, this desk allows you to flawlessly adjust the height and switch from sitting to standing in no time. 
The design itself is simple, which is great if you are buying a desk but do not know what overall décor you are going for. Whatever you choose will go well with this gaming desk. As for the quality, the very generous warranties on both the frame and the motor speak volumes about what kind of product you are buying.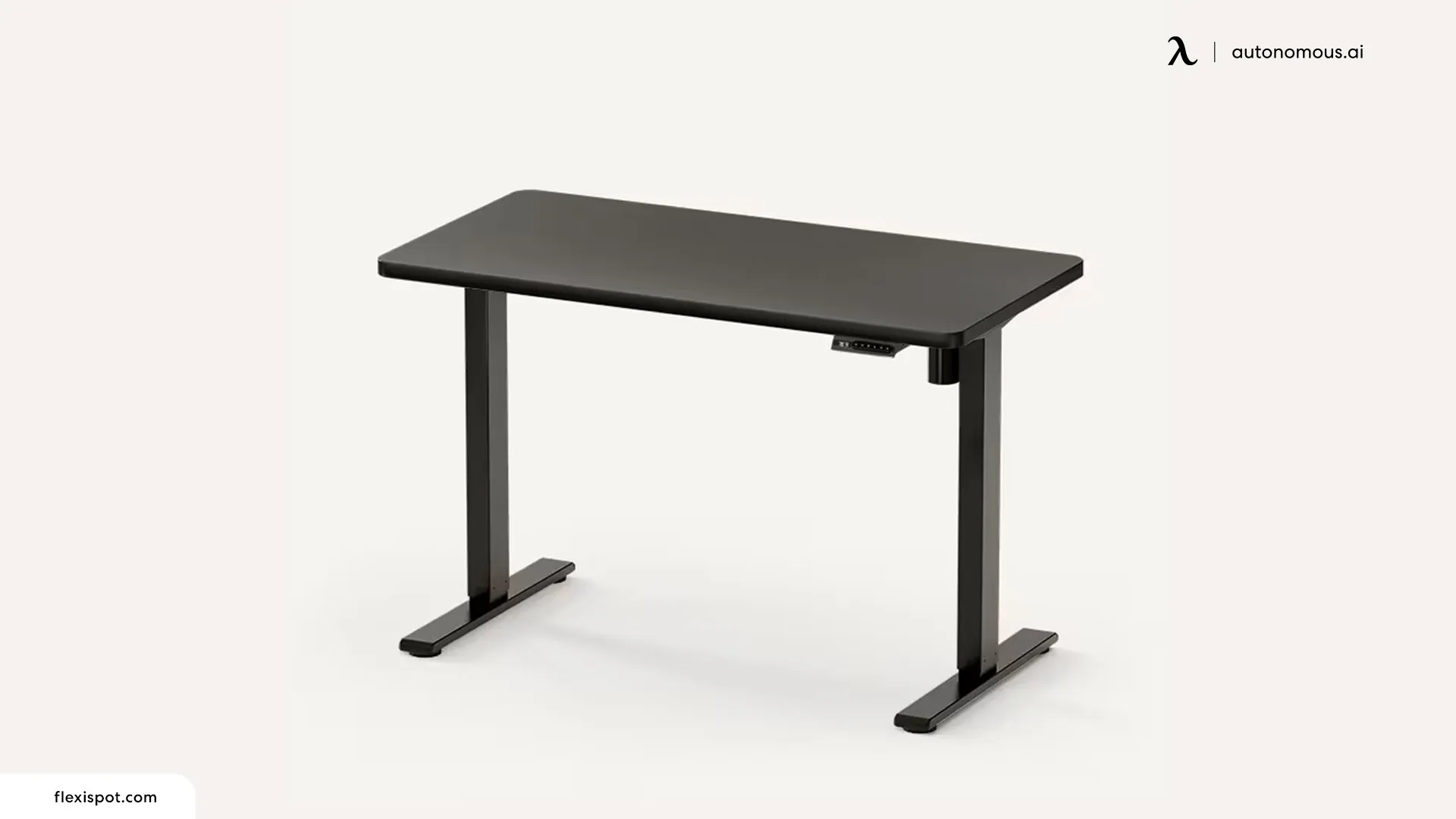 Pros

Cons

Simple yet elegant design
Does not come with a collision sensor or cable tray
Awesome value for money, especially on Black Friday
Three-year warranty on the motor
Preset height function
4. Arozzi Arena
One of my favorite products in this Black Friday gaming desk review was the Arozzi Arena. Its elegant name proved to be well suited for this large desk that exceeded all of our expectations.
Do you need ample space to place your monitors and other accessories? This Arozzi Arena review might be the answer you need right before Black Friday arrives.
Features 
This desk measures 32 x 63 inches, which is more than enough space for any gamer to work with. Your monitors will have enough space, and with a weight capacity of 176 pounds, you don't have to worry about the desk crashing to the ground any time soon. 
The Arozzi Arena has a hydrophobic surface, which is great for managing those spills that gamers often cause in the heat of the moment. 
If you were budgeting for a mouse pad, save your money for something else because this desk is a mouse pad on its own. The surface is perfectly designed to allow your mouse to run smoothly no matter which part of the desk it is placed on.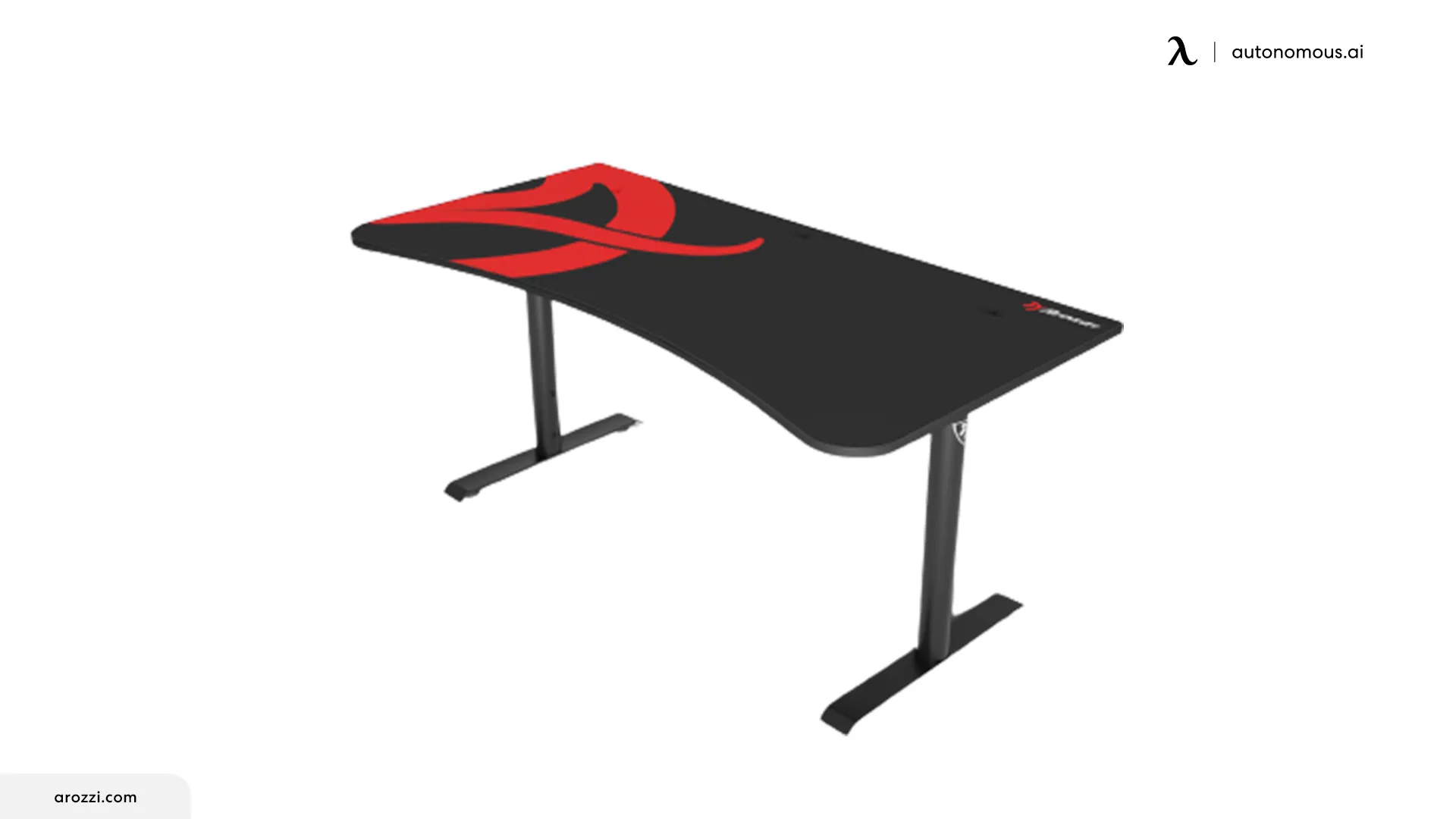 Pros

Cons

Mouse-friendly surface
Poor quality hydrophobic surface that gets damaged easily
Large enough for multiple monitors and accessories
Hydrophobic surface allows easy mop-up of spills
5. Homall Gaming Desk
The last addition to our gaming desk Black Friday deals is the Homall Gaming Desk. I was not quite sure what to expect with this desk, but after trying it out, we all agreed that it deserves its place as one of the must-have desks this Black Friday.
If you are a big fan of futuristic-looking desks that come loaded with extra features, you need to read this quick review of the Homall Gaming Desk.
Features 
At first glance, the Homall Gaming Desk seems like something straight out of an alien video game. The designers went all out to create an eye-catching gaming desk, and in that regard, they succeeded. 
The design features are bold and exciting, consisting of sharp angles and great color combinations. We particularly enjoyed the specially designed non-slip tabletop, which ensured that none of our accessories would slide off. 
This desk also comes with a cup holder and a headphone hook, which are two features I never knew I desperately needed until I saw them on this awesome desk. The Homall Gaming Desk weighs less than 50 pounds but has a weight capacity of over 175 pounds, which is quite impressive.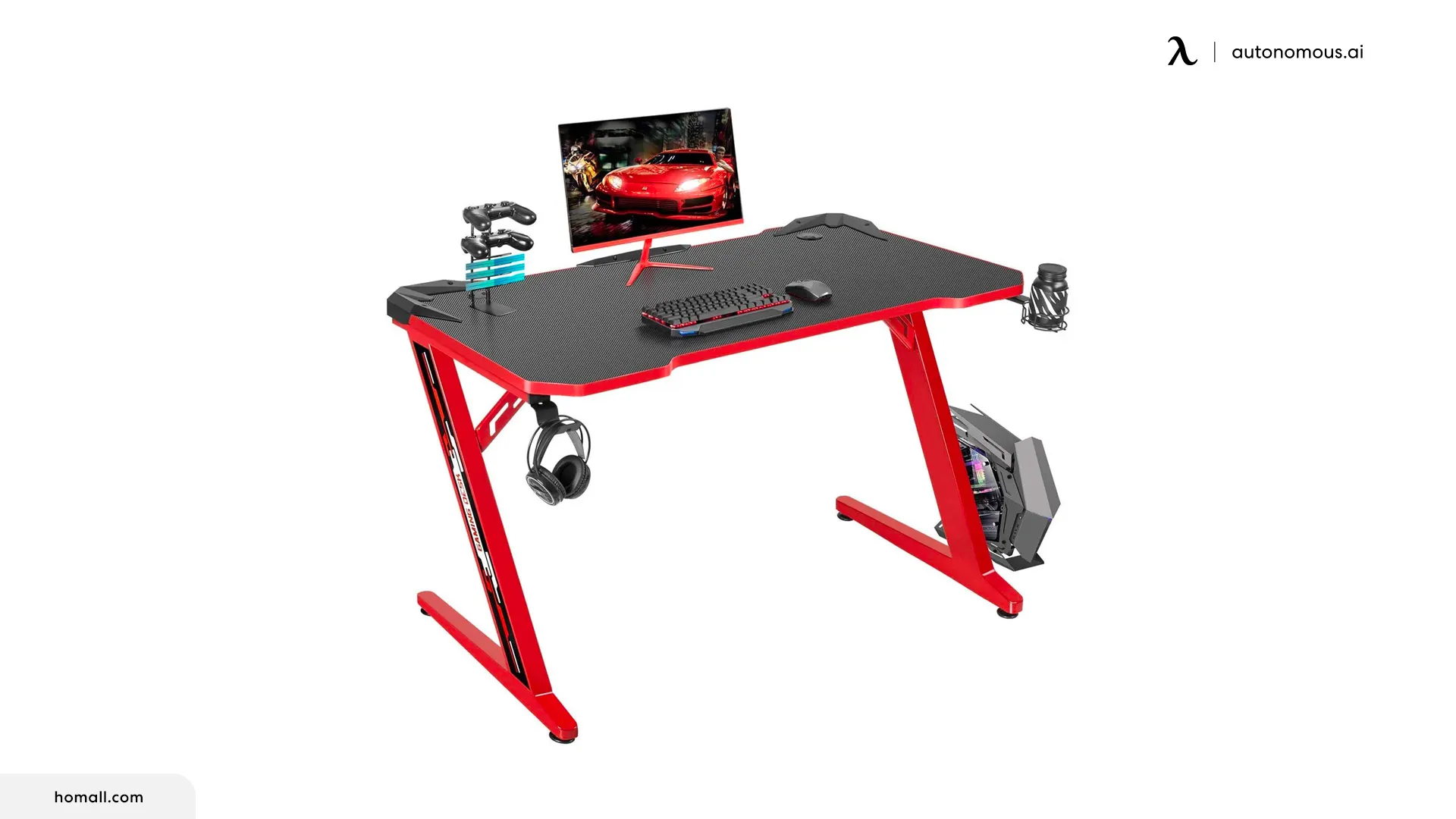 Pros

Cons

Great ergonomic design features
Needs to be a bit bigger
Comes with a cup holder and headphone hook
Awesome color combinations
Carbon fiber non-slip tabletop
Our Top Pick
After reviewing all of these awesome Black Friday gaming desk options, the one that sticks out the most is the Autonomous SmartDesk Core. Whether you are looking for a console gaming desk or a regular office desk, this is the best option on the list. 
We had a great time using this high-quality desk and would recommend it to anyone looking for great Black Friday deals on gaming desk accessories. 
FAQs
When do the gaming desk Black Friday sales start? 
In 2023, Black Friday will fall on the 24th of November, so this is likely to be the day that most Black Friday deals will be available. However, you can still get your hands on an awesome L-shaped gaming desk Black Friday promotion before or after that date, as most outlets will use this opportunity to clear their shelves before the festive season. 
How can I stay updated about the gaming desk Black Friday deals? 
With so many promotions on desks, office accessories, and gaming equipment, the best way to keep up with Black Friday sales is to find a reliable online furniture store, such as Autonomous, and keep an eye on the promotions being advertised. 
Are there any alternatives if I miss the Black Friday deals on gaming desks? 
Yes, if you miss out on that Black Friday gaming desk you have been waiting for, there are lots of other ways to enjoy great discounts. At Autonomous, you can look at the Bulk Order Program. It can help you save a lot of money on specific products that you want to buy in bulk.
What should I look for in a gaming desk? 
The type of gaming desk that you buy depends on what your needs are. If there is a chance that you will be sharing your gaming station with other players, you may consider buying an L-shaped gaming desk because of the extra space it provides. Also, when buying a gaming desk, consider important factors, such as quality, budget, features, color, and warranty. 
Is it safe to buy a gaming desk online during Black Friday 2023? 
Yes, as long as you go for Black Friday gaming desk deals from reliable outlets, it is perfectly safe to shop on Black Friday and take advantage of the fantastic offers available. However, Black Friday also comes with a lot of scams that you need to be aware of.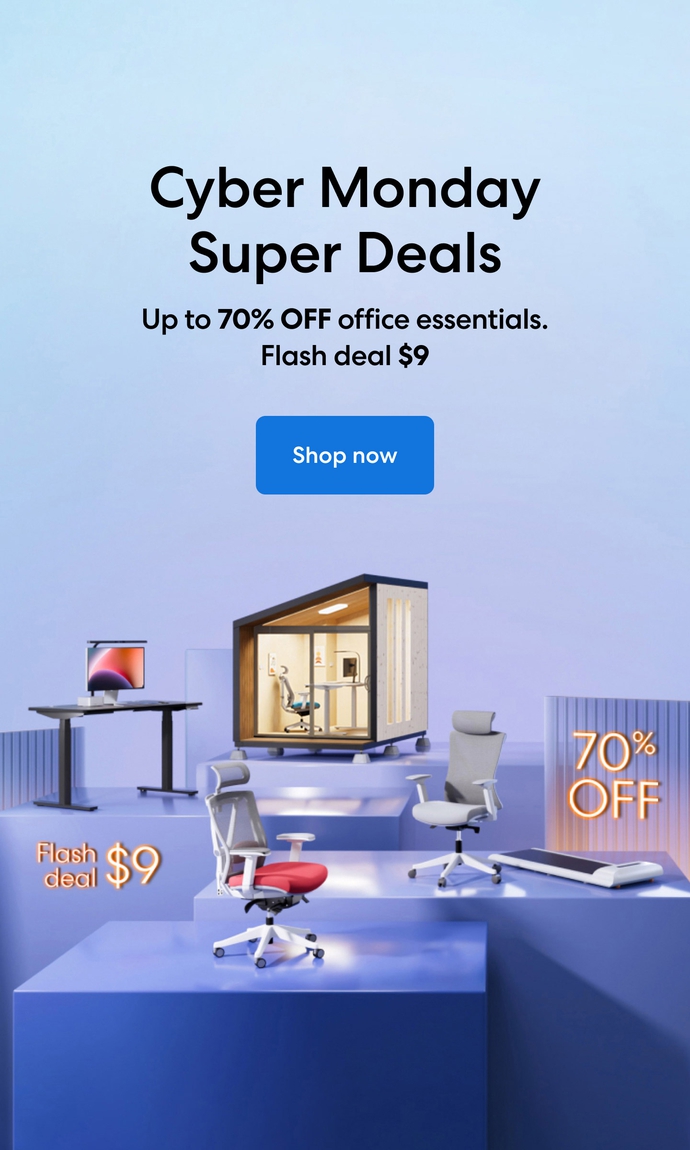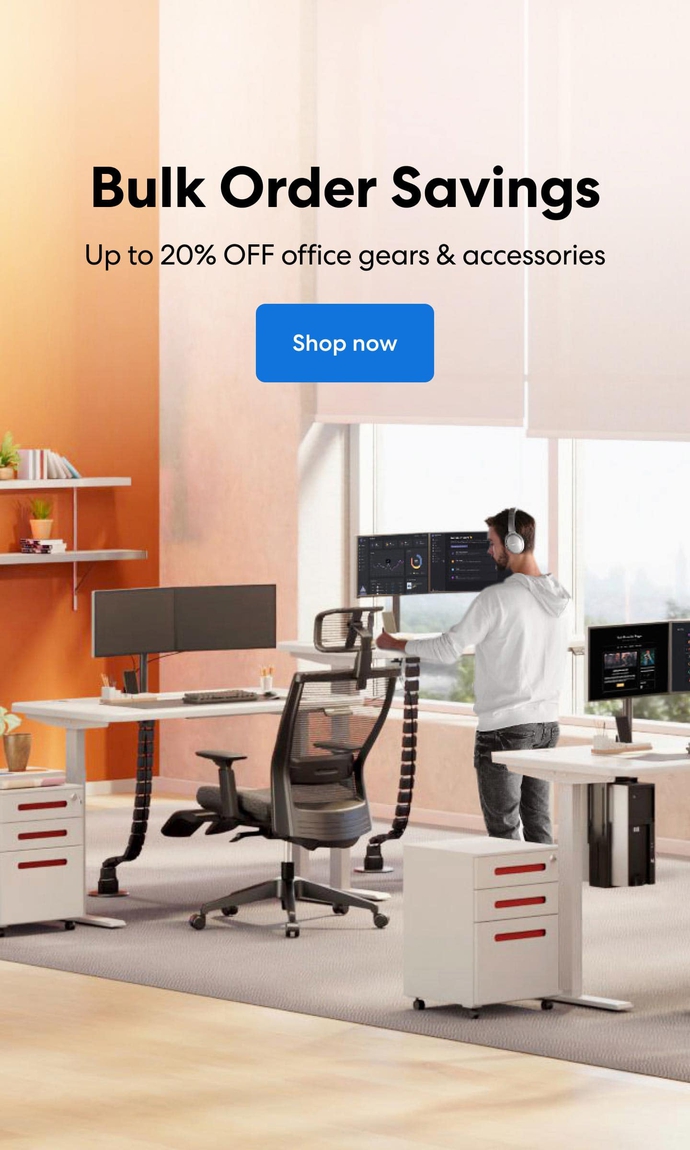 Subcribe newsletter and get $100 OFF.
Receive product updates, special offers, ergo tips, and inspiration form our team.