Smart Products
Top 15 Height Adjustable Gaming Desks to Level-Up Your Experience

Autonomous
|
Dec 5, 2021
1,673 Views
Gaming desks are a necessary investment if you want to consider yourself a genuine and professional gamer. They're not only aesthetic acquisitions that make your room look cooler; they have been proven to improve your gaming performance by giving you a lot more comfort, mobility, and space during your sessions. 
Most video game players spend around eight hours a week playing their favorite games. Now, add this up to all the other time you spend online, working, looking through social media, etc. Sitting in front of your computer all this time can take a toll on your health if you don't have an adequate and aesthetic gaming setup. 
Focus on your well-being and take the vital task of finding a suitable gaming desk for you. This article aims to make your life a bit easier by saving you some of this time. Let's go through 15 different height adjustable gaming desks and figure out which one to get. 
Why is Height Adjustance Important?
The standard height of desks around the world is about 28 and 30 inches tall. However, this only works well for average height people around 5'8 and 5'10; if you're taller or shorter than these specifications, you're probably going to have a hard time, and your joints may end up hurting after a while. 
Even if you're of this specific height, sitting all day isn't precisely the most healthy thing for your body. That's why standing desks were created, to keep you in constant movement and take care of your health, but standing all day isn't necessarily the solution. 
Here's where adjustable height desks come into the picture. With just the push of a button, you can get your desired and most ergonomic height. This way, you are extending your optimal gaming performance and taking care of your body simultaneously. 
Features of an Adjustable Gaming Desk You Should Consider
You're probably wondering how you are going to be able to identify a good height adjustable desk when you see one. Luckily for you, we've identified the most essential five features you must focus on when choosing your height adjustable gaming desk. 
The type of adjustment -  There are three main types of adjustment available for these desks, electric, hydraulic, and hand-crank models. Electric ones are the most recommended because they're the easiest to use, they switch heights effortlessly, and some even remember your preferred presets.
Anti-collision feature - You don't want anything bumping into your beloved desk and damaging it, right? That's why this is an essential feature you should look for. Objects can always be in the path of your desk, but this feature rapidly detects them and prevents any accidents from happening.
Memory presets - Having to manually calculate your optimal height every time you want to change it becomes tedious after a while. This is why having memory presets becomes a game-changing feature for your table. They rapidly switch from one height to another by just pressing a button.
Crossbar - Something as simple as having a bar connecting the legs through the middle section is the solution for all your wobbling and stability problems.
Multiple motors - Single motor electric gaming desks are extremely loud and take more time to slide up and down efficiently. Desks with motors on each leg don't have this problem and can take more weight.
15 Adjustable Gaming Desks for Your Consideration
1. Autonomous SmartDesk Pro
The Autonomous SmartDesk Pro is the result of several years of mastering our desks for your convenience. It lifts 310 pounds of weight, and its sound is unnoticeable to human ears; moreover, its height ranges from 26.2'' to 52''. 
There are two versions of this desk, the regular one is spacious enough for two monitors, but the Pro version offers you a whopping 6ft. for anything you need. Additionally, you can save up to four presets for your preferred sitting and standing positions. 
This height adjustable gaming desk may last you for years on end. All of its components are globally vetted for strength and safety by UL, BIFMA, and EMC. 
2. Autonomous Standing Gaming Desk
Don't settle for an ordinary gaming experience. Level up and get your hands on an Autonomous Standing Gaming Desk. This is one of our best height adjustable gaming desks, specially made for being the centerpiece of your gaming station. 
It features a 70.5'' length and a 30'' width tabletop. Hence, you are able to reach out widely for all your desired gadgets. This standing gaming desk can endure competitive gaming while giving you enough comfort, ergonomic features, and a noise-free environment. 
Enjoy this innovative design in more than five different colors and materials, as well as three shapes; the regular rectangular one, an L-shaped one, and a curved one. 
3. Autonomous SmartDesk Corner
Get twice the space you would get with our regular rectangular tables with the Autonomous SmartDesk Corner. Its shorter side is interchangeable between the two ends for assuring a perfect fit to any corner 
This L-shaped standing desk has three motors, one on each leg, which assures a silent performance and a capacity of 400 pounds of weight. In addition, you have four programmable presets for gliding up and down to your desired height. You can even pair it with your favorite gaming desk accessories and assemble your dream battle station. 
4. Cougar Mars
When looking for a sturdy and durable height adjustable gaming desk, this one takes the cake. It's not the easiest table to assemble, but thanks to its metal legs, no external force can make it wobble once you put it in place. 
The Cougar Mars electric gaming desk is integrated by a carbon-fiber top that's spacious enough to fit two monitors and still has enough space for moving freely throughout your gaming sessions. It also displays RGB strips for a colorful demonstration of its high-end technology. 
5. Evodesk Gaming Desk
The Evoodesk is smaller than the Cougar Mars, but it offers a broader range of heights to pick from. One of its more resulting characteristics is its ability to store more than 250 height positions for straightforward access to them. 
You can choose to have your tabletop covered by an extended mouse pad or the regular bamboo or oak finish. This height adjustable gaming desk is an excellent and ergonomic option for an adjustable standing desk.
6. Greenforest L-Shaped Corner Desk
This is another best adjustable desk for gaming for you. Everyone loves a good L-shaped height adjustable gaming desk. That's why the Greenforest Corner Desk is such a great option, especially if you're running out of space in your bedroom. This electric gaming desk fits into any corner and makes the most out of the space you've got. 
However, this desk has its downsides. It's not automated. Therefore, you have to adapt its height manually, and due to its only horizontal bar, it may struggle with stability. 
7. Lian-Li DK-04X Electrical Height Adjustable Desk Case
Multifunctional desks are the future of gaming desks, and this one confirms it. It gives you the possibility of storing all the elements of your gaming setup in its handy PC case while remaining a sturdy and comfortable height adjustable gaming desk for all of your gaming needs. 
It also features drive mounting, water cooling support, and a removable motherboard tray. 
8. Flexispot EN1B
The Flexispot is an inexpensive but incredibly durable height adjustable gaming desk. The whole assembly shouldn't take you more than an hour, and then you are left with a fantastic rock-solid desk for all your gaming desires. 
Its control panel can store up to three different height positions from 27.8'' to 47.6'' of height. In general, it runs smoothly and without problems most of the time. It's only significant downside is the lack of a pressure sensor since it doesn't have a way of preventing unwanted clashes. 
9. VariDesk Pro Plus
This is one of the best adjustable desks for gaming. The VariDesk Pro Plus isn't like the rest of the tables you have been seeing in this guide. This is a pre-built converter for your actual desk if you don't want or straight up can't replace it. 
It's available in different sizes, and it's the easiest way of getting yourself a standing desk. Just place it on top of your desk, and you're ready to set up your ultrawide gaming monitors and all of your gaming gear. Although, you are going to want to get yourself an extended mousepad since its surface doesn't glide well with many sensors. 
Even though it's not automated, you can effortlessly move its handle to switch from sitting to standing in the bat of an eye. 
10. Ikea Utespelare
If you're looking for affordability, we also got you covered. Ikea's Utespelare motorized gaming desk gives you a wide area for assembling all your PCs and gadgets while helping you improve your cable management all at once. 
Even if it's not the most flexible when adjusting its height, you can still choose from a range of 26.75'' to 30.75''. It remains a fantastic option to save up some cash. 
11. Thermaltake ToughDesk 500L RGB Battlestation
Another gaming corner desk adds up to the list, and it's not a surprise. Experienced gamers tend to have bigger setups, and regular-sized tables simply aren't enough for supporting them. If you fall under that category, this table is for you. 
The adjustable height starts at 27.5'' to 43.33'', meanwhile its top can hold up to 330 pounds of weight, and it's ample enough to carry all your heaviest gaming gear. Thermaltake ToughDesk sit-stand gaming desk also makes sure your cable management is impeccable by including channels in the back of the desk. If that's not enough, you can also enjoy magnificent visuals from the RGB lights installed on top of the motorized gaming desk. 
12. Uplift V2 4-Leg Standing Desk
This four-legged work of art may forever change your gaming experience. Don't ever worry again about lack of sturdiness or resistance. This table can hold up to 535 pounds, making true your dream of having the biggest and best-performing setup of all. 
This motorized gaming desk not only impresses with its durability but also with its flexibility. You can choose your preferred height starting at 25.5'' to an impressive 51.1'', all thanks to its premium range motors that allow the best of qualities and ergonomics for you. 
13. Herman Miller Motia Gaming Desk
Don't allow anyone to stop your gaming spree with this fantastic Herman Miller Motia Gaming Desk. It offers a wide enough area of 60'' wide and 30'' deep, with a soft and clean finish that prevents any smudges or stains that might threaten your gaming space. 
This gaming standing desk holds an astounding 200 pounds and allows you to adjust its size from 27'' to 46''. Protect and keep your body engaged in your gaming session with this grade-a desk. 
14. Aukey S-D01 Standing Desk
Now it's time for a more compact gaming desk. The Aukey Standing Desk is a tremendous 4x2-foot table that gives you enough space for all your desired elements and accessories. 
It begins as low as 27.6'' tall, but with just one press of a button, you can get it to even 47.3''. Just allow its two motors to do all the hard work and assemble it to your desired height, don't forget to save your favorite positions in its memory for easier access to them. 
15. ApexDesk Elite
We finish this list on a high note with this ApexDesk Elite, an incredible height adjustable gaming desk. Its sturdy and rectangular top is more than enough for supporting multiple monitors. This gaming standing desk also features a handy cable tray for ensuring a neat look. 
The height range goes from 29'' to 49'', completely personalized through its four programmable presets that you can set up either for yourself or for sharing this sit-stand gaming desk with someone of a different height. 
Bottom Line
Buying a gaming standing desk is a long-term investment in yourself, and with so many options, it's not an easy decision to make. After going through all of these different tables, chances are, one or two caught your eye. This is your sign to get it and assemble the gaming space you've always wanted. 
Don't forget to check out the rest of Autonomous' site and catalog. We create high-end technology that caters to your particular needs and well-being. Make the best out of your setup, and let us know how it goes!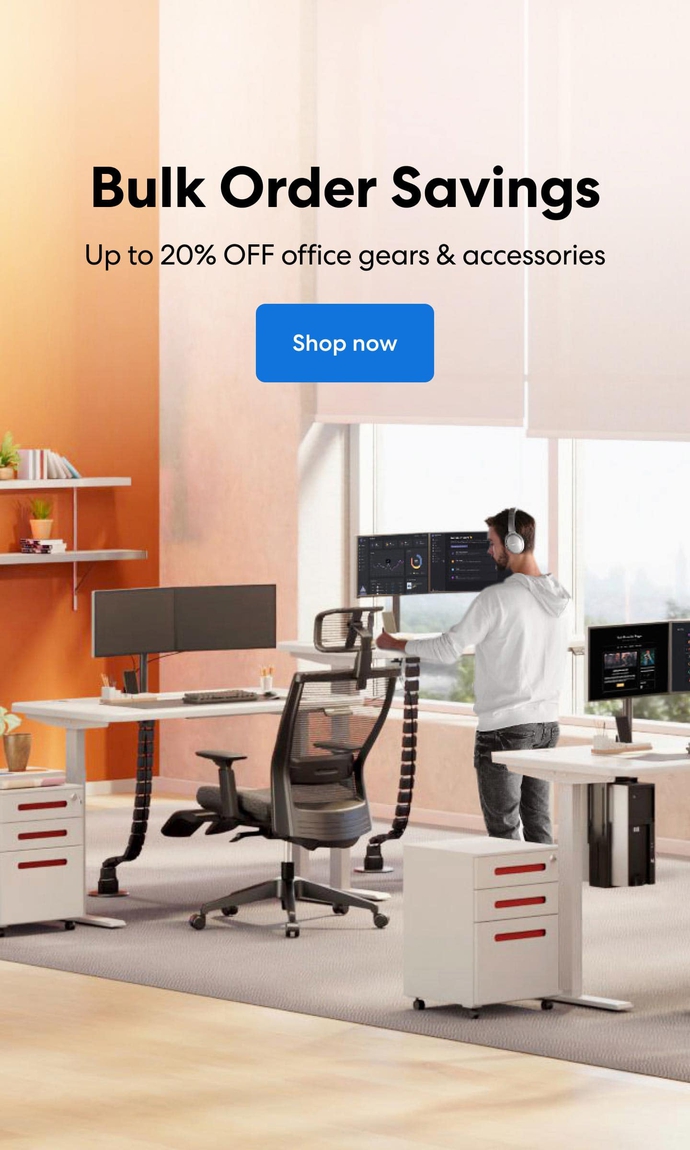 Subcribe newsletter and get $100 OFF.
Receive product updates, special offers, ergo tips, and inspiration form our team.