Smart Products
Top 20 Electric Desk Risers of 2023 – Pick Your Favorite
1,148 Views
We've reached a critical stage in the market for the electric desk riser with some new models now costing less than hand-operated converters. Under $350, you may now get a wide range of converters, including electrics as low as $249. Only a few years ago, the cheapest motorized desk riser would have cost you $900, so this is a significant cost-cutting and volume-economics improvement. 
What Is a Desk Converter?
One method to get the best of both worlds is to use a standing desk converter (also known as a sit-stand desk riser). It raises the keyboard, laptop, and up to two monitors above the desk, depending on the style, until they're high enough for you to work standing up. 
Difference Between a Desk Converter vs an Electric Standing Desk
Many ask for the difference between a standing desk vs a converter. As for those who need to sit from time to time, stand-up desk converters are a terrific solution. In contrast, unless you choose an adjustable version, a standing desk will force you to stand at your workstation constantly. 
What Are the Benefits of Using an Electric Sit Stand Desk Riser?
1. Heavy Weight Capacity
People are increasingly using two or more monitors, with many opting for all-in-one PCs (such as the iMac) or enormous panoramic screens. After years of witnessing LCD monitors becoming lighter and lighter, the typical user's desktop monitor weight has begun to rise once more. When you add in the weight of ergonomic monitor arms, which raise your screens to the right height when you transition from sitting to standing, the entire effect is amplified. 
If you're already one of those heavy-duty users, or if you think you'll be switching to more and/or larger monitors in the future, you should seriously consider going electric. Other types of standing desk converters have a lower weight capacity than electric variants. 
2. Easy and Effortless Adjustment
Another traditional criterion for selecting an electric standing desk converter or motorized desk riser is whether or not you are prone to lower backache. Some manual converters, such as the Varidesk devices (and their many Chinese knockoffs), need the user to lean over to raise the work surface to standing height. 
There's no need to lean over to help with an electric lift. In comparison to some base converters, you won't have to hold your monitors up when adjusting their height relative to the work area, which is a major concern for many people with shoulder problems. If you have any of these ergonomic issues, going electric is now a very realistic option, one that doesn't have to be expensive. 
Most electric monitor risers have various display options, but not all do, so make sure yours does. You'll also want to make sure your model has a simple way to adjust your monitor height as you stand. 
Best Electric Stand Converters in 2022
1. Autonomous SmartDesk Mini Converter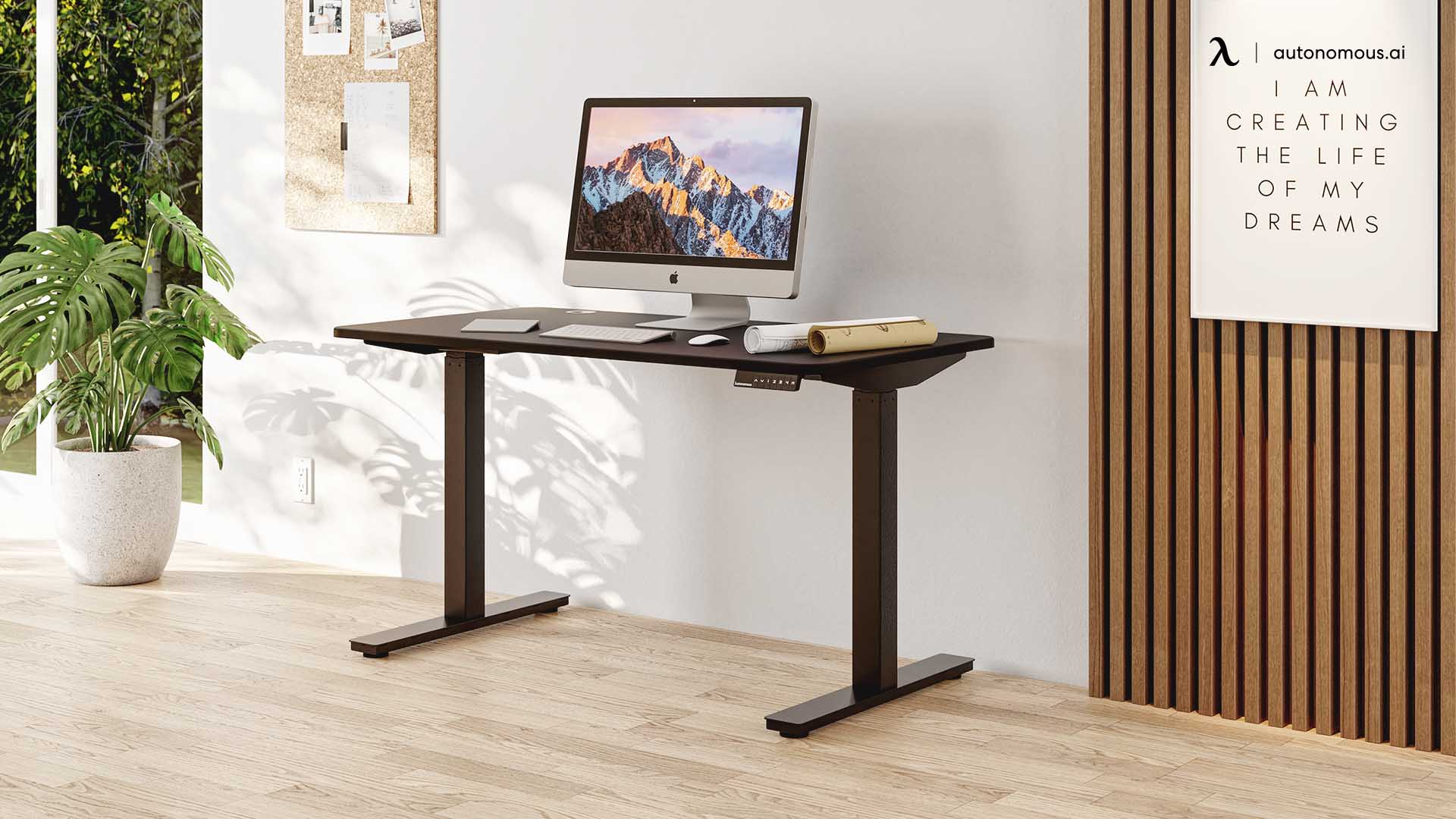 $299 for an electric standing work area converter by Autonomous is clearly making a play to take a share from Varidesk - and its 75+ competitors - in this burgeoning category.  
Converters are a friendly commodity since many clients don't have the money for an electric standing desk but can squeeze enough coins to get the status with a more affordable converter. They're additionally popular with people who have built-in counters or don't want to give up their table drawers since most converter shoppers are looking for a budget-friendly deal. 
2. Mount-It! Electric Standing Desk Converter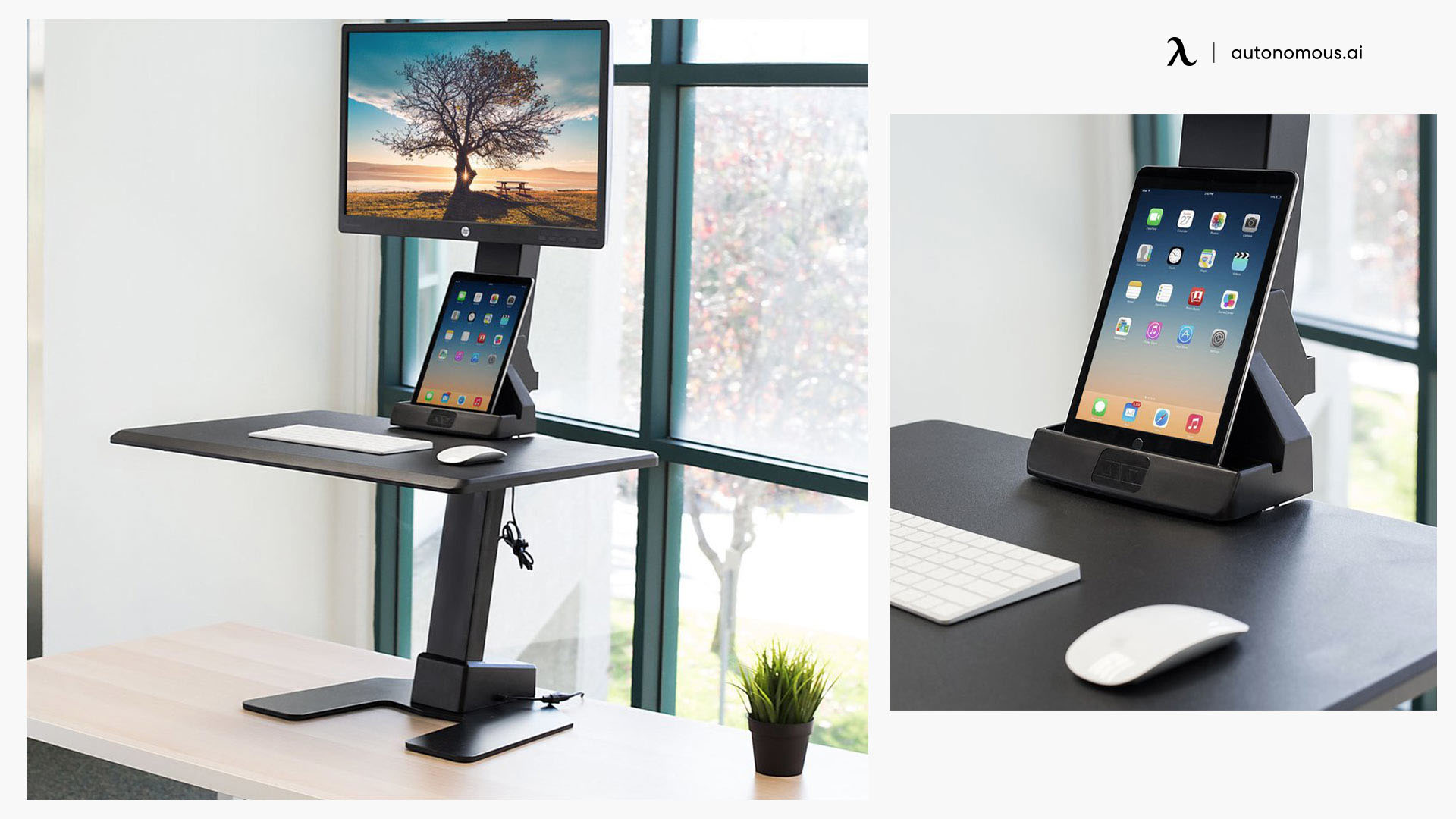 Although it is inexpensive, some of its specifications are comparable to those of considerably more expensive converters. It features a large work surface while yet fitting on a desk with a depth of 24". 
The electric monitor riser by Mount-It! has an electric lift, which means it can carry a lot of weight and you don't have to use your lower back muscles to move it. In this area, a 10-year warranty is fantastic. This motorized desk riser rises straight up like an X-lift converter without the forward-arching action that Z-lift converters (such as Varidesks) are known for.
Furthermore, Mount-It! Standing Desk Converter is a good deal in every way. It has the performance specs to compete with much more expensive converters, and only a few flaws keep it from earning a top-tier ranking. While we'd like to see Mount-It! address these flaws, at the price, they're hard to complain about. 
3. Eureka Electric Desk Riser
The Eureka Sit Stand Electric is a great option for an electric standing desk converter that gives you the most bang for your buck. This smooth and quiet raising X-Lift sit-stand desk riser starts at $299 and features a deep work surface for larger monitors, all electronics tucked neatly behind the work surface and a unique 'buffer system' that guarantees a seamless transition to the sitting position 
4. Winston-E Electric Desktop Riser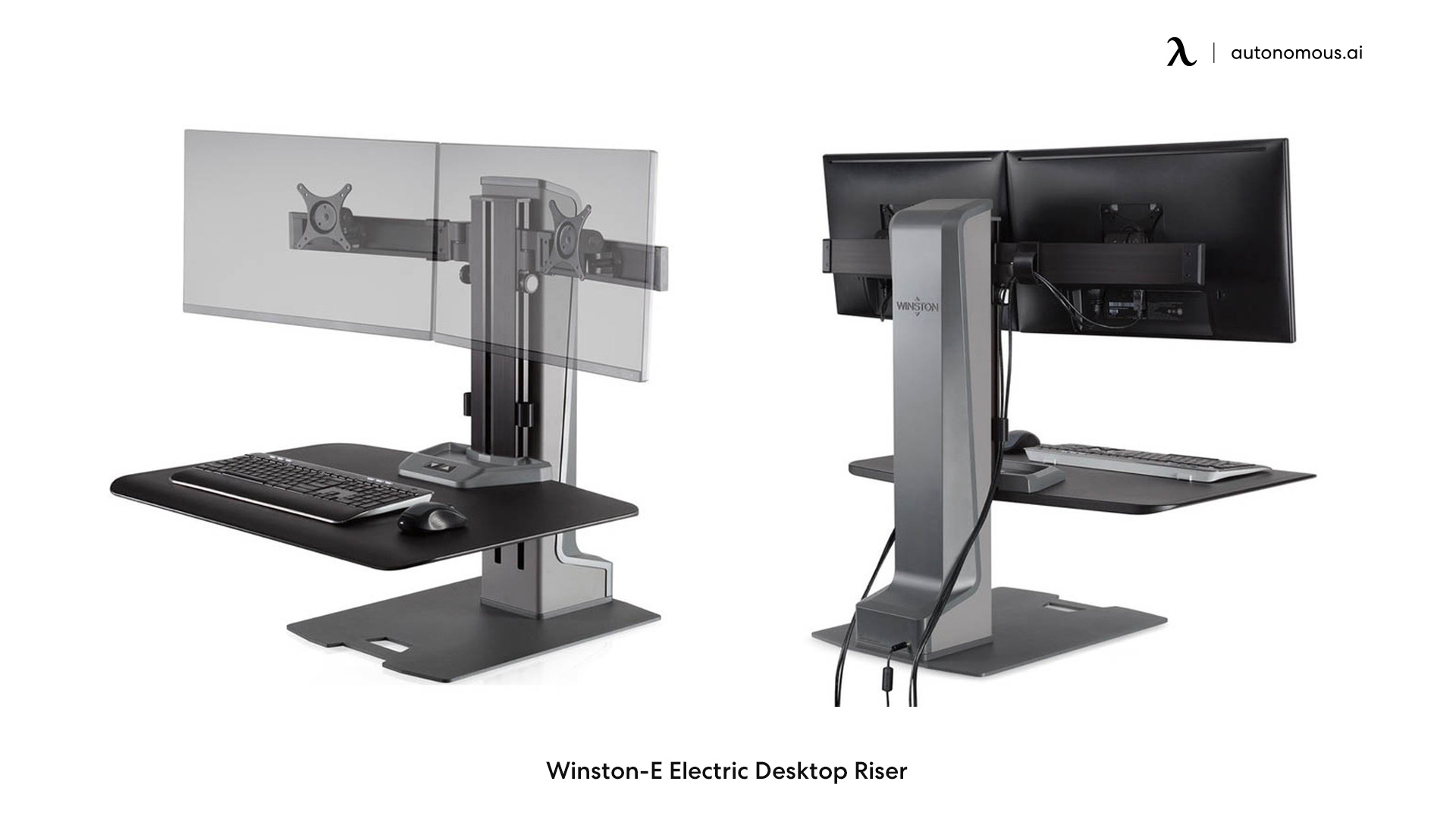 Winston-E delivers an unrivaled combination of aesthetics, ergonomics, and stability for the executive with a limited budget for office décor. It's a high-quality "Made in America" item with a sophisticated design. 
It's also the only free-standing desktop riser we've seen with monitor focal depth adjustment, which adds another dimension to ergonomically situating your monitors (a notion patented by the company).  
5. Ergo Desktop Electric Kangaroo
A Kangaroo converter isn't the most attractive item you'll ever place on your desk, but it gets the job done. It has the same 24"x28" work surface as prior Kangaroo models with enough room for keyboards, a mouse, and other office accessories. There is currently no option for a drop-down keyboard tray, unlike the One-Touch line of risers. 
6. TaskMate Electric Desk Riser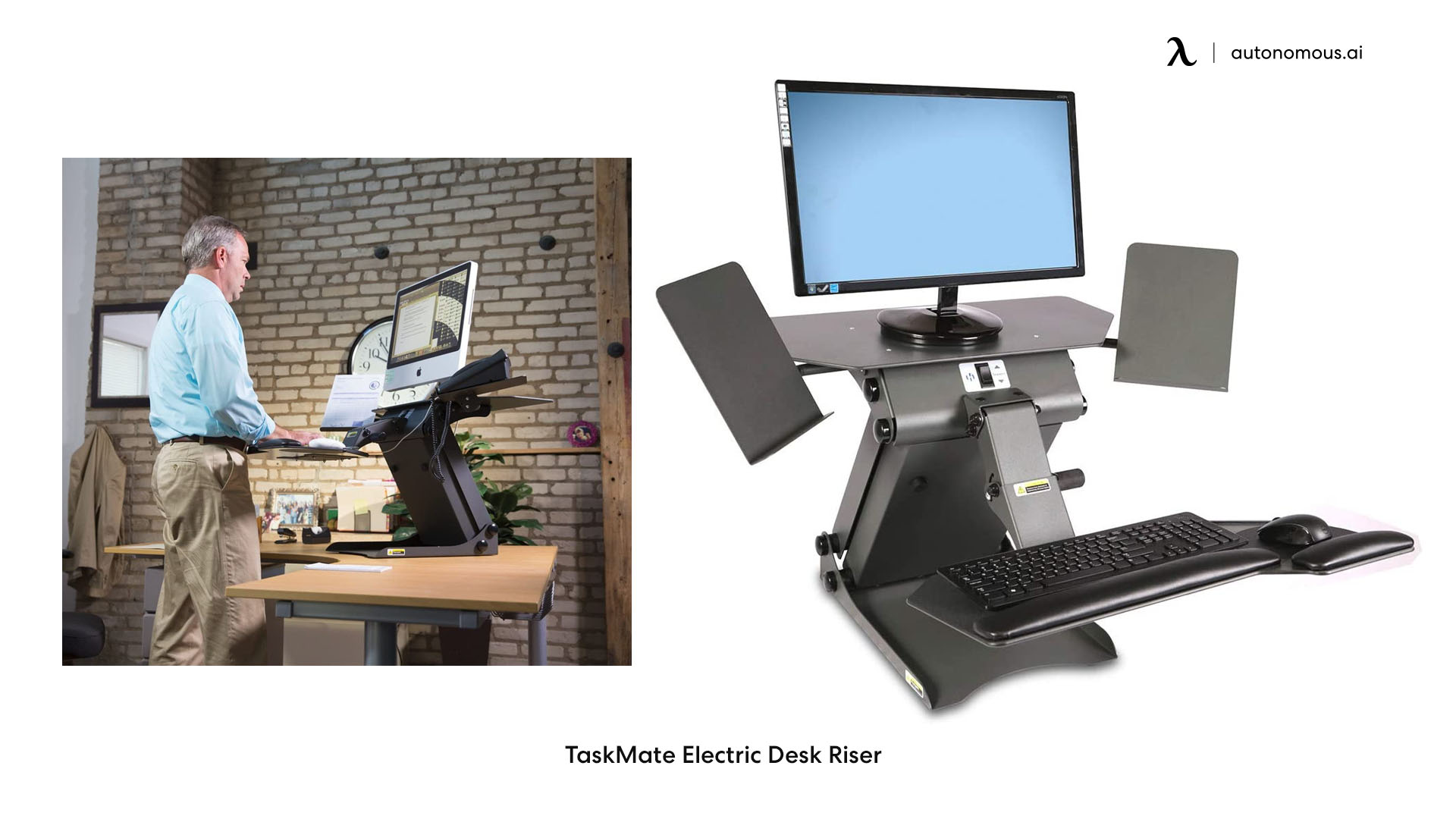 The Taskmate Executive sit-stand desk riser is the first of what we believe will be a large number of products in this category. Overall, this product is downright delightful to adjust, thanks to a satisfyingly "clicky" button and a highly sensitive electric motor. We're quite satisfied with this electric desktop riser, even though it's a costly choice and involves a complex setup. 
7. Versadesk Power Pro Corner Electric Monitor Riser
Power Pro Corner, like its relative, the Versadesk Power Pro, appears nice from a glance but has flaws that detract from the overall impression. Particleboard structure and high-pressure laminate surfaces don't come with a lifetime warranty, and the pinch points make us nervous. It takes a long time to get from point A to point B. 
On the plus side, there are five different colors to choose from. In addition, the corner model has a 7" deeper work surface than the Power Pro. 
8. UpLiftDesk Converter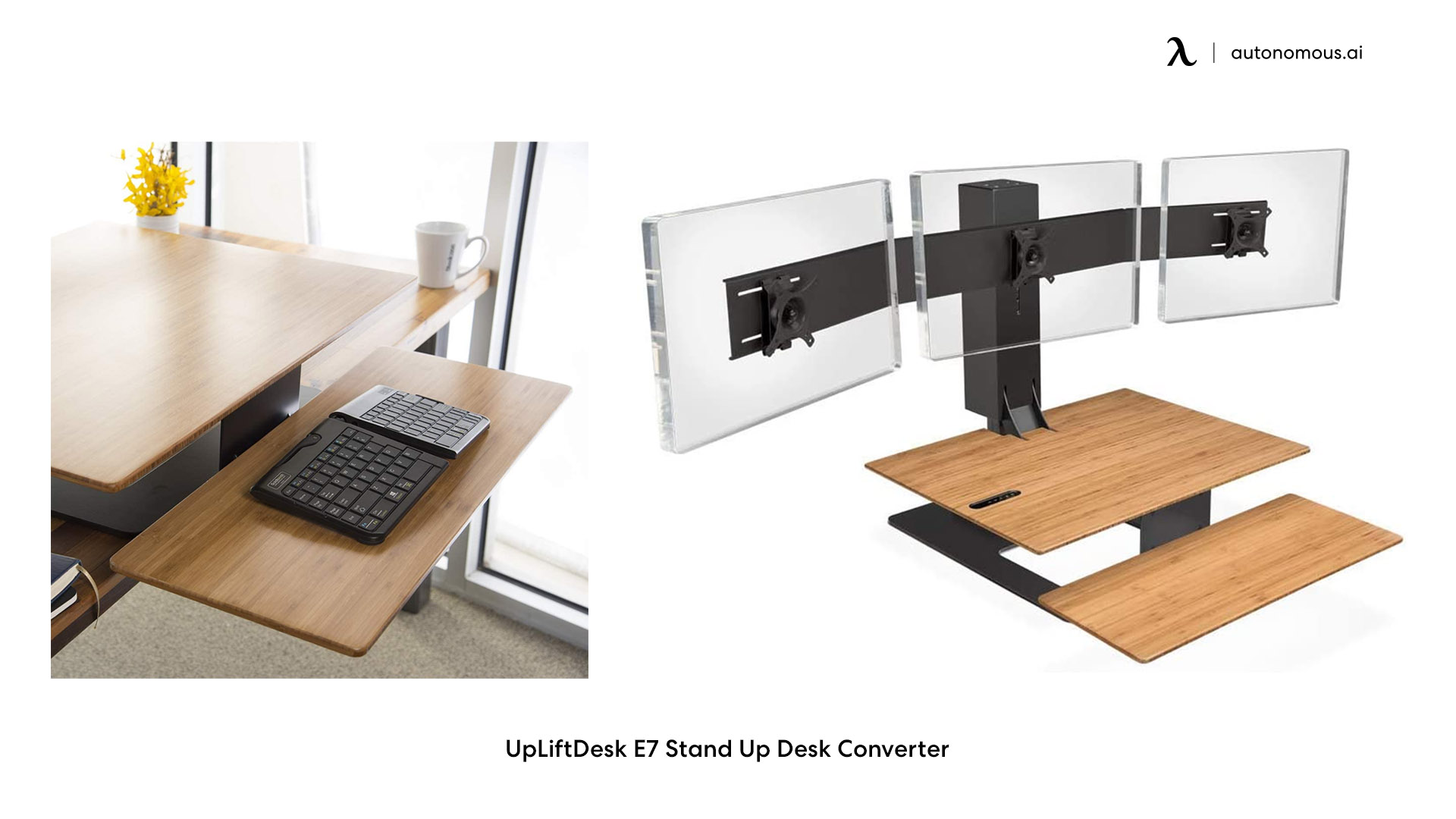 The E7 has a smooth movement, a user-friendly height adjustment keypad, and a large weight capacity. However, it lacks basic adjustability for different postures and requires the extensive assembly of very heavy parts (the device weighs 92 lbs -ask for help from a friend). 
While its benefits make it a viable option, its limitations prevent it from being the best in this price range. If you're looking for a lower price, there are other excellent electric sit-stand converters. 
9. VIVO Corner Converter
VIVO's standing desk for dual monitors comfortably fits two 27" monitors. Product longevity, enough room for mouse work, and too many pressure points are all concerns. Higher quality, slightly more expensive electric alternatives are worth considering. 
10. Leband Electric Standing Desk Converter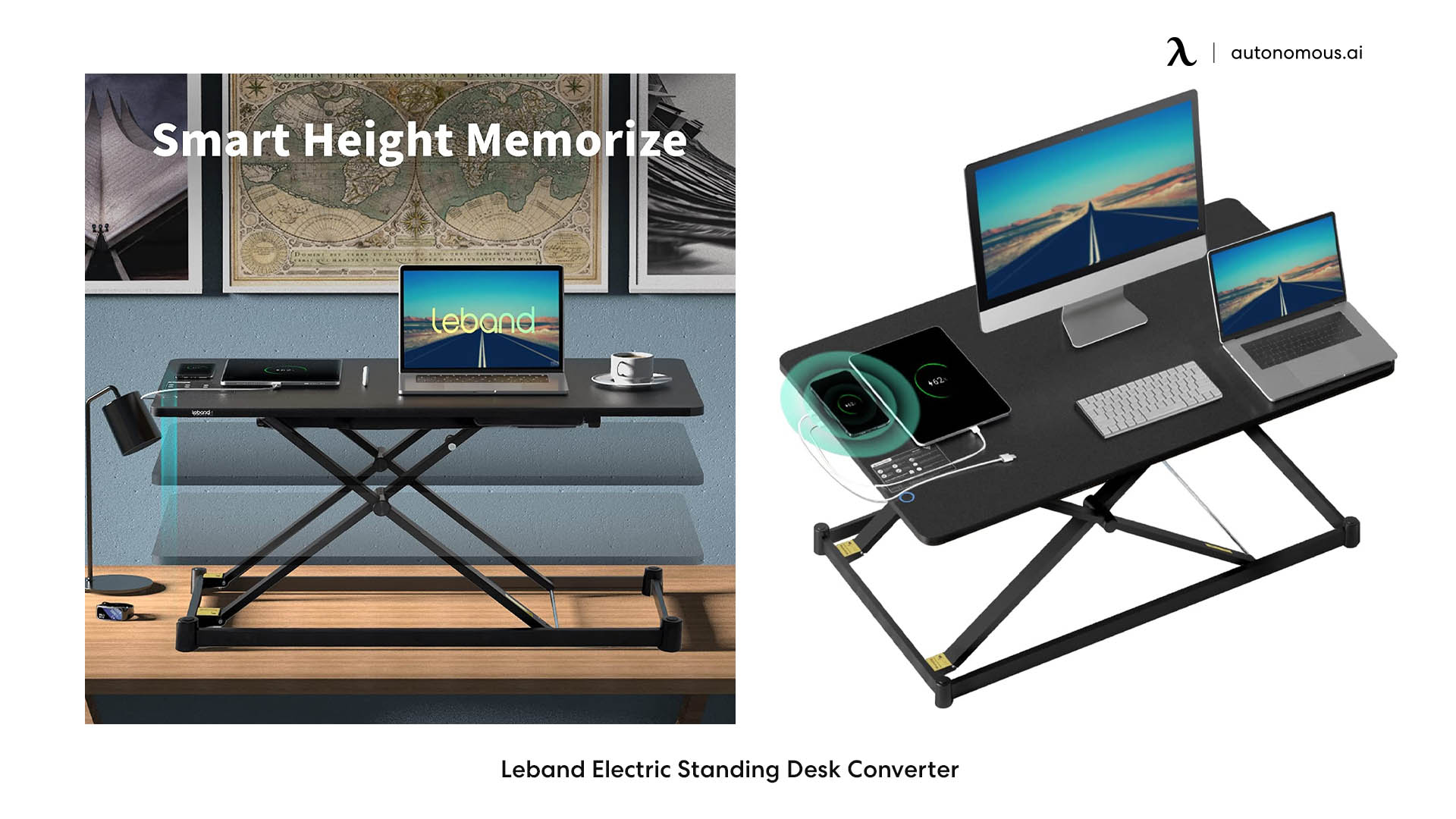 This Leband Electric Standing Desk Converter is likely your most inexpensive option for an electric-powered converter and has a few interesting features. Unfortunately, there are layout flaws in the frame, and the ergonomics make it a vulnerable entry in this class. To be blunt, it's not clearly a "standing table converter" in any respect for users. 
The best thing about it is that the converter can change a fixed desk into an adjustable-height desk at a very low cost. However, many say that it's not exactly the strongest desk. To work in a seated position, most users would have to remove it altogether from their desks. 
11. IKEA Converter
This "IKEA Converter," a DIY standing desk converter, is a brilliant and simple construct. You can make an ergonomic two-level standing desk converter by combining a cheap IKEA side table with a shelf. The ability to modify the height of the shelf/keyboard tray to your height and perfect posture is the best element of this approach. While this solution does not allow you to comfortably sit down, it does allow you to stand with decent ergonomics on a budget. 
12. Halter Cherry Height-Adjustable Converter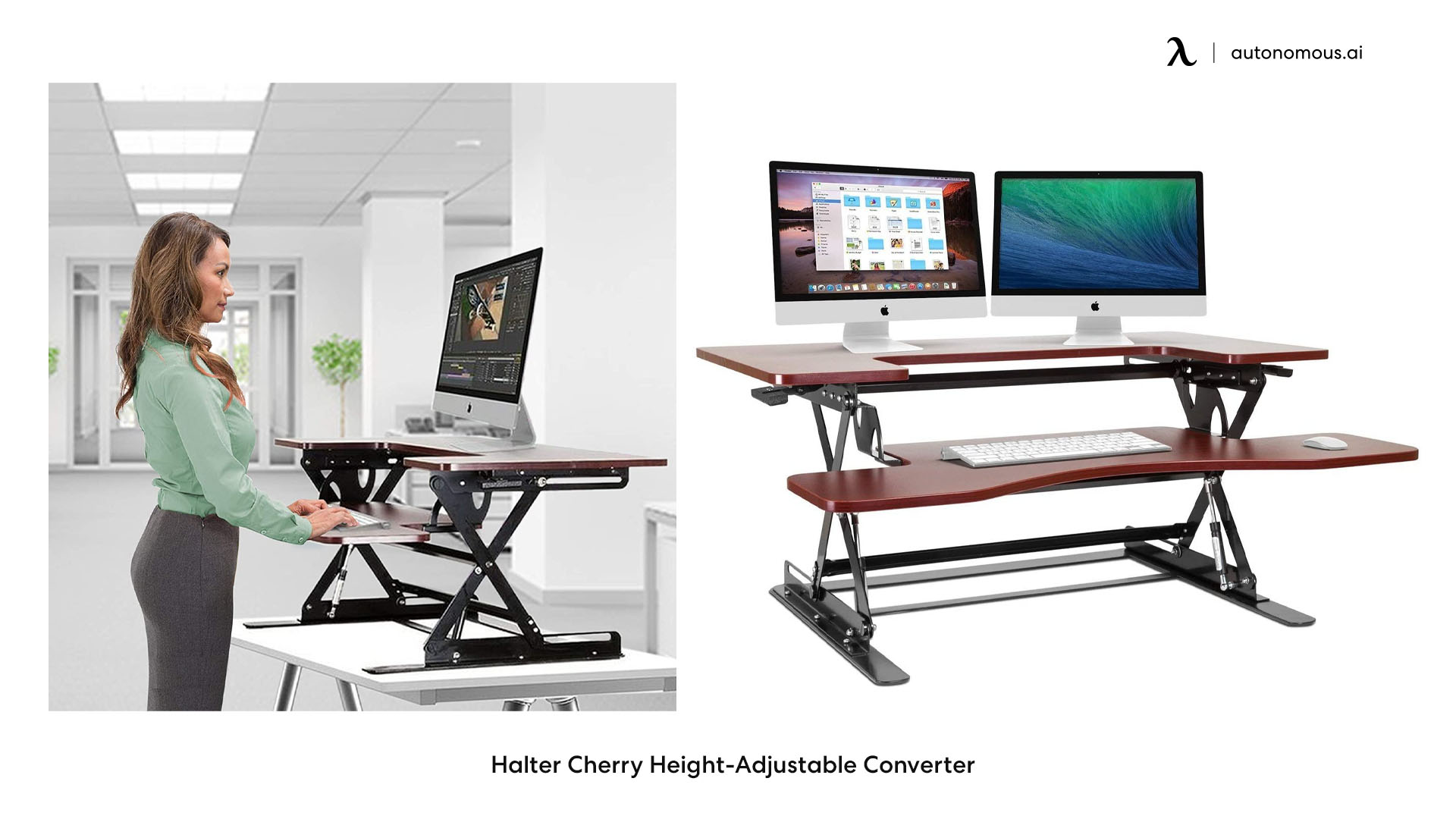 Halter's electric desk riser is available in two styles: solid black and cherry wood, and it comes fully assembled. It has 36" of work area and 12 height adjustments, allowing it to reach a maximum height of 16.14". It can be adjusted with just one hand, and it moves straight up and down in a fluid manner. The keyboard tray has a quick-release detachable mechanism that allows it to be removed safely while leaving the rest of the desk secure and functional. 
The desk surface is made of wood composites, and the structure is constructed of steel, both of which are durable and can hold a lot of weight. Compared to other varieties, the pneumatic spring lift mechanism provides a significantly smoother transition. This is, without a doubt, one of the greatest standing desks we've seen. 
13. RIF6 Electric Desktop Riser
This desk converter has 32" of space, which is a little less than some others but still adequate. It can accommodate multiple and single monitor setups, as well as a single monitor and a laptop nearby. 
The maximum weight capacity is 33 pounds. It can stretch from 3" to 15" in length, with several height adjustments in between. A built-in phone and tablet holder provides additional storage space for your electronic gadgets. On the other hand, a big, ergonomic keyboard tray rests beneath the monitor and can handle up to 4.4 pounds, which is sufficient for both a keyboard and a mouse. 
14. Seville Classics Converter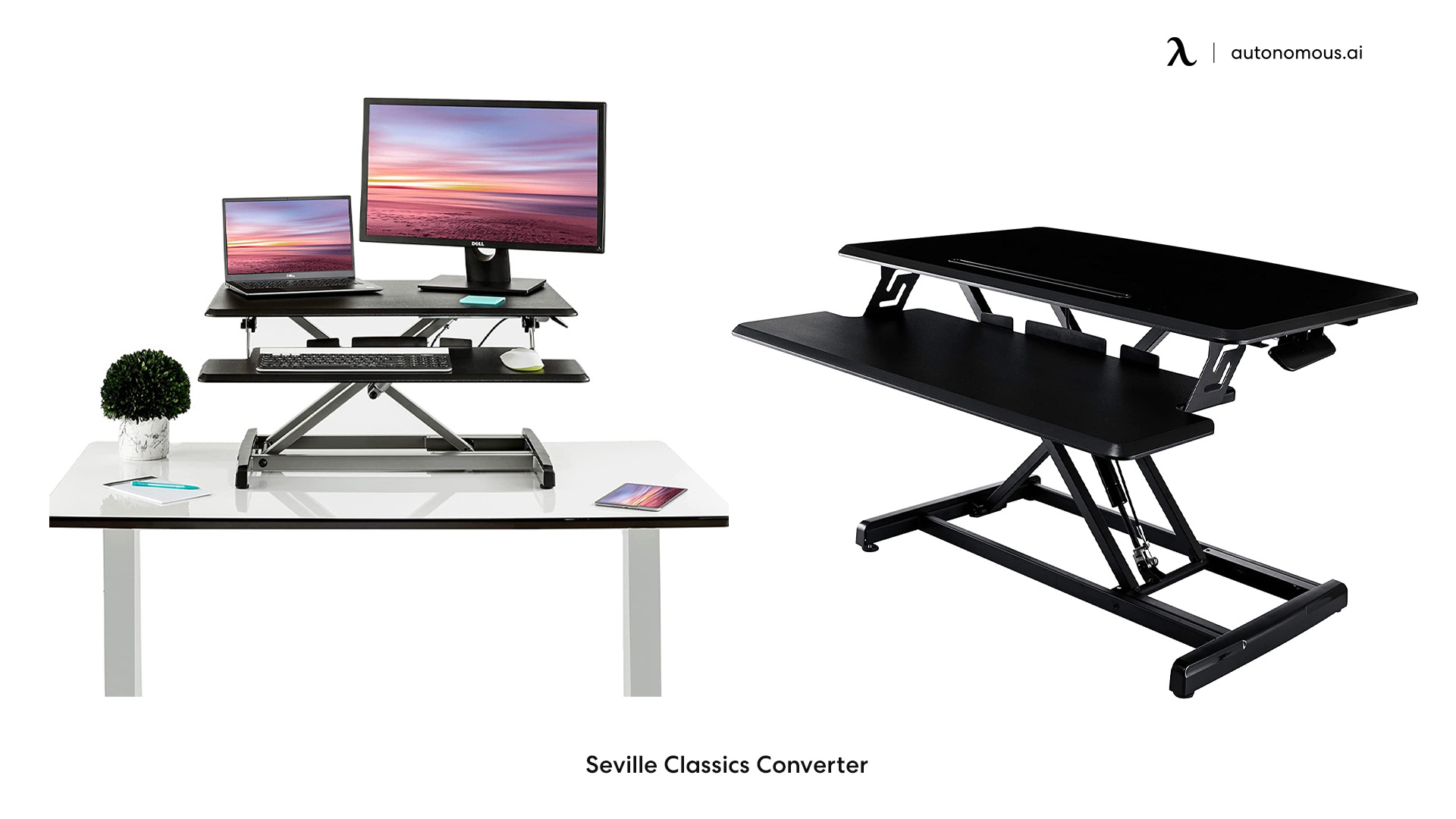 It comes pre-assembled, except for the keyboard tray, which is removable. The electric desk riser surfaces are made of a wood composite, while the frame is made of heavy-duty steel. Moreover, the top space may hold a total of 33 pounds. Finally, it's available in a variety of sizes and hues, including all-black, all-white, and walnut. 
15. SIMBR Sit Stand Desk Riser
Even though this riser's work surface is just 32" wide, there's still enough room for a dual-monitor layout, especially if the monitors are smaller — 19" to 23". Even for those taller than 6", the rack adjusts from 2.4" to 16.1", providing a waist-high experience. Although the lack of a keyboard tray may be a drawback for some, it does add to the unit's portability. It's ideal for compact settings, such as an apartment or studio.
16. TechOrbits Converter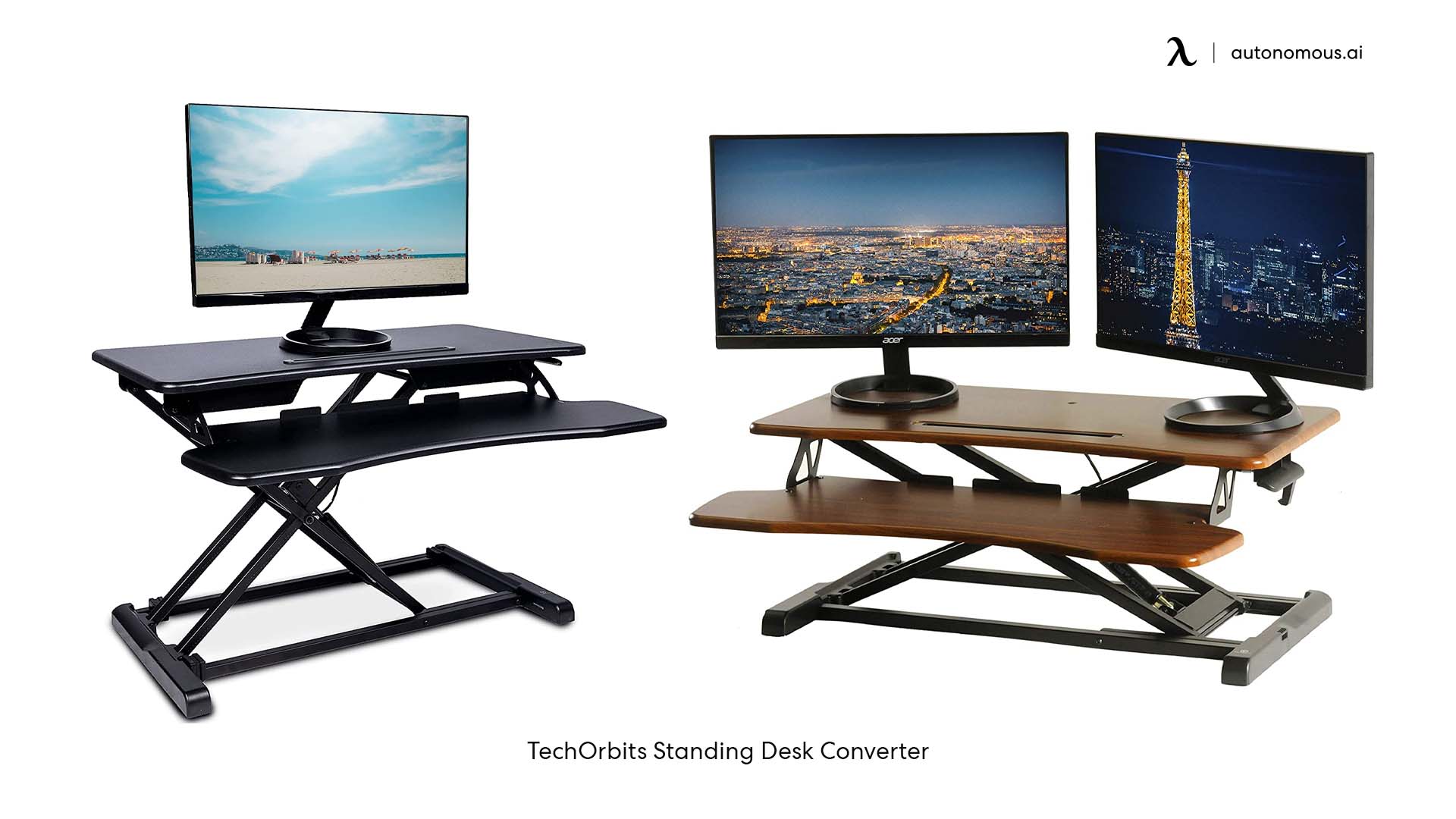 The desktop surface and keyboard tray are composed of medium-density wood, while the frame is made of steel. If you don't need it, the keyboard tray can be removed. The bottom of the base has non-slip silicone cushions that keep it sturdy and prevent it from sliding. There are also pre-drilled grommet holes for screen mounting. 
17. Fenge Desk Converter
This electric desk riser is one of the smallest and most compact with the fewest functions in general, but it is also one of the most affordable products. It doesn't come with a keyboard tray or a large desk space (it's only 25.7" x 15.9"), but it's ideal for compact work areas. It's also lighter than some of the other options, making it more portable and versatile. 
18. Fitueyes Converter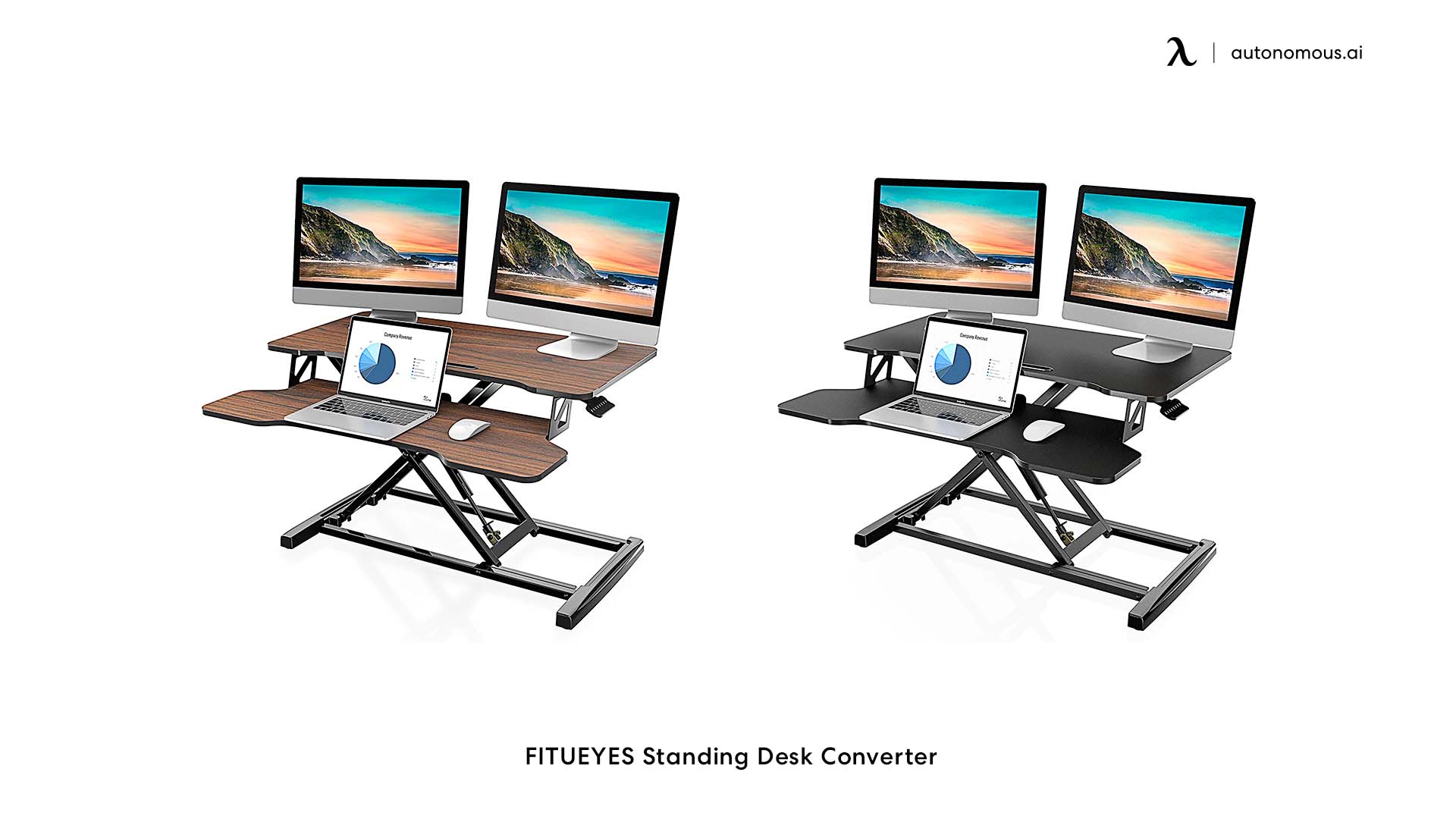 With plenty of space and an easy-to-use adjustment system, this 36" wide riser makes a great business or corporate office buddy. The mechanism is released and locked in place by a secret squeeze handle. An ideal standing workspace is created by a gas spring lift and adjustment range of 4.3" to 19.8". 
19. Stand Steady X-Elite Pro Converter
Stand Steady's electric desk riser is well-suited to tiny rooms and living places, such as a hostel, due to its small size. It includes a sturdy and stable base that is ideal for use with laptops or an additional monitor. 
20. FlexiSpot M2B Electric Desk Riser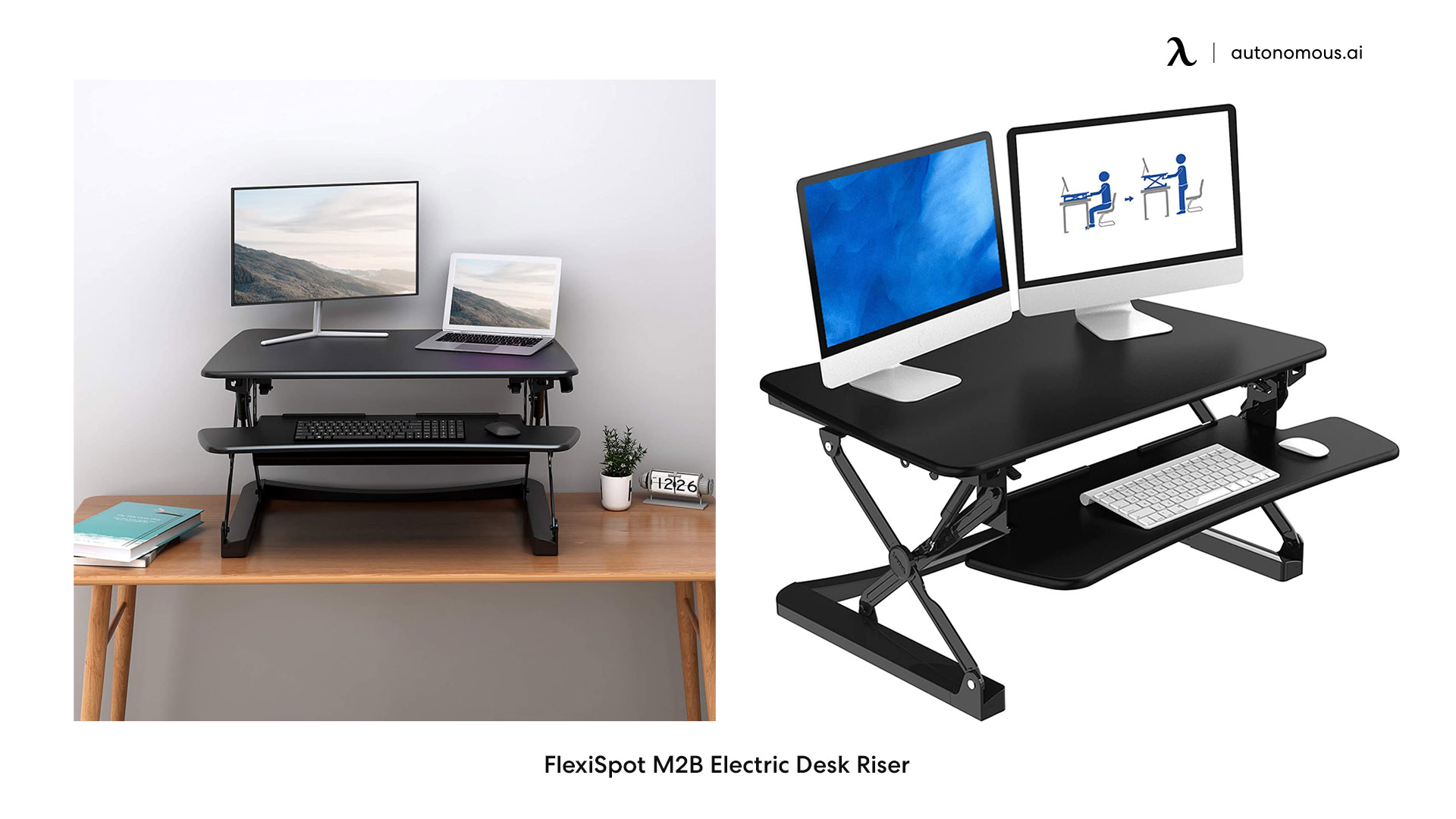 This full-standing desk riser features a removable keyboard tray, support for ergonomic monitor mounting, and two gas springs, making it ideal for both sitting and standing. 
Conclusion
We hope that this review has helped you choose the best standing desk converter for your needs! There are many options out there, so make sure you pick something that fits both your budget and your working goals.
Subcribe newsletter and get $100 OFF.
Receive product updates, special offers, ergo tips, and inspiration form our team.
WRITTEN BYAutonomous
We build office products to help you work smarter.