Smart Products
Incorporating Curved Desks in Your Workspace | 5 Great Options

Autonomous
|
Jul 9, 2023
752 Views
Due to the pressures of the work environment, it is important to make sure that your workstation is as comfortable and productive as possible. After all, you will likely be spending most of your time there, so getting yourself a great-looking curved desk from Autonomous is a step in the right direction. 
However, incorporating curved desks and similar office furniture in your workspace is not the easiest thing to do. If you buy the wrong furniture items, your office may end up looking disorganized rather than stylish. 
When looking for something a bit more eye-catching than a regular standing desk, a curved office desk may be a great idea. At Autonomous, you will find a wide range of top-quality office furniture and accessories to complement your unique curved desk design. 
Benefits of Curved Desks
Why is a curved desk considered one of the best desk setup ideas you can use for your office? There are so many other office décor ideas that you can try out, but it is only with a curved computer desk that you can enjoy the following benefits: 
Ergonomic
Ergonomic furniture is the latest craze to hit the office furniture and accessories industry. Everyone is talking about how best to create a healthier and more productive work environment, and one of the most popular ways is to buy a curved desk. 
When you have a curved desk, you are not limited in terms of the way you sit, so you can choose the most comfortable position to work in. Also, you have a place to rest your elbows while you work, which is not possible with a regular long desk.
Looks Great
There is no denying that a curved desk looks great sitting in the middle of your office. As long as you choose the right high-quality desk materials, and pick your office décor ideas carefully, your curved desk will be an awesome, eye-catching centerpiece in your work area.
Bring Accessories Closer
One of the best ways to improve productivity is to make sure all your accessories are within easy reach. Usually, this would mean having to buy an L-shaped standing desk for your office so that you can sit in the corner and have everything close by. 
However, a corner desk is not always the ideal option. Unless you plan on setting up your workstation in one of the corners, you will need to come up with another solution, such as buying a curved desk that you can put anywhere in the room.
Different Types of Curve Design in Desks
While curved desks generally follow the same design, there are differences in terms of functionality. You have to be sure about the purpose of the desk you intend on buying so that you pick the right type of curved desk. 
Normally, there are four types of curved desk designs that you can opt for, such as: 
Corner Curved Desk
This type of desk is perfect if you are looking for a desk that will fit in one of the corners of your office. Usually, you would go for this type of desk if you have limited space, and are trying the best orientation that will not leave your office looking cramped. 
While a corner curved desk will not fit as snuggly in the corner as a regular L-shaped desk, it does counter the sharp corners of your office by creating the illusion that they are curvy. This is great for giving your office a unique look.
Curved Standing Desk
Imagine taking the mechanism behind a regular home-standing desk and adding it to a curved desk. You will have a unique piece of furniture that is both stylish, ergonomic, and functional. 
With a curved standing desk, you can easily adjust the average desk height to suit your needs and help you stretch after spending many hours seated behind a curved office desk. It boosts your productivity while helping safeguard your good health.
Curved Computer Desk
A curved computer desk is simply a computer desk with a keyboard tray on which a curved desktop has been added. 
This means you get all the functionality that you require from a computer desk while adding a bit more to the style of your office space. A curved computer desk allows you to enjoy the best of both worlds by maintaining productivity and creating a unique office décor. 
The Five Best Curved Desks in 2023
If you want to enjoy all the great benefits of having a curved office desk, you have to make sure that you choose the best one for your needs. However, with so many options available, it is easy to choose the wrong type of desk and end up regretting your purchase. 
To make life easier for you, here are five awesome desk options that you should consider in 2023: 
1. Eureka Ergonomic Eureka IM63 Curved Desk: Additional Storage
Usually marketed as a curved gaming desk, the Eureka Ergonomic Eureka IM63 curved desk comes with 63 inches of workspace and additional storage for you to use. That means even if you want to install multiple monitors, as is common with serious gamers, you will still have a lot of space to use. 
This desk comes with an L-shape leg design that is great for saving space, even in the smallest of offices. The desktop has a carbon fiber surface that is both durable and stylish. No need to worry about spills and scratches when you have this type of surface. 
Thanks to the great electric motor used to adjust the height of the desk, you can easily transition from seating to standing without missing a beat. The five-year warranty is a great bonus and a sign of how much confidence its manufacturers have in the desk's durability and high-quality design. 
2. FinerCrafts Standing Desk: Curved Top
FinerCrafts is well known for designing some of the best office furniture on the market, and the FinerCrafts Standing Desk Curved Top does not disappoint. The desk comes in two great color options, either the modern-looking matte black or the more traditional natural maple. 
With a solid steel frame, this desk can easily hold up to 350 pounds of weight, which is more than enough for your regular office requirements. Its top-of-the-line electric dual motor allows you to quickly and quietly adjust the desk height anywhere between the 28-inch and 49-inch range. 
If you are going to be sharing your desk with other employees, or if you simply want to have your favorite working heights stored on the desk, you can make use of the programable keypad which is capable of storing up to for different settings. 
3. FinerCrafts Standing Desk: Curved Top, Extended Range
Another awesome addition from this versatile company is the FinerCrafts Standing Desk: Curved Top, Extended Range. Unlike its predecessor, the Extended Range option allows you to buy a much larger desk that goes up to 71 inches in length and 32 inches in width.
There are nine possible color combinations available, meaning whatever type of office décor you already have, you can find a desk that goes with it. The desk is made of the highest quality material, as can be expected from FinerCrafts, and is backed by an awesome 10-year warranty. 
Other features, such as height adjustability, a dual electric motor, and a programmable keypad are similar to the smaller version of the desk. This is a one-piece ergonomic desk that will cover all your needs easily. 
4. Trio Supply House Classic Office Desk With Storage, Espresso
If you are looking for a classic desk that comes with all the modern features you want for your office, look no further than the Trio Supply House Classic Office Desk with Storage. The name is a reference to its elegant espresso finish that will add beauty to any modern office. 
With two shelves, two drawers, and a cabinet, one thing you will have in abundance is storage. While the height is not adjustable, the curved design on this desk makes it a very good option for anyone interested in ergonomic design. 
It has heavy-duty wooden panels and a moisture-resistant finish that makes it one of the strongest and most durable curved desks you can find. This is one of those desks that you can buy confidently, knowing that it will last you a lifetime. 
5. Techni Mobili Computer Desk
The Techni Mobili Computer Desk is a great option if you are going for minimalist décor and want a desk that will blend right in. It has a thin frame that is elegantly designed thanks to the sweeping curves of its powder-coated steel legs. 
The storage cabinet is lockable, for extra security, and comes with its own set of accessory drawers. It has an L-shaped design that comes with interchangeable sides, meaning you can choose to orient the desk either left or right. 
If you are wondering how strong the material used to make this desk is, its five-year warranty should be evidence of how long its manufacturers expect it to last. The moisture-resistant panels are made from heavy-duty MDF and come with a PVC laminate veneer. 
Tips for Selecting Complementary Furniture and Decor to Match Curved Desks
Your selection process when choosing the ultimate curved office desk for your workstation is very important if you want to end up with the right desk for your needs. Consider the following tips and tricks that will steer you in the right direction: 
Research Well
As always, it is important to conduct a lot of research before buying anything. A curved desk, especially one with added features, such as a dual electric motor for height adjustment, is a significant investment that should not be undertaken lightly. 
You can start by visiting trusted outlets, such as Autonomous, and taking a look at what products are available. Also, consider the place you want to set up your desk and what you intend to use it for.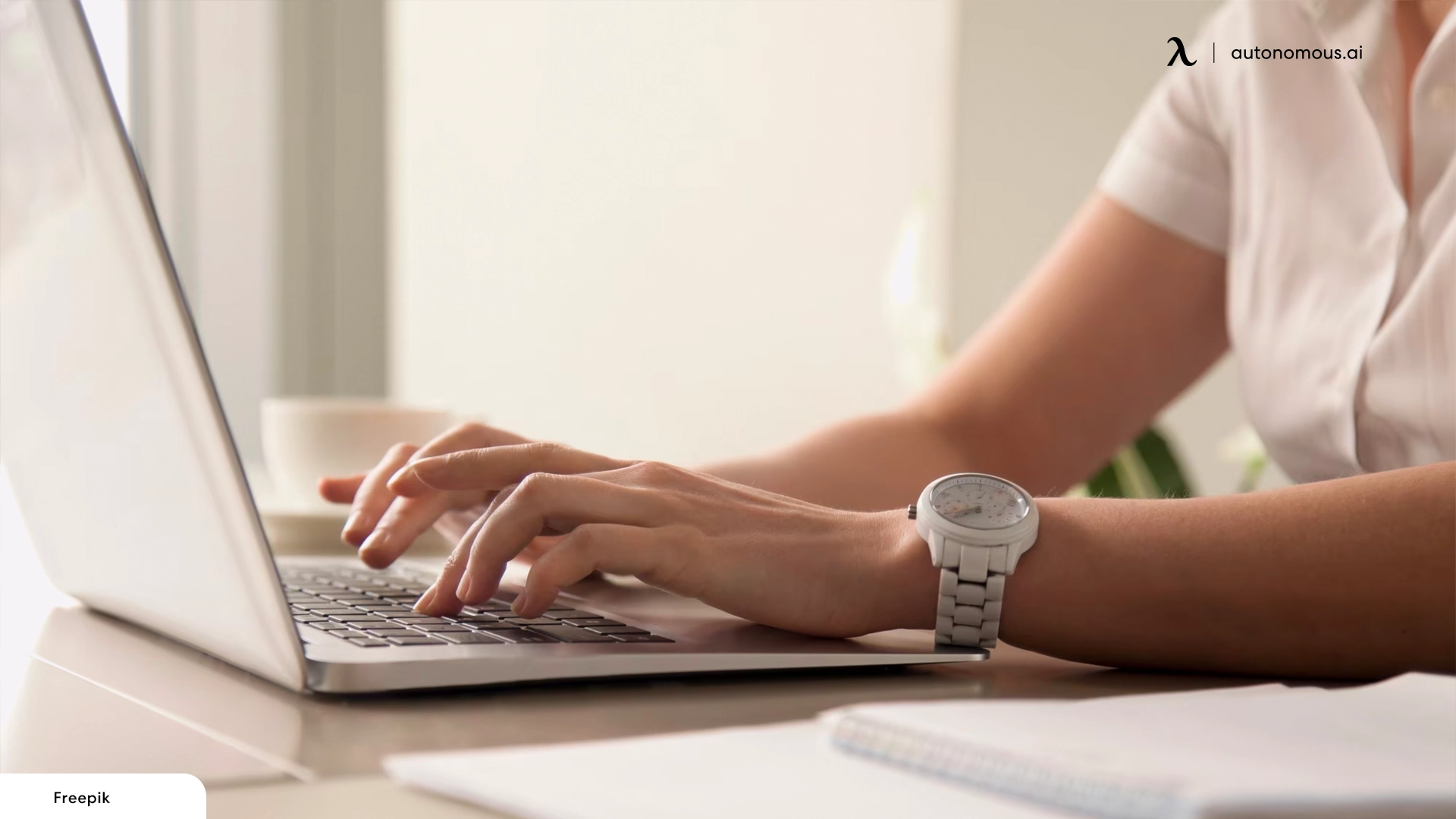 Minimalism Is Best
These days, most modern offices are going for the minimalist look, and you should too when choosing your curved furniture. You can even go as far as choosing a hideaway desk that you can tuck out of sight when not in use. 
Whatever you choose, do not buy so much curved furniture that your office will look cramped. Always go for the essentials so that your office environment will remain a pleasant one.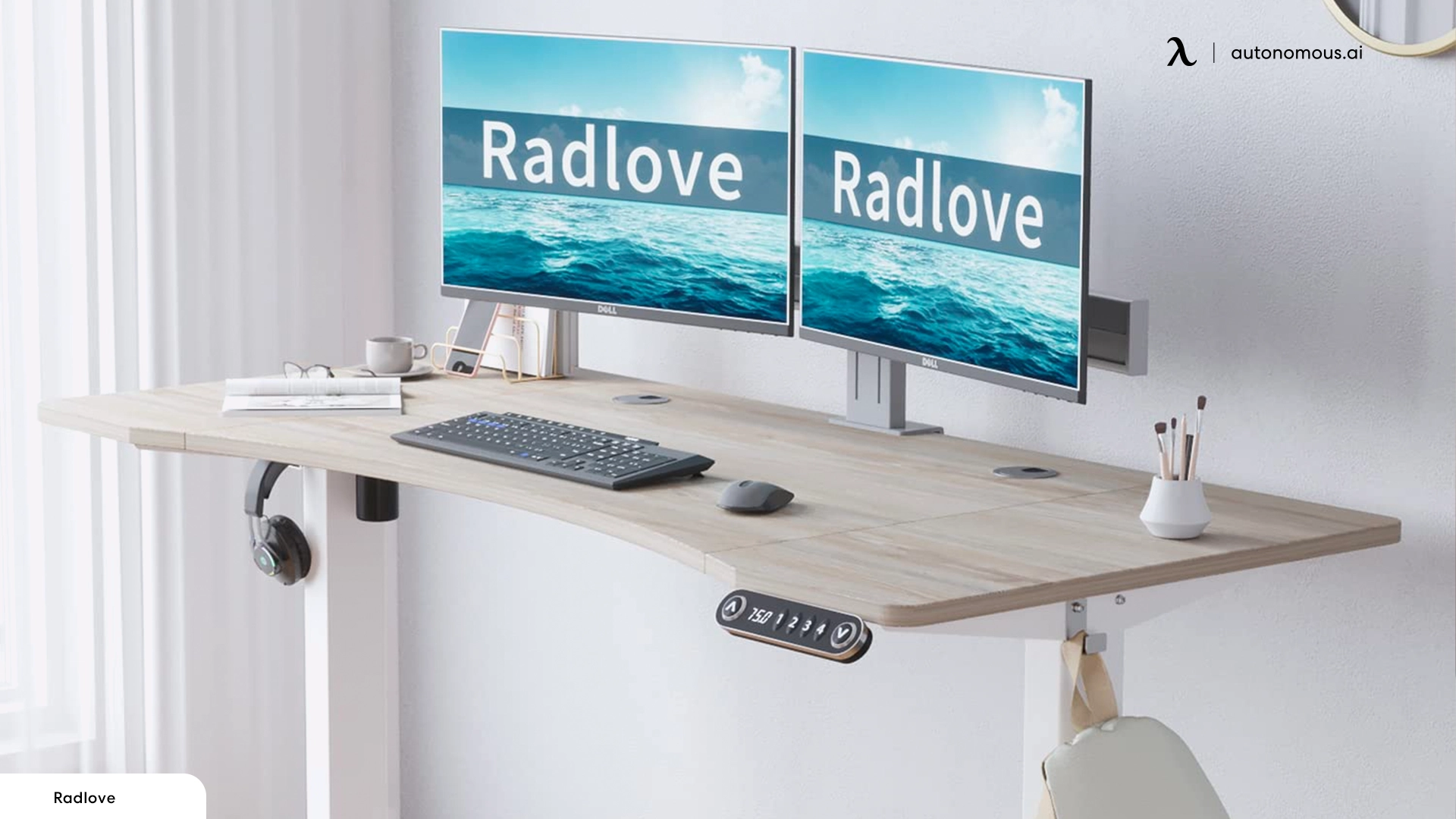 Add Curved Sofas and Chairs
Rather than simply buying a curved desk and calling it a day, why not go the extra mile and choose some curved sofas and chairs too? Matching different types of furniture is the best way to give your office the kind of look you want. 
There are lots of chairs, sofas, and other office furniture at Autonomous that will be perfect additions to your curved office décor. Consider the sizes as well when buying, so that your furniture does not end up eclipsing your curved desk. 
Color and Curves
It's not only furniture that can add curves to your office. Consider buying a few paintings from contemporary artists. The extensive use of curved lines and contrasting colors will be a great addition to your office décor.
Choose Your Centerpiece Wisely
In any modern office, the desk is usually the centerpiece, so you have to choose wisely when making your selection. Be sure to make sure it is the right design, color, and size for your office. If you get the centerpiece wrong, you will struggle to get the look you want no matter what other furniture you buy. 
Create the Most Productive Workstation With Autonomous Furniture Ideas!
Having the most productive yet beautifully designed office space is not an easy thing to achieve unless you know the right place to look. Luckily for you, Autonomous has all you need under one roof. 
If you are looking for a curved desk and some matching furniture and accessories, visit Autonomous and see what is available today. Your perfect office is just a few mouse clicks away!
Video ads for product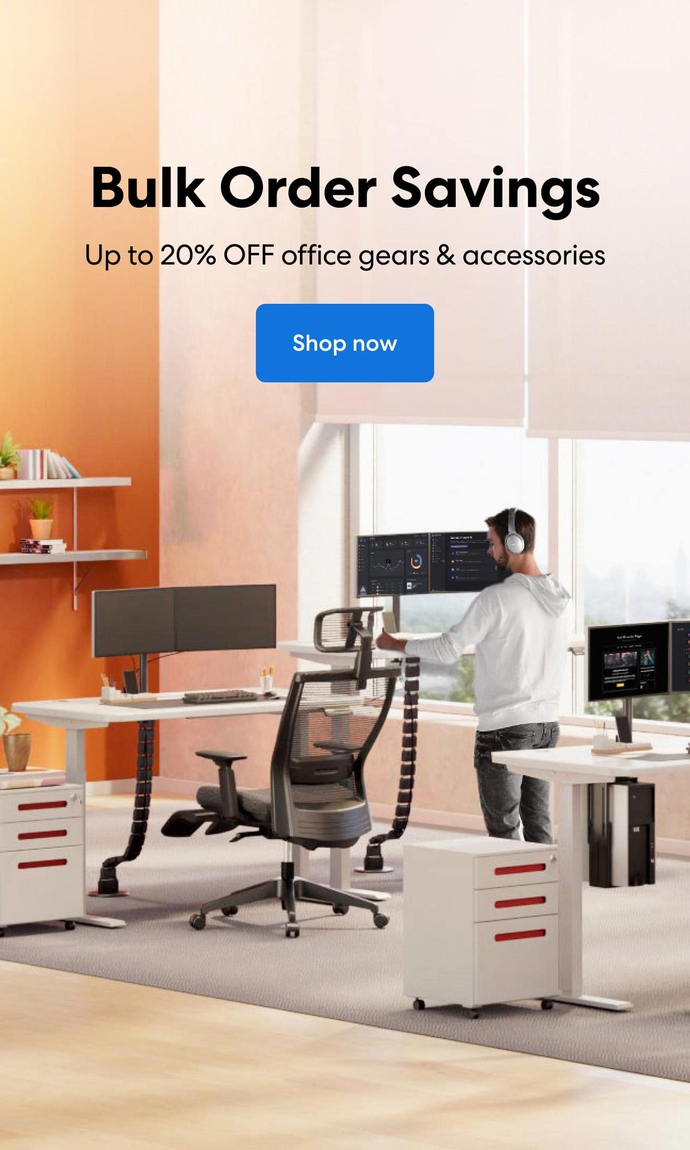 Subcribe newsletter and get $100 OFF.
Receive product updates, special offers, ergo tips, and inspiration form our team.