Gaming Setup
The Ultimate Gaming Experience With Z-shaped Gaming Desks

Autonomous
|
Jul 23, 2023
701 Views
Finding the greatest gaming desk that meets your demands and the arrangement of your home is essential whether you're an experienced gamer or just starting out. A gaming desk can be a great investment in a gamer's quality of life, but only if it Is well-made, won't shake, and will retain its pristine state for years.
To help you make an informed decision, we've compared and contrasted six of the top Z-shaped gaming desks in size, frame design, durability, and more.
Top 6 Z-Shaped Gaming Desks
1. EUREKA Z43 Z-Shaped Gaming Desk
This contemporary Z-shaped gaming desk from Eureka Ergonomic allows you to save floor space in your home office without sacrificing comfort. Your many screens, laptops, and TV may all fit on the spacious workstation.
The stylish and practical cable management on both sides of the desk is a win-win.
To keep your Z-shaped desk from swaying even under the most intense gaming circumstances, it features a robust metal frame underneath the tabletop, side support arms, and F1-designed balance levers.
2. Techni Mobili TS-200 X-shaped Gaming Desk
You can set up shop for the epic battle at hand with the Techni Sport Carbon Computer Gaming Desk with Shelving. This Z-shaped desk has everything you need to play, including a place to store your headphones and a shelf to keep your media devices handy.
There's even a place to rest your drink during those marathon sessions. It also includes two monitor stands, each tall enough to accommodate a pair of monitors.
3. Homall Z-Shaped Gaming Workstation
The Homall Z-Shaped Carbon Fiber Surface Gaming tabletop accommodates many setups. There's enough space for a mouse and keyboard and a display as large as 40 inches.
This white gaming desk provides the optimal gaming experience for all players. The built-in cup holder and headphone hook make it ideal for gaming and office use.
4. Z-Desk Ergonomic Erased Gaming Station
This Z-shaped desk workstation is built to last through those all-night gaming sessions you've been planning.
A beverage holder is included to prevent accidents. The under-desk headphone holder is a space-saving solution that keeps your headphones safe and out of the way.
Additionally, you'll have plenty of room for tools on this spacious Z gaming desk, and the structure has no trouble holding up to 50kg without swaying.
5. Z Gaming Computer Table by Lumi
When you have a big game to play, why risk it with a regular desk?
The Z-shaped gaming computer desk was created with your needs in mind, and the rounded corners are meant to bring you closer to your workstation.
Two cable grommets will keep your desk tidy and provide additional room for your gaming equipment. This is an essential component for your gaming desk setup.
6. Ergonomic Z-shaped Gaming Desk by CostWay
This spacious Z-shaped desk has lots of room for your PC and gaming gear. This LED gaming desk provides a stylish setting with integrated RGB lighting and multiple automated modes.
A cup holder, a holder for your headphones, and a holder for your gaming controller are all included on the desk.
The "Z"-shaped metal frame gives the desk a sturdy foundation that will last a long time. The Z gaming desk's black carbon-fiber-textured finish conceals a sturdy frame of engineered wood.
Tips for Choosing the Perfect Gaming Workstation
Consider the Amount of Desk Space
Think about the size of your monitor and any other tabletop gadgets you intend to always keep with you. If you need more space to store things, consider that.
Look for Storage Space
After that, we'll discuss how much space you'll have to store things. You can get a computer desk that has no storage space at all or one with shelves, drawers, or cabinets. Again, your personal storage needs will determine the ideal computer desk for you.
Think About the Weight Capacity
Choose something sturdy with a lot of weight capacity if you have multiple heavy gaming consoles.
It's better to assemble all your gaming equipment in one place; therefore, look for a desk with a high-weight capacity that can handle the weight of all your stuff.
I Prefer an Adjustable Desk
If you want the most comfortable gaming experience possible, an ergonomic computer chair is only sometimes adequate; opt for a table with an adjustable surface angle. In-game convenience and adaptability are thus maximized.
Analyze the Dimensions
Now there's the matter of the dimensions themselves. There should be a place in the room where you can arrange your gaming setup with plenty of room to spare. If you're working with a limited amount of square footage, a corner model can be the best option for your needs.
An L-shaped gaming desk also provides more workspace while taking up little room.
Look for Desks That Only Require a Little Upkeep
Easy-to-maintain materials like correctly processed wood, high-quality MDF, and tempered glass are ideal for computer desk construction and they're easy to maintain.
Consider Extra Space
The final bit of advice for picking a gaming desk is to opt for a model that leaves some additional room. Refrain from settling for the least space to fit your demands, as you may end up with additional consoles in the future.
You can also get a DIY gaming desk and try to create additional space for your gaming setup.
Conclusion
The popularity of gaming workstations has increased as major producers have entered this expanding furniture market. We've compiled this guide to help you sort through the options and choose the finest Z-shaped gaming desks for you.
Video ads for product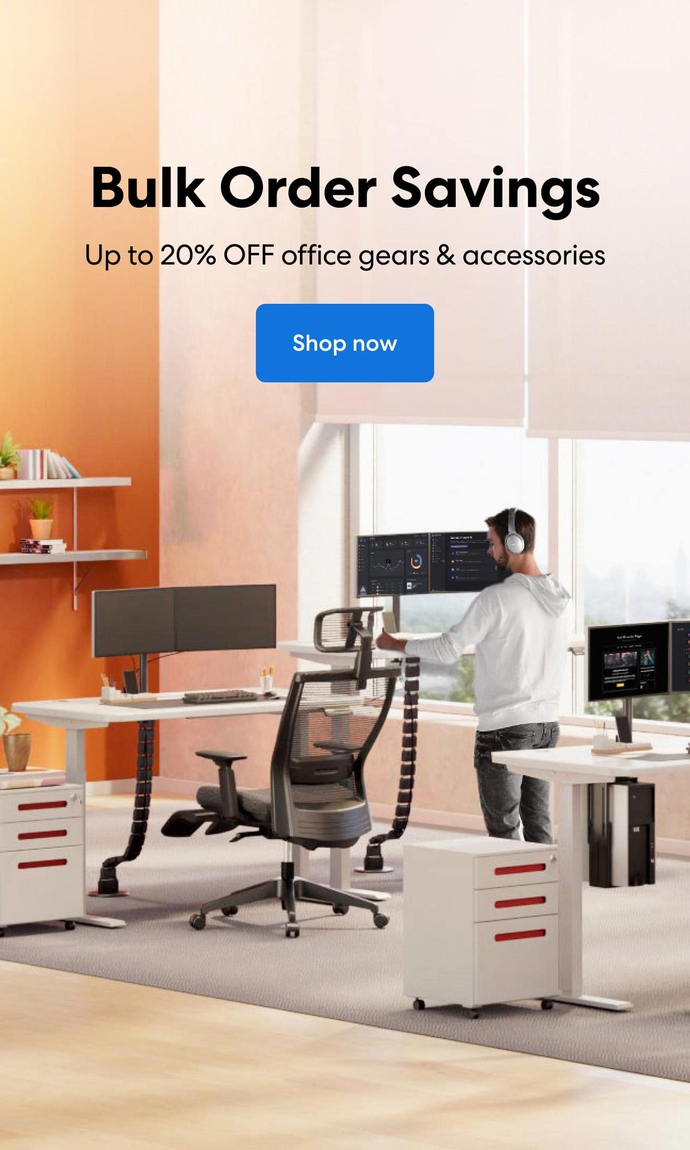 Subcribe newsletter and get $100 OFF.
Receive product updates, special offers, ergo tips, and inspiration form our team.