Smart Products
What Can Be Used as a Closet Desk for Your Home Office?

Autonomous
|
Jun 2, 2023
313 Views
The number of people who are choosing to work from home rather than commute to the office daily is increasing. Very soon, most people will require some form of home office setup to allow them to do their jobs. In cases where space availability is an issue, a closet desk is an ideal solution. 
Working at home has the disadvantage of you being continuously disturbed by family members, especially if you simply set up your desk in one corner of the kitchen or living room. Ideally, it is better to have a home office that is completely segregated from the busier parts of the house. 
However, if limited space is making this difficult, you will have to get creative and come up with some great closet desk ideas to help you make the best of the little space you have. In this article, we will look at what an inside closet desk is, and how this can help you work peacefully at home in 2023. 
What Is a Closet Desk?
Before you can buy the perfect closet desk, you need to understand what a closet office is. This is simply a combination of closet and office. You take an ordinary closet and turn it into a home office setup by adding a few office essentials, such as a desk, chair, shelves, etc. 
In that regard, a closet desk is a desk that you choose to install in your closet office. You can add some cool desk accessories to make your make-shift home office a little more comfortable, otherwise, all you need for a closet office are the basics. 
Some closet offices are more of a temporary setup until you find a better solution, whereas others are meant to be used for a long time. If you feel that your closet office is good enough to be your permanent home office, you can add some extra home furniture and a built-in closet desk.
Benefits of Putting a Desk in the Closet
You may be wondering why anyone would want to work in a closet for hours on end. Well, as long as the closet office is set up properly, and you apply some of the closet desk ideas in this article, you may be surprised at how great such a space can become. 
Many benefits come from putting a desk in the closet, as well as some disadvantages that you need to know. If you are playing around with a few inside closet desk ideas, here are some pros and cons to help you decide: 
Pros
Putting a desk in the closet is a great way to make use of the available space in a small apartment.

It is a cost-effective solution when you need a home office on a budget.

Simply closing the closet doors will give you lots of privacy to work.

When done right, a closet office with a built-in closet desk and great 

office décor can add value to a house/apartment. 
Cons
A small closet office can be difficult to work in for long periods.

Creating a closet office will require added investment into your home. 
What Can Be Used as a Closet Desk for Your Home Office?
As long as you have enough space to work with, there is no limit to the type of desk you can install in your closet office. All you need to do is make sure the desk leaves enough room to work in and that it fulfills the functions of a home office desk. 
Consider the following: 
Secretary Desk
If your job generates a lot of paperwork, you may want to consider investing in a secretary desk for your home office. Many great designs are small enough to fit comfortably in your closet. 
A secretary desk is simply a desk with lots of drawers and compartments built into it. It is also called a library desk or drop-front desk, and provides a flat working surface with plenty of storage. 
Floating Desk
A floating desk is simply a work area that has been installed on one wall of the closet office. It is ideal for small closets where space is an issue. This desk is easy to clean and looks great thanks to the design that makes it seem as if it is floating. 
The downside is that they are not portable, usually very small, and require a lot more work to install. 
Mobile Laptop/Computer Cart
One of the easiest ways to create a working surface in a closet with limited space is to use a mobile computer cart. The biggest advantage of this type of rolling workstation cart is that it can be used in very small areas where you cannot leave the desk after you are done working. 
With a mobile cart, you simply roll it out when you need to use it and put it back in its storage area when you are done. 
Closet Cabinet
While a closet cabinet is mainly used for storing different clothing items, you can easily convert one of the lower shelves into a desk. If you realize that the height of the shelves is not quite right for you to work off, you can buy a sit-stand desk converter to help you adjust the height until it is perfect. 
With a closet cabinet, there is no need for any extra renovations or installations. Simply clear up some space on a shelf and get to work. 
Ladder Desk
If you are working in a closet office with lots of vertical space, you may want to make the best of it by buying a ladder desk. This kind of closet desk comes with multiple shelves placed one on top of the other. It has the kind of setup that will allow you to store a lot of items close at hand without the need to build extra drawers in your closet office. 
Small Standing Desk
If you have room enough to stand comfortably in your closet office, then a standing desk is a great option. Sitting in a small cramped closet office day after day is not good for your back or posture. You need to do as much as you can to make sure you work in the best way possible, and buying a standing desk is one way of doing that. 
10 Closet Office Design Ideas to Consider
Many of the cubicle decor ideas that are used in the office can also be applied to your closet work area. The most important thing is for you to create a private space that helps you work in the most productive way possible. 
If you have a closet that you want to convert into a home office, consider the following ideas: 
1. Use Some Doors
If your closet is located in a quiet corner of the house, you could get away with working in an open area. However, if you find that your family members and pets are regularly disturbing you, installing some doors could be the best thing to do. 
The downside of this is that doors will make a small closet feel very cramped and uncomfortable to work in. However, a set of French doors that allow natural light to enter can allow you to enjoy the best of both worlds.
2. Creative Coloring
Just because you are working from home, does not mean you can be any less productive than when you are at work. In the same way, offices are painted and designed to create a productive work environment, you must also design your closet likewise. Choose some vibrant colors that will help get those creative juices running. 
3. Drop Down Desks
Do you want a desk big enough to comfortably work on but space is a problem? Why not install a drop-down desk? With this type of built-in closet desk, you can have all the space that you want and simply fold the desk back up when you're done. 
4. Adequate Lighting
Proper lighting is very important while working, especially if you plan on spending long hours in your closet office every day. While an overhead light bulb or desk lamp may seem alright at first, you will soon start to feel the effects of working in a poorly lit environment. 
The best solution is to try and allow in as much natural light as possible. If the location of the closet makes this impossible, LED lights are the next best thing. In addition to producing a cool light that is perfect for working, LEDs have very little heat emission, meaning they will not turn your tiny home office into a furnace.
5. Built-in Storage
If you want some storage space to go with your closet desk, you will need to get very creative. By far, the best option when dealing with limited space is to go for built-in storage. A few shelves, cupboards, and drawers installed along the walls will do wonders in terms of providing extra storage space.
6. Disguise the Closet Office
Sometimes, you may be forced to create a home office in a part of the house where you would not normally want to see a desk, computer, chairs, and filing cabinets. If you feel that the closet office is becoming a bit of an eyesore, why not try covering it up using a clever disguise? 
Consider installing some doors that look exactly like the surrounding walls. Once closed, it will be almost impossible to tell that there is an office behind that wall. Curtains or drapes can also be used to produce the same effect.
7. Use Awkward Spaces
Some awkward spaces around the house seem to be unsuitable for anything. However, with some creativity, areas such as cupboards beneath the stairs, or corners of rooms with slanting roofs, can be used to create a great closet office. All you will need to do is put a desk in the closet and you are set. 
8. Try a Sliding Barn Door
Creating the space for your office door to swing open can be impossible in certain situations. In such cases, a pair of sliding barn doors will do the trick. They will allow you to create the privacy that you need without the need for a big space to work in. 
You can design the barn door to look like the surrounding walls so that you can easily hide away in your closet office. If your work area is in a type of nook, this is the perfect type of door for your needs.
9. Keep the Design Simple
While it is important to design your closet office in a way that is most comfortable to you, you should also try as much as possible to keep things simple. Too much décor in a confined space can easily become a distraction more than anything else. 
A small home office is the perfect setting to try implementing a minimalist type of décor that will allow you to design an area that looks and feels bigger than it is. Instead of simply leaving various office accessories on the desk when not in use, you could keep them in drawers so that your closet desk always looks clean and wide open. 
10. Avoid Clutter
One of the biggest problems of working in a small closet office is that it is easy to generate a lot of clutter if you are not careful about how you organize your office equipment and accessories. 
Consider a small closet desk that has a monitor, keyboard, mouse, phone, and printer. Immediately, the biggest problem becomes how to handle all those cables. A good cord organizer will provide an effective cable management system in such a situation to avoid clutter.
Need a Home Office? Why Not Use the Closet?
With the right closet desk ideas at your disposal, you can make the best out of almost any small area in your house to create a great home office. Buying the right kind of desk for your needs is essential. Consider any of the awesome ideas we discussed in this article and start working on your very own closet office today.
Video ads for product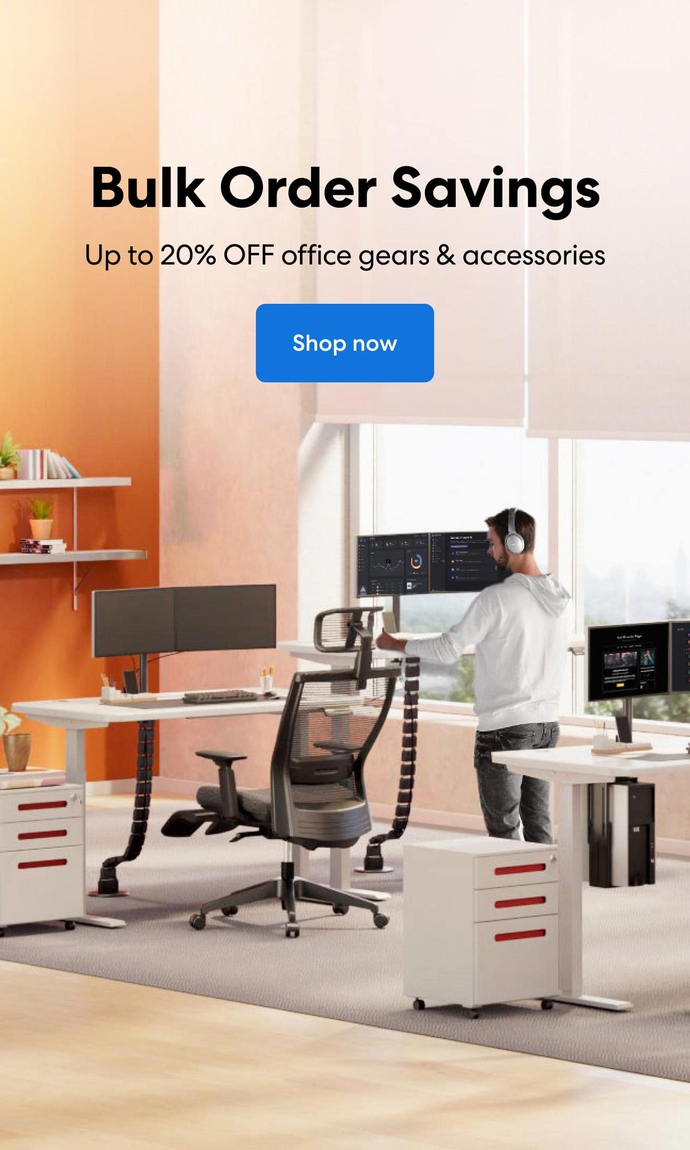 Subcribe newsletter and get $100 OFF.
Receive product updates, special offers, ergo tips, and inspiration form our team.