Standing Desks.
Think on your feet.
Which SmartDesk is right for you?
Why use a standing desk?
Burn calories and reduce your weight
Just by standing and moving around a little will help burn those calories, thereby reducing your weight gain.
Alleviate back and neck pain
Reduce the strain on your back and neck by splitting your sitting and standing time. Avoid being hunched over your laptop all day.
Improve your posture
Straighten your back and put your shoulders back - more than just words from mom. A good posture leads to several health benefits.
Keep your circulation going
Mixing it up during the day helps to keep your blood circulation going, which leads to sharper brain function.
Uplift your mood and energy
Varying your stance can help to lift your mood and energy levels. The simple act of movement and variation has huge mental health benefits.
Increase productivity
Overall, the ability to stand all day - or even some of the day - has been proven to improve productivity through health benefits.
Lower blood sugar levels
It might not seem that important, but lower blood sugar levels prevents excessive weight gain and helps you stay healthy.
Reduce risk of sickness
The sedentary lifestyle of traditional office work can lead to more sickness. Reduce the risk and lose fewer days to sick leave.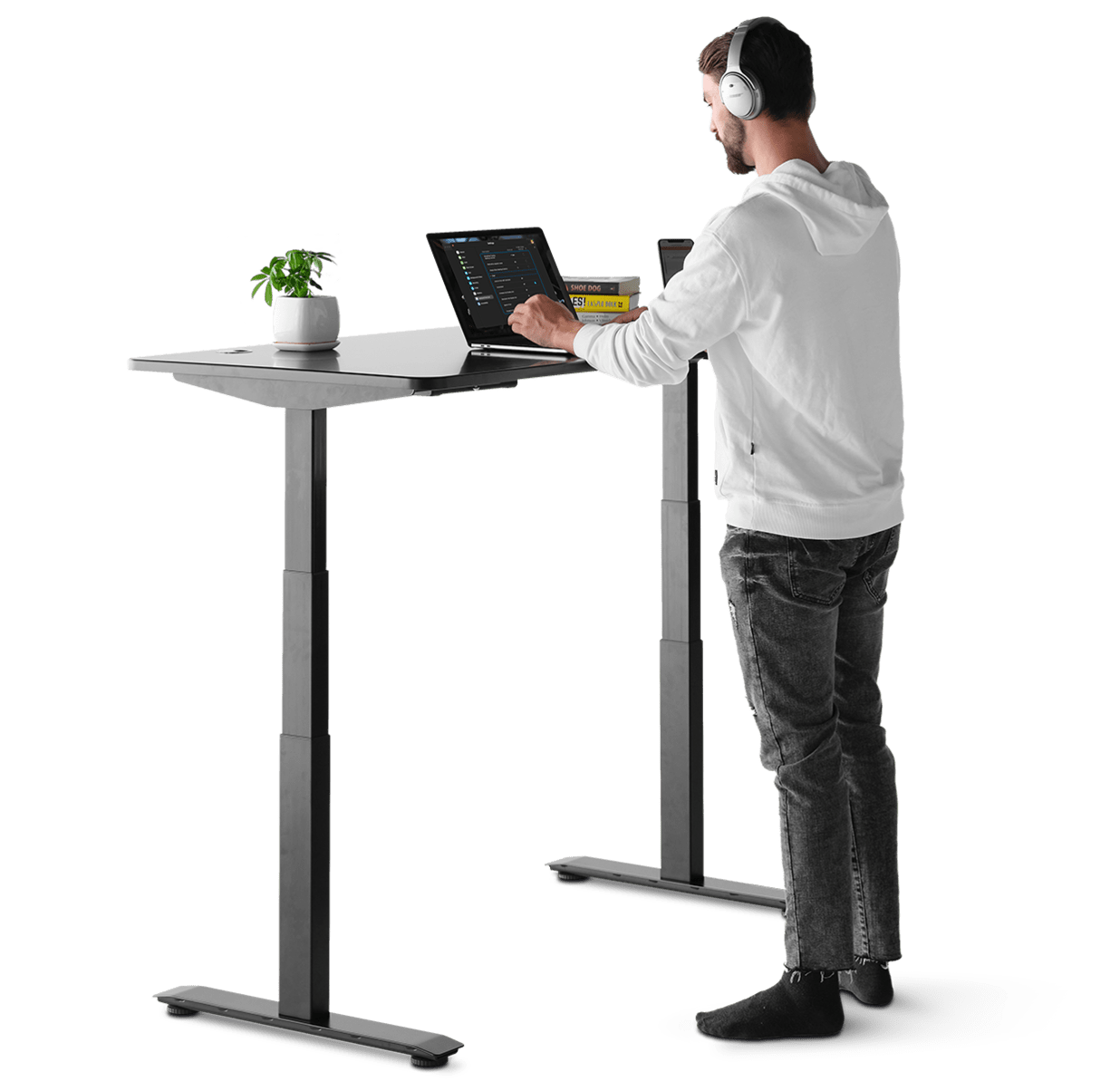 Your Ideal Height Calculator.
Not sure what your ideal desk height should be? Let the calculator do the hard work. Simply enter your height (with shoes on if you wear them at work), and we'll share your ideal desk height whether sitting or standing.
Start here by selecting your height with shoes on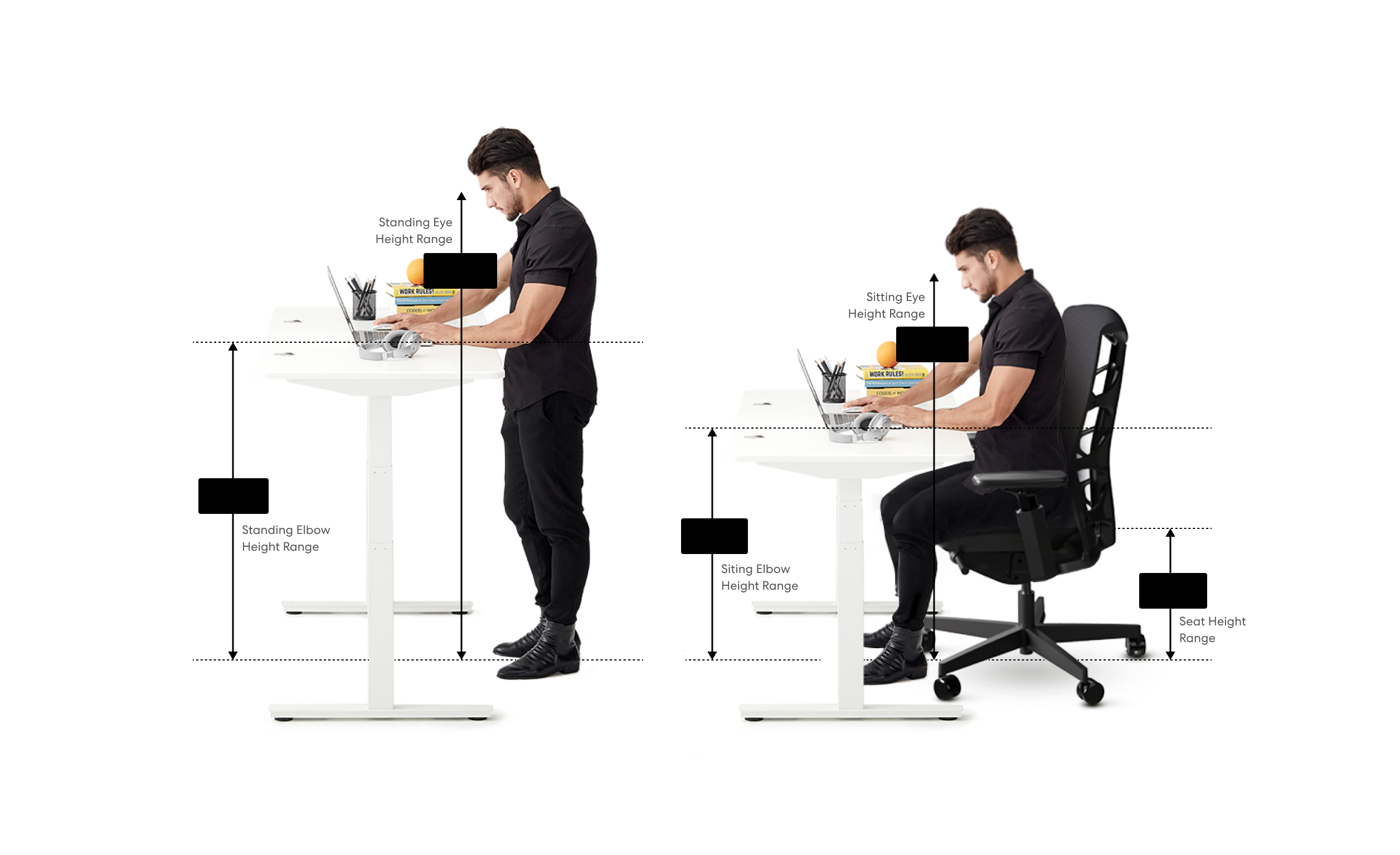 57.0''
39.0''
43.0''
23.0''
16.0''
Choose the Right SmartDesk.
Our range of SmartDesks are designed to suit every need and requirement, but some models are more suitable for you than others. Choose the one that works for you.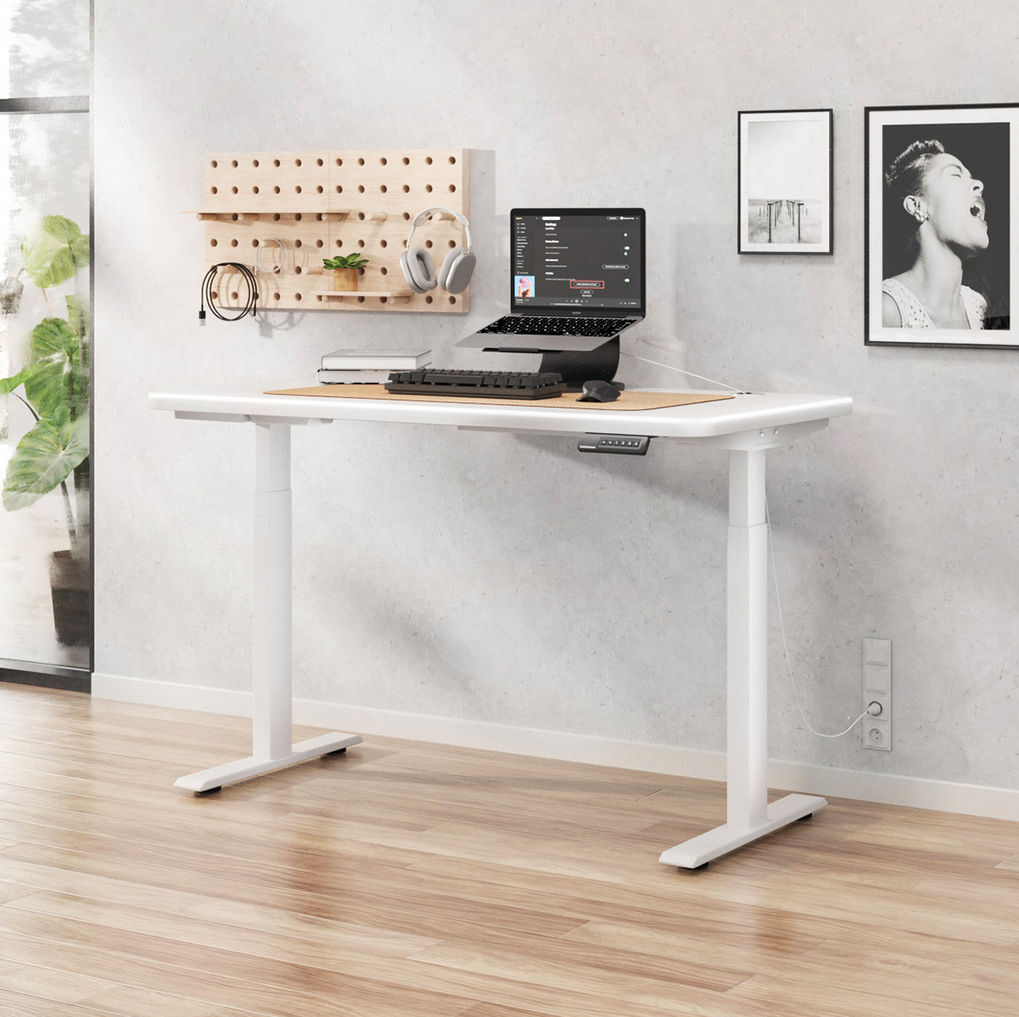 SmartDesk Core - Ready to Go.
Looking for a fuss-free, solid option that's ready to go right away? Look no further than the SmartDesk Core - simple to assemble and go.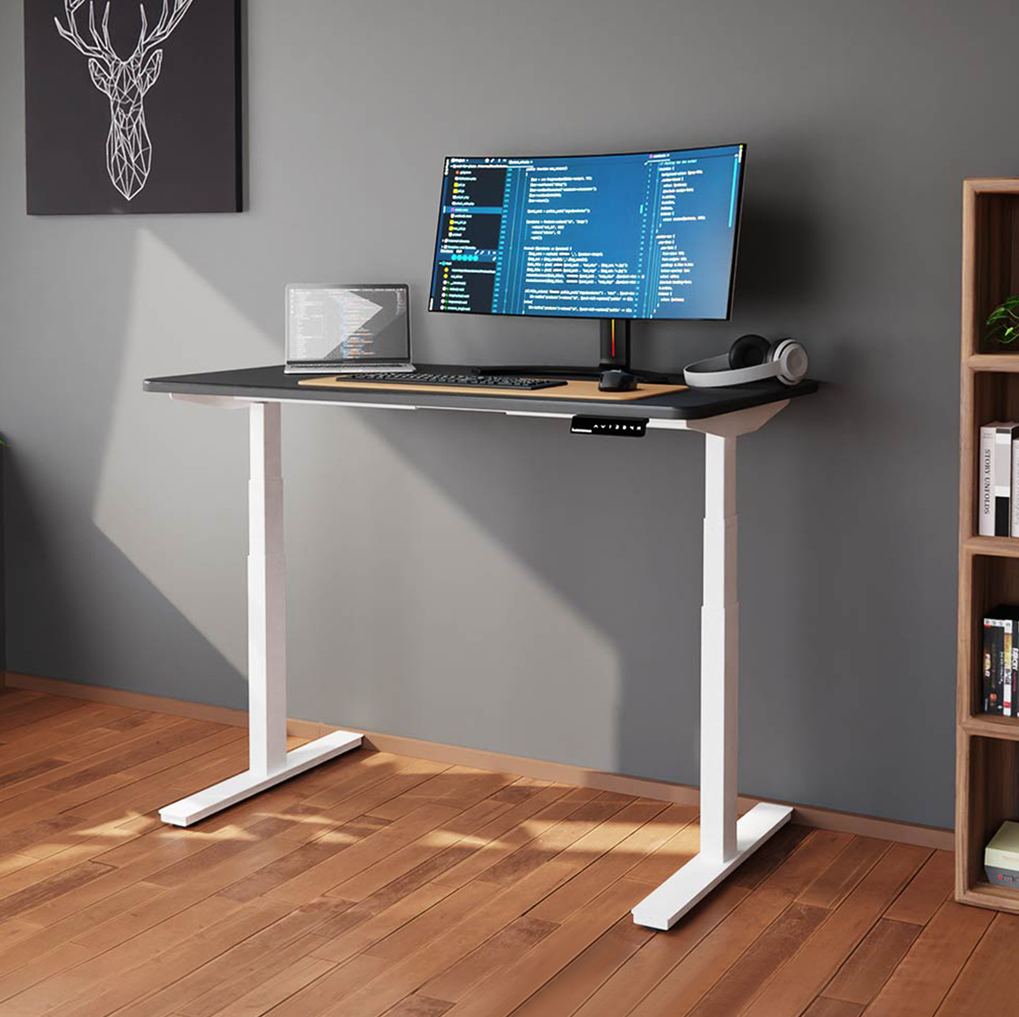 SmartDesk Pro - Advanced.
If you don't mind a bit of extra setup time and have more flexibility, then SmartDesk Pro is the one for you. More height and lifting capacity.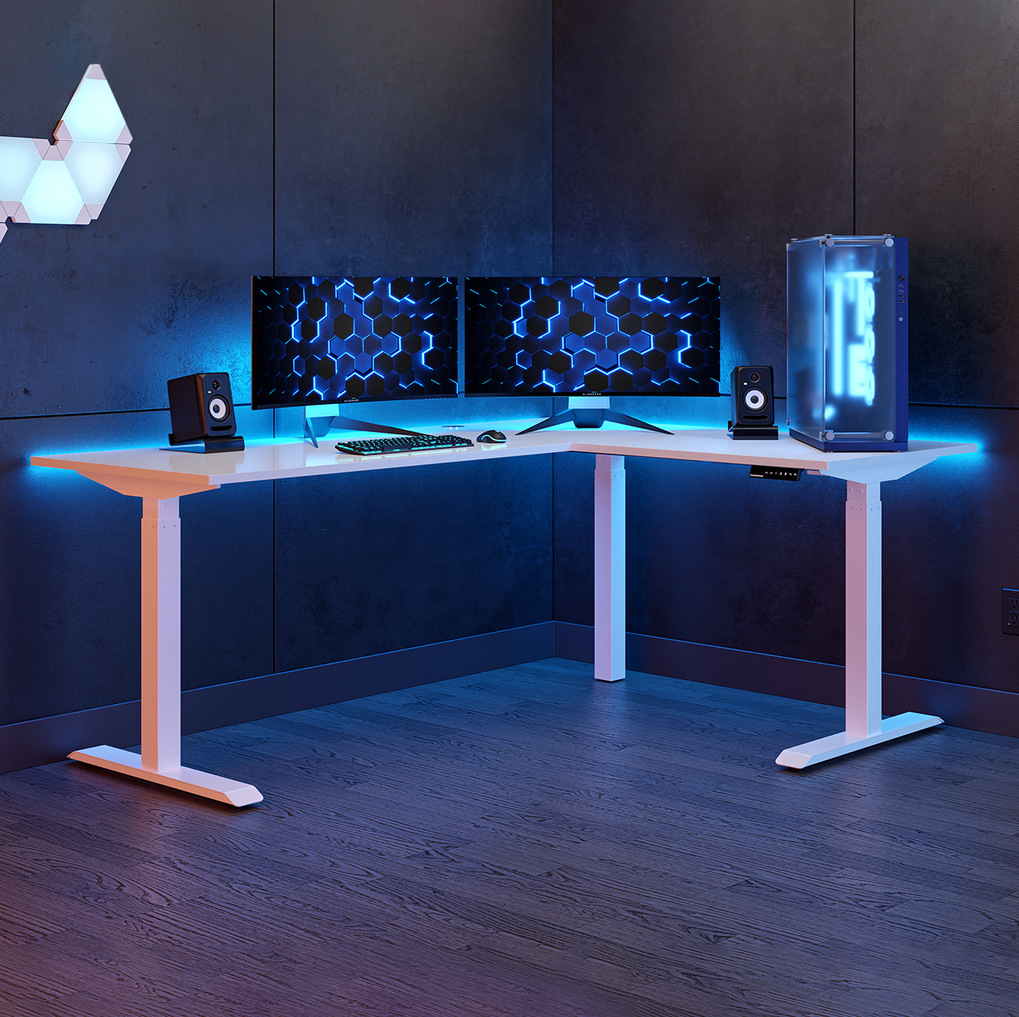 SmartDesk Corner - Extra Space.
The model for those who need that much more space with greater flexibility. Just like the Pro, but bigger.
Choose the Desktop that Matches Your Style.
Our desktops come in one of two materials, bamboo and MDF wood. There are some key differences to consider when choosing between the two including durability, weight and cost. For instance, bamboo is generally a more solid choice and doesn't warp, while MDF wood is cheaper and generally easier to keep clean.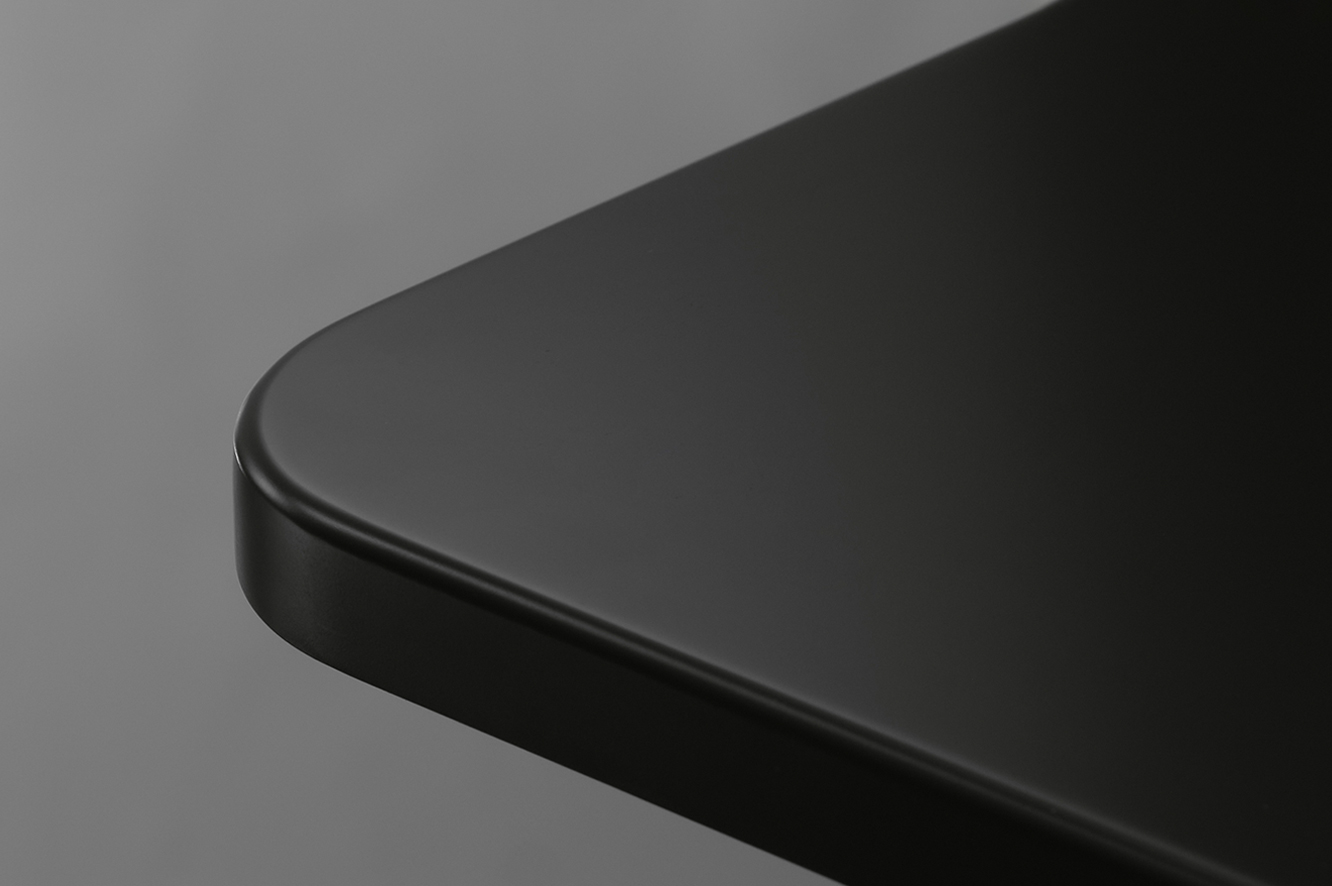 MDF Wood
Black, Walnut, White Oak or White
Black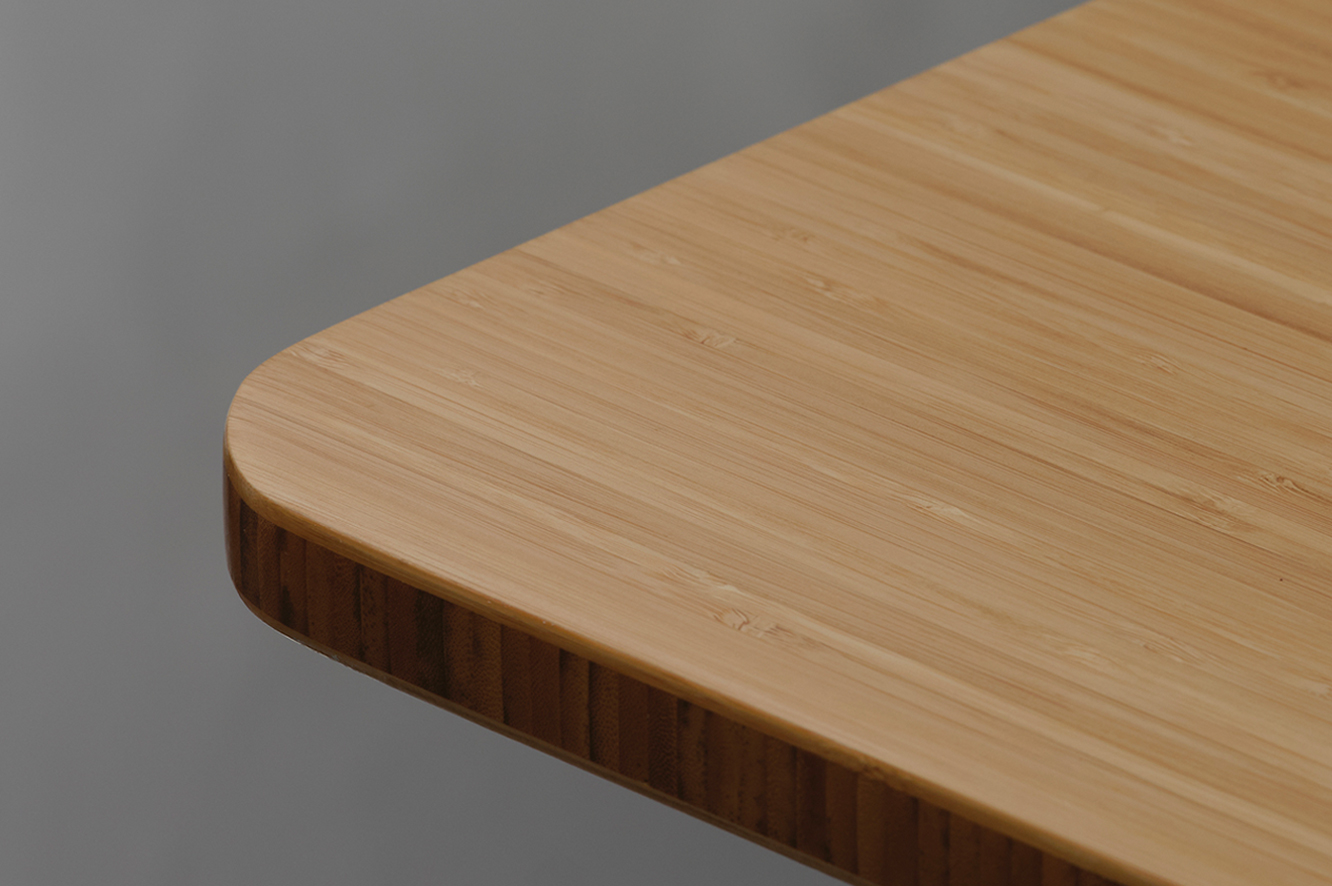 Bamboo
Natural Bamboo or Dark Bamboo
Natural Bamboo
Assembly Guide.
We design these desks to be easy to self-assemble. And check out the videos below for even more guidance:
We put you first.
More than just a package, we deliver to you an end-to-end experience that exceeds all your expectations.
30-Day trial and returns
Free Shipping
Buy more, save more
High quality
Up to 7-year warranty
Powered by Autonomous.
Autonomous Desk FAQs
Most Frequently Asked
How do I know if the standing desk I want to order is in stock, and how do I check when it will ship?
To check if a particular stand up desk on the Autonomous website is in stock, head to the product page and select the tabletop and leg frame combo you're interested in ordering. If available, it will say "In stock" in green text next to the number of units you wish to order.
You'll also see an Estimated Shipping Date on the product page. Please note: this is the time your order will be shipped out of our warehouse. It is determined by the electric adjustable desk options you select and availability of stock.
How long will it take to deliver my standing desk order?
Shipping time frame is calculated from the estimated shipping date to the expected date of delivery.
The shipping date is the date your products are shipped out of our warehouse.
The delivery date is the date your products are expected to arrive at your delivery address.
Please note that each adjustable desk in any one order may have different estimated shipping dates due to its availability and warehouse location. Shipping time frame varies depending on your location. Please see below:
United States - The 48 contiguous states: 3 to 5 business days after the item's estimated shipping date.
Canada: 5 to 7 business days after the item's estimated shipping date.
Countries in the European Union: 7 to 9 business days after the item's estimated shipping date.
Switzerland and the UK: 9 to 11 business days after the item's estimated shipping date.
How do I change or cancel my standing desk order?
After completing your stand up desk order - signified by the notification "order placed" - you cannot make changes to your order, but you may cancel your order within 30 minutes of placing it. See below:
1. Select the "Sign in" button, then fill in your email to log-in to your Autonomous account.
2. Move to the "Hello [your name]" button at the top and select "Your orders".
3. Search for your order and click on "See details".
4. Select "Cancel order" if you would like to cancel the entire order, or "Cancel item" for a specific item.
Note: If you would like to change an item's color, size, or quantity, or need to edit your shipping selection or delivery address - simply cancel your original order and place a new one. Once an order is shipped, it is not possible to make changes or cancel the order, but you may initiate a return via our Returns form.
My standing desk delivery is missing. How do I track a missing package?
Be aware that the delivery status of your stand up desk order may be updated in advance and you may see your package marked as "Delivered" even if you have not received it. It may not have been delivered yet, but it's heading to the address you've selected and it will be there real soon. If you receive email notification of successful delivery without finding or receiving your standing desk, please try:
Looking around the surrounding area of the shipping address (if you live at a residence).
Checking again with building reception/management (if you live in an apartment).
Autonomous reserves the right to deny assistance or responsibility for any loss claims which are reported to us after 30 days from the delivery date, or because the customer provided an incorrect/incomplete shipping address.
Some carriers' delivery notifications can be shot out 24-48 hours before their actual arrival. If you still can't find your package(s), please contact us. Our Customer Service Department can assist you in filing a claim and can help send you a replacement package(s).
Does my standing desk order come in a single or multiple packages?
Our sit stand desk range is usually delivered in multiple packages. These packages are usually shipped from different Autonomous warehouses. We do this for a number of reasons:
By separately packaging components we lower the risk of any damage during transit.
We have multiple warehouse locations, and our separate packaging gives our shipping partners the flexibility to pick up and deliver your order as soon as possible.
We are able to optimize our shipping costs and continue to provide you with free shipping.
Learn More About the Autonomous Standing Desk
How does the Autonomous ergonomic standing desk help performance in the professional workplace?
For company-wide adoption or personal use, our height adjustable stand up desk range is engineered to support physical health, mental wellbeing, and peak productivity. Autonomous SmartDesks have helped over 130,000 offices to date and our clients have witnessed improved morale and stronger performance across their teams.
What desktop options are available with your adjustable height desk range?
SmartDesk desktops are crafted from durable, scratch-resistant MDF wood and are available in a variety of matte finishes, colors, and sizes. Choose a desktop in Black, White, Walnut, White Oak, Bamboo, or Chunky Oak, then mix and match with your choice of Black, White, or Gray all-steel leg frame.
What sizes are available for your standing desk desktops?
Our sit stand desk desktops are available in 2 sizes:
Classic: 53" x 29"
XL Classic: 70.5" x 30" XL edition
With the exception of the SmartDesk Chunky Oak desktop, which is available in only 1 size: 70" x 30"
How does the SmartDesk standing desk frame work?
Our anti-rust, solid steel, height adjustable desk frames are equipped with a powerful dual electric motor that performs quietly so as not to disrupt the workflow of others. Built to last up to 50,000 adjustments with the option to save up to four pre-programmable heights. With the touch of a button our adjustable desk lifts up to 265 lbs of gear from its lowest to maximum height in just 20 seconds.
How important is it to use a adjustable height desk with UL certification?
The UL Certification Mark is one of the most widely recognized and trusted symbols of safety for consumers globally. When investing in a sit stand desk that you plan on using daily, whether it be for work, education, or gameplay, UL certification ensures product safety, performance, and reliability for you, your family, and your teams.
What are the ANSI/BIFMA G1 standing desk height standards?
According to the ANSI/BIFMA G1 ergonomic guidelines, any rising desk is recommended to be adjustable from a minimum height of 22″ to a maximum height of 46.5″. This is intended to accommodate 90% of the US population based on a national census survey, from the 5th percentile of women to the 95th percentile of men.
How is ANSI/BIFMA X5.5 used to certify an Autonomous standing desk?
ANSI/BIFMA X5.5 is a set of strict standards recommended for any sit-stand workstation. All Autonomous stand up desks with ANSI/BIFMA certification are rigorously tested and approved for Top Loading, Load Ease, Lock Mechanism, Extendible Element or Roll-Out Shelf Cycle, Out Stop, Rebound, Racking, Leg Strength, Horizontal and Vertical Adjustment, Stability, Cycle Testing for Receding Doors, Interlock, Drop Test for Receding Door, and Unit Drop.
In their own words, "This standard specifies acceptance levels to help ensure reasonable safety and performance independent of construction materials, manufacturing processes, mechanical designs, or aesthetic design."
Which Autonomous standing desks come ANSI/BIFMA certified?
The following electric adjustable desk models are ANSI + BIFMA certified:
Autonomous SmartDesk Core
Autonomous SmartDesk Pro
Autonomous SmartDesk Corner
Autonomous SmartDesk Connect
Autonomous SmartDesk Frame
Are Autonomous ergonomic standing desk frames EMC + BIFMA certified?
Yes. All Autonomous SmartDesk stand-up desk frames proudly boast both BIFMA and EMC certifications.
Do Autonomous standing desk frames consume a lot of electricity?
No. Autonomous SmartDesks are exceptionally environmentally friendly. By cutting standby power usage from an average 1-2 Watts down to an industry-leading maximum of 0.1 Watts, our adjustable desks are engineered to save energy and minimize carbon emissions.
How do I determine which height-adjustable standing desk is right for me?
First, factor the available space you have to set up your rising desk, the amount of equipment that you need to place on your adjustable desk, and your standing/sitting height. Then you can consider the height range, desktop sizes, and weight capacities that are available. Provided to help you with your decision, check out the specs tab under each desk for more detailed information, or pull up the comparison table to see a side-by-side breakdown.
SmartDesk Core or SmartDesk Pro - which is right for me?
That depends on what you're looking for. We love both models but they do cater for different needs. The SmartDesk Core is the fuss-free option that delivers an all round package of solidity and flexibility, at incredible value. The Pro version has more range and a greater degree of automation.
For instance, one difference in height range. The SmartDesk Core offers a height range of 29.3–48.5 inches, while the SmartDesk Pro offers more flexibility with 26.2–52 inches.
Are your standing desk frames compatible with my own provided desktop?
Sure. You'll be able to choose from Core, Pro and Corner options. Just make sure to check the specs for each frame, and design your desktop accordingly.
The SmartDesk Frame includes the complete frame and motor kit. Create the desk that suits your personality by choosing a standing desk frame and your own custom desktop, or use the desktop you already have and treat yourself to the ultimate upgrade.
I live outside of the United States. Will an Autonomous electric standing desk work with my outlets and power voltage?
Yes! All stand up desk orders that are shipped internationally come with all corresponding power converters and power cord plugs pre-installed.
Which ergonomic chair should I use with a height-adjustable standing desk?
The ErgoChair Pro and ErgoChair Pro+ are two premium chair offerings from Autonomous that feature multiple adjustment points for maximum flexibility. You can even try active sitting with our ErgoStool, a fun and core-activating alternative to sitting and standing.
Can I compliment my standing desk with Autonomous?
At Autonomous, we have a wide range of products which can complement your SmartDesk. Our Ultra-Wide LED Desk Lamp lights up the entire surface of your electric standing desk, giving you the best possible illumination without adding glare to your computer screen.
For standing, check out our comfortable Anti fatigue standing desk mat that reduces tension on your ankles and knees. These standing desk accessories will help you maximize the use of your SmartDesk and provide a productive office environment.
How to set Autonomous standing desk presets?
Setting the preset heights on an electric standing desk is simple. First, adjust the height of the desk to your liking. After that, hold down the button with the letter "M" on the electronic pad. When the LED screen displaying the height flashes, press a number button you want to associate with that height. The height is now saved in memory, and you are ready to work smarter!
Can I attach a keyboard tray under an Autonomous standing desk?
You sure can! Autonomous stand-up desk tabletops are 1 inch thick, and the Chunky Oak tabletop is 1.6 inches thick. As long as your underdesk keyboard tray can accommodate this thickness you're good to go.
Standing Desk Health Benefits
Is standing desk better than a sitting desk?
Ultimately, it's a balance. Sitting for an extended period can lead to an increased risk of heart disease, diabetes, and obesity. By standing at points throughout the day, you eliminate those health problems, including back strain and poor blood circulation. However, standing for too long may do more harm than good.
Using an electric standing desk allows you to easily alternate between sitting and standing throughout the day. This encourages healthy habits like taking breaks to move around and refresh your mind after a period of body inactivity.
Does a height-adjustable standing desk help posture?
Yes, it aids in maintaining a healthy posture, which goes a long way toward reducing back and neck problems. A standing desk helps take pressure off the pelvis, forces your body muscles to work to maintain a healthy standing posture.
This restores your spine to its initial S-curve over time, so you don't have to hunch or gaze down the entire day, protecting your neck and back from pain. If you don't have a good posture, buying a height-adjustable standing desk can be extremely helpful.
Does a standing desk help with back and neck pain?
Using an adjustable height desk and moving around has been proven to help with back and neck pain. According to a 2018 study, patients who utilized a sit-stand desk and received sedentary behavior counseling saw a 50% reduction in lower back pain than a control group that received neither intervention. Similar results have been reported in studies looking at neck pain.
Along with maintaining proper posture, alternating between sitting and standing, and regular movement, a sit-stand desk can relieve your back and neck pain over time. As forcing yourself to stand for hours on end can cause more harm, opt for an adjustable height desk, so the option to sit is still available.
Does standing desk help neck pain?
Yes. When your desk and equipment are at the wrong height, you might risk your postural health with your head and neck protruding forward, which adds weight to your neck. An electric standing desk sets your workstation up to an appropriate height, preventing you from incorrectly craning or angling your neck. This takes off the pressure on your neck and relieves the pain. Moreover, prolonged sitting can result in neck stiffness, which is not the case if you use a standing desk. You can buy a standing desk online today to avoid neck problems.
How long you should use a standing desk?
Sitting at a desk all day takes a toll on your health. According to a University of Waterloo study, standing with adjustable desk for at least 30 minutes every hour provides health benefits - though other experts say 15 minutes every hour is enough.
While results vary with research, try to avoid putting a strain on your legs by standing for extended periods. Forcing yourself to stand for hours can cause more harm than good, so opt for an adjustable height desk to alternate your position throughout your day.
Can a height-adjustable standing desk help you burn calories?
Yes. Standing instead of a sitting desk can lower your risk of weight gain by burning around 50 calories every hour on average, compared with sitting. All the micro-movements when you stand also expend energy and activate your muscle mass, burning calories.
How high should my standing desk be?
When standing with a rising desk, the ideal height for any stand-up desk is at elbow level. Adjust your tabletop to ensure that when your forearms are laid flat on your electric adjustable desk in a typing position, they lie at a 90-degree angle to the floor.
Can a standing desk be used for gaming?
Yes! A sit-stand desk is great for relieving back, neck, and shoulder discomfort, and supports better posture during hours of epic gaming. Standing naturally increases your energy and focus, rather than relying on sugary drinks or caffeine to give you an extra boost.
Standing Desk Shipping & Returns
Do you have a showroom where I can see your standing desk range?
No. Currently, Autonomous operates solely online. We understand that you may want to try out our sit stand desk before you buy, so we've implemented a 30-day trial period with free returns if you don't love your adjustable desk.
Do you ship your standing desk outside of the USA?
Yes! We provide shipping services to the majority of countries worldwide, including:
United States - The 48 contiguous United States
Canada - All provinces, including Vancouver Island - BC
Countries in the European Union, Switzerland, the UK (except Greece, Turkey, and Lebanon)
Due to restrictions on shipment from our carrier partners, the Autonomous stand up desk is not eligible to ship to APO and FPO Military addresses.
How much is shipping for a standing desk order?
All of our standard Classic size stand up desks include free shipping. XL SmartDesks, XL tabletops, and SmartDesk Corner incur additional shipping fees. Once you add your desired shipping address to your order, you'll be able to see the final cost of your order including all additional shipping charges and/or taxes that may apply.
Please note: For international orders, we do not cover any customs fees that may be required upon entering your country.
Do you offer expedited shipping?
No. Currently, we only offer standard ground shipping services that do not require a signature upon delivery.
If I return my standing desk, how long does it take to receive my refund?
For all refund inquiries, please contact us to request a refund.
After receiving confirmation of refund from our customer support team, the refunded amount will be reflected in the original payment account within 3-5 business days.
Please note:
A refund can only be sent to the original payment method. If you no longer have access to that payment method, please inform a customer support agent before we process the refund.
If your order was paid using store credit, you can log-in to your account and check your available store credit within 24-48 hours.
Sale Items, Discounts + Financing
Assembly
Does Autonomous offer standing desk assembly service?
No. Autonomous does not provide an assembly service at this time. Don't stress out about it though. Autonomous electric adjustable desks are easy to assemble with clear instructions and all necessary tools included.
What if I have a question about assembling my Autonomous standing desk?
What tools do I need to put together my Autonomous height adjustable standing desk?
All assembly tools required are included in each stand up desk package.
Roughly how long does it take to assemble an Autonomous standing desk?
Most customers finish setting up their new stand up desk out of the box in just 30 minutes. Although not essential, getting an extra pair of hands to help with assembly is always a good idea.
The Best Standing Desks to Build your Dream Workplace
Standing desk in a modern workplace is trendy and cool but are they as useful as popular? Is standing better than sitting indeed, or it's just another ruse to spend your money. These are some common questions that arise in the mind of someone planning to build their home office setup or even a workplace where they expect employees to be efficient. Because let's be honest, office furniture is no cheap investment, and the right furniture can do wonders for your health and improve the productivity of employees significantly. But what role does a sit stand desk play in improving work motivation, and how does a stand up desk benefit health. For starters, an adjustable standing desk which allows the user to switch between sitting and standing benefits your body. It keeps the body under periodic movements rather than stagnant for a harmful amount of time.
Benefits of Standing At Work
When switching from sitting to standing and vice versa, the blood flow to the brain increases; hence you get an upsurge of activity. It also prevents your muscles from falling numb, which could take your body to a relaxed state, and hence one might feel sleepy or tired after an hour or two of sitting continuously. While sit stand desks are all great, investing in a good adjustable standing desk can do wonders for your physical and mental health. It also addresses the common issue of back pain in office workers. A standing desk can help you improve your posture and relieve pressure on your neck and lower back, but it won't fix more significant issues like scoliosis or a bulging disc. Hence you need to give your rising desk and body the adjustment period before magically expecting the electric standing desk to solve all your issues. An electric desk is also a wonderful way to correct your posture, especially for people who subconsciously slouch or adapt unhealthy sitting habits while working. This means that bringing a high-quality standing desk into your routine is the best decision.
Benefits of a Sit-Stand Schedule
The biggest drawback of working in an office setup or working with modern technology is promoting a sedentary lifestyle. With our computers being the interface to connect with the entire world, we unhealthily adhere to the screens for an abnormal amount of time. This, in turn, affects the body and makes us lose the sense of damage we are putting our body through. While a stand up desk seems a promising solution, it only works if used properly. The best and only right way to use a standing desk is to alternate between sitting and standing positions throughout the day. Here are some benefits of following a sit-stand schedule throughout the day.
Rising Desk Rectifies your Posture - Relaxes the Muscle
If your body has to forcefully move from sitting to standing and the other way around every few minutes, then your muscles will remain active. Active muscles maintain a good posture and remain engaged; hence you don't become subjected to unhealthy sitting or standing. A standing desk subconsciously engages your body into a healthy posture and prevents muscle tension from building up. Sitting keeps your back and thigh muscles well supported while working at a standard desk height relaxes the upper back and neck, which are often stressed when sitting. This means that switching between sitting and standing engages your entire body at different moments, and you won't experience any numbness after a long day of work.
Caloric Burn Rate - Regulates Blood Sugar Level
Sitting does burn some calories, but a standing desk is much more efficient in this process. By changing the way, your body burns calories several times a day, the metabolism remains active and doesn't become stagnant. People who switch between sitting and standing throughout the day also respond quickly to weight maintenance and enjoy faster metabolism. The negative health effects of sitting and the positive health effects of standing appear to go beyond obesity. Some of the same studies have discovered that sitting for long periods is linked to a decreased ability to regulate blood glucose levels, part of a condition known as metabolic syndrome, which greatly raises the risk of type 2 diabetes.
Rising desk gives you the Best of Both Worlds
One might consider the benefits of working while standing; hence must be adamant about forcing their body to work in the standing posture all day. While this seems rational to increase the benefits of working while standing, overexertion leads to physical fatigue and lower body muscles' sensitivity. Having a lot of something is extremely harmful, and standing all day falls under the category. Hence, a sit-stand schedule keeps the body under realistic levels of both sitting and standing and does not overexert it.
Build your Dream Workspace with Autonomous Standing Desks
One requires a lot of effort and investment to build their dream workplace that is comfortable, efficient and brings out the best energy in them. While an electric sit- stand desk is a common find in today's world, only a few will take care of the minor features that combine to bring a huge change in your workplace. Here are some of the best Autonomous stand up desks with distinctive qualities.
SmartDesk Core & Pro
The SmartDesk from Autonomous covers a wide range of standing desks with multiple features. This includes the SmartDesk Pro & SmartDesk Core. Just as the name suggests, SmartDesk is a combination of technology and functionality. For instance, the SmartDesk Core is not just an ordinary stand up desk but a modern one with height adjustability past the normal range. It also has four programmable settings so the user can control the electric standing desk height and schedule desk movements in many ways. This also allows multiple users to benefit from the electric standing desk where one can achieve their ideal working height with just a touch of a button. It comes with a sitting desk height chart to find the ideal working height for you. Moreover, it is a powerful electric desk which operates with two motors. Another one from the range of electric standing desk s is the SmartDesk Pro; this modern desk is somewhat similar to the previous one though it offers a greater weight capacity. The desk supports regular and extra-large desktop options and is a perfect fit for programmers or gamers who need to build multi-monitor setups. The desk has a dual motor operation with quiet movement. It is available in natural wood tops and classic finishes. The desk is built in a solid steel frame to last for years.
Corner Standing Desk
People who need twice the space with minimum square footage should opt for this SmartDesk Corner from Autonomous. It is a wise and compact product despite its size. The weight capacity of this stand up desk is 400 pounds so bring on your large computer screens and multiple monitor setups. It fits into the corner spaces and works with a whisper triple motor operation. The electric desk is built with a solid steel frame to provide the due resiliency and strength. Moreover, it has a wooden desk top and over four programmable settings.
Autonomous Standing Desk Frame
There is no better investment than a desk frame for those who need a little DIY project in their workplace or want to build a work surface with varying dimensions. You can choose from the multiple options, including SmartDesk Core, SmartDesk Pro, and SmartDesk Corner frames. The stand up desk frame comprises solid steel construction and is powered by electric dual or triple monitors based on the load capacity you need. You can adjust the length as you need and one of the best parts of this frame is that it comes with a programmable keypad to control the electric desk height with a single touch.
Desk Top
Please choose from the multiple options for desktops offered by Autonomous. These desk tops are made from natural wood and are killers in looks and durability. It gives a traditional wooden aesthetic. It also has a 2-year warranty though you won't find yourself with any complaints when using Autonomous SmartDesk Surface. The edges are smoothened to give a great finish and a safe work setup.
Building your dream setup comes at a cost and lots of risks involved, but there should be no confusion about comfort and productivity. Order your dream adjustable standing desk from Autonomous now and create an ergonomic workplace within your budget.