Workplace Inspiration
10 Key Elements of Organic Modern Interior Design in Office

Autonomous
|
Sep 28, 2022
1,918 Views
The organic modern interior design aesthetic, which draws inspiration from nature, stresses simplicity and coexistence of artificial and natural components. Organic modern interior design trends in home décor favor organic shapes and simple elements like glass or wood. It has simple shapes, a muted color scheme, and typically plain surfaces without flourishes or ornamentation.
The furnishings and design components in organically styled interiors adhere to the design tenet that shape follows function, which states that objects and features ought to be both useful and aesthetically beautiful, with one part constantly influencing another and vice versa. We will share a few key elements of organic minimalist interior design in an office.
List of the 10 Top Key Elements of Organic Modern Interior Design in Office
Organic interior design style, as well as office space, go seamlessly together. Creativity, cooperation, and efficiency flourish when workers feel at home in their workspace. The conventional cubicle labyrinth design is disappearing as more businesses move toward mobile and mixed employment, making room for multifunctional communal areas with modern office chairs and furnishings, an emphasis on integrating natural materials, using wall space, and much more.
The most effective office layout is the one that works best for your business. Finding ideas that balance trends that come and go and timeless style may be difficult. With our office furniture design manual, we're here to assist. After defining organic contemporary interior design, let's move on to the design guidelines that will make it easier for you to use this aesthetic in your own house. The top modern home office ideas for a contemporary organic office interior design are:
Select a Dominant Style to Accentuate Your Workspace's Overall Shape
From our professional office décor ideas, contemporary organic styles typically tilt more on one side. It is advisable to select a dominant style that will serve as the foundation of your office's overall design. The majority of designers tend to lean more significantly toward contemporary fashion. After that, they add organic components using smaller bits.
Remain More Balanced and Calm with Your Color Pallet
It is no surprise that neutral is not the same as white. Other neutral colors include taupe, emerald, as well as blue. Considering office wall décor, it's believed that modern organic style prospers when the wall color scheme leaves room for other aspects to stand out. You will overshadow some other design components in the office if the walls are painted in a way that is too dramatic.
Base Workspaces with Much More Contemporary Furnishings
The dominant style of a space is typically determined by the large-scale furniture in that space. We prefer to suggest modern couches, tables, and armchairs for workplaces with a modern organic aesthetic. Using large-scale items with sleeker surfaces and clean lines helps the space appear modern and new.
Meeting Rooms in an Industrial Design
Any business office interior would look great with the no-nonsense, no-frills interior contemporary design. The storehouse, industrialized, and manufacturing elements are the inspiration for industrial-styled rooms, one of today's most popular modernistic trends. Durable materials are typically used in furniture decorating, like the black steel frame in the conference room's interior.
Foliage Can Help You Create A Nice Workplace
A modern workplace with indoor plants contributes to the interior's visual appeal and fosters a comfortable environment for employees. You can reduce your anxiety levels, and your efficiency may even increase in your working space if you have indoor plants. An eye-clearing vision of lush greenery might ease the strain that long computer sessions have placed on your vision.
Combination of Wood with Metal for an Organic Appearance
Use a wooden and metal mix to give your workplace the cosines of a cozy home. The earthy components of wood and metal complement any interior decorating style, and their lovely symbiosis is still popular even for contemporary workplace layouts. The organic appearance makes an area feel cozier by conjuring up images of the softness and depth of finely constructed furniture.
Landscape Decorations for Your Workplace
Adding a few landscape accents to your work area may bring the advantages of garden settings inside. Making a few zen-inspired nooks in your workplace may boost morale among staff members and make a good first impression on guests. A length of riverside pebbles with potted plants in your work area may offer an eye-catching visual treat. You can request small ponds or waterfall backgrounds for a bigger interior design.
Open Office Layouts That Take Ergonomics Into Account
Modern workplaces' open space design concept primarily attempts to promote employee cooperation. Open offices often consist of modular furniture lines arranged over an open floor with uninterrupted desks. Although the goal of this office arrangement was to encourage staff cooperation, its drawbacks have also been identified. The primary issues of open workplace layouts include impaired attention, a diminished sense of privacy, and a loud atmosphere.
Interesting Geometric Designs
Contemporary design's current geometric configurations inspire a wide range of artistic works. The ability to generate such fascinating forms gives design options for the modern corporate environment, from furniture to building structures. Why not cover barren walls with aesthetically appealing abstract art rather than the traditional image gallery? You may use the original background in any office space, including the lobby, lounge, and conference halls.
Technologically Advanced Office Environments
Modern workplace architecture should be easily adaptable to include this new technology because newer and more sophisticated systems are always being launched. Even in seminar or meeting rooms, equipment must be broad enough to accommodate computers and tablets. These gadgets require considerable electricity, which electrical devices and utility outlets must accommodate. Huge businesses today frequently include other Autonomous robots like movement light sensors and security gates.
Conclusion
Contemporary offices are moving beyond simply being a location to conduct business and are increasingly becoming a statement of a firm's identity and values. A variety of designs and unique elements are included in a modern office, which conveys a great deal about the business and makes it a fun place to work every day.
Suppose you are looking for some office accessories for your organic modern interior designed workplace. In that case, you should browse the Autonomous website to purchase some fun office décor at a good bargain via the Autonomous Employee Purchase Program.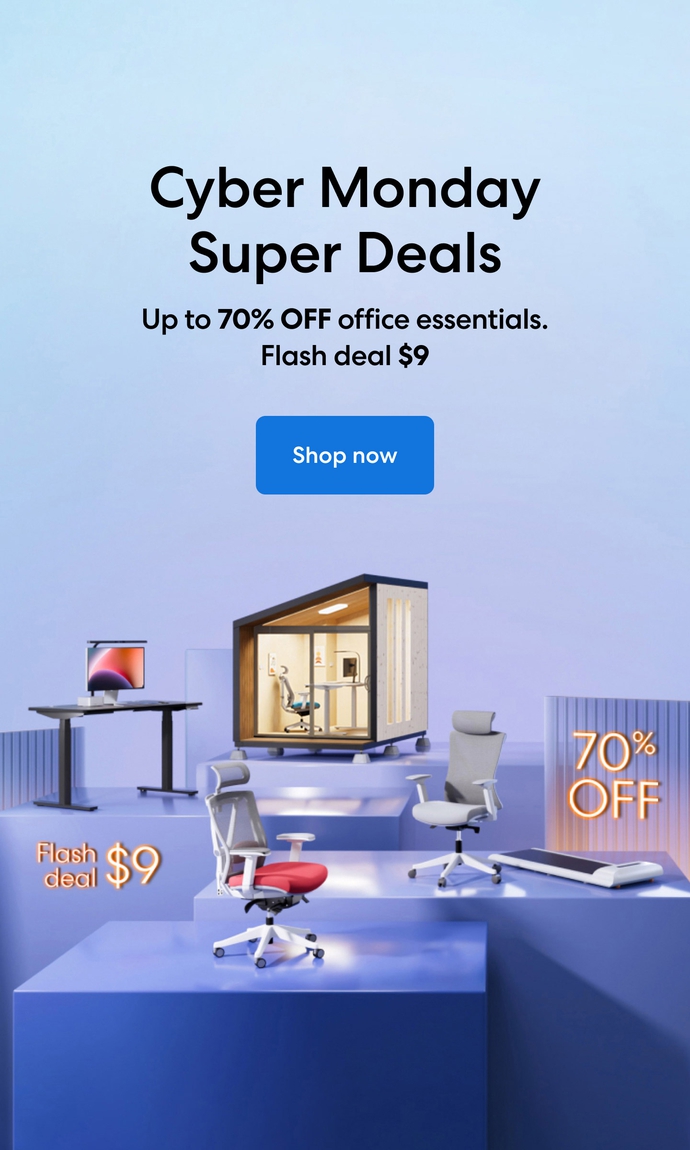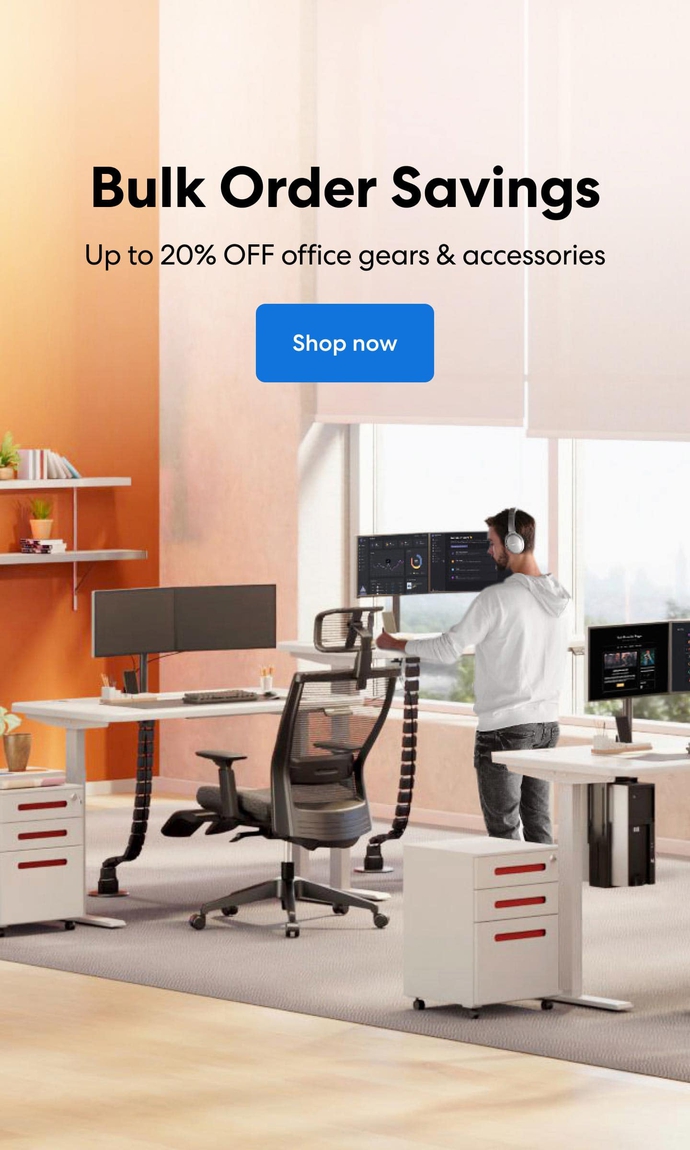 Subcribe newsletter and get $100 OFF.
Receive product updates, special offers, ergo tips, and inspiration form our team.