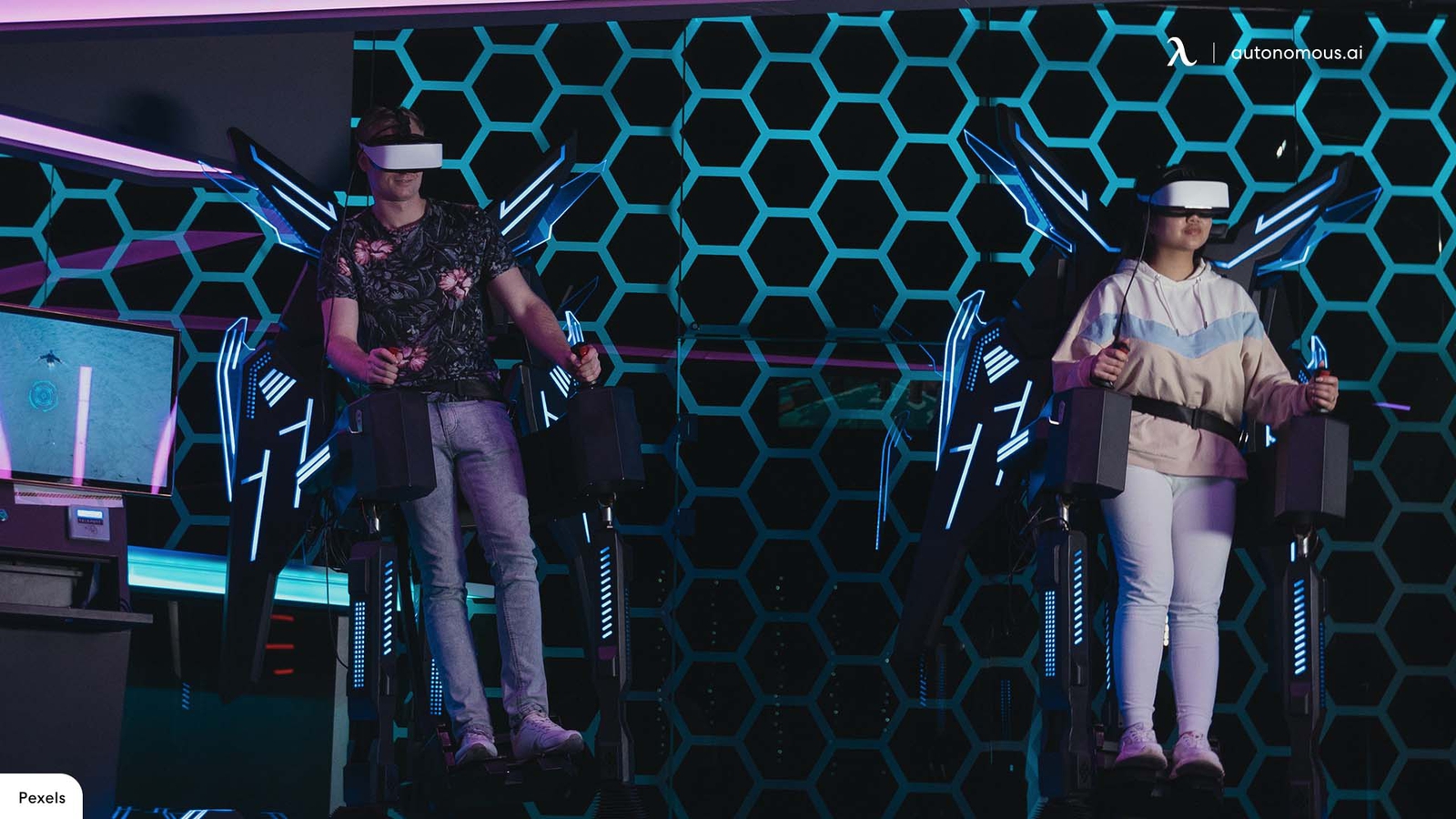 Workplace Inspiration
10 Ideas for His & Her Gaming Setup - Couple Game Room Design

Autonomous
|
Apr 7, 2022
5,021 Views
Forget romantic picnics or dates at expensive restaurants; staying indoors and playing video games with the love of your life is the new date night. In order to help you battle it out (or bond), we have created this piece of the best couple gaming setup ideas that allow you both to game the evening away at home.  
More and more couples are getting into gaming, making the stereotype of the lonely geek gamer a thing of the past. You cannot say you truly know your partner until you see them performing a 360 no scope and land a headshot from a significant distance away. 
It's important to note that creating a couple's gaming setup for two that works effectively can be challenging. Doing so isn't all Vertagear gaming chairs and visiting a RGB light depot; it requires a space you are comfortable with and is functional. You can achieve just that with a little bit of compromise and some planning.  
This article gives you some helpful tips and ideas you can use to create the couple game rooms of your dreams. After this piece, you will be pulling off an enviable his and her gaming setup with grace and style.  
How to Create the Ultimate Couple Gaming Setup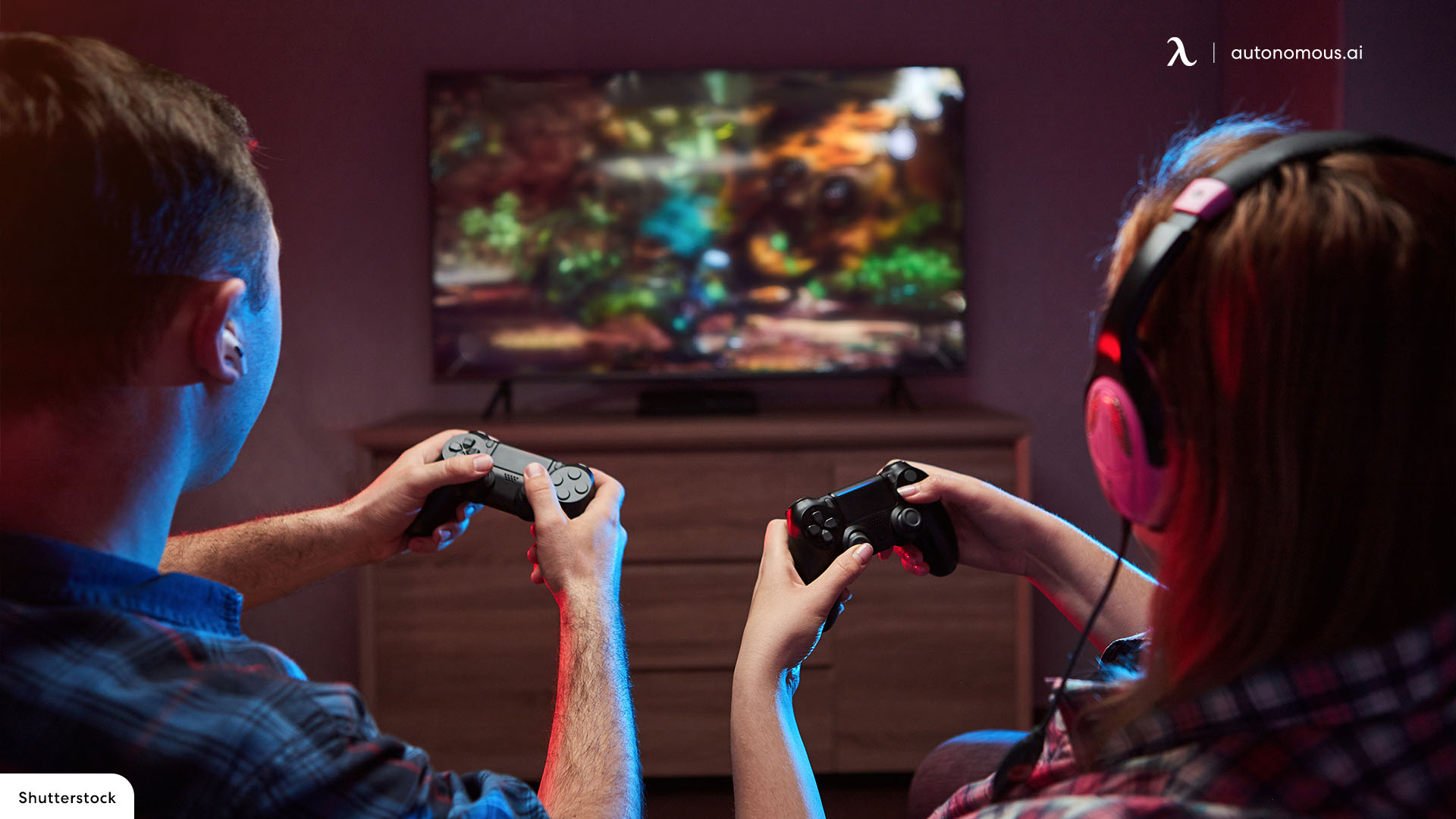 The initial step to creating an ideal his and her PC setup is to position the station to keep both of you satisfied. It would be best if you considered the following for the best results: 
Distance
This is one of the most important things you and your partner should look at before you begin gaming. How close do you want to sit to each other? Do you prefer sitting side by side?  
If that is the case, you may want to consider purchasing a U-Shaped or L-shaped desk so it is easier to share your Pixio gaming monitor and peripherals without feeling too cramped. 
A long desk with two separate gaming stations is ideal if you would rather not sit so close to each other.  
Power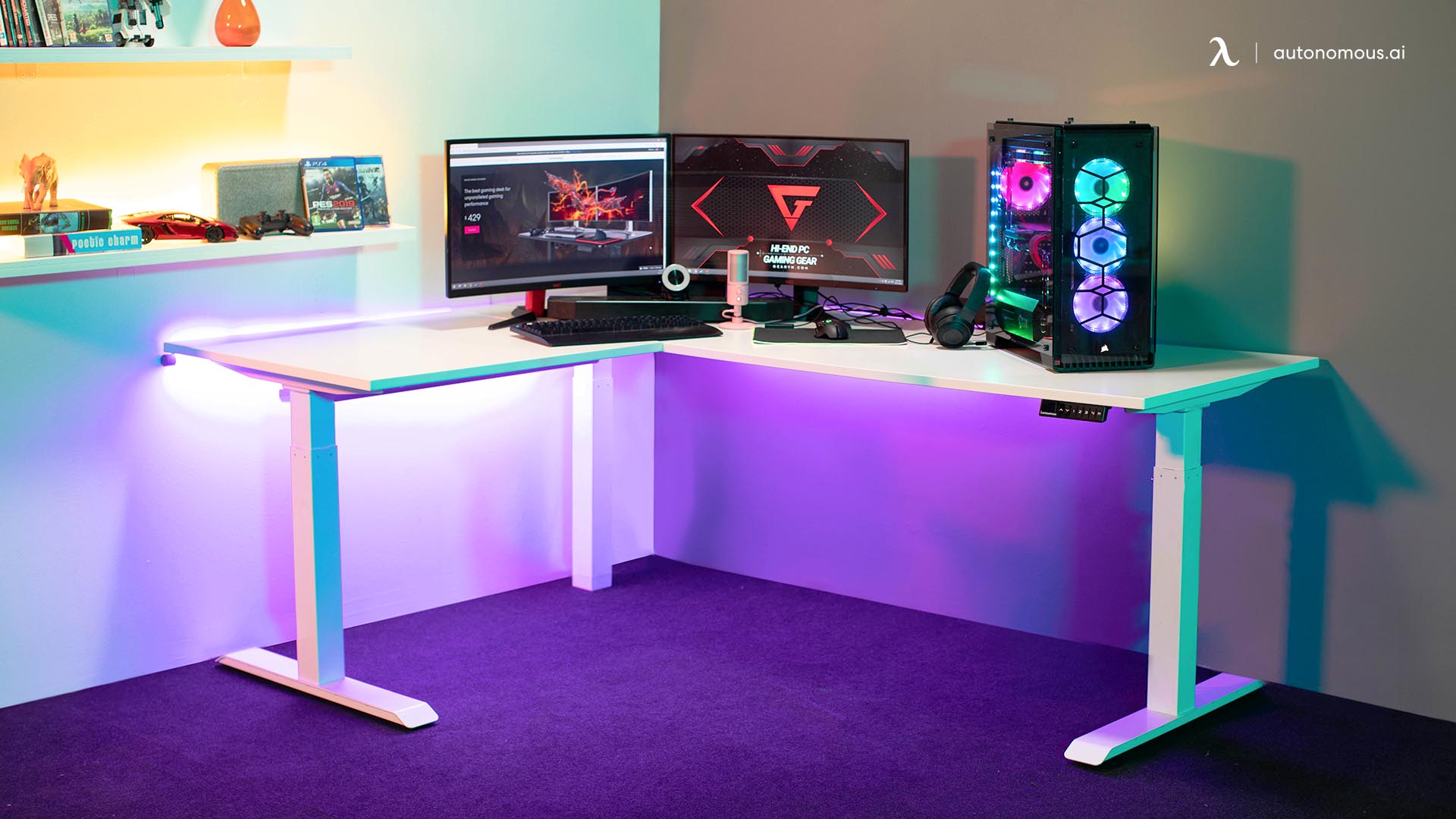 Something crucial to remember is that there are twice as many devices and accessories to keep ready or charged when two people are gaming. Ensure that you have enough chargers and power outlets for everyone's equipment, plus consider using a surge protector with USB Ports. 
This will allow each person to easily plug in their peripherals without scurrying around under the desk for the charging points.  
Lighting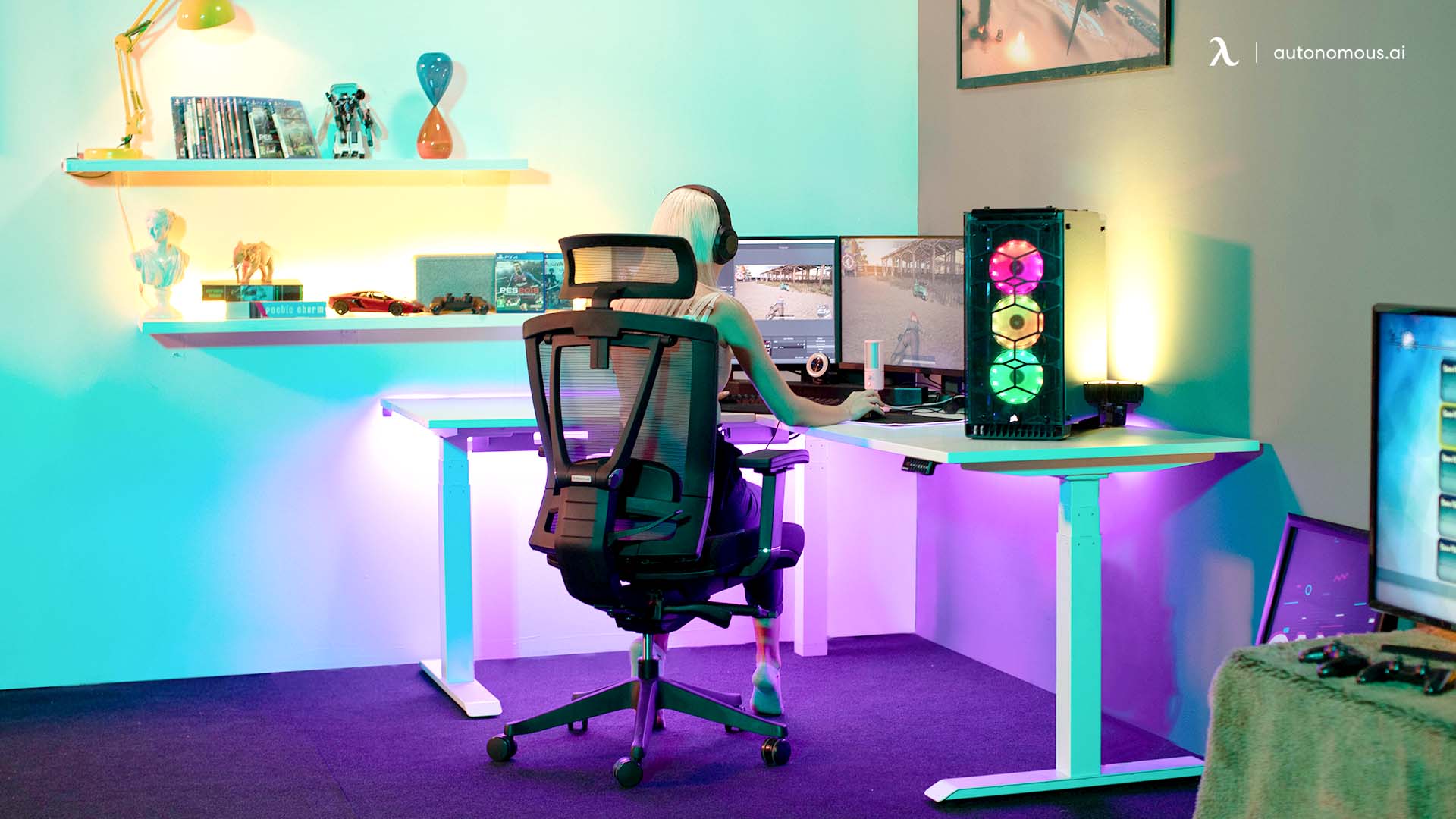 Some couples like a more social experience during the afternoon while other teams play to unwind at night. The best gaming rooms generally have lights that can be brightened and dimmed to suit your requirements. 
Noise
Video games are loud, and rightfully so. When you are battling hordes of zombies or firing your weapon in World War Two, there are always some unique sound effects to accompany your actions. 
Sometimes it is nice to play your games quietly so you can listen to music or talk while jamming. If the two of you require silence to concentrate on your games, consider investing in a noise-canceling headset or noise-canceling curtains. 
Visual Appeal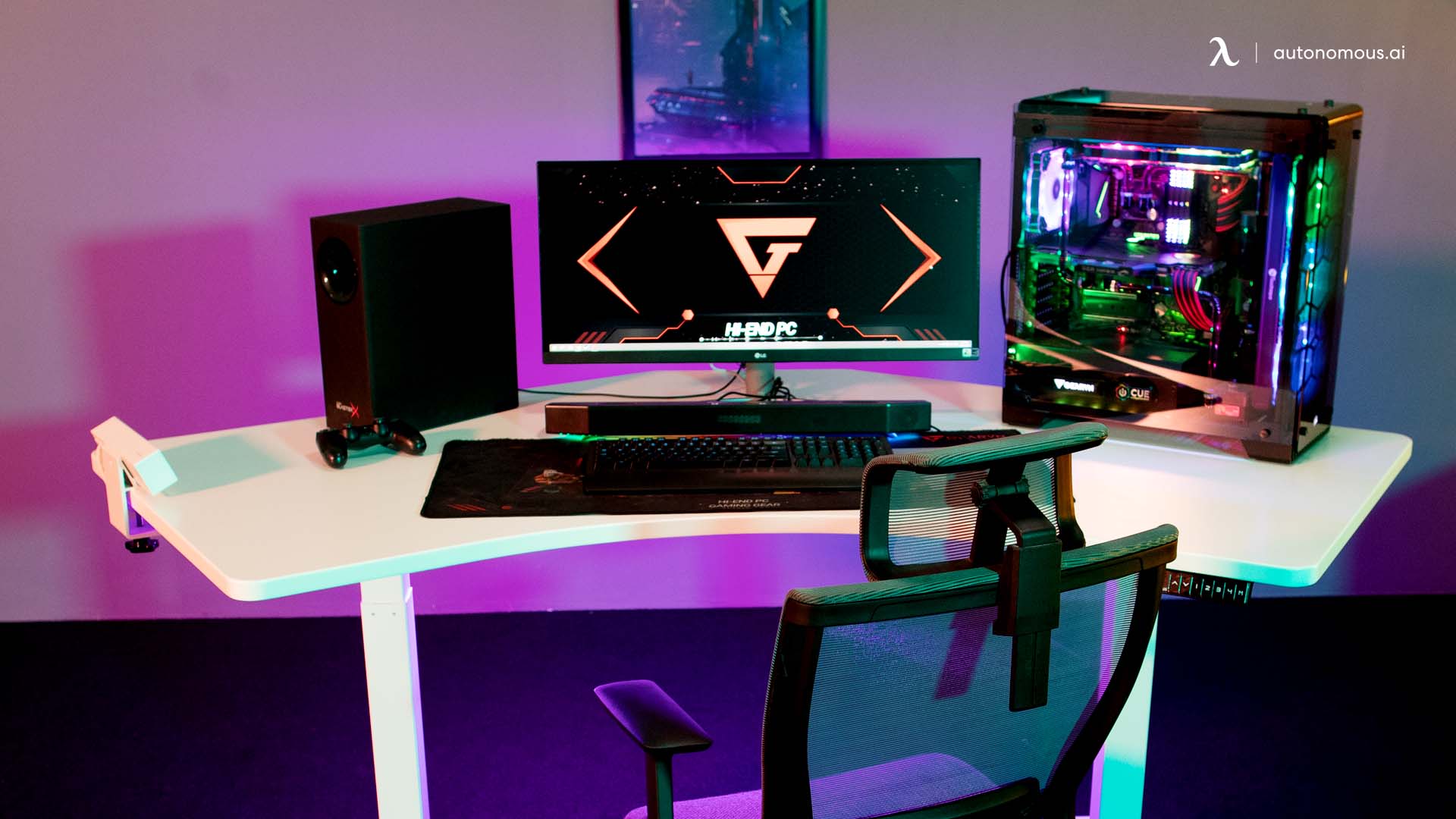 If you want your space to feel like home, you need to look at the little things. We suggest adding some posters, artwork, or personal photographs to give it a personalized feel. However, you must make sure not to overdo the decorations as cluttering does not only look untidy but creates mental clutter and distraction too.  
Ensure that there is enough room for both of you so that you don't feel pressured when you are gaming.  
Budget
It's crucial to consider how much you are willing to spend before beginning your couple gaming room journey. Consider going the Do It Yourself route for your couple's gaming setup if you are on a budget.  
You can have fun creating the space together, finding great deals for your parts, and doing some work yourself.  
Couple Gaming Setup Ideas to Get You Inspired
Everyone has a different idea when it comes to the ideal insane gaming setup. Some players may prefer to battle it out on top-class PC rigs with the latest technology, while others want to play their favorite games from the comfort of the sofa. 
The best couple gaming stations are all about ensuring that both of you get exactly what you require, whatever your preferences are. This will be plenty of fun and give you multiple experiences, 
Below we have listed some excellent gaming setup ideas for your his and her gaming setup. Scroll down to get inspired and create your couple gaming room today. 
Create Symmetry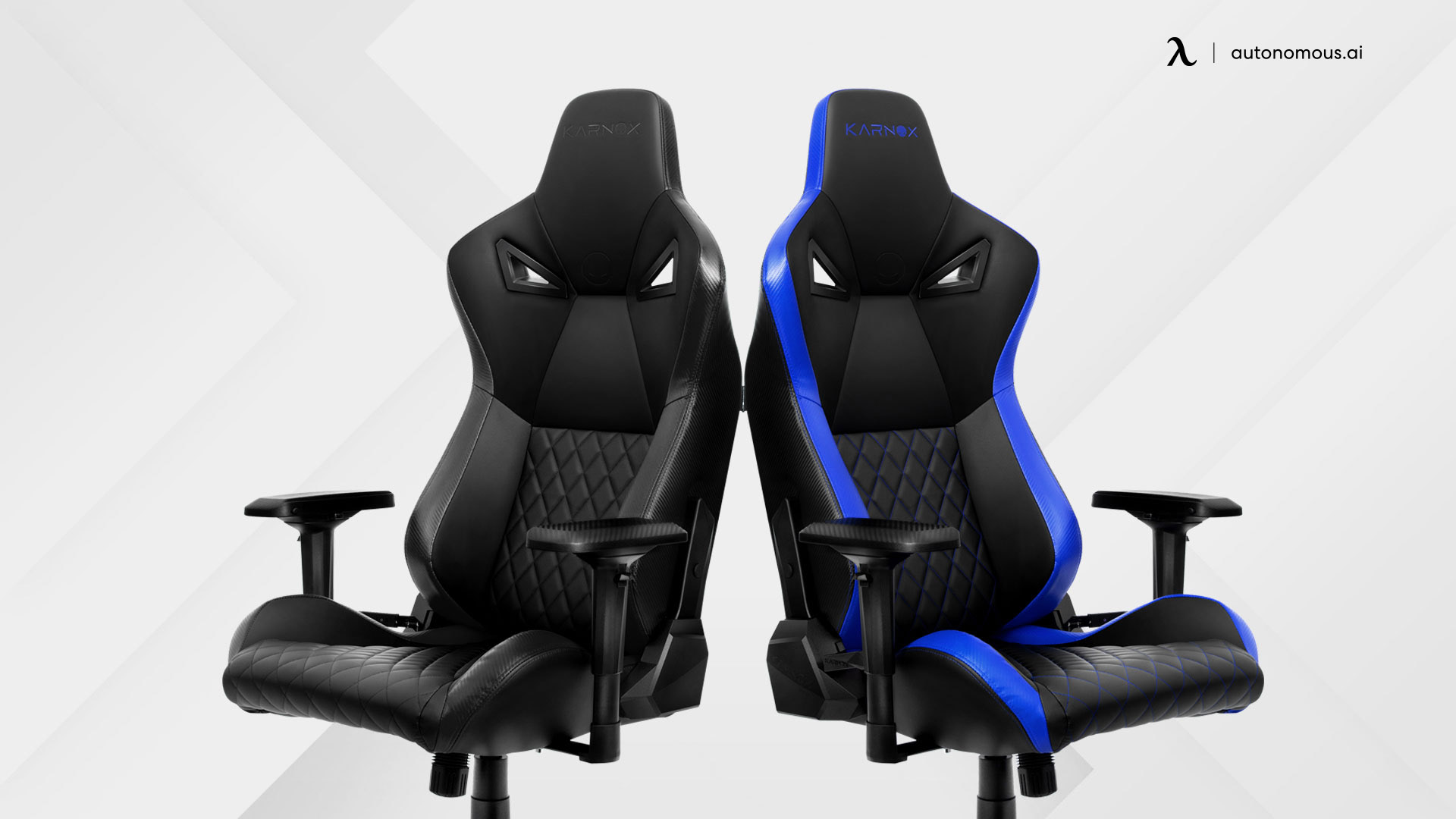 One of the best tricks in the book is aiming for an asymmetrical look. Try to use the same items for both computer towers, and if one person has a secondary screen in the section, make sure the other has one too. If you decide to purchase a Karnox gaming chair make sure that you buy two! 
You can also use color schemes to help bring out the symmetry of the area. Say, for example, you use pink and blue, it will be able to clearly define which side of the desk is for you and which side is hers. 
Set Up Ambient Lighting
Instead of one big station, you can opt for two separate setups for your space. You could place two SmartDesk Pro and segment them in your section, so you both have the space you need. 
Use an aquamarine ambient light for the room and place LED lights under each desk to create even more ambiance.
Mix and Match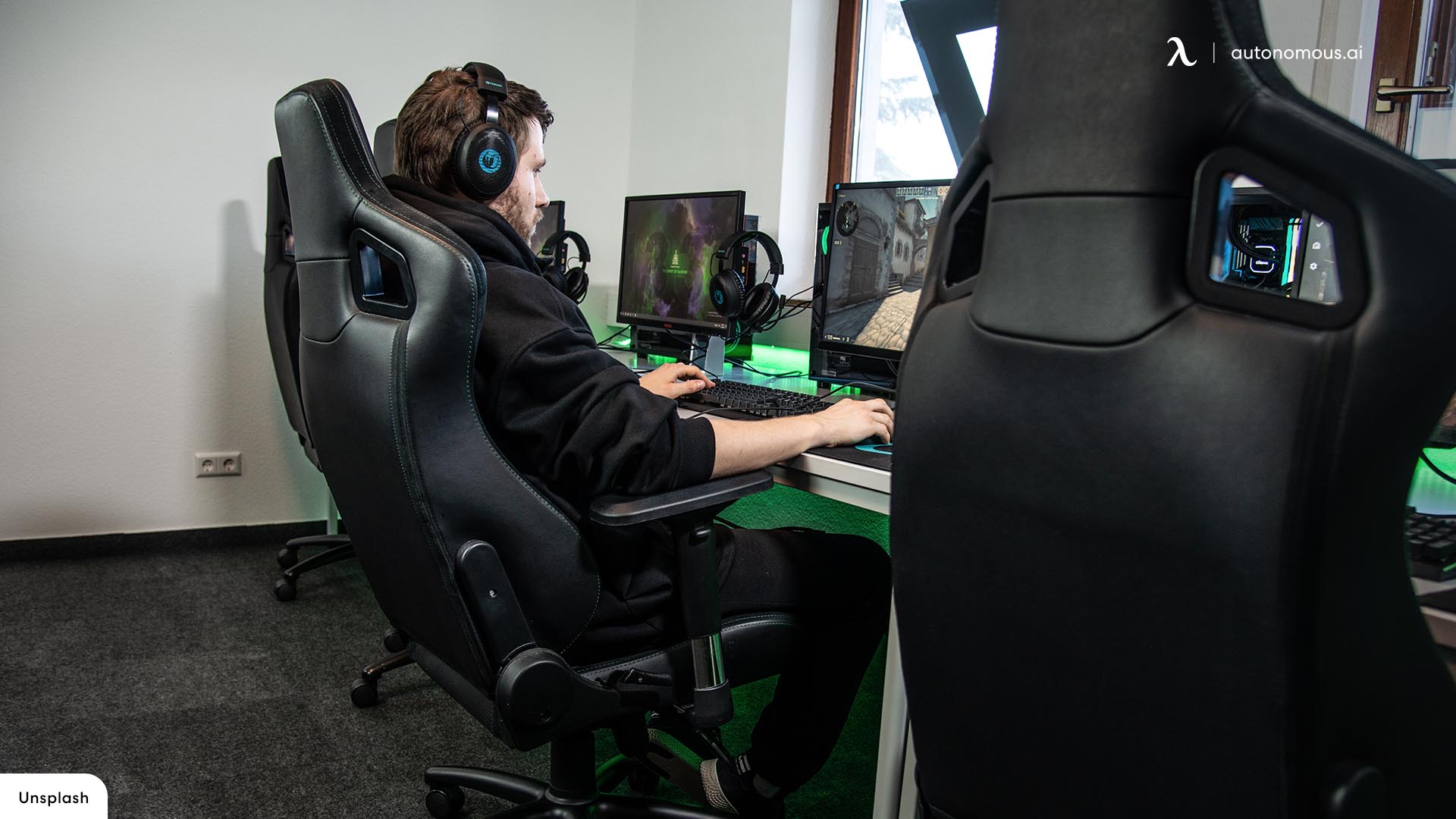 Having one half of a his and her gaming setup as a mirror of the other half can seem mundane for some couples. If you are one of these people, feel free to express your creativity and individuality through decorations, such as shelving units, plants, ornaments, artwork, etc.  
Be Minimalist About It
You can keep things classical with a white and black color scheme or ease off on the items you place around your desk. Being a minimalist is about limiting yourself to the PC gaming accessories you require and letting go of things that don't serve you. 
Color Coordinate Your Setup
One of the most extraordinary things you can do for his and her gaming setup is color coordinate your space. Some of the best gaming rooms generally match their wallpapers with their light, meaning if you can't decide on the color scheme, select a desktop background you both fancy and use those colors for your room's lighting. 
Dress Up Your Walls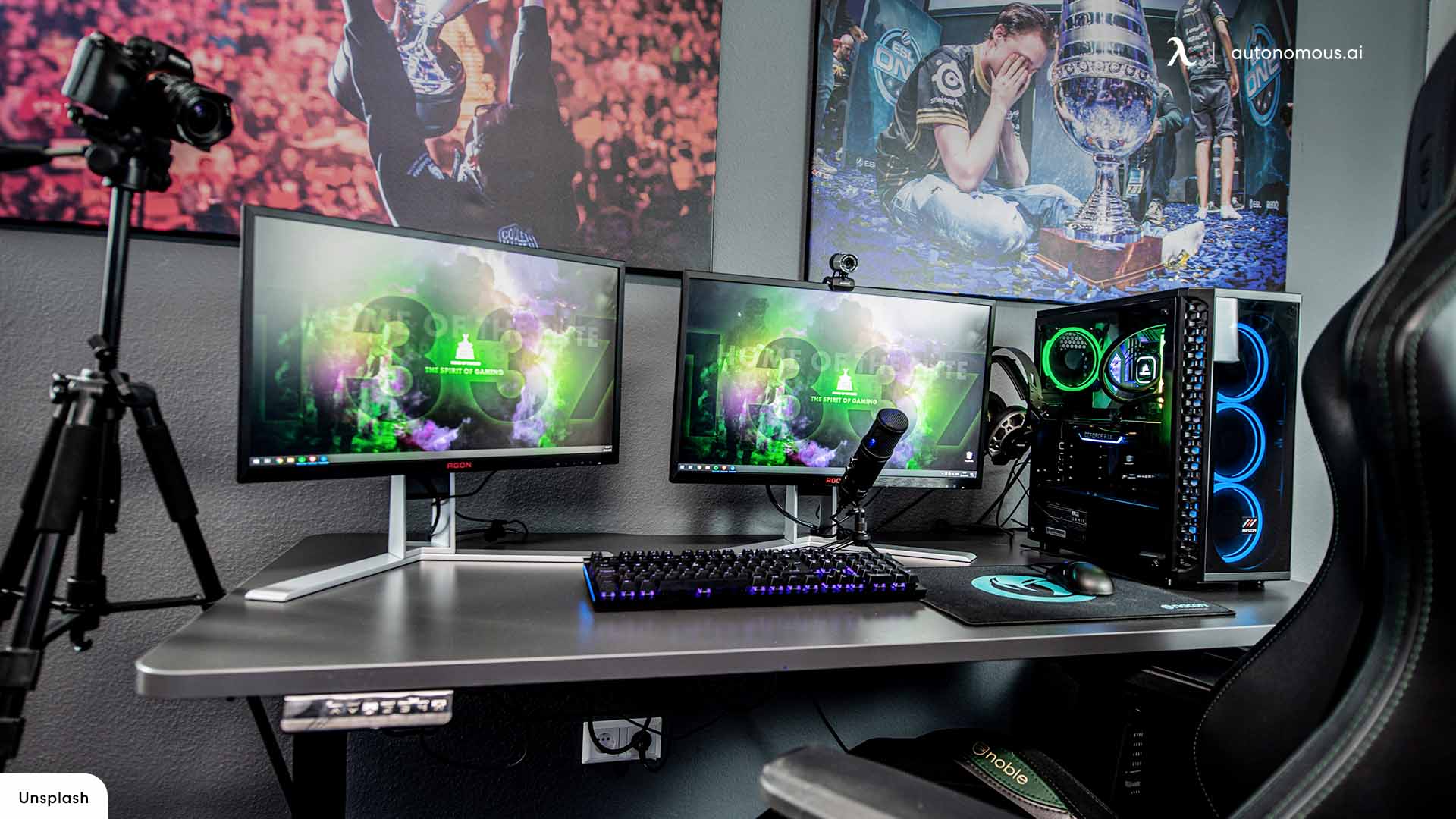 In some cases, all you need is some incredible artwork to bring his and her gaming setup together. You can find all sorts of posters in retail shops or online stores, including Star Wars, DC, and Marvel, to name but a few. 
Go for Matching Desks
Having both desks the same is an excellent idea to create a sense of unity in a small room. If a clutter-free game room setup is right up your alley, give this a shot. 
Amp Up the Cozy Factor
Add warm lighting or a touch of greenery if your gaming station feels mundane. You will quickly notice how cozy it has become and start enjoying it more from that very instant. Select a nature-themed desktop wallpaper to add a layer of calming ambiance. 
Soundproof Your Station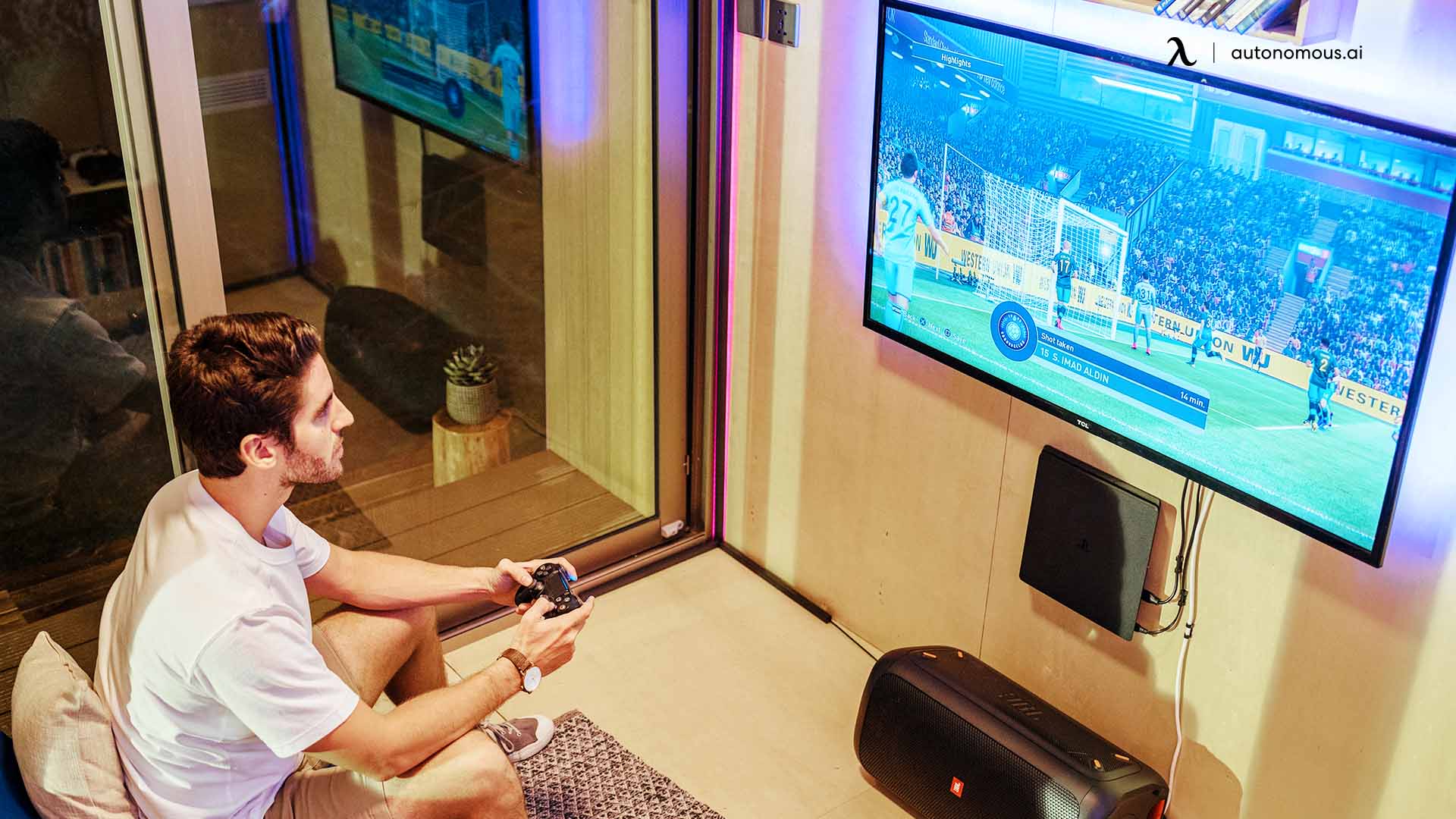 Acoustic foam panels absorb all noise that bounces off the walls. Make sure you both have decent mics and open back headphones first before you begin mounting the soundproofing above your desk. 
Organize Your Desk
Having an organized desk is one of the most satisfying things when having a his and her gaming setup. A Benzara gaming desk or height adjustable standing desk can make an excellent addition to your room and help keep things organized.  
If you have a larger space, you could even add a SmartDesk Corner, so you can do other work when not performing your gaming activities. However, the above table takes up a ton of space, so make sure to measure your room before purchasing it.  
Turn on RGB Lights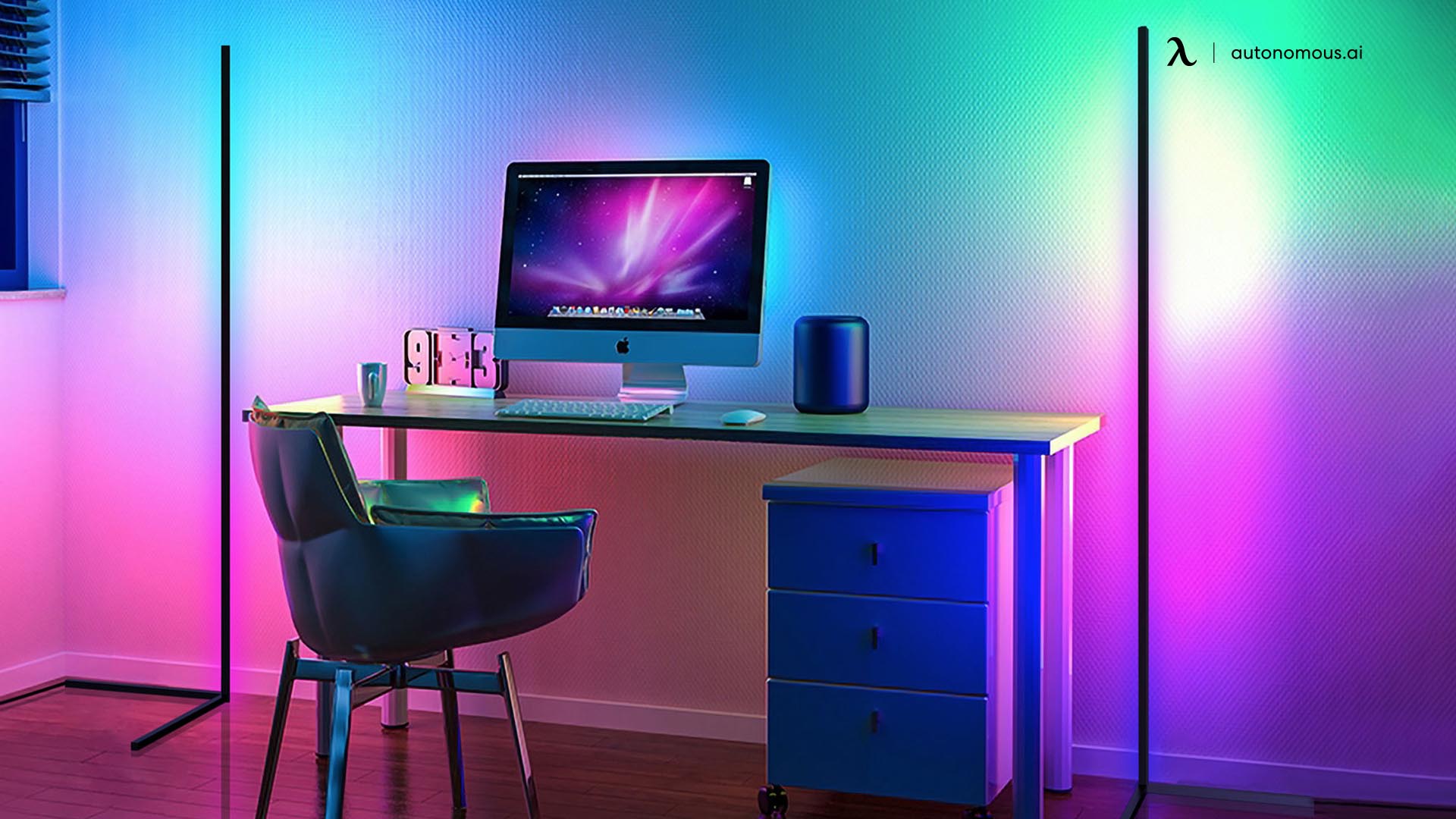 No gaming room is complete without customizable futuristic LED strip lighting. This statement has never been more true for a his and her gaming setup. Create game room lighting that makes you forget what sunlight looks like.  
Get creative with the colors you use, and make sure not to use a light that is too bright or in your face.  
Try an L-Shaped Desk
If you are looking for an excellent way to maximize space as a couple who spends a lot of time at their computer, this could be the best option. The only downside to an L-shaped gaming desk is its extensive size.  
These desks can be cumbersome to move around or assemble and take up a lot of space no matter where you place them. 
Color Code Your Setup
You can set apart each side of the setup by choosing two separate color schemes. People can stick with the standard blue or pink or go with their favorite shades or colors that show off their personality.  
Bring Natural Light In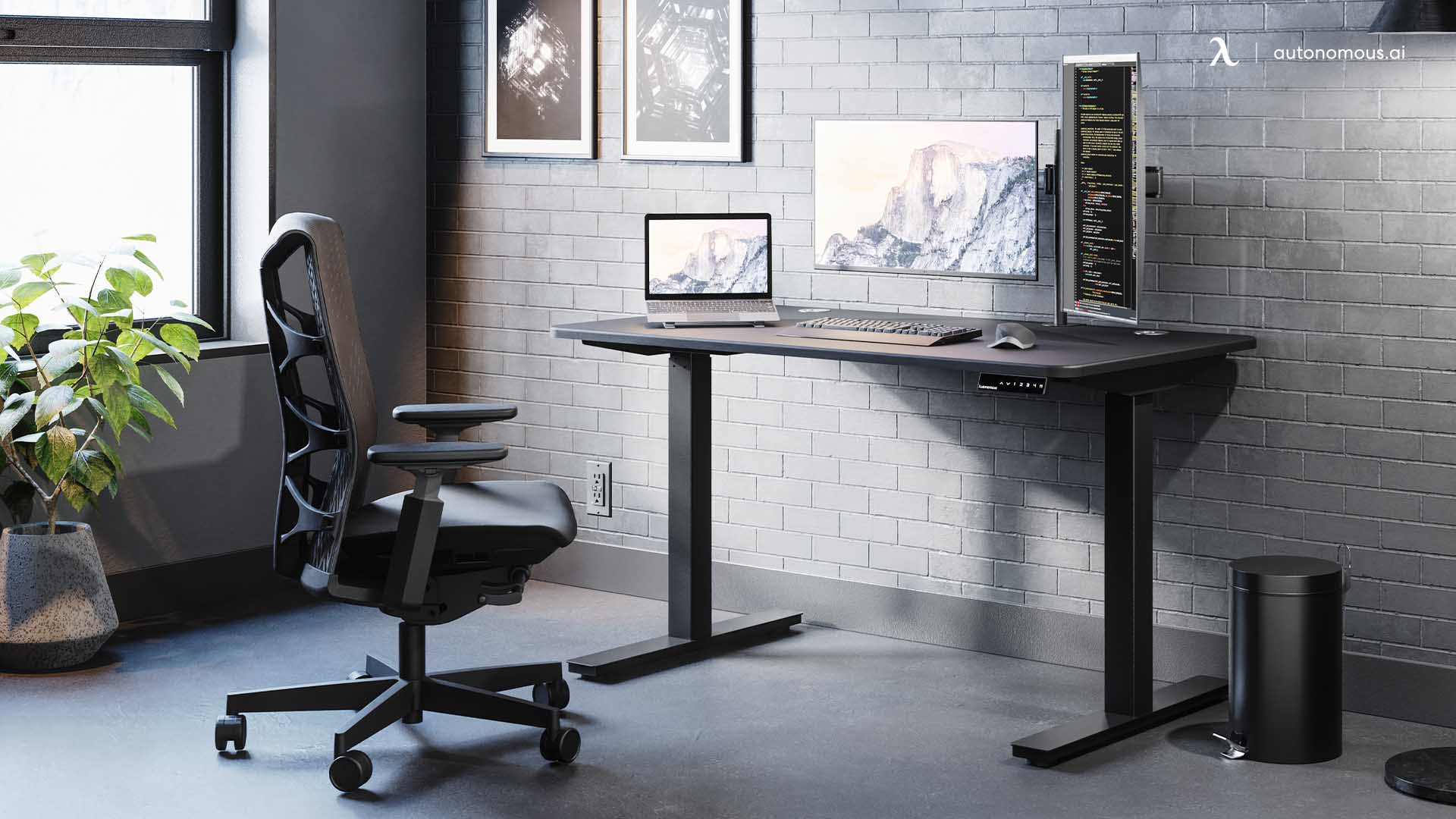 Even though mood lighting is beautiful, it can be uneasy and distracting to your eyes, especially when playing throughout the night. If possible, consider putting your setup near a big window so that the natural light creates a soft ambiance at night and falls over the PC during the day.  
Use Contrasting Lights
Without redecorating the entire room, you can use colored light to take your gaming experience to the next level. These lights offer a definite contrast in whichever colors you pick for his and her gaming setup. 
Create a Focal Point
In order to create a balanced look, it is always a good idea to find a focal point for the room as a whole. You can arrange your furniture and accessories on either side of the focal point to have an outstanding-looking space.  
Go Double Duty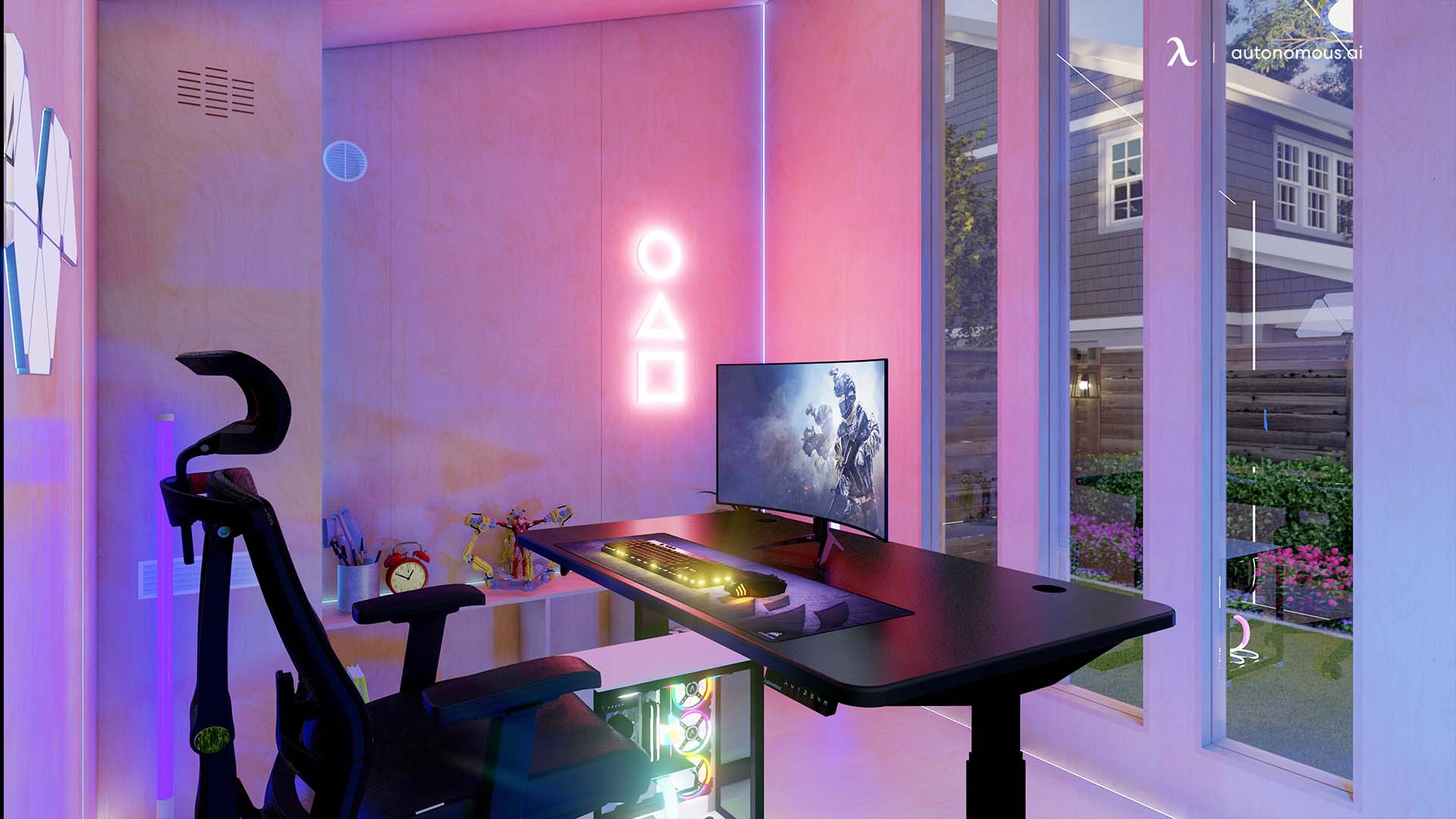 If you are stay-at-home workers by day and gamers by night, a gaming setup doubling as a snug home office may be the perfect solution for you. Take your time to check out all the options on the market before diving in and accessorizing your space for work and play. 
Style It with Greenery
One of the most commonly welcomed extras to any gaming station is the addition of some greenery. Mix artificial and live plants to create a beautiful indoor garden, balance the cold, and get more oxygen in your gaming room. 
Look to Your Attic
If your home has an attic, it may be time to give it a look. You can quickly transform an awkward attic space into a sophisticated and sleek room for two. Just add a PC case with some RGB lights and an excellent desk then you will be ready to go.  
Don't forget to get a nice bed for your doggo so that he can chill in your gaming room with you and your partner.  
Use That Spare Room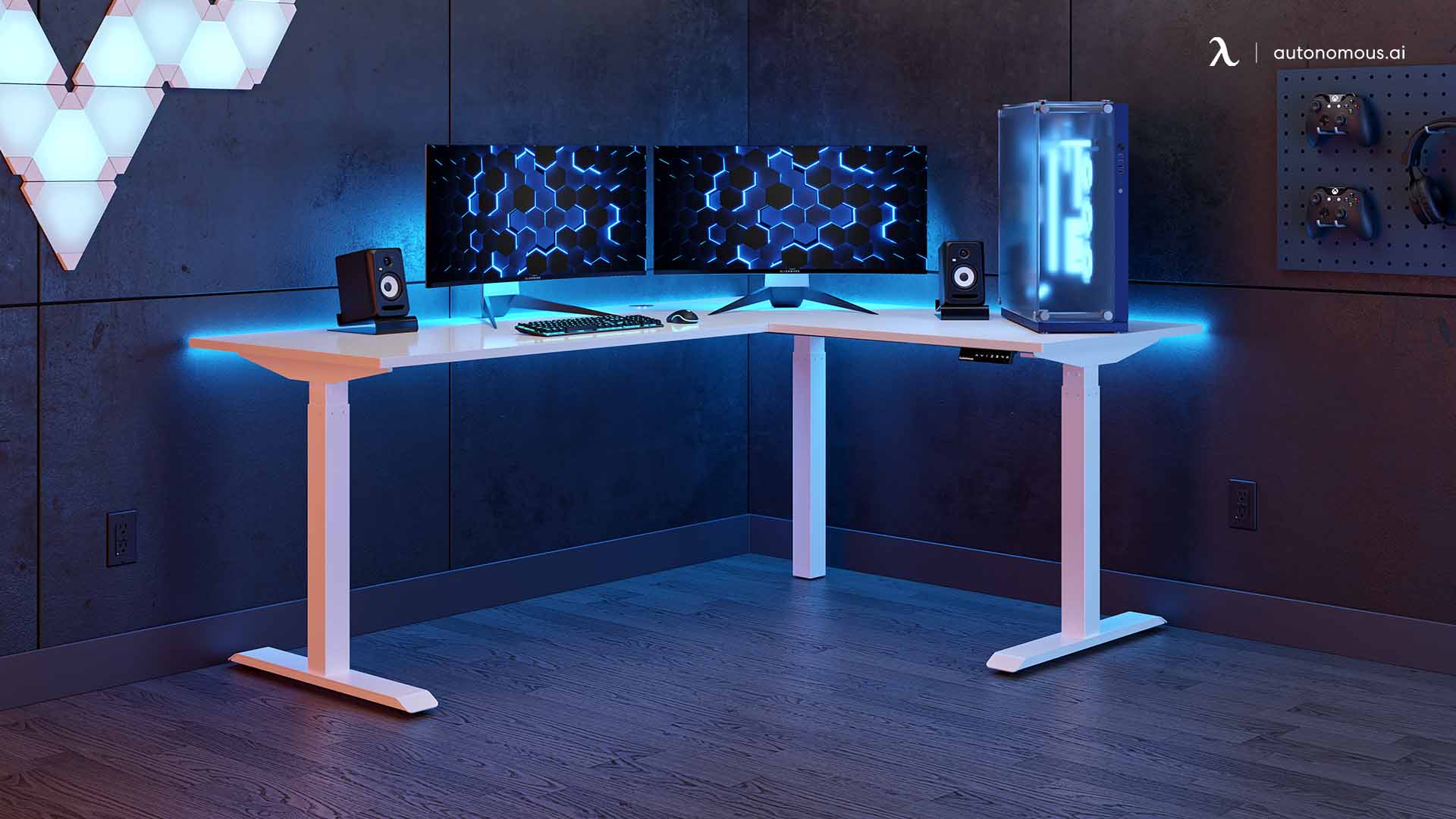 You can convert it into a sexy gaming area for two if you are lucky enough to have a big spare room in your home. Ample space lets you leave the center open to traffic because you can place your battle stations against the opposite walls. 
Conclusion
Having a fantastic experience is more satisfying than having a good-looking his and her game room. If you pay attention to your and your partner's requirements while setting up the space, you will be able to enjoy playing games in comfort for years.  
You never know, but some cute gamer babies may be running around your couple gaming setup one day. 
It's important to remember that some gamers love wall art for their gaming room and consider it as crucial as the games themselves. If you are one of them, you should search for video game-themed wall art from officially licensed collections from your favorite titles, including The Witcher, World of Tanks, and the Fallout series. 
Do you date a fellow gamer? How long have you been together? Don't you think it's time you make your dream a reality? Start today and create the ultimate couple gaming setup that stands out from the crowd and gives you the space you need to win the game, plus display your skills.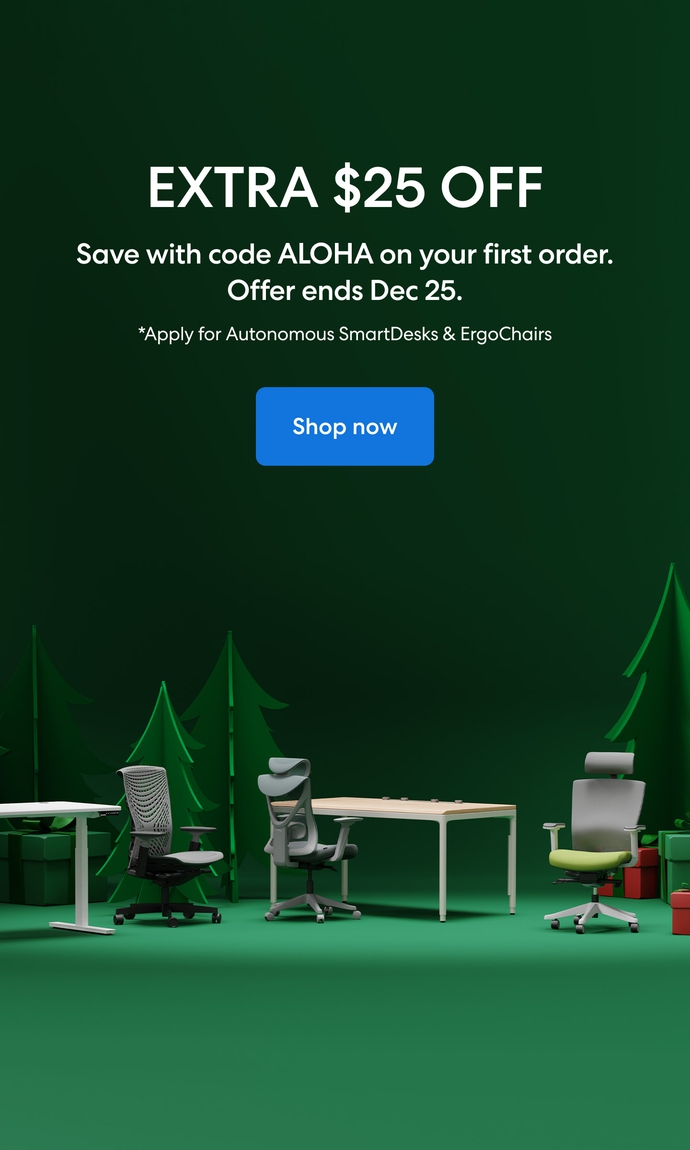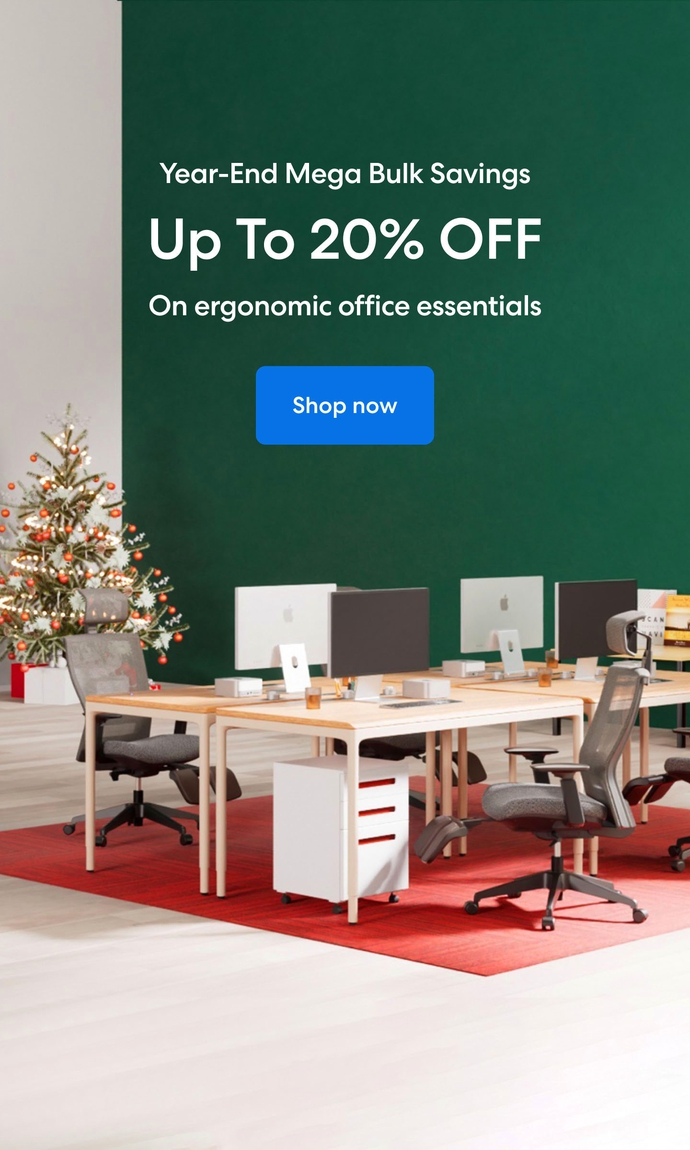 Subcribe newsletter and get $100 OFF.
Receive product updates, special offers, ergo tips, and inspiration form our team.