Working for long hours while seated can cause a lot of pain and injuries if you are not using the right chair. What type of job do you have? Do you work standing or sitting for long periods? Either way, you need to invest in the right furniture to cut out pain and injuries. 
Consider buying the best chair for lower back and hip pain if you sit at work for long hours. On the market, you are sure to find an office chair for lower back and hip pain. First things first, do you know why your lower back and hip hurt when you sit in a chair for a long time? Maybe not. 
How does the pain impact your health in the long run? To answer this question, read on to find out what it means to have this work-related pain. This article also breaks down the best ergonomic chairs that help lower back and hip pain. 
Reasons Why Lower Back and Hip Hurt When Sitting for Long Hours
There are many reasons why your lower back and hips hurt when you sit for long hours. Perhaps you may have been wondering why. You may have asked yourself a question like, "Why does lumbar support hurt my back?" 
Ideally, lumbar support should not hurt your back unless something is not right. Below are some reasons why you may feel pain in your lower back or hip when seated for long hours. They may help you understand why lumbar support hurts your back. 
Poor Posture
Hip pain is common with slouch sitting when you don't mind your posture. What does this do to your back and hips? It puts pressure on your hips, especially if there is no back and hip support. This strain from poor posture can lead to back and hip pain whenever you sit. 
Leg Crossing
You may cross your legs at times oblivious to the risks it poses in the long run. What it does to your body is that you lean to one side when seated. The leaning puts pressure on one or both hips, leading to pain. 
Existing Medical Conditions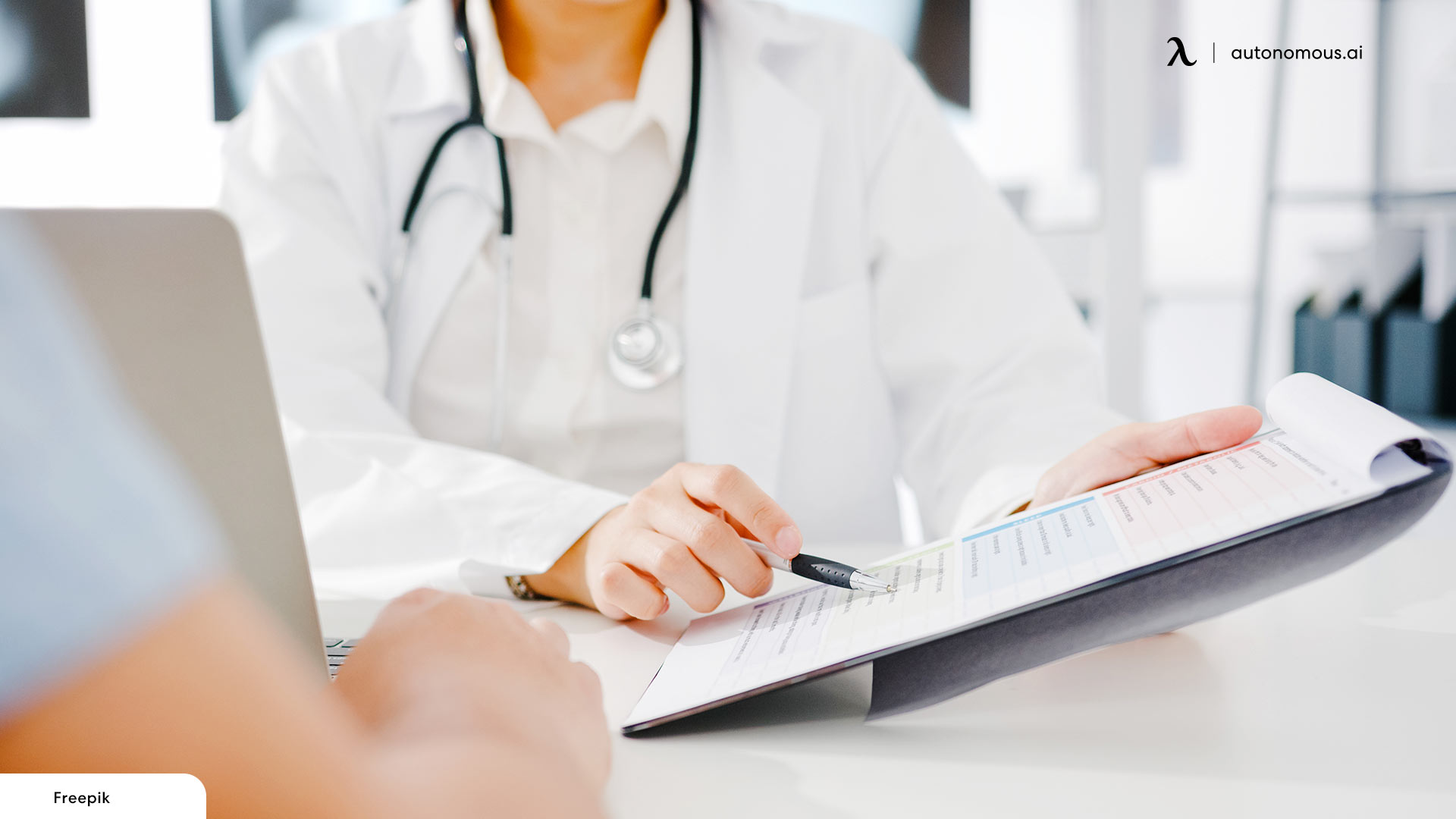 You may have a pre-existing medical condition that makes your back hurt. If that is the case, it goes without saying that you may continue to experience pain when you sit for long hours. The conditions may include gallbladder issues, rare abdominal artery tumors, and kidney stones. 
Sitting On an Uneven Surface
Sometimes, you may sit without minding the surface and the dangers it has in store for you. Sitting on an overly-soft surface or cushion may tilt your body to one side, putting pressure on your hip. This added weight on one hip leads to poor posture and eventual pain in the hip. 
Pinched Nerves
When you sit for long hours, you can pinch your nerves without knowing. The condition results from compression, stretching, or constriction of the nerve. Medically, the condition is radiculopathy. A pinched nerve leads to pain in the thigh, hip, groin area, and buttocks. You become numb, tingly, and feel burning sensations. There is also loss of movement. 
Muscle Strain
A muscle strain is also called a lumbar strain. It happens at the lower back when you overstretch or twist your back beyond accepted limits. Straining your muscles creates pain that extends down towards your lower back. Your back becomes stiff and difficult to move. If you don't take steps to correct it, it may become a long-term problem. 
Being Out of Shape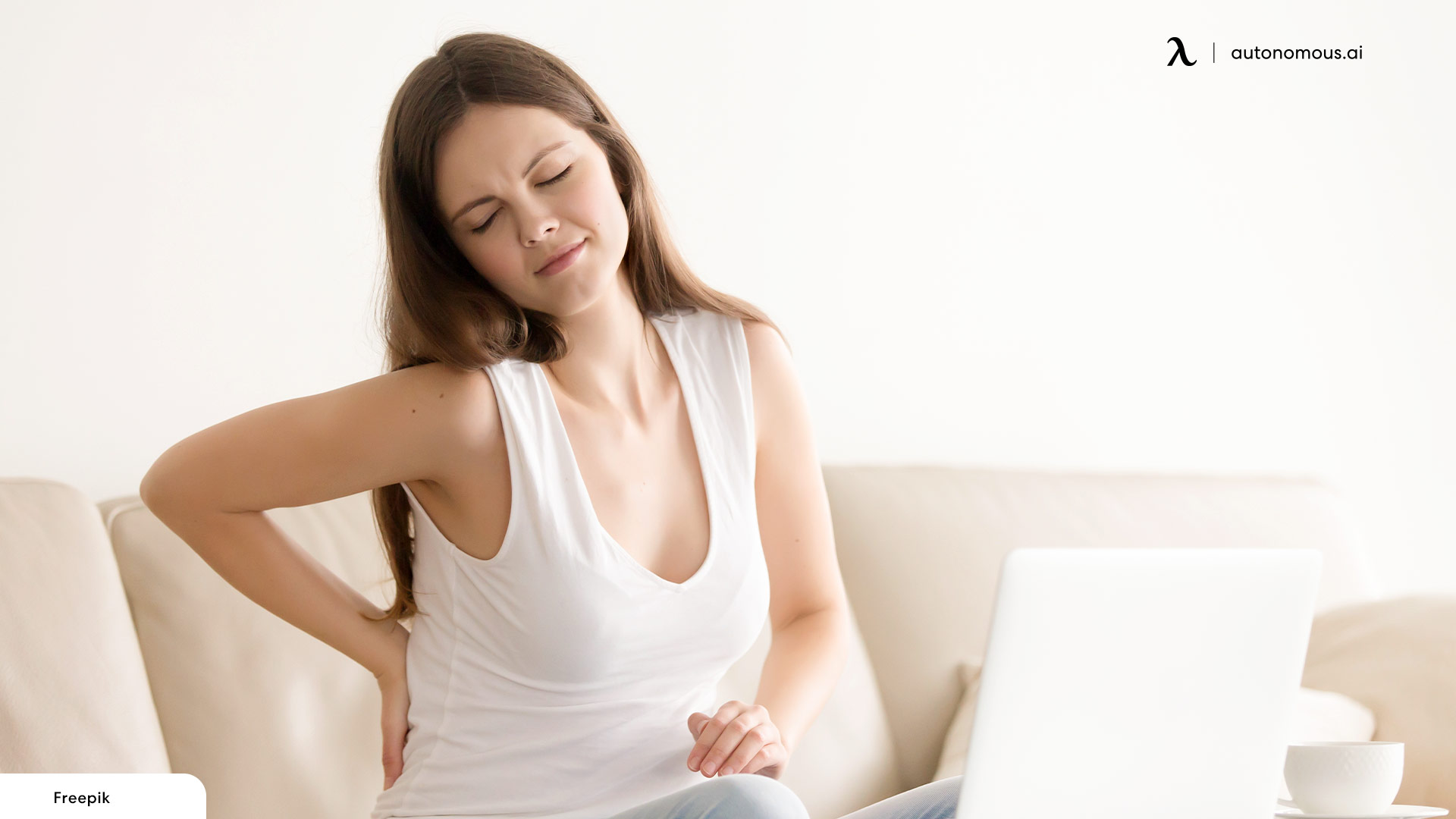 If you don't do a lot of physical exercises, your core muscles become weak. They cannot, in turn, support your spine well, leading to back and hip pain. How can you overcome this problem? Stretch a lot and do aerobic exercises to strengthen your core. The degree of strain on your back becomes reduced in return. 
The Impact of Lower Back and Hip Pain on Health
Having looked at what causes lower back and hip pain, do you know what impact it has on your health? If you don't, below are some effects that physical pain may cause on your health: 
Discomfort Due to Prolonged Pain at Work

 
Sharp pains may persist if you work for long periods while seated. Eventually, your productivity drops, and you lose your concentration. 
It May Develop into a Permanent Health Condition

 
If not checked and addressed on time, it may become a lifetime problem. The condition may lead to a disability that sees you walking bowed or facing down since you cannot stand upright. 
It May Cause a Dependency on Other People

 
Back and hip pain may be ignored as mild problems. However, they can develop into serious life issues. You may find yourself, in no time, depending on others to do basic things for you. 
It May Lead to Inferior Living or Poverty 
Since it takes money to care for such pains when they become serious, you may lose all your money. Costly medical treatment may lead you to poverty and a deteriorated lifestyle. Nipping the problem in the bud is important before it takes you through this unwanted road. 
Best Chair for Lower Back and Hip Pain
1. Autonomous AvoChair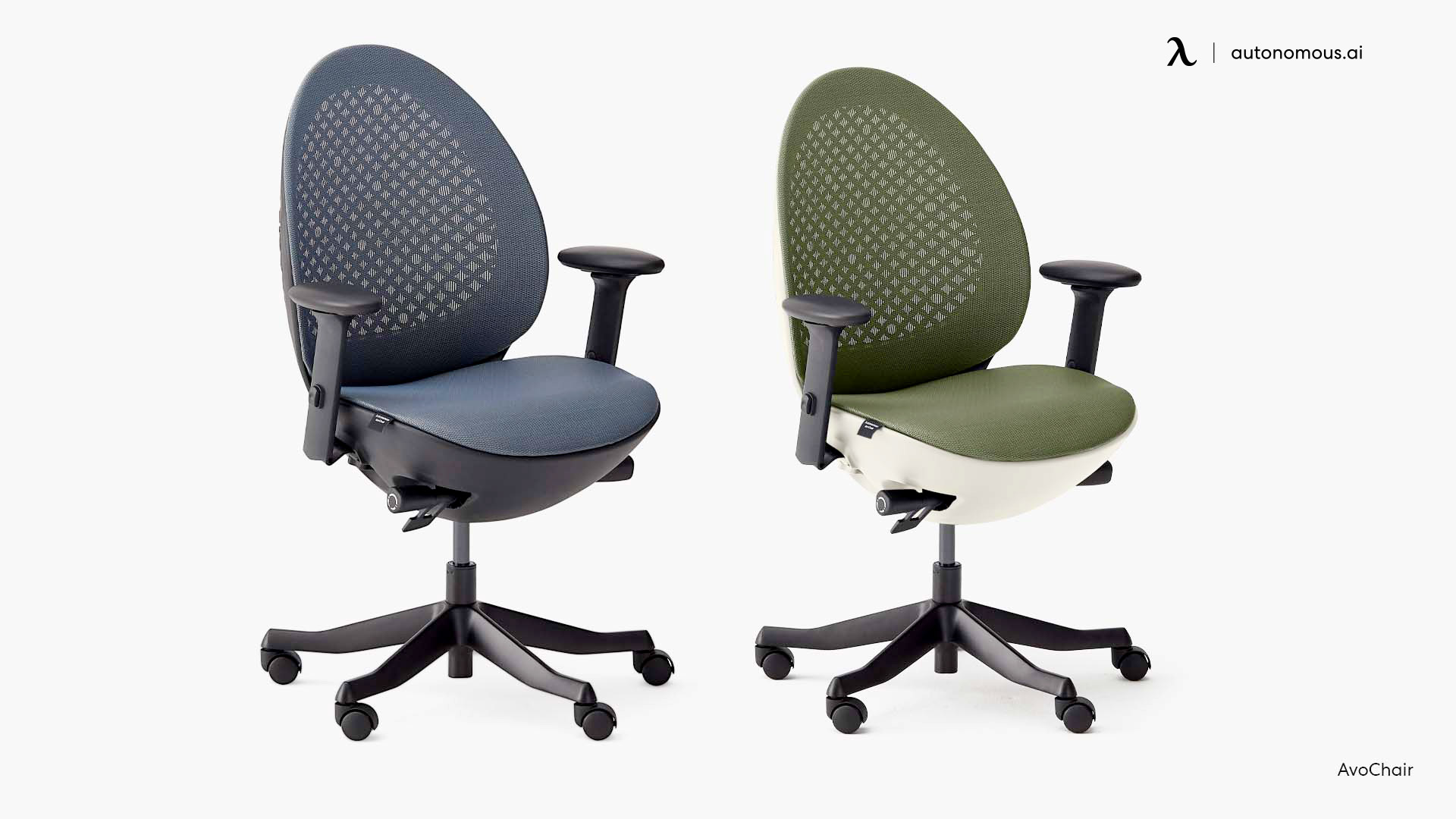 This is one of the most eco-friendly chairs you can find on the market. Inspired by nature, this chair has minimal lines that relate to the environment. Its man-made organic construction enhances its durability and safety. 
The AvoChair is the best ergonomic chair for hip pain. It offers back comfort and lumbar support. Its customization and ability to adapt to the environment make it stand out. 
2. Autonomous ErgoChair Recline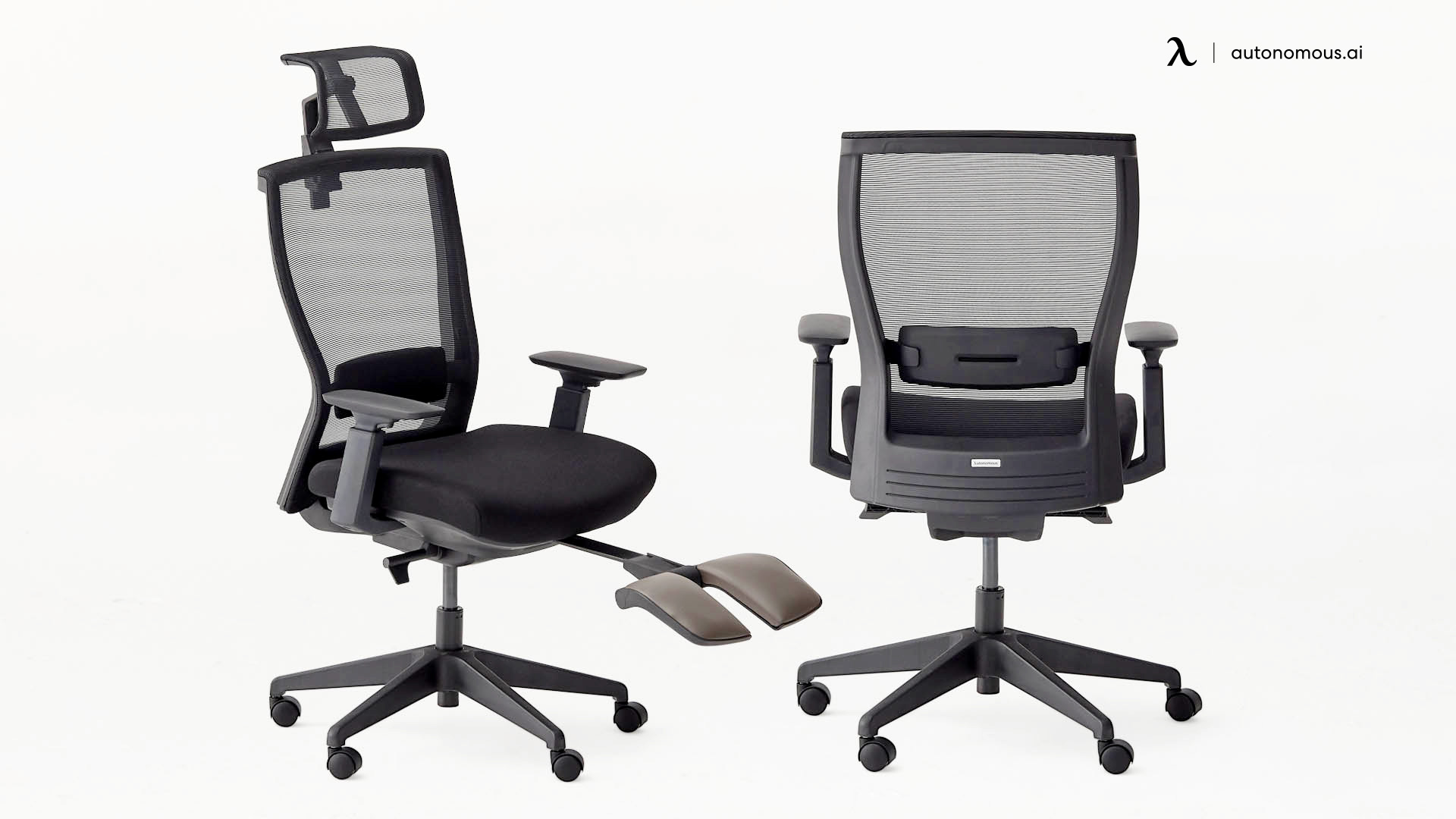 It is the best chair for lower back and hip pain with top picks that protects you from hip arthritis. The chair is highly adjustable and looks elegant in your office. It has customized features that make it ideal for back comfort. This reclining office chair has a leg rest, headrest, adjustable height, and armrest. Its reclining mesh offers lumbar support and relieves fatigue and back pain. 
3. Autonomous ErgoChair Pro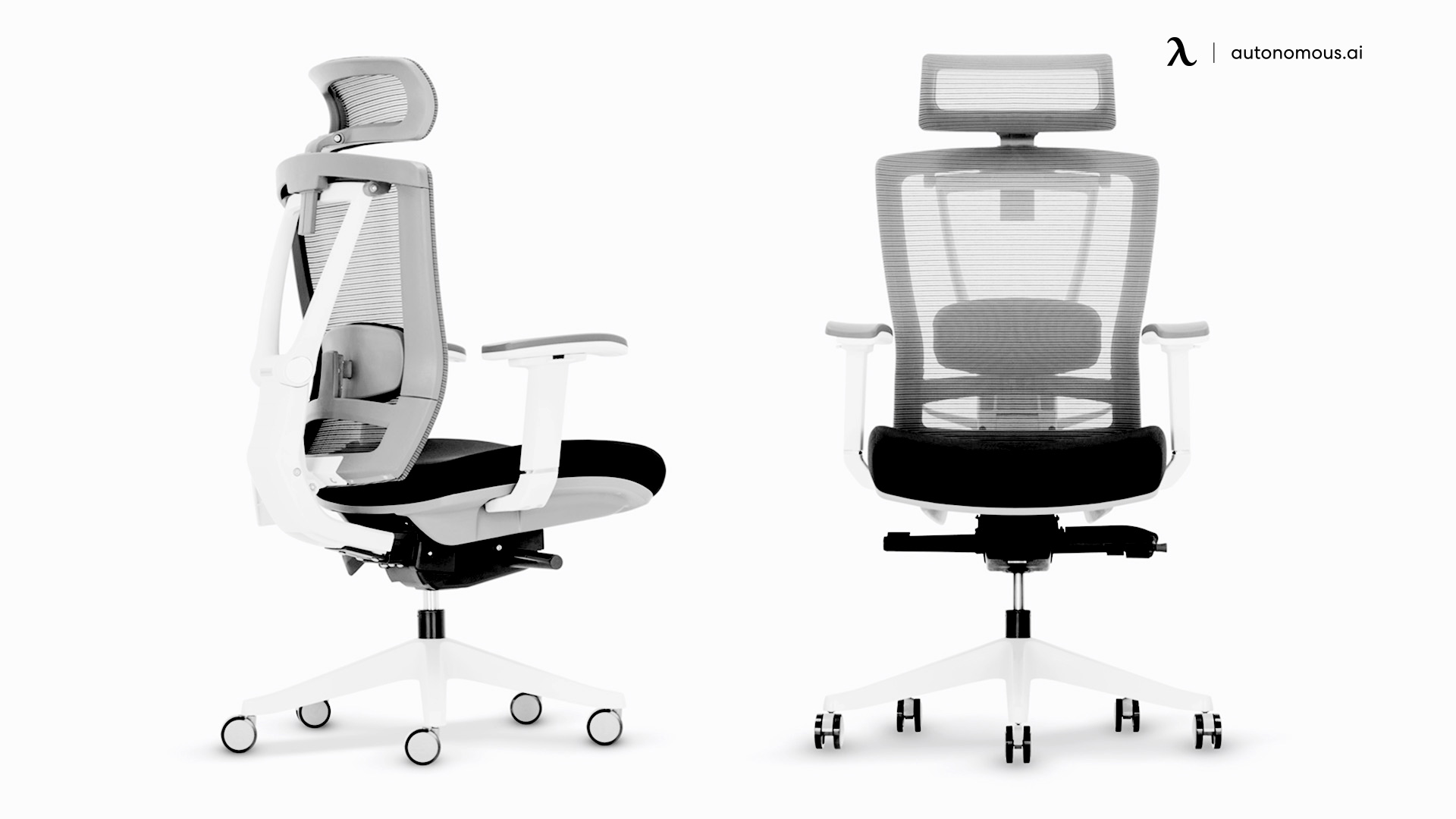 This is a product of Autonomous that is the best ergonomic chair for back support. Its flexible back and lumbar support make it a good office chair. 
The ergo office chair has a modern design that complements your office. It also helps control your lumbar support and engages your core. This chair is customized to offer lower back support and comfort. 
4. Autonomous ErgoChair Plus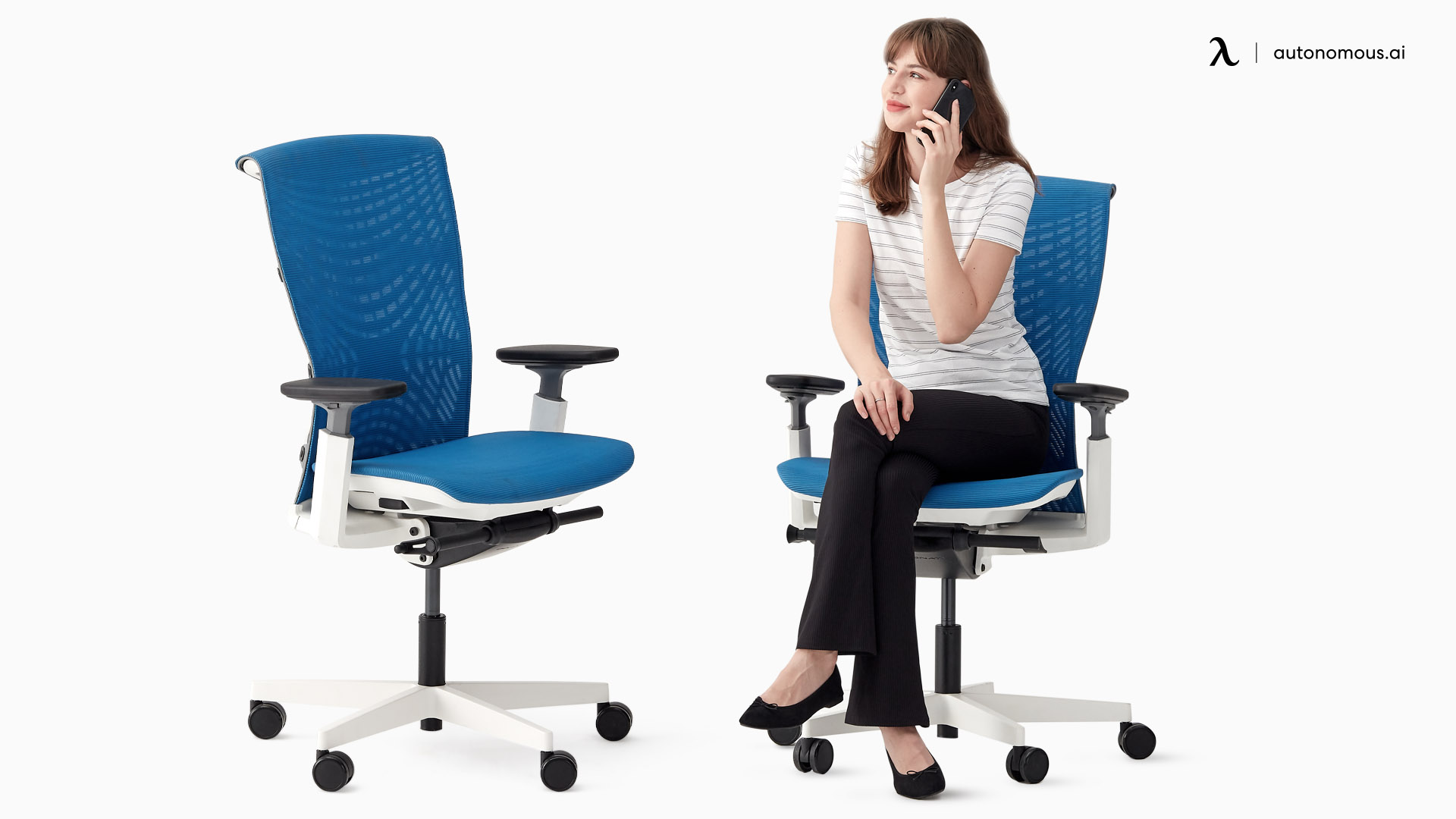 It is an office chair for lower back and hip pain that has a unique fishbone design. The chair is made of a TPE material that helps correct your sitting posture. It also promotes back health and reduces back pains. 
Unlike other chairs, ErgoChair Plus has an optimal support feature that provides you with enhanced lumbar support. Its fishbone design engages your core, thus reducing back or hip pain. 
5. Autonomous ErgoStool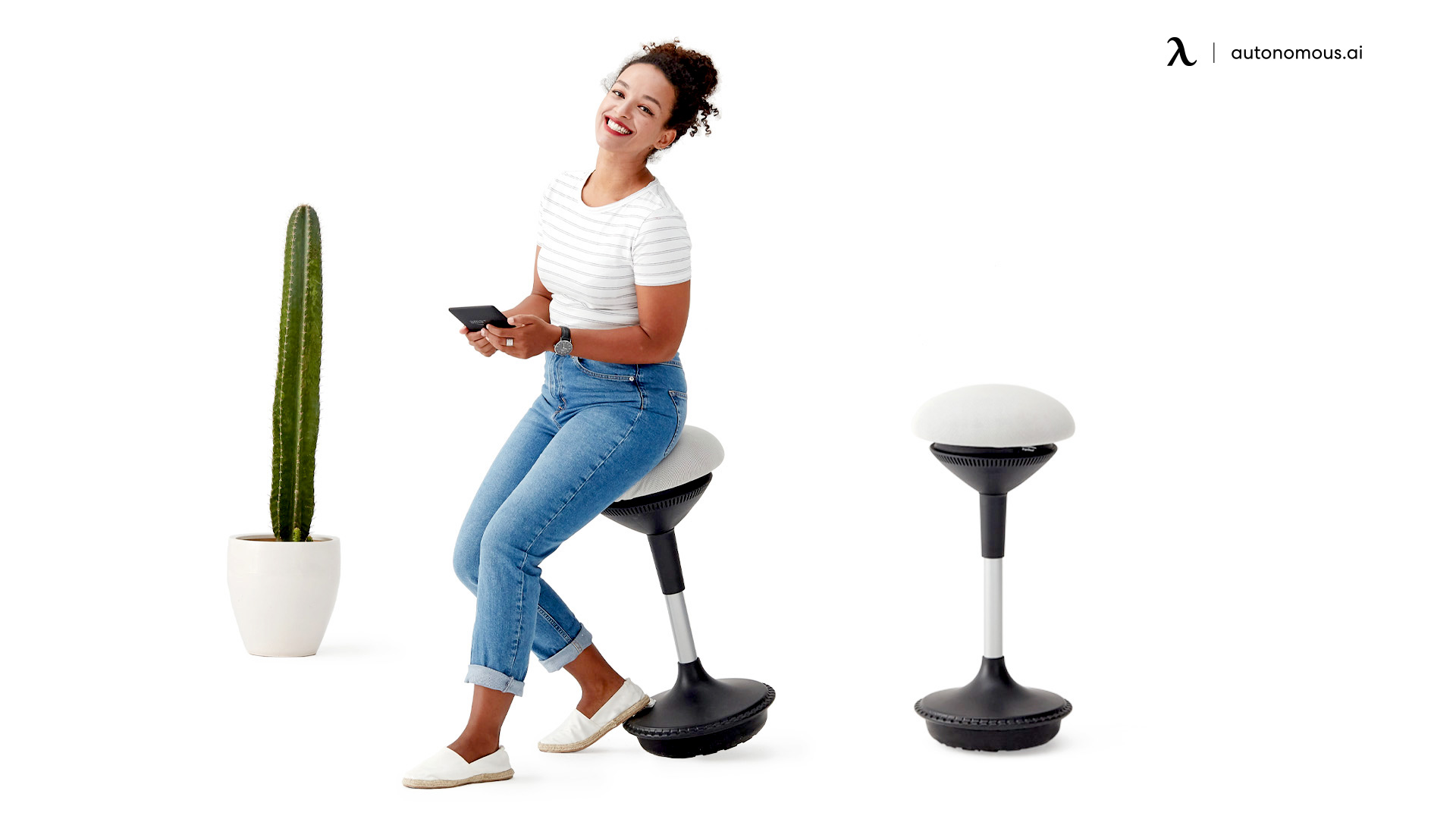 ErgoStool is a best chair for lower back and hip pain of Autonomous that stands out among other stools on the market. It is a specialized and unique office chair that has excellent ergonomic features. 
This stool assists in correcting your sitting posture and enhances core engagement. Its ability to balance and keep your body relaxed makes it ideal for office use. The ErgoStool is also rated as the best ergonomic chair for hip and lower back pain. 
6. Ticova Office Chair
"Why does lumbar support hurt my back?" This is a question that many office workers ask themselves about every day. Back pain is a result of poor sitting posture and an unideal office chair. Ticova is structured to give you the comfort you need to work. 
It promotes excellent support for your lower back and hips. The chair also reduces instances of hip arthritis and enhances prolonged working sessions. Its durable metal back offers lumbar support and comfort. 
7. Humanscale Ergonomic Chair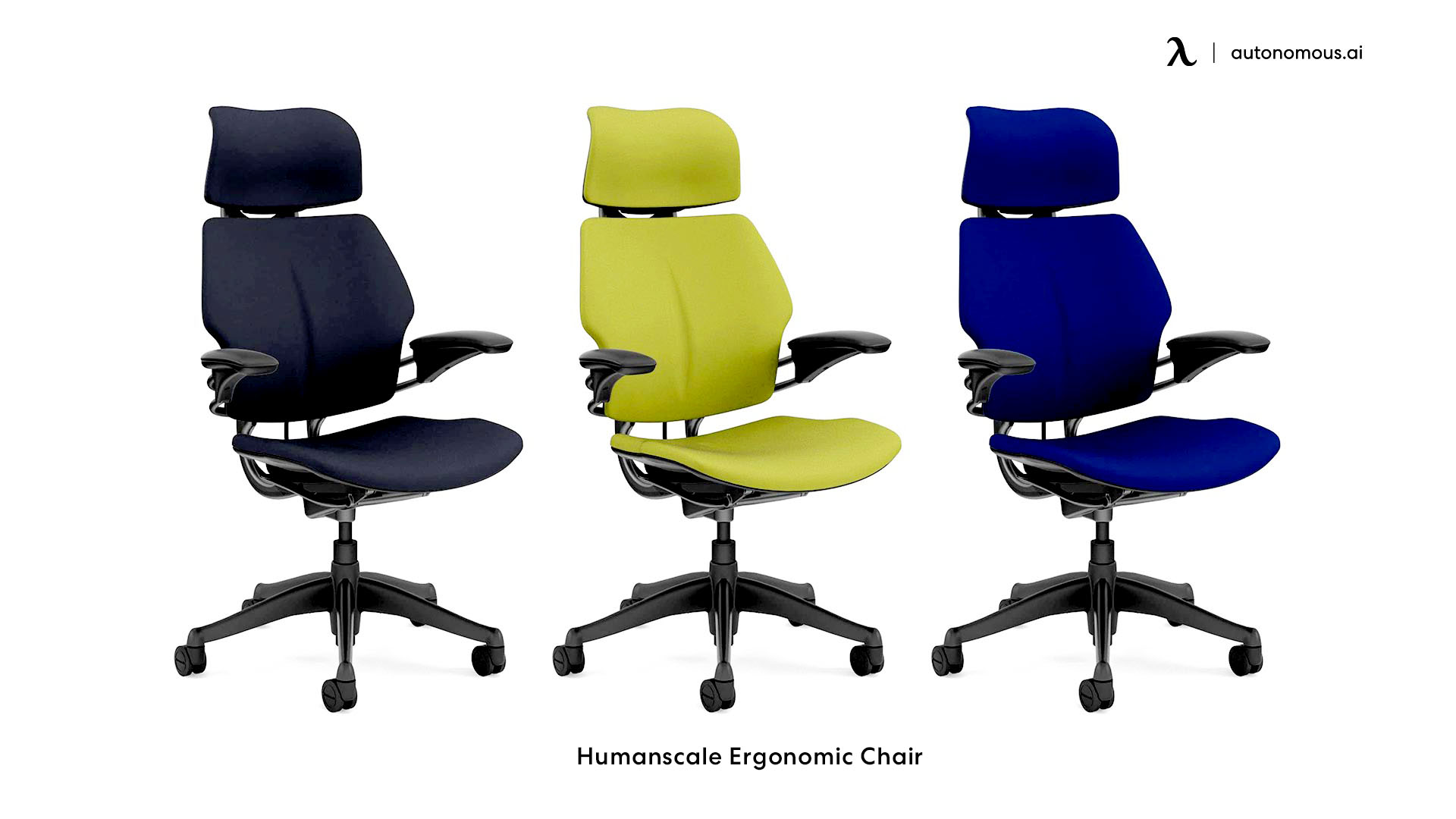 If you find yourself sitting for too long in front of your desktop, then you might experience some pain at some point. The pain mostly occurs in the neck and back areas. Solving this issue requires you to have a good office chair for lower back pain. 
This chair has a pivoting backrest that enhances an easy backrest. It also prevents slouching on the desk and corrects your sitting posture. With its backrest feature, the seat offers you lumbar support and can support up to 300 pounds. 
 8. Tempur-Pedic TP9000
If you are looking for an office chair that is best for back pain, this is a good option. This mesh chair is ideal for short people since it is highly adjustable. Its foamy and comfortable cushion offers good back support. 
Though the arms are not padded, you can easily take them off when needed. This reclining lower back support office chair enhances your relaxation with a 135-degree tilt and an all-around 360-degree swivel. 
9. Herman Miller Ergonomic Chair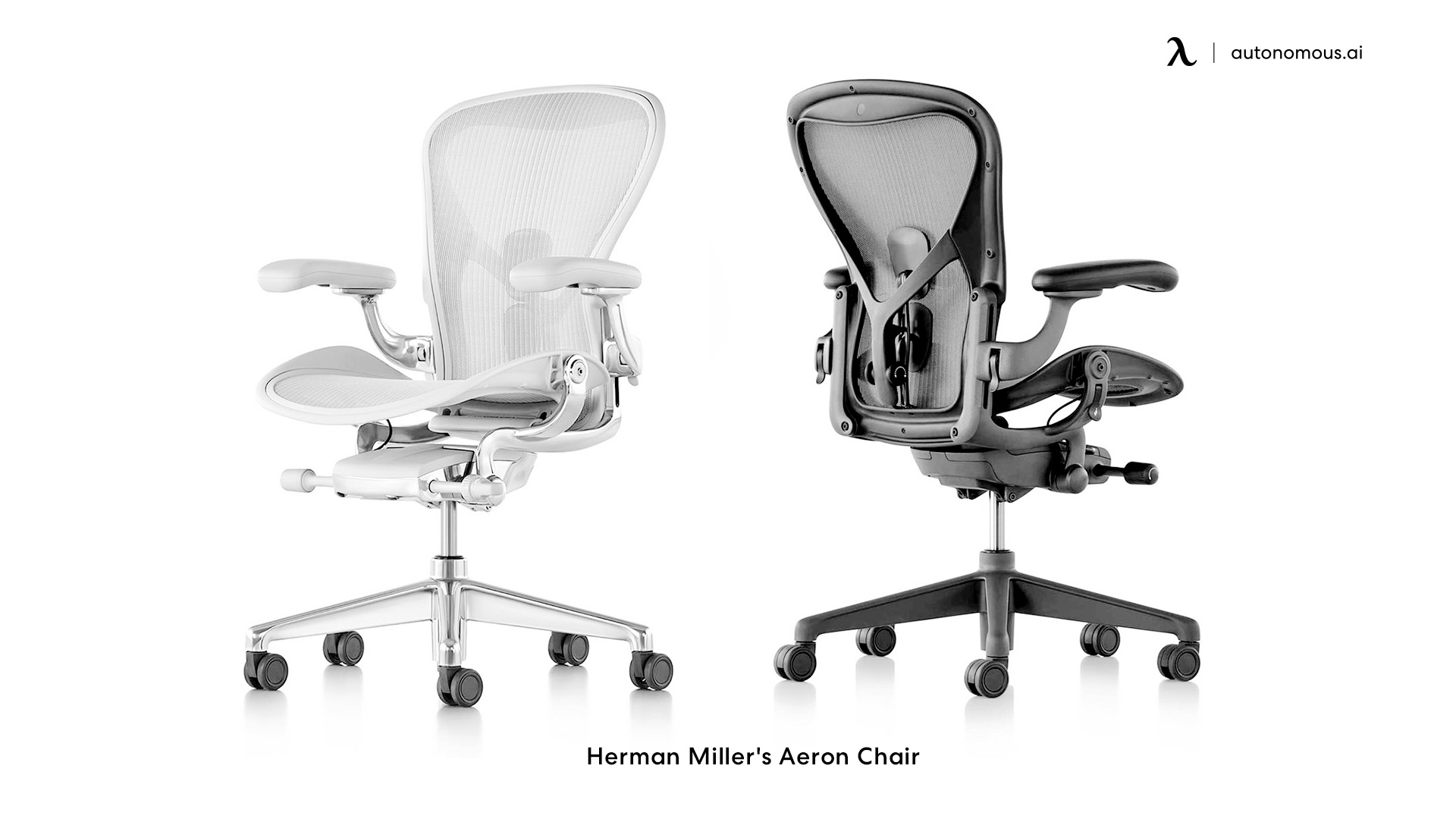 Are you looking for the best office chair for hip pain with a stylish design? Well, this chair is your solution. It is majorly designed for developers who spend long working hours. 
The chair is customized with a high-quality mesh for back support and air circulation. It has a variety of luxurious features that keep your back safe and comfortable. This reclining office chair has an adjustable armrest and tilt tension. 
10. Gabrylly Mesh Chair
Gabrylly's chair is an ergonomic chair for hip pain that offers a wide range of motion. It has an incredible lumbar support system that is ideal for long working hours. 
The adjustable height, armrest, and headrest enhance relaxation when at work. This chair has a customized ergonomic design that matches your preference. It is also good for alleviating back pain. 
11. Steelcase Leap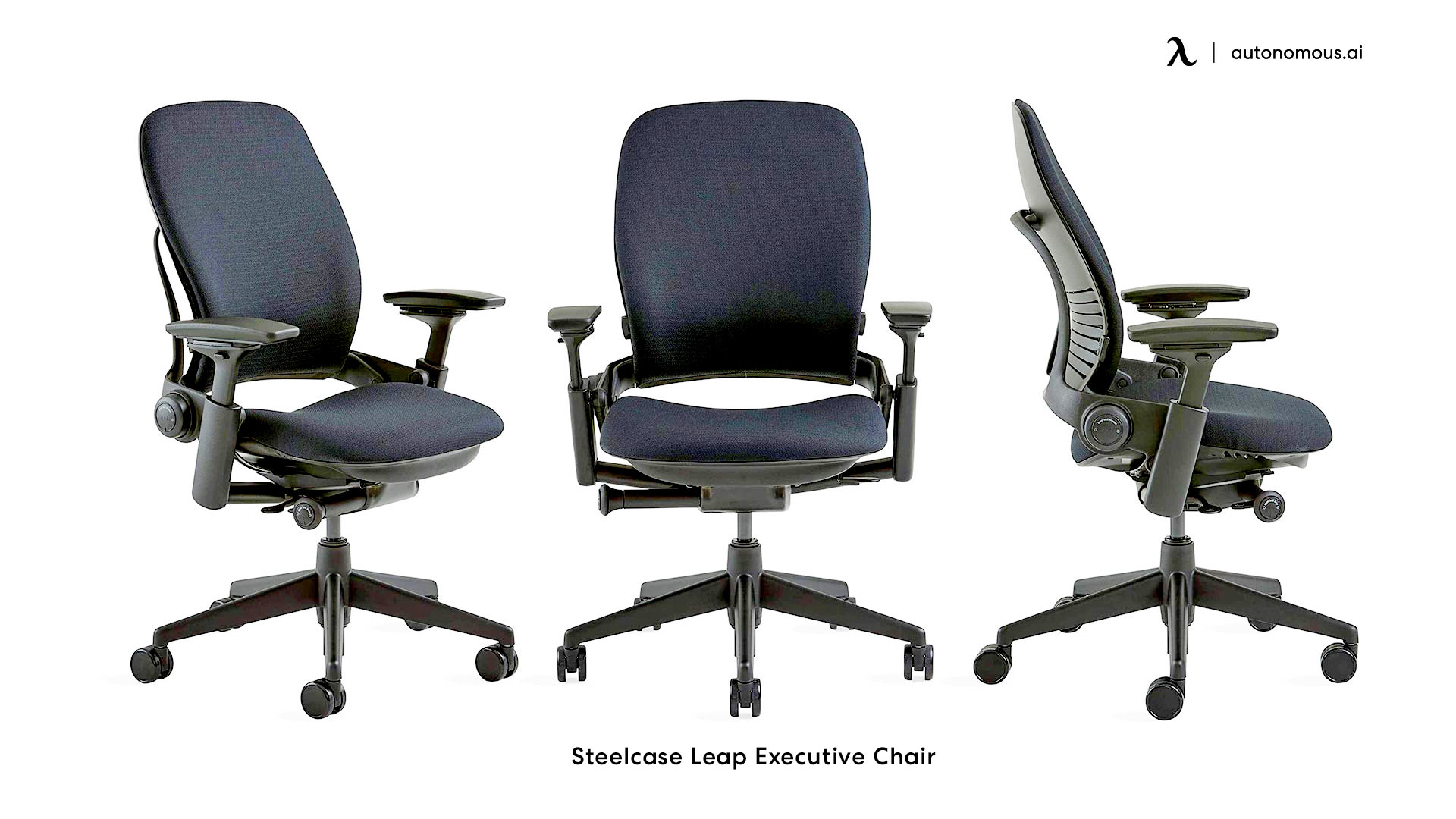 This is a valuable masterpiece that is ergonomically designed for hip pain. The chair is designed to offer comfort while working. Its adjustable and customizable nature is a bonus to the many other features the chair offers. 
Furthermore, it offers a wide range of beautiful colors and other upholstery options. Its supportive back enhances lumbar support and engages the core. Though it is a bit costly, it gives you value for your money through impressive features. 
12. Sidiz T50
If you are looking for the best chair for lower back and hip pain with a forward tilting seat, this chair is a go-to product. It miraculously reduces hip and back pain with a flexible angle using a lever. 
This chair for back support allows the hips to stay forward and above the knees. It minimizes the forces applied on the back and hip areas. With this chair, you can sit for up to eight hours without fatigue. 
13. Duramont Office Chair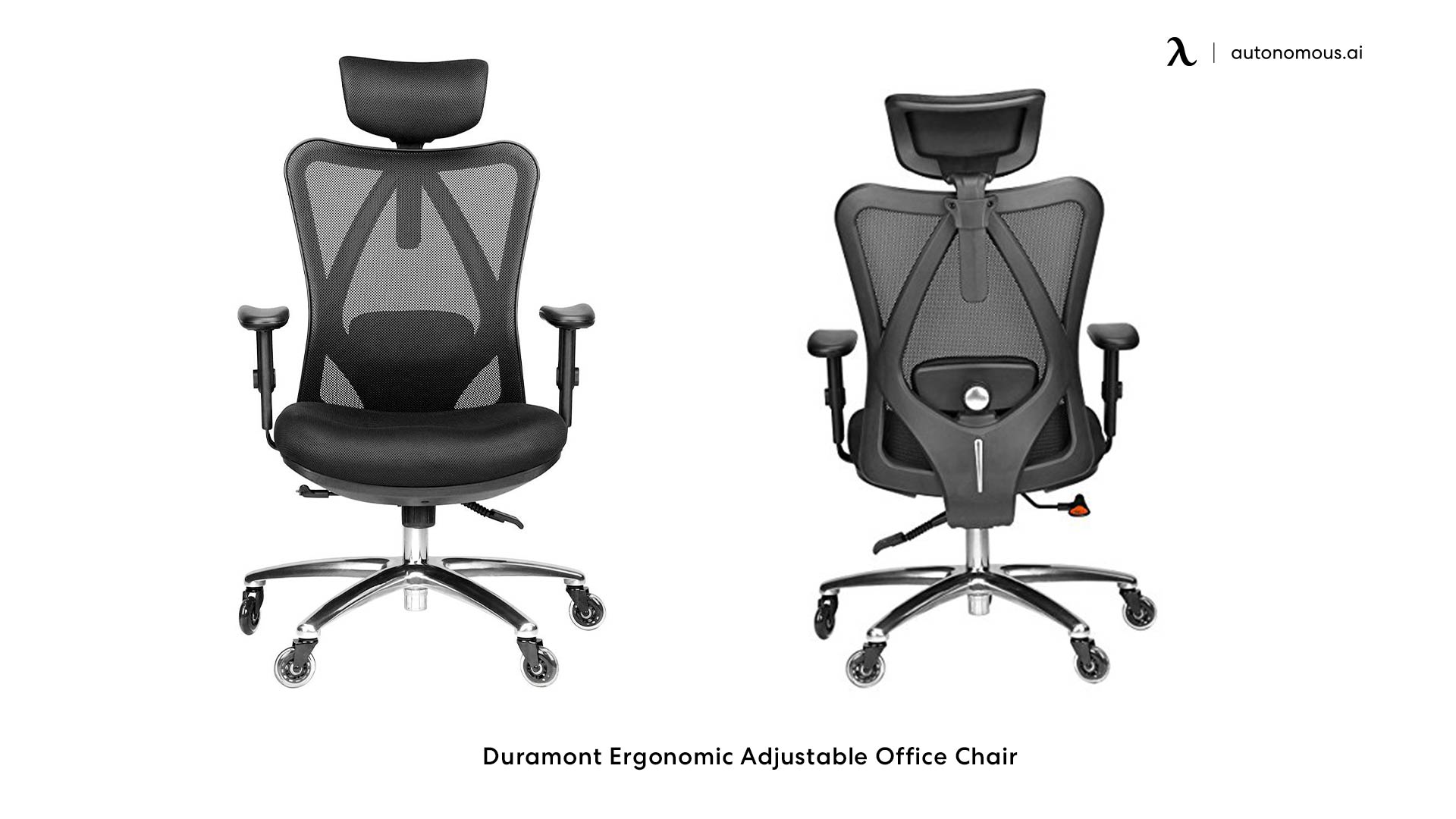 Duramont is an ideal lower back support office chair, and it is durable and highly affordable. It has an adjustable backrest, headrest, and armrest that boost your comfort and preference. This office chair offers you back support and maximum core engagement. 
14. Zipcode Mesh Chair
Zipcode is one of the best chairs for back pain. It has a durable back mesh for lumbar support and a backrest. This cost-effective seat aligns with your spine curve, hence engaging the core. 
Unlike other best office chairs for hip pain, Zipcode gives you the utmost comfort with a touch of modern design. It has four key features that include height and seat angle adjustments, armrest adjustment, and backrest adjustment. 
15. The Neo Chair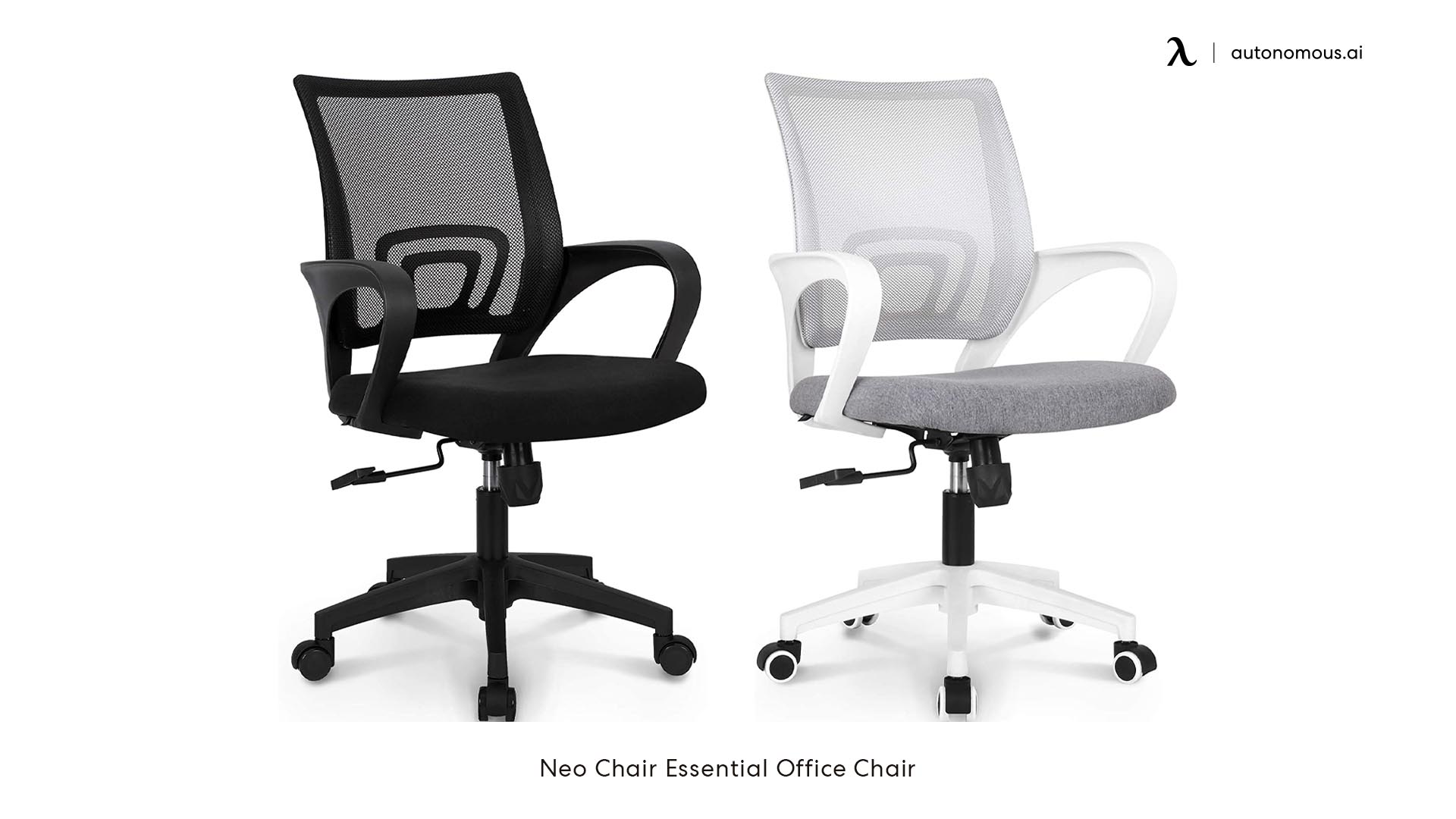 Here is another best chair for lower back and hip pain for you. The Neo Chair is one of the most popular chairs available in many offices. This chair stands out due to its adjustability and comfort. It is ergonomically designed with a swivel and other impressive features. 
The back design of this best office chair for hip pain helps correct your sitting posture and offers maximum back support. Its adjustable mesh provides lumbar support and relieves hips and back pain. Other features include an armrest and adjustable height. 
Conclusion
Whenever you feel a bit of pain in your lower back or hips, check it out. Don't ignore it. The problem may be a pointer to bigger things yet to come. Investing in a good ergonomic chair with back support goes a long way to help. The article has listed several lower back support office chairs for your consideration. 
Make sure you understand what causes your lower back and hip pain before you address it. Your health is very crucial to your work, loved ones, and yourself. Take care of it accordingly. It does not hurt to invest in a good reclining office chair if it is what is needed to help.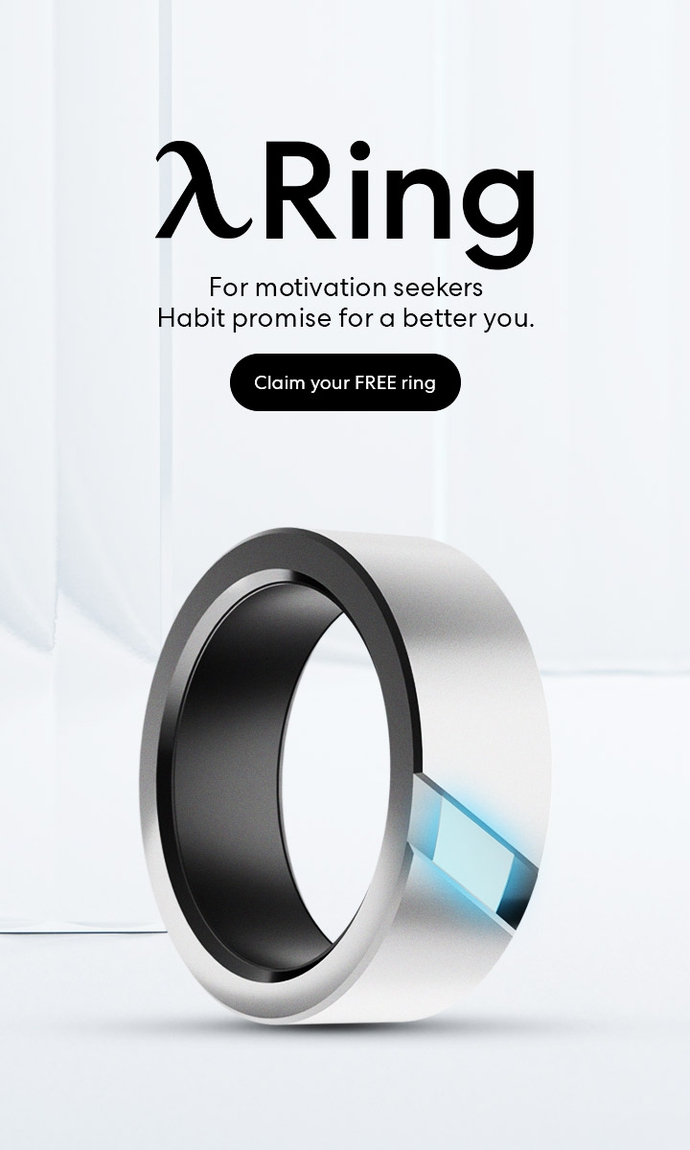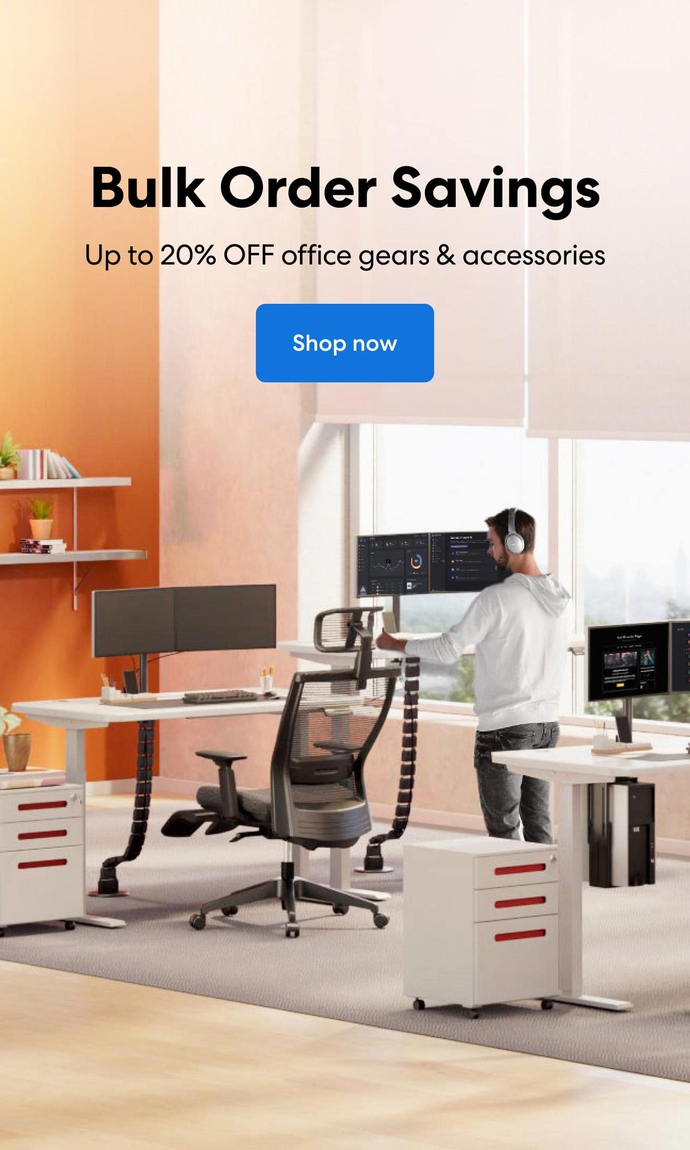 Subcribe newsletter and get $100 OFF.
Receive product updates, special offers, ergo tips, and inspiration form our team.