An ergonomic chair enables gamers of all sizes to play comfortably for long hours, but they can be difficult to find for big and tall people. While searching for a gaming chair that has a few extra inches, here are some things to look out for – weight capacity, adjustability, size, and some extra features. 
Bigger gamers definitely need a big and tall gaming chair that is designed to support their size and weight, so more than others, they should look for models with the high weight capacity. 
Additionally, big and tall gamers would feel more comfortable on a chair with adjustable height and depth settings to ensure a comfortable fit. 
Finally, big and tall gamers may also want to consider a wide gaming chair for added comfort. An XL gaming chair is designed to provide plenty of room for larger users, and they often come with extra features such as lumbar support and adjustable armrests. 
A plus-size gaming chair is a good option for big and tall gamers, and they usually have similar features to XL gaming chairs. Before you buy an ergonomic chair, make sure it is big enough and strong enough to support your size and weight. 
With all of that in mind, here are the 25 greatest gaming chairs for big and tall people. You will be sure to find the best ergonomic chair for you among them.
25 Best Big and Tall Gaming Chairs You'll Love
1. Autonomous ErgoChair Pro
Having a wide seat and backrest, this big and tall gaming chair provides plenty of room to move around, and the adjustable armrests and headrest allow you to customize your seating position. 
The lumbar support of this ergonomic chair is also a nice touch, and the extra-wide base provides added stability. You can feel confident knowing you are safe. 
2. Autonomous ErgoChair Plus
The ErgoChair Plus is a big and tall gaming chair that is perfect for those who need a little extra support. The chair has an ergonomic mesh backrest that helps to keep your spine in alignment, and the extra-wide seat provides plenty of room to move around. 
There is also lumbar support that is adjustable, so you can customize the fit to your own needs. This XL gaming chair is a great choice for gamers who are looking for a bit more support than what a standard gaming chair can provide. 
3. Autonomous ErgoChair Recline
The Autonomous big and tall gaming chair features a reclining backrest, adjustable lumbar support, and an extra-wide seat. 
Being wide seated, the ergonomic reclining chair is big enough to accommodate gamers of all sizes, and the lumbar support can be customized to provide the perfect level of comfort. 
This gaming chair with footrests also has a sturdy base that can support up to 400 pounds making it suitable for thicker to thinner users.
4. EUREKA ERGONOMIC Typhon Home Office Gaming Desk Breathable Mesh
The Eureka Typhon big gaming chair is designed with an idea of diverse gaming room themes in mind. The Typhon chair is suitable not only for gaming needs but it is also a comfortable find for office work. The breathable mesh is embedded into the design to give it a modern, comfy vibe and the chair has a curved lumbar support which conforms to the human posture in the most natural way. Rated a 4 stars, the chair comes in three color options and has a racing style inspired theme.
5. Trio Supply House Office Chair Gaming Leather-look
The gaming style high back chair lets you switch between work and gaming modes just as easily. The chair perfectly portrays a professional workplace look while the racing style is solid for a gaming room. Its tall back makes it competitive for short to tall users and the swivel action is quick to move around so you don't have to get up from the seat. It has over 5 points of adjustments putting you in the driver's seat to control each feature of the chair.
6. Karnox Legend Bluish Gray Edition
White gaming chairs are hard to find but the gentle blue gray color of Karnox legend comes close for people who want a subtle looking modern gaming chair. With a wide seat and tall back, this Karnox gaming chair provides plenty of support and comfort for long gaming sessions. The fabric is also highly breathable, helping to reduce the build-up of heat. 
Plus, the two-toned fiber sand and dyeing technology give the XL gaming chair a unique look that will make you stand out from the crowd.
7. BOULIES Boulies Master Chair VER. 2022
The Boulies Master Chair is another chair among the selection of wide gaming chairs that are specifically designed to provide ample support for larger body types. 
This chair seat is made from cold-cured foam, which is both comfortable and durable, and the built-in lumbar support can be adjusted to provide customized comfort.
8. EUREKA ERGONOMIC GX5 Series Gaming Chair
The Eureka GX5 is one of many comfortable wide gaming chairs. You can adjust the settings to your liking. It also has a wide weight capacity, so it can accommodate bigger people.
9. Karnox Suede Gaming Chair
This Karnox suede gaming chair is for those who want a little extra room to move. With a wide seat and tall back, it offers ample support and comfort for even the longest gaming sessions. For those who like to go big, this XL gaming chair is ideal since it provides plenty of space for plus-size gamers.
10. EUREKA ERGONOMIC Ergonomic Gaming Office Chair: Python II
The lumbar support and extra wide base of this plus size gaming chair really do provide you with peace of mind. The materials are high-quality, which means they'll last longer than other models on the market today!
11. Techni Mobili Home & Office Chair
Techni Mobili gaming chair is designed to provide the ultimate gaming experience. The chair can make you feel comfortable for hours on end! Additionally, this model has an adjustable seat height, so you can find an optimal position no matter what your needs may be.
12. Karnox Gaming Chair Hero Helel Edition
Another XL gaming chair from Karnox, this is a sleek, modern chair that has all of the bells and whistles to ensure maximum comfort for your gaming sessions. 
The 2.5-inch PU casters allow easy mobility on any surface while also being able to stand up to spills or other accidents without so much as leaving behind even one speckle stain!
13. EUREKA ERGONOMIC GE300 Breathable Ergonomic Gaming Chair
This GE300 gaming chair is designed to keep you healthy and comfortable while playing your favorite video games. 
Like most of the wide gaming chairs, this one also features a human curve, five supporting points (head/ back /hips), and fully strong adjustable lumbar support that protects the spine's health - all in an easy-to-manage package with stylish colors of choice!
14. Vertagear Gaming Chair SL5000
With a wide seat, this big and tall gaming chair provides extra comfort for users up to 6' 4". Since there are 19-inch armrests available as well, even larger individuals won't have any trouble finding their ideal seating distance from the monitor(s).
15. Skyline Decor X30 Gaming Chair: Slide-Out Footrest
The Skyline X30 Leather XL gaming chair has everything you need for an ultimate gaming experience. 
There's soft leather upholstery that's durable enough to withstand hours of continuous use, as well as extended footrests so your feet are elevated at all times while seated on one of these wide gaming chairs.
16. Techni Mobili High Back Gaming Chair, Black Edition
Level up with this XL gaming chair. Techni TS-61 is designed to make your gaming experience more comfortable. 
With an adjustable memory foam seat and 3D adjustable armrests, this chair will be perfect for you! It also comes equipped with a steel base that prevents marking the floor or any other surfaces while providing stability when sitting down at home during an intense game session.
17. Vertagear Special Edition Gaming Chair
This big and tall gaming chair by Vertagear includes an adjustable height range from 48-52", supporting weights of 260 lbs and more. Red leather seats come standard with every chair, making this possibly the best gaming chair for big guys!
18. Skyline Decor X40 Gaming Chair: Slide-Out Footrest
Sit down to play some video games or work on that report with this gaming chair! The sliding footrest will make it comfortable enough for even the longest day of game duty. 
Since you can adjust its height according to your personal needs, there's no limit to how much time is left in one session - so take all afternoon, if need be, because Skyline wide gaming chairs are made to last.
19. Skyline Decor X10 Gaming Chair: Flip-up Arms
Big and tall gamers can now enjoy an ergonomic chair that is both comfortable and durable with the help of X10. This gaming chair's material combination creates a unique product for those looking to upgrade their traditional gamer's office suite without having any concerns about wearing out easily or becoming less posture-friendly after just one use!
20. Techni Mobili TS-92 Office-PC Gaming Chair
This high-back, plus size gaming chair is a sleek and stylish design that features durable PU upholstery, contoured segment memory foam padding for added comfort, and adjustable 2D padded armrests with pneumatic seat height adjustments. This product has tilt tension control, so be sure it's always just right!
21. Skyline Decor X20 Gaming Chair: Adjustable Swivel Chair
Another big and tall gaming chair, this computer game-ready recliner is equipped with adjustable lumbar support and a backrest to keep you comfortable while playing your favorite games. 
There are extra pillows included in case the ones you get are not enough or if you want more pressure relief at the neck/spine area. Additionally, it has levers to guide seat adjustability so that every position feels just right!
22. Techni Mobili High Back Racer Style PC Gaming Chair
The TS-5100 XL gaming chair is made with synthetic leather and is packed with a memory foam seat that can be adjusted, and a reclining mechanism that goes up to 150 degrees.
23. Techni Mobili High Back Gaming Chair
This chair is designed for gamers and features a high-back design with built-in headrest and lumbar support to provide comfortable support for extended gaming sessions.
The chair can be adjusted to fit the user's needs, with a height-adjustable seat and armrests that can be raised or lowered to support the user's arms and shoulders. The Techni Mobili High Back Gaming Chair is also equipped with smooth-rolling casters that allow for easy mobility around the gaming area. Overall, it appears to be a comfortable and versatile seating option for gamers or anyone in need of a supportive chair for extended periods of sitting.
24. Northread Game Chair: Lumbar Support
Among our wide gaming chairs, you can also discover this Northread chair that provides excellent lumbar support. 
This chair's wide seat and backrest are upholstered in a soft, durable fabric that is easy to clean, and the height-adjustable headrest and built-in lumbar pillow provide customized support for your neck and spine. 
The chair also features a reclining backrest so you can lean back and relax after a long day of gaming.
25. Vertagear Gaming Chair SL4000
The Vertagear gaming chair was designed with this in mind, featuring a galvanized steel frame and an aluminum alloy five-star base that can accommodate up to 400 pounds. 
This plus size gaming chair is also fully adjustable, so you can customize the seat height, backrest angle, and armrest position to suit your needs. 
Best of all, it comes in a variety of colors and fabrics, so you can find the perfect look to match your gaming setup.
Finding the Perfect Gaming Chair for Big Guys: A Comprehensive Guide
Buying a gaming chair that is suitable for big guys requires considering certain factors such as weight capacity, seat dimensions, adjustability, and overall comfort. Here's a guide to help you find the right gaming chair:
Weight Capacity
Look for chairs specifically designed to accommodate heavier individuals. Check the weight capacity rating of the chair and ensure it can support your weight comfortably. Aim for a chair with a capacity of at least 300 pounds or more.
Seat Dimensions
Pay attention to the seat width and depth. Big guys may need a wider and deeper seat for adequate support and comfort. Look for chairs with broader seat dimensions to accommodate your body size.
Adjustable Features
Opt for a gaming chair that offers extensive adjustability. Look for features like adjustable height, armrests, and backrest recline. A chair with multiple customization options allows you to find the most comfortable position for extended gaming sessions.
Lumbar Support
Good lumbar support is crucial for big guys to maintain proper posture and reduce back strain. Look for chairs with built-in lumbar support or removable cushions that can be adjusted to fit your lower back curve.
Padding and Cushioning
Ensure the chair has ample padding and cushioning, especially in the seat and backrest areas. High-density foam padding or memory foam provides better comfort and support, allowing you to sit for extended periods without discomfort.
Material and Durability
Consider the chair's build quality and materials used. Look for chairs made of sturdy materials like high-quality synthetic leather or fabric that can withstand heavy use. Reinforced stitching and a strong frame are also essential for durability.
Armrests
Choose a chair with adjustable and well-padded armrests. Adjustable armrests allow you to find the right height and width to support your arms comfortably during gaming sessions.
Swivel and Mobility
Ensure the chair has a smooth swivel function, allowing you to move around easily. Additionally, consider chairs with casters suitable for your flooring type (e.g., carpet or hardwood) to ensure smooth and effortless movement.
Reviews and Recommendations
Read customer reviews and seek recommendations from other big individuals who have purchased gaming chairs. Their experiences can provide valuable insights into the comfort and durability of specific models.
Budget
Determine your budget and search for chairs within that range. While it's important to invest in a quality chair, you can still find options that offer excellent features without breaking the bank.
Remember to try out the chair whenever possible or carefully read the specifications if purchasing online. Everyone's preferences and body types vary, so finding the perfect gaming chair may require some trial and error.
FAQs
Can a big and tall gaming chair be adjusted?
Yes, many big and tall gaming chairs offer adjustable features. These can include height adjustments, seat angle adjustments, backrest recline, and adjustable armrests. Adjustable features allow you to customize the chair to your preferred sitting position for maximum comfort.
Are big and tall gaming chairs more expensive than regular gaming chairs?
Big and tall gaming chairs typically have higher weight capacities and specialized design features, which can make them slightly more expensive than regular gaming chairs. However, prices can vary depending on the brand, quality, and specific features of the chair you choose.
Can I use a big and tall gaming chair if I am not tall or overweight?
Yes, you can use a big and tall gaming chair even if you are not tall or overweight. These chairs are designed to provide extra space and support, which can be beneficial for anyone seeking a more spacious and comfortable gaming experience.
Where can I purchase a big and tall gaming chair?
Big and tall gaming chairs can be found at gaming chair retailers, office furniture stores, and online marketplaces. It's a good idea to compare prices, read reviews, and consider the chair's specifications before making a purchase.
How do I maintain and care for a big and tall gaming chair?
To maintain a big and tall gaming chair, follow the manufacturer's instructions for cleaning and care. Regularly wipe down the chair with a damp cloth, avoid using harsh chemicals, and periodically check for any loose screws or components. Proper maintenance will help extend the chair's lifespan.
Conclusion
If you're a big or tall gamer in search of an ergonomic gaming chair that will support your size and weight, be sure to look for chairs with high-weight capacities, adjustable height and depth settings, and wide designs.
XL gaming chairs are specifically designed to provide plenty of room for larger users, so they are a great option if you fall into this category. Do you think you can find the perfect gaming chair based on our review? 
Once that is done, make sure to browse other items from gaming furniture in our store. Be sure to check out more articles on gaming setup in our blog. Thanks for reading!
Video ads for product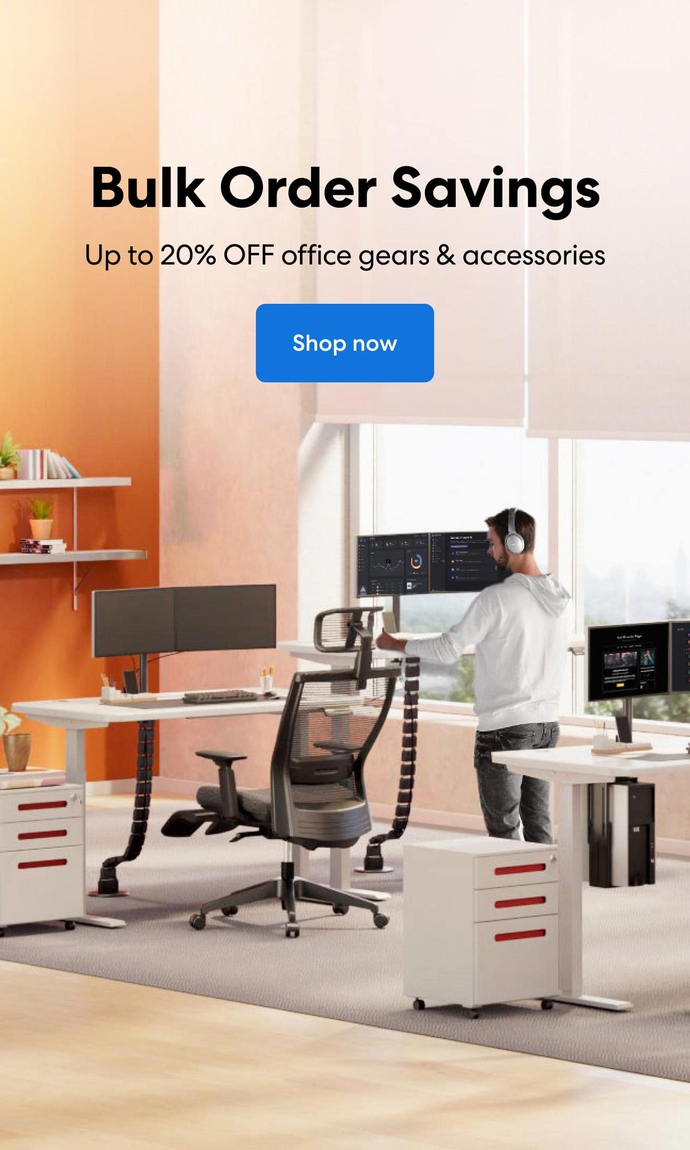 Subcribe newsletter and get $100 OFF.
Receive product updates, special offers, ergo tips, and inspiration form our team.