After the pandemic, almost all companies have asked their employees to work from home. And as a result, people have to do their office work from home. But due to the lack of proper furniture, it becomes hard for them to continue working for long hours. Having a proper desk not only makes one work comfortably but also corrects the posture. Autonomous brings for you a variety of standing desks that solve the slouching and bad posture problem. Here is a list of the best affordable standing desk under $400 that you can easily buy for yourself.
1. Autonomous SmartDesk Frame
If you are looking for an adjustable standing desk under $400, then go for an Autonomous SmartDesk Frame. The SmartDesk Frame is best for people who are into creative work. They can either use it as their computer desk or for placing their drawing charts. The entire body of SmartDesk Frame is of steel, thus making it strong and resistant to weights. The electric motors allow you to elevate your chair or bring it down as per your need. Unlike other motors, they don't make noise when you adjust the desk! There are three types of frames that you can choose from L, Pro and Core. The L frame allows you to set up a table at the furthest corner of the room! You can choose the top material of the desk from either bamboo or MDF wood. The steel standing desk frames make sure that the top surface can bear any weight. Overall it is a good choice for your home office!
Pros and Cons of Autonomous SmartDesk Frame
It comes with a 5-year warranty.
Noiseless motors make the adjustment process easier.
You can fit any size and weight desktop.
The steel finish gives it a robust and sturdy design.
The adjustment of the desk is prolonged.
Not suitable for short people.
2. Airlift Tempered Glass Electric Standing Desk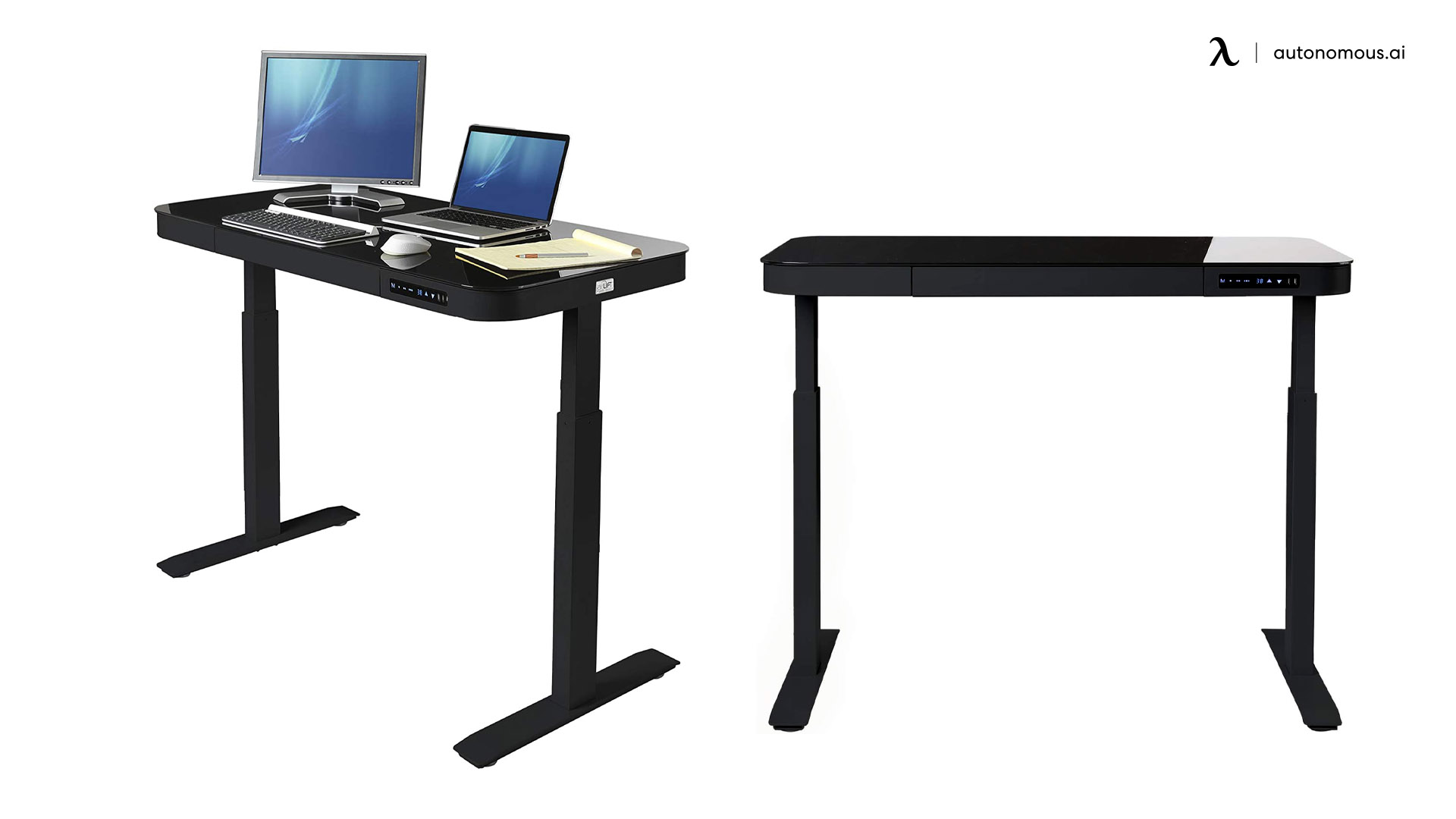 Usually, when people buy desks, they choose wooden or plastic desks. But Autonomous brings Airlift Tempered Glass Electric Desk under $400. The desk is made of tempered glass, which reduces the chances of breaking or any scratches. The presence of dual motors allows you to descend and ascend the desk smoothly at your convenience. With the presence of a USB charging port, you can quickly charge your smartphone while you work. One of the features of this affordable standing desk that make it unique is the touchscreen ability. Just with a touch, you can adjust the height of the table. Unlike wooden/plastic desks cleaning this desk is very easy; even if you use markers, you can wipe them off with a cleaner.
Pros and Cons of Airlift Tempered Glass Electric Standing Desk
Easy to clean.
The presence of tempered glasses makes them resistant to breakage/scratches.
USB charge points allow you to charge your devices.
Dual motors help in the easy adjustment of the desk.
None found
3. Flexispot EC9 Standing Desk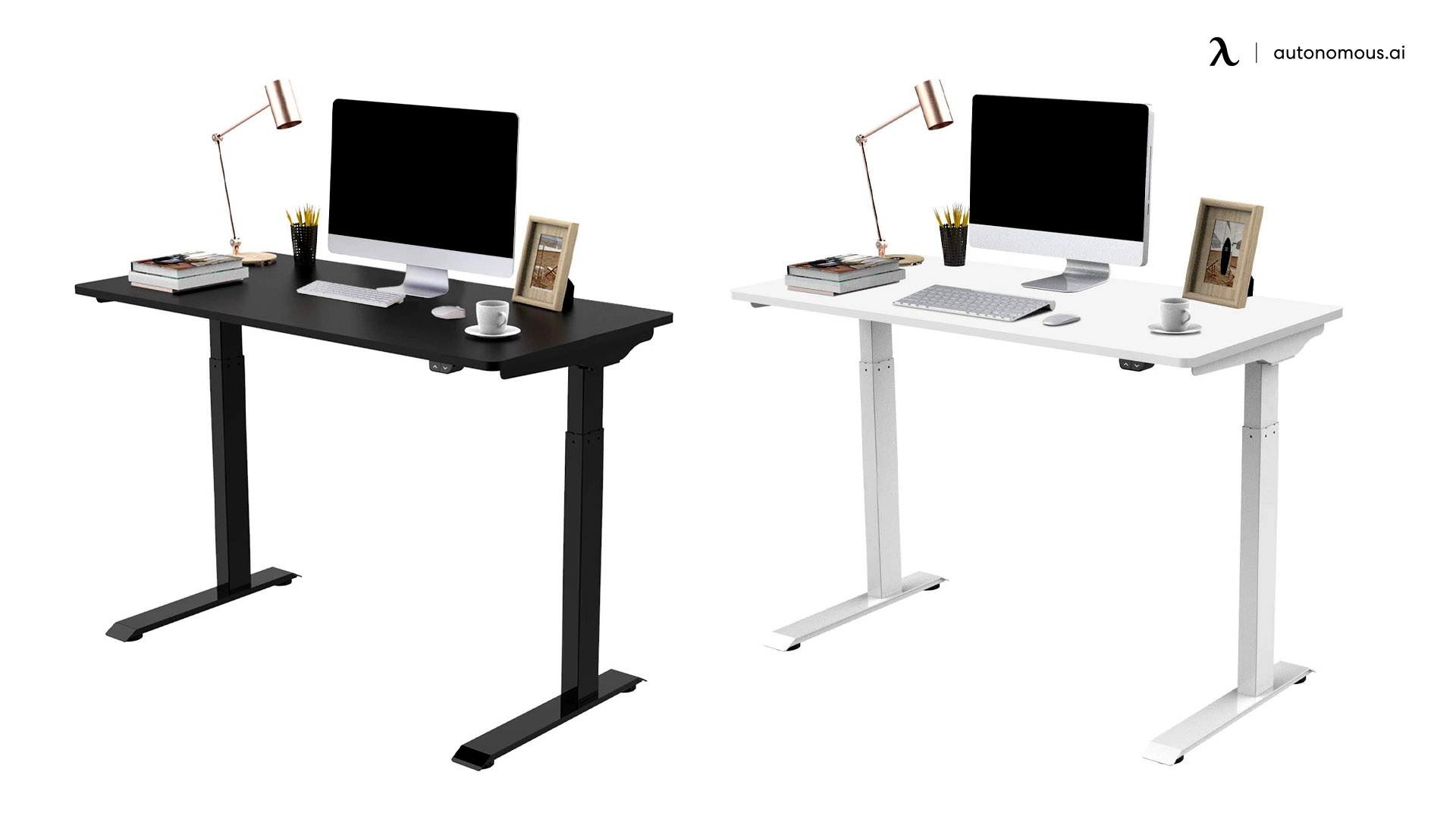 What can be better than an ultimate desk setup that you can assemble quickly? Flexispot EC9 Standing Desk is one such standing desk under $400, which any layman can put together by themselves. Apart from having a height range from 28.7" to 48.4", it can bear almost 1.10 lbs of weight. Also, while you adjust your desk, there's low/minimal sound. The design of this particular desk fits into any décor or setting. It has only two buttons which help you control the height adjustment of the desk. Unlike other standing desks, this one comes with four adhesive cables. It keeps your cables from getting messy. You can easily use this desk at your office, study, or for the game!
Pros and Cons of Flexispot EC9 Standing Desk
It can bear weights up to 1.10lbs.
The adhesive cables make the cleaning process easier.
The motor makes minimal/no sound.
One can control the adjustment with two simple buttons.
You can quickly assemble it.
The desk is a bit heavy compared to others.
Few instructions in the manual are hard to decipher.
4. VariDesk Pro Plus 36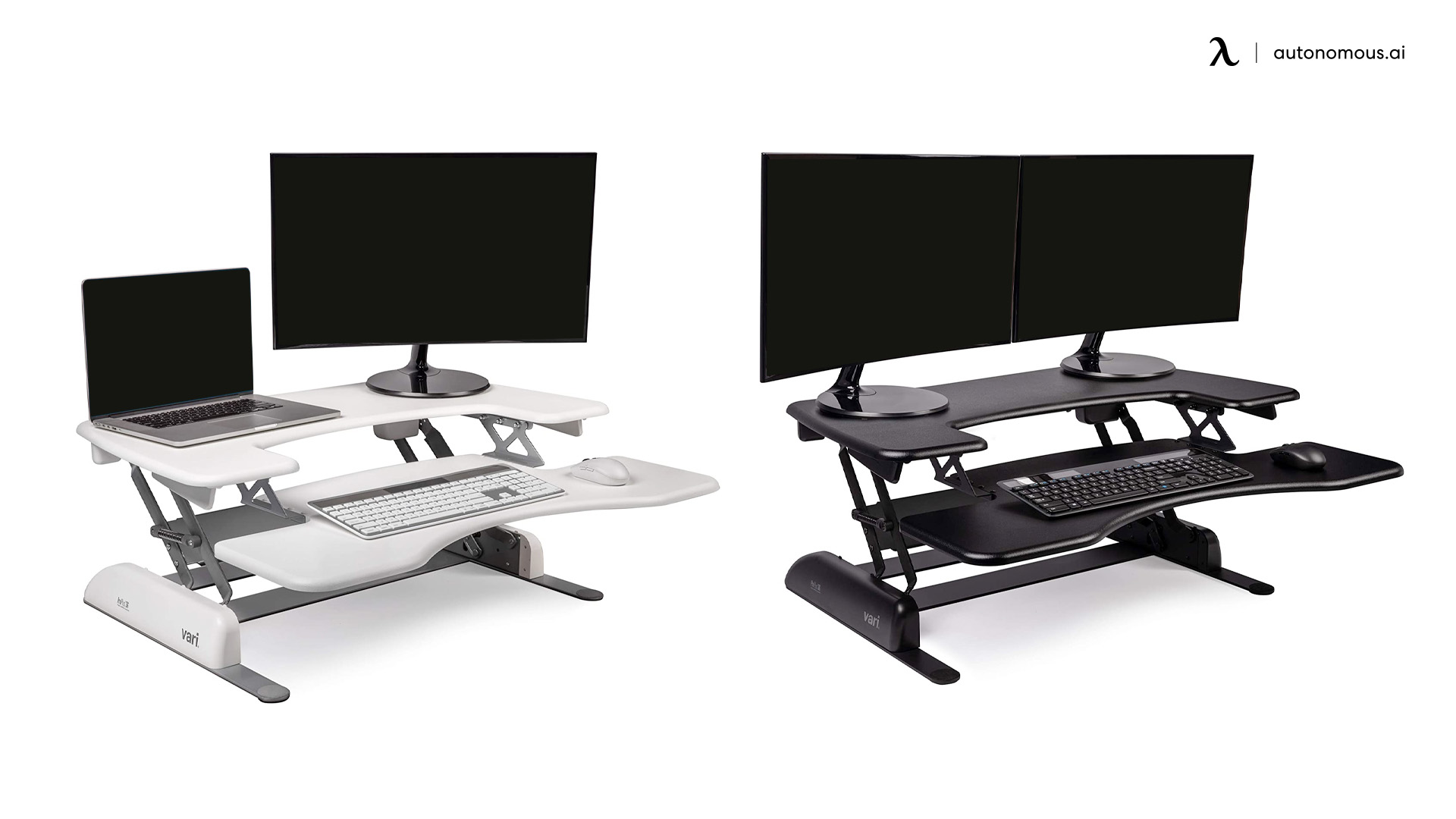 It is always assumed that the best things come with a price. But that is not always true. You can get a budget home office standing desk even under $400. With other standing desks, you have to either sit on a chair or stand and do your job. But with this standing desk under $400, you can sit on a bed or sofa and adjust it according to your desired height. Unlike other standing desks, you can bring it down to an almost flat position. And since one can bring it to a flat position, it doesn't take up much of the space in your room like others. So if you are looking for something conventional yet classy, you can surely go for this one.
Pros and Cons of VariDesk Pro Plus 36
The desk can go up to 17.5 inches and come down to an almost flat position.
It doesn't end up consuming a lot of space.
One can move it from one place to another.
It has a sleek yet sturdy design.
The desk is not suitable for setting up a dual monitor.
This article gives you a list of the stand up desks under $400. After judging the pros and cons of each standing desk step up, you can choose the best for yourself.
Get exclusive rewards
for your first Autonomous blog subscription.

WRITTEN BYAutonomous
We build office products to help you work smarter.
Coming at You Live from Autonomous' Social Media!
Please fill the information below.
Thank you!