Latest Updates
40 Christmas Desk Decoration Ideas for 2021
2,458 Views
The holiday joy is all around us, so why not bring it into your job and make the most of it? We've compiled a list of fantastic Christmas desk decoration ideas to assist you. 
Decorating your office desk for Christmas can brighten the atmosphere and bring all of your staff together. Make this a reality by inviting coworkers from different departments to join you in celebrating the occasion. Let's have a look at how you might prepare your office for the Christmas season by decorating it. 
40 Christmas Desk Decoration Ideas for Your Upcoming Holiday
1. Decorate Cubicles with Snowflakes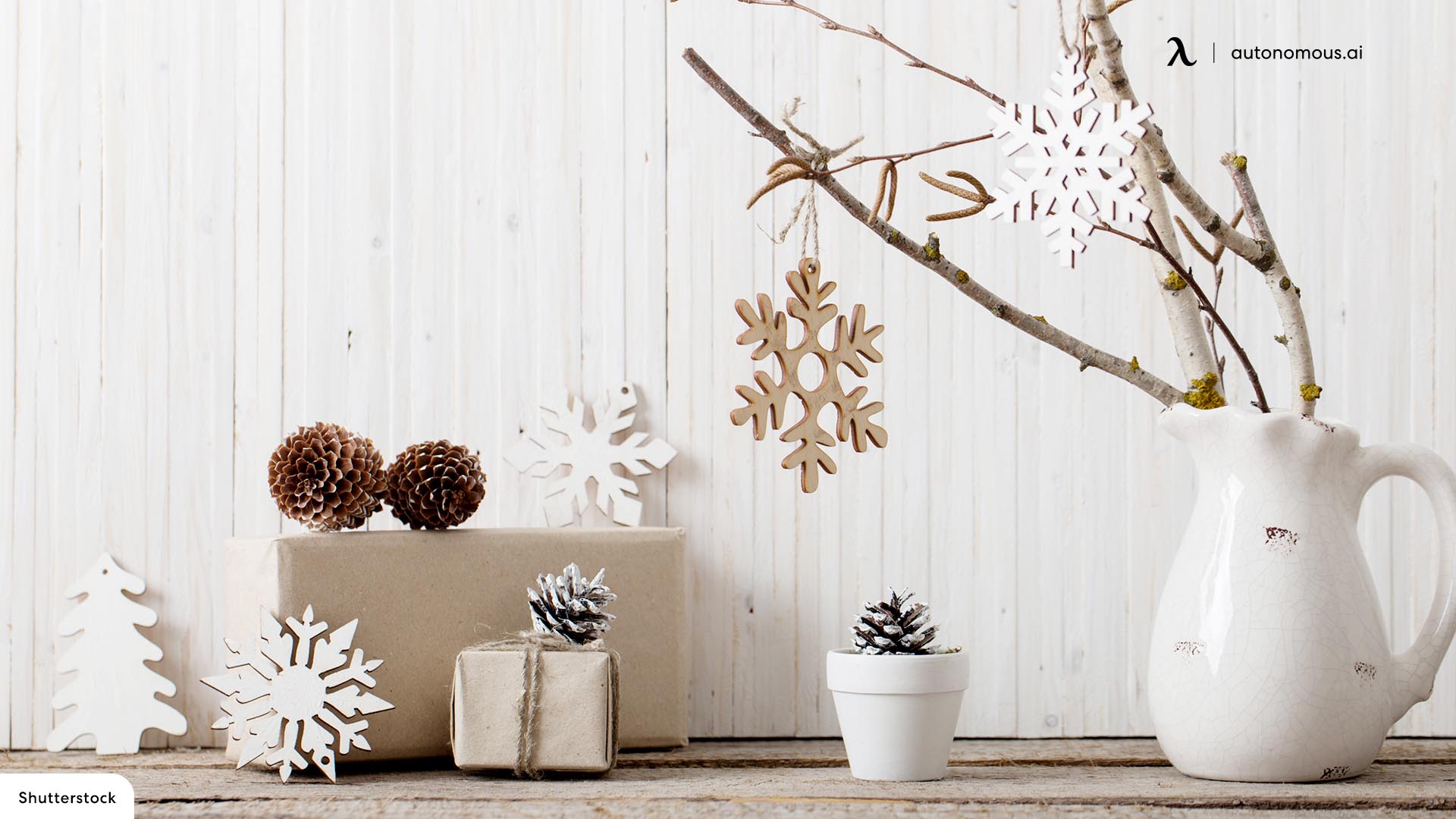 Decorate the desks with paper snowflakes. It can give the atmosphere a wintry feel. You may also try putting white carpets in the office hallways to make it feel more wintery. This is sure to brighten your festive spirit. 
Consider getting standing desks for your employees so that they can work hard in comfort. If you work at home, why not purchase a SmartDesk for yourself? 
2. Candy Cane Wonderland
What's all red, white, and sweet? Your future workstation! You can keep the candy cane theme by using only red and white office desk Christmas decorations. If you want to add a bit of shine to your office desk, cover the walls with white and red striped wrapping paper and hang some tinsel. You can also have a little jar filled with peppermint candy on your desk for anyone who walks by. 
3. Santa's Workshop
This holiday season, we're sure you're working as hard as a little elf, so why not let your workstation reflect that? You can decorate your desk with reindeer ears, presents, and elves for the Christmas desk decoration. Additionally, you can put the faces of your coworkers on the little elves on your desks so they can assist you with your work! Make sure there's a small sign at the top that says 'Santa's Workshop' to complete the look. 
4. Switch to a Festive Computer Wall
Changing the backdrop or screensaver on your computer is an easy method to change the look and feel of your workspace. There are hundreds of visually appealing options available on the internet. 
Why not also purchase a cork desk pad as a little gift for yourself? 
5. Add a Figurine
An office desk Christmas tree, little snowman, menorah, or kinarah can liven up the area around your files and folders. It is also one of the common Christmas desk decorations in the workplace.
6. Get a Poinsettia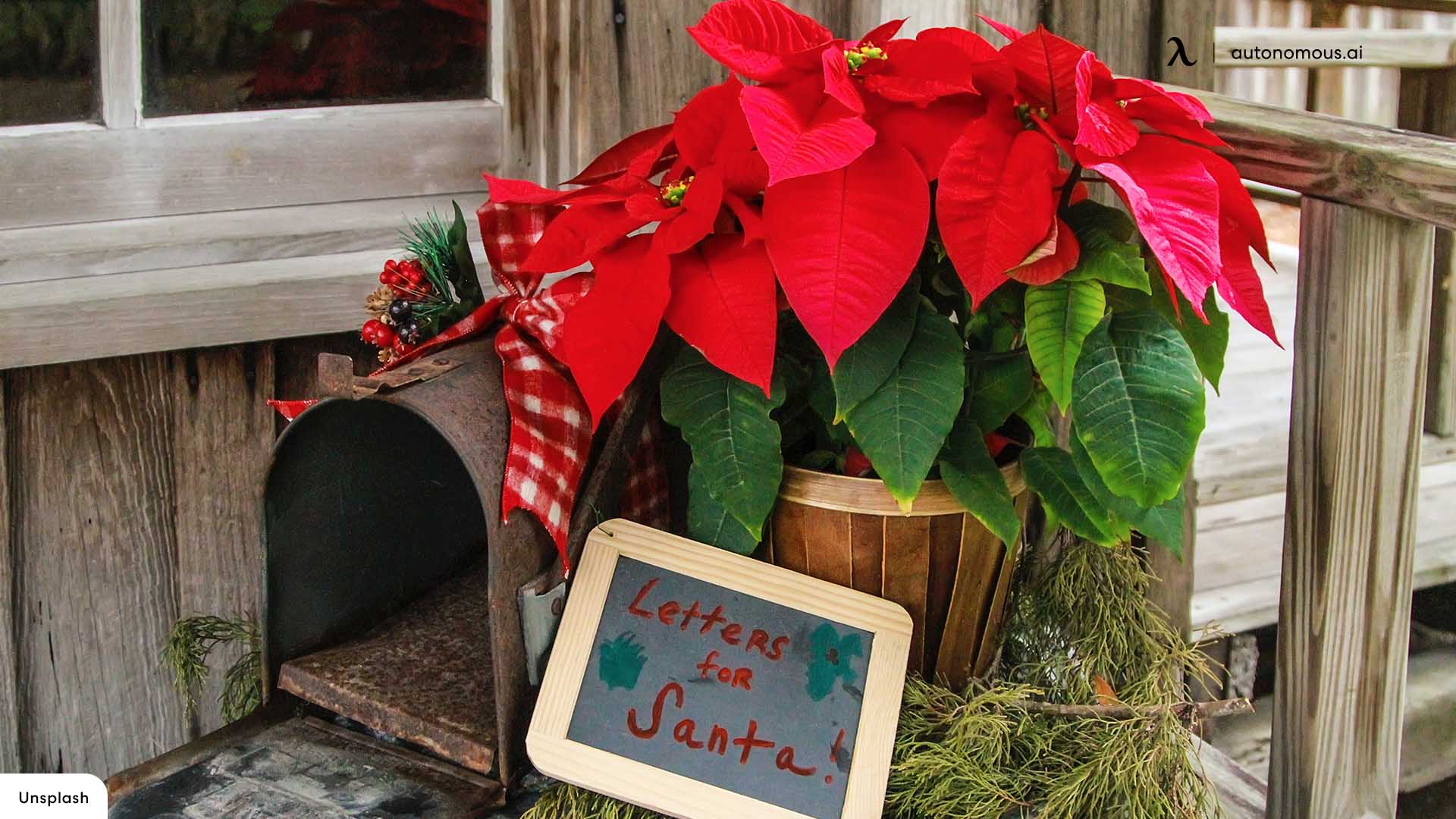 Perhaps you've had it with all of the paper and plastic decorations and are looking for something new. Consider acquiring some actual plants for your workplace to give it that festive feel. 
A stunning ruby poinsettia is the epitome of Christmas. This can bring a touch of glitz to a drab office. It's important to remember to water it, as plants are only joyful when they're alive. Keep it near a window for at least a few hours each week if you can. 
What's the best part about using plants to decorate for Christmas? They don't have to be a part of your desk arrangement for a limited time; they can stay around all year! 
7. Upgrade Your Pencil Holder
A colorful cup doubles as a wonderful pen and pencil holder for your desk. Add a few glittering pipe-cleaner pieces if you're feeling extra creative. 
8. Add a Colorful Vase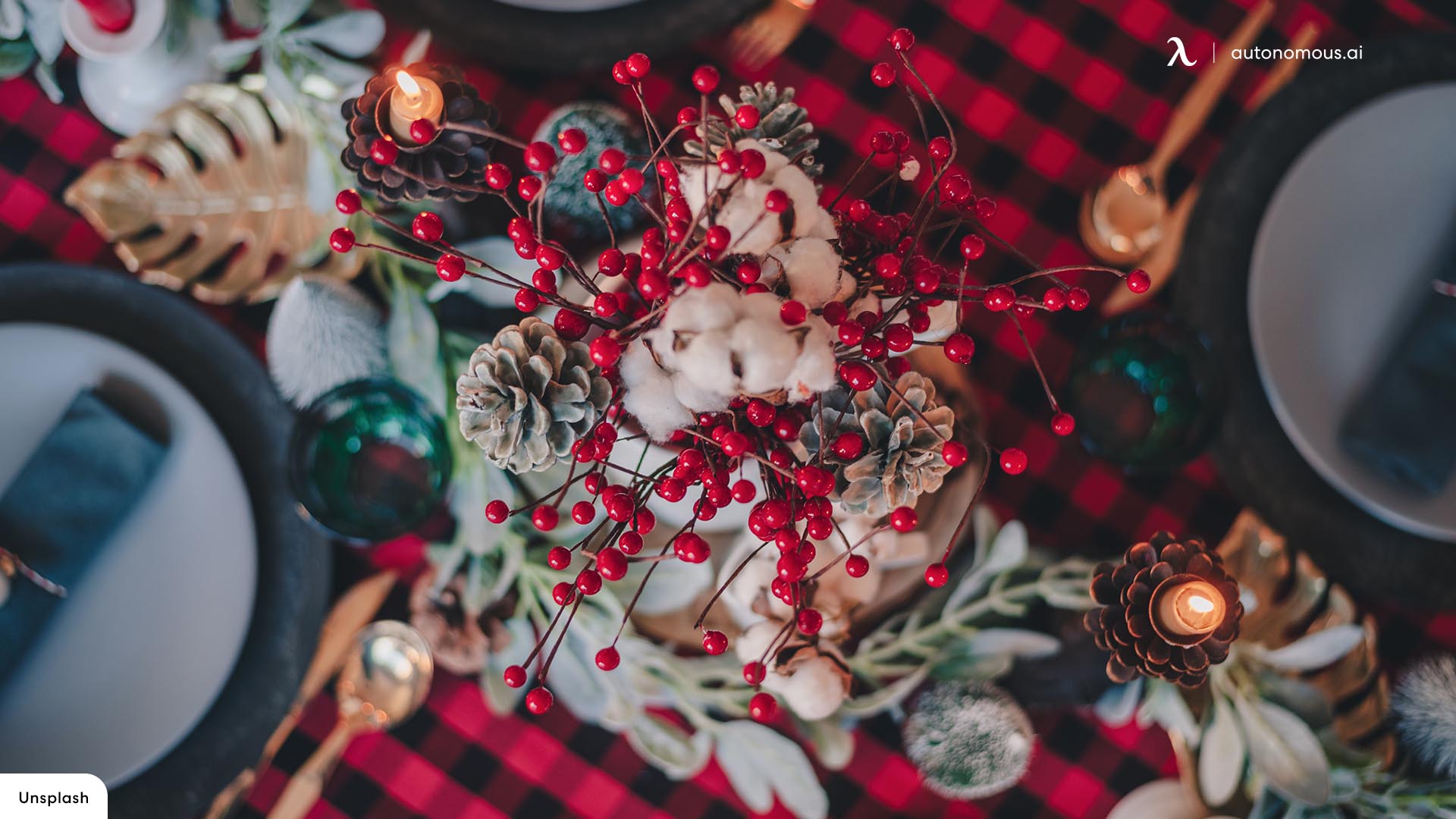 Holiday-themed jars or vases are a simple way to brighten up the office. If you want a low-maintenance option, choose artificial flowers (or real flowers if you have access to sunshine). 
9. Bring a Miniature Tree, Menorah, or Kinara
A traditional piece of decor could be displayed on your desk, although be careful not to cause a fire hazard. At the end of each workday, unplug all the lights and avoid lighting any candles. 
10. Be Creative
Print out a few cute sketches or pictures of Christmas to hang on your wall. Better yet, make your own home office Christmas decorations if you cannot afford to buy them. 
11. Hang Christmas Boots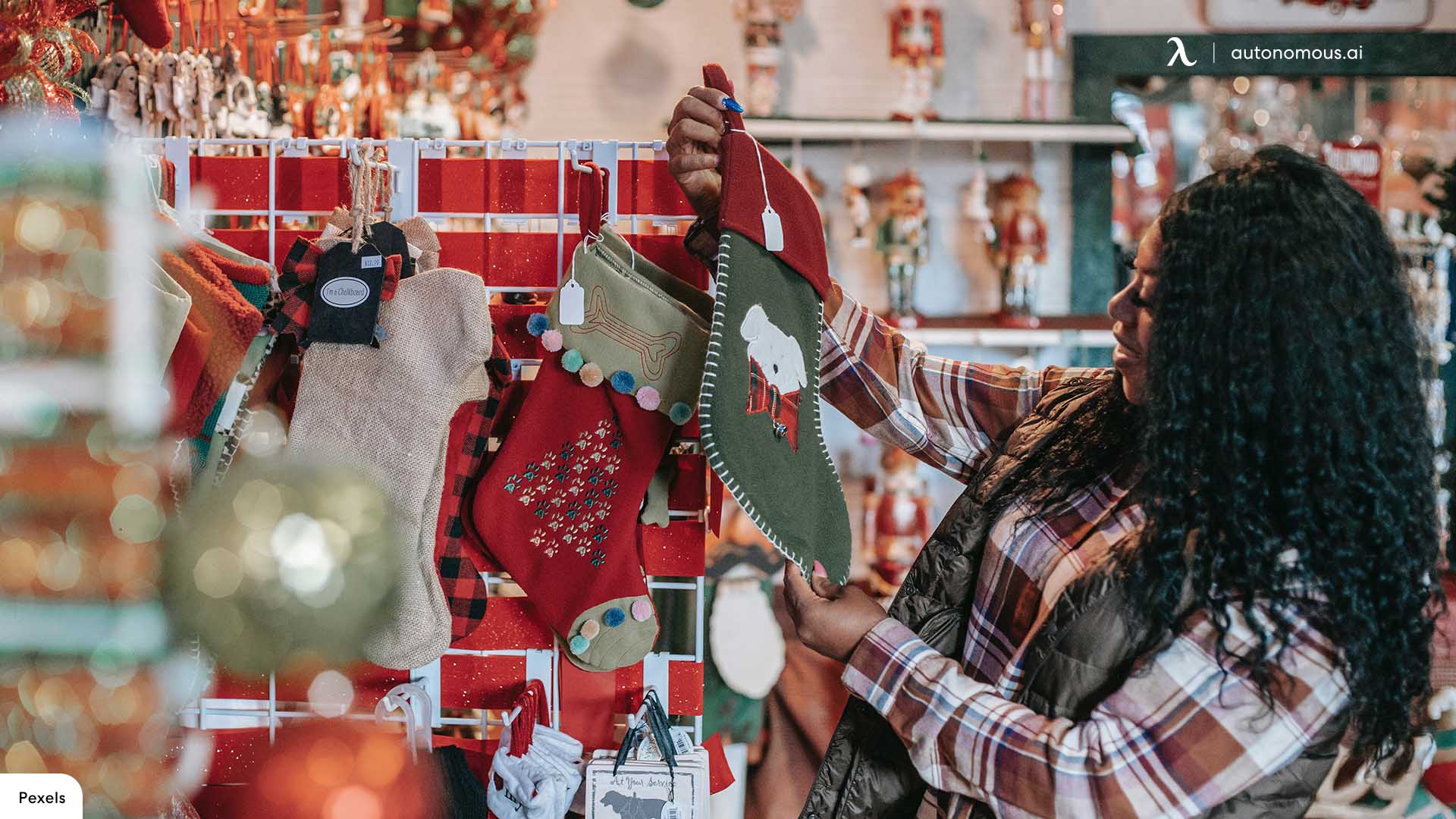 If you hang toy snow boots on the workplace walls, your Christmas decor should be complete. You can also decorate the boots with red and white paper cuttings or ribbons to add some extra touches. 
12. Christmas Wreath
Wreaths aren't just for houses; they may also be hung on the front entrance of your office or in the reception area. In order to liven up your workplace, wrap the wreaths in string lights. 
13. Give your Office a Brick Look
You feel like you're inside a chimney if you give each cubicle a brick texture. Additionally, you can display Christmas stockings and other baubles. Every employee should smile as a result of this creative and distinctive idea. 
14. Cover the Ceiling with Stars
The Christmas festivity is enhanced by the addition of stars. You can hang stars from the ceiling of your office to brighten it up. This is a cost-effective solution that might brighten and energize your workplace. 
15. Paper Santas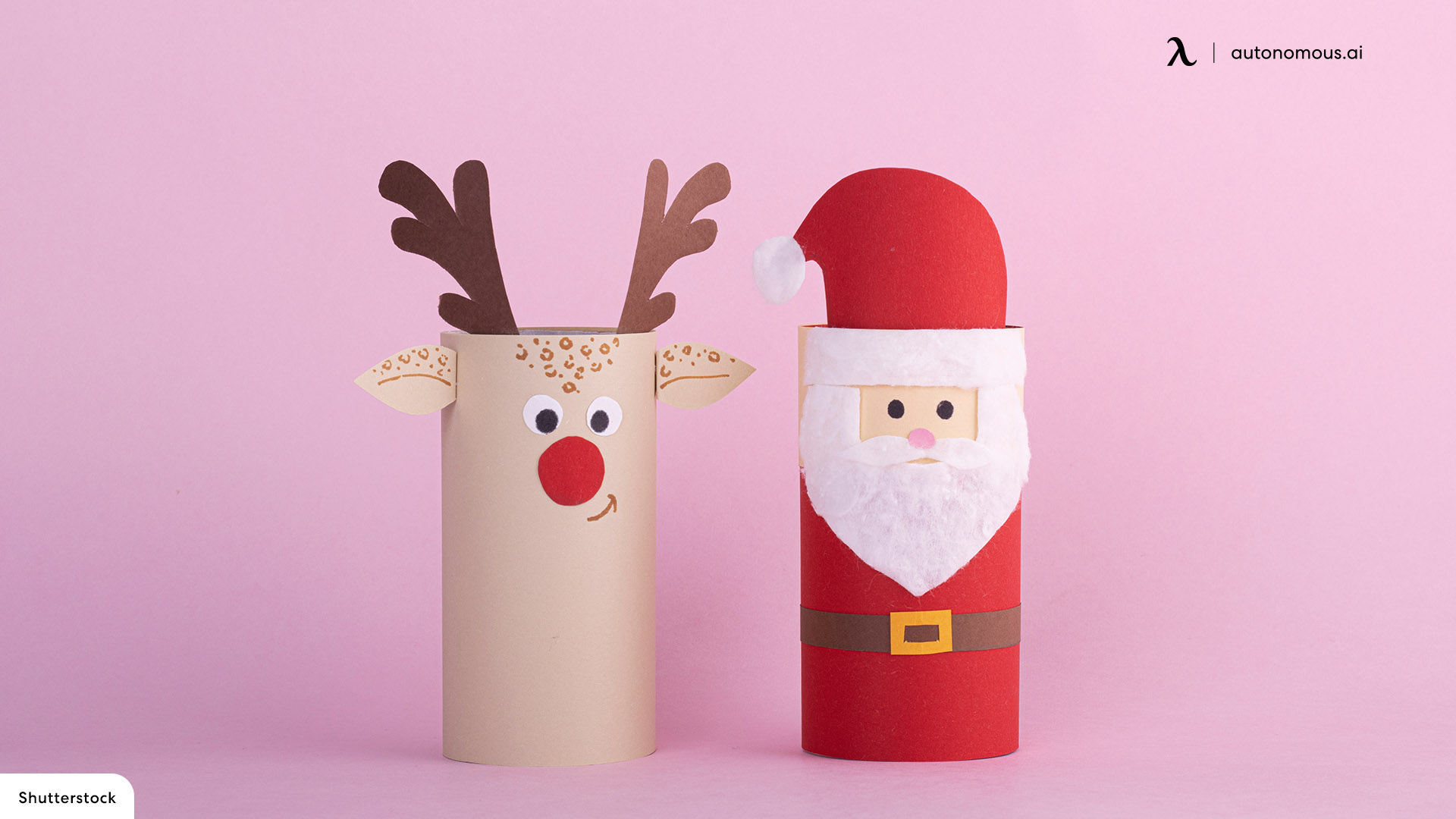 You can make a few different-sized cut-outs of miniature paper Santas. If you put one on each workstation, it can look charming and add to the festive atmosphere. 
16. Get Creative with Balloons
Balloons aren't just for birthdays; they're also a great way to decorate for any occasion. Hang balloons everywhere, including cubicles, reception desks, and entrances, to create a lovely and lively Christmas scene at your business. 
17. Hang a Christmas Banner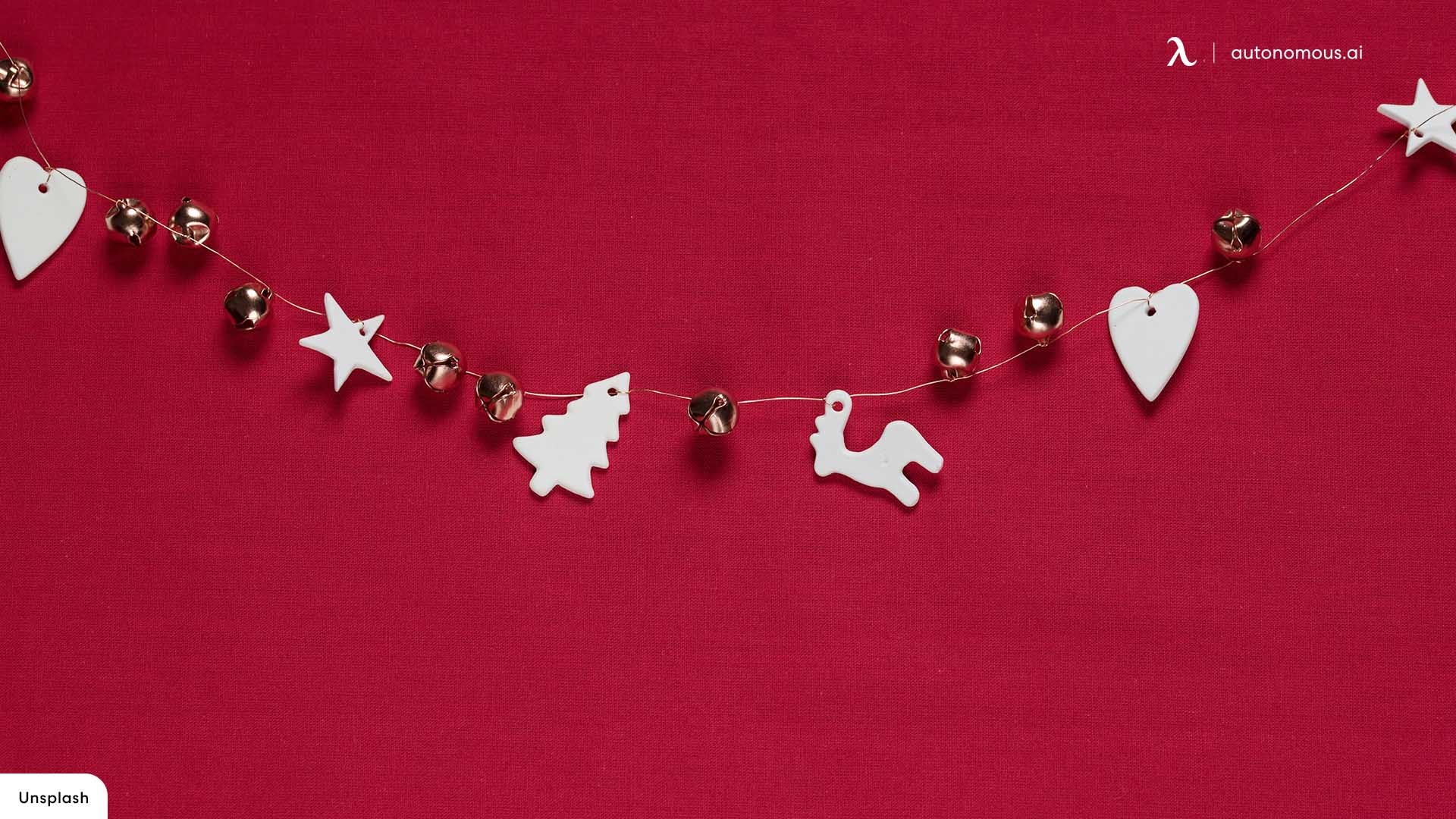 Banners are an effective strategy to attract attention and announce events. Thus, you may put up a 'Merry Christmas' banner in your office. This should spread magic and raise everyone's spirits. 
18. Dangle Santa Socks
Make your own Santa stockings if you're feeling crafty with the assistance of printed fabric and ribbon. You can personalize it by writing the employees' names on it and hanging or pinning it on their respective desks. 
19. Christmas Ornaments
If you want to keep the decor basic you can acquire some office holiday decorations from the market, such as Christmas garlands, bulbs, bells, and so on, and hang them from the ceiling. This simple Christmas desk decorating idea can be used by everyone. 
20. Light Up Your Workplace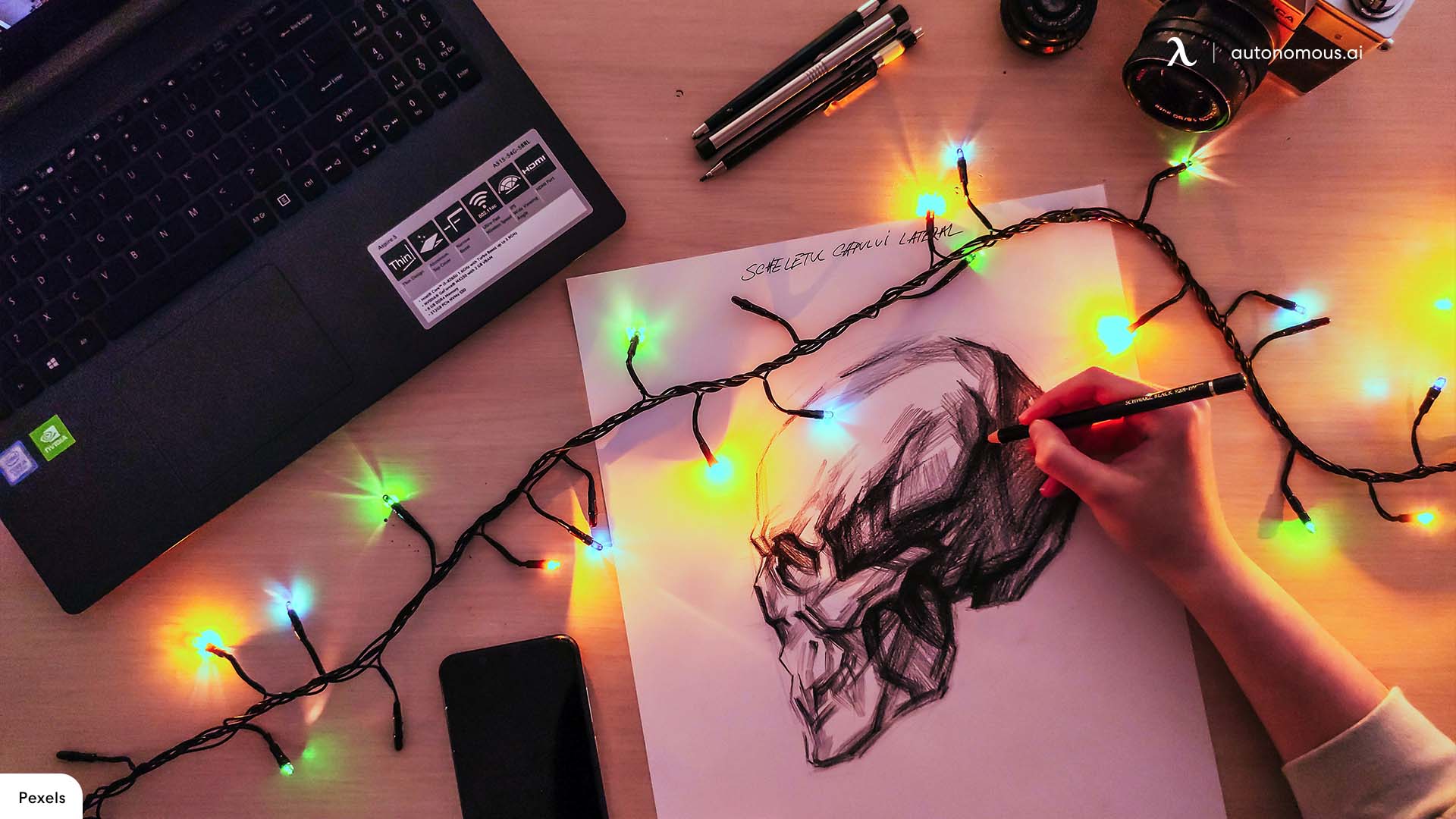 Using fairy lights to cover the cubicles in the office can drastically change the atmosphere. If you want to move the lights around, you can use a variety of methods. These lights can also be used to construct a Christmas tree. This holiday desk decorating idea can bring Christmas cheer to your office. 
21. Color Pop Christmas Décor
Remove the traditional red and white. Brighten up your office with brilliant bursts of color including pink, blue, yellow, and green. Colorful Christmas wreaths, ribbon or paper-patterned streamers, bulbs, and other decorations can be used. If you use this décor idea on dark-colored walls or modern office furniture, it stands out. 
22. Make a Wreath with Post-It Notes
Almost no one has heard of this unique holiday desk decoration idea. All you have to do is construct a Christmas wreath out of post-it notes. It can be used to decorate glass or wooden doors, as well as windows. You may even invite staff to put messages on it to make it more personal. 
23. Make Some Gifts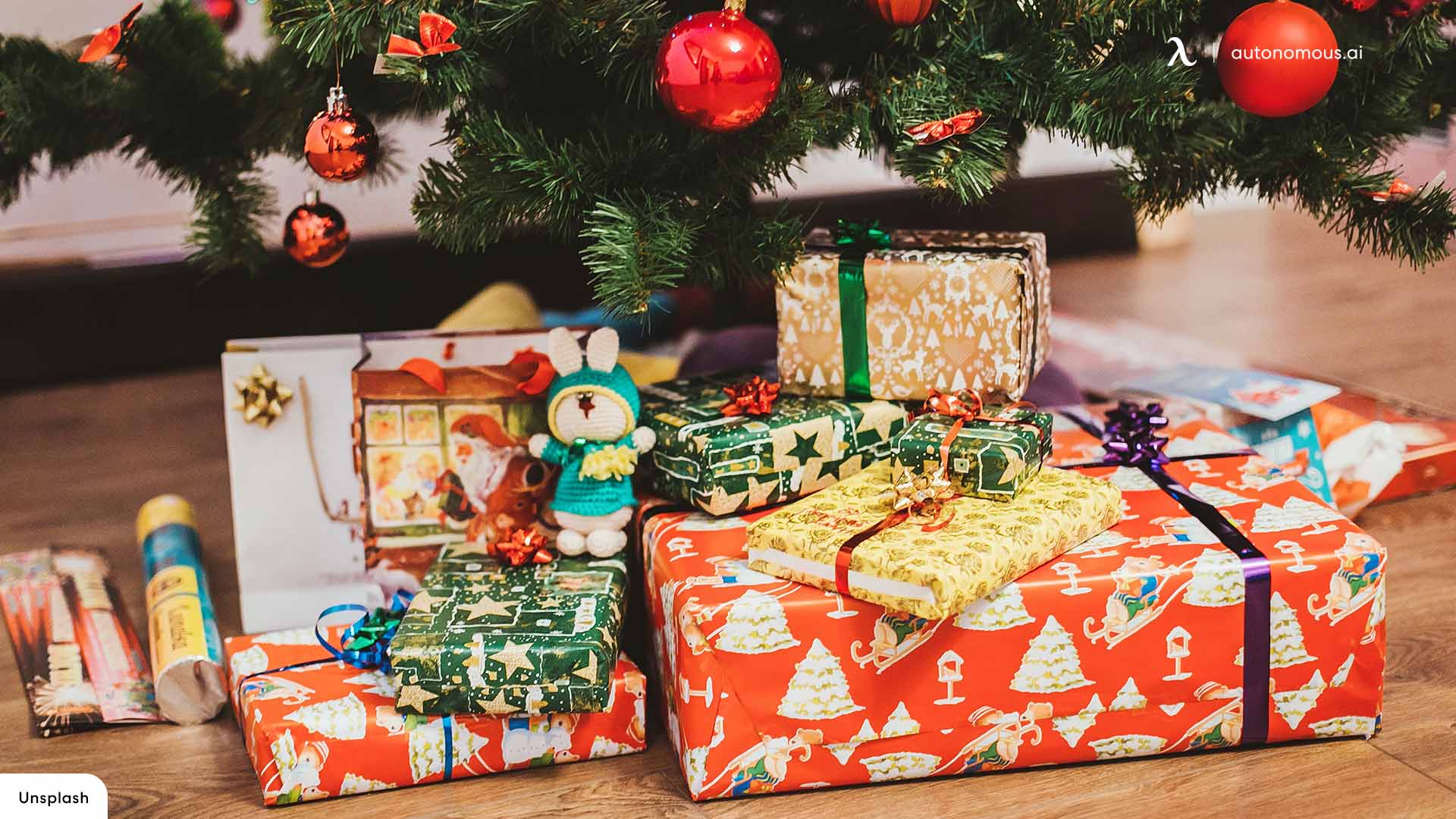 Take variously sized and shaped cardboard boxes and wrap them in gift wrapping paper. Along with some Santa bows and caps, you can put them on each workstation. This easy tactic can bring happiness and cheer to the workplace. You can also purchase Christmas gift boxes. 
24. Decorate Every Corner
Do not save your greatest office Christmas decorations till the last minute. Keep the celebrations in the reception area and let them spill over into the rest of the office. Pinecones, candy canes, baubles, and other holiday decorations can be used to brighten the office. Employees' spirits should lift, and they should be in the festive spirit as a result of this. 
25. Modern Ornaments
With a golden geometric ornament, give your office Christmas tree a simple and entertaining touch. This is a unique idea, but it can certainly bring a touch of elegance and grace to the tree. 
26. Use Pinecones as Ornaments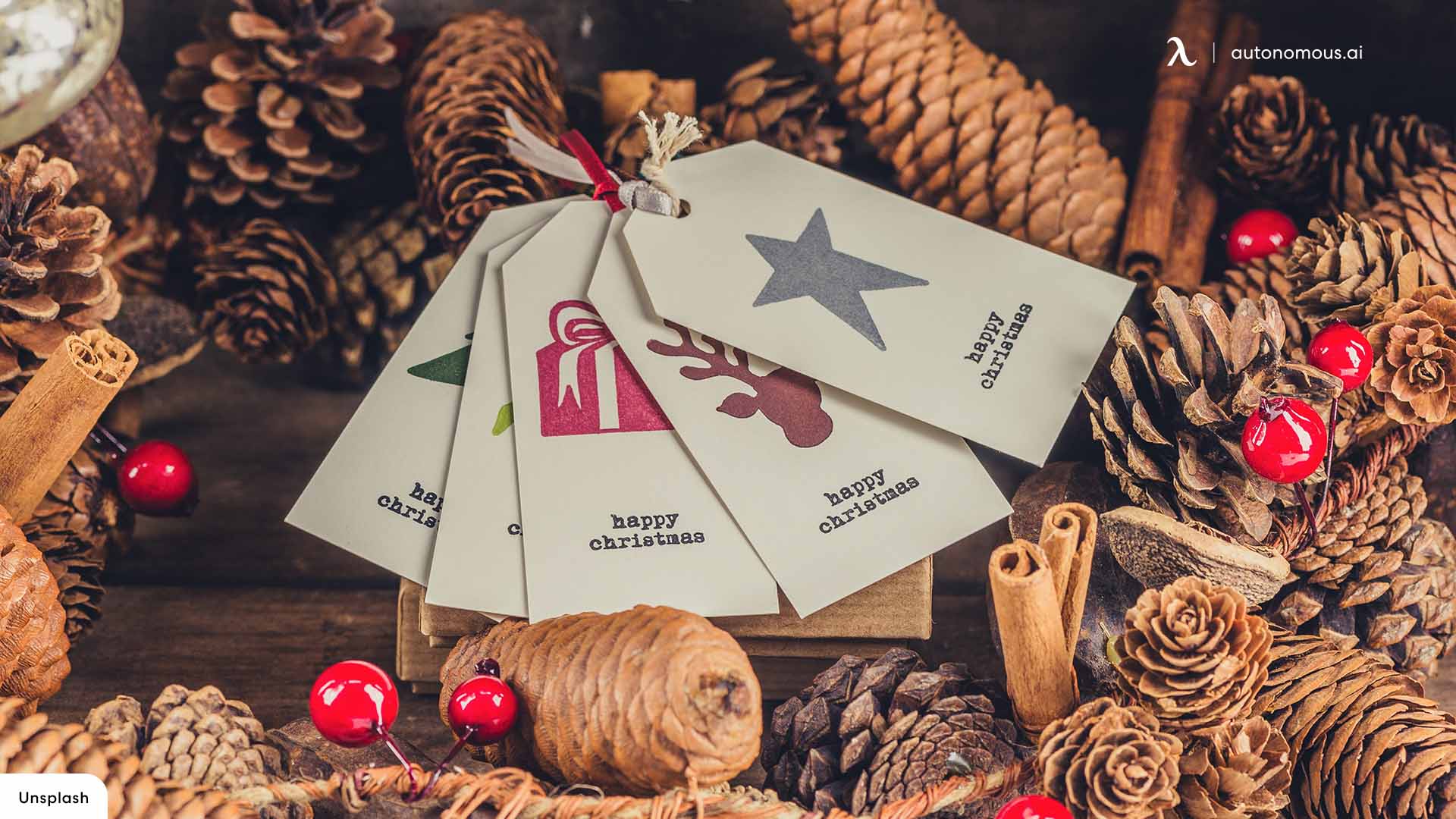 You may spray paint the pinecones white and use them as ornaments on your office Christmas tree. The white pinecones are stunning against the evergreen tree branches. 
27. Accessorize Your Twig Tree
Give your office Christmas tree a basic and engaging touch with a golden geometric ornament. This is a new thing, but it has the potential to add a touch of elegance and grace to the tree. 
28. Christmas Window Decorations
You have the option of decorating the office windows this Christmas using a variety of inventive methods such as light-up branches, decorations strung on rainbow ribbons, ornamental icicles, and more. Additionally, you can buy Christmas stickers that can stick onto windows. 
29. Deer Cup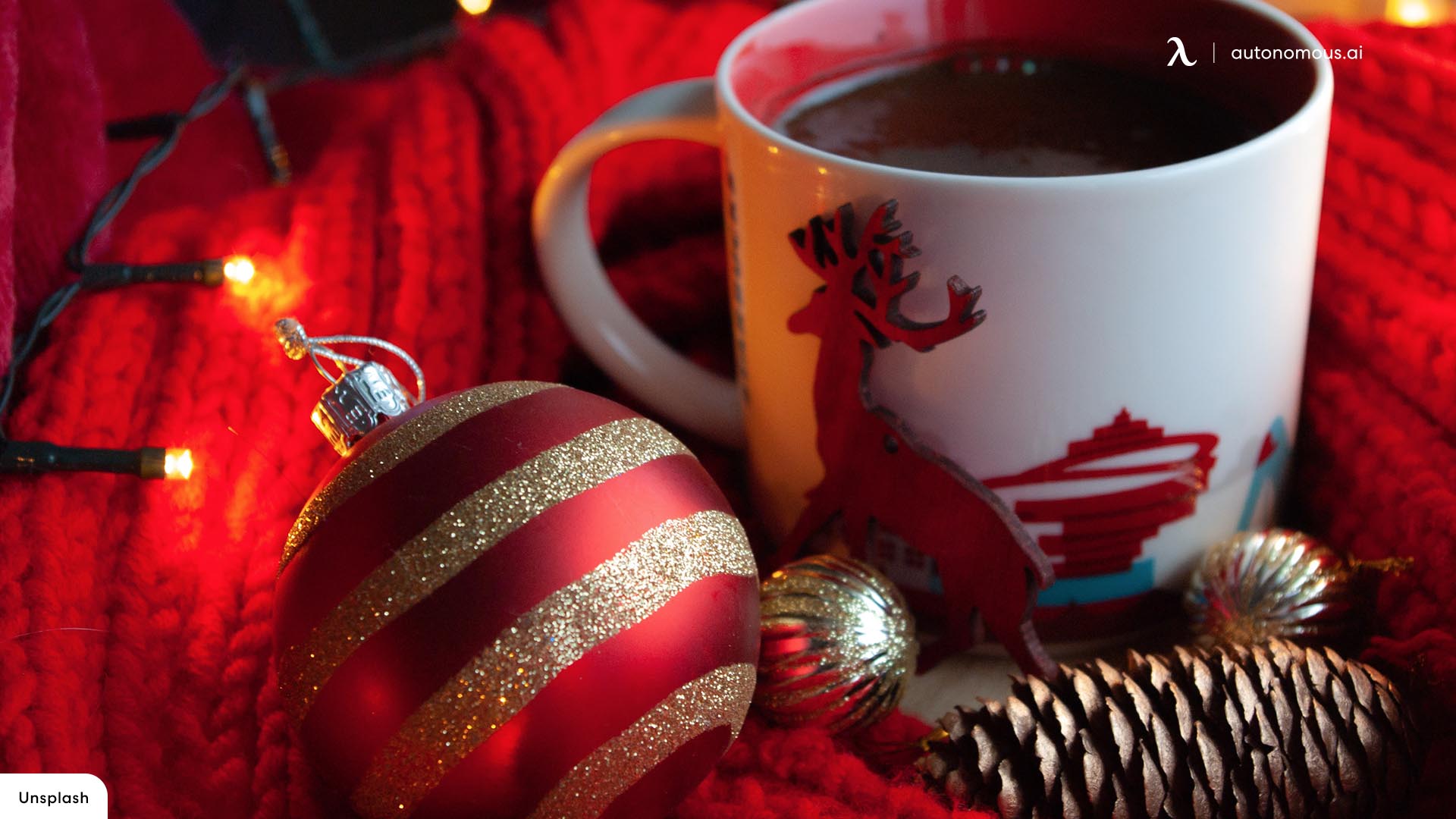 With deer cups, the Christmas coffee might be more delightful. Make your own by gluing deer cutouts to paper cups. It's a unique method to spread joy around the office. Alternatively, deer straws can be added to any cup. 
30. Make a Photo Wreath
You can make your own photo wreath by combining photos of your coworkers. Furthermore, you can use copies instead of the originals if you're concerned about damaging the originals. All the staff should be surprised by this brilliant idea. 
31. Hang Mini Wreaths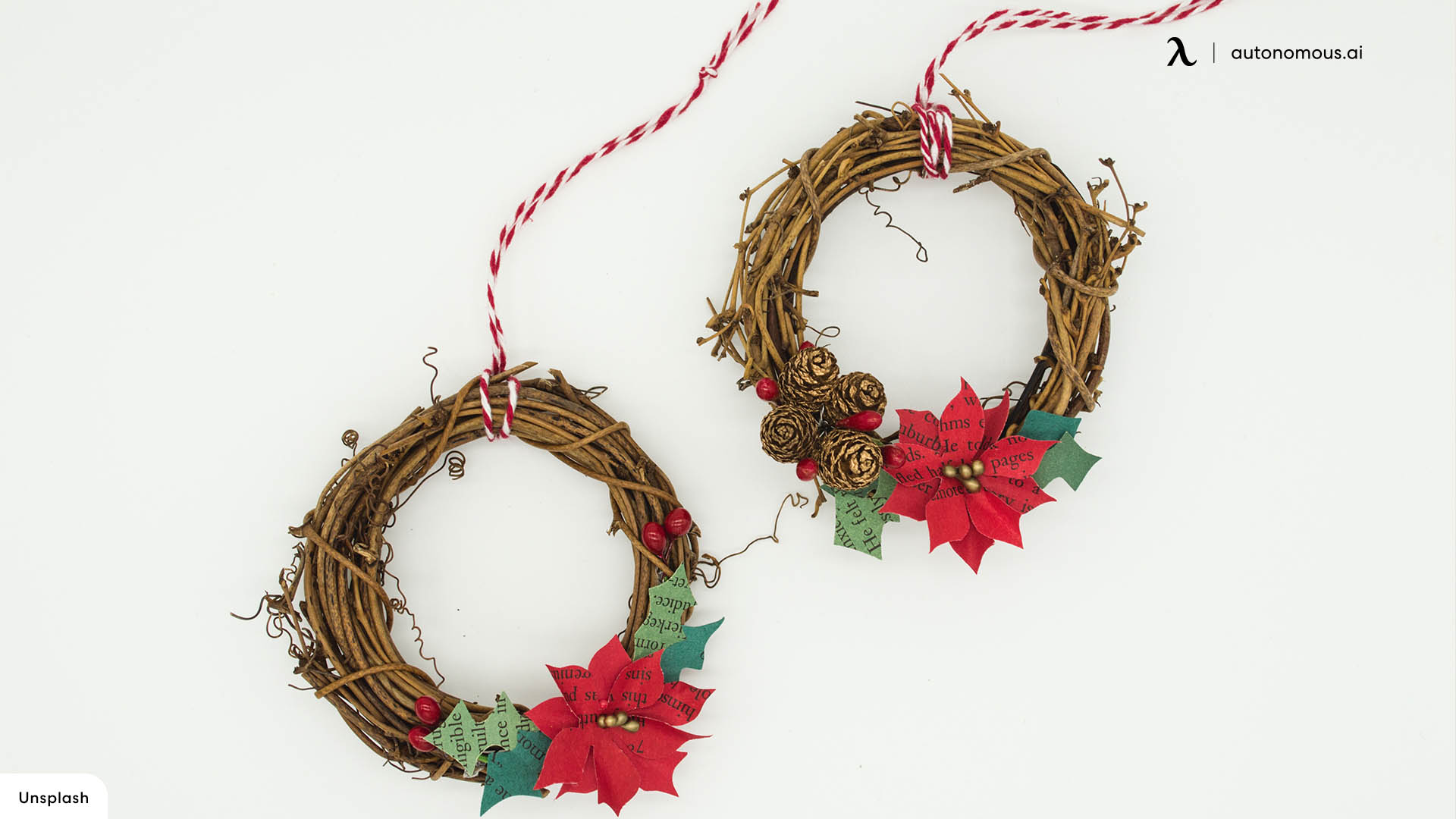 Here is another Christmas desk decoration idea. When it comes to small wreaths, the saying "the more, the merrier" holds true. Mini wreaths can be hung anywhere in the office, including Christmas cubicles, ceilings, and walls. This is an exciting concept for creating a pleasant atmosphere. 
32. Chair Adornments
Create colorful office chair decorations this holiday season by simply tying a bow in the center of each chair with an unwired ribbon of your choice. Add miniature berries, pinecones, and greenery to the center of the bow to make it more festive. 
33. Turn Mittens into an Advent Calendar
This is one of the interesting  Christmas desk decoration ideas. Stick dates on the mittens and hang them on a string to make an advent calendar. You can use it to keep track of the days till the big day. Fill the mittens with candy and hang them around the office. 
34. Add Some Glitter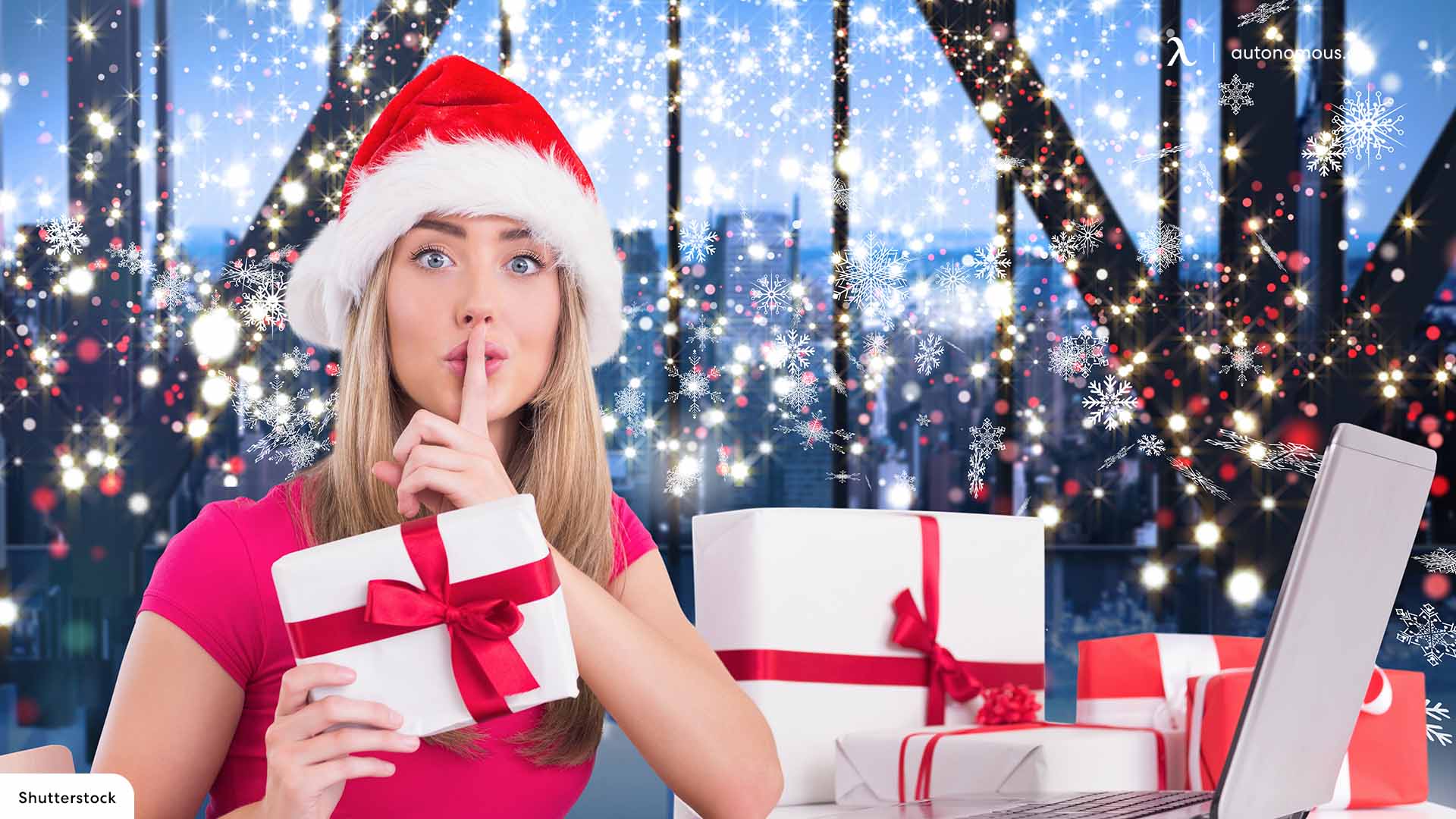 With the help of glue, adhere glitter to the inside of empty mason jars. Tea lights can also be placed inside the jars to make them shimmer and glimmer. Place these opulent-looking jars on office workstations to spread holiday cheer. 
35. Add a Wow Factor
This one-of-a-kind decorating idea is stunning. Immediately above the Christmas tree, suspend a disco ball from the ceiling. The disco ball's gleam can complement the modern design nicely. Additionally, you can add ribbons to the top of the disco ball to make it more intriguing. 
36. Use a Color Scheme
You don't have to adorn the office with traditional red and green colors as long as the color scheme is consistent. Instead, go with a glistening frosty theme that can create a lasting impression on your staff. 
37. Christmas Bells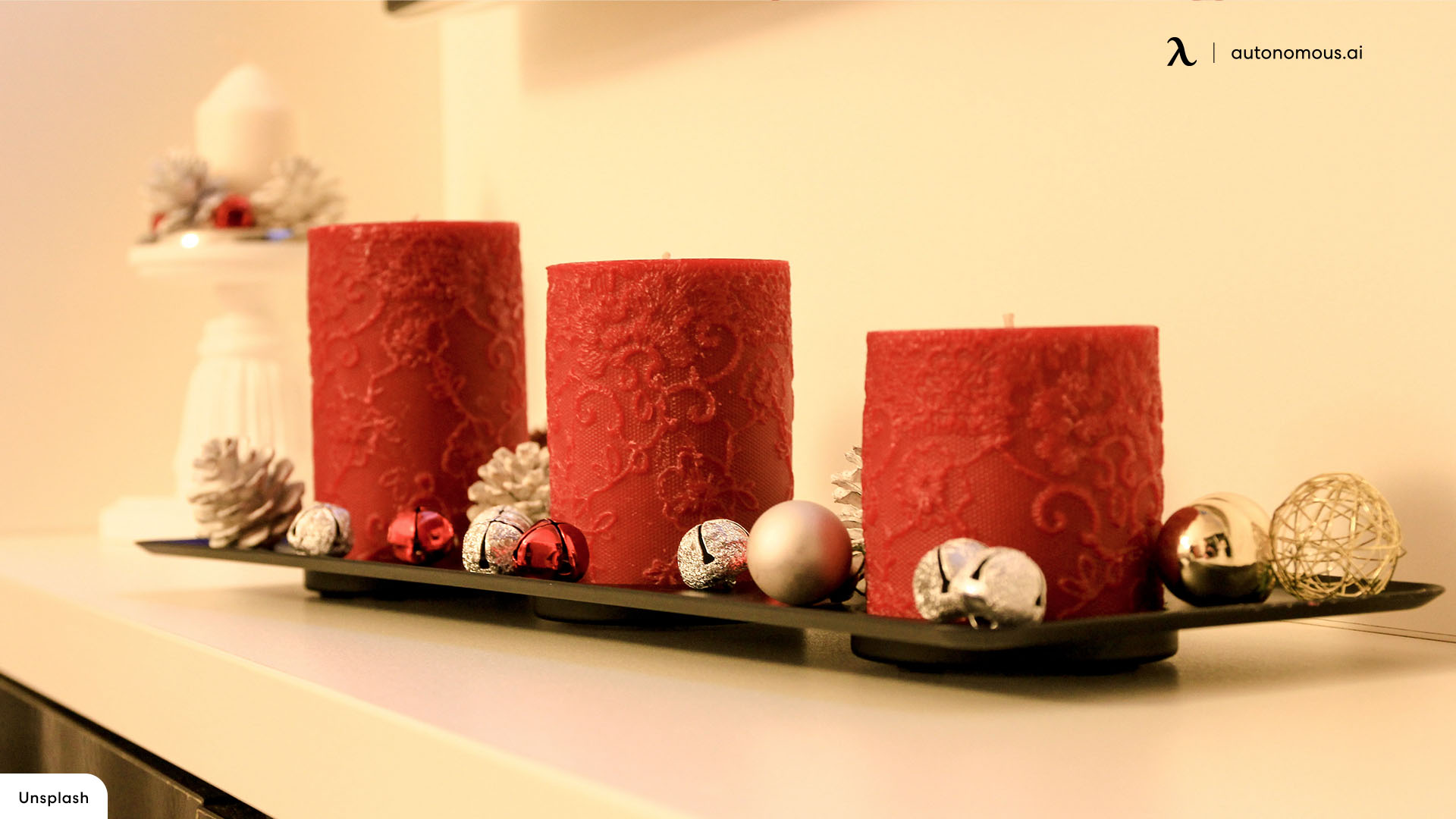 Adding some rustic and colorful jingle bells to your Christmas tree is also a good Christmas desk decoration idea.. Brass bells are a good choice because they have a rustic appeal. Secure the bells on top of the tree by tying them together with wire. 
38. Themed Christmas
If traditional Christmas decorations aren't your thing, consider giving your workstation a theme. Consider Harry Potter, Chronicles of Narnia, or even Star Wars. Take one of your favorite movies, novels, or TV shows and give it a festive makeover! You don't even need to spend a lot of money on collectibles or decorations; you can construct your own out of paper or print images from the internet to make your desk look unique! 
39. Decorate Your Magnetic Desk Organizer
A stylish and functional magnetic desk organizer can manage clutter. This desk organizer has a patented design for optimal organization and efficiency, as well as high-quality materials that can last a century. Decorate your organizer with tinsel and wrapping paper for a festive appearance. 
40. Desk Lamp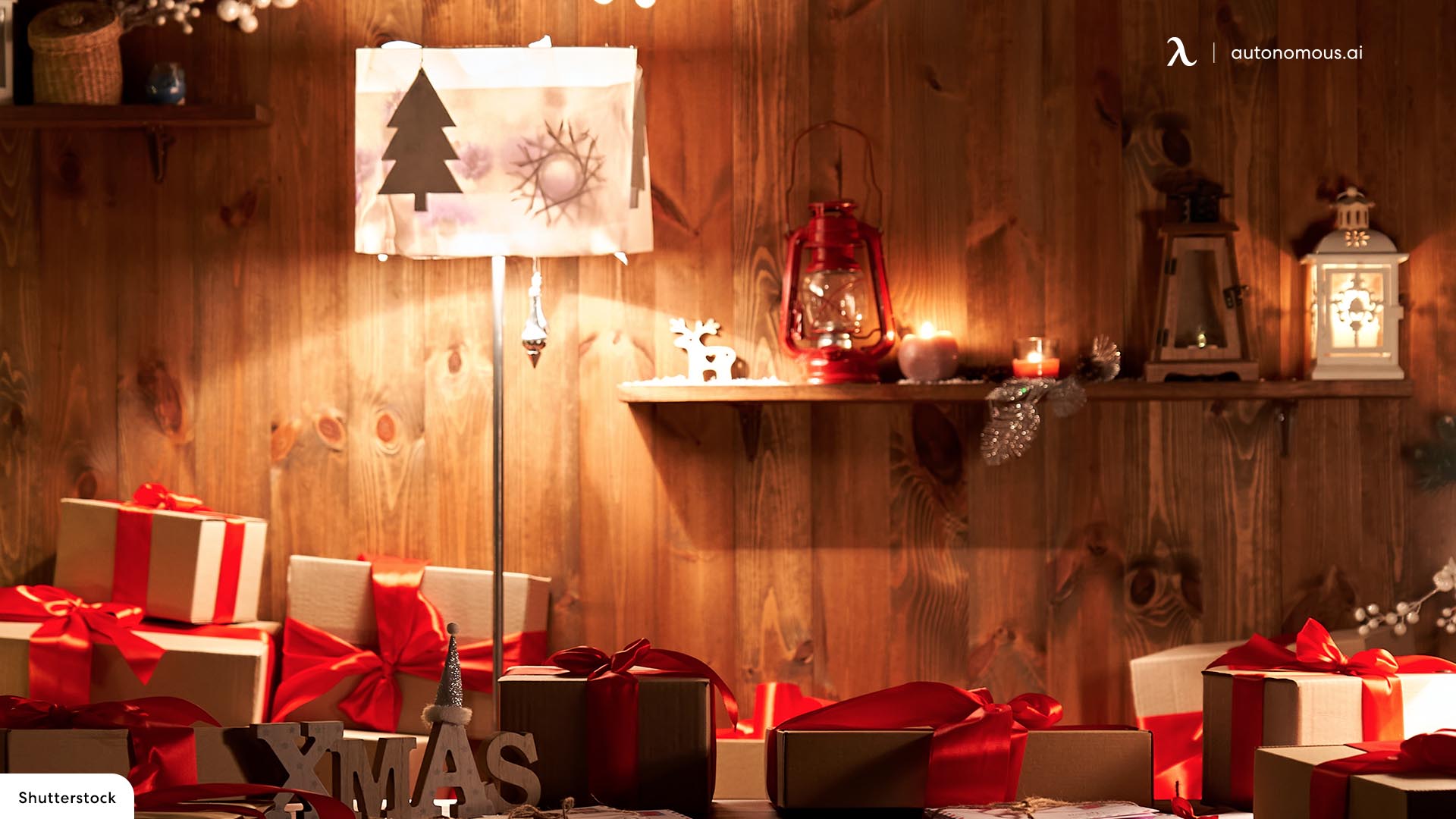 If you're on a budget and cannot afford to buy a new desk lamp, using your current lamp can do just as well. We recommend buying the ultra-wide LED desk lamp from Autonomous as it lasts for years. During Christmas, all you need to do is cover your desk lamp in strands of tinsel or simply decorate it with green garlands for a Christmas feel. 
We hope that we've given you enough Christmas desk decoration ideas to have the best decorated desk in the office!
Subcribe newsletter and get $100 OFF.
Receive product updates, special offers, ergo tips, and inspiration form our team.
WRITTEN BYAutonomous
We build office products to help you work smarter.