Workplace Inspiration
Some Amazing Ideas for Home Office in Bedroom Setup

Autonomous
|
Mar 15, 2021
6,063 Views
Working from within the comfort of your own home has many ideal benefits. For one, you do not have to get into your car and drive through traffic, you have minimal interruptions, and in your home office, you can have more control of what you get done. Building a home office in your bedroom can help you stay healthy and energized throughout the day. You can create the ideal workstation and there are a variety of amazing ideas to choose from.
If you need a dedicated work area in your home, a bedroom office might be the best choice. Whether it's your master bedroom, a spare room, a guest room, or a study: a home office in bedroom design can help you work more efficiently, be more organized, and experience less stress. You do not always need a desk and chair to create a bedroom office setup, but small spaces can require more creative home office bedroom ideas and layouts.
Are you a remote worker? Are you looking for creative bedroom office ideas? Why not create a special office in the master bedroom? This article clarifies how to set up the ideal workspace in bedroom with several hhome office bedroom ideas that are going to energize your workspace, improve productivity, save you time and money, and help you maximize your output.
The Must-Haves for Your Home Office in Your Bedroom
Creating an exclusive office in your master bedroom has undeniable benefits. When setting up your bedroom office design, you are going to want to build an ergonomic home office. The goal of an ergonomic home office is to set up your workspace to suit you as an individual and the work you are doing. When ergonomics is applied to your office space, the bedroom office design is going to ensure your work is done efficiently, safely, and keeps you healthy.
Autonomous are industry specialists in ergonomics. Our products such as the SmartDesk Core, the ErgoChair Pro, and the filing cabinets are must-haves for a home office in your bedroom. You are going to feel all the difference in your workspace as it is going to feel immediately energized with these products. Not only are you and your work environment going to feel boosted, but you can also expect increased performance levels, higher output rates, easier flexibility for time and focus management, and cost savings – an overall better atmosphere that is going to be perfect for your office in the master bedroom.
Autonomous SmartDesk for Home Office in your Bedroom
Incorporating an Autonomous SmartDesk into your bedroom office design is going to have benefits for you as a remote worker. Autonomous SmartDesks are well-priced, adjustable standing desks that are going to be the perfect fit for the home office in your bedroom.
What an Autonomous Standing Desk has to offer
High-quality surfaces
Office standing desks have a variety of stunning surfaces. The standing desk table tops come in a range of smooth wooden finishes and colors. Color options to choose from include black, walnut, white oak, white, and bamboo finishes. You can also mix and match the frame and base of your standing desk with the color options of black, grey, or a white base.
Powerful Standing Desk Frame
Our standing desk base frames are anti-rust automated desk frames. Designed with 4 programmable height options, with a simple touch of a button, you can have your standing desk at your preferred height. The robust SmartDesk frame is controlled by a dual-electric engine. The dual-engine gives the standing desk the power to elevate all your office equipment to your preferred height while operating at a quiet volume.
Certified credentials
The Autonomous range of SmartDesks have been tried and tested over the years. The standing desks boast EMC and BIFMA certifications for safety standards.
Affordability
The SmartDesk is a top of the range standing desk which is an affordable option for any bedroom office design. It is half the price of industry competitors and does not compromise when it comes to quality.
Health Benefits
Research has shown that sitting at your desk for long periods of time can have a negative impact on your health. A standing desk can transform your work environment and the way you work and positively benefit your long-term health including both mental and physical health.
Improved Productivity
The transitioning between sitting and standing in your home office is going to help take your performance to the next level. By adjusting your standing desk to a standing height and working on your feet, within a few minutes you are going to feel energized, alert, and creative.
Which Autonomous SmartDesk is ideal for you?
SmartDesk
SmartDesk Core
The SmartDesk Core is a popular SmartDesk option. The SmartDesk Core has a well-rounded combination of features.
SmartDesk Pro
The SmartDesk Pro has the same well-rounded features and benefits like the Home Office edition. It has added benefits, such as a vast range of height. This is going to be an excellent assist for an office in the master bedroom for extra flexibility and customizability.
SmartDesk Frame
The SmartDesk Frame is a standing desk that allows for personalization and customization. Bedroom office ideas are going to require distinctive features and customization. The SmartDesk Frame comes with a motor kit and frame and allows the user to have a custom tabletop.
L-shaped SmartDesk
The L-shaped SmartDesk is the perfect option to maximize space for the home office in your bedroom. You are going to be able to take full advantage of bedroom corners for maximum desk space.
Autonomous Ergonomic Office Chairs for Home Office in Bedroom
Adding an ergonomic office chair to the home office in your bedroom is going to ensure that whenever you are sitting it is going to be time well spent. The Autonomous range of ergonomic chairs includes the ErgoChair Pro, the ErgoChair Core, and the ErgoChair Pro+. When you purchase any of these ergonomic office chair products for your home office in bedroom, you are guaranteed a comfortable, high-quality office chair for your workspace.
When you are buying an ergonomic chair for your bedroom office ideas make sure you are using the following benchmarks and considering these tips:
Upright posture
Autonomous has a variety of options to choose from for your bedroom office setup. An ergonomic chair should support and protect your spine and posture. Lumbar support is a vital feature as it supports the natural curve of your spine.
Full adjustability office chair
The best ergonomic chairs such as the ErgoChair Pro, the ErgoChair Plus, and the ErgoChair Recline all have customizable features to support all body types. Features on the chair such as armrest position, back tilt angle, headrest angle, seat tilt, tension, and height should all be adjustable functions to help you find your comfort zone in the bedroom home office.
Office Chair Materials
When you are considering buying an ergonomic chair for your home office in bedroom, examine the materials which are used. The best office chairs are made with comfortable and durable fabric on the seat cushion, breathable mesh fabric on the headrest, and finished off with robust steel frames as well as first-class plastic.
Seat Height
Your ergonomic desk chair must offer a height range that allows you to find your comfort zone. Your feet should be flat on the ground, and your knees should be at a 90-degree angle. The armrests on your office chair should allow for your arms to rest at a 90-degree angle as you use your keyboard and mouse.
Comfort
The seat which you are going to be working on for long periods of the day needs to be comfortable and provide posture support. The range of Autonomous ergonomic chairs is made from quality materials such as long-lasting memory foam, supportive springs, premium mesh covering, and elastic TPE to ensure lasting comfort.
Wheelbase
Take note of your bedroom floor when buying an ergonomic chair. The wheels on your seat should be appropriate. For example, if your bedroom has a carpeted floor you are going to need the appropriate wheeling for your ergonomic chair.
The Pros and Cons of an Ergonomic Chair
They reduce back and neck pain.
These products increase your productivity.
Ergonomic chairs are completely adjustable.
The chair helps to correct your posture.
You may notice an improvement in your mood and energy levels.
It provides complete support for your entire body.
Many of these chairs are available in various designs, which helps fit in with whatever aesthetic and design your bedroom has.
They are expensive products.
You may experience difficulty in setting them up.
Amazing Ideas for a Home Office in Your Bedroom
Choosing furniture and decor for your home office in bedroom is important to inspire you to work without interfering with your personal living space. Creating a cool home office in your bedroom is easy if you have extra space. When a bedroom and office are in the same room, it becomes more important to think about the layout and design - with that in mind, check out these awesome ideas.
There is nothing to worry about if the only space you have for your home office bedroom ideas. You can still get creative with this and turn your bedroom into an incredibly productive space. Whether you creatively merge your desk into the room or play around with different levels of items, there are various bedroom workspace ideas and office desk in bedroom ideas you can use to create the area you want.  
The best ideas for your bedroom office setup include:
Separate the Areas
It is essential for your brain to be able to tell the difference between work and rest. If possible, you want to create a space between your bed and your desk. However, there are other measures you can adopt if you need a more distinct difference. You can use a curtain or screen to create a more distinct difference.
Keep the Same Aesthetic Design Throughout the Room
While your aim is to separate the areas, it is one room, which means you want a cohesive environment for your home office in bedroom. Try to choose office furniture and equipment that ties in with the rest of your room. You do not want to create too much contrast as you still want things to flow seamlessly.
Ultimately, you are separating the space between work and relaxation, but you are creating unity in terms of design and aesthetics.
Make Use of Storage Systems
If you are trying to make your bedroom an at-home office and bedroom in one, space might become an issue. Your workspace is most probably going to involve quite a few files, papers, and stationery. Try to invest in a few filing cabinets or shelves so that you can organize your space and reduce the amount of clutter around you.
This tip is essential because a cluttered environment results in a cluttered mind, which means that you are not going to be able to focus on your work or switch your brain off when it is time to rest. Storage systems make things easy to locate, which reduces your stress levels.
Ensure That You Have Sufficient Lighting
Lighting is essential in the home office with bed. Bright spaces are easier to work in as they boost your energy and productivity levels. However, when you sleep, you obviously do not want this lighting. There is a simple solution to this. Place your desk near the window so that you can use natural lighting to your advantage.
If you do not have a window, you are going to have to use artificial lights, such as a LED desk lamp. This needs to be bright but warm so that it does not result in glare on your monitor or laptop screen.
Play Around with the Type and Level of Your Bed
You do not have to have an ordinary bed. If you make use of a lower level or sunken bed, this is going to create an ideal separation between the work and relaxation sections of your bedroom.
A bed that is lower than the level of your desk helps the room to feel more spacious, which makes it more convenient to get work done.
White desk in modern home office
Consider adding more white components to your home office in the bedroom. A white theme is nicer, lighter and creates a mix of clean minimalism and aesthetics. However, finding all the white components you need can be a challenge, and you might be limited by the bedroom home office items available online. Starting with the standing desk, try out our Autonomous SmartDesk collection that has several home offices with bed options you can choose from.    
It really depends on what you find: if you can't find a white tabletop, consider a light wooden top that contrasts all the other white components you have. Your chair should have a nice, clean, modern look. Of course, other than white, you could use grey, ivory, black grey, or steel too.  
Built-In Shelves
Build-in shelves are perfect for storing books and other precious possessions to make your home more beautiful and functional. Your things are arranged in a way that elevates your wall design while also giving your living room a nice and neat look. You can increase the storage capacity of your home by installing custom built-in shelves. You can hang them over the desk, on the walls, or in the corner of the room. 
Home Office Space that is Natural
Install a low desk around which floating shelves float if your bedroom has great natural light. Keeping obstacles out of the way allows the light to flow freely. Add some plants to the window sill or around the room to amplify this clean, calm ambiance. Potted plants will often leave an unsightly mess, so consider terrariums, aquariums, or a vivarium instead. 
All-In-One Desk
Be careful not to make it seem too much like an office or too much like a bedroom. The best idea is to strike a balance between a bedroom and a typical office workstation. Of course, the environment should be welcoming, warm, and inviting. But that doesn't mean you have to fill it up with cushions and homemade quilts.
Home office desk and loft bed in spare bedroom
This is another home office in bedroom idea for you. Kids like lofted beds because they are fun, and lofted beds maximize space in small bedrooms. Loft beds have tons of space under them that can be used for various practical purposes - such as for a desk or storage. If you raise the bed, the space under it can be used for a desk or storage.
Make sure you design them differently from how you do for children. For example, make sure the mattress is long enough, as well as wide enough, to allow a person to feel like they have slept well without being restrained. You should also make sure an adult has enough headroom to sit up comfortably.
Masculine Desk Décor
The desk is the ultimate focal point in a masculine home office with beds because good interior design relies on focal points to tie the entire space together. Thus, your desk serves both as a design focal point and as a functional one. You can also determine the mood of your office by the design of your desk. To get the job done in an organized manner, make sure that it appropriately blends in with its surroundings.
Guest Bedroom Office
A dual-functioning office desk makes a big difference for your home office in the bedroom. For example, your home workspace is sure to look more like a corporate office if you have an enormous glass desk with an oversized chair on casters.
Maintain a small, streamlined desk. You should have enough room to place your laptop and any other technology necessary to do your job. In addition, choosing a chair you would like to sit in when guests come over is important if you will be working all day.
Ensure that printers and file cabinets are located where they are needed. Choose storage cabinets that look more like furniture instead of traditional metal filing cabinets. Conceal printers to the maximum extent possible.
Workspace with a Manly Old School feel
You can decorate any kind of space; regardless of its purpose, it should be welcoming. Make it comfortable for yourself with these masculine home office ideas. Changing something's appearance is one thing, but changing how it feels is another. If something is easy to live with, then it is easy to change its appearance. Anything with a vintage or antique vibe will look styled and intentional when you choose furniture and decorations. A certain familiarity comes with old desks, sofas, shelves, ottomans, beds, dressers, and tables.
Simple Computer Desk in Bedroom
You can separate your work area from your sleeping area by placing your desk in a corner. This neutral home office décor area can be distinguished from a corner office with accessories such as a small rug, wall art, drawers, and shelves above the desk. In addition, this layout would be perfect for a gamer's bedroom.
Bold office decor in black and white
Black and white dominates this bedroom office setup. However, it helps to create distinct workspaces when you use a few strong colors. The boho desk setup also helps to keep the rooms separate, as you're facing away from the bed.
Unconventional Office Spaces
There is no one-size-fits-all dark green home office. There are times when music producers or sound editors want to bring their work home with them. Such a setup will be different from what you might expect in your typical home office. Recordings are possible within this partial wall, particularly when it is properly insulated
Cute Girly Desk in Bedroom
You might be concerned if your bedroom and office clash due to their style and glam. Simply choose furnishings that go with the decor in your bedroom or office. Gold and white make up the desk and lamp here, and the home office in bedroom design is extremely upscale. The chair is padded for comfort and completes the look. In this office layout, women in corporate America can feel confident and stylish, making it the perfect workspace.
The Bottom Line
Turning your bedroom into a home office might seem like a challenging thing to do; however, there are so many amazing ideas that make the process fun. We have always been taught that we need to separate our work and relaxation spaces. Due to current situations, this is not always possible.
You can turn your bedroom into the ideal workspace as long as you have the right equipment, such as your standing desk and ergonomic chair. What bedroom office setup design are you going to use?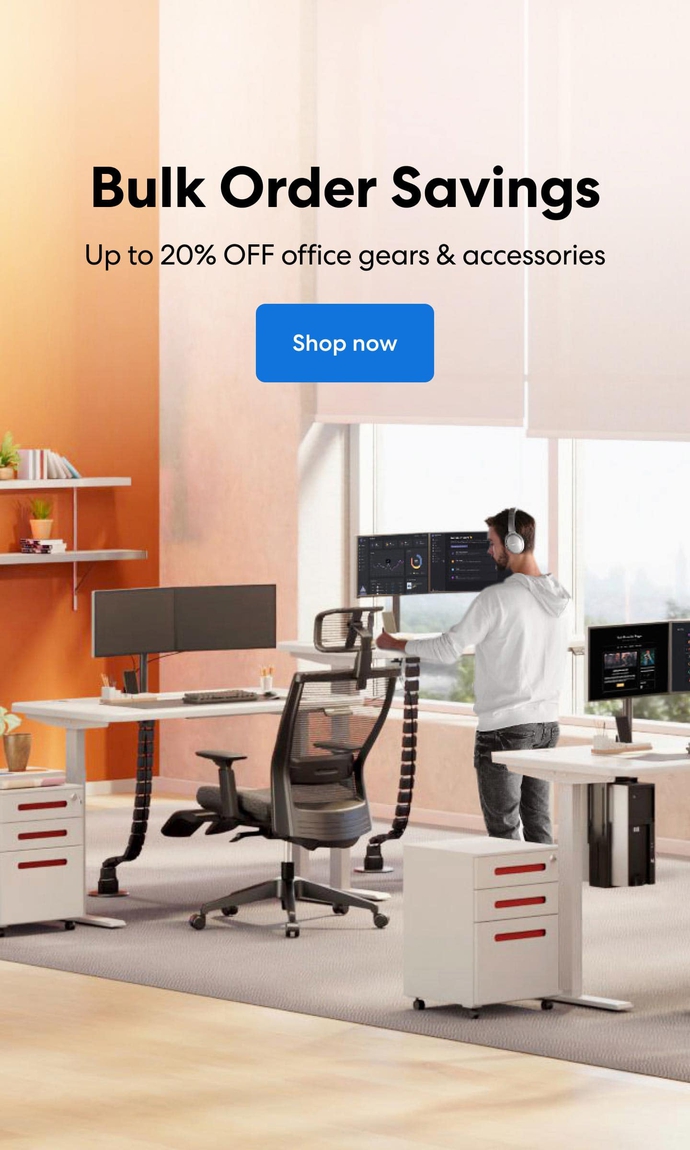 Subcribe newsletter and get $100 OFF.
Receive product updates, special offers, ergo tips, and inspiration form our team.