Workplace Inspiration
Bedroom Feng Shui Layout | Tips to Design the Perfect Place
5,986 Views
According to many experts, our bedrooms are the most significant space in our homes. After all, it is where you spend most of your time relaxing. Hence, the principles, rules, design tips, and ideas you implement in your bedroom greatly impact your mental health.
As we believe that our surroundings significantly impact our mental wellness and health, a bedroom feng shui layout can bring many positive changes in your life. And while there are several aspects of implementing Feng shui bedroom rules, you can omit and accept a few principles to match your taste in design.
The amount of remote workers has increased considerably in recent years. While most office layouts will do for some people, some people are looking forward to having a bedroom feng shui layout with a desk. While it is not impossible to build, it requires planning to a certain degree. It is important to figure out the perfect spot for your bedroom office, among many other elements. This process becomes especially essential when you work in an enclosed space.
It doesn't matter if you work from home every day or just a couple of days per week. It is essential for any remote or hybrid worker to have a special area at home dedicated specifically for working. For that reason, today we'll be giving you some tips regarding feng shui bedroom rules. Also, if you are also looking for good feng shui bedroom layout ideas that are relaxing and equally aesthetic, then keep reading to find your feng shui  inspiration.
What Is Feng Shui?
Before we begin with our best feng shui bedroom layout ideas, it is important to know exactly the feng shui concept. Feng shui consists of balancing the physical space so it can provide you with harmony and serenity. It is an ancient system that was first created in China. Then, it quickly spread to different countries worldwide due to its effectiveness. It means "wind and water," elements that represent the 'flow'.
Implementing feng shui in a workspace or as a cool bedroom ideas is to attain balance and harmony. The principle of feng shui works around the five elements of nature, which comprise fire, wood, earth, metal, and water. Creating an environment that blends all these factors creates a harmonious and peaceful environment.
According to feng shui practitioners, every living being and object possesses certain energy, which is referred to as "chi." Thus, their studies claim that arranging these items in the correct way can help us improve certain aspects of our lives. It's like solving a puzzle. You're working to find what is the correct home office layout and the price for solving it is your well-being.
While these practices remain a theory, many studies have confirmed their effectiveness. For instance, a study found out that arranging your room based on the principles of feng shui can help you improve the quality of your sleep and may help you increase your well-being in the long term.
So, yes. Feng shui can work perfectly fine in your home office setup. A feng shui desk in the bedroom is not as complicated to place as you think it is, but it does require planning.
Bedroom Feng Shui Ideas
Designing a large or even a small feng shui bedroom layout makes your resting space peaceful and more relaxing. In a feng shui bedroom, you feel your thoughts more organized and experience your mind feeling at ease after a long day. Here are some tips to bring feng shui into your bedroom space.
Location
With feng shui, whether it is bedroom studio ideas, a home office, or a gaming bedroom, the location of furniture plays a vital role. And when it comes to a feng shui , you need to realize the bed is the most vital piece of furniture; hence its placement matters the most. Set your bed in a commanding position which is best diagonally to the door. Avoid placing your door directly in line with the doorway as, according to the principles; it can invite negative energy into your safe space.
Solid headboard
In your bedroom, the bed is the center of attention. A solid headboard is a great start to implementing feng shui in your bed. A solid headboard not only looks relaxing but it provides support for your head and back, and you can rest against it. Opt for headboards in light relaxing colors to open up your space.
Mattress
If your sleep quality is disturbed, you will probably experience a tiring day too. Sleep quality depends on many factors, and one of the most important ones is the mattress you sleep on. You require a supporting mattress and a supportive headboard; a cozy mattress is necessary for a good night's sleep.
It is advisable to avoid secondhand mattresses because they could still contain bad feng shui energy from their prior owners.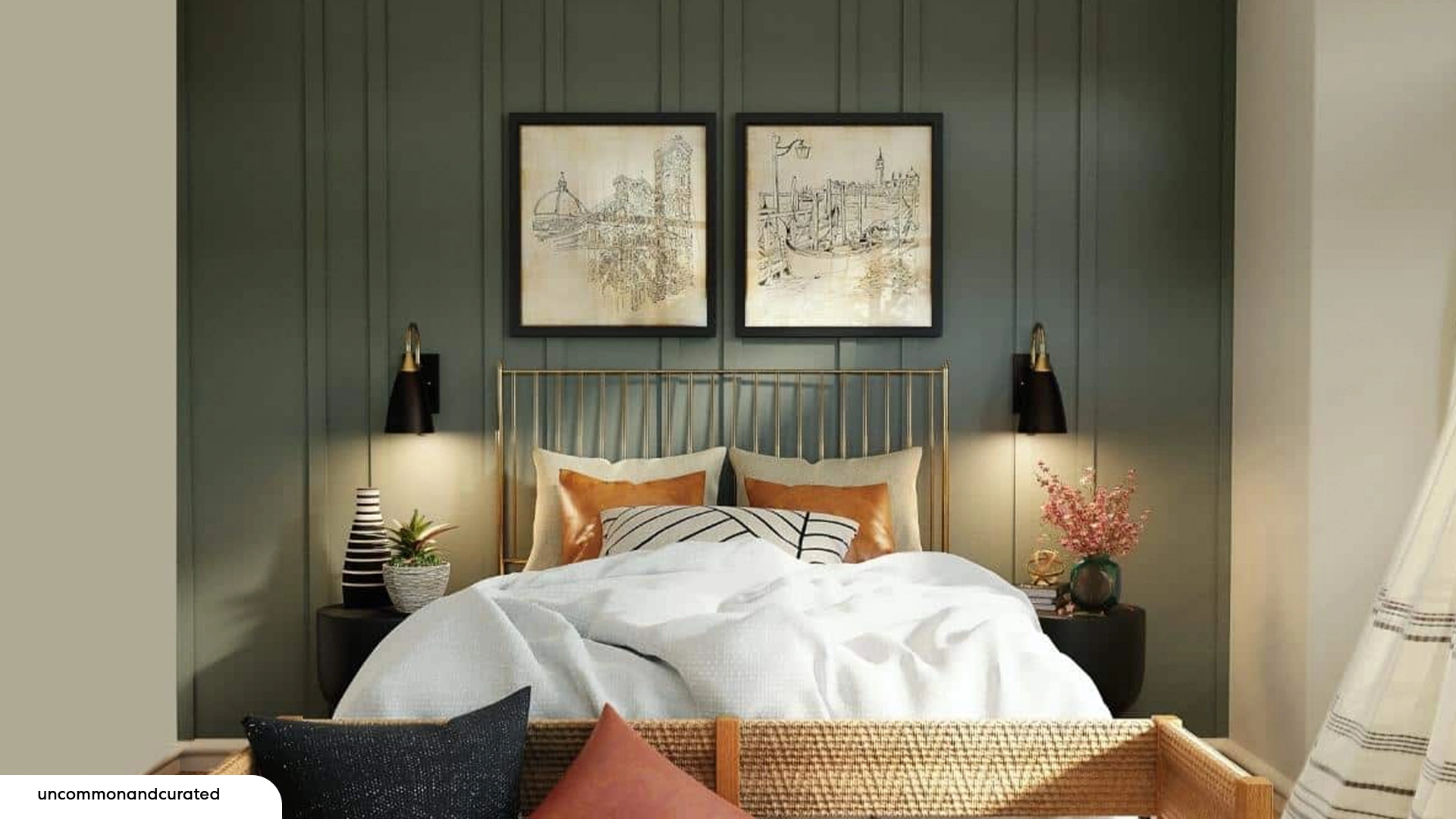 Side tables
Another crucial aspect of feng shui is adding symmetry to your bedroom setup. Other than the feng shui principle, symmetry in a room has always been encouraged to create a balanced and harmonic space. Whether it's your bed or a small desk for a bedroom office, consider leaving the same space on either side of the furniture. If you can get matching items like side tables for the bed or some identical vases for each side, it would greatly enhance the balance of your room.
Bed height
The bed height is also an important principle for feng shui. Make sure your bed is elevated from the ground with free space underneath. This ensures the uninterrupted flow of positive energy circulates throughout the room. Storage under the bed or a bed that is too close to the floor can obstruct the energy flow, building up tension in the room, as per the feng shui principle.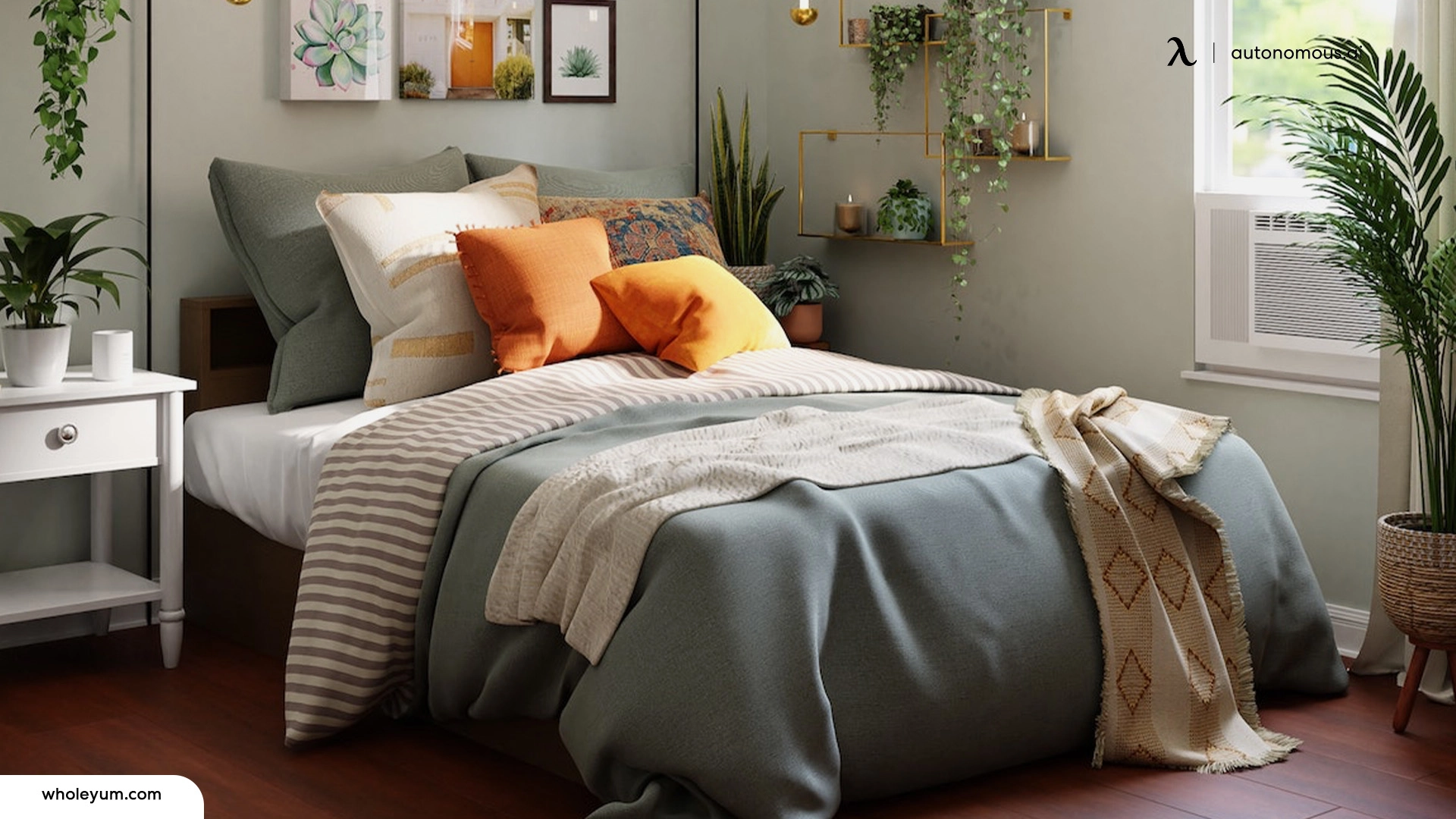 Avoid direct in sight mirrors
Everyone loves a large mirror in their bedroom to check out their day's outfit. But as per the feng shui principle, the mirror placement can make or break the peace of your bedroom easily. As in feng shui, mirrors represent water, so they should be avoided directly in front of the bed. Placing the mirrors next to the bed with their faces outwards will allow for usefulness while preventing reflection of the sleeping area, according to Feng shui  principles.
Storage solutions
As per the feng shui, to feel perfectly harmonic and relaxed in your space it is important to avoid clutter as much as possible. While there are several essential items you need to keep in your bedroom, proper storage space can help adhere to the feng shui principle. Having closed-off storage is great from a Feng shui  standpoint since it hides clutter from sight. Nonetheless, it is best to include sleep-related goods like linens, duvets, or pillows if you must have storage under your bed to retain the tranquil atmosphere of the room.
Feng Shui colors
Conjuring up your space with gray is a foolproof way to attain feng shui in your bedroom. A gray bedroom is relaxing, popular, and timeless in design and authenticity. And fortunately, there is a shade of gray to match any taste and style. Unquestionably this neutral, stylish color will give a bedroom a contemporary edge, elegance, and refinement. It is a go-to choice for anyone looking for a tone that is simple to live with. And as per feng shui, gray is the ideal hue and symbolizes the metal element, making it a sophisticated color scheme linked to tenacity, independence, and elegance.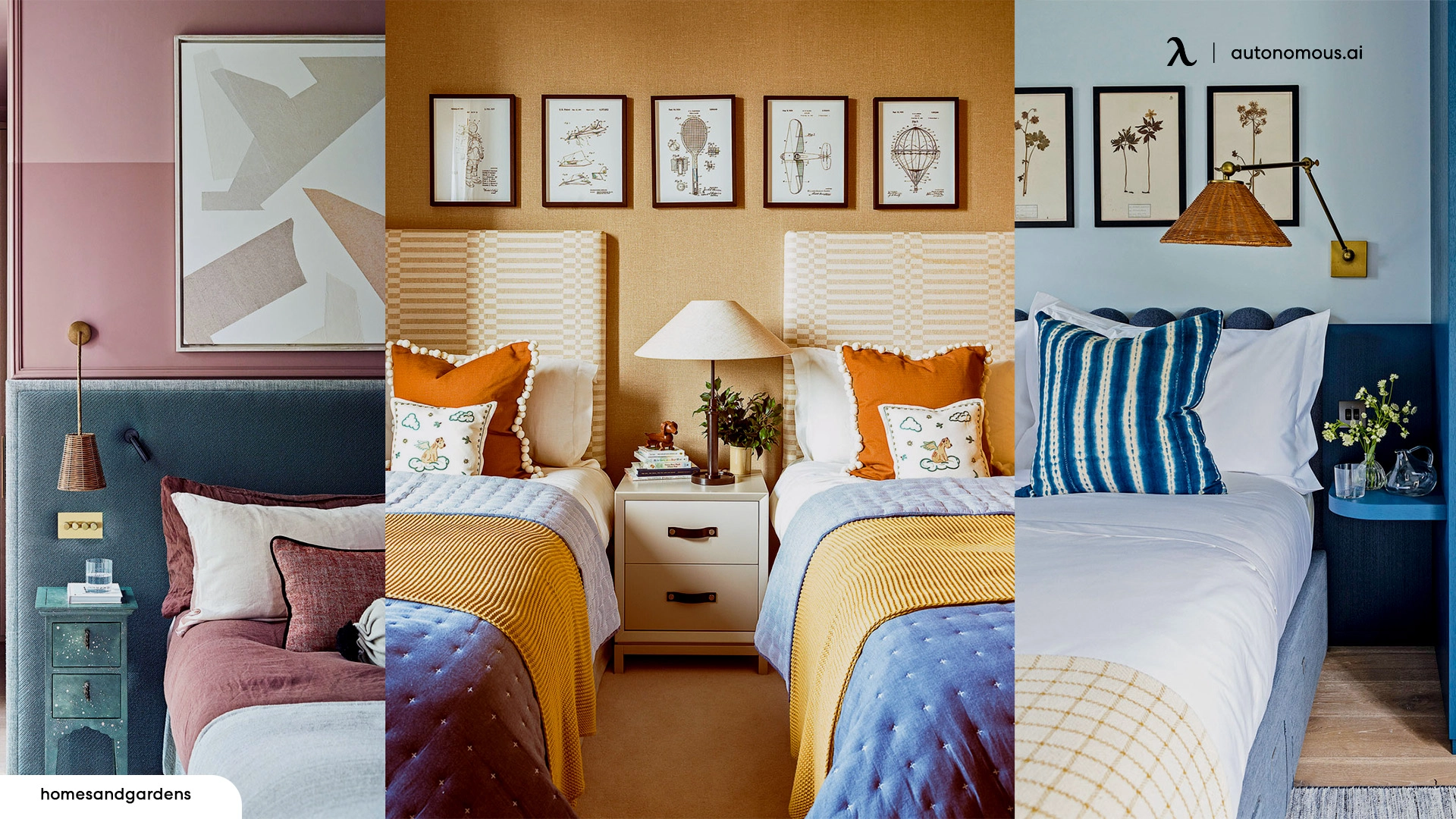 Over the bed
It is a common practice to place our beds directly under the fan or any large structure, such as a chandelier on the ceiling. But as per the feng shui principle, this practice isn't approved. This is because large figures such as a fan or a big beaming light of a sloped window can put a lot of pressure directly in sight when lying in bed.
Personalized décor
Every bedroom has an element of personalized décor, which brings love and a sense of belonging to a room. As per the feng shui principle, there is a right way to mount your personalized décor on walls or shelves too. Displaying personal things and pictures in the far right corner of your space or room as you enter will help the energy flow in the right direction, as people close to you can experience an unobstructed positive energy flow.
Feng Shui Desk in Bedroom – What You Need to Know?
If you have little space available, there are a few placement options available you can take into account. For instance, experts recommend placing your desk in the power position, which consists of placing it diagonally, opposite to the door. This way, you will have a clear view of the whole room, allowing your thoughts to flow freely and be balanced.
Feng shui experts also do not recommend positioning your desk against a solid wall because it may have adverse effects on your concentration and creativity. Other advice regarding the feng shui desk placement include the following:
Placing your desk in a way that leaves your back to the door is considered to promote distractions.

Allocating your desk behind a large window may drain your strength.

Additionally, if you have little space and cannot move your desk from beside your bed, it is highly recommended to use a folding screen so you can block the view of your sleeping spot. This will allow you to differentiate between your personal space and your office space.

Last but not least, working from your bed is never recommended.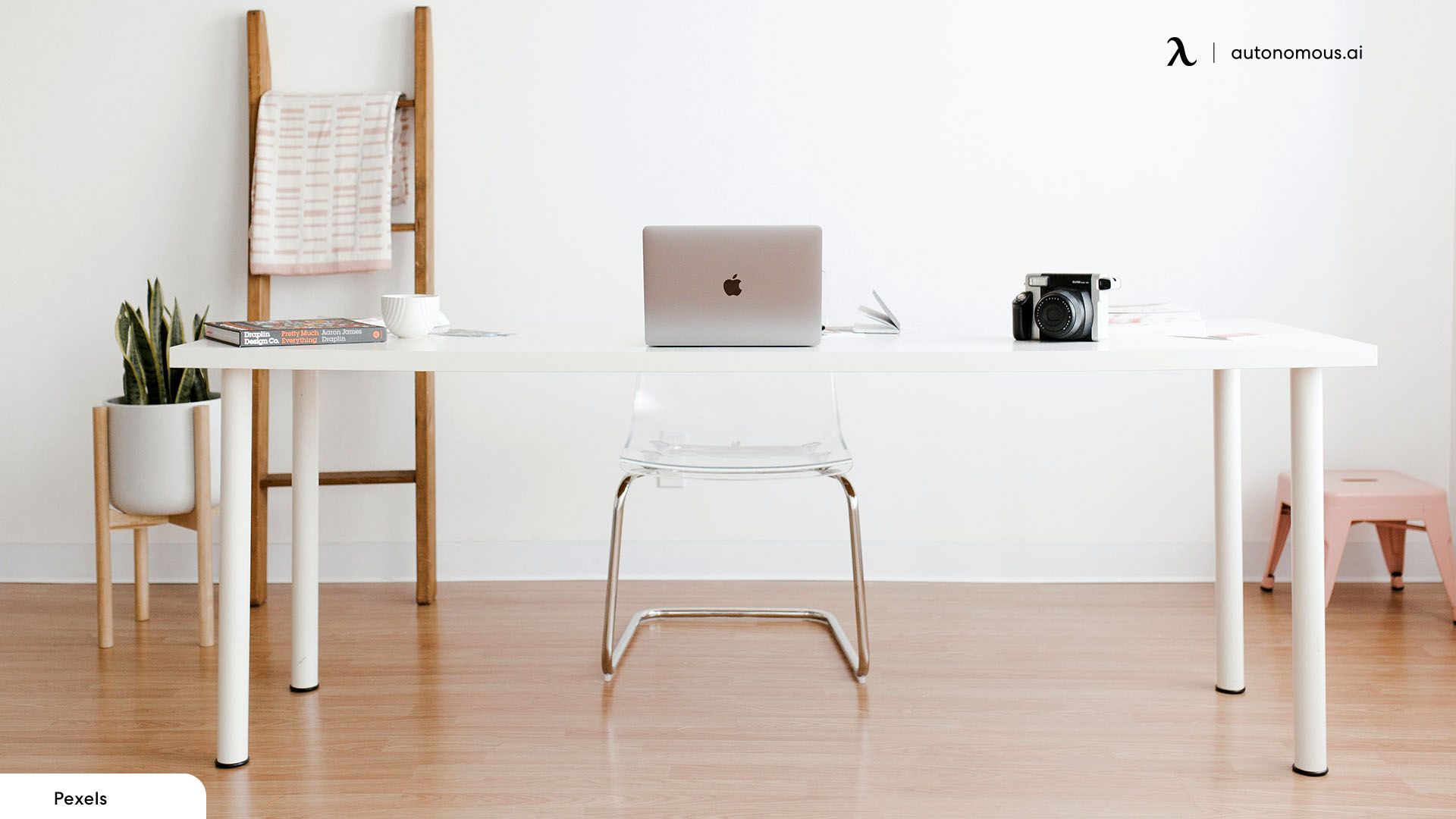 Should You Put Your Desk in the Bedroom?
Any room is good for you to place your desk if you don't have too much space available. If you do have space available, perhaps you can explore different bedroom office ideas or bedroom gaming setup ideas that can help you take as much advantage of your space as possible.
However, it is also important for you to take into account your good feng shui bedroom layout, as explained below.
Try to place your desk behind the door and beside a window.

Alternatively, you can also place your desk facing the door and behind a window.
These placements are associated with small feng shui bedroom layout with a desk, allowing you to attract positiveness to your life.
Some Layouts to Put Your Desk in Bedroom
There are diverse layouts of the bedroom feng shui layout with a desk you can try out to place your desk if you'd like to work in your office in the bedroom feng shui. It doesn't matter if you own a small, large or even a corner desk – it is always important to keep in mind that your desk should not be placed in front of a window and should always be placed facing the door. Furthermore, a feng shui desk requires you to bring some organization, as explained below.
Get rid of the clutter
First, start by reducing the clutter you currently have on your desk. Try to include only the items you need to complete your daily tasks. For instance, if you don't other than your computer peripherals, why would you have so much paper or your gaming stuff around?
Plus, get rid of all the pictures you may have placed on your desk or around the room. This way, you will be able to attract new relationships into your life, as you won't be delving into the past as much. Feng shui experts recommend avoiding triggers of negative memories.
Decoration
Reducing the clutter in your desk is necessary, but your workstation doesn't have to be bland. You can also opt for including small desk plants, some artwork, and similar stuff that helps you maintain your workstation as alive as possible.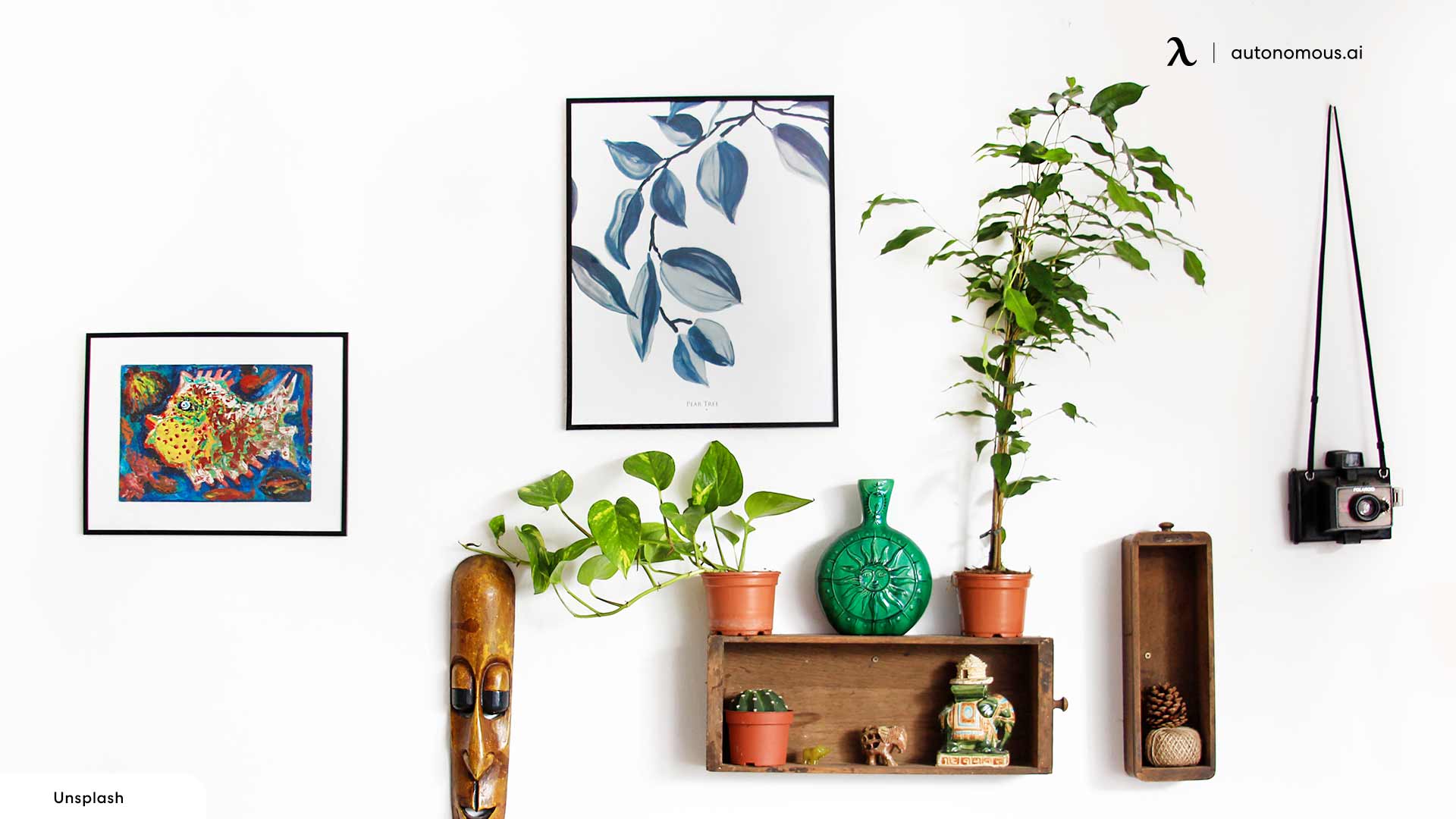 Office Desk for Bedroom Options
If you're looking forward to building a bedroom feng shui layout with a desk, there are a few office desk options you can take into account, such as the ones mentioned below.
SmartDesk Core
The SmartDesk Core is one of the bestsellers of Autonomous. It is a home standing desk that provides you with all the space you need to be comfortable in your workstation. Plus, being able to alternate between sitting and standing can help you prevent discomfort and back pain.
Top dimension
Small Top: 43"L x 24"W x 1"H
Classic Top: 53"L x 29"W x 1"H
XL Top: 70.5"L x 30"W x 1"H
Frame dimension
27.5"W x 40" - 73"L
Height range
With top: 29.4" - 48"
Without top: 28.4" - 47"
Materials
Top: Warp-proof, MDF wood, natural Bamboo
Frame: SPCC steel
Colors
Top: White, Black, Walnut, White Oak, Bamboo
Frame: White, Black, Grey
Weight capacity
265 lbs
Warranty
5 years for frame
1 year for top
SmartDesk Corner
This desk is similar to the SmartDesk Core, but the main difference is that it is an L-shaped standing desk. Hence, you can have twice the space or place it in a corner, whatever makes you feel more comfortable and promotes the feng shui in your room.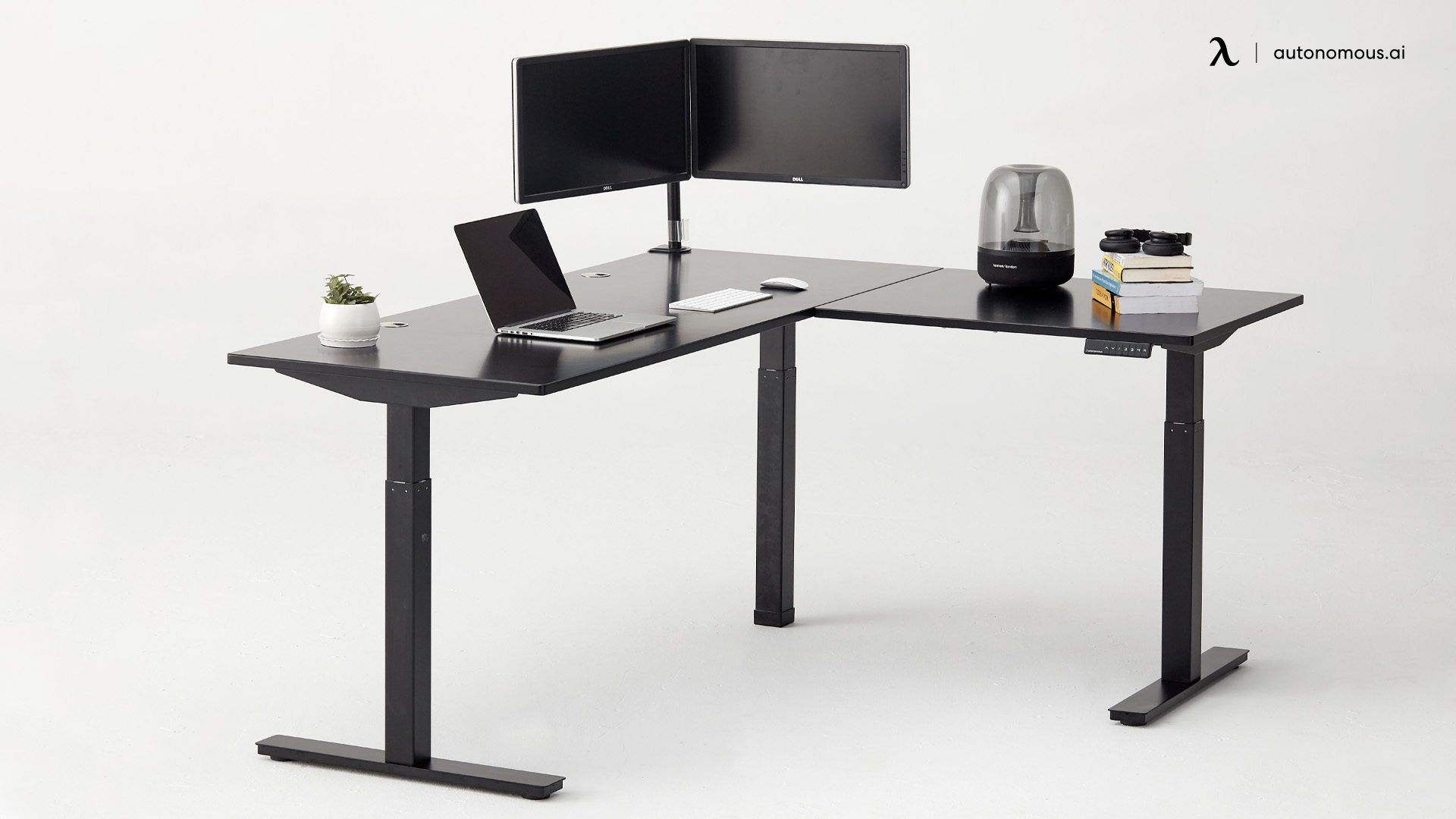 Top dimension
Full: 77"L x 64"W x 1"H
Large Top: 77"L x 29"W x 1"H
Small Top: 29"L x 35"W x 1"H
Frame dimension
27.5"W x 42" - 71"L
Height range
With top: 29.4" - 48"
Without top: 28.4" - 47"
Materials
Top: Warp-proof MDF wood
Frame: SPCC steel
Colors
Top: White, Black
Frame: White, Black
Weight capacity
400 lbs
Warranty
5 years for frame
1 year for top
Set up your Feng shui right away and make the best use of it! Have fun!
Subcribe newsletter and get $100 OFF.
Receive product updates, special offers, ergo tips, and inspiration form our team.
WRITTEN BYAutonomous
We build office products to help you work smarter.