A chair that reduces lower back pain is in demand among office workers. Despite claims of lumbar support, most office chair manufacturers do not provide this. We will look today at the best mid-back office chair options in the market for lower back support that we found. Multiple mid-back desk chair models differ based on several factors, such as design, ergonomics, feel, durability, and price.
The type of back on an office chair (low back, mid-back, high back) is one thing that differentiates them. The right mid-back executive chair can positively affect your productivity and comfort. When you buy a new desk chair, you'll get a better understanding of the mid-back computer chair in this article. 
Comfortable office chairs: which are the best? We often ask a question, and answering it can be challenging. Different features and designs are comfortable for different people. It is often important to determine which chairs are most comfortable based on how they will be used. In order to create a way to test subjective aspects of chair comfort, we asked ourselves how we could measure them.
Our best solution was to get feedback from everyone at our company to get multiple opinions and not just one. Many modern office chairs have been tested recently. A back support score was developed based on the scores. The chairs that performed the best across our entire office are on this list.
Should You Choose a Mid or High-back Chair?
A mid-back office chair provides support for your lower back. Chairs with mid-backs usually lack a neck rest or headrest. How do these chairs work? Chairs without a headrest are considered mid-back office chairs. The seat is at a slight angle to the shoulder. Despite this, it has a proper backrest.
These chairs are designed to provide a reasonable amount of support to the mid-and lower back. A high-back office chair is a good choice for some desk workers, but not if you have a limited workspace. Mid-back office chairs are appropriate for those who need to move back and forth between more than one workstation.
Why Choose a Mid-back Chair?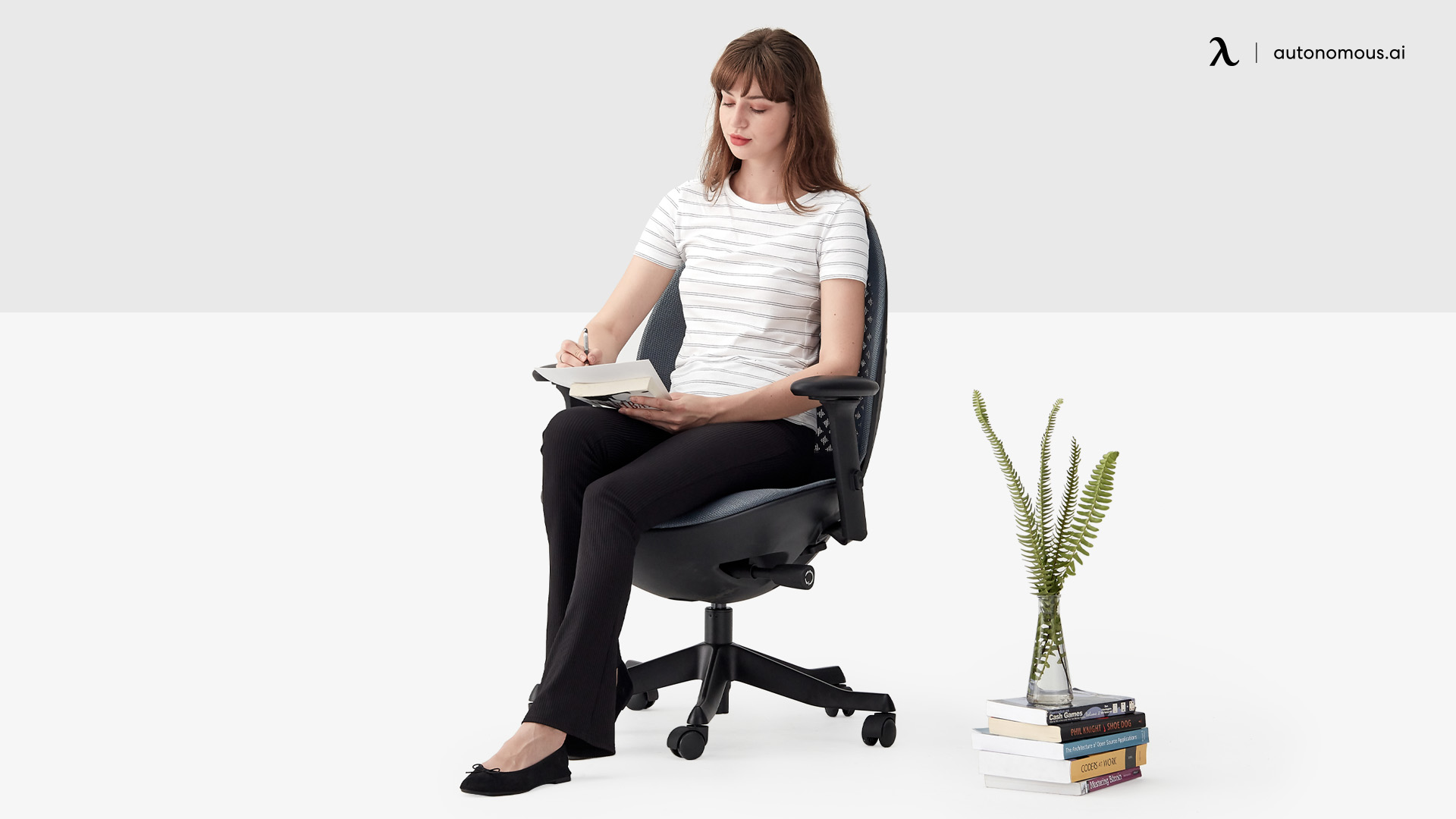 Mid-back office chairs have backrests that are slightly lower than your shoulders. This style is primarily intended to provide spine and back support. In addition, it protects and enhances the comfort of the shoulder blade.
This product should be worn continuously for 5 hours for the best support and comfort. Therefore, it makes an excellent choice for a conference room or meeting room. Here are some of the benefits of mid-back office chairs.
It allows you to move freely from one desk to another and is designed to fit most tighter workplaces.

Workstations that can be adapted to various work environments.

There are a lot of color choices available to you.

Various styles are available, including ergonomic, ribbed, and modern.

Available in leather and mesh finishes.
Compared to a high-back office chair, mid-back office chairs come in a broader range of styles, colors, and overall looks. They are also usually more affordable than high-back chairs. A mid-back office chair is less ergonomic than a low-back office chair, but you'll still be able to find one that fits your needs and is supportive. Mid-back office chairs are generally designed for less prolonged, sporadic sitting. Purchasing a computer chair should consider mid-back office chairs for a variety of reasons.
List of Office Chairs with Mid-back Include
1. AvoChair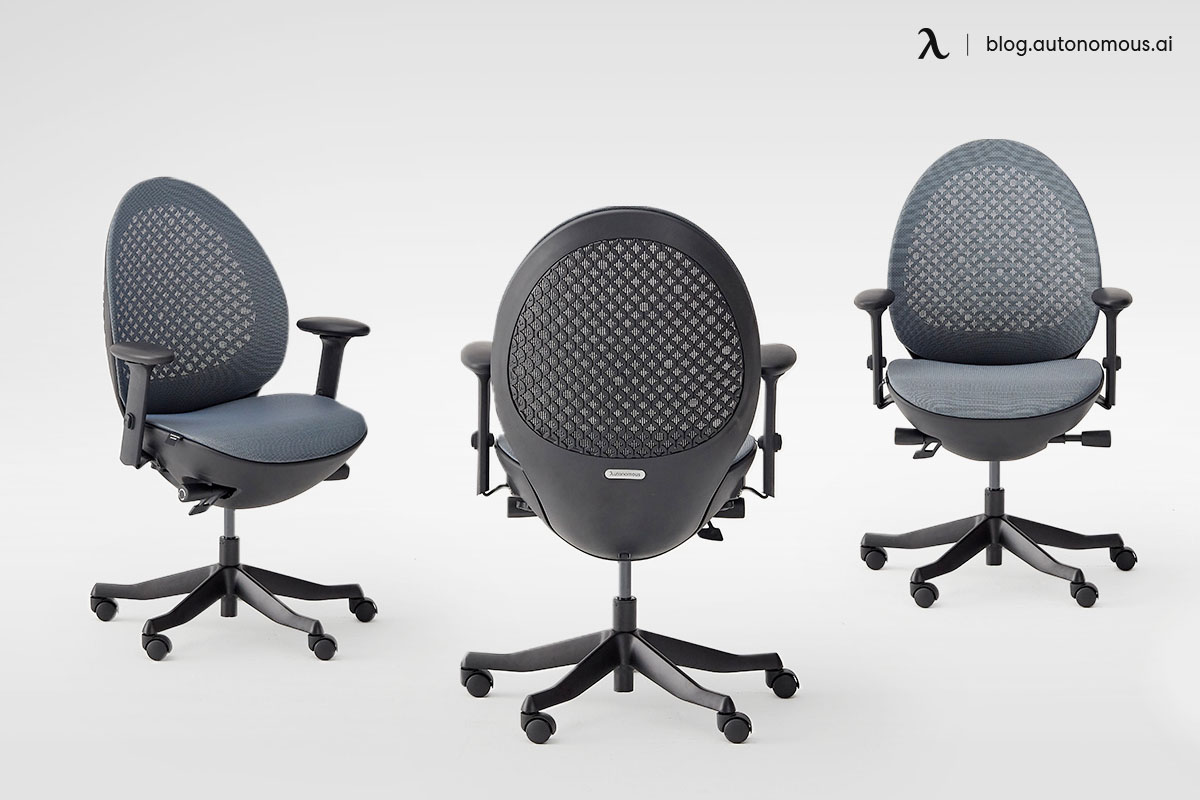 The Autonomous AvoChairs that offer the best ergonomic functionality will not be missed. What's the reason? Designed with environmental responsibility in mind, this modern desk chair is 100% recyclable. Put your best foot forward in reducing the earth's carbon footprint by relaxing in the most ergonomic chair.
Air is naturally circulated to your body by the elastomeric mesh back and seat. This is the best computer chair because it is built for strength from a sturdy diecast aluminum alloy base. Weight capacity is 250 lbs, but if you are interested in a computer chair with a footrest, consider one of our ErgoChair models.
2. BestOffice Chair
Featuring ergonomic armrests, ventilated lumbar support, and seven colors to choose from, the BestOffice Office Chair is doing everything it can to live up to its name. It is especially helpful if your new home office is located in an unexpected room and you want it to feel as though it belongs there.
3. Mid-back Swivel Chair from Flash Furniture
This Flash Furniture mid-back chair has decent versatility while moving up in price a bit. Height can be adjusted, tilt tension can be customized, the tilt can be locked, and the arms can be flipped up as you like. The waterfall seat design is very pleasing to those concerned about the blood circulation in their legs.
4. Steelcase Leap
An adjustable chair is important if you suffer from back pain. Steelcase Leap chairs are different from most chairs in that they adjust as you use them. By adjusting three controls, you can position the chair based on your spine, lumbar region, and posture; the backbends, the lumbar support shifts, and the entire chair tilt as you adjust your position. Because of this, this chair is ideal for people who suffer from back problems, as these controls can make a chair much more comfortable.
5. HON Exposure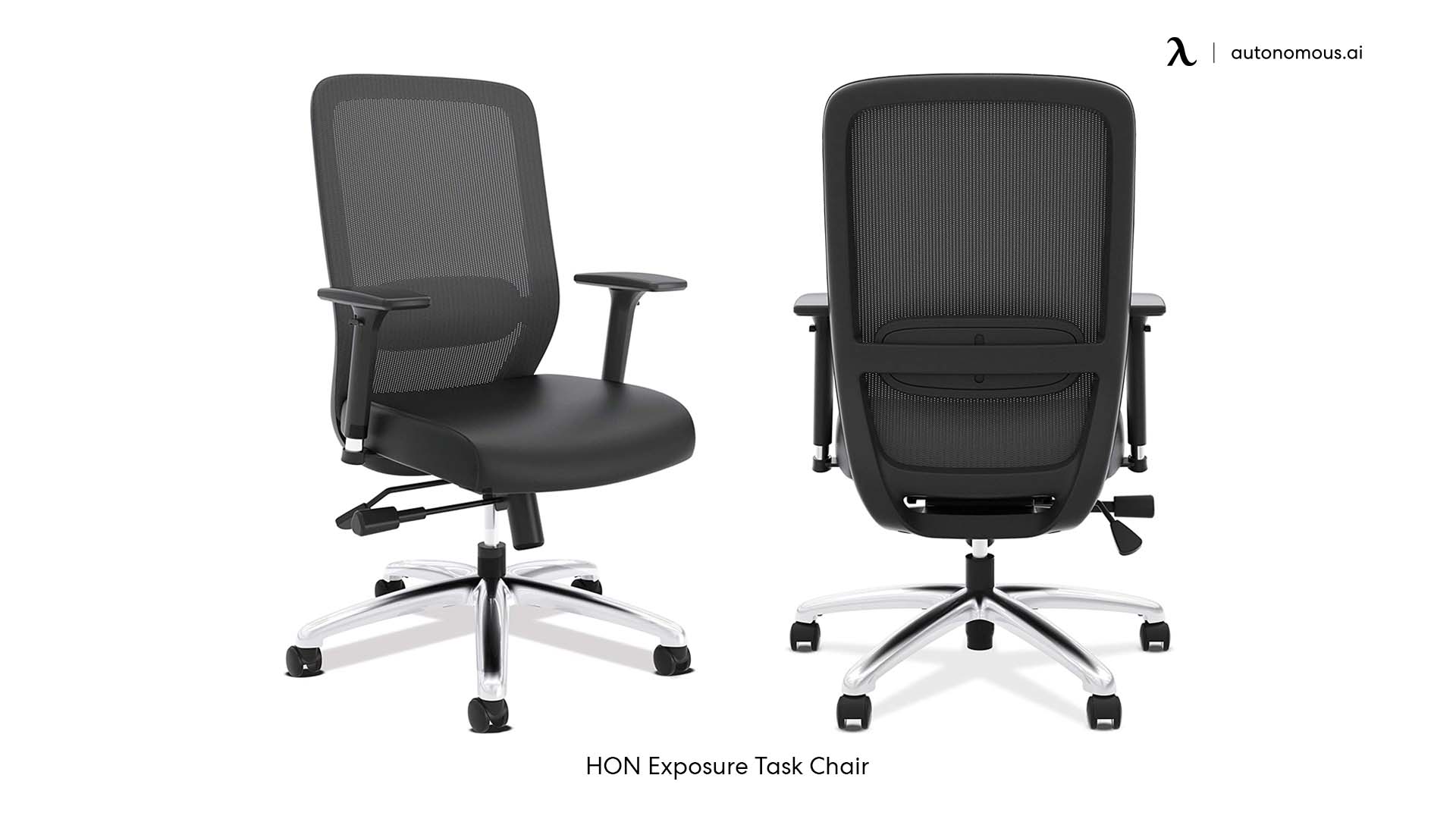 As a comfortable office chair, the HON Exposure is an affordable, dependable chair that gets the job done but lacks the flashiest of features. In addition to arms and height adjustment, the $200 HON Exposure includes lumbar support, which can be moved in and out to offer lower back support. Compared with the Branch Ergonomic Chair, which was also more stylish, we found the HON Exposure comfortable but a bit firmer.
6. Professional Airgrid from Space Seating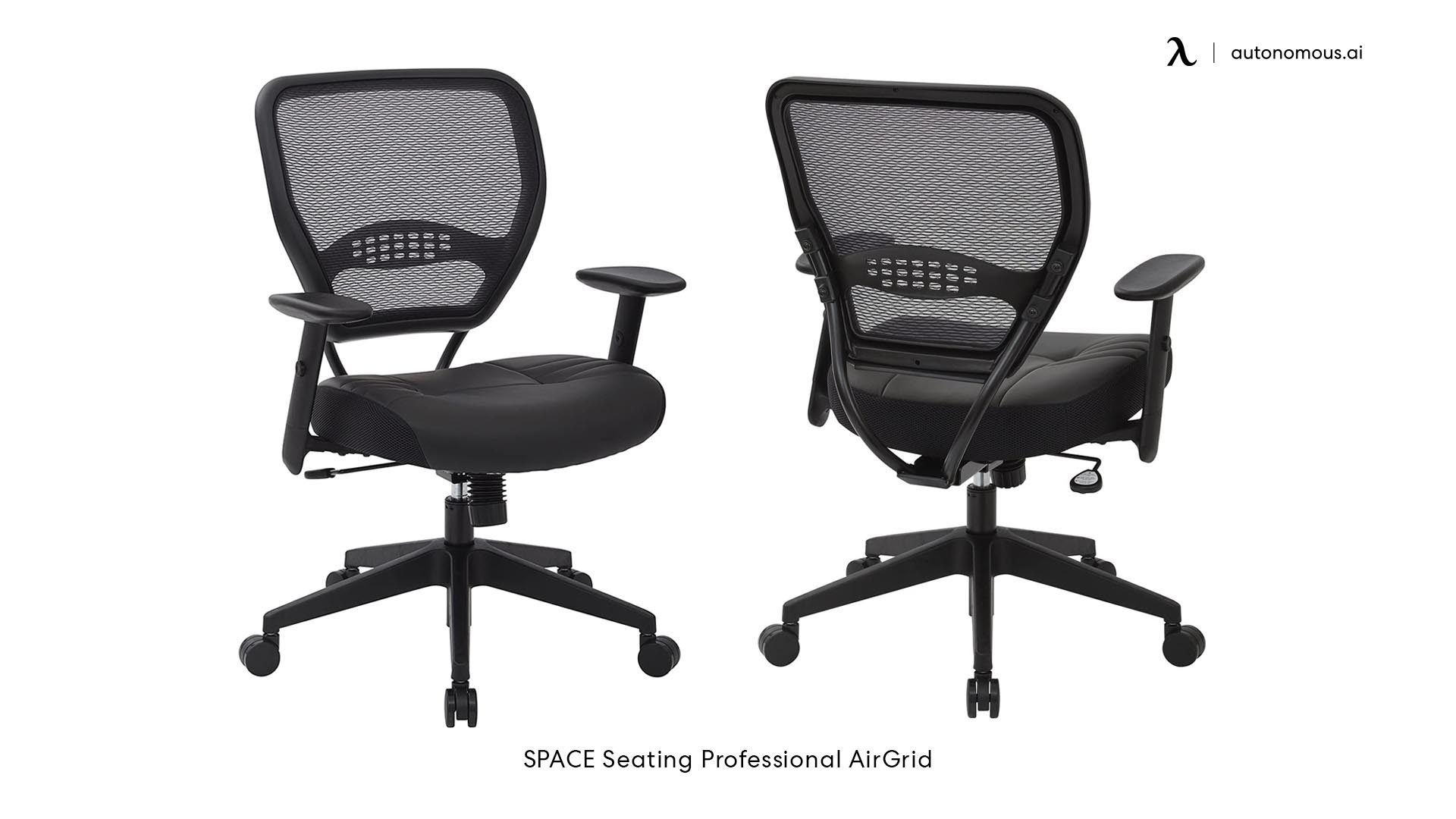 It is expensive to manufacture mechanisms that let office chairs adjust lumbar support and tension zones, so most low-cost models aren't very adjustable. It's a good balance between affordability and convenience with the Space Seating Professional AirGrid, as you can adjust many features while spending less than $200.
The AirGrid's arms can be adjusted for height and position, and the seat's tilt can be adjusted as well, which is important for providing a comfortable sitting position whether you are leaning back or forward. As for adjusting the slope or angle of the armrests, you can only move them left and right.
During warmer weather, you can also use the mesh fabric back of the AirGrid. While you do not get fancy adjustments like you would with more expensive models, you will find that this chair offers a lot of features that make sitting comfortably.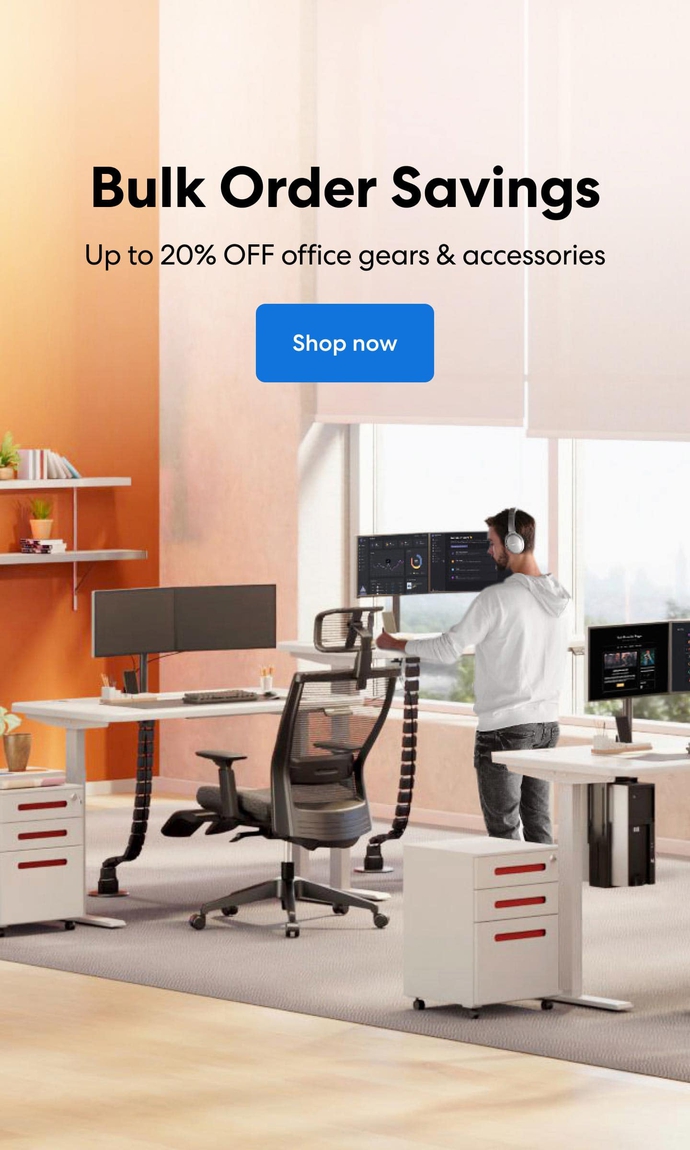 Subcribe newsletter and get $100 OFF.
Receive product updates, special offers, ergo tips, and inspiration form our team.