Smart Products
7 Computer Desk Lamps for Eye Strain 2023
822 Views
Have you been noticing that your desk lamp puts a lot of strain on your eyes? Do you find it difficult to work under your computer desk lamp? Is it impacting your productivity? If the answer to all these questions is a yes, it's time to buy a new computer desk light.
Office workers and students often use a lamp for computer work to avoid the screen glare and stay focused. It also helps them stay active and productive during work hours. However, if the desk light has a harsh glare, it becomes dangerous to use.
Such a desk light can negatively impact your eyesight and is known for imparting a lot of strain on your eyes. So, what was considered a beneficial accessory becomes a liability.
The best way to help yourself is to buy the best computer LED lamp and avoid unnecessary eye strain. However, people don't know how to pick the best one themselves due to the multiple desk lamp options that are available in the market.
We understand that you might be among those confused office workers as well, that's why we have decided to give you a glimpse of the best that the market has.
You will find a list in this article, upon reading further, that has the details of some of the best computer LED lamps that are there in the market currently. Going through them will give you an idea of what you are required to see and how you are supposed to pick your best computer LED lamp.
So, without delay, let's have a look at what the market has for you!
7 Computer Desk Lamps for Ergonomic Workspaces
1. Autonomous Ultrawide LED Desk Lamp Bar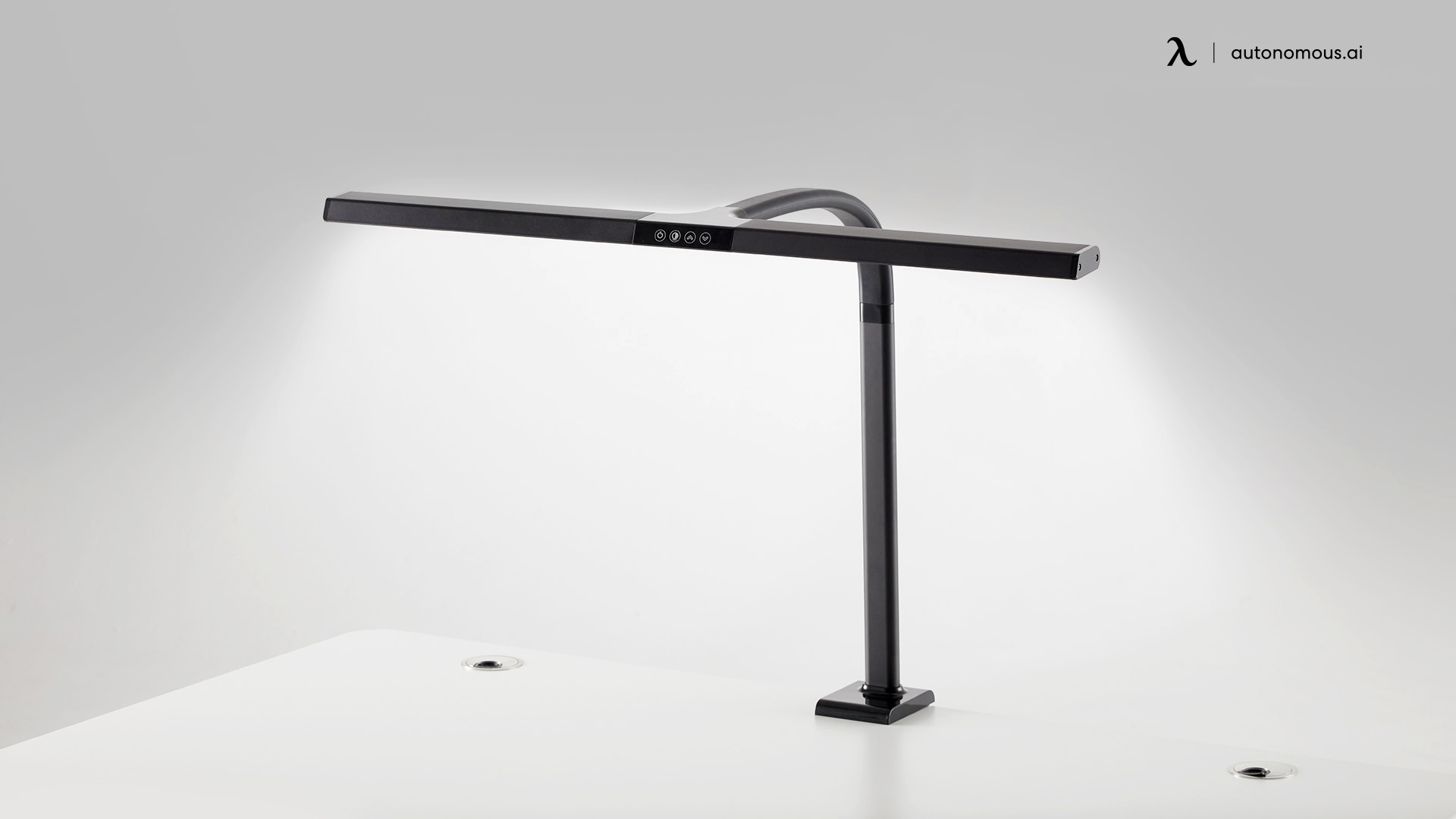 Autonomous Ultrawide LED Desk Lamp is the best option that you can think of to avoid eye strain. The ultrawide desk lamp is designed to have four different light temperatures that can be manually adjusted to help you avoid strain throughout the day. You can adjust the brightness from maximum to a minimum in the way it suits you best. Overall, the lamp is wide enough to light up your entire desk space.
2. Stella Go Portable LED Lamp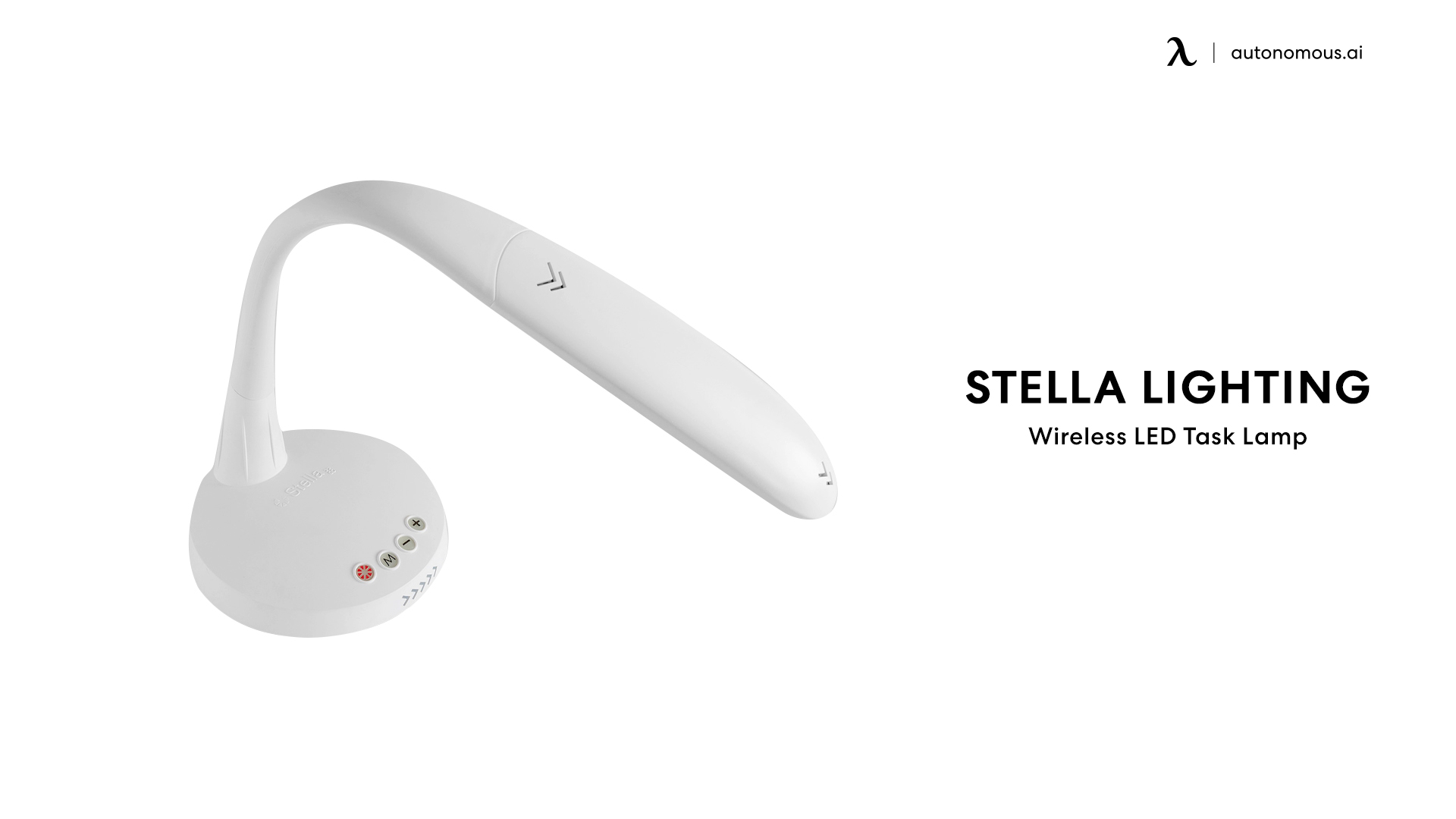 The Stella Go Portable LED lamp is the premium option on our list, that's why it is the most expensive one too. This wireless LED lamp comes with ten distinguished brightness levels and a unique tri-spectrum technology that offers you full control over brightness adjustment.
Having a low wattage consumption and no UV emission, this desk lamp can help you have a great work experience overall. Nevertheless, its LEDs are not replaceable, so any damage will need a permanent replacement of the lamp.
3. Lumicharge II Desk Lamp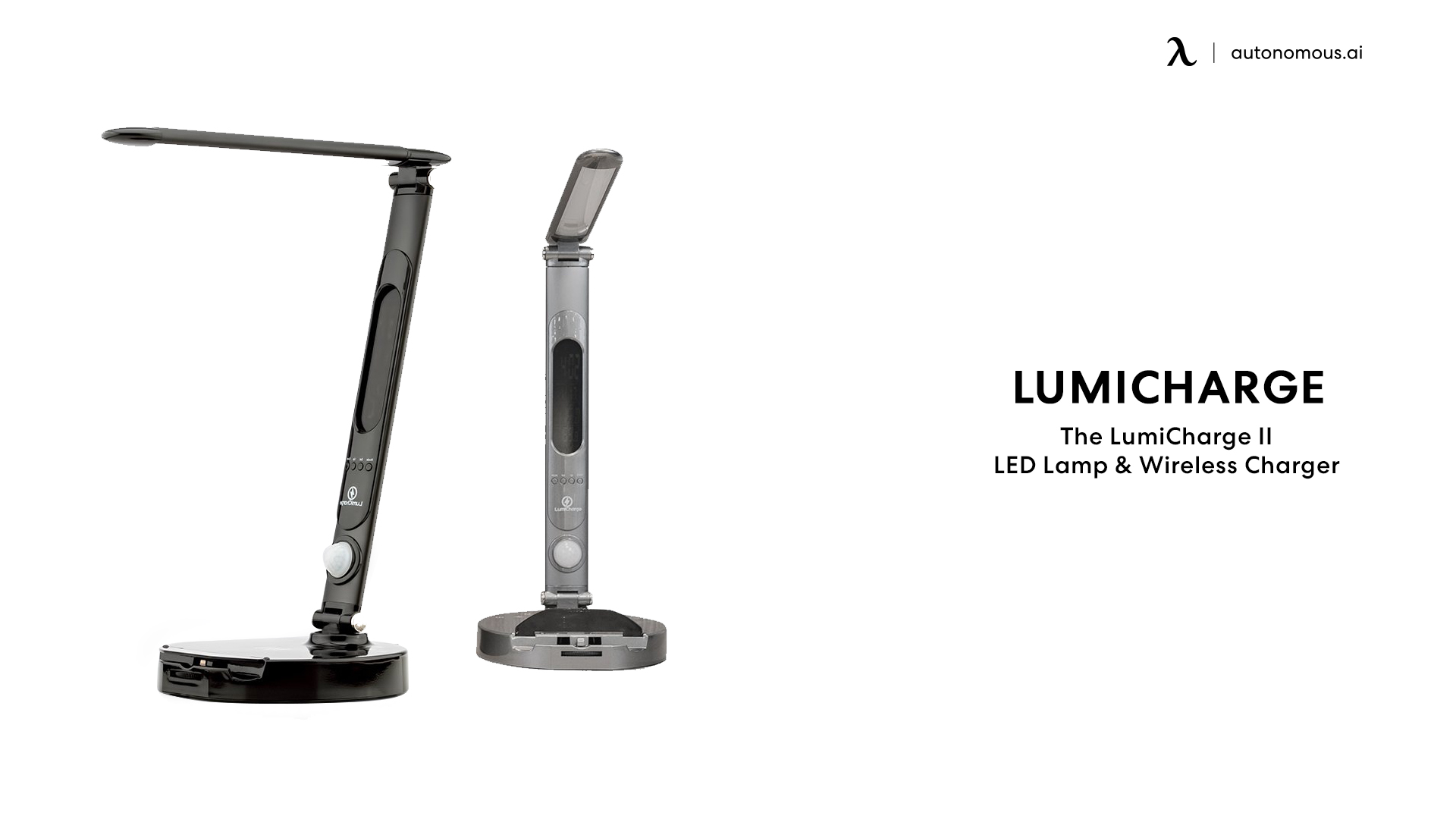 The Lumicharge II Desk lamp is a multifunctional lamp. The unique factor about this computer desk lamp is that it offers you a nice wireless charger that you can use for charging any phone. Since it offers you multiple brightness adjustment options, it can help you reduce eye strain that one might encounter while working for extended hours.
4. Autonomous LED Desk Lamp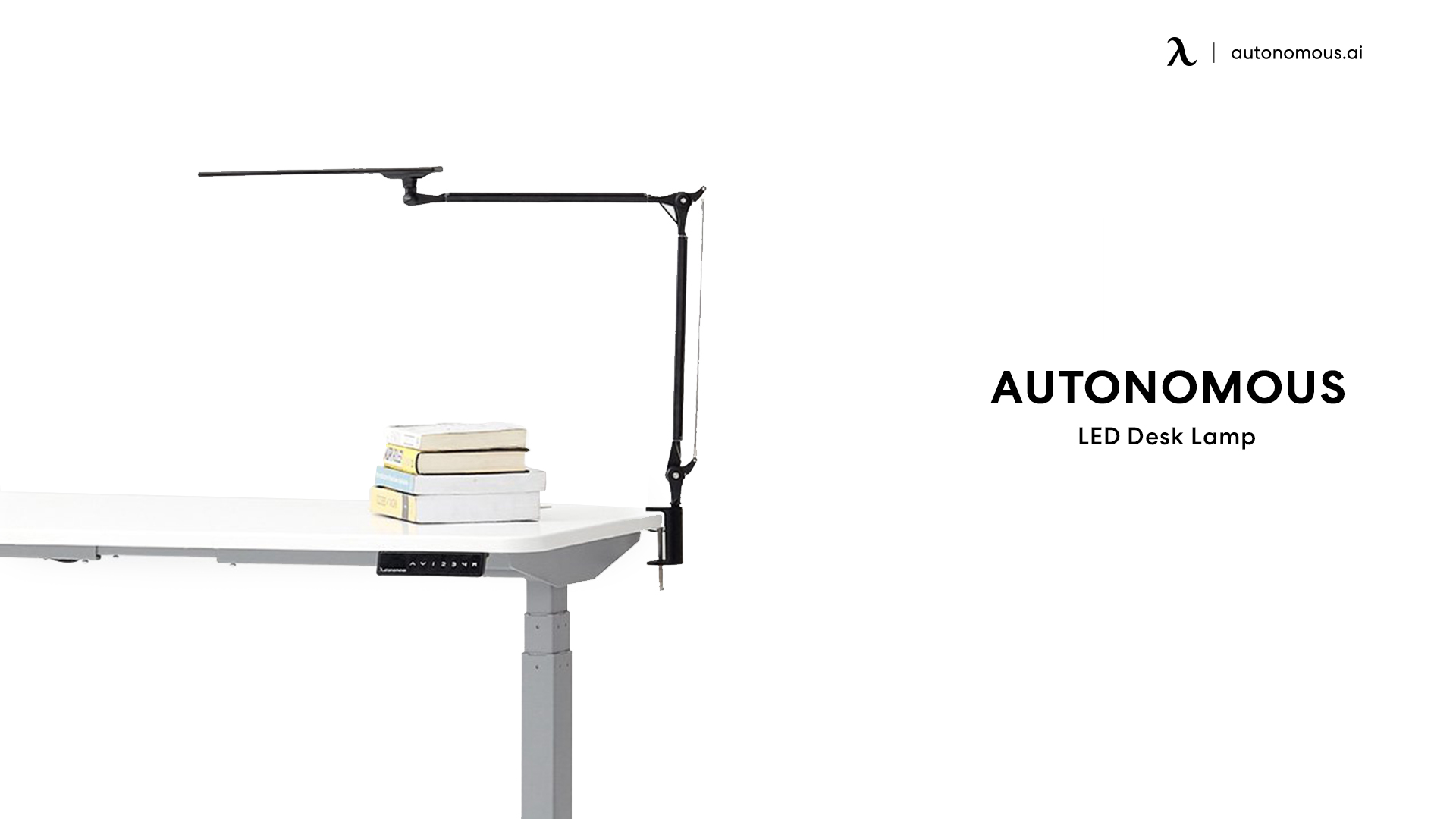 The Autonomous LED desk lamp is a considerable choice for office workers who wish to light up their workspace while ensuring their desk lamp takes minimal desk space. The unique thing about this desk lamp is that you can clamp it to your desk. Overall, this computer desk light has five different brightness levels and four discrete color modes that will help you have a better and brighter work experience.
5. Arnsberg Dessau Arch Desk Lamp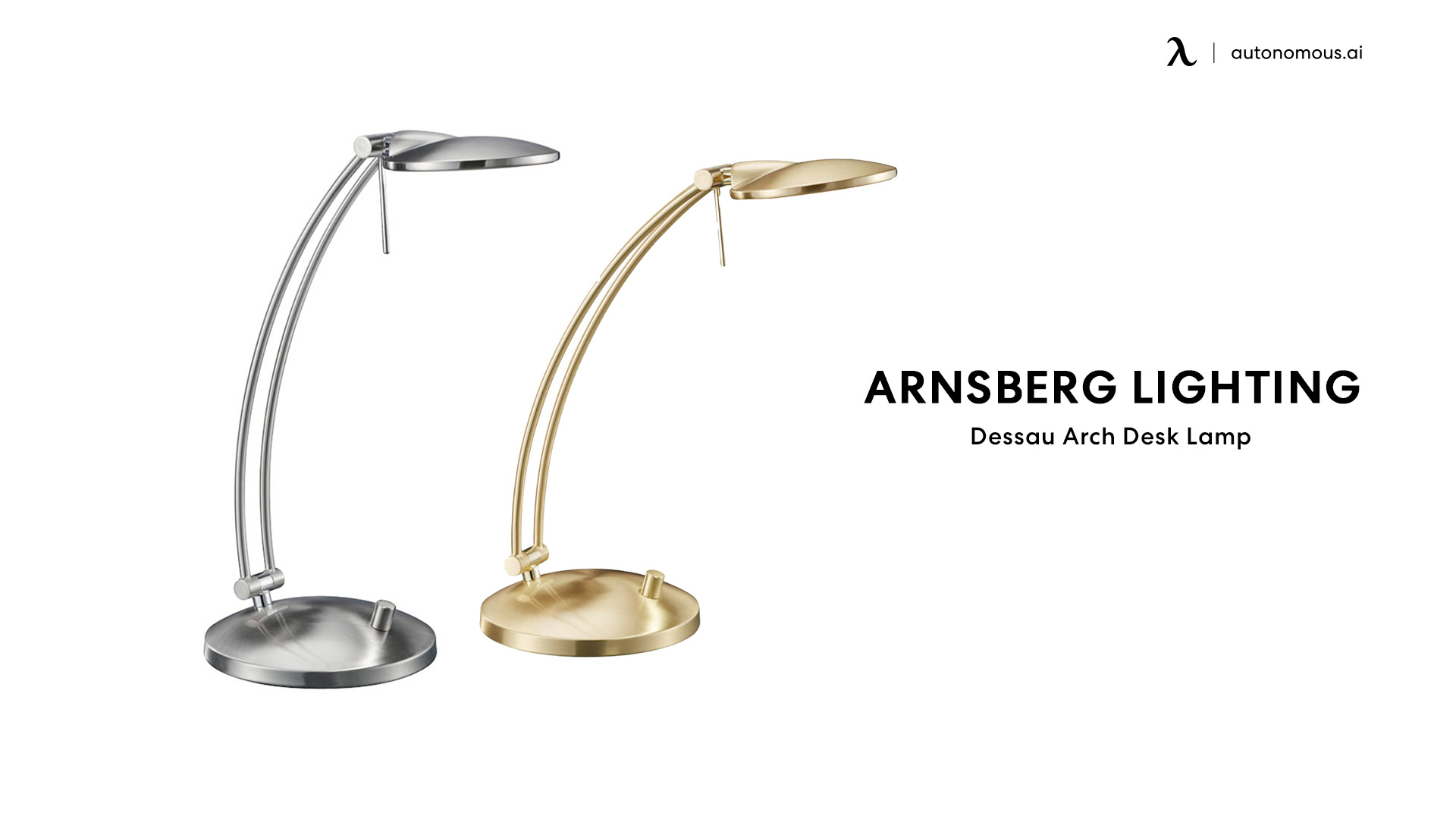 The Arnsberg Dessau Arch Desk Lamp is one of the most stylish desk lamps that you can get. This desk lamp is available in three different colors so that you can make the choice as per your requirement.
The meticulous crafting of this computer desk lamp makes it ideal for your office use. Having an adjustable light head and arch neck, this desk lamp helps you adjust the light to avoid strain. Nevertheless, it only has one brightness level, i.e.3000K, which is not adjustable.
6. Artiva USA Lamp with Fan
The Artiva USA Lamp is a unique desk lamp that features an in-built fan keeping the user cool. This adjustable desk lamp with a fan has a flexible gooseneck so that you can set your desired light angle and have a customized experience. Both the fan and light have three modes of adjustment of speed and brightness, respectively. Overall, you can experience a well-lit workspace where you can easily control the light.
7. Arnsberg Dessau Turbo Swing Arm Table Lamp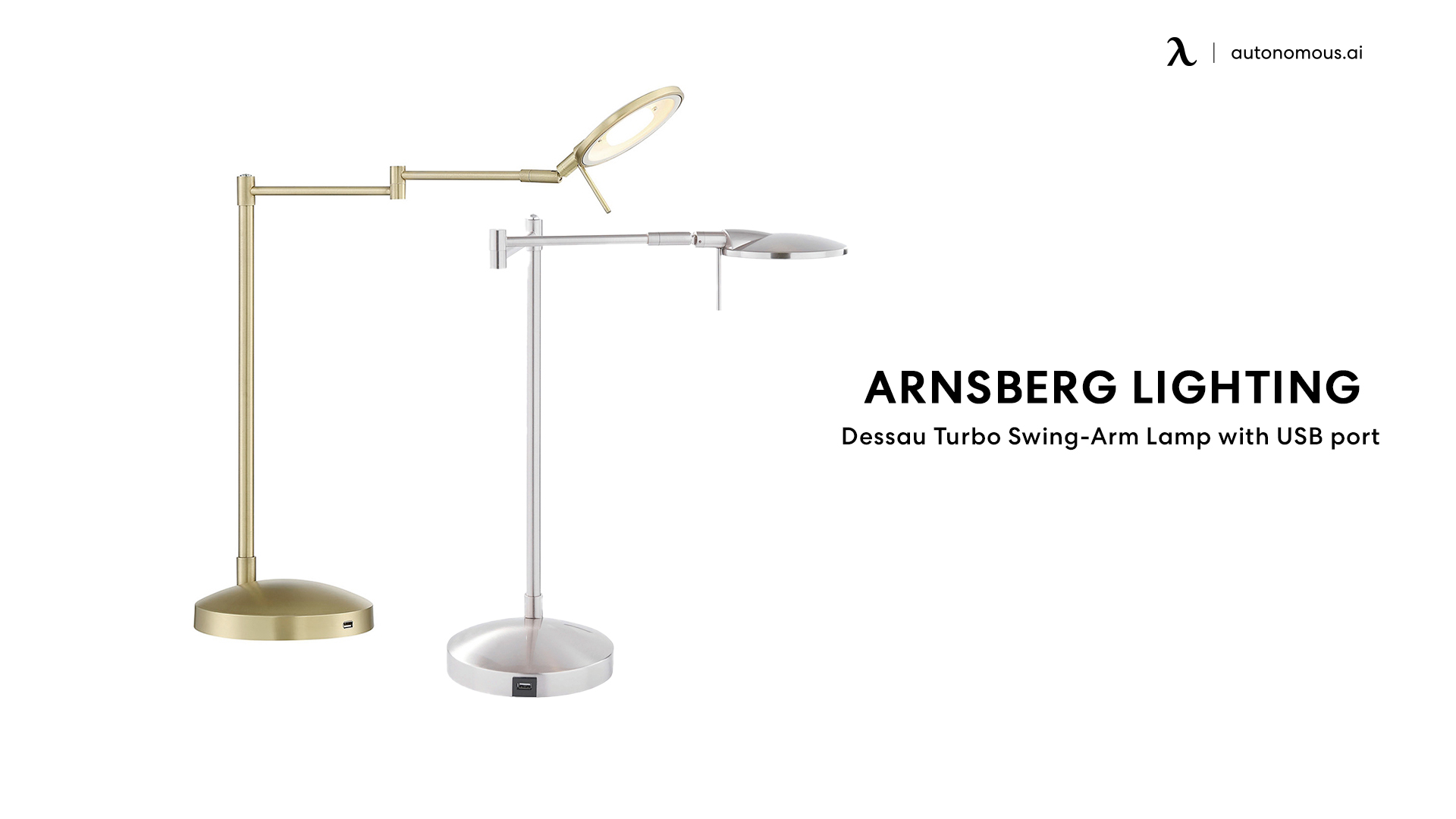 The Arnsberg Dessau Turbo Swing Arm Table Lamp is a sleek desk lamp that you can use to avoid excessive eye strain. The good thing about this variant is that it is a swing arm table lamp with a USB port, so charging your phone is quite easy here. In addition, there is a 4-step touch dimming option that helps you adjust the brightness and have a great experience overall.
Summing It Up
That's all from our side! The seven options that we mentioned above are the best computer LED lamps that you can go for. The good part about buying them is that they come with certain adjustments that help you avoid eye strain.
Optical damage is very common if you have a computer desk light with higher light intensity. Since it is bad for your health and productivity in the longer run, it is better that you avoid it at the earliest. Our desk light options are such that they will help you the most in this regard.
So, you can go for whichever desk light you find the most suitable. We hope that you found this article fruitful and that we made it easier for you to make up your mind. So, go ahead and pick the computer desk lamp which you like the most!
Hey, you have special pricing through your company.
Get exclusive rewards
for your first Autonomous blog subscription.
WRITTEN BYAutonomous
We build office products to help you work smarter.