Workplace Inspiration
Create an Amazing Setup with These Studio Layout Ideas

Autonomous
|
Apr 11, 2023
700 Views
With the right studio layout ideas, you can make your workstation stand out and be a welcoming space whenever you sit down to make music. Today, you'll learn how to organize your room to benefit you!
How to Organize Your Small Studio?
Organizing your studio takes time and effort. If you want to succeed, you should picture yourself in it before you're done putting it together. It'll probably bring a smile to your face! 
The excitement of having an at-home studio will probably be enough to motivate you to get started in the first place. However, if you don't have much space, you may feel down because you won't be able to have a big keyboard or too many amps. 
You shouldn't worry about any of that. Instead, to get the outcomes you want, write down different small studio ideas, consider each of them, and go with the one you like the most. 
10 Layout Ideas for a Music Producing Studio
There are different studio setup ideas to consider if you don't have much space. Fortunately, you won't lack options, so there's no need to worry. Here are some alternatives to keep in mind: 
Work on Your Design Beforehand
Firstly, you shouldn't start buying items before you measure the space. Plus, you must at least make a rough sketch of how you want your studio to be once it's done. 
Why? 
If you don't measure your space, you may buy furniture pieces that don't fit. You should try to only spend money on the things you know you'll use. 
Position Your Monitors Correctly
Putting your monitors and furniture in the right place is one of the most essential aspects when it comes to executing your studio floor plan ideas. 
You probably need to organize your space to fit different items, such as your screens, a keyboard, and maybe even different musical instruments. 
However, as a producer, your screens will be the center of attention each time you go inside your studio. Make sure you place them somewhere where you can see them without them taking up too much space.
Get a 'Circle of Fifths'
One of the best studio decor ideas to try is to hang a 'Circle of Fifths' poster on your wall. There are many options online, and if you know any illustrator, you can even ask them to make you a personalized one. 
The circle of fifths represents all musicians, especially producers since they have to work with different tools to make the best songs. Therefore, add it to your office decor since it'll give your surroundings a unique and modern look! 
Buy Beautiful Posters
You should try to draw inspiration from the musicians and producers you love the most, and there is no best way to do this than by looking at them every day you go make music. 
Therefore, you can get posters of your favorite artists and hang them on the walls. Similarly to the previously mentioned idea, there are many illustrators out there who would love to draw them for you. 
Consequently, if you want a more personalized work of art that no one else has, you can commission something from them! 
Keep Things Tidy
One of the most challenging things for many musicians is keeping their space tidy, especially when it comes to producers because they need to have musical instruments, papers, and wires around them most of the time. 
A key to putting the best studio layout ideas into action is to try and keep your surroundings tidy. You shouldn't wait until everything is completely messy to clean around. Instead, be proactive and make sure that you know where each item is.
Organize Your Wires
As the article mentioned before, keeping your surroundings tidy is essential if you're a producer, and a crucial part of this is organizing your wires. 
You'll probably have wires everywhere, even inside drawers and other storage spaces. Therefore, you need some sort of mechanism to know where each of them is and different options to properly organize them. 
There are many cable organizers online, so you should go with the one that fits your needs the most. Generally, a fantastic alternative is to get different options and use them according to what you're organizing. 
If you're organizing cables inside a box, for example, you could use different strings to tie them together depending on what they're for. 
Alternatively, if you want to make sure that your screens look fantastic and get rid of wires lying around, you could get organizers to stick the cables on the wall. 
Properly Work with the Space You Have
If you're starting out as a producer, you may not have much space available. Therefore, you have to work with the most beneficial studio floor plan ideas if you want to be happy with your results. 
There are many studio layout ideas for everyone in the business. Don't be worried just because you don't have much space - there are still numerous options to try. 
You can, for example, go for studio decor ideas that only include small furniture. Instead of having all your musical instruments inside the room, you could keep them elsewhere and bring them in whenever you need to.
Go Crazy with Lighting
Lighting is also essential when you're setting up your studio. In many cases, beginner producers must work at odd hours because projects can take a lot of time, so sunlight may not always be available. 
To make the most out of your lighting, make sure you add both decorative and functional options. In other words, you can incorporate some fun, colorful RGB lights if you want, as long as you add other alternatives to see properly while you're working.
Don't Leave Your Instruments Lying Around
If you don't have much space available, you need to optimize the room to produce music. Therefore, the essential items will be your computer and keyboard. 
You'll also need your musical instruments, but you can bring them inside depending on what you need to record. Therefore, instead of having them lying around, keep them inside their cases and take them out whenever you have to use them. 
Add Soundproofing Panels
Soundproofing panels are essential for most studio setup ideas, especially if you live in a compact space. 
You must guarantee you don't disturb your neighbors, which can happen if your studio is small. Soundproofing panels will help you prevent any noise issues. 
10 Essential Items to Include in Studio Setup
Now that you know some ideas to set up your at-home producing studio, you should understand which items you must include to make things work. Take a look! 
Stand-up Desk
Buying a stand-up desk is probably one of the best decisions you can make as a producer. When it comes to setting up your affordable backyard studio, it could be even more crucial than getting an office chair. 
You need a desk to put your computer and keyboard. Therefore, you can't get away from buying a high-quality one because the one you get needs to support the weight of your devices. 
Getting a stand-up desk is a fantastic option because you'll be able to adjust its height depending on your needs. Once you're tired of sitting down, you can move your legs and change the table at leisure. 
Headphones
No producer can make music without high-quality headphones. Even though there are a lot of modern office design alternatives, your studio won't be complete unless you can properly hear what you're doing. 
Buying the best studio apartment furniture is essential if you want to be comfortable while you're making music in a compact space. However, you need high-quality headphones too. Otherwise, you won't be able to provide your clients with top-tier outcomes. 
High-quality Mouse
All producers have to spend hours in front of their computers to deliver the best results to their clients. 
Therefore, even though you don't necessarily need a gaming mouse, you do have to get one that offers a good enough quality for your work. 
Good Keyboard
Keyboards are essential when you're going through various studio layout ideas. Some producers say that computers are more crucial, but you can't do anything without either of these devices. 
A keyboard allows you to record many, if not most, of your tracks. Therefore, when you're choosing your studio floor plan ideas, remember that you'll need enough space to put this device in your room. 
You'll also need space to move around the room, preferably between different tables. However, if all the studio setup ideas you have are too simple, you can get started with your producing career with just one desk and a high-quality keyboard. 
Speakers
Speakers are also critical for producers because of two reasons. On the one hand, your ears may get tired after using your headphones for a few hours, even if they're high-quality items. 
Also, you need a different input when you're making music. You can't solely rely on what you listen to through one device. On the contrary, you should compare and identify the things you can improve. 
Filing Cabinet
Even though it's not essential for many producers, getting a filing cabinet is one of the most critical aspects of organizing a home studio. 
You need someplace to keep your projects organized and make sure you're delivering the best outcomes to clients. Therefore, you can't have documents, music sheets, and random papers lying around. 
A filing cabinet will be handy if you have to store and organize different documents. Although it'll take up a little space in your room, it'll be worth it.
An Ergonomic Chair
All producers need a beautiful and comfortable music studio chair that accompanies them during their long work hours. 
You'll be in front of your computer for a long time, so you need to ensure you're taking care of your back, neck, and shoulders. Otherwise, you're prone to suffering from pain and tension. 
With the right chair, you can sit in front of your computer for hours, and your back won't pay the price. Your customers will be happy with your music, and you'll be able to grow your producer career. 
A Desk Lamp
You'll probably have different documents on top of your desk all the time, including music sheets. 
Therefore, you need a high-quality desk lamp to make sure you're able to see correctly at all times, even if natural light is not available. 
If you're considering different studio floor plan ideas, it means you either want to work from home, or you've already started. Remember that if you constantly read without proper lighting, you're prone to suffering from eye strain. You can prevent this with a high-quality lamp for your desk.  
Useful Furniture
Even though your studio floor plan ideas need to adapt to your available space, you can always include some more items if your budget allows it. 
A couple of pillows, an extra chair to relax in when you're unwinding, and a few cushions can make a huge difference. Therefore, incorporate those studio decor ideas into your plan and choose the most convenient ones! 
Tech Accessories
Lastly, all producers need high-quality tech accessories if they want to succeed in their business. You'll need to deal with all types of clients, and most of your work will be online. Therefore, technology will be your best friend. 
With the right tech accessories, you can be more productive, work faster, and even get better results if you know how to correctly organize your tasks. Therefore, add them to your studio layout ideas too. 
Final Thoughts
You can have a beautiful and functional music studio layout if you properly plan what you'll do and choose the best devices. 
Since there are so many ideas to try, you need a great plan, and you must only choose what benefits your space and needs. Get started soon, and try out the most convenient options!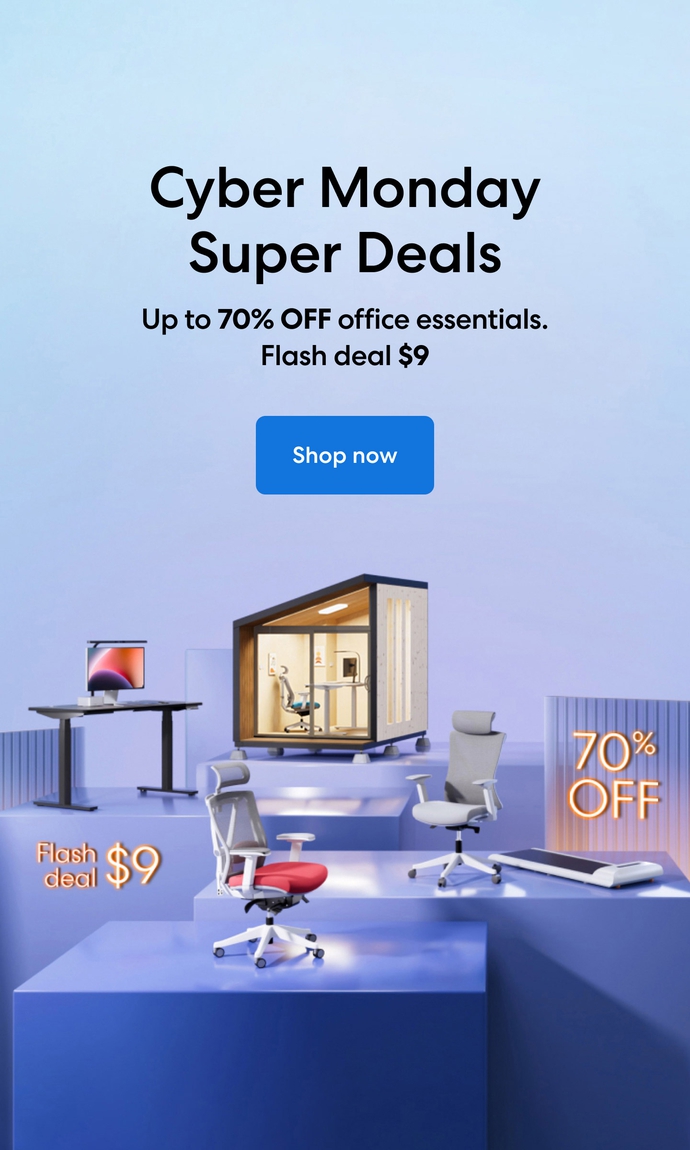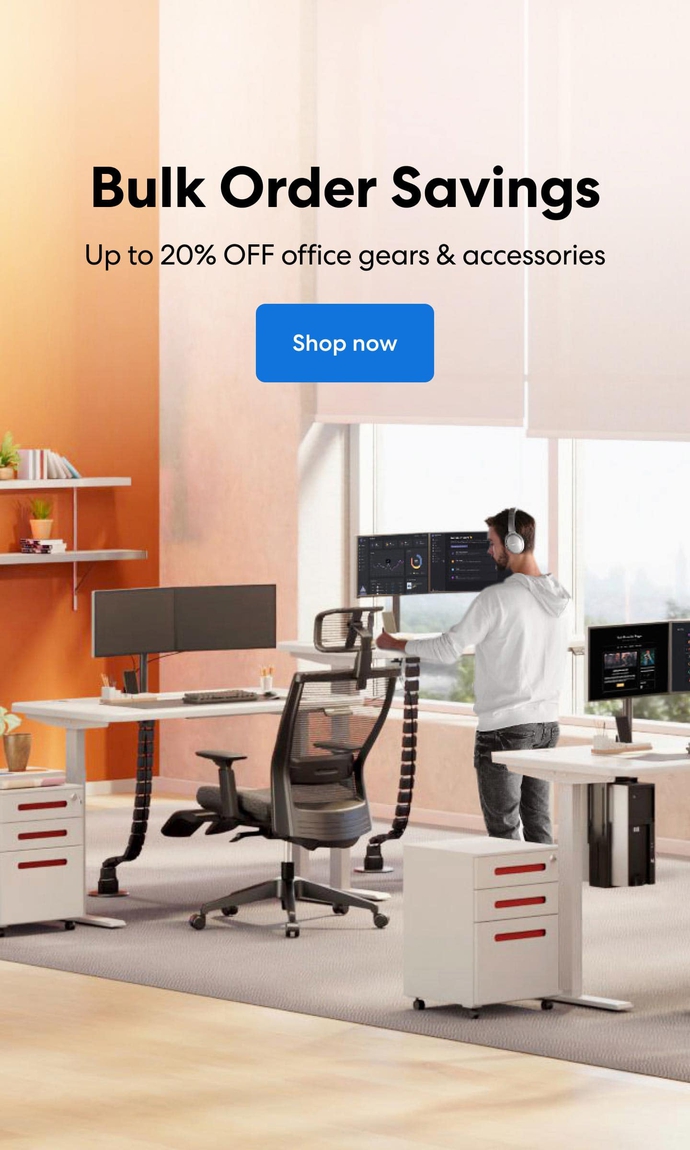 Subcribe newsletter and get $100 OFF.
Receive product updates, special offers, ergo tips, and inspiration form our team.