Latest Updates
Autonomous Coupons Promo Code UP TO 5%, Plus Direct Autonomous Discounts!
33,074 Views
If you're looking to upgrade your home office desk setup, you might be looking for an Autonomous coupon or Autonomous promotion to get an extra discount on your office furniture. Fortunately, Autonomous offers frequent promotions and discounts throughout the year that you can take advantage of. That means there's never been a better time to build your dream home office.
These days, the market for home office furniture is exploding, and it's all thanks to the ongoing worldwide pandemic. While some areas remain less affected and workers are able to safely work in the office, the majority of companies whose employees are capable of doing their jobs from home are either switching to a hybrid model (part of the time on site, part of the time at home), or moving completely to a home office and remote working model.
More and more companies are stepping in to offer their own home office solutions, but one has been there since the very beginning: Autonomous. From a small New York City-based team of engineers to a globally recognized international brand, Autonomous has seen a surge in growth thanks to the popularity of its smart ergonomic office tools.
The backbone of Autonomous' growing array of products and services is its signature SmartDesk, as well as its range of ergonomic office chairs, which are suitable for both professional and personal use. Tying all of Autonomous' products together is one simple goal: to create tools that adapt to their users' habits, giving them a boost in creativity and productivity.
Now, with a series of new Autonomous promo codes, you can take advantage of DISCOUNT UP TO 5% on your favorite Autonomous products. Read on to learn more!
| | |
| --- | --- |
| ️? Autonomous Discount Code Available | 10 |
| ? Top Discount | 5% off |
| ? Available Saving Categories | Desk, Chair & Accessories |
| ✅ New Deals Found | Every Week |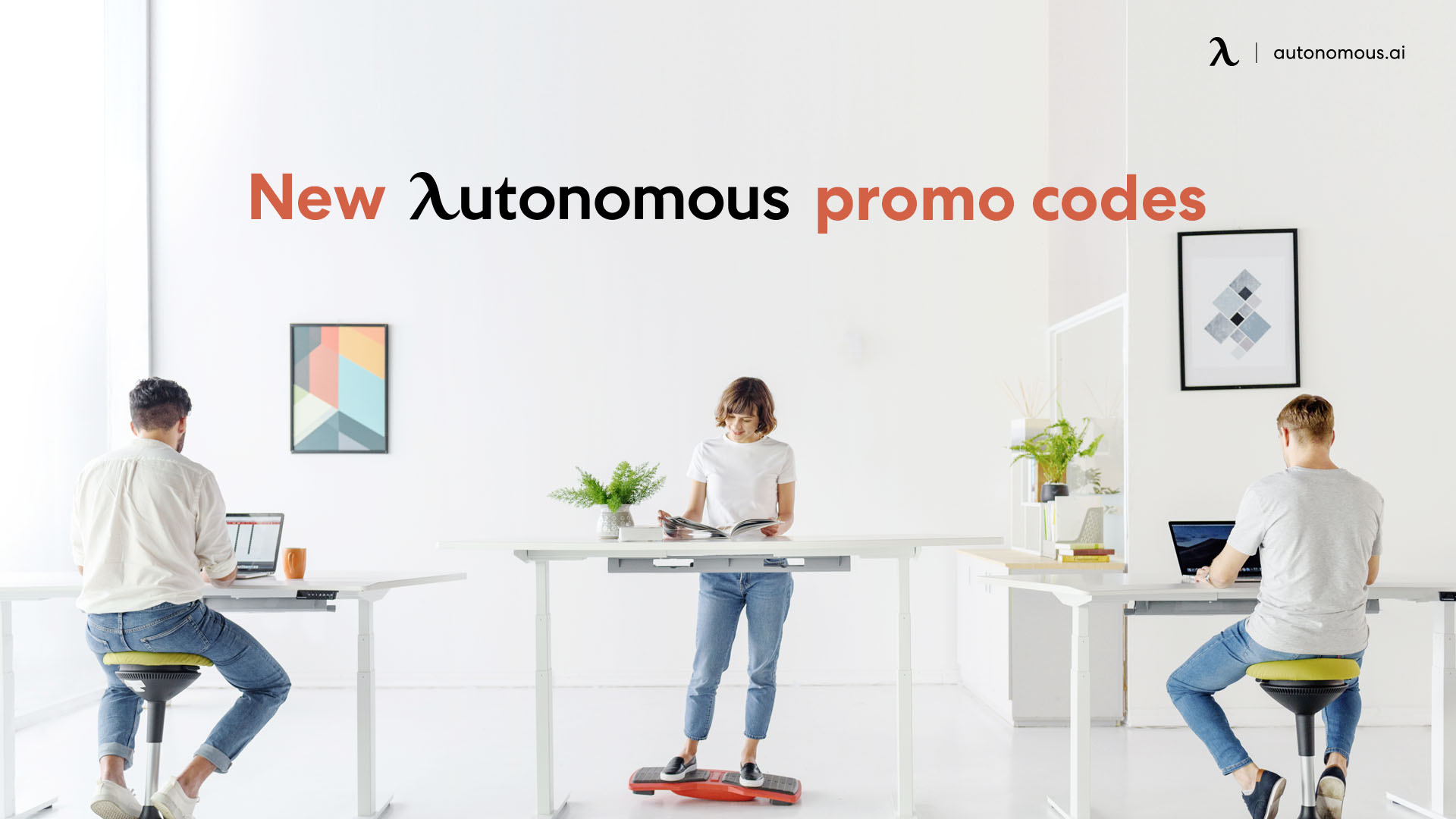 The Ergonomic Standing Desks
The SmartDesk was Autonomous' original flagship product, and remains at the helm of their product lineup today. All Autonomous SmartDesks come with a state-of-the-art and whisper quiet electric motor that lifts and lowers the entire desk with just the touch of a finger (up to 300 pounds). And they are all uniquely suited to different users' needs.
1. SmartDesk Core
The SmartDesk Core (Home Office) retails at $629, this desk is perfect for any home office, available in a variety of colors and premium wood finishes. Its minimalist design means it's guaranteed to fit into any home aesthetic, without clashing or taking too much attention.
Price: $499
After discount code: $474.05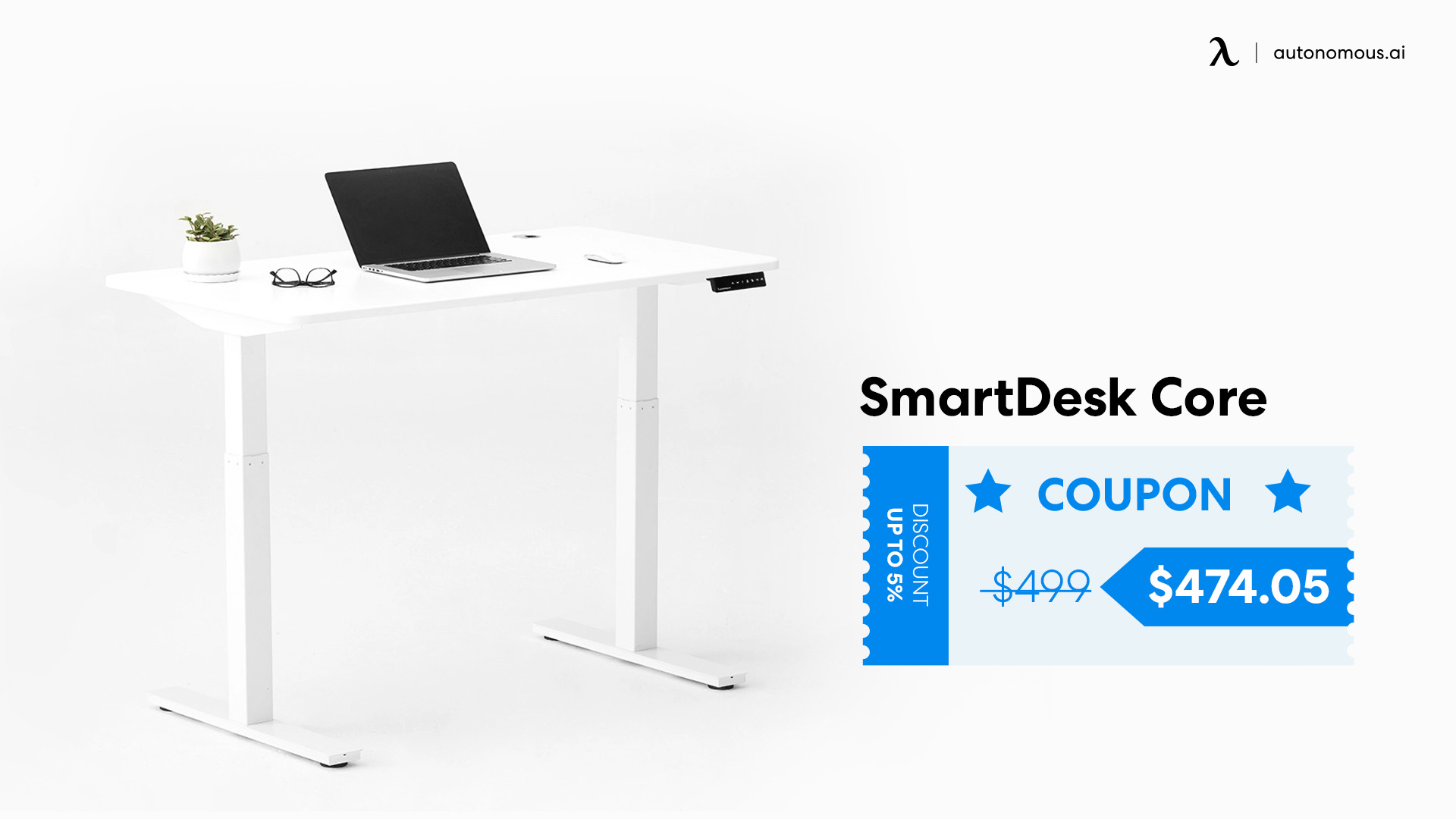 2. SmartDesk Pro
The SmartDesk Pro (Premium - Business Version), retailing at $829 but now available for the Autonomous offer of only $699, gives the user optimal flexibility with an even greater range of motion, in addition to all the fantastic features of the Home Office addition. This desk is ideal for any professional working environment, but also fits into any home office setup perfectly.
Price: $699
After discount code: $664.05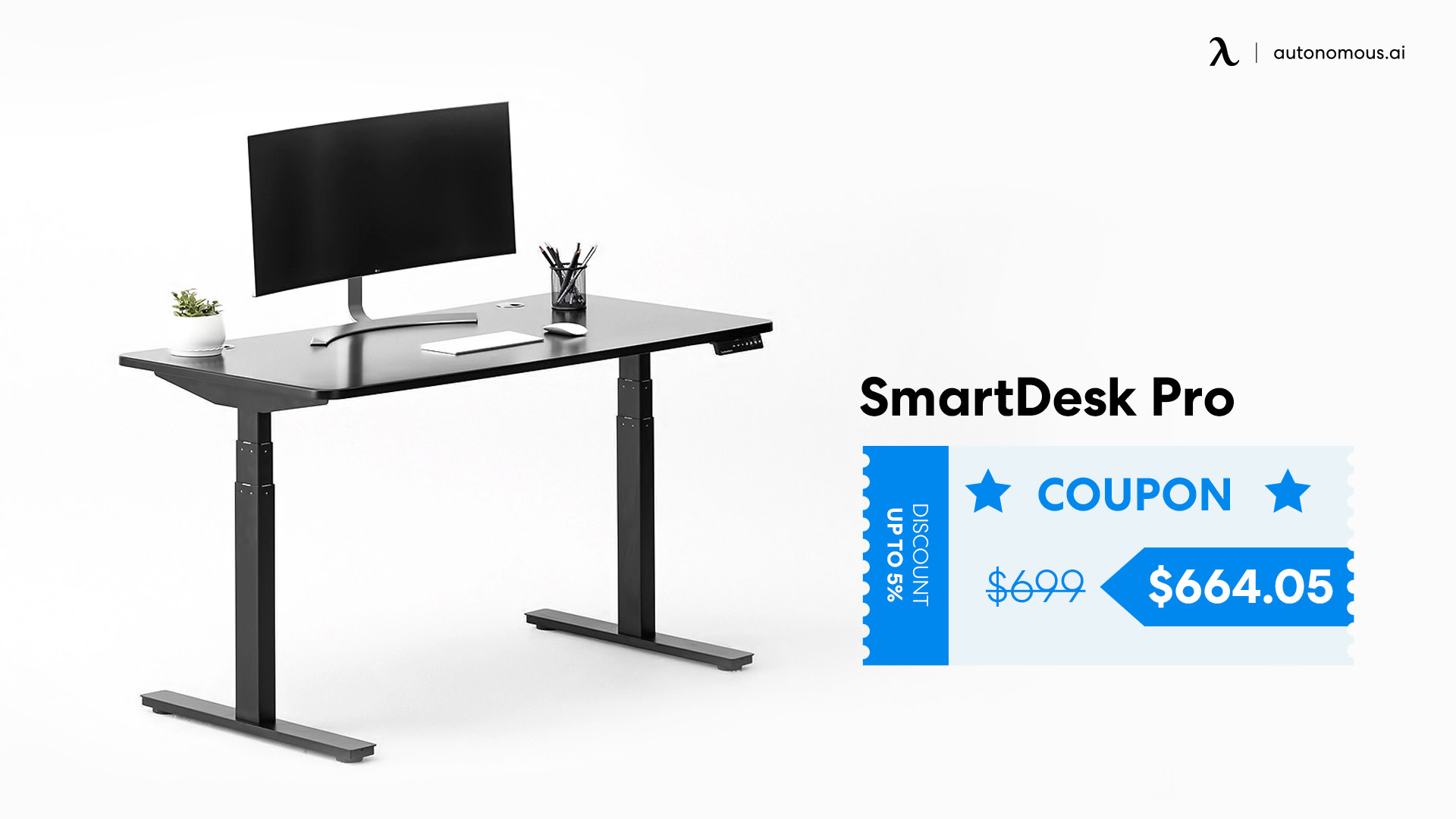 3. SmartDesk Core Duo
The SmartDesk Core Duo (Double Standing Desk) is the ideal SmartDesk for anyone who wants to maximize a more narrow space by fitting in a two-tiered height adjustable desk. The upper tier is perfect for a computer monitor, which should rest at eye level, and the lower half for all your easy-to-reach peripherals and documents. One of the most stunningly discounted products, this Double Desk retails for $1,140, but has since been reduced to just $999 thanks to the latest Autonomous promotion.
Price: $999
After discount code: $949.05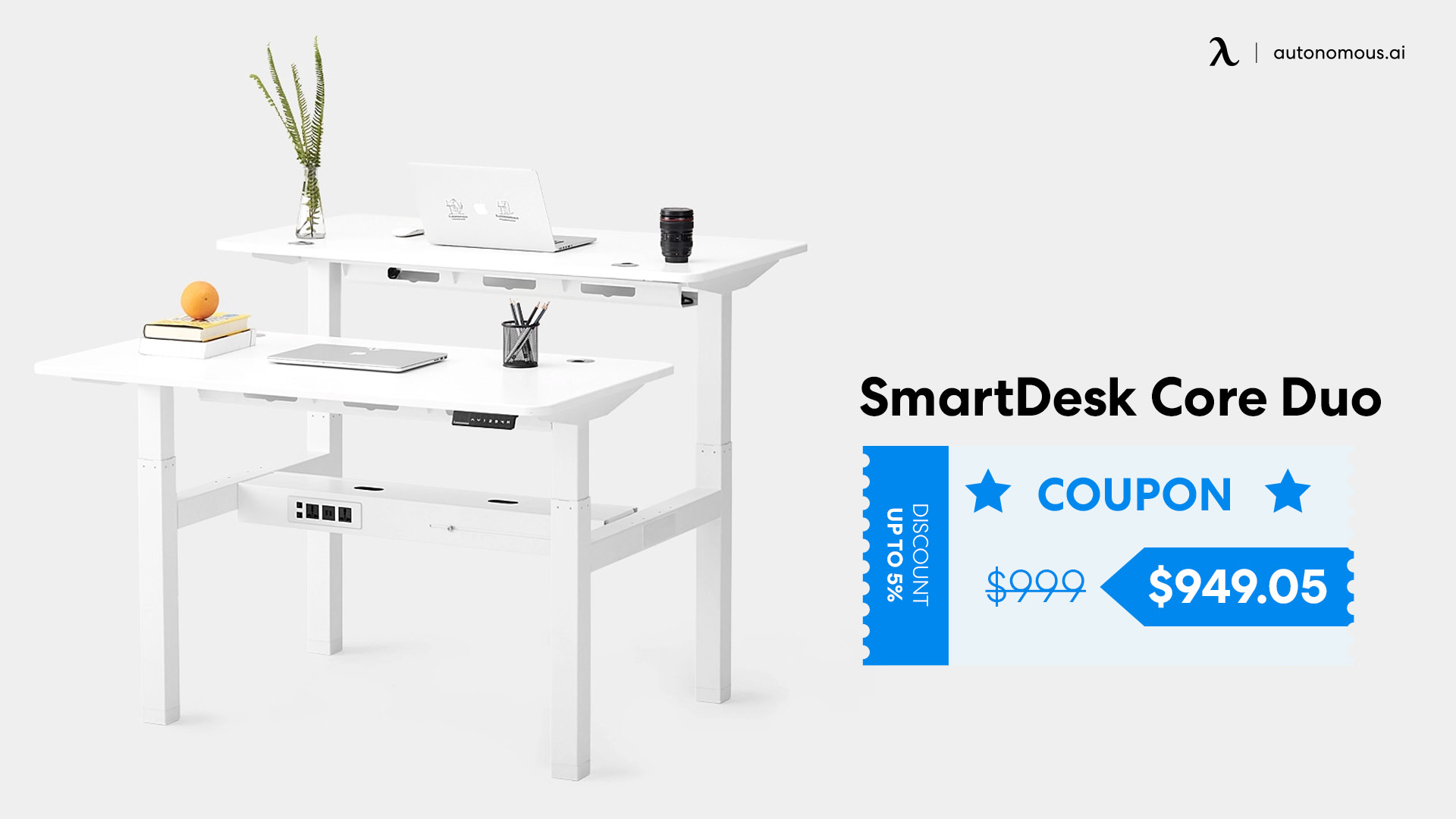 The Ergonomic Office Chairs
The chairs in Autonomous' lineup are second to none. It's not even their durability or accessibility that makes them so popular; the build quality and premium comfort engineered into every chair makes them a crowd pleaser, sure to delight any office or remote worker wanting to work without neck, back, and shoulder pain. Like the SmartDesk, Autonomous discounts are in full effect for these ergonomic office chairs.
1. ErgoChair Pro
The ErgoChair Pro (ErgoChair 2) is Autonomous' flagship ergonomic office chair. Though its retail price is $499, this is one of Autonomous' most highly adjustable products, with options to modify backrest tilt and angle, seat height, seat depth; armrest height, depth, and width; headrest height and angle; and even precise backrest tension adjustability. Its minimalist design and variety of color options make it a perfect fit for any home or corporate office.
Price: $499
After discount code: $474.05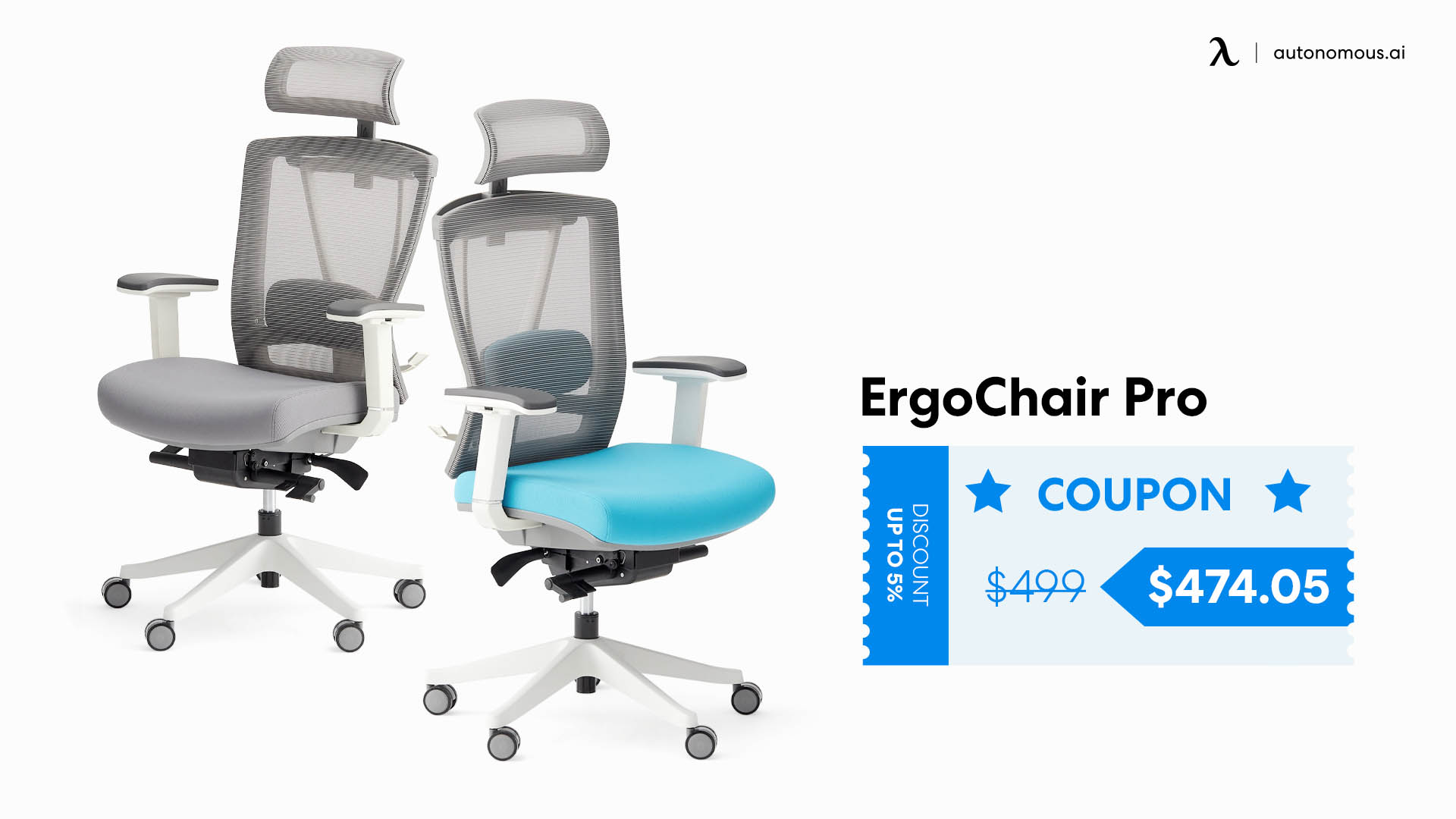 2. ErgoChair Pro +
The ErgoChair Pro + (Kin Chair) is currently Autonomous' most premium offering, with a unique fishbone back support design inspired by nature. Its premium retail price starts at $699, this chair is a bold, futuristic, and professional choice for anyone who is serious about ergonomic seating.
Price: $699
After discount code: $664.05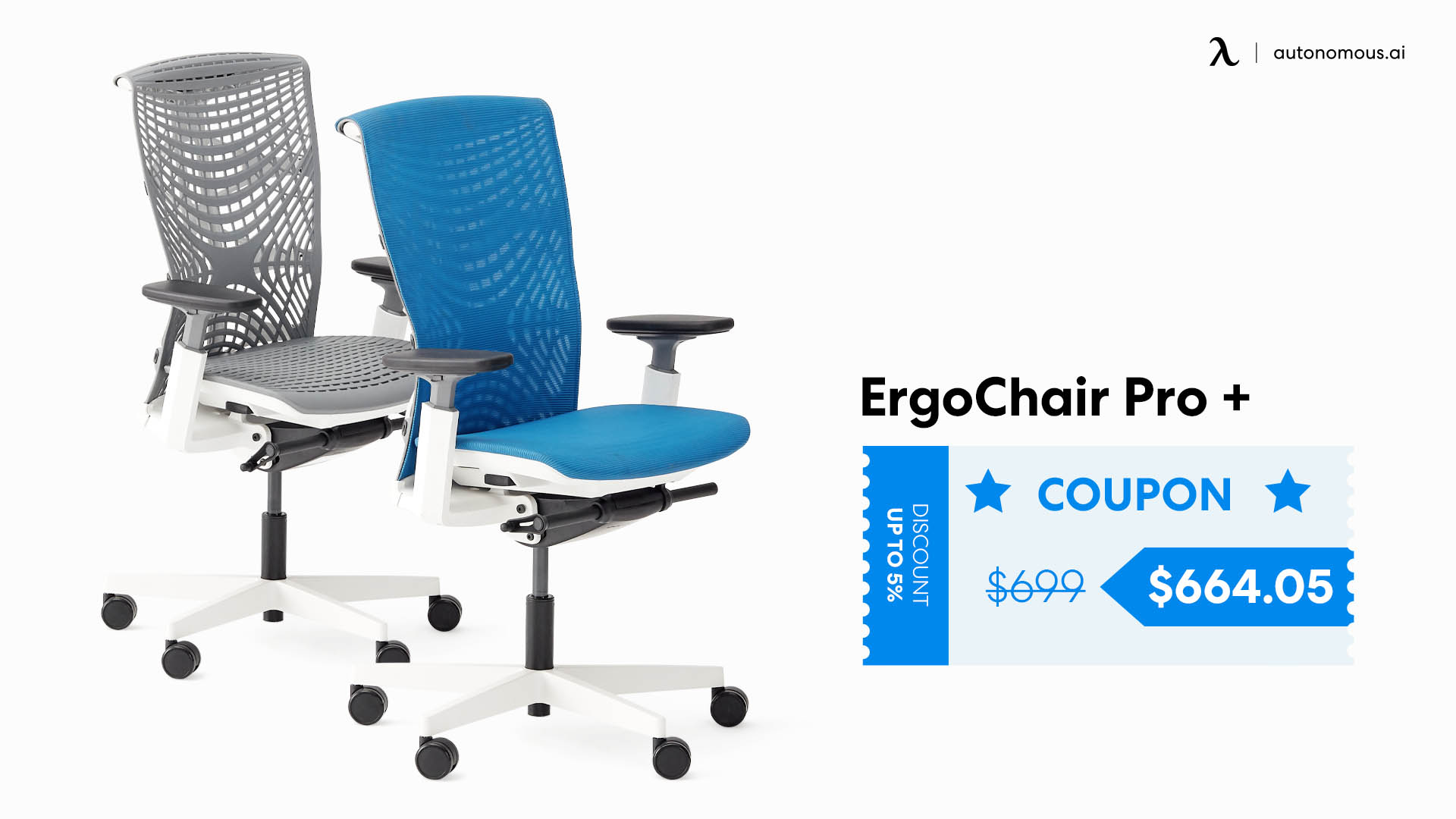 3. ErgoChair Recline
The ErgoChair Recline (MyoChair) is a great option in the Autonomous chair lineup, but makes no compromises with comfort and build quality. This chair is likewise available at an amazing Autonomous discount, down from $299 to just $284.05. You can purchase this chair in many different colors, and it even comes with an optional headrest and a built-in footrest.
Price: $299
After discount code: $284.05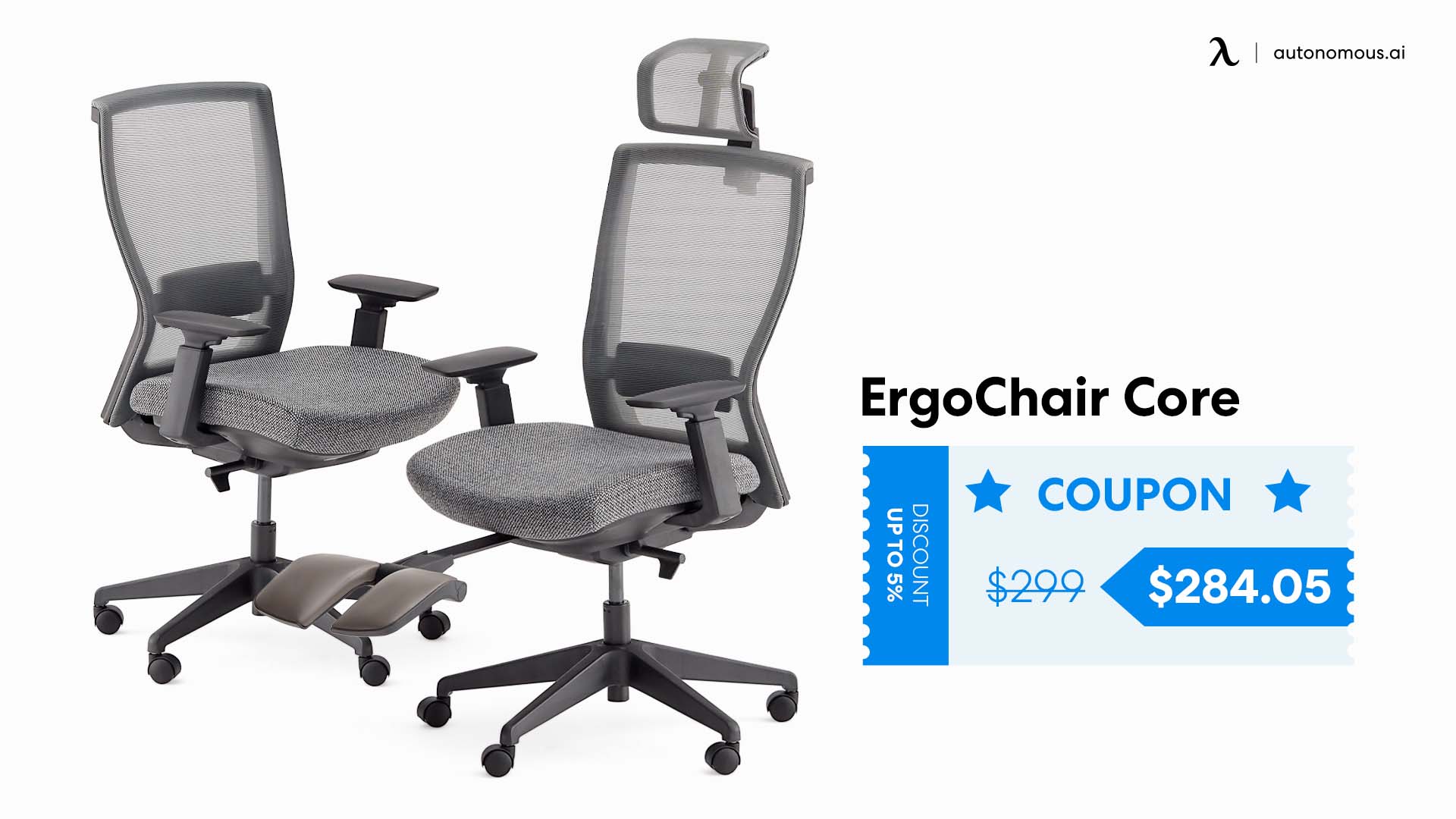 4. AvoChair
The AvoChair is an adorable, adaptable office chair from Autonomous that is suitable for multi-purpose rooms and general use. It's great for conference rooms, classrooms, labs, and generally anywhere that benefits from smaller, lighter, but still immensely comfortable office chairs. This chair, retailing at $299, is currently available at an Autonomous promotional price of $284.05.
Price: $299
After discount code: $284.05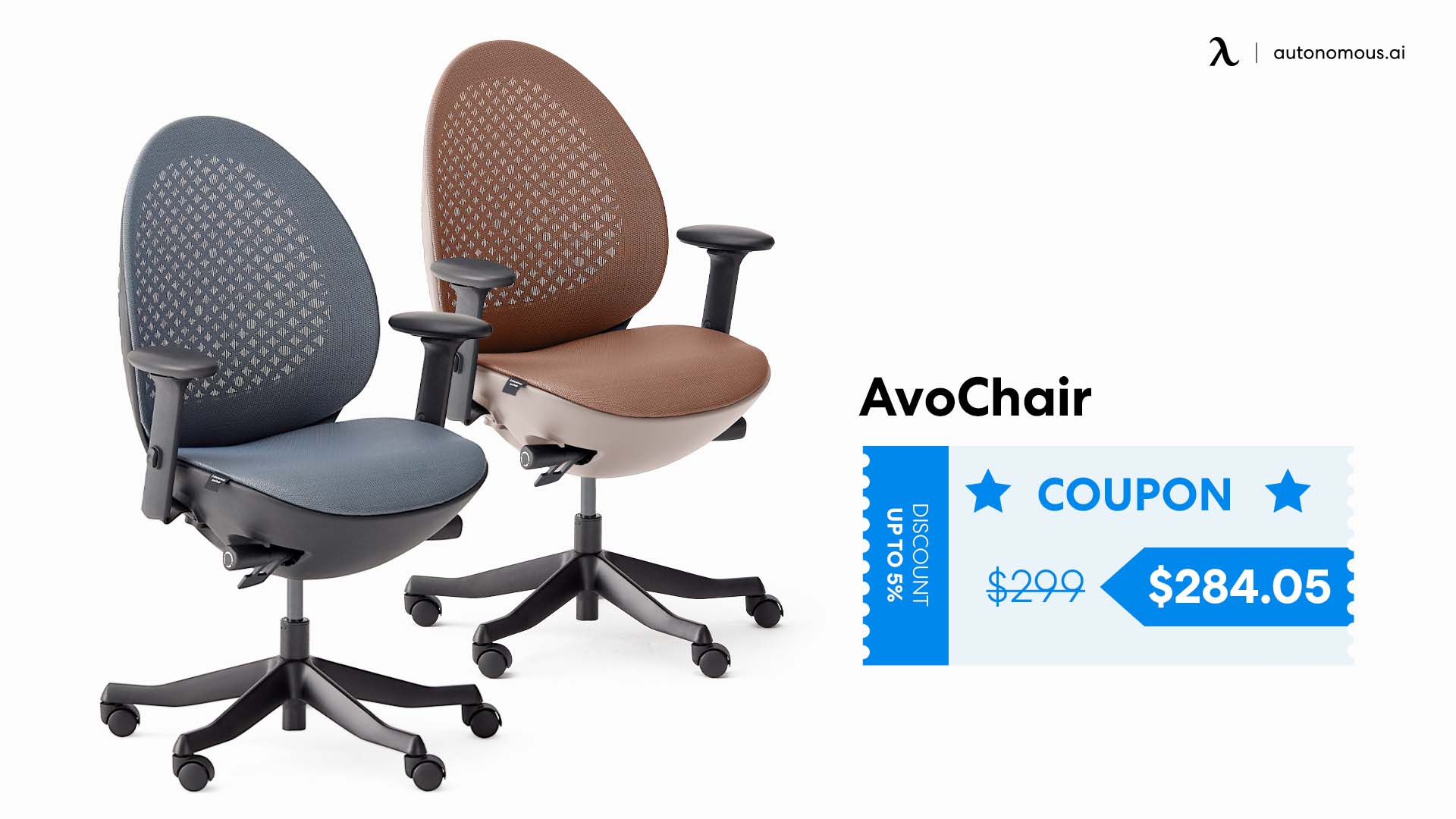 Autonomous promo codes available now!
Now you can not only take advantage of Autonomous' already discounted prices, but use your Autonomous coupon to get an even steeper discount. You can find all your Autonomous promo codes with UP TO 5% DISCOUNT here: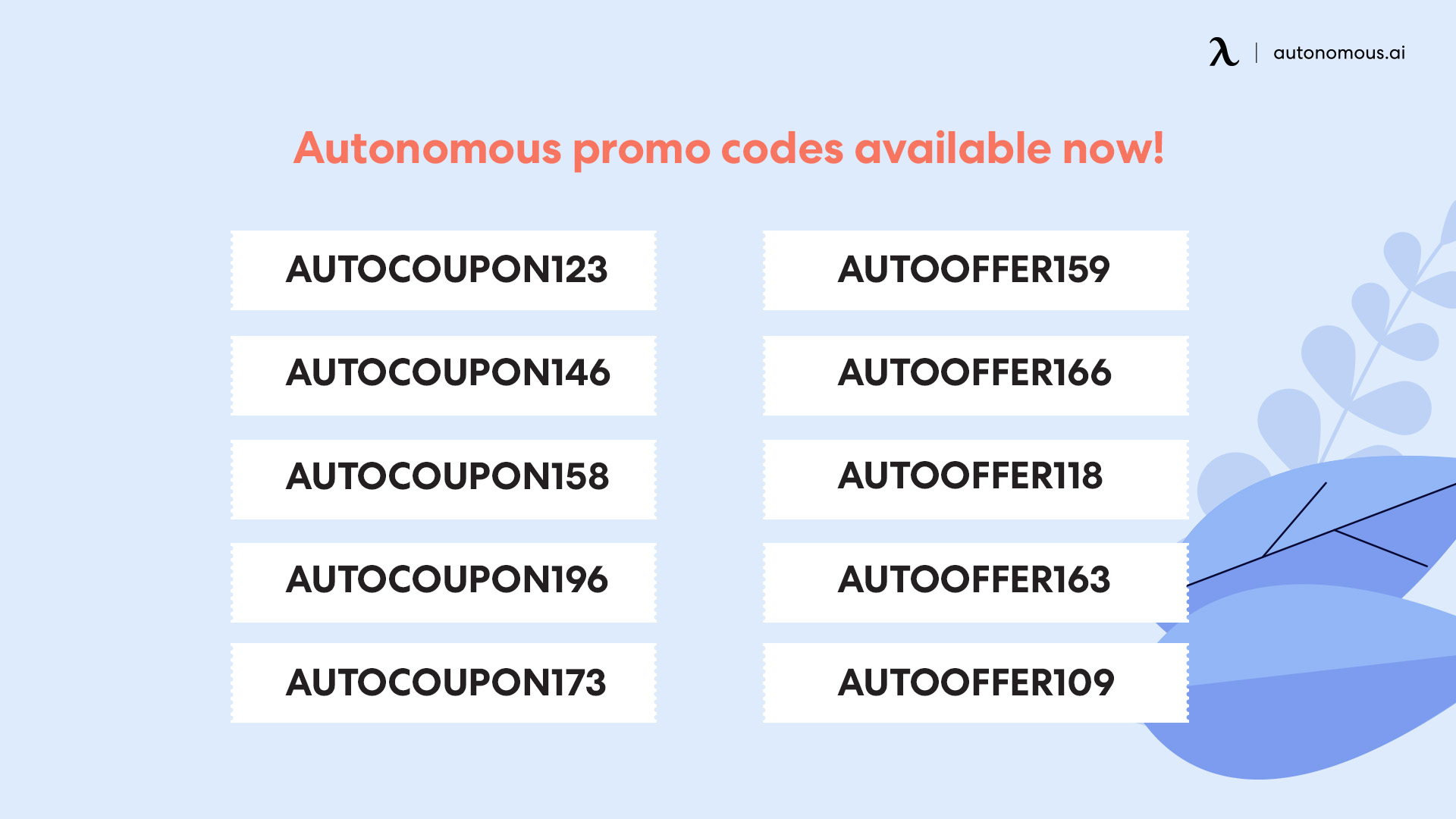 *Note:
Coupons are only applicable for purchase amounts between $300 and $1,000, and cannot be combined with other discounts, vouchers, or promotions.
Listed prices are in USD and discounted amount is applied following currency rate for other countries.
FAQs
How much I can save by using Autonomous coupon code today?
We are always here to bring the latest and valid shopping and promo coupons on Autonomous website. Using the code today can help you save up to 5% of your budget. It is such a big deal from Autonomous. Why don't you check it now?
Can I use this code for bulk order at Autonomous?
This code cannot be applied for other discounts, vouchers and promotions, which includes bulk office furniture order. So, unfortunately, you cannot use it for your bulk order.
How can I submit a Autonomous coupon code?
You need to copy the Autonomous promo code and paste it in Order Summary section when you do Secure Checkout before Payment.
How can I get these Autonomous promo codes?
To achieve a promotion code in this collection, you have  to make a purchase amount between $300 and $1000. Below or above this amount will not be accepted.
Keep up with Autonomous news
Stay informed, stay inspired with our new blogs.
WRITTEN BYAutonomous
We build office products to help you work smarter.