Smart Products
The Average Desk Depth – Desk Dimension Guide
3,936 Views
Many people focus on specific characteristics when they're buying office furniture, for example, its design. However, your desk depth is one of the most crucial features you should keep in mind before making your purchase. This guide offers you everything you should know about desk depth before investing in a desk. 
Standard Desk Dimensions
If you want to understand the importance of your computer desk depth and guarantee that you make the correct choice when you're buying your office furniture, you need to know about dimensions and their specifications. 
Many office workers wonder "what is the depth of a desk?" and it's an essential question to ask if you're interested in setting up the perfect office space to work in.  
A desk's depth is the horizontal measurement of the table, which goes from its back to its front. The width, on the other hand, is the length from the left to the right edge. 
When you want to know more about the standard desk depth, you might think that looking for an immediate answer online might do the trick. However, you should keep in mind that it depends on the type of desk you're buying. 
In other words, a gaming desk might have a different average desk depth than an office table. Therefore, if you work in an office, you should focus on the pieces of furniture that fit your needs. 
How Deep Should a Computer Desk Be?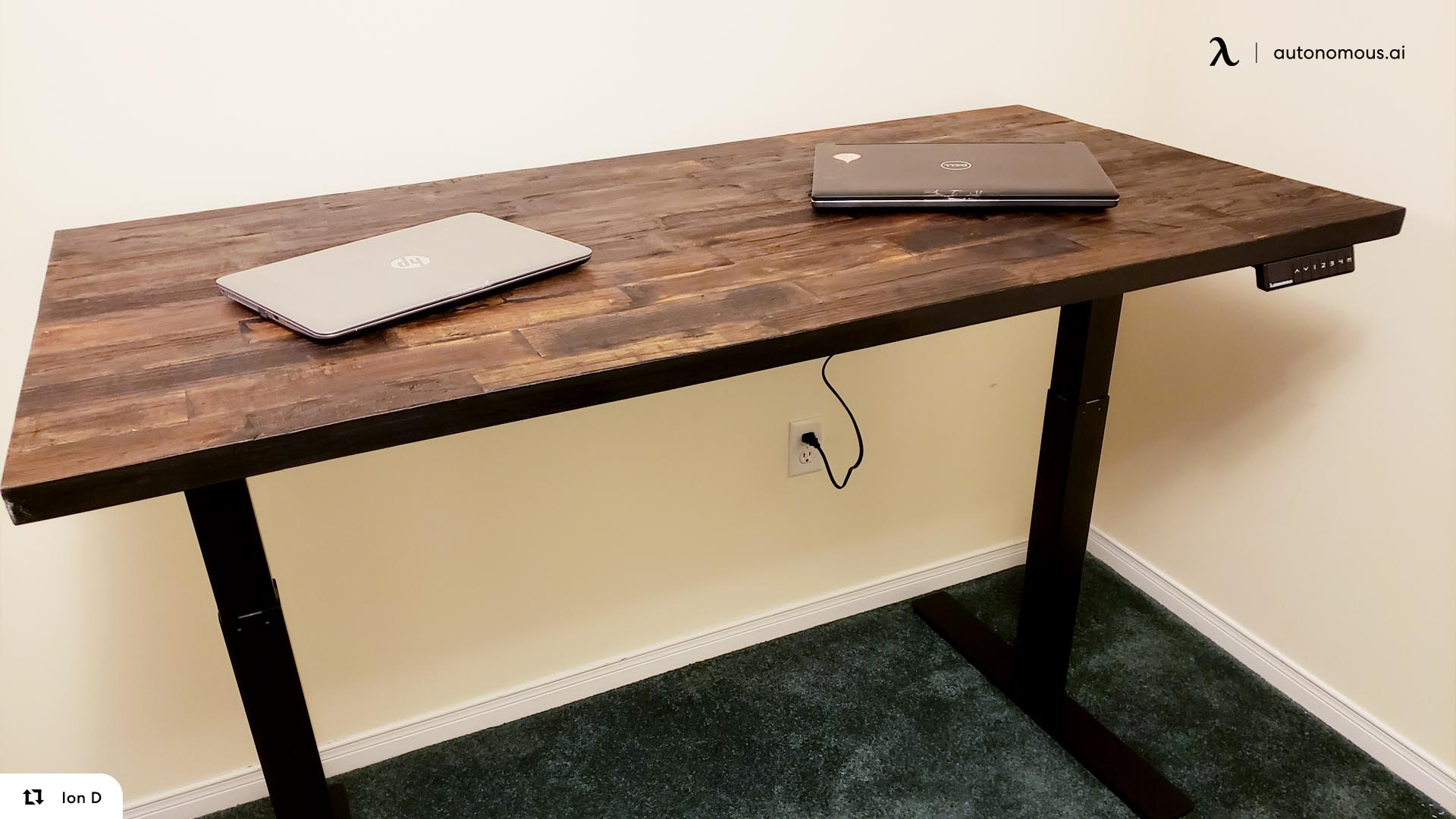 There are many answers to this question, but the most straightforward one is this: your desk should be deep enough for you to be able to place all your office supplies on without compromising the work area. 
When you set up your workspace, you must place your computer and all your peripherals first. After that, you should still have space available around you.  
Thus, there is no specific desk depth that could work for everyone. Instead, there are some options, and you can choose the one that works best depending on your needs. 
How to Pick the Ideal Computer Desk Depth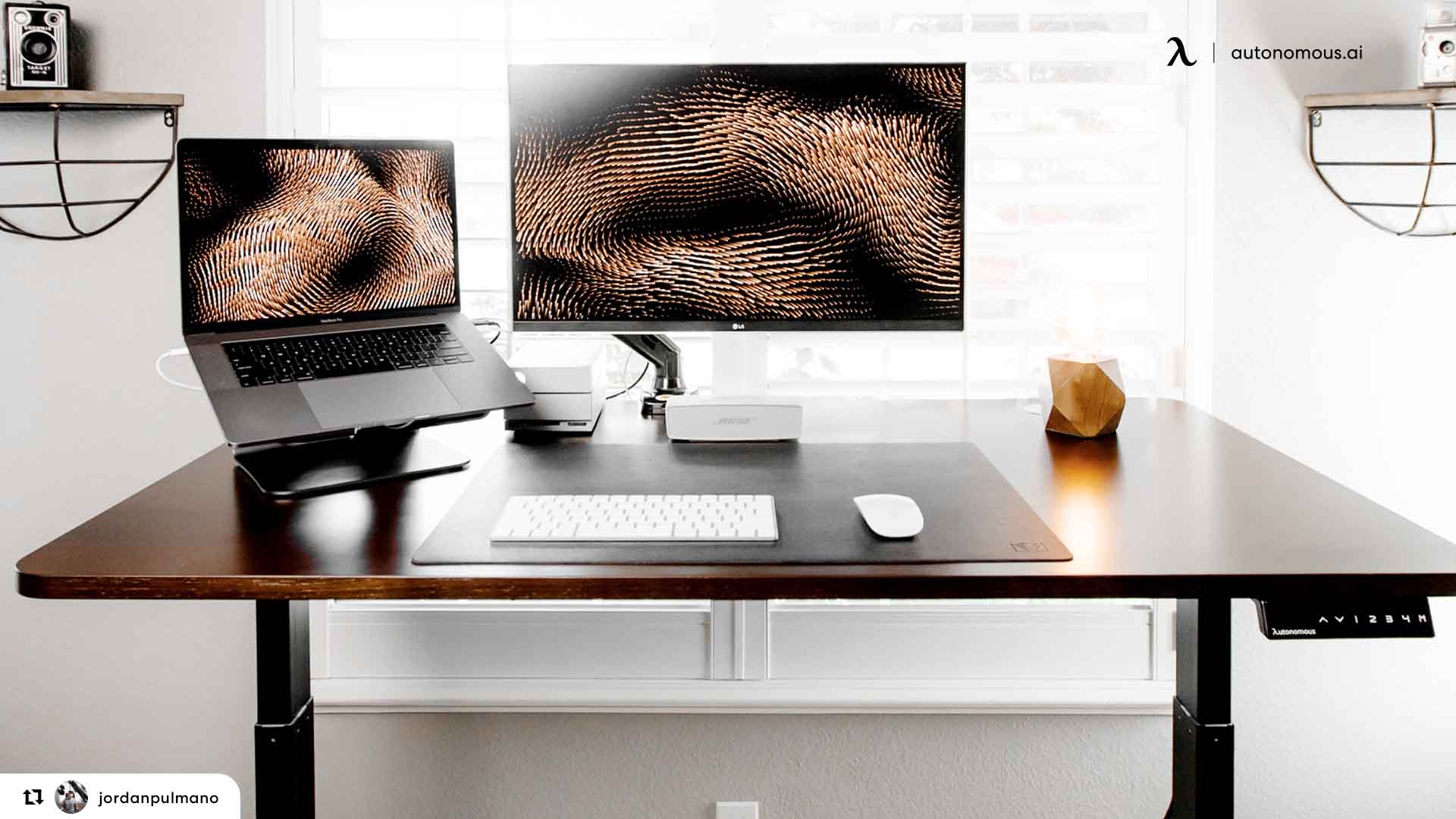 There are various factors you should consider when you're examining different computer desk depths. Firstly, you must evaluate if the size of the table fits your office space. 
Once you've checked the desk size, you should focus on whether or not it's spacious enough for you to organize all your office supplies.  
Additionally, you must remember that there are hundreds of different companies that offer various options. Thus, if you're focusing on a specific brand, you must check if the models' depths match the dimensions you require.  
The SmartDesk Pro, for example, is many people's favorite because of its fantastic size and incredible features. However, you must evaluate all alternatives, for example, consider getting an electric standing desk or a different model. 
Price is also an essential factor to keep in mind when choosing the correct desk for your office work. If you're on a budget, you must guarantee that you can afford the model you pick. 
Thus, picking the correct desk depth is not only about understanding the importance of the table's dimensions. It's also about weighing different factors and making sure that you're making the best decision for your work. 
What Is the Standard Depth for an Office Desk?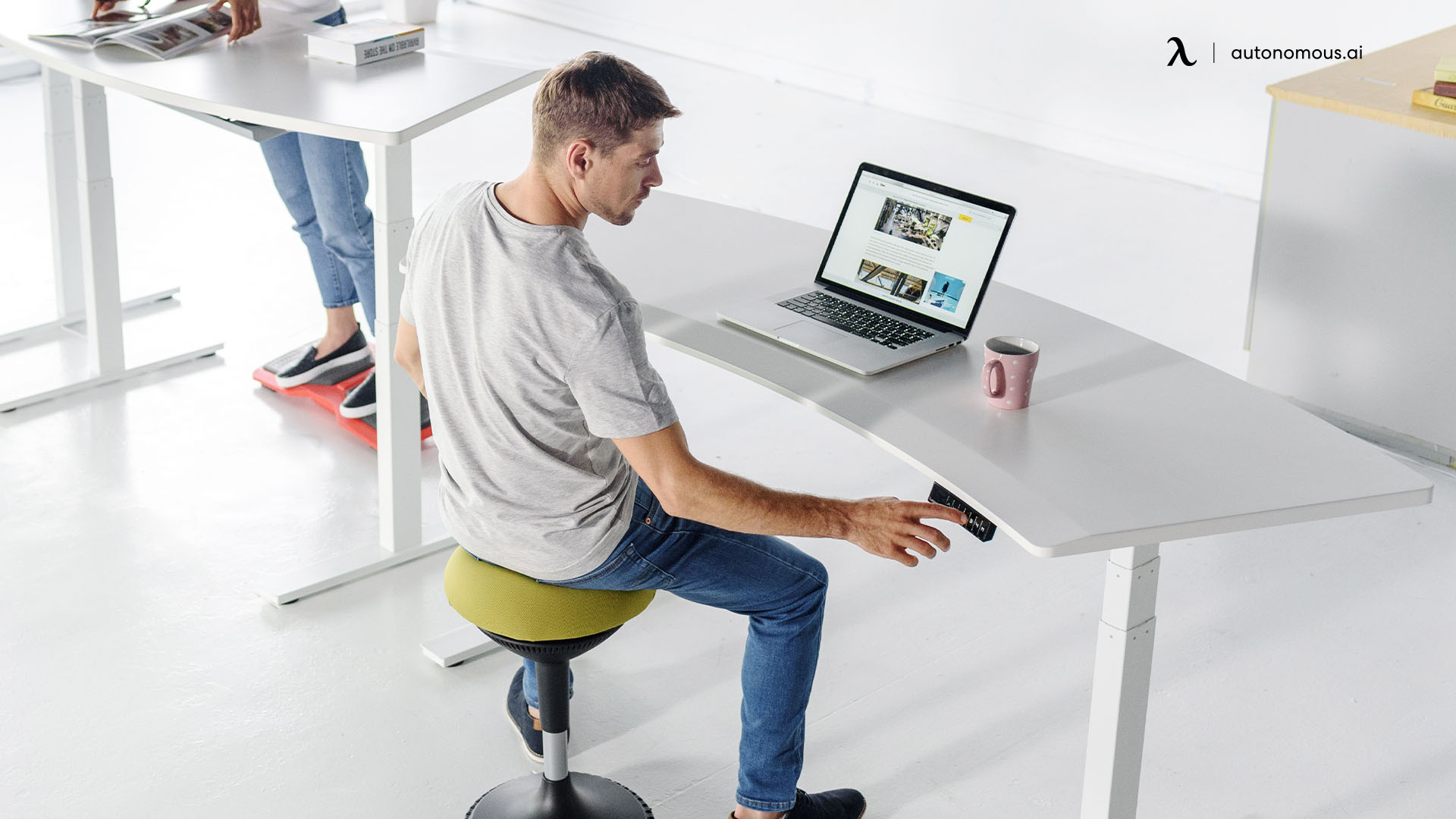 When wondering "how wide should a desk be?" You should remember that tables designed for offices are often deeper than other models. This is because office workers often need to organize numerous supplies around them when they want to be productive at their jobs. 
On many occasions, when you look for a home office standing desk, you might notice that some models offer extra storage space, such as drawers or shelves. 
Shelves and drawers need a specific structure for them to work with the table's design. Therefore, the computer desk depth might change because manufacturers need to adjust it to fit the rest of the features of the piece of furniture. 
The standard desk depth for an office desk ranges between 26 inches and 36 inches. Overall, that should be enough to accommodate your devices, accessories, and office supplies. 
How Wide Should Your Standing Desk Be?
One of the most crucial aspects of buying a height-adjustable electric table is determining the ideal width for your needs. You need to make sure that you're buying a desk with the perfect dimensions. 
Considering a standing desk's height before buying is a fantastic decision. Manufacturers make standing desks to make sure that you're always comfortable while working, and to guarantee ergonomic features regardless of the position you're in. 
Generally speaking, a standing desk might have similar dimensions to a regular desk. Thus, these tables' measures are often 26 inches to 34 inches. 
Why Desk Depth Is Important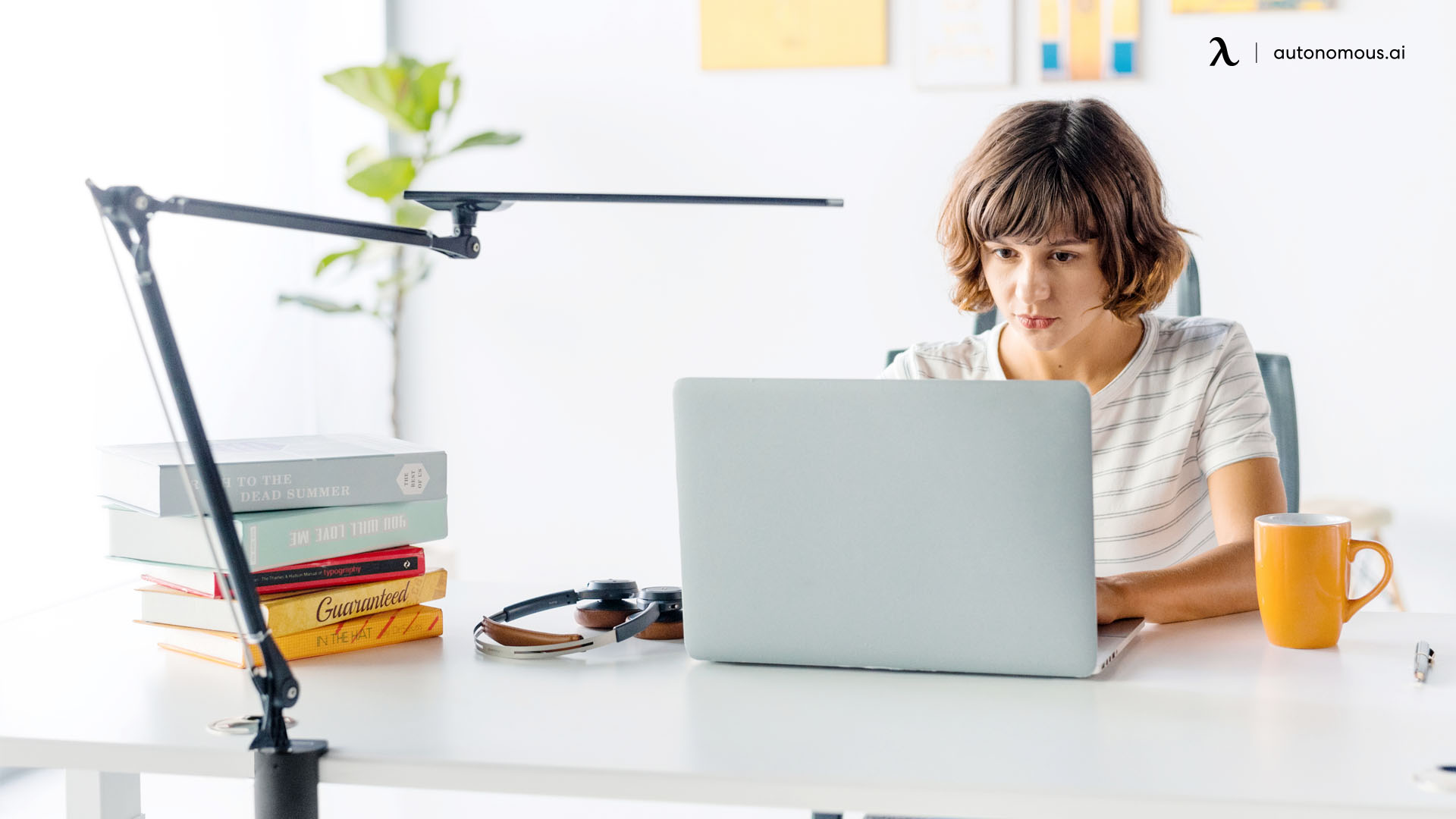 You might be thinking that your desk depth is not relevant if you're going for a specific type of office setup. On some occasions, people think that they don't need to check the table's measurements before buying.  
However, that's a terrible mistake. If you don't care about your computer desk depth, you're more likely to buy a table that doesn't fit your office space.  
The type of table you buy matters as much as its depth. Therefore, you should always check the desk's measurements, regardless of whether you're buying a standing desk or an L-shaped one. 
A specific L-shaped desk size, for example, might work for some clients but not for others. When talking about table dimensions, it's not only about aesthetics and the look you want your office to have – it's also about ergonomics. 
If you buy a desk of the wrong size, you're more likely to feel uncomfortable while you're working. The table might be too big or too small for you, and if you can't adjust its settings, eventually, you're bound to feel tension on your neck, shoulders, back, or legs. 
Buying a desk that's too deep for you, for example, might lead you to lean your head forward to try to properly see the screen. Thus, it can cause headaches and neck strain. 
A narrow desk, on the other hand, could negatively impact your eyesight and cause eye strain because you're also not able to see the monitor.
Therefore, your computer desk depth is certainly one of the most crucial characteristics to check. You have to make sure that it matches your body's needs, and that it's also ideal with regards to your office space. 
How to Maximize Your Desk Depth
Some people are lucky enough to have spacious offices, and they can easily choose the desk they want and guarantee that its measurements fit their needs. However, this is not true for all workers.  
In other instances, you might have a desk already, but it's too narrow. If you're on a budget, you may not be able to buy a new one. Thus, you might be wondering "is there a way for me to maximize my computer desk depth?" 
Luckily for you, there's not only one way – there are seven tips you can implement to achieve this, so no need to fear if your desk is too narrow. Take a look at some of the things you can do. 
1. Raise Your Monitor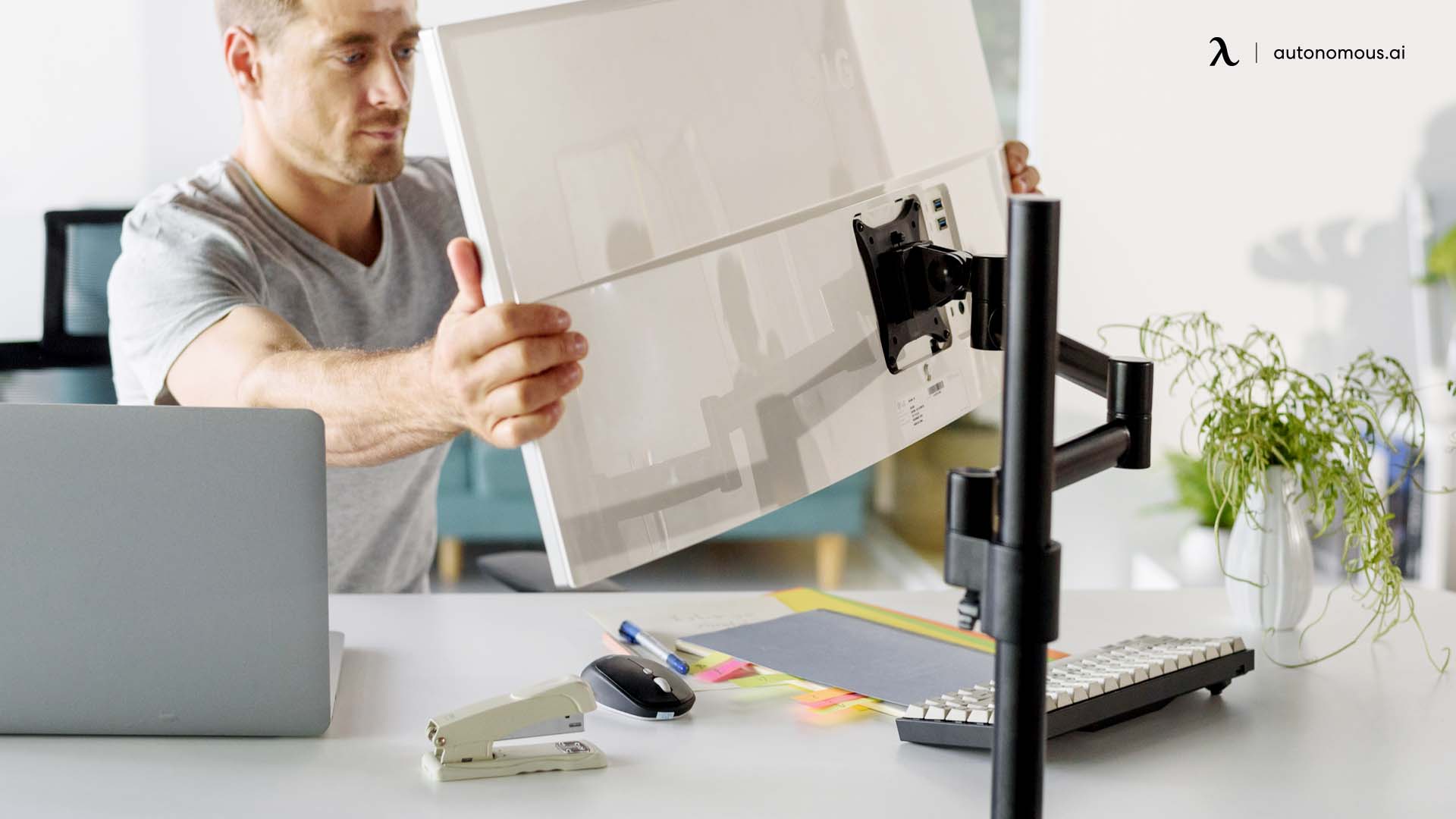 The first way to maximize your desk depth is to raise your monitor. In many cases, your screen might be the object that's taking up the most space on your table. Therefore, removing it can give you additional space to use. 
To raise your screen, you can buy a monitor arm and attach it to your wall or ceiling. The good thing about this is that your setup can look fantastic while you get extra space on your table.  
Another way to adjust your monitor's position on your table is to get a Mount-It! desk converter, which can turn your regular table into a standing desk.  
A converter like the previously mentioned one gives you a little extra space on its surface, while it also offers you the opportunity to switch from sitting to standing throughout your day. Therefore, it's an additional option you might want to consider. 
2. Get a Keyboard Tray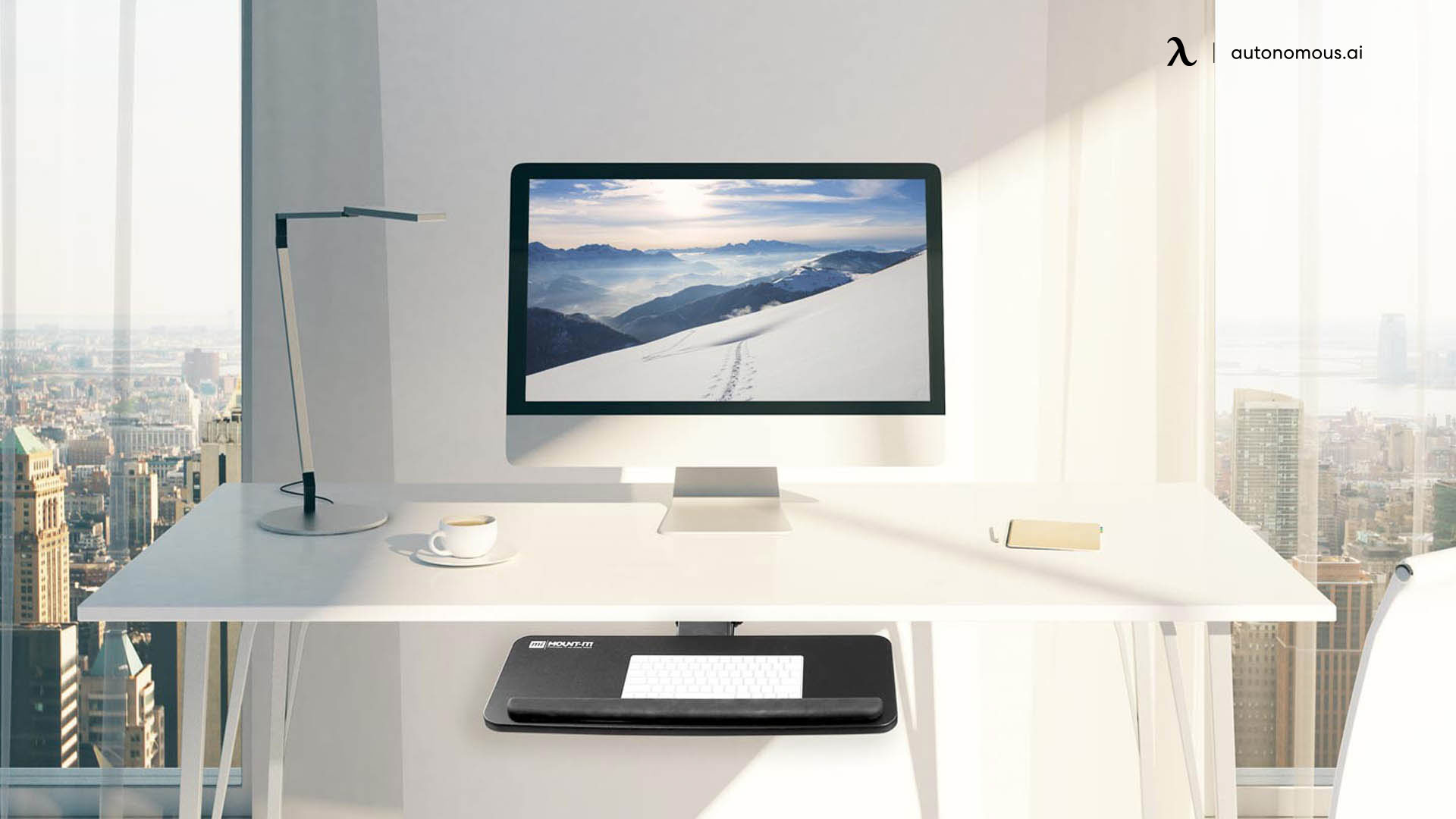 Another way to maximize your computer desk depth is to get a keyboard tray. You can choose between many available options on the market, so there is no shortage of alternatives to buy. 
Keyboard trays allow you to put your keyboard on them, so you don't need to have it on top of your desk. Consequently, you can save precious space and use it for something else.
If you constantly need to revise documents, for example, you could place them where your keyboard used to be while your keyboard is on the tray.  
Furthermore, a keyboard tray can give your wrists and arms additional support because you can make sure that you're positioning them at a natural height. It's a fantastic way to prevent strain and even injuries. 
3. Use an Under-table Mouse Pad
If you're already buying a keyboard tray, getting an under-table mouse pad is almost a necessity as well. At the same time, it's a great method to maximize your computer desk depth. 
Instead of having your mouse on top of your table, you can have it inside your keyboard tray. Thus, you're maximizing the standard desk depth of your piece of furniture, and you can have extra space and use it for something else. 
Having your mouse and keyboard in different places can be immensely uncomfortable. However, you can avoid this with an under-table pad, which guarantees that your mouse and your keyboard are at the same height. 
4. Manage the Cables on Your Desk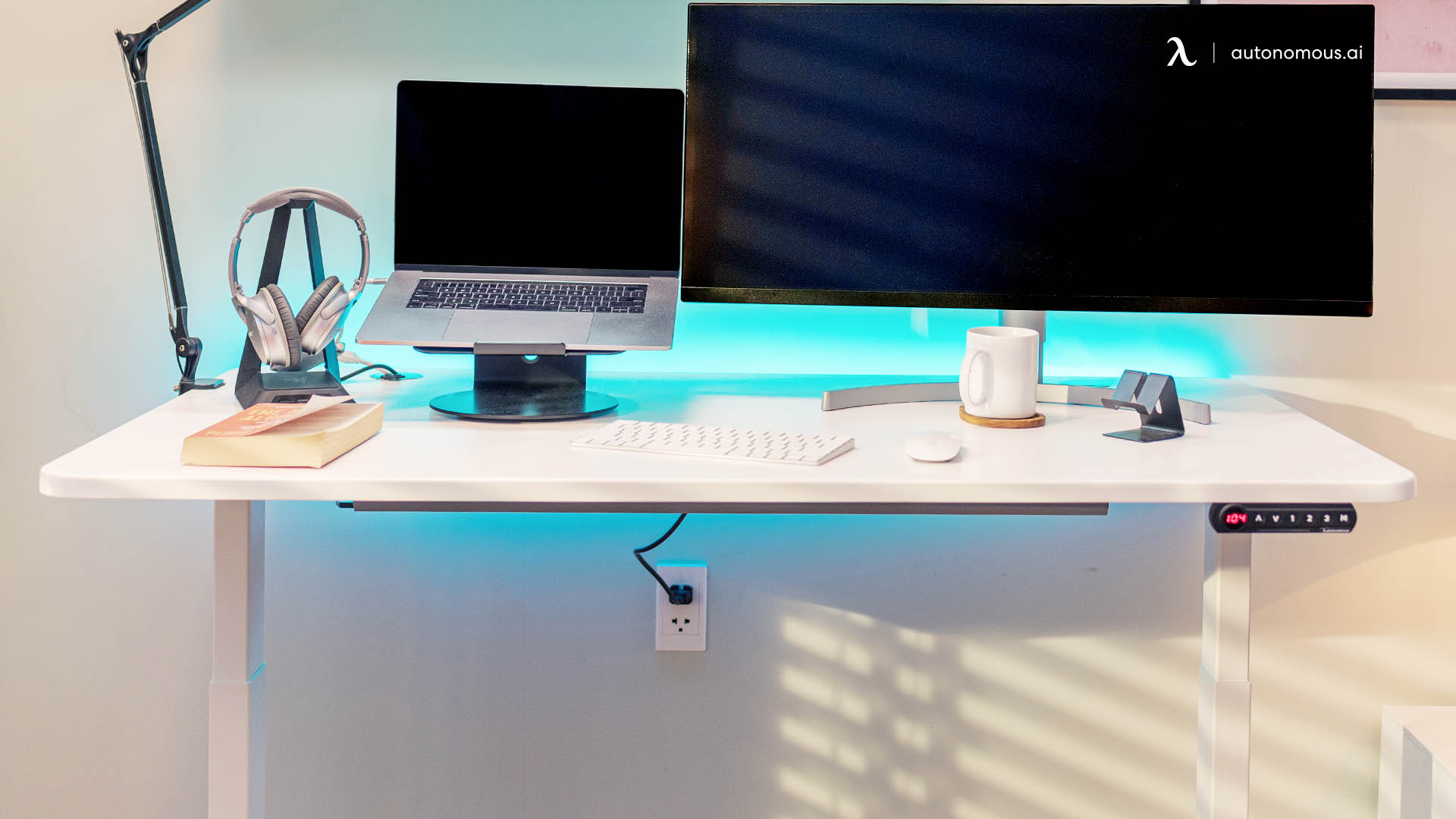 Some workers say their desk depth does not fit their needs and that they might need a new table. Nonetheless, when you take a look at their office, you might notice that the desk is cluttered and that all the wires are disorganized and lying all over the furniture. 
Poor cable management is one of the main reasons to have clutter on your table. Thus, organizing your wires correctly can quickly change the way your office looks and benefit you if you want to maximize your computer desk depth. 
Fortunately, managing your wires is immensely easy. You might need to buy some Velcro straps, but the whole process doesn't take much time and it can make a huge difference in your office aesthetics and in maximizing the standard desk depth of your table.
5. Get Storage Drawers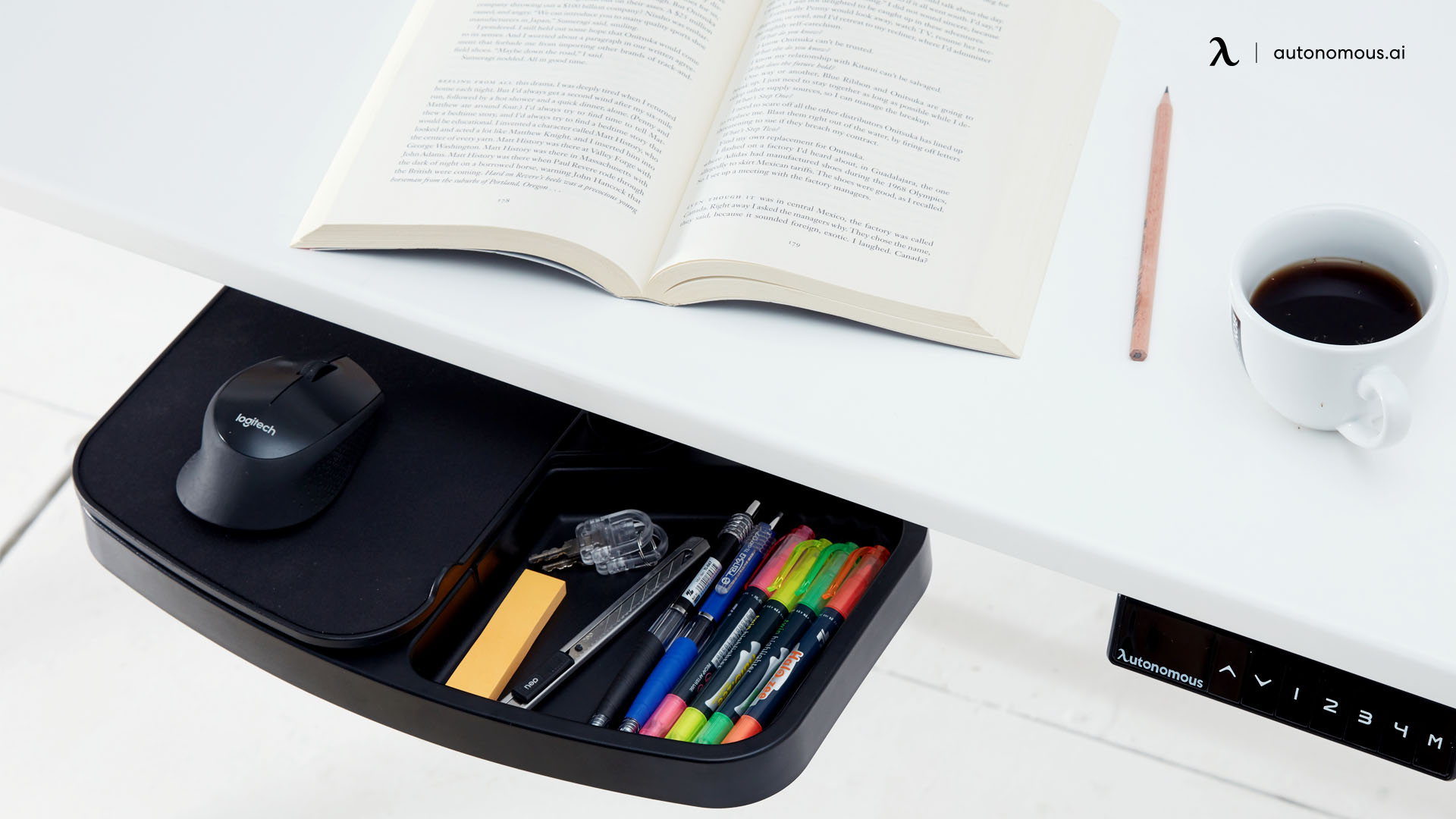 Maximizing your computer desk depth might seem like a daunting task at first, but it's actually easy if you get the right items. 
Buying storage drawers, for example, allows you to save some space because you can organize your office supplies there and avoid having them on top of your table. 
On some occasions, you might need to have essential supplies on your desk. However, these don't need to take up all the available space. With storage drawers, you can put away the things you don't need, and keep the most important items with you. 
6. Avoid Having Purposeless Things on Your Desk
If you want to make the most of the depth of your desk, you need to guarantee that you don't have useless things on top of it. 
Having a cluttered desk can happen to all office workers from time to time. Thus, if it's happening to you, it's not the end of the world. However, to maximize the available space, you should ask yourself if you really need all the things on your table. 
7. Invest in a New Desk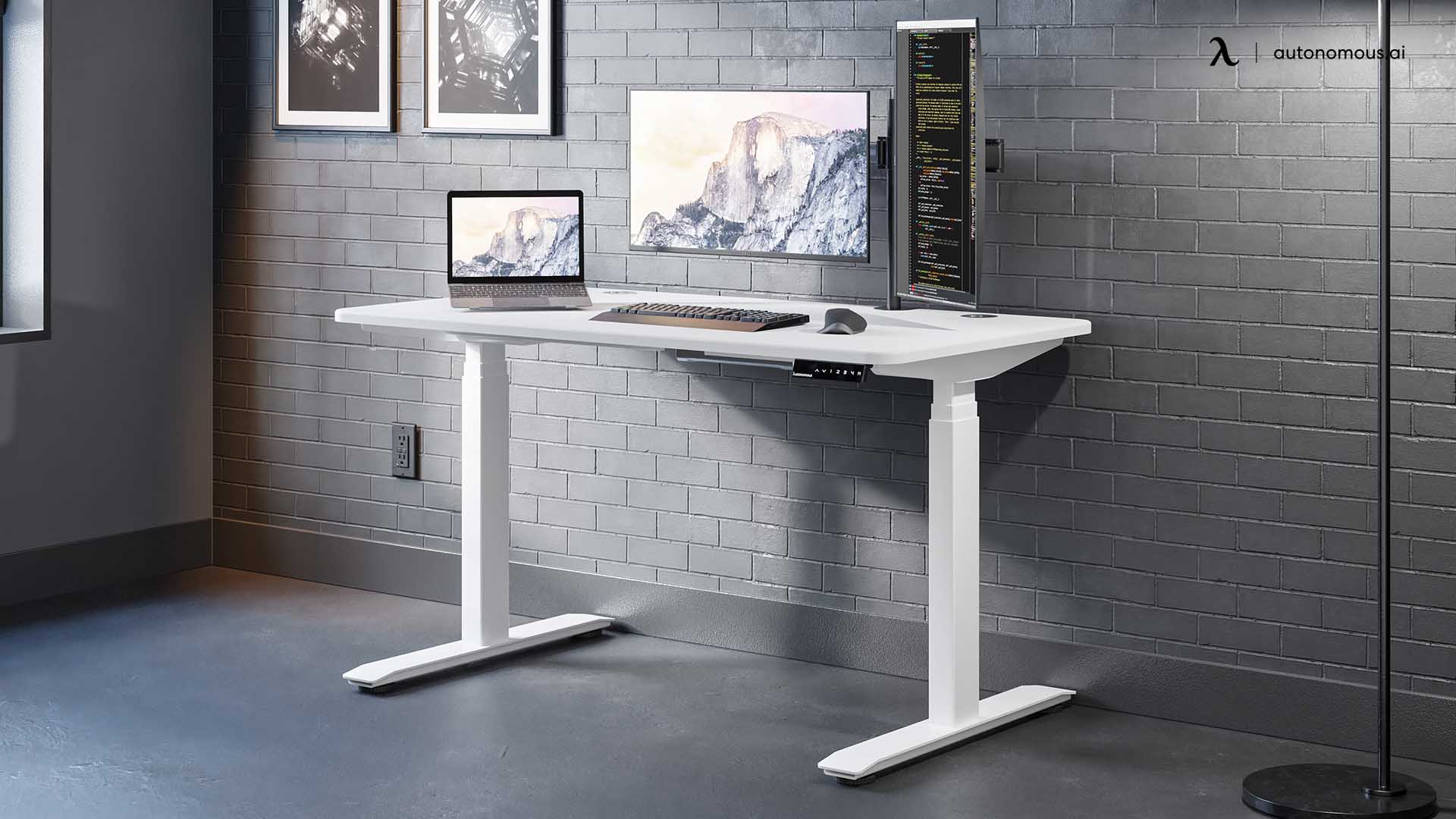 The last option to maximize the depth of your desk is to invest in a new one. This is not something everyone can do, especially if you're on a budget. 
Nonetheless, it's an alternative you should consider if your desk is very narrow and it doesn't fit your needs.
The Bottom Line
The depth of your computer desk is one of the most essential features you should keep in mind when you're buying office furniture. Now that you understand why, you're able to make better purchase decisions.
Subcribe newsletter and get $100 OFF.
Receive product updates, special offers, ergo tips, and inspiration form our team.
WRITTEN BYAutonomous
We build office products to help you work smarter.