Smart Products
Back-to-school Supplies: Ultimate Packing List for College Students

Autonomous
|
Jul 11, 2023
226 Views
Are you heading back to college? Well, you'll need to pack wisely. Choosing the right back-to-school supplies can make a huge difference in starting your academic year smoothly. You need items that are functional, easy to transport, and of course, stylish. 
This article will guide you through the ultimate packing list for college students, including some unique back-to-school essentials. These aren't your average stationery items. 
Instead, we're talking about high-quality, innovative products that make studying and living away from home easier and more comfortable. From adjustable desks to ergonomic chairs, we have compiled a list of must-haves to set you up for success. 
Stay tuned to explore our selection of back-to-school supplies. Whether you're a first-year or returning student, you'll find these items beneficial for creating a productive learning environment. 
Essential Back-to-School Supplies: Revolutionizing Your Study Space
As you prepare to go back to school, consider how the right supplies can revolutionize your study space. Here are seven standout products from Autonomous that can help elevate your study experience. 
1. Autonomous SmartDesk Core: Your Ideal Home-standing Desk
First up is the Autonomous SmartDesk Core, a crucial component for your study setup. As a top-quality home standing desk, it addresses the need for comfort and flexibility in your learning environment. The desk offers adjustable heights, making it an excellent choice for extended study sessions.
Its sturdy, sleek design fits nicely into dorm rooms or apartments, providing ample space for your laptop, books, and other essential back-to-school items. Overall, this desk is not only a productivity booster but also a key to maintaining your health and well-being during those long study hours. 
2. Autonomous ErgoChair Pro: Maximizing Comfort and Support
The second essential item is the Autonomous ErgoChair Pro, an ergonomic desk chair that offers maximum comfort and support. It's not just about sitting; it's about maintaining a good posture over extended periods. 
Moreover, the chair's flexible adjustments allow you to set it according to your comfort level, providing support to your back and promoting better posture. 
Also, its sleek design and durable material make it perfect for long study sessions, ensuring that comfort never compromises your concentration. It's more than just a chair; it's a solution to the common discomforts many students face during long study hours.
3. Autonomous Cork Desk Pad: Protecting and Organizing Your Space
Third on our list for this section is the Autonomous desk pad. Among the numerous back-to-school items, this desk pad stands out with its practicality and environmental consciousness. Made from sustainable cork, it offers a smooth and durable surface for your workstation, protecting your desk from potential damage. 
Its natural aesthetic adds a unique touch to your study space. Additionally, it's a perfect tool for organizing your stationery and keeping your back-to-school essentials at your fingertips. It keeps your workspace tidy and ensures you're always ready to start studying. 
4. Mount-It! Cooling Gel ErgoActive Seat Cushion: The Ultimate Back-to-school Gift
The Mount-It! seat cushion is an excellent back-to-school gift. Designed with memory foam that molds to your body, it provides relief from pressure points in the hips, lower back, and coccyx. Also, the cooling gel is an innovative feature that reduces heat build-up, making long study sessions more comfortable. 
Thanks to its non-slip bottom, the cushion can be used anywhere, from office chairs to car seats. With a removable and washable cover, maintaining its cleanliness is a breeze. Lastly, its 10-year warranty speaks volumes about its durability and the manufacturer's confidence in its performance. 
5. Autonomous Swivel Desk Drawer: Boost Your Storage Capabilities
The Autonomous swivel drawer is an ingenious addition to any desk. Its 360-degree swivel design facilitates easy access and provides a unique solution for organizing small items weighing up to 6.6 lbs. 
Moreover, its versatile design allows it to double as a mouse pad, adding to its utility. Quick to assemble and safe to use, this desk drawer contributes to effortless tidiness, making it an essential component for a professional, well-organized study area. 
6. Autonomous Filing Cabinet: Organized, Secure, and Mobile Storage Solution
The Autonomous filing cabinet is a practical storage solution that fits perfectly under your smart desk. It caters to your unique storage needs with three sizable drawers and customizable dividers. Also, it promises durability and long-term usage, built from solid steel with an anti-rust finish. 
Furthermore, the cabinet features lockable drawers for security and sturdy wheels for easy mobility. With a substantial weight capacity of 275 lbs., it can safely hold all your essential documents and gadgets. 
7. The Office Oasis Desk Organizer: A Stylish Solution for Clutter
The Office Oasis desk organizer is a customizable tool that enhances the efficiency of your workspace. Its patented magnetic design allows easy rearrangement, and the high-grade plastic ensures lifetime durability. This versatile organizer can house various desk essentials such as pens, paper clips, and post-its, thus reducing clutter. 
Studies show an organized workspace can significantly improve focus—a compelling reason to consider this unique organizer. With non-slip rubber feet, it stays secure on your desk, making it a reliable and stylish addition to your study space. 
Smoothing Your College Transition: Efficient Packing and Organization
As you prepare for college, an efficient packing and organization strategy is crucial. It can ease your transition and enhance productivity. Here are some tips to consider: 
List and prioritize: Start by making a comprehensive list of the important back-to-school stuff, including stationery, furniture, and tech gadgets. Prioritize them based on utility and necessity.
Packing smart: Pack your items carefully to avoid damage during the move. Use bubble wrap for delicate items such as your ergonomic desk chair or other sensitive equipment.
Strategic unpacking: Unpack strategically at your dorm or apartment. Start with larger items such as furniture first, then move on to smaller back-to-school items.
Effective storage: Use storage solutions such as the Autonomous filing cabinet or the swivel desk drawer for efficient use of space. These items can help you maintain an organized, clutter-free environment.
Consistent maintenance: Make organization a habit. Regularly declutter and maintain your space using tools such as a magnetic desk organizer. 
Remember, the key is to create an organized and conducive study environment that encourages productivity and efficiency. Planning and organization will not only help with your transition to college life but also contribute to your overall academic success. 
Why Are Autonomous Products Ideal for College Students?
Autonomous products are an excellent choice for college students due to their numerous benefits that align perfectly with the demands of school life. Let's delve into why they are the go-to option: 
Ergonomic design: Ergonomic products can support good posture and reduce the risk of physical discomfort, allowing students to focus on their work for longer periods.
Durability: Autonomous products are renowned for their sturdy and reliable construction. Whether the filing cabinet or the swivel desk drawer, the products can last a lifetime, making them an economical investment for students.
Innovation: The company keeps up with technological advances. Its SmartDesk Core is an adjustable standing desk designed for home use, promoting a healthier work environment by encouraging standing workstations.
Sustainability: Autonomous takes pride in being environmentally friendly. The endurable cork desk pad is an example of its commitment to using sustainable materials, making its products an excellent choice for eco-conscious students.
Efficient organization: Products such as the swivel desk drawer and filing cabinet help students keep their workspace tidy, reducing clutter and enhancing productivity.
Aesthetic appeal: Autonomous products have a sleek, modern design that can elevate the look of any student's workspace. The aesthetic appeal goes hand-in-hand with functionality, making studying a pleasant experience. 
In essence, the company's products meet the needs of college students perfectly. They blend comfort, durability, innovation, and style, ensuring that students have an optimal environment to thrive in their academic endeavors. Autonomous' wide range of products cater to different needs, making it a one-stop shop for college supplies. 
Beyond Basics: Elevating the Back-to-School Experience
When it comes to preparing for the school year, it's easy to default to the typical checklist of pencils, notebooks, and textbooks. However, optimizing your learning experience goes beyond these fundamental back-to-school stuff. 
Integrating unique back-to-school stationery into your routine adds a creative flair to your study habits and enhances productivity. Colorful highlighters, stickers for planning, or themed sticky notes can turn study sessions into a fun activity, while designer desk accessories can improve organization and streamline workflow. 
Innovative items such as standing desks, ergonomic chairs, and tech gadgets can dramatically transform your study space into a dynamic, productivity-boosting environment. 
Remember that studying doesn't have to be a mundane task. Infusing your study regimen with items beyond the basics can turn a tedious study session into a rewarding and engaging activity. The right blend of traditional, modern, functional, and aesthetic stationery can change the game. 
By moving beyond the basics, you create a personalized study space that not only meets your academic needs but also reflects your personality, style, and preferences. Make the next academic year exceptional with the right back-to-school stationery and a well-organized, inspiring study environment.
Adding Personality: Crafting Your Unique Study Area
Customizing your study space adds a personal touch and creates a comfortable environment conducive to effective learning. Choosing the right back-to-school gift ideas for yourself or others can transform any space into a personalized study haven. 
First, consider the color. A well-planned color scheme not only aesthetically pleases but also affects mood. Choose hues that calm and focus, such as blues and greens. Second, pay attention to your chair and desk. An ergonomic desk chair and a suitable standing desk can significantly increase comfort and focus. 
Next, carefully select desk accessories. Look for items that not only serve a purpose but also reflect your personal style. Unique pen holders, stylish document organizers, or personalized mouse pads can infuse your personality into the space.
If you're a female, consider incorporating cute school supplies for girls, such as floral-printed stationery, pastel notebooks, or glitter pens for an extra feminine touch.
Lastly, remember the importance of lighting. A well-lit workspace reduces eye strain and enhances productivity. Consider adjustable desk lamps for targeted lighting.
Personalizing your study space can transform it into a reflection of your personality, enhancing the studying experience and making it more enjoyable and productive.
The Role of Technology in Enhancing Productivity
In the modern era, technology plays a big role in enhancing productivity, especially in an academic context. It presents unique tools and opportunities that can streamline tasks, making life easier for college students. 
Acknowledging the significance of adjustable desks in today's study environment is essential. These desks provide the convenience of switching between sitting and standing, which helps maintain a better posture and reduces the negative effects of extended sitting. As a result, this adaptability contributes to improved focus and productivity. 
When it comes to seating arrangements, ergonomic chairs are a game-changer. They can provide comfort, support, and flexibility to help students study or work for extended periods of time without experiencing physical strain. 
The focus on ergonomics promotes good posture and well-being, which makes these chairs an essential component of a productive study environment.
Furthermore, when combined with productivity apps and software, tech gadgets such as laptops, tablets, and smartphones aid in managing assignments, taking notes, and staying organized. They allow easy access to many online resources and simplify communication, fostering collaborative learning. 
Hence, integrating technology into your college life can significantly enhance efficiency. It can transform your academic journey, making it more enjoyable and manageable. Students can build a successful and productive college career by choosing the right tech supplies. 
The Bottom Line
Transitioning to college life is an exciting phase for every student. With our comprehensive back-to-school shopping guide, we've covered essential supplies that go beyond typical stationery. From ergonomic furniture to accessories that enhance productivity and comfort, we've looked into how these can improve your academic performance. 
Consider the importance of personalizing your workspace to make the most of your college years. A little planning and the right back-to-school supplies can create a conducive, comforting, and vibrant study area. 
Remember, your study environment significantly influences your motivation and productivity. Make it your haven, a place where you enjoy learning and growing.
Video ads for product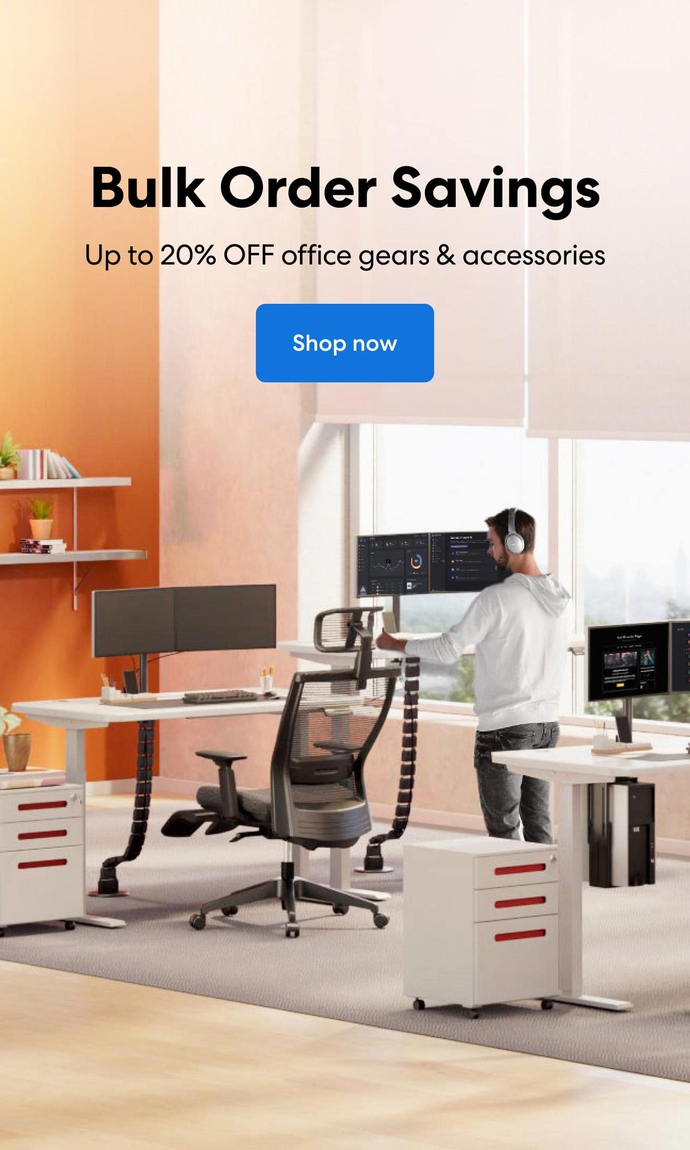 Subcribe newsletter and get $100 OFF.
Receive product updates, special offers, ergo tips, and inspiration form our team.