Gaming desk for multiple monitors sounds like a dream come true for every gamer. Having the right equipment to enjoy gaming with your best buddies is a perk every gamer would love to enjoy. Even though many gamers use ordinary desks for gaming, the best gaming desk for dual monitors comes with all the right accessories required to enhance the experience. If you have been searching for the ideal gaming standing desk, then you have come to the right place. With all the latest and top gaming desks of 2022, we will help you choose the best gaming desk for multiple monitors or even the best gaming desk for 3 monitors.
What is A Gaming Desk?
If you are a gamer, then you must be aware of the addiction to gaming. There is no time limit for gamers as they are fully engrossed in overcoming challenges after challenges. While gaming is all fun and amazing, long hours of sitting and looking at the screen can have many health damages. A gaming desk helps minimize the harmful impacts of gaming and makes this gaming experience a breeze.
Gaming desks are made in a way to allow multiple screens to be accommodated. With a gaming desk, you can set up multiple monitors at once. A gaming desk has been designed ergonomically so that the user feels comfortable. It also allows the gamer to switch from one keyboard to another and helps retain the posture.
Since there are many choices for gaming desks for multiple monitors, each gaming desk is equipped with a lot of different features. There are tables, for example, where the entire surface top is one wide mousepad. Any place on the tabletop can act as a smooth mouse pad if you run the mouse over it. Areas to cover your wires and store your treats during long game sessions are among the other oddities.
Many gaming desks are also made with neon lights and ensure maximum aesthetics. You can enjoy gaming desks made out of glass and various cushions to provide maximum comfort.
Why Do You Need Multiple Monitors while Gaming?
With the advent of advanced tools and gadgets, gaming is becoming more and more fun and realistic. The release of HD games, virtual reality games, and many other modifications to the gaming world has appealed to gamers more than ever. Gaming desks for multiple monitors is yet another invention that makes gaming even more fun. But what is the benefit of a dual monitor system while gaming?
Multiple monitors while gaming offers you many benefits to have a better experience. While you are busy playing on one monitor, the other monitor can help you browse useful information about the game. You could also connect with your friend over a video chat on the second monitor, thus making gaming with your friends even more fun. 
You could also stream a video or guide on how to play a specific game while you overcome tough challenges on other screens. Using multiple monitors allows better results and even lets you switch between the two screens in a matter of milliseconds.
Benefits of Gaming Standing Desk
The repercussions of sitting while gaming is similar to sitting while working, but the only difference is that gaming makes sitting even more harmful. While you could have a certain number of hours to work, gaming does not have any time limit. And the addition could make you spend hours and hours before you even think about leaving the chair and going for a walk. The gaming addiction has made the negative impacts of sitting on the health of gamers even worse.
Thanks to the standing desks, which can be used for gaming too. Standing desks are a great advancement in the gaming world and can make the negative impacts of gaming go away. There are many benefits of choosing a standing desk for gaming over a conventional gaming desk.
Increased Focus
This is where we get the attention, not many gamers care about their health (sad truth), but they care about getting better at the game. While sitting on your hip could be a great comfort initially, you will soon start experiencing discomfort and tiredness in your body. The numbness in your lower back could be a great distraction from the game. On the other hand, being on your toes keeps your attention and focus fresh.
Better Action
Without skipping a beat in the game, a standing desk encourages you to balance, walk and stretch your legs. Since your body is capable of mirroring your character's emotions, gaming with a standing posture lets you be more engaged and reactive in the game. Finally, standing has been attributed to increased concentration and efficiency due to increased blood supply to the brain. So the next time you encounter a tough enemy, maybe try standing up for the fight?
Customization
If you are buying an adjustable standing desk, then the benefits are two-fold. As opposed to a fixed standing desk that does not move, an adjustable standing desk is the best investment you could make. Because of their adjustability, sit-stand desks are an outstanding option for gaming. Are your legs exhausted from standing for an extended period?
Reduce the height of the desk to a sitting position. If you need to spread your legs, return them to a standing state. Standing desks often come with various add-ons, such as anti-fatigue mats and laptop mounts, allowing you to customize your system to suit your gaming preferences.
Best Gaming Desk for Multiple Monitors in 2022
When it comes to ergonomics, there is not a single rule that fits all. Ergonomics refers to the comfort level that varies from individual to individual. Hence, the standing desks, a Standing desk, can vary in height depending on the person using it. Ergonomics holds great importance not only because it gives you freshness and improved productivity, but also it negates the many negative aspects of sitting or improper seating arrangements on health.
The whole purpose of sharing the number of popular gaming desks in 2022 is to find the best one for you. Gaming desks for multiple monitors not only need to be spacious, but they should be engineered in a way that minimizes the strain on your neck. Rather than having to turn your head side to side, an L-shaped gaming desk allows you to have multiple screens right in front of your eyes.
1. Multiple Monitors Computer Desk
Multiple monitors gaming desks are similar to a single gaming desk other than they are extra spacious. As opposed to a common gaming desk that is 30 inches wide, a multiple monitor gaming desk can have 60 inches of width. They are also made with a greater load capacity to bear up to two or more monitors.
2. Corner Standing Desk
A corner standing desk has many advantages over a conventional standing desk. It allows you to utilize the corner space in your room, which would have gone to waste otherwise. Corner standing desks are usually known as L-shaped standing desks as they allow you to use multiple monitors without having to turn or look to the other side. SmartDesk Corner is a popular choice when it comes to a corner standing desk. It is made with a high load capacity to bear up multiple gaming screens at once.
3. Smart Desk Pro
SmartDesk Pro is a common type of standing desk and multiple monitor computer desk that is ideal for both gamers and office workers. Smart desk pro is made with a dual-motor operation for a maximum load capacity. With an electric motor, the height adjustment system is quieter than ever, and you can also use a variety of heights while playing.
4. Dual Monitors Gaming Desk
The dual-monitor gaming desk is larger than a single monitor gaming desk but smaller than a gaming desk for 3 monitors. It allows you to use two monitors at once. A dual monitor gaming desk could either be rectangular or even L-shaped to provide you with a minimum turning angle.
How to Choose the Best Gaming Desk for Multiple Monitors?
Choosing a gaming desk that matches your needs and fulfills your gaming dreams is a must-have. Without the right multiple monitor computer desk, gaming could become a problem for you. Whether you are just a beginner or a professional gamer, a gaming desk will provide you the right space, comfort, and enjoyment level that a gamer desires.
They'll also have security options to keep your games and gaming accessories safe, undamaged, and easily accessible. Not to mention that they can be used as workstations! Yes, that's the benefit of choosing a perfect gaming desk for you; it can be multi-purpose and give you both a workstation and a gaming station.
Size
The size of a gaming desk for multiple monitors is a personal choice. The gaming desk should be large enough to accommodate all of your gaming supplies. People looking for a gaming desk for dual monitors must choose a gaming desk between 40 and 60 inches. For people with three gaming desks, a desk width of greater than 60 inches would be required. Depending on the number of monitors you choose and the sizes of each monitor, you can find the perfect gaming desk for you.
Depth
Sure, slim and sleek multiple monitor computer desks are appealing to the eyes, but you need to be realistic about the depth of the gaming desk. For a slim screen monitor, you would need to spare space for your ergonomic keyboard. A 10 inches wide keyboard is a common accessory for gamers. Moreover, extra space for your hands to rest on the desk is also required. Consider keeping an extra 5 to 10 inches of space in your gaming desk.
Shapes
There are various shapes when it comes to a gaming desk for multiple monitors. The two most common shapes are rectangular and L-shaped standing desks. Although curved gaming desks are also aesthetically pleasing, they are not very useful for tiny places and cover many useful areas.
Rectangular Gaming Desks
Rectangular gaming desks are the most basic and popular gaming desk shape, and they come in a wide variety of sizes, from ultra-compact to ultra-long. A rectangular gaming desk will be a perfect option if you're looking for a huge, lightweight gaming desk.
L-shaped Gaming Desk
If you're a gamer who works as hard as he or she plays, an L-shaped gaming desk may be for you. As the name implies, L-shaped desks are shaped like the letter L, with two tabletops that intersect at a right angle. If you want to use one side of your desk for games and the other for work, these desks are fantastic. While L-shaped gaming desks have a larger silhouette than rectangular gaming desks, they can be used in corners to save room.
Storage
No matter how much storage a desk has to offer, it always becomes less. Having a storage department in your multiple monitor computer desk is a must thing. Storage drawers or even basic storage shelves allow you to store games and other gaming accessories. Built-in storage components not only keep all of your essentials close at hand but can also reduce desktop clutter and make your PC gaming experience as smooth as possible.
Cable Management
Your gaming equipment has a lot of cables attached to it, and if you are using multiple monitors, then you might find a noodle of cables coming from your desktop. Cable management slots or more commonly known as grommets, are an essential feature in a gaming desk. If you opt for a gaming desk without a cable hole, you will be fretting over the pool of cables and the mess that will damage the aesthetics and negate the whole point of a gaming desk.
Keyboard Tray
If you don't have space for an extra deep gaming desk for multiple monitors, then an attached keyboard tray will come in handy. This allows you to use your keyboard while playing and putting it back once you are done. The keyboard tray has many benefits; it acts as extra storage space if your desk already has enough space.
The keyboard tray also keeps your keyboard safe and protected from dust. Even though some gamers hate keyboard trays, some keyboard trays have plenty of room and won't move when in operation, so if you're short on space, it's not a bad thing to buy a gaming desk with a keyboard tray.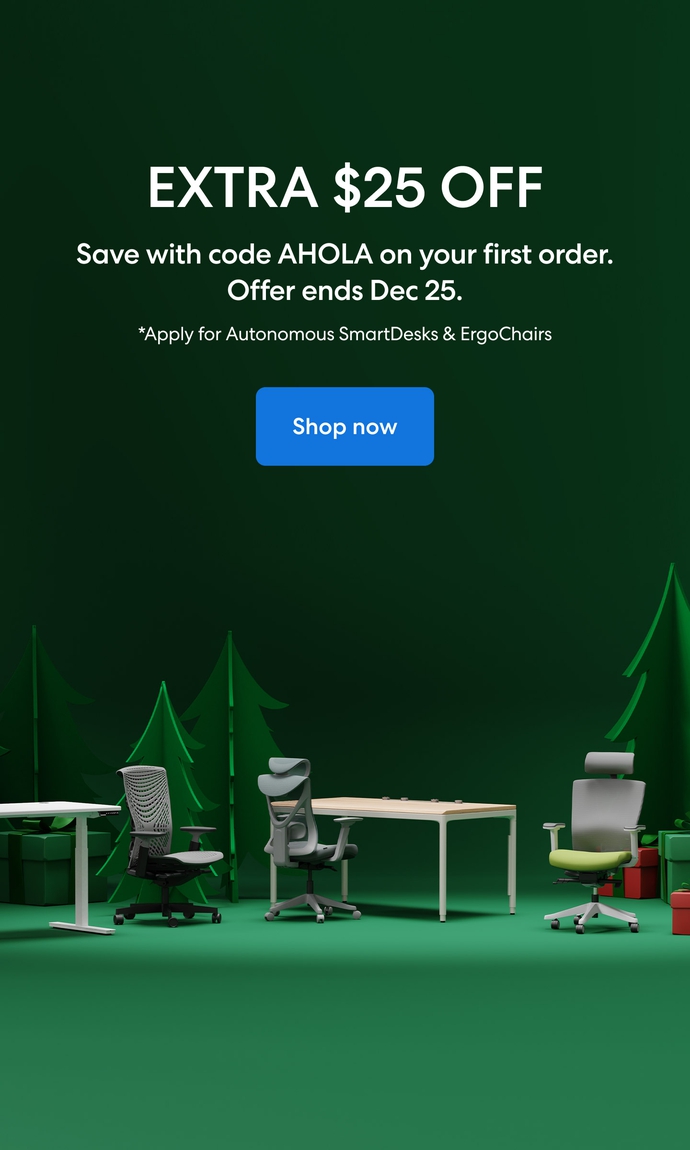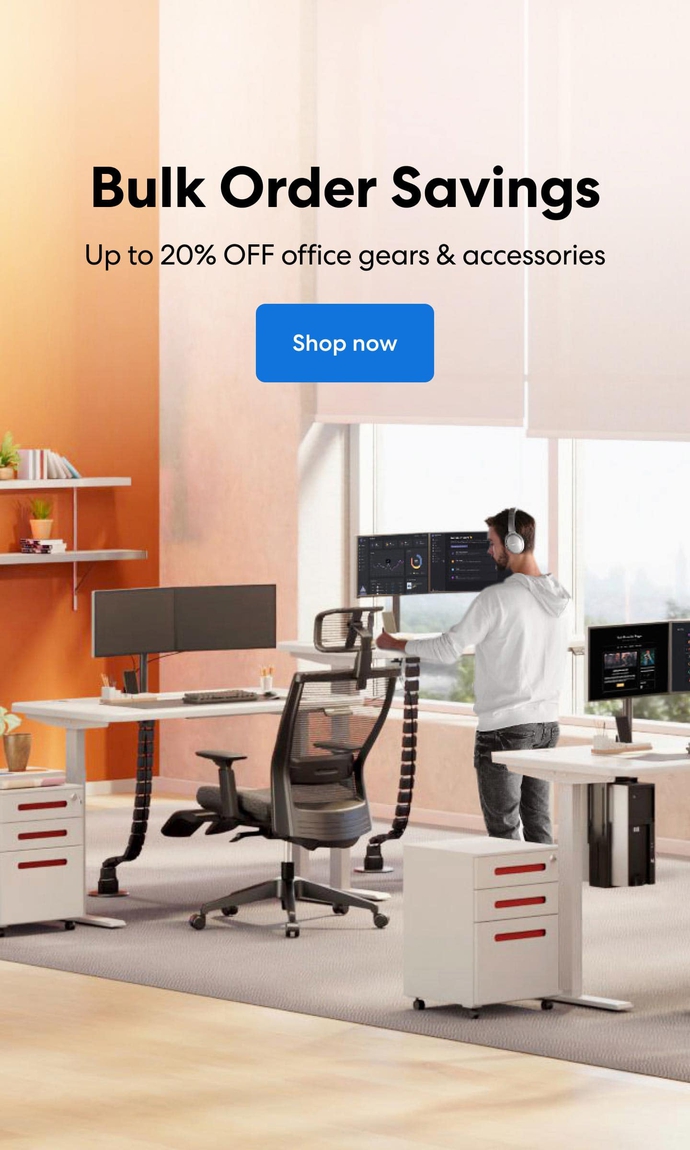 Subcribe newsletter and get $100 OFF.
Receive product updates, special offers, ergo tips, and inspiration form our team.