Latest Updates
What Is The Best Gift a Son Can Give to His Father on His Day?

Autonomous
|
Jun 5, 2023
304 Views
Father's Day is the perfect occasion to express gratitude and love towards our dads for their unconditional support and guidance. Although heartfelt words and gestures go a long way, a thoughtful gift can make the day even more memorable. Choosing the perfect gift for your father can be daunting, but with careful consideration and learning about his interests, you can find something that truly resonates with him. In this article, we will explore the top 20 Father's Day gifts from a son, including some innovative options you might have not thought about.
20 Father's Day Gift Ideas from Son
1. Standing Desks
In today's sedentary lifestyle, a standing desk can be a game-changer for those who spend long hours working at a desk. Sit-stand desks offer adjustable height options, allowing your father to switch between sitting and standing positions while working. 
Sitting for long hours can negatively affect your dad's health and cause several issues, including an increased risk of obesity, heart disease, and musculoskeletal issues. A standing desk allows your father to alternate between sitting and standing positions while working, promoting better posture, reducing the strain on the back and neck, and improving overall blood circulation. You can also include a monitor arm for extra ergonomics.
Some product suggestions
2. Ergonomic Chairs
Comfort and proper support are crucial when people spend long hours sitting. An ergonomic office chair provides optimal lumbar support, adjustable features, and cushioning to ensure your father's comfort while working or relaxing. This gift shows your care for his well-being.
Ergonomic desk chairs are specifically designed to provide optimal comfort and support to the body. They feature adjustable components such as lumbar support, headrests, armrests, and seat height, allowing your father to customize the chair to his unique preferences and body shape. The ergonomic design ensures that he can maintain a healthy posture and reduce strain on the neck, shoulders, and back, even during long hours of sitting. 
Some product suggestions
3. Bluetooth Speakers
If you have a music-loving dad, a high-quality Bluetooth speaker can enhance his listening experience. Whether he enjoys rocking out to his favorite tunes or listening to podcasts, a portable Bluetooth speaker offers convenience and great sound quality. 
Bluetooth speakers are desk accessories designed to be portable, allowing your father to enjoy his favorite music, podcasts, or audio content wherever he goes. They are lightweight and compact, making them easy to carry around during outdoor activities, travel, or even around the house. With wireless connectivity, he can connect his smartphone, tablet, or other devices without the hassle of cables or cords. 
Some product suggestions
4. LED Lamp with Wireless Chargers
This is another great Father's Day gift idea from a son. LED lamps with wireless chargers combine two essential functions into one device. This piece of home furniture doesn't only provide illumination with energy-efficient LED lighting but also offers a convenient wireless charging platform for compatible smartphones, smartwatches, or other devices. This dual functionality saves space on your father's desk, bedside table, or filing cabinet, offering practicality and convenience. 
Moreover, LED desk lamps are known for their energy efficiency and longevity. They consume less power than traditional incandescent bulbs, lowering energy bills and reducing environmental impact. Also, these lamps usually allow you to set your preferred brightness, temperature, and color thanks to their adjustable settings, allowing your father to change the lighting to suit his preferences and create the desired ambiance for different activities or moods. 
Some product suggestions
5. L-Shaped Home Office Desk
If your father has a home office or enjoys spending time on personal projects, an L-shaped desk provides ample workspace and storage. Its versatile design allows him to organize his materials efficiently and work comfortably, making it an ideal gift for a productive dad. 
The unique design offers two separate surfaces, allowing your father to spread out his work materials, computer equipment, and other essentials. This extra space is precious for individuals requiring multiple monitors, paperwork, or room to accommodate other work-related items. 
Some product suggestions
6. Massage Gun
Help your father unwind and relieve muscle tension with a massage gun. It's a perfect gift for active dads, fitness enthusiasts, or anyone needing a little self-care. This is the most incredible Father's Day gift idea from a son.
One of the primary benefits of a massage gun is its ability to alleviate muscle tension and soreness. Whether your father leads an active lifestyle, engages in physical labor, or spends long hours at a desk, a massage gun can target specific muscle groups and provide deep tissue massage. The percussive therapy delivered by the massage gun helps to relax tight muscles, reduce muscle soreness, and improve overall muscle recovery. 
Some product suggestions
7. Headphones
If your dad enjoys music, audiobooks, or frequently makes phone calls, a high-quality pair of headphones is a thoughtful Father's Day gift from son. Look for noise-canceling features, comfortable padding, and excellent sound quality, ensuring he can enjoy his audio content without interruptions. 
Headphones provide your father with a personalized and immersive audio experience. Whether he enjoys listening to music, podcasts, audiobooks, or watching movies or TV shows, headphones enhance the audio quality and allow him to fully immerse himself in the content. The clarity, depth, and detail provided by quality headphones elevate the overall listening experience, ensuring that he doesn't miss any nuances or subtleties. 
Some product suggestions
8. ADUs (Accessory Dwelling Units)
This is one of the good Father's Day gifts from son. If you have an adventurous dad who loves to explore the great outdoors, ADUs are a practical and comfortable solution. These portable and versatile structures can be used as camping cabins, home offices, guest houses, or even tiny retreats. It offers a unique experience and a space to relax in the midst of nature. 
An ADU is a self-contained living unit built on the same property as the main residence. Adding an ADU to your father's property can significantly increase its overall value. It provides an additional living space that can be utilized for various purposes, such as a rental unit, a guest house, or a private living space for family members. The presence of an ADU enhances the property's appeal and marketability, making it a valuable long-term investment. 
Some product suggestions
9. Outdoor Gears
If your father enjoys outdoor activities such as camping, hiking, or fishing, outdoor gears make excellent gifts. Consider a high-quality backpack, durable hiking boots, a multi-tool, a portable grill, or a compact sleeping bag. 
Outdoor gears inspire and encourage your father to explore the great outdoors and engage in various outdoor activities. Whether he enjoys camping, hiking, fishing, cycling, or any other outdoor pursuits, the right gear enhances his experience and makes his adventures more enjoyable. It shows that you support his love for nature and outdoor exploration.
10. Personalized Engraved Gifts
Add a sentimental touch to your gift by choosing something personalized and engraved. It could be a custom-made photo frame, a keychain, a watch, or a piece of jewelry. 
Personalized engraved gifts from son to dad hold sentimental value because they are customized specifically for your father. The engraving can include his name, initials, a special message, or a significant date. This customization adds a personal touch and shows that you've put thought and effort into selecting a unique gift that is meaningful to him. It shows your love, appreciation, and the special bond you share. 
11. Book Subscription
If your father is an avid reader, a book subscription service can be a wonderful gift. This allows him to discover new authors and genres, as well as receive a curated selection of books delivered to his doorstep regularly. It's a gift from son to dad that keeps on giving, providing hours of enjoyment and intellectual stimulation. 
A book subscription provides your father with a continuous supply of reading material, ensuring he always has something new and exciting to explore. Each month, he will receive a carefully curated selection of books spanning various genres and subjects. This keeps his reading experience fresh and diverse, allowing him to discover new authors, genres, and perspectives.
12. Concert or Sports Event Tickets
Plan a memorable experience by gifting your father tickets to a live concert, sports event, or his favorite team's game. This allows him to enjoy his favorite entertainment up close and creates lasting memories. 
13. Quality Time
Ultimately, the best gift you can give your father on Father's Day is your time and undivided attention. Plan a day or weekend dedicated to spending quality time together. It could be a family outing, a hike, a fishing trip, or simply a heartfelt conversation over a home-cooked meal. The memories you create together will be the most cherished gift of all.
14. Smart Home Devices
If you're looking for a gift for tech-savvy fathers, smart home devices such as voice-activated speakers, smart thermostats, or security systems are great because they can elevate their living experience. These gadgets make daily tasks more convenient, automate routines, and add a touch of futuristic charm to their homes. 
15. Whiskey Set
If your dad is a whiskey connoisseur, a whiskey set with premium spirits and elegant glasses is a classic and sophisticated gift. It allows your father to indulge in his favorite drink while appreciating the craftsmanship and flavors. 
A whiskey set typically includes various elements that enhance the tasting experience. It may include a selection of premium whiskey bottles, specialized glasses, a decanter, and other accessories. These gifts from son to dad are designed to optimize the whiskey's aroma, flavor, and overall enjoyment. Gifting a whiskey set gives your father the tools to savor his favorite spirit to the fullest.
16. Cooking Gadgets
Consider gifting him some handy kitchen gadgets if your dad enjoys cooking or grilling. From high-quality knives and utensils to a barbecue tool set or a modern kitchen appliance, these gifts will complement his culinary skills and add convenience to his cooking adventures. 
Cooking gadgets inspire your father to explore new culinary horizons and expand his cooking skills. Whether he is an experienced chef or a novice in the kitchen, innovative cooking gadgets can introduce him to new techniques, flavors, and recipes. They spark creativity and curiosity, making the cooking process more enjoyable and rewarding. 
17. Fitness Tracker
Encourage your father's fitness journey by gifting him a fitness tracker. These wearable devices monitor daily activity, heart rate, sleep quality, and more. It motivates him to stay active, set fitness goals, and maintain a healthy lifestyle. 
A fitness tracker serves as a constant reminder for your father to prioritize his health and fitness. It motivates him to be more active and make healthier choices throughout the day. By tracking steps, calories burned, heart rate, and other metrics, a fitness tracker provides real-time feedback and encourages him to maintain an active lifestyle.
18. DIY Workshop Tools
If you have a handy dad who loves DIY projects, equipping his workshop with quality tools is a thoughtful Father's Day gift from son. Consider a versatile power drill, a sturdy toolbox, or specialized tools that align with his interests. These tools will enable him to tackle various projects with ease and precision. 
DIY workshop tools allow your father to unleash his creativity and develop new skills to create outdoor furniture. Whether he is a seasoned DIY enthusiast or a beginner looking to explore the world of craftsmanship, these tools offer endless possibilities for creating, building, and repairing. They empower him to take on new projects and expand his knowledge and abilities. 
19. Golf Accessories
If your father enjoys golfing, consider golf accessories such as a premium golf bag, personalized golf balls, or a golf rangefinder. These gifts will enhance his golfing experience and show your support for his favorite hobby.
20. Subscription Box
Subscription boxes tailored to your father's interests can provide a delightful surprise every month. Whether he's into gourmet snacks, coffee, cigars, or grooming products, there's a subscription box that caters to his preferences. It's a Father's Day gift from son that continues to bring joy throughout the year. 
Bottom Line
When finding the best gift for your father on Father's Day, the key is choosing something that aligns with his interests, passions, and needs. The top 20 gifts mentioned in this article offer a wide range of options to suit different preferences. Whether you go for a practical gift such as a desk organizer, a personalized item, or an experience, remember that the most important aspect is the love and appreciation you express through your gesture.
Video ads for product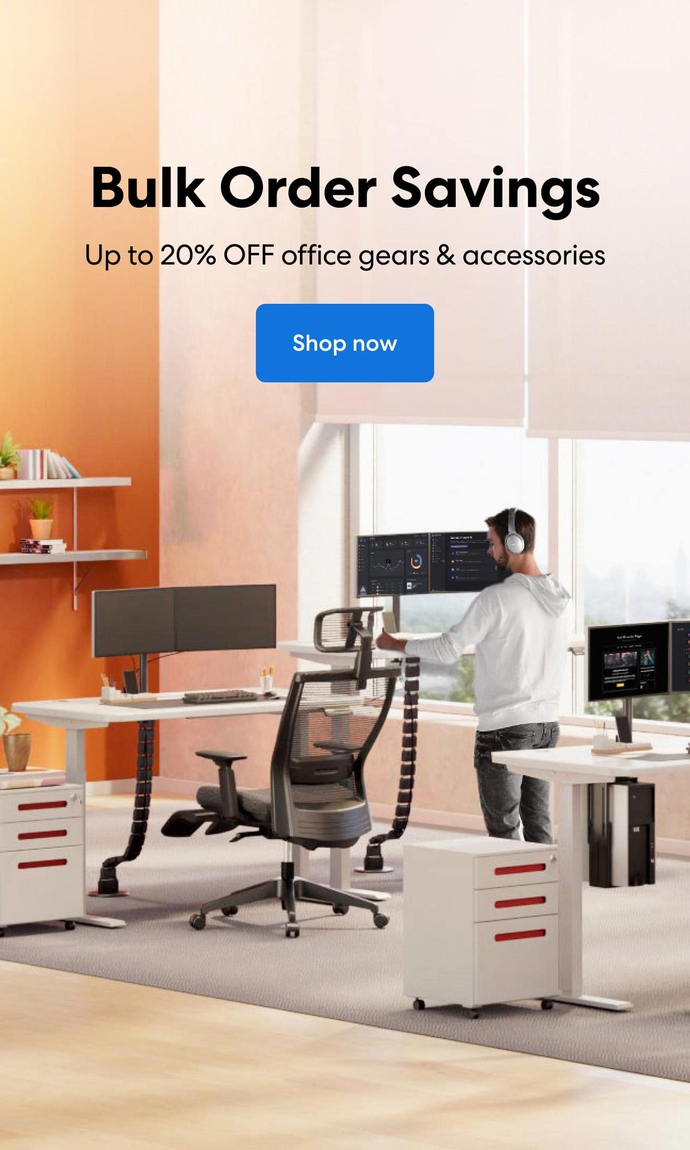 Subcribe newsletter and get $100 OFF.
Receive product updates, special offers, ergo tips, and inspiration form our team.