Smart Products
Best Seller Pixio Monitor Reviews for Gamers & Streamers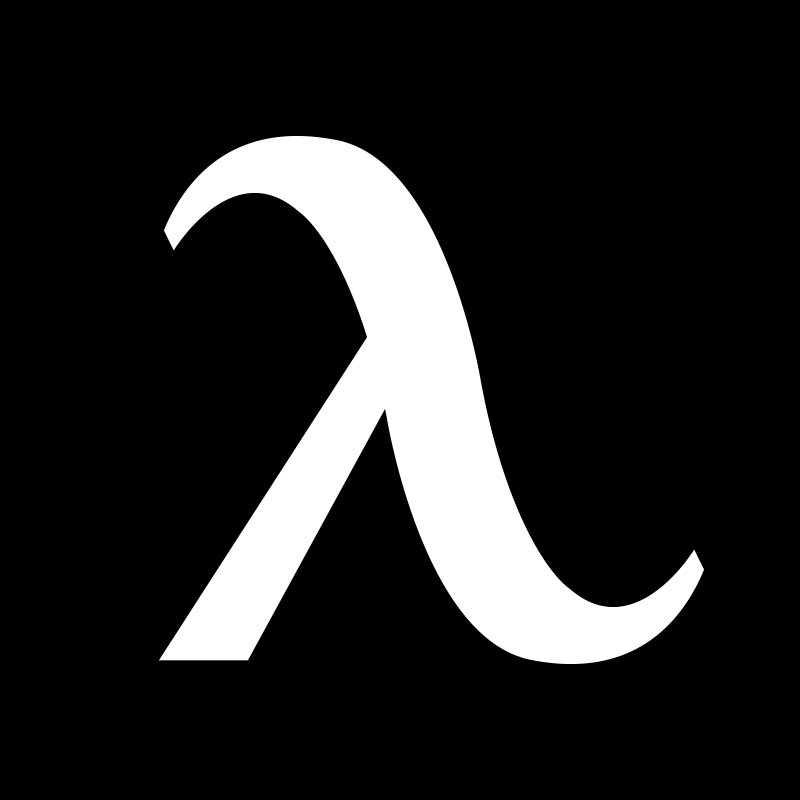 Autonomous
 | 
Dec 15, 2021
Since gaming is all about the virtual world, gaming monitors make your games' output and visual appearance much more appealing. This enhances the overall experience and also adds the element of fun to gaming. Gaming monitors are also designed with gaming ergonomics in mind. Hence you won't feel the negative repercussions of gaming while working.
But since there are many gaming monitors and other kinds of gaming furniture in the market, it is hard to choose the one that suits your needs. This article will provide the Pixio monitor reviews, a popular monitor among gamers. The Pixio PCX327 gaming monitor is suitable for gaming and works well for programmers and coders.
Read below to find the best Pixio PX277 Prime 27-inch review and all the reasons whether or not you should buy this product. Whether you need a triple gaming monitor setup or a single one, you need to know all about the gaming monitor and its specs.
Best Gaming Monitor Reviews – Pixio Gaming Monitors
When a common user or gamer sees the features and value offered by the Pixio monitor, they are likely to think that it will cost them a lot. But the affordability is one of the best features of this PX277 Prime Gaming monitor and other monitors from Pixio. There are many factors to rate the Pixio monitor, and here are some which you will find helpful.
Image Quality
Amongst the many other features, PC gaming monitor reviews are most clearly based on image quality. Image quality is the strongest defining factor of a gaming monitor. And this display is known as the Vertical alignment panel or the VA panel.
When it comes to the VA panel for the Pixio monitor, the static contrast ratio is 3000:1, which gives a great performance.
The lower 1,000:1 contrast ratio of other panel types (TN and IPS) enables deep and inky blacks that make the blacks of other panel types (TN and IPS) appear grey in comparison.
Furthermore, compared to TN panels, you get wider viewing angles, which means the image won't degrade as much when seen from a different angle. Colours aren't as uniform as IPS monitors, but there aren't as many gamma/saturation shifts or colour inversions at different angles as TN displays.
Performance
Here is another session in the Pixio reviews. Although Pixio monitors' performance may somewhat vary from model to model, a response time of 3ms is pretty standard. This fast pixel transition is why Pixio monitors give such great results. But a problem that one might feel with the Pixio gaming monitors is that they might take a longer response time to change the darker colours into brighter tones.
If you're not too sensitive to ghosting, this is passable or even minor for casual gaming, but if you're a competitive FPS player, you should definitely acquire a monitor with a rapid response, preferably with an IPS or TN panel.
Features
A gaming monitor rating is also affected by the features it offers. The on-screen display menu, the monitor, has a directional joystick that is both fun and user-friendly. There are many features that you would find in this price range.
There are notable features of various visual presets (Standard, Movie, FPS, RTS, and Eye Saver, which applies a low-blue light filter) and four crosshair overlays.
Brightness, contrast, colour temperature, and two gammas preset are typical image adjusting tools. Although there isn't a Black Equalizer-style tool to boost visibility in darker environments, you can do so manually by tweaking the gamma in your video game or GPU driver settings.
Design
Design is always the most important part in the Pixio monitor reviews. The PX247 is a budget gaming monitor. There are no RGB or other aesthetic embellishments in the design. The stand is basic, with merely the ability to change the inclination. Only DisplayPort unlocks the full 144Hz. There are two video inputs: HDMI and DisplayPort (HDMI is limited to 120Hz).
Although some people might complain about sacrificing some features regarding the display, such as HDR and 10-bit colour, for the price you are paying for this product, the features are pretty great.
Screen Size
Though most Pixio gaming monitors offer a standard size of 27 inches, in addition, the screen size is ideal for 1080p. The PX247's 24-inch screen may appear modest, but it allows for a higher pixel density and a crisper image. Although the screen is not "frameless" like other Pixio's higher-end models, the bezels are nevertheless very low and help the screen feel larger.
Assembly
Let's find out how to assemble this product in this Pixio reviews part. To assemble the Pixio metal base and upright, you'll need a Phillips-head screwdriver. Snap the panel into place after that. The external power supply is a tiny brick, and a Display Port cable is included.
The panel features 100mm VESA lugs in the back if you want to use a monitor arm, but you'll have to supply your bolts.
Other Pixio Gaming Monitors
Pixio is one of the most affordable gaming monitor lines for gamers. These Pixio monitors have amazing displays, easy to use controls, and many other features. You will be paying an affordable price for the gaming monitors at Pixio, and one of the best features is that you get a bunch of options to choose from. Below are some famous and best gaming monitors by Pixio and their specifications.
PXC325 Curved Gaming Monitor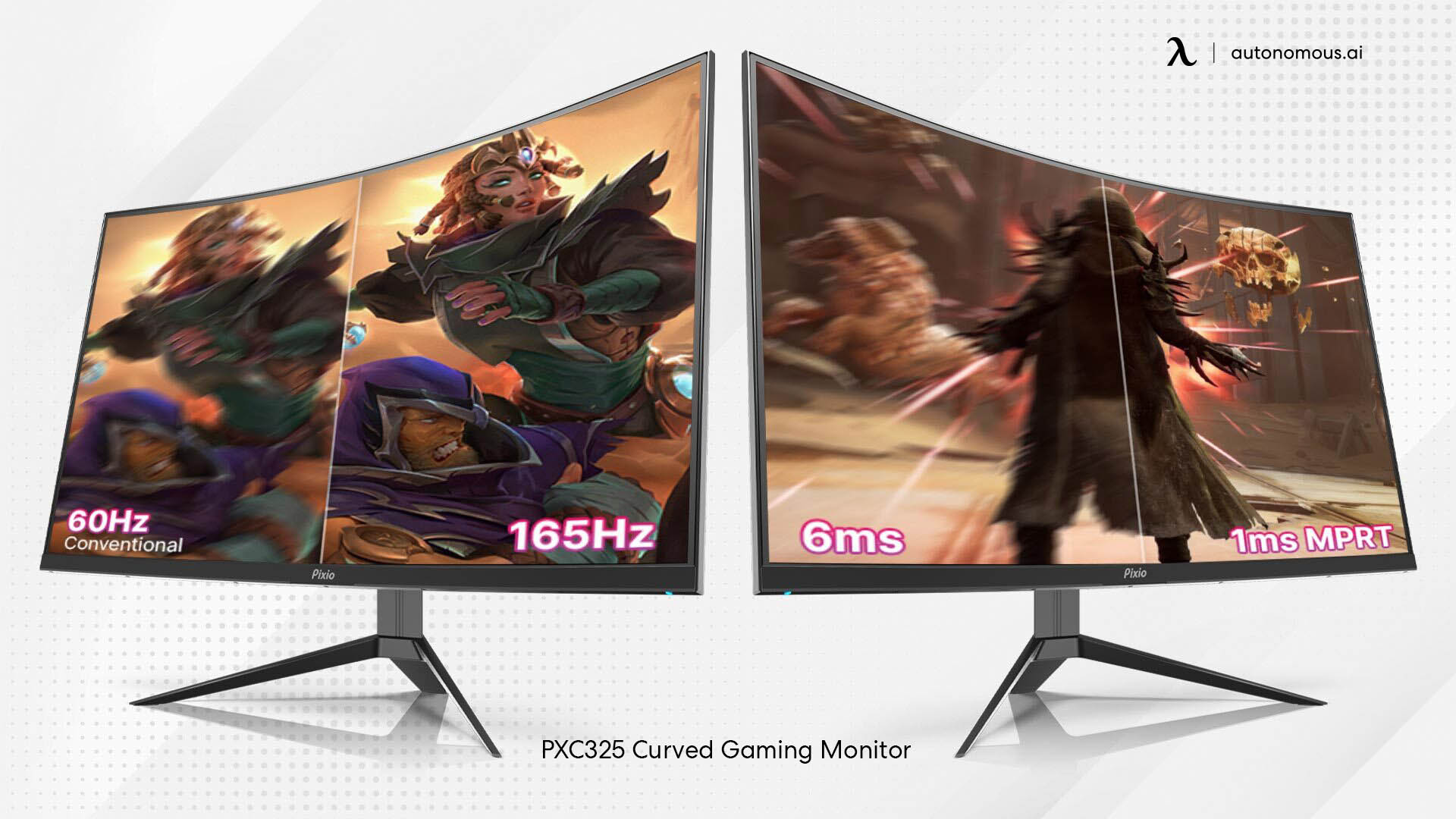 Like other gaming monitors, the VA panel is the best for its graphics. And the PXC325 gaming monitor serves well as a multi-monitor setup because of the curved design. The curved panel provides the best gaming experience and a safe viewing angle. The bezel-less factor design makes this monitor a great addition to your gaming setup.
Pixio PXC327 Gaming Monitor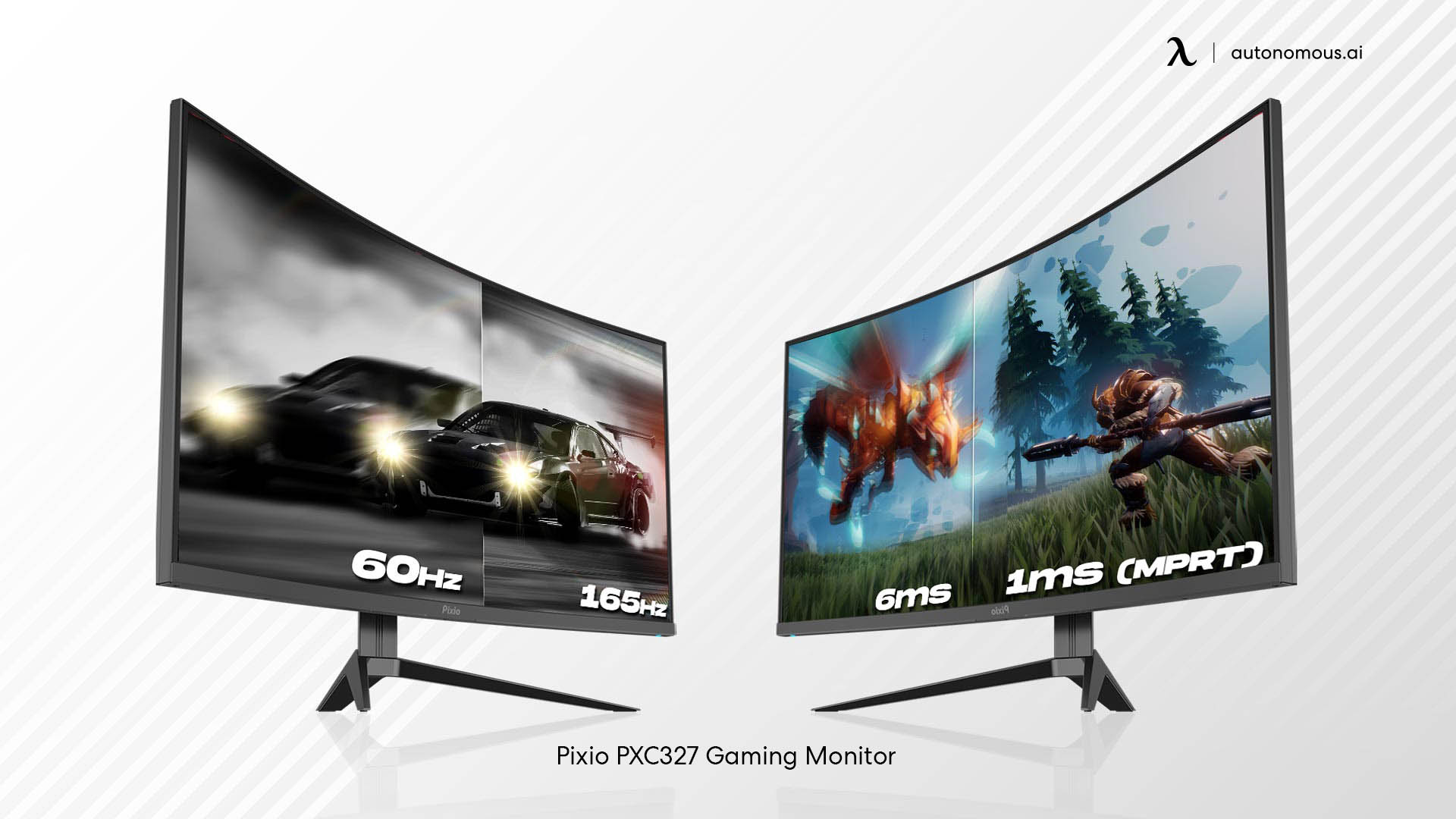 Pixio PXC327 gaming monitor provides a great product at a reasonable cost. The gaming monitor has 32 inches and has a VA panel with a 1440p resolution. The monitor is reasonably priced, and you will get a 1800R curved screen. For the features this monitor offers, the price is pretty reasonable.
PX277 Prime Gaming Monitor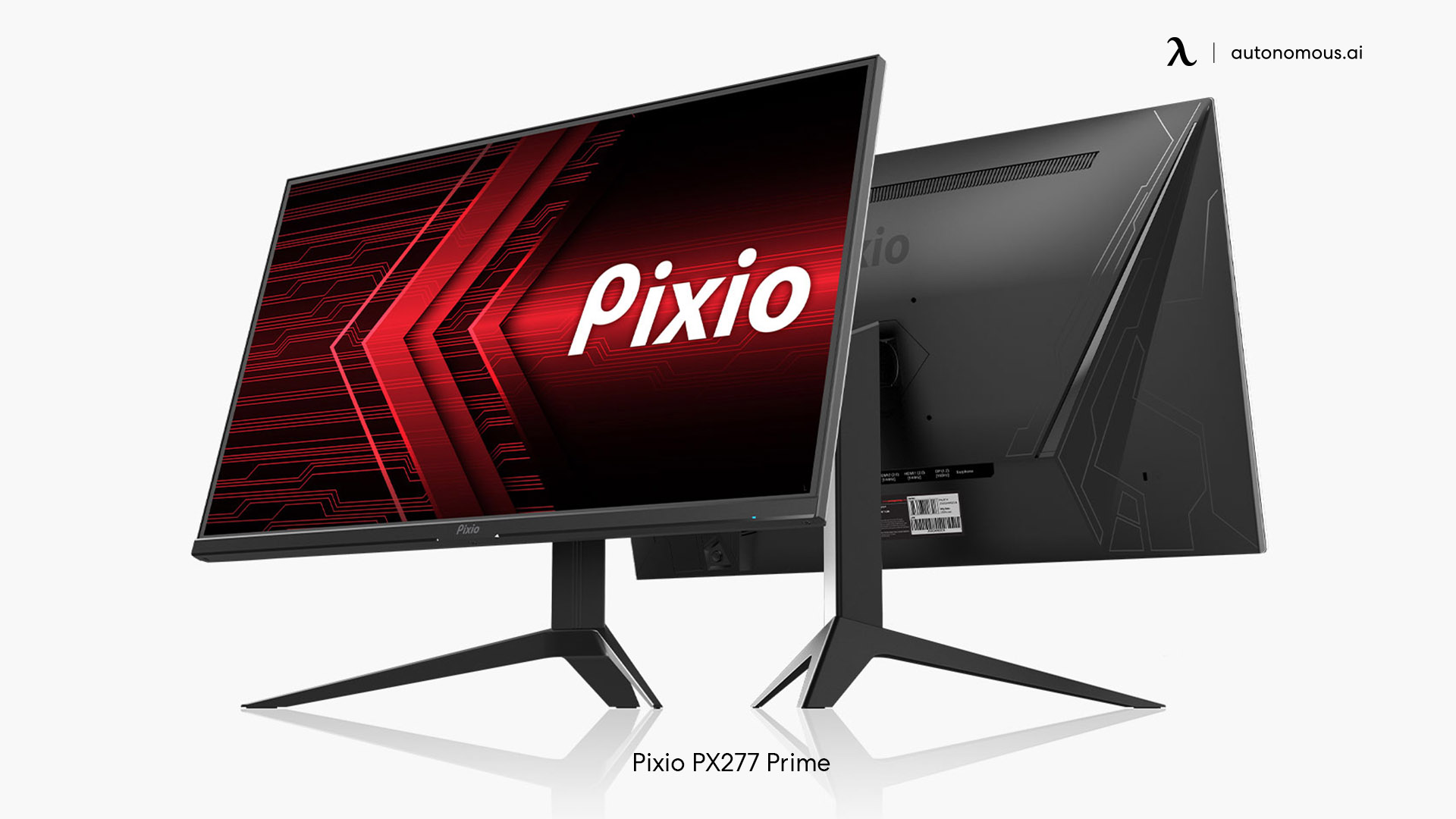 The PX277 Prime is the ultimate gaming monitor due to its resolution, size, and refresh rate. The benchmark for current gaming is a 2560 x 1440p display with a 165Hz refresh rate. The thin, bezel-less design also saves space for all your viewing requirements. The IPS panel provides excellent visual quality, which improves both gaming and media viewing.
Hey, you have special pricing through your company.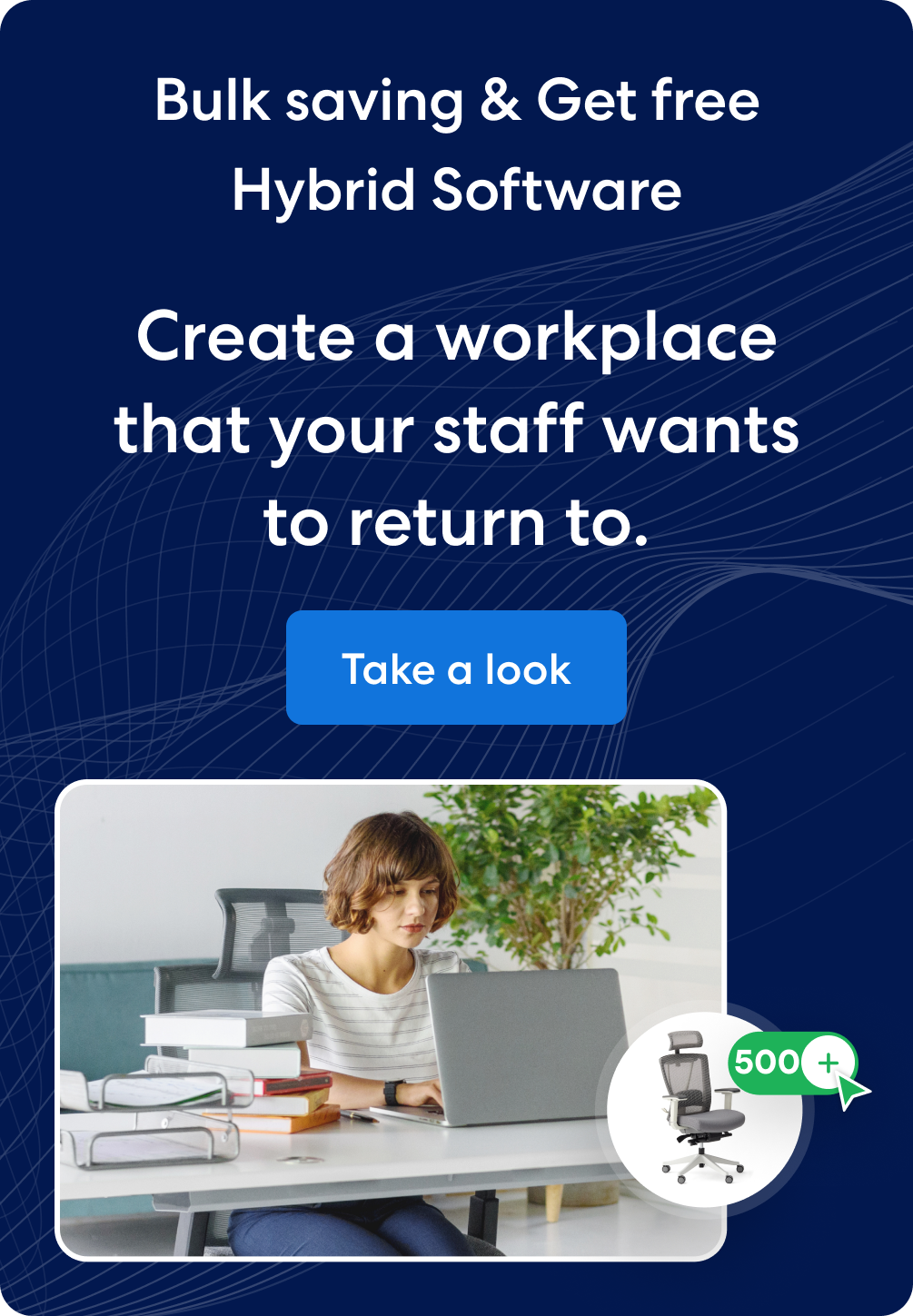 Get exclusive rewards
for your first Autonomous blog subscription.
WRITTEN BYAutonomous
We build office products to help you work smarter.
Coming at You Live from Autonomous' Social Media!