Smart Products
Best Seller Pixio Monitor Reviews for Gamers & Streamers

Autonomous
|
Apr 15, 2022
3,292 Views
Since gaming is all about the virtual world, gaming monitors make your games' output and visual appearance much more appealing. This enhances the overall experience and also adds the element of fun to gaming. Gaming monitors are also designed with gaming ergonomics in mind. Hence you won't feel the negative repercussions of gaming while working.
But since there are many gaming monitors and other kinds of gaming furniture in the market, it is hard to choose the one that suits your needs.  This article will provide the Pixio monitor reviews, a popular monitor among gamers. The Pixio PCX327 gaming monitor is suitable for gaming and works well for programmers and coders.
Read below to find the best Pixio PX277 Prime 27-inch review and all the reasons whether or not you should buy this product. Whether you need a triple gaming monitor setup or a single one, you need to know all about the gaming monitor and its specs.
Best Gaming Monitor Reviews – Pixio Gaming Monitors
Pixio PX277P Prime is the product we're reviewing today. It boasts a 27-inch QHD screen with a refresh rate of 165 Hz and Adaptive-Sync technology. Additionally, you get HDR, but you don't get extended color. For gamers, this curved monitor still hits the sweet spot at only $330 as of this writing (opens in new tab).
This display is all-powerful whether you're playing games, streaming content, creating content, or browsing. The 27-inch WQHD Fast IPS Pixio gaming monitor display is equipped with a 1ms (GTG) response time, allowing you to play games without limits. Get the full gaming monitor review below.
You can elevate your battlestation or workstation with the USB-C DisplayPort alt mode and 65W charging application. With a 96% DCI-P3 color gamut and 132% sRGB color gamut, the IPS panel on the Pixio monitor provides outstanding picture quality for both gaming and creative use. Designed for the next generation of players at everything, the PX277 PRO is truly an omnipotent display for the ultimate gaming setup.
When a common user or gamer sees the features and value offered by the Pixio monitor, they are likely to think that it will cost them a lot. But the affordability is one of the best features of this PX277 Prime gaming monitor and other monitors from Pixio. There are many factors to rate the Pixio monitor, and here are some which you will find helpful.
Image Quality
Amongst the many other features, PC gaming monitor reviews are most clearly based on image quality. Image quality is the strongest defining factor of a gaming monitor. And this display is known as the Vertical alignment panel or the VA panel.
When it comes to the VA panel for the Pixio monitor, the static contrast ratio is 3000:1, which gives a great performance.
The lower 1,000:1 contrast ratio of other panel types (TN and IPS) enables deep and inky blacks that make the blacks of other panel types (TN and IPS) appear grey in comparison.
Furthermore, compared to TN panels, you get wider viewing angles, which means the image won't degrade as much when seen from a different angle. Colours aren't as uniform as IPS monitors, but there aren't as many gamma/saturation shifts or colour inversions at different angles as TN displays.
Performance
Here is another session in the Pixio reviews. Although Pixio monitors' performance may somewhat vary from model to model, a response time of 3ms is pretty standard. This fast pixel transition is why Pixio monitors give such great results. But a problem that one might feel with the Pixio gaming monitors is that they might take a longer response time to change the darker colours into brighter tones.
If you're not too sensitive to ghosting, this is passable or even minor for casual gaming, but if you're a competitive FPS player, you should definitely acquire a monitor with a rapid response, preferably with an IPS or TN panel.
With fast frame rates and solid gaming performance, the Pixio PX277 Prime is a great value for the money. A wide variety of budget systems can benefit from its support for Adaptive-Sync at 165Hz. The monitor lacks extended color, and HDR isn't much of an advancement, but it does what it needs to do for a satisfying gaming experience.
Pixio's PX277 1440p 144Hz gaming monitor delivers incredible performance with an average input lag of just under 5ms, making it ideal for competitive gaming. In reality, there is hardly any ghosting of moving objects, despite the 6ms response time speed being slightly slower than the usually-advertised 4ms of specific modern IPS panels. The LG 27GL83A is one of the more expensive IPS models with a fast GtG response time of 1ms. However, you'll lose color quality and viewing angles on TN panels.
Furthermore, we did not find any defects in the IPS, such as excessive glow or dead pixels. Even after prolonged use, the flicker-free screen will not cause headaches or eye fatigue due to its low blue light filter. Additionally to the striking colors and crisp details, 144Hz displays provide a more responsive gaming experience than 60Hz displays, which ensures an overall flawless gaming experience.
Pros
After calibration, the color looks good
It has a low input lag
At 165Hz, adaptive sync is enabled
Build quality
Cons
HDR mode does not add extra contrast
Errors in HDR grayscale visible
It would be better if the accuracy were better out of the box
Features
A gaming monitor rating is also affected by the features it offers. The on-screen display menu, the monitor, has a directional joystick that is both fun and user-friendly. There are many features that you would find in this price range.
There are notable features of various visual presets (Standard, Movie, FPS, RTS, and Eye Saver, which applies a low-blue light filter) and four crosshair overlays.
Brightness, contrast, colour temperature, and two gammas preset are typical image adjusting tools. Although there isn't a Black Equalizer-style tool to boost visibility in darker environments, you can do so manually by tweaking the gamma in your video game or GPU driver settings.
LOS crosshair overlays and the Game Timer are other Pixio PX277 gaming features. These let you track cooldowns, pizza deliveries, and other stuff. Besides Standard, Photo, Movie, and one customizable preset, there are also FPS, and RTS picture presets with optimal settings.
While Pixio PX277 color settings include presets for color temperature and red, green, and blue color adjustments, they do not support Picture in Picture or Picture by Picture modes. Turning on OverDrive, the monitor responds to a request in 6 milliseconds instead of 12 milliseconds. It's also crucial to note that OverDrive and FreeSync can both be enabled simultaneously. When you turn on FreeSync, your response time will not be limited to 12ms
Design
Design is always the most important part in the Pixio monitor reviews. The PX247 is a budget gaming monitor. There are no RGB or other aesthetic embellishments in the design. The stand is basic, with merely the ability to change the inclination. Only DisplayPort unlocks the full 144Hz. There are two video inputs: HDMI and DisplayPort (HDMI is limited to 120Hz). Although some people might complain about sacrificing some features regarding the display, such as HDR and 10-bit colour, for the price you are paying for this product, the features are pretty great.
For a more cinematic viewing experience, the new Pixio PX277 features an ultra-thin bezel design, unlike the older Pixio PX277. This laptop has a matte plastic chassis and a matte screen coating to prevent reflections. Unfortunately, the screen can only be tilted to the proper height for the monitor, but it can be mounted using the 75 x 75mm VESA standard.
In addition to DisplayPort 1.2, HDMI 1.4, HDMI 2.0 (HDMI-1), DL-DVI, headphones jacks, and a line-in jack for the integrated speakers, there are other ports for connecting to the monitor. Use HDMI 2.0 or DP 1.2 instead of Dual-Link DVI since Dual-Link DVI cannot reach 144Hz at 1440p.
Screen Size
Though most Pixio gaming monitors offer a standard size of 27 inches, in addition, the screen size is ideal for 1080p. The PX247's 24-inch screen may appear modest, but it allows for a higher pixel density and a crisper image. Although the screen is not "frameless" like other Pixio's higher-end models, the bezels are nevertheless very low and help the screen feel larger.
Display
An AHVA-IPS display starts with Pixio. The AHVA stands for Advanced Hyper-Viewing Angle. The viewing angles of this type of panel are better than those of regular IPS panels. We found that to be true from our experience. Monitors with AMD FreeSync screen-tear fighting technology are configured to run reliably at 165 Hz.
Despite the display not being Nvidia-certified, it was still capable of running Nvidia G-Sync. For a low price, the only obvious compromise is the lack of extended color. sRGB is the only color space supported by this monitor. As well as HDR10 signals, it supports HDMI 2.0 and DisplayPort signals. As a result of HDR, G-Sync is no longer an issue, though FreeSync still works.
Color saturation
In addition to the high resolution, the 27-inch screen size's 108.79 pixels per inch density for vivid detailing across the entire screen space. As opposed to 24"-27" 1080p monitors, on 24"-32" 4K monitors, pixels are not individually distinguishable, so your UI doesn't have to be scaled.
With wide viewing angles of 178 degrees, a response time speed of 6ms, peak brightness of 230 nits, and a static contrast ratio of 1000:1, the Pixio PX277 displays make a good impression. There is good color consistency and vibrancy, covering about 96% of the sRGB color space, so you cannot use the screen for color-critical jobs. It remains a crystal-clear image with vivid colors, however.
Assembly
Let's find out how to assemble this product in this Pixio reviews part. To assemble the Pixio metal base and upright, you'll need a Phillips-head screwdriver. Snap the panel into place after that. The external power supply is a tiny brick, and a Display Port cable is included.
The panel features 100mm VESA lugs in the back if you want to use a monitor arm, but you'll have to supply your bolts.
Best Applications for the Pixio P277 Prime
Even though gaming monitors come with the most premium specifications and out-of-the-box accuracy, sometimes shoppers want something priced somewhere between price and performance. In this Pixio review, we found a device capable of delivering a lot of performance but at a reasonable price.
The 1440p resolution of a monitor, especially if it's 27 inches and has a fast refresh rate, G-Sync or FreeSync, extended colors, and HDR, often falls into this category. This monitor is ideal for most gaming laptop setups or laptop and monitor setup, whether used alone or in multiples. It sells for between $300 and $400.
Other Pixio Gaming Monitors
Pixio is one of the most affordable gaming monitor lines for gamers. These Pixio monitors have amazing displays, easy to use controls, and many other features. You will be paying an affordable price for the gaming monitors at Pixio, and one of the best features is that you get a bunch of options to choose from. Below are some famous and best gaming monitors by Pixio and their specifications.
1. PX279 Prime Gaming Monitor
The curved monitor vs. flat screens conversation has been ongoing for a long while, but the truth is that the era of flat monitors is not over yet.
The PX279 is the first 27" gaming monitor by Pixio. It is equipped with a wonderful IPS display and has a fast response time, at only 1ms. Furthermore, the 240Hz refresh rate will ensure that each of your games runs visually smoothly, allowing you to see everything without missing a single frame.
This Pixio monitor also works as an enhanced version of the Pixio PX277, with an improved design that will allow you to make the most of your gaming sessions each time you're in-game. As usual, it is compatible with HDR and includes AMD FreeSync technology to ensure that you get the utmost gaming experience.
2. PX243 Gaming Monitor
If a 27-inch Pixio gaming monitor is too large for you, perhaps you should consider the Pixio PX243. As a premier eSports Gaming Monitor, the PX243 is an excellent entry-level gaming monitor that provides you with just about all the features you need to play comfortably.
It includes a 1080p display, a 165Hz refresh rate, and a fast response time of 1ms. As it's common in most Pixio monitors, it also integrates AMD FreeSync technology. Hence, if this is the first time you'll build a gaming monitor setup, this is a good option to consider. It's budget-friendly but provides you with high-quality features for a pleasant gaming experience.
3. PX329 Gaming Monitor
The PX329 is an excellent option for those looking for a larger display that provides them with higher quality and a larger resolution.
As a 32-inch monitor with a 2560x1440p resolution, you can be sure that you'll have enough space on your screen to fit all the items in your vision field. Furthermore, the fast refresh rate (165Hz) will make sure that you get smooth image rendering and smooth transitions.
This monitor is an excellent choice for those looking forward to a high-quality, premium monitor that provides them with the best gaming experience possible.
4. PX248 Prime Advanced Gaming Monitor
The PX248 Prime Advanced Gaming Monitor is one of the three monitors under the PX248 category. This option, in particular, has an extremely fast IPS channel, which has a 1ms response time. At a size of 24 inches, it provides the user with a 1080p quality along with a 144hz rate. Hence, it can be a good option for those who would like to improve their gaming setup without necessarily spending too much.
This monitor has accurate colors and a fast response time and includes flicker-free technology. Hence, you can be sure that you will be able to get the most out of your gameplay, whether competitive or casual, during each session.
5. PXC348C Ultimate Ultra-Wide Curved Productivity Gaming Monitor
A dual-curved monitor setup is nice. However, many people have started to consider other options due to the apparition of ultra-wide monitors in the market. Pixio has integrated an ultra-wide curved gaming monitor into its catalog this time.
Pixio has many curved and flat monitors within their categories, but this is the first time they offer an ultra-wide curved monitor to the public. It is a 34-inch ultrawide curved monitor with UWQHD resolution. It has a 144Hz refresh rate, allowing you to smoothly see everything on your screen.
This Pixio gaming monitor also integrates USB C-Displayport Alt Mode, along with 65W power charging. Therefore, it can be the perfect option for those looking forward to improving their gaming setup or perhaps those who would like an ultra-wide monitor for professional purposes.
6. Pixio PX277 Gaming Monitor
The Pixio PX277 is one of the most popular options within the Pixio gaming catalog. This is the improved version of the same monitor, which offers WQHD quality along with a 27-inch screen and a fast IPS display. It has a 1ms response time. You can be sure that you won't miss a single frame!
Besides gaming, this monitor can also work perfectly for those who work in creative applications. It covers 96% DCI-p3 and 132% sRGB color gamut space, allowing you to get accurate colors and a more immersive visual experience.
7. PXC325 Curved Gaming Monitor
Like other gaming monitors, the VA panel is the best for its graphics. And the PXC325 gaming monitor serves well as a multi-monitor setup because of the curved design. The curved panel provides the best gaming experience and a safe viewing angle. The bezel-less factor design makes this monitor a great addition to your gaming setup.
8. Pixio PXC327 Gaming Monitor
Pixio PXC327 gaming monitor provides a great product at a reasonable cost. The gaming monitor has 32 inches and has a VA panel with a 1440p resolution. The monitor is reasonably priced, and you will get a 1800R curved screen. For the features this monitor offers, the price is pretty reasonable.
Autonomous Streamer / Gamer Purchase Program
Are you interested in acquiring one of these monitors after reading all these Pixio reviews? Then, let us introduce you to the Autonomous Streamer / Gamer Purchase Program.
While our Employee Purchase Program targets companies, this gamer purchase program is directed toward gamers or streamers that would like to improve their current gaming setups at more affordable prices. Hence, you will be able to save money and time while also enhancing your setup and your gameplay in the process.
You can join the employee purchase program to get special discounts and deals on all sorts of gaming equipment, including gaming desks, gaming chairs, and monitors like the ones we've listed in this article. You will also be able to access certain accessories at special pricing, such as a gaming monitor mount.
FAQs
Why is my Pixio monitor blinking red?
Most of the time, this problem is caused by a defective cable. Please, check the cable and your connection to make sure that there aren't any cuts or disturbances that could cause signal problems. You can try using the same cable on a different device or use a spare cable on your monitor to confirm the source of the problem.
How do I connect my Pixio monitor to my computer?
First, find the power adapter and plug it into the DC plug. You'll find the monitor, then connect it to a power outlet. You can then plug an HDMI cable into either of the ports available and then connect the other side of the cable to the device you will use. You will also need to plug both extremes of the DisplayPort cable into the monitor and the graphics card.
How do I turn down the brightness on my Pixio monitor?
Most Pixio monitors include a Jog Button, which grants you access to the OSD Menu. There, you can find the Display options, which include contrast, brightness, and other adjustments.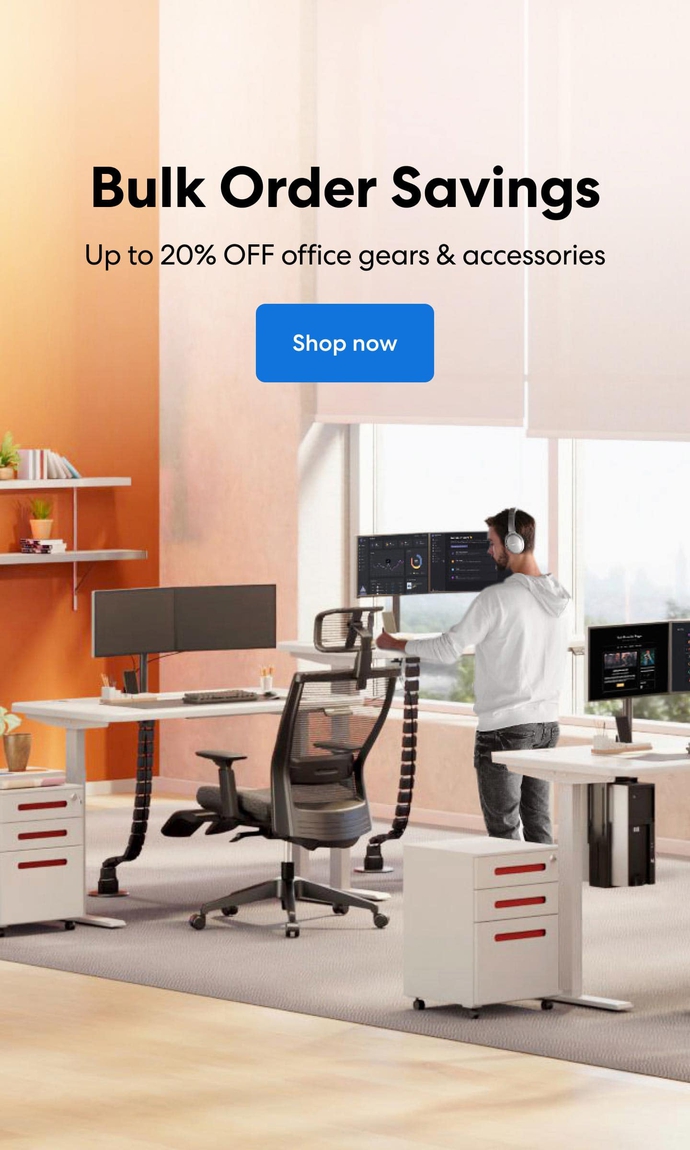 Subcribe newsletter and get $100 OFF.
Receive product updates, special offers, ergo tips, and inspiration form our team.