Workplace Inspiration
How to Build the Perfect Gaming Laptop Setup with Monitors?

Autonomous
|
Nov 8, 2021
3,330 Views
Being a gamer, your biggest dream would have been to get the gaming station of your dreams. Every gamer wishes to have a gaming station that is equipped with all the required accessories and the best lighting. If you are a newbie, you might not know how to set up an ideal gaming station when you have a gaming setup with monitors.
There are various laptop and monitor setup ideas that you can use to stylize your gaming laptop setup with monitor. Nevertheless, the mystery that remains unsolved is about the details of the accessories that you will need when you are preparing this setup. To help you solve it, we have listed the things that you will need to plan the perfect gaming laptop monitor setup below. So, without any delay, let's have a look at them and get more gaming setup ideas with laptop and monitor.
Things Required for a Perfect Gaming Setup with Monitors
Having the following accessories will make it easier for you to plan the ideal gaming laptop and monitor setup. 
1. Gaming Desk
Getting the right gaming furniture is the basic requirement for your gaming setup, so ensure that you have the best gaming desk first. An adjustable gaming standing desk would be an ideal choice here because it satisfies the gaming ergonomics.
The x-factor of this desk is that it lets you adjust its height as per your requirement so that you get a seamless gaming experience. In addition to this, the tabletop is so catchy that anyone would love to have it in their gaming laptop and monitor setup. 
2. Gaming Chair
The perfect gaming setup would remain incomplete without the right gaming chair. Currently, the Vertagear gaming chair is the best gaming chair option that you have available in the market. Equipped with all the adjustable features that make any gaming chair the ideal option.
Vertagear is not only the most comfortable one, but it is pretty visually appealing as well. So, having it will add that pro gaming setup vibes in your gaming station. 
3. Monitor/PC
It is pretty obvious that you will need a monitor for your gaming laptop external monitor setup to get the best visuals and have an immersive gaming experience. You can think of adding multiple monitors to add more screens and have an in-depth view of your game. 
4. CPU
Pro gamers use the best CPU to avoid overheating of the system and ensure a seamless gaming experience. If you are one such gamer, you will need a high-quality CPU in that regard. Since there are multiple options available in the market, choosing the right one would be easier. 
5. Monitor Arm
It is seen that when gamers are using monitors, they often experience a neck strain if their monitor's angle and height are not adjusted ideally as per the gaming ergonomics. So, if you don't wish to be among those people, get yourself a monitor arm. A monitor arm will help you adjust the angle and height of your desk. 
6. Laptop Stand
To avoid any muscle strain and have extended gaming sessions in your gaming laptop setup with monitor, you must ensure that you have a laptop stand for your gaming laptop. We believe that you do have a monitor already; however, if you don't you should get it as soon as possible. You are supposed to place the laptop stand on your gaming desk and adjust it in a way that your neck doesn't experience any strain. 
7. Bluetooth Mouse & Keyboard
All gamers prefer using a Bluetooth mouse and keyboard to play games because they help them have a seamless gaming experience. Therefore, as a gamer, you should invest in a gaming mouse and keyboard too. 
8. Headphones
Playing games and not wearing headphones? What can be worse than that? You should always have some high-quality gaming headphones in your gaming laptop setup with monitor that help you have a better audio experience while you play. This will help you have a more immersive gaming experience. Try getting one of those Bluetooth headphones to avoid cord clutter on your desk. 
9. LED strip lights
If you have ever wondered how to set up your monitor for gaming, the accessories mentioned above would be enough to do so. However, the stylizing part is still left here, so don't forget to buy some LED strip lights or LED light stands for your gaming station.
You can put these lights at the edge of your gaming desk or under it. In addition to this, you can also think of placing some LED light stands or LED desk lights next to your desk to light up your gaming station. All these ways will help you stylize your gaming station in the best way possible. 
Wrapping It Up – The Ideal Place for Your Gaming Laptop Setup with Monitors
Once you know the details about the things required for your gaming laptop setup with a monitor, the only thing left is to decide where you wish to place your station. The simple answer to this question is that you can place it anywhere you wish to; this place can be your bedroom, or you might have a specific room dedicated to gaming. Nevertheless, always ensure that you avoid any direct screen glares and that your room is not too dark while you are playing games.
With this, setting up your gaming laptop setup with monitors will become an easy-peasy task. You would have noticed how easy it is to set up your gaming station when you have the relevant gaming accessories with you. We believe that our gaming setup guide will help you accessorize your gaming station and stylize it the way pro gamers do. So, go ahead and plan your gaming setup today!
Video ads for product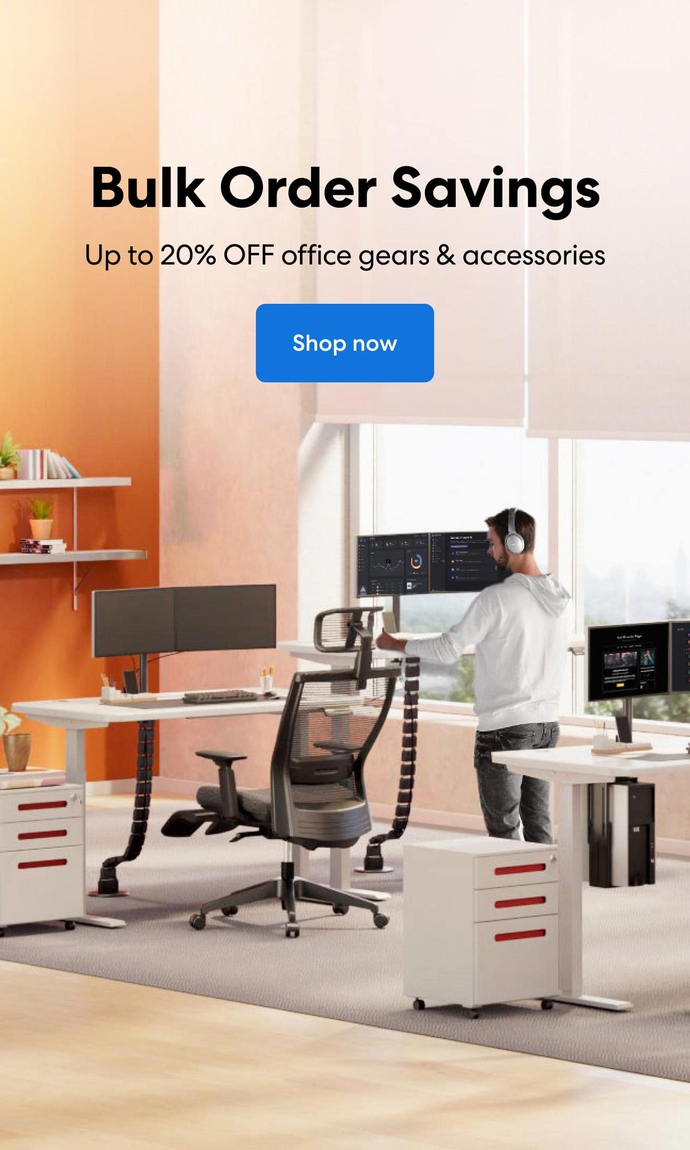 Subcribe newsletter and get $100 OFF.
Receive product updates, special offers, ergo tips, and inspiration form our team.