What should you do when you no longer need your desk cabinet for store things or want a replacement? If you're thinking of throwing away this piece of furniture, check out this information first!
Desk cabinets have a specific purpose: to help you keep your files organized. They're perfect for offices and domestic spaces, as they come in different sizes and shapes.
However, you can use desk cabinets in many other ways! In addition to offering storage space and avoiding the issue of clutter, these pieces of furniture can serve other purposes. You can use them to decorate rooms, plant plants, or even grill burgers!
If your filing cabinet is old and you want a replacement or you are no longer using it because you prefer digital solutions to store your documents, don't throw away this accessory! Instead, check out these alternative uses and bring this piece of furniture back to life.
Why Consider Alternative Uses for Your Desk Cabinet?
If you are looking for office accessories, a computer desk cabinet is one of the first options you will find. They're so popular and have helped workers keep their workspaces neat and clean.
Additionally, many people have a built-in desk cabinet in their homes' offices or are considering building one for their children's learning spaces.
However, even if you choose a sturdy model made with the highest-quality materials, a desk cabinet won't last forever. If yours is old, damaged, or out of date, what should you do with it?
Eco-conscious people often think about recycling furniture. However, reusing may be a better option.
Why Should You Reuse Desk Cabinet Instead of Recycle It?
People are becoming more eco-conscious. A study led by Southern Cross University showed that 77% of people want to learn to live more sustainably and are willing to protect the planet.
As eco-friendly practices become more popular, more people are interested in solid waste management. If you're one of them, you probably know the "three R's" – reduce, reuse, and recycle.
Authorities, educators, and advocates encourage people to recycle what they no longer use. As a result, many have assumed that this activity is a civil duty.
However, while it's important, recycling is not the first step. It's actually the third phase, so you should consider reducing and reusing before you get to this point.
What Does "Reuse" Mean?
Many know that recycling involves collecting used materials and processing them to remanufacture them into new products or items, but what does "reuse"?
The second "R" of the solid water management cycle means you should take products that you plan to discard and use them again, either in their current form or after a few changes and repairs.
Compared to recycling, reusing products, and items consumes less energy, water, and other resources. In addition, this activity brings other benefits, including the following:
Reduce waste stream
Conserve resources
Saves disposal costs
Delays purchases of new products manufactured with virgin materials
Causes less pollution than recycling or manufacturing new products from virgin materials
Makes many items available to people who can't buy them new
11 Alternative Uses for Your Old Office Desk Cabinet
Now that you know why you should reuse your old pieces of furniture instead of recycling them, are you ready to do it? Here are 11 creative ideas and alternative uses for your desk cabinet.
Storage Solutions for Roadside Businesses
If you have an under-desk cabinet, you probably don't think about filling it with potatoes. However, that's one of the things you can do with these furniture pieces if you run a roadside business.
Your current under-desk storage solution can be repurposed and used to sell your potatoes or other vegetables, whether you own a company or plan to start your roadside commerce business.
Filing cabinets can be great for storing potatoes and fresh produce because of their design and color. Most of them are dark and well-insulated, so they can keep vegetables in perfect condition.
Break Room Storage Cabinet
If you don't know what to do with your old mobile vertical filing cabinet, here's another great idea to consider: use it to store something useful in the office's break room.
Most office workers want a desk organizer with drawers to store their belongings and work tools. However, you can use them for other purposes.
Have you been craving something sweet and delicious in the middle of the afternoon? You can use an old computer desk cabinet to store some snacks in your office's break room. It'll help you keep everything organized and close at hand.
Turn a Computer Desk Cabinet Into a Bar Cart
If you have a desk cabinet with drawers and shelves, you can easily transform it into a stylish bar cart.
Do you think it is a good idea? Remove the drawers and use the shelves to store your liquor bottles, glasses, and bar accessories. You can also use the cabinet's top as a surface for mixing drinks.
Make a Pet Bed
Did you know that you can repurpose the old under-desk cabinet into a cozy pet bed? You should only sand down any rough edges after removing drawers and shelves.
After that, cut a piece of foam to fit the bottom and cover it with a soft blanket. You can also add a cushion or pillow for extra comfort. Your beloved pet will really enjoy having its own special spot to snooze in.
Create a Charging Station
In today's digital age, you must have a designated spot for charging your devices. Fortunately, this is one of the things you can create with your old desk cabinet.
First, you must remove the drawers and shelves. As a second step, install a power strip inside the cabinet.
Use the shelves to hold your devices while they charge and add some hooks or clips to keep the cords organized to avoid clutter.
Charging stations can be perfect desk accessories for men. If you want to make this structure more functional, add a small shelf or drawer to hold your headphones, extra chargers, or other tech accessories.
Make a Toy Storage Cabinet
Your old computer desk cabinet can also be an ideal storage solution for your children since you can repurpose this piece of furniture into a toy storage solution.
Add some colorful bins or baskets to hold your child's toys and games after removing drawers and shelves from the cabinet. After that, paint the cabinet with fun designs or add some decals or stickers to make it more kid-friendly.
Create a Garden Planter
If you have an old desk cabinet with drawers and shelves, you can easily transform it into a garden planter.
After removing the drawers and shelves, add some soil to the bottom of the cabinet. Then, plant your favorite herbs, vegetables, or flowers. It's easier than you may think.
If you want to keep your garden tools organized, add some hooks or shelves to the sides to hold them.
Kitchen Drawer Unit
Do you need extra storage in your kitchen? You can repurpose your old desk cabinet into a kitchen drawer unit. Replace current drawers with metal options and add some hooks or shelves to the sides to hold your pots and pans.
Beehive
If you're interested in beekeeping, you can use your old desk cabinet to create a beehive. Are you ready to do it? After removing the drawers and shelves, install a few wooden frames inside the structure.
After that, add a screen or mesh panel to the front of the file cabinet to allow the bees to fly in and out. If possible, add a honeycomb extractor to the bottom to harvest your honey.
Create a Craft Station
This idea is perfect for creative people. Turn an old built-in desk cabinet into a functional craft station.
Paint the frame and install a pegboard on the back of the cabinet to hang tools and supplies. Use the shelves to store your crafting materials and add a pull-out work surface for extra space.
Turn Your Old Office Desk Cabinet Into a Mini Library
You can turn your old desk cabinet into a mini library if you love books but don't have the space for a full-sized bookshelf.
Paint the structure or add wallpaper to give it some visual interest. Install shelves or cubbies to hold your books and use decorative bookends to keep them in place.
In addition, you can even add a cozy reading nook by placing a cushion or small chair next to the cabinet.
Make a Kitchen Island
If you have a large, sturdy filing cabinet, you can transform it into a functional kitchen island. Do you want to try it? Remove the drawers/shelves and add a countertop! It's one of the best ways to transform desk accessories for women!
Create a Plant Stand
Do you love indoor plants? If so, you can turn your old filing cabinet into a stylish plant stand. After removing drawers, if any, paint the cabinet in a bright color.
After that, add some shelves or platforms to hold your plants. If you have plants that need extra light, install a grow light on top. This can be a great way to add some greenery to your home or office.
Create a Garage Organizer
Do you have a cluttered garage? You can use your old filing cabinet to create a garage organizer.
First, remove the drawers and shelves. After that, use the space to hang your tools and supplies. You can add hooks or pegboard to the sides and back of the cabinet to hold your larger tools, such as shovels, rakes, and brooms.
Use the shelves to store your smaller supplies, such as screws, nails, and bolts. This can be a great way to keep your garage tidy and organized. Also, you're reusing things to protect the planet!
Create a Home Office
If you work from home or just need a designated spot for paying bills and doing paperwork, you can turn your old desk cabinet into a functional home office.
Use the shelves to hold your computer, printer, and office supplies, and add a bulletin board or whiteboard to keep track of your schedule and to-do list. You can even add a comfortable chair or cushion to make your home office more inviting.
Create a Tool Storage Cabinet
People who have a workshop can repurpose this piece of furniture into a tool storage cabinet. Use hooks to hold your hammers, wrenches, and other tools. Also, you can use shelves to avoid losing your smaller supplies.
Create a Laundry Room Organizer
An old desk cabinet can also be perfect to create a laundry room organizer. If you add some hooks or shelves, you can hold your laundry detergent, fabric softener, and other laundry essentials.
Build a Meat Smoker
If you're a fan of BBQ and smoked meats, you can turn your old desk cabinet into a meat smoker.
Install a metal drip pan at the bottom and add a metal rack on top of it to hold your meat. Use a hot plate or electric smoker element to generate smoke inside the renovated cabinet.
If you want better results, add wood chips or pellets to infuse your meat with extra flavor. It's a great way to enjoy homemade smoked meats in your backyard!
Final Thoughts
Desk cabinets are one of the best desk accessories. These pieces of furniture help us keep our offices free of clutter and have important documents always at hand. However, they can get old like any other item. Therefore, you can consider renewing and reusing yours if you think you will no longer use it or need a replacement.
A 3-drawer filing cabinet with a lock could be perfect for storing your personal items or creating an original safe for your children, for example. Besides helping you protect the environment, this is ideal for saving money and solving other issues you may have.
Also, you don't need to be an expert to renew your desk cabinet and use it for new purposes. You just have to be creative and build new tools or decor items for your home or office!
Video ads for product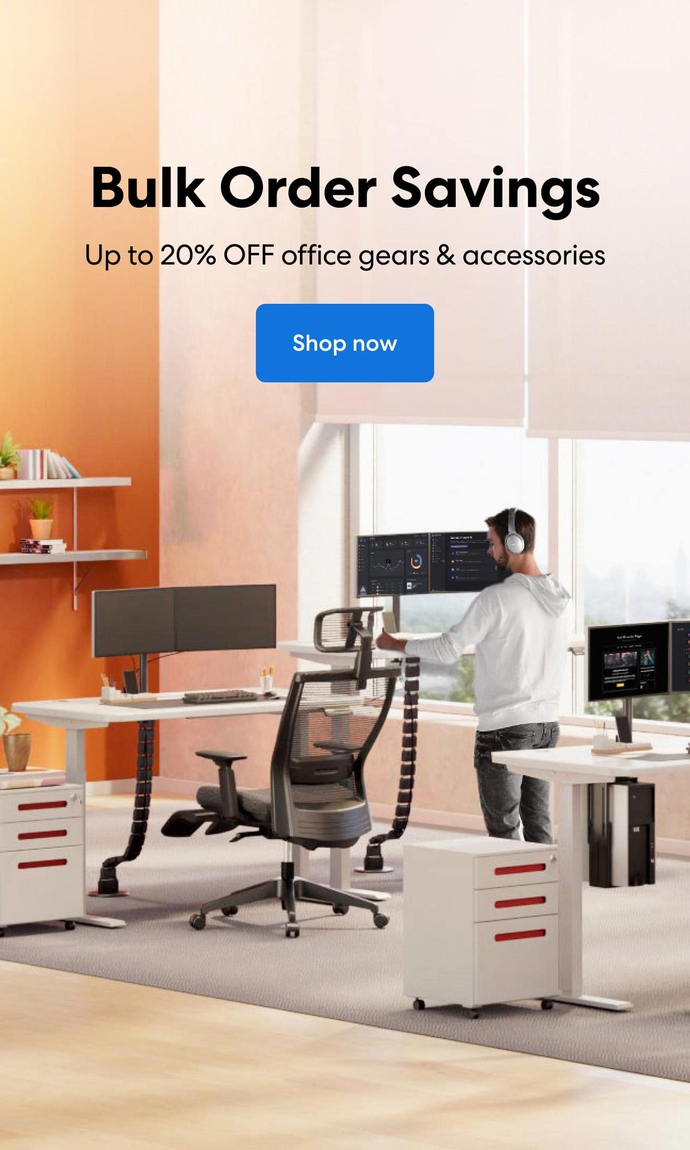 Subcribe newsletter and get $100 OFF.
Receive product updates, special offers, ergo tips, and inspiration form our team.